The traffic forecast is the potential volume of traffic that keywords can attract to a website.
Forecasting traffic helps both in-house marketing teams and digital agencies fine-tune their SEO strategies. Thus, by analyzing the correlation between keyword search volume and current SERP rankings, a rough estimate of the potential traffic volume can be made. This is pretty handy as there is no need to switch between different tools – all of the info is available on one screen.
Obviously, no one tool can predict the traffic forecast with 100% accuracy, but SE Ranking's tools definitely come close.
How the traffic forecast is calculated in SE Ranking
We use the following formula to define the traffic forecast (T) in SE Ranking:
T = F*R*I1*I2
where
F is the keyword search volume based on Google Keyword Planner data;
R is the current website ranking for the target keyword;
I1 is the adjusting index for search engines: Google I1=1; Yahoo I1=0.3; Bing I1=0.3 (Google gets around 3 times more traffic than Bing and Yahoo);
I2 is the index that shows the maximum amount of traffic you can get with a certain website SERP ranking position. According to a study conducted by Chitika, here's how potential traffic is distributed among the top search results:
Top 1 — 32.50%
Top 2 — 17.60%
Top 3 — 11.40%
Top 4 — 8.10%
Top 5 — 6.10%
Top 6 — 4.40%
Top 7 — 3.50%
Top 8 — 3.10%
Top 9 — 2.60%
Top 10 — 2.40%
Where can I see the traffic forecast in SE Ranking?
To get a traffic forecast, you must first create a project, add all the necessary keywords and the search engines where you wish to track them. After that, you will have four ways of viewing traffic forecast in SE Ranking.
1. Traffic forecast for all sites added to your account
On the main Dashboard, you can see all the active websites that you have under your account. Keep in mind that the data displayed for each website on the Dashboard shows the traffic forecast for all tracked search engines. For example, if you're tracking website rankings on Google and Bing, the system calculates the overall traffic forecast in both search engines without providing separate data on the Dashboard.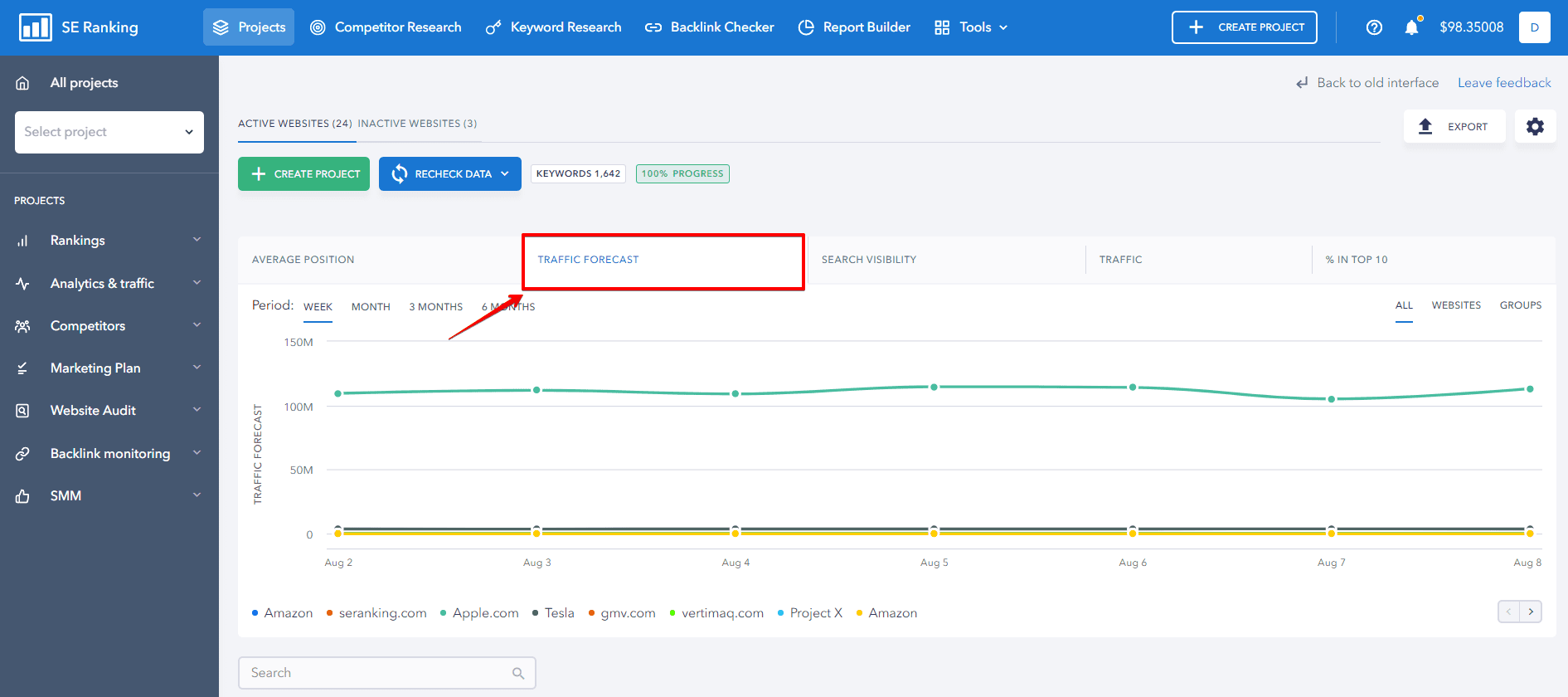 Setting up the traffic forecast chart
You can configure the chart you see at the top of the page on the Dashboard. It has five options (Average position, Traffic forecast, Search visibility, Traffic and % in TOP 10).
To do this, go to the Dashboard settings in the top right-hand corner, as shown below, choose Default chart type and select "Traffic forecast" before hitting 'Apply'.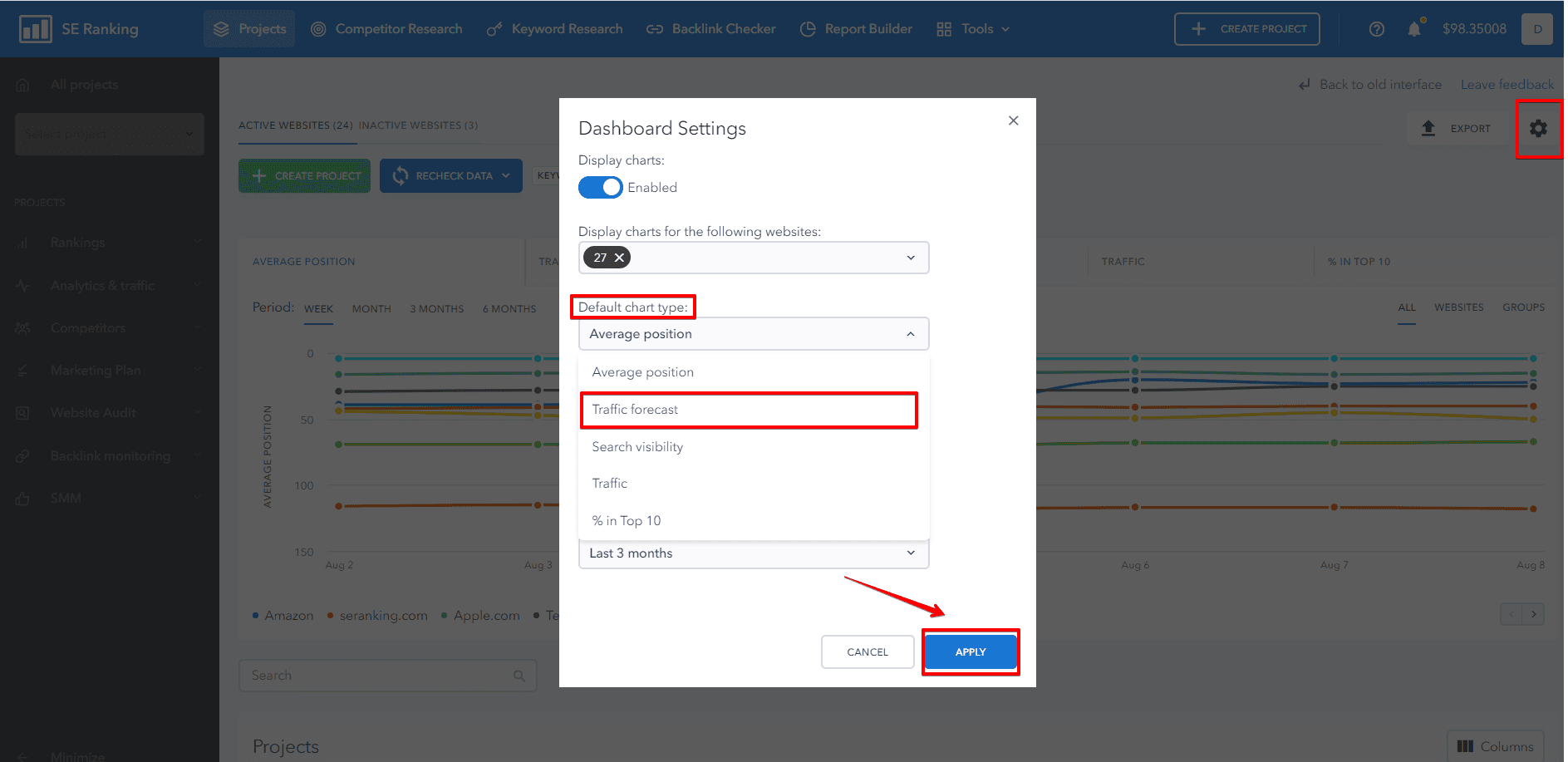 2. Traffic forecast by search engine and region
To get more accurate and valuable traffic forecast data, check it for each search engine separately. To do this, select a website, go to Rankings → Detailed, scroll down past the rankings data for each tracked search engine, and select "Traffic forecast".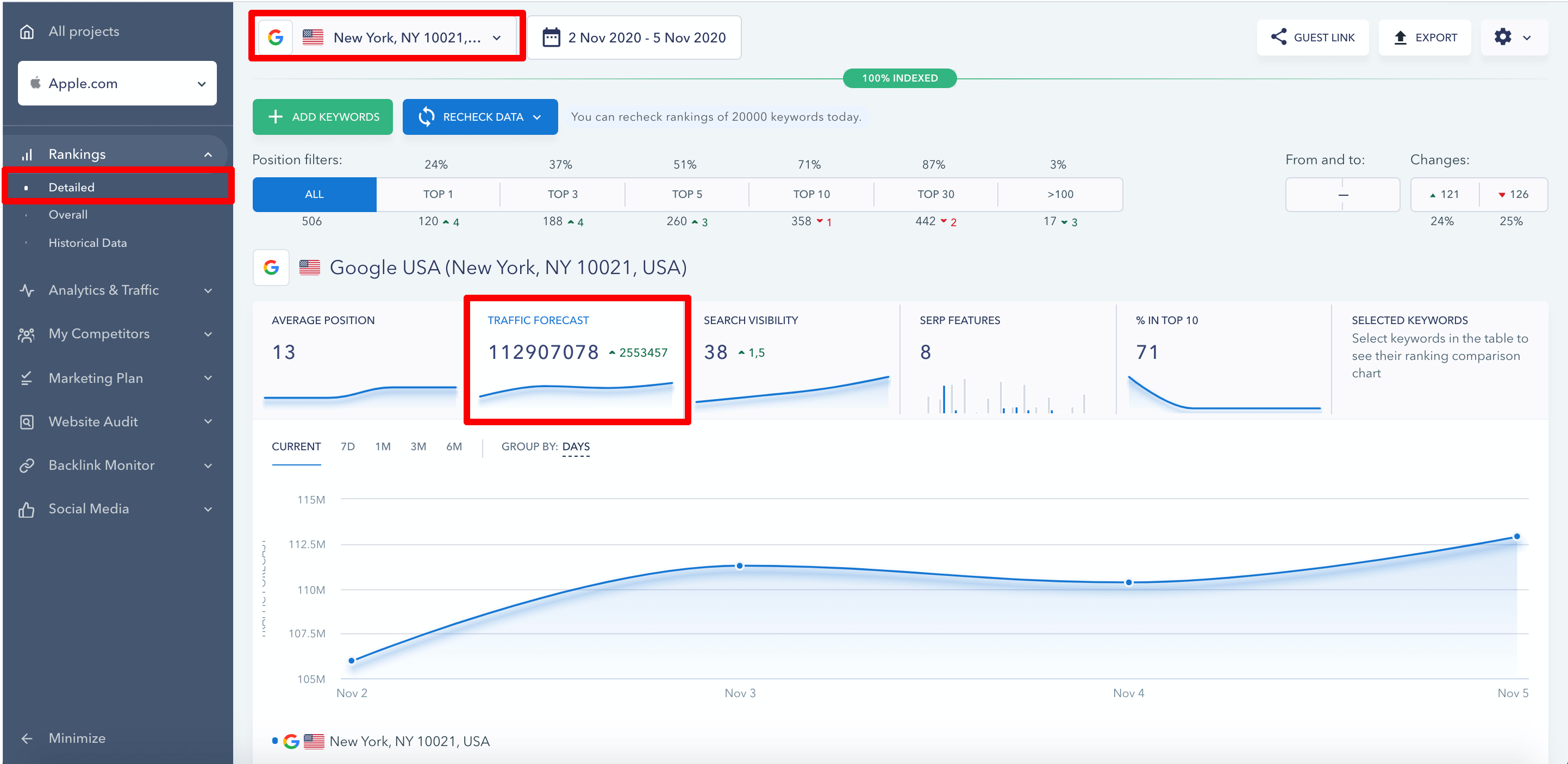 Additionally, you can see all the search engines added to a project in a single chart by going to Rankings → Overall.

3. Traffic forecast for each added keyword
To see a traffic forecast for each keyword separately, go to Rankings → Detailed. If you don't see the "Traffic forecast" column on your Dashboard, add it by clicking the column filter above the table.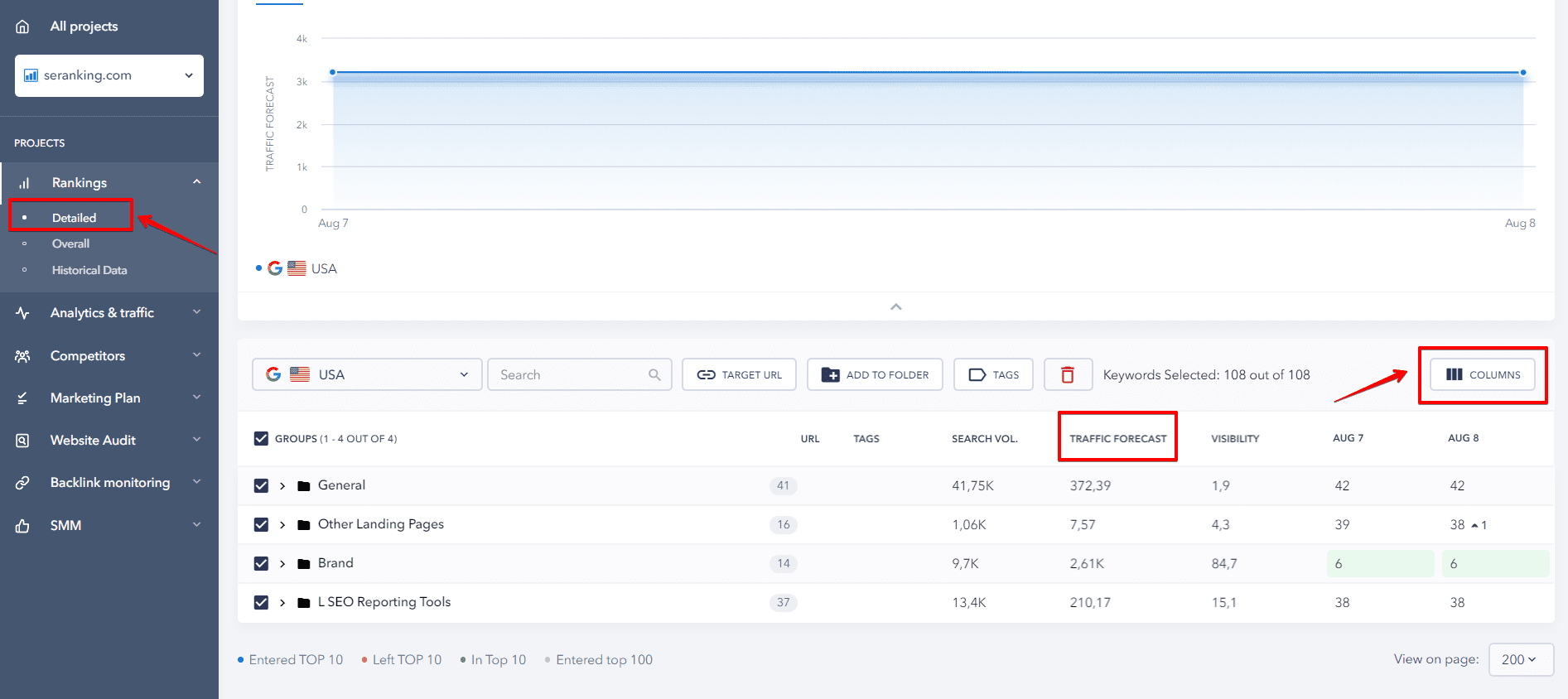 4. Competitor traffic forecast
You can view the traffic forecast of your direct rivals by selecting a project and going to Competitors → My competitors. When evaluating the traffic forecast for your site, you can also compare it with that of your competitors to get a more profound understanding of the overall traffic dynamics.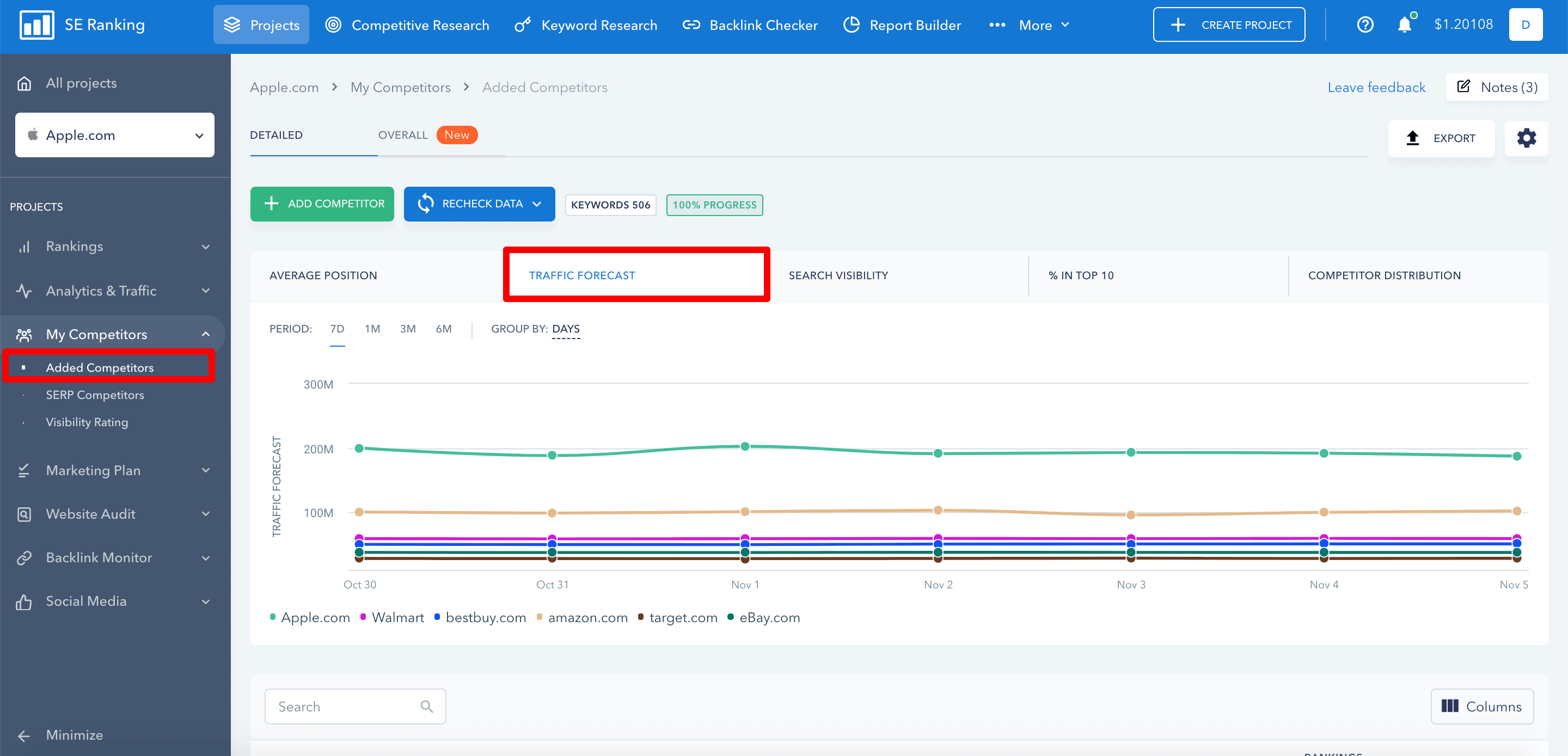 The traffic forecast data on your site combined with that of your main competitors helps set clear priorities on your current SEO strategy, as well as adjust it according to future plans. All of this can be easily done with the help of SE Ranking's all-in-one platform.