We are in a hurry to inform that we have added a new option for SE Ranking: right now you can check  traffic forecast. What is it?  Traffic forecast is the traffic count that your website can get based on the keyword ranking and search volume of this keyword.
How we can define traffic forecast in SE Ranking
T=F*R*I1*I2

where T –  traffic forecast in search engines;

F – search query frequency based on data from Google Keyword Planner: you can estimate a maximum potential traffic for a certain search query;

R – the current website rank based on search query;

I1 –  the adjusting index for search engines: Google I1=1;Yahoo I1=0.3; Bing I1=0.3 (bing and yahoo has approximate 3 times lower traffic);

I2 – the index that shows a maximum traffic you can get while having a certain website rank in the top of search engines.

So, according to the study conducted by Chitika, the potential traffic is distributed in the top of search engines in the following way:
Top-1 — 32,50%
Top-2 — 17,60%
Top-3 — 11,40%
Top-4 — 8,10%;
Top-5 — 6,10%
Top-6 — 4,40%
Top-7 — 3,50%
Top-8 — 3,10%
Top-9 — 2,60%
Top-10 — 2,40%
Thus, if you have data of your website rankings and frequency of search queries SE Ranking will build up the following traffic forecast graph.
You can choose in the settings which graph you want to view on SE Ranking dashboard by default.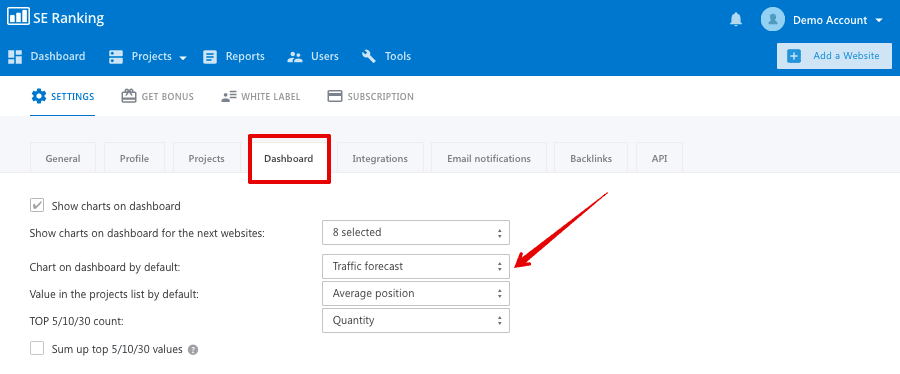 When you compare your real and  traffic forecast you can fix your keywords and change SEO strategies that will help you to get higher rankings in search engines. Good Luck!