20 pro tips on using SE Ranking
There are a vast number of ways how SE Ranking can help take your SEO and marketing efforts to the next level. However, most of our users, even experienced ones, probably don't know about every single way the platform can benefit them in their work. After all, we see new and creative use cases from our clients almost every day.
This helped us understand that many of our users don't know where to start or how to make the most of their subscription.
Putting it in different terms, there's so much you can do with the 30+ tools in our platform that it can be daunting, especially for SEO newcomers.
Here, we want to point out 20 pro ways of leveraging SE Ranking that you may have overlooked.
1. Uncover keyword opportunities by comparing competitors
SE Ranking gives you the opportunity to get a comprehensive analysis of any website you're going up against in search.
And to make the analysis process more convenient, you are free to compare the keyword lists of several websites on the spot under Competitor Comparison. This could either be your website and two of its competitors, or you can just analyze three competitor websites.
Go to Competitive Research → enter a website and select a region → Organic traffic research → Competitor Comparison
Learn more about Competitive Research
Here you can see what keywords each site is targeting in search. With the help of in-built quick filters, you can get answers to such questions as:
What keywords do the analyzed websites have in common?
Which keywords are not targeted by one of the three of the domains?
Which keywords are only targeted by one of the analyzed websites?
This makes it possible to quickly expand your site's keyword list. Find the keywords your competitors are targeting in search, but you aren't, analyze to see which ones have more potential, and start targeting them in your own campaigns. By the way, you can make use of various filters to mix and match the analyzed websites and only see those keywords that you believe are worth your time.
As for paid search campaigns, you can see the same data there but for keywords that you and your competitors target in Google Ads campaigns. This helps you get an understanding of what works or doesn't work for a competitor in paid search, and you can use this data to launch better performing ad campaigns on Google.
2. Analyze historical ranking dynamics of organic keywords
With the help of the Organic SERP History section, you can track the ranking dynamics of any keyword going back as far as February 2020. You will get a list of websites ranking among the top 100 search results for any keyword at a particular time.
On top of that, every page and domain on the list comes with its key metrics, such as the amount of traffic, its cost, and the number of keywords the site ranks for.
Go to Keyword Research → enter a keyword and select a region → Organic SERP History
Learn more about Keyword Research
By default, you will see a graph here that shows the ranking dynamics of the top 5 websites that come up in organic search for the analyzed keyword. You yourself can actually add any website ranking among the top 100 search results to the graph by putting a checkmark next to it in the table below.
Organic SERP History can help you do a number of things, such as:
Study any keyword's SERP landscape, find out how stable it is in terms of players and track the ranking dynamics of competing sites for any period;
Analyze the SERP against previous periods and discover how it has changed across time: which sites were ranking at the top, which new ones made their way into the SERP and which ones were unable to withstand the competition and dropped out of the SERP completely;
Identify the main competitors that have held onto their spots in the search results for a long time, and compare data for different months to find out how their traffic was distributed;
Track which sites had sharp jumps in rankings and when;
Find pages that have helped competitors rank at the top of the SERP for a keyword that you are interested in.
We have gone through the main features of the Organic SERP History section, but I'm sure you will find other ways to make the most of it.
3. Find better advertising opportunities
In addition to working on optimizing your organic search campaigns, SE Ranking gives you the opportunity to research everything your competitors are doing in paid search.
Go to Competitive Research → enter a domain and select a region → Paid traffic research → Keywords
Learn more about Competitive Research
Here, you can learn more about the keywords your competitors target in their paid ad campaigns on Google. You can see how high each keyword ad is ranking, what the keyword's search volume, cost per click and level of competition are, as well as everything about traffic namely its volume, share and cost.
This data helps develop a strategy to outrank competition in paid search. However, besides learning how much it costs your competitors to get a keyword to rank at the top, you can also see the preview of the copy they currently use in their ads.
Knowing this gives you a good understanding of what works for your competitors in paid search, and equips you with the insight you need to create your own ads better than your competition.
Moreover, besides analyzing a single keyword ad and its current rankings, you can see all of the ads that your competitors used in the past going back as far as 2017.
Go to Competitive Research → enter a domain and select a region → Paid traffic research → Ads History
Learn more about Competitive Research
For example, Black Friday or another major event is coming up and you need to create ads for your own business. With the help of Ads History, you can find out what ads worked best for your competitors in the past and use that information to copy their success onto your paid search campaigns.
In addition to providing a detailed breakdown of domain ads, you can use the Ads History section in the Keyword Research tool too.
Go to Keyword Research → enter a keyword and select a region → Ads History
Learn more about Keyword Research
Here, instead of seeing how a specific website promotes a keyword in paid search, you can learn how every top ranking website promotes the analyzed keyword. That way, you can pull ad ideas from all of your top digital rivals and run ads that aren't created in a vacuum.
4. Save your account limits by analyzing keywords in bulk
In addition to analyzing one keyword, you can take advantage of the Bulk Keyword Analysis feature to get key data on multiple keywords all at once.
Note that this feature can be accessed from every section of the Keyword Research tool, and the best part about it is that it allows you to save your account limits.
Go to Keyword Research → Bulk Keyword Analysis
Learn more about Keyword Research
To start analyzing a list of keywords, first select a country from the list of available options. Then, you can either manually enter the keywords you want to analyze one by one into the text field below or import them via a .TXT or .CSV file.
Each keyword that you add to the list is then analyzed against such metrics as keyword difficulty score, search volume, cost per click, and level of competition on Google Ads. Through the power of this data, you'll be able to identify the best keywords to target in both your organic and paid search campaigns.
Moreover, if you want to target a keyword in organic search, you can also learn what websites you will be competing with in the SERPs, their rankings, traffic volume and cost, as well as the total number of keywords they target. Just hover over a keyword in the list and click on the Organic results button that will appear on the right-hand side.
Having data on your digital rivals will help you get a better understanding of how difficult it will be to rank your site's pages among the top 10 search results. To learn even more about your competition, you are free to click on any organic result from the list, get redirected to it, and closely analyze the content that you will be going up against.
5. Break keywords down into groups for distribution across your website
With the help of the Keyword Grouper tool, you can automatically put keywords together into groups based on their SERP similarities. In other words, two keywords are clustered together if the same URL(s) comes up in the top 10 search results for both keywords.
Keyword Grouper was developed to help you efficiently and effectively distribute keywords across your site's web pages, which is crucial for on-site optimization, overall SEO as well as paid ad campaigns.
Go to Tools → Keyword Grouper
Learn more about Keyword Grouper
This tool comes in handy when you need to segment keywords for further distribution across your website, plan the SEO architecture of your website, as well as get higher quality scores and save your advertising budget through PPC grouping.
By grouping your keywords automatically, you can save loads of valuable time. Instead of manually going through thousands of keywords, the tool can take care of this task in a matter of minutes.
In addition, the tool highlights keywords from the SERPs, which ultimately helps you expand your list of target keywords with synonyms and closely-related terms.
Moreover, you are free to check keyword search volumes on the go here so that you have all the information you need to make informed decisions on how to distribute keywords across your website's pages.
6. Discover top competition by analyzing search visibility
One way of finding out who your competitors are is by looking under the Visibility Rating tab.
Select a project → My Competitors → Visibility Rating
Here, all of the sites are sorted by visibility. Search visibility is the share of impressions a website gets in a search engine for a search query. In other words, website search engine visibility displays the percentage of users who will see the website after entering a particular search query into the search box.
The way this tool works is that it takes all of your tracked keywords and shows you all of the websites that also target them in search. It's also worth looking here to make sure you know about every website you are potentially competing with.
7. Learn who your direct competition is via SERP Competitors
If you're still not sure who your competitors are, make the most of the SERP Competitors tab. SERP Competitors enables you to see the top 100 search results for all of the keywords tracked in your project.
Select a project → My Competitors → SERP Competitors
In a nutshell, you can take any keyword and find out what websites are/were ranking for it in organic search. You can even click on any of the search results to find out how their ranking dynamics have changed over time.
This helps see which web pages are moving up or down in rankings, and you could see that, for example, a new search result is gaining a lot of momentum and is edging closer to you. Or on the flip side, you could spot that a site that you thought was your competitor is losing its positions.
So, if you notice that a site that you haven't taken note of is gradually getting higher search rankings, put it on your radar and keep tabs on it. Perhaps, it will soon get in direct competition with you.
To make it easier to do the analysis on the spot, you can click on the Expand button to the right of the date at the top of the table and discover each search results' Domain Trust score, total number of referring domains, and number of tracked keywords.
8. Track all of the keywords you are being found in search for through Google integrations
Although SE Ranking does help you acquire new traffic, it also equips you with the tools to make sure that you hold on to your existing traffic too.
Select a project → Analytics & Traffic → Google Search Console Data
It is absolutely essential for any business to maintain focus on existing traffic even if you are working on expanding your reach and driving more new traffic to your website. Sure, new traffic can keep your rankings high for a while, but if you stop paying attention to the traffic you're already getting, it won't be long before your rankings start to drop.
With SE Ranking, you can connect your Google Analytics and Google Search Console accounts to the platform and—among other things—see which keywords are driving traffic to your site, but are not tracked in your SE Ranking project.
You can then check mark your untracked keywords and add them to your project where you will be able to take them into account when developing your SEO strategy.
In addition to GA and GSC, several other integration options are available in SE Ranking:
Visualize data, create various reports and dashboards for free with Looker Studio.
Connect SE Ranking to various apps and services around the web with Zapier. For example, leads acquired via Lead Generator will be automatically uploaded to the necessary service.
Automatically transfer all your leads to your CRM with the help of Bitrix24.
Extract site and keyword stats, create powerful formulas, and have it all ready for analysis in Excel in a matter of seconds via SeoTools for Excel.
Easily manage website ranking reports via Reportz. Track website rankings, compare them to competitors, analyze keyword ranking dynamics, and automate data reporting.
9. Show website optimization progress by comparing audits
I'm sure you are aware of the fact that you can audit your website using SE Ranking to find issues that may be preventing both people and search engines from properly interacting with your website.
But did you know that you can kick things up a notch by comparing the results of several different audits?
Select a project → Website Audit → Crawl Comparison
Learn more about Website Audit
Comparing crawl reports will help you see what progress has been made on the site's technical setup and provide granular data about what's changed between the crawls. Of course, you have to wait a while before doing so to make sure that all of your issues have successfully been taken care of.
To make it easier for you to understand what has changed, you can see either a green or a red number next to each parameter in the latest audit report that indicates if positive or negative progress has been made.
10. Monitor your and competitors' pages for changes
Another very useful thing about the Website Audit tool is that it has a built-in tool called Page Changes Monitor. With the help of this tool, you can add your top-performing pages (or, frankly, all of your pages) and get notified whenever a change is made on any one of them.
That way, you will be able to stay on top of your pages and know if your colleagues, senior management, or even a client makes any alterations without telling you.
Select a project → Website Audit → Page Changes Monitor
Learn more about Page Changes Monitor
Regardless of how big of a team you have working on your website or what your main objectives are, Page Changes Monitor helps you stay aware of any changes happening to the pages that you choose to monitor, even if the pages you want to track aren't a part of your website.
Keeping tabs on web page changes is important for several reasons:
In terms of SEO, this tool is helpful if, say, your client or content manager makes changes to important on-page SEO elements, like removing keywords from the title or adding links to a page without letting you know. As a result, this can lead to sudden drops in rankings and you will be left scratching your head wondering why.
In terms of PPC, if, say, a pay-per-click specialist purchases traffic and optimizes the page for a specific keyword, they must be 100% sure that nobody will change the content of the page without giving them a heads up.
If someone makes unauthorized website changes, for example, you are hacked, the tool will help you discover malicious code and spammy links.
Plus, since you can also monitor competitor pages for changes, this tool can let you know if any of your digital rivals are making big changes to their web pages, like adding new pricing plans, promoting hot offers, and more.
11. Maintain a clean backlink profile by disavowing bad links
SE Ranking's Disavow feature allows you to devalue backlinks to your website that you consider harmful. For example, if you have a link penalty flagged by Google's algorithm, you risk losing traffic to your website. Through this feature, you can manually reduce the impact of link penalties.
Select a project → Backlink Monitor → Disavow → select bad backlinks → click Add to Disavow List
Learn more about Backlink Monitor
Disavow links are unwanted links that are reported to the search giant so that Google does not take them into account when crawling and indexing your site. In terms of the impact this has on SE Ranking, disavowed links affect the data under the Anchor Texts and Pages tabs.
I want to point out that adding links to the Disavow tab in SE Ranking does not actually mean that you've marked them as unwanted for Google. In order to report such backlinks to Google, use the Disavow tool. You are welcome to learn more about the tool in the Search Console Help Center.
12. View keyword rankings by date, target URL, and URL in SERP
When analyzing your site's keyword rankings, you have the freedom to group your search queries by the date they were added to the project, by their assigned target URL, as well as by their actual URL.
Select a project → go to Rankings → View mode
Learn more about Keyword Rank Tracker
This gives you yet another option—several for that matter—for taking a close look at all of your target keywords. Grouping by target URL gives you an understanding of whether a particular page or pages are ranking in search for their intended keyword(s).
Plus, choosing the URL in SERP option lets you see which keywords perform well for your website in search but don't have a target URL set for them.
Viewing keywords by the date they were added to the project gives you an indication of how well they are performing in search. Since you have only recently started tracking such keywords, you need to keep an eye on them until they settle in their spot in the SERP.
13. View keyword notes right from the Rankings table
Another feature of the Rankings section that you can take advantage of is the Notes column. Besides adding notes to projects and viewing them on ranking graphs and charts, you can see your notes in a separate column in the Rankings table.
Select a project → go to Rankings → click on Columns → add Notes
This allows you to see all of the comments that you or a teammate decided to add to your target keywords without having to do any extra clicks.
And if you need to create more than one note for a keyword, you'll see the text of the first note as well as a number next to it that indicates how many notes for the keyword there are in total. To look at every note you have for a single keyword, click the number under the Notes column to see a pop-up window that contains the complete list of notes.
This makes it easier for you to keep track of your keywords and their performance in search.
14. Group dates in Rankings by day, week, month, year
We've added the option to group data in the tables by day, week, month, and year, which is helpful to anyone who works with big data and wants to have a complete overview of the progress that's been made.
Go to Rankings/Added Competitors → select the calendar → select a date range → select Group dates by
Doing so will allow you to see the average ranking position of your target keywords over the selected grouping period. So, if you select to group dates by month, you will see that ranking columns are named after each analyzed month within the set time frame.
If you click on the average keyword ranking position in the table, a pop-up window will appear that contains the history of ranking changes broken down into days. Combine this with filters and you can quickly analyze the keywords you need.
15. Customize Rankings tables to your needs
If the Rankings table doesn't show you all the data you need or if you want to see other data points by default, you can easily decide what to include on the page by playing around with the settings.
Select a project → go to Rankings → click on the Gear icon to access settings → Ranking settings
Here you have the liberty to customize the settings of the Rankings module. Let's go through the complete list.
Show/hide charts and graphs as well as choose which one should be displayed by default
Show data on every added search engine or just one
Decide which tab you want to open by default: Detailed, Overall, or Historical Data
Define how many keywords you want to see on a page
Decide if you want to view an icon or the full web page URL
Enable table columns that you need, disable unnecessary ones, and decide which column rankings should be sorted by
Align rankings data from left to right or right to left
You can use the calendar to select the rankings that you want to view by default or specify that you want to view current rankings, 2, 3, 4, 5, 6, 7, or 30 of the most recent rankings
Select the default view mode for the Rankings table
Check mark the types of notes that should be displayed on rankings graphs and charts
Ultimately, this helps you avoid making repetitive changes every single time you want to view the rankings of your project's tracked keywords.
16. Provide clients with access to data via guest links
If your clients or senior management are eager to get their hands on data and can't wait a single minute for it, you can give them access to SE Ranking with the help of a guest link.
Select a project → go to Rankings/Analytics & Traffic/My Competitors → Guest link
You can decide what data to show them and what sections of the platform they'll have access to. For the time being, guest links can be provided to the Rankings, Analytics & Traffic, and My Competitors modules.
With the guest link, your colleagues and/or clients can just check in whenever to see how the work is coming along. The best part is that they do not need any login credentials to access the platform. And if you decide that you no longer want them to have access to data, you can just update the link.
17. Give additional users full access to your projects
Each SE Ranking subscription plan offers a limited number of unique user seats. This allows you to provide additional users, such as your teammates, with access to SE Ranking. But unlike the guest link, you can provide additional users with complete access to your project data.
Hover over your account profile in the top right-hand corner → Users
By default, 1 user seat belongs to the account administrator. Below you can see a breakdown of how many user seats are available in each of our pricing plans:
Essential: 1 user seat
Pro: up to 3 or 5 total user seats
Business: up to 10-30 total user seats
Enterprise: up to 35-85 total user seats
By creating an additional user seat, you can give more people direct access to the platform and decide exactly what projects and sections they will have access to.
Note that we value the security of your data, which is why we support the "one login per user" policy. What this means is that only a single user can be logged in to the account at a time. To protect the integrity of your data, we encourage you to refrain from sharing your login details with third-parties.
18. Provide branded reporting via White Label
SE Ranking gives you the opportunity to personalize the SEO platform to build trust and credibility with your clients. Thanks to the White Label feature, you can present clients with reports that reflect your logo, header, footer, your corporate color scheme—basically, custom reporting that's unique to your brand.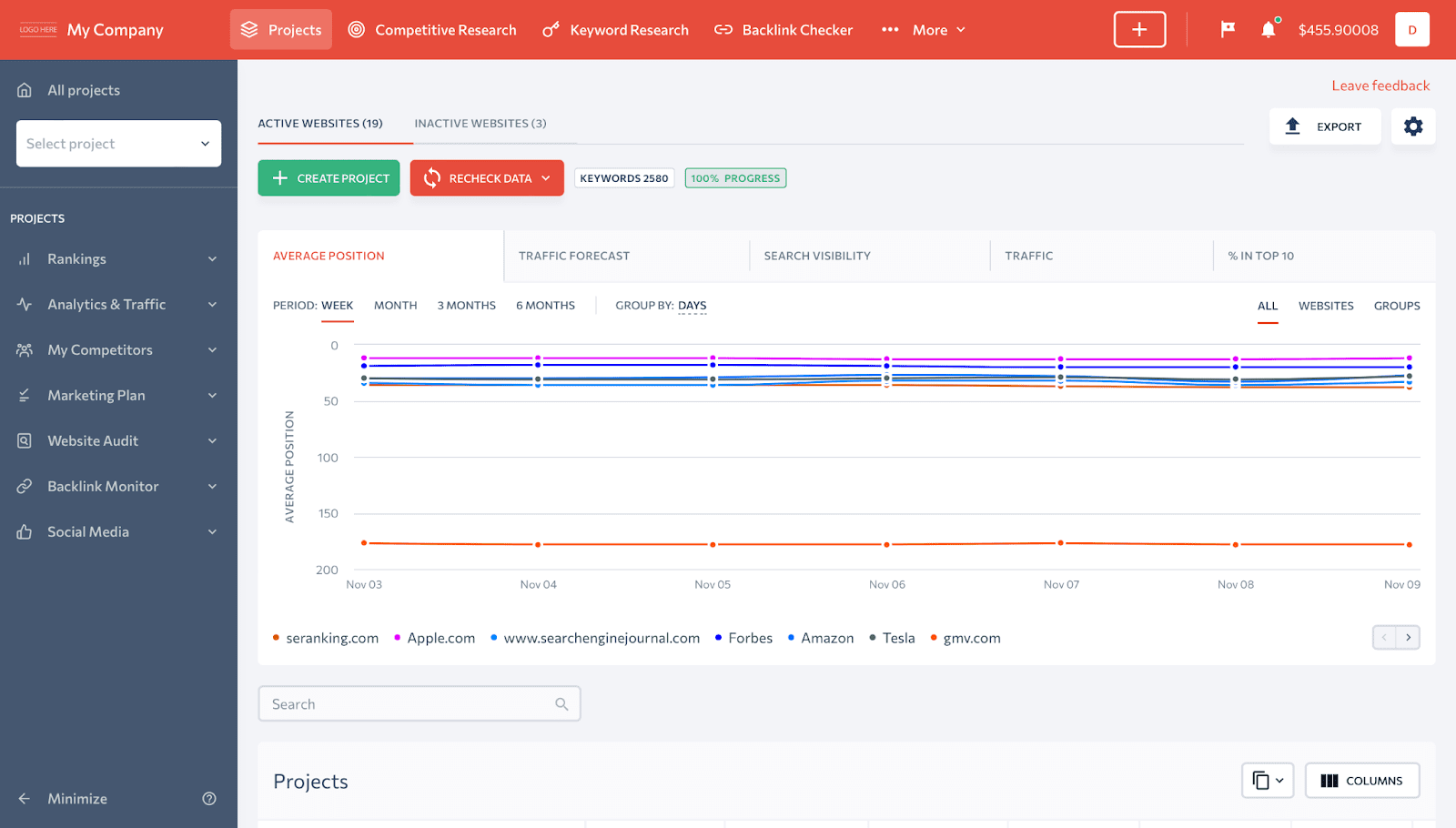 Plus, when you provide them with access to the platform via a guest link, they won't have any idea that they are actually looking at SE Ranking. Instead, they will be sure that they are dealing with your own development.
Hover over your account profile in the top right-hand corner → White Label
Learn more about White Label
In addition to completely personalizing SE Ranking's from the visual standpoint, White Label also enables you to:
Connect your own domain to the service
Create a custom interface and login page
Turn Live help and Feedback widgets on and off on the login page
Manage footer links
Send automated or manually generated reports from your own e-mail (use your own SMTP server if preferred)
On top of that, your clients will be able to log into the platform from your own domain, and you don't need to install anything on the server or your hosting provider. Through the power of the White Label, SE Ranking's entire interface will be customized to and represent your brand.
19. Build custom solutions through the API
We offer an API and scripts for professionals who need more advanced access settings. This feature enables you to extract SEO data from SE Ranking and apply it as you deem appropriate.
Scroll down to the footer on any page → API
Learn more about API
Our API provides programmatic access to all of the data gathered from the SE Ranking platform. The API can be used to manage large or complex accounts more effectively. Large companies with a vast number of projects can automatically set up accounts, view, add or delete projects.
20. Generate more leads for your SEO business
If your business provides SEO services to clients, you can install the Lead Generator widget on your website and generate qualified leads for your business.
Go to Tools → Lead Generator
Learn more about Lead Generator
Once you set up your Lead Generation widget, you can add it to, for example, your website's homepage, and visitors who see it will have the option to provide you with their email address in exchange for a free on-page SEO check of one of their site's pages.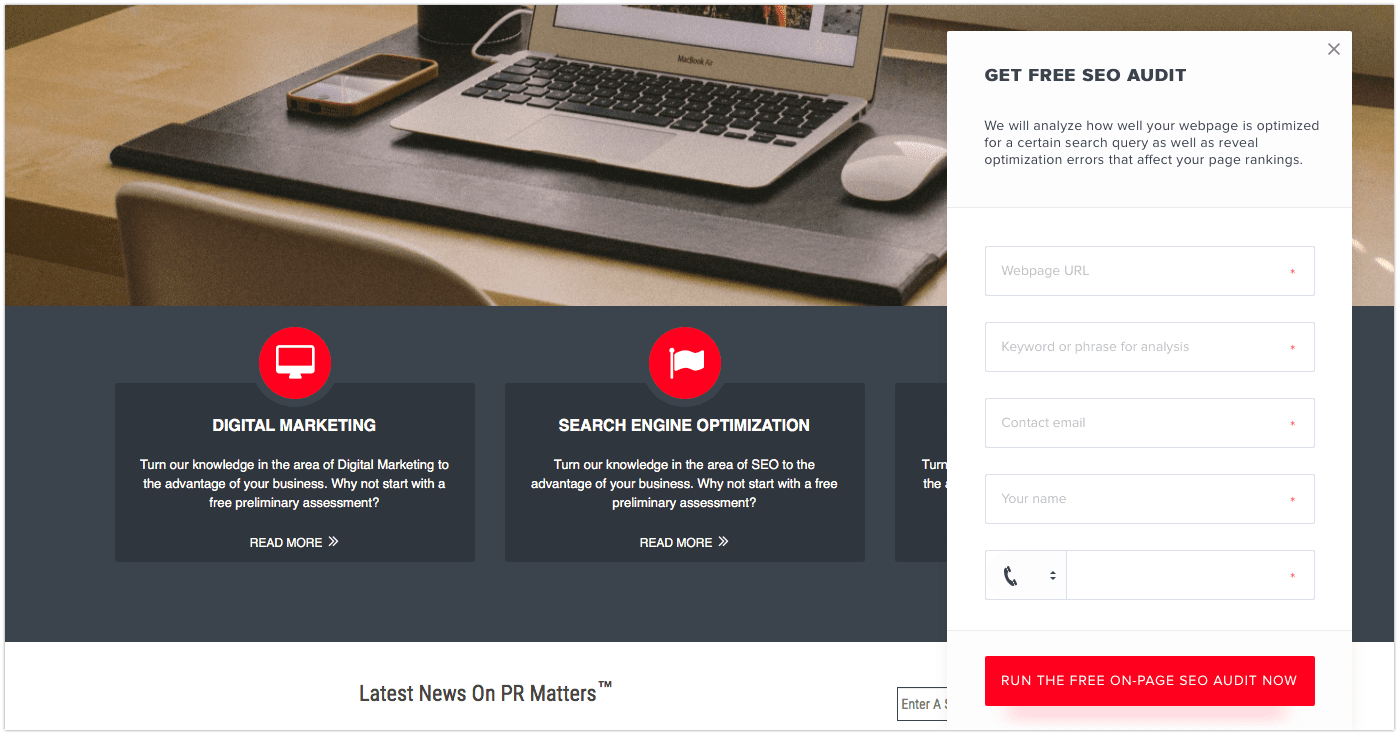 In turn, you get their contact info as well as a report on their audited page. You can then leverage such reports to reach out to your site's visitors and let them know how you can help their business in terms of SEO. Of course, you will be able to base your pitch on the results of the on-page SEO check report.
Looking ahead: Frequent updates, constant development based on your feedback
And to finish things off, we want to point out that we greatly value the feedback of our users.
In fact, at the end of each year we ask our awesome users to make a wish and let us know what they'd like to see on the platform next year. This could be anything from tools and features, to keyword databases and design tweaks. Of course, we aren't limiting our user feedback to a single occasion and we welcome your thoughts and suggestions all year long.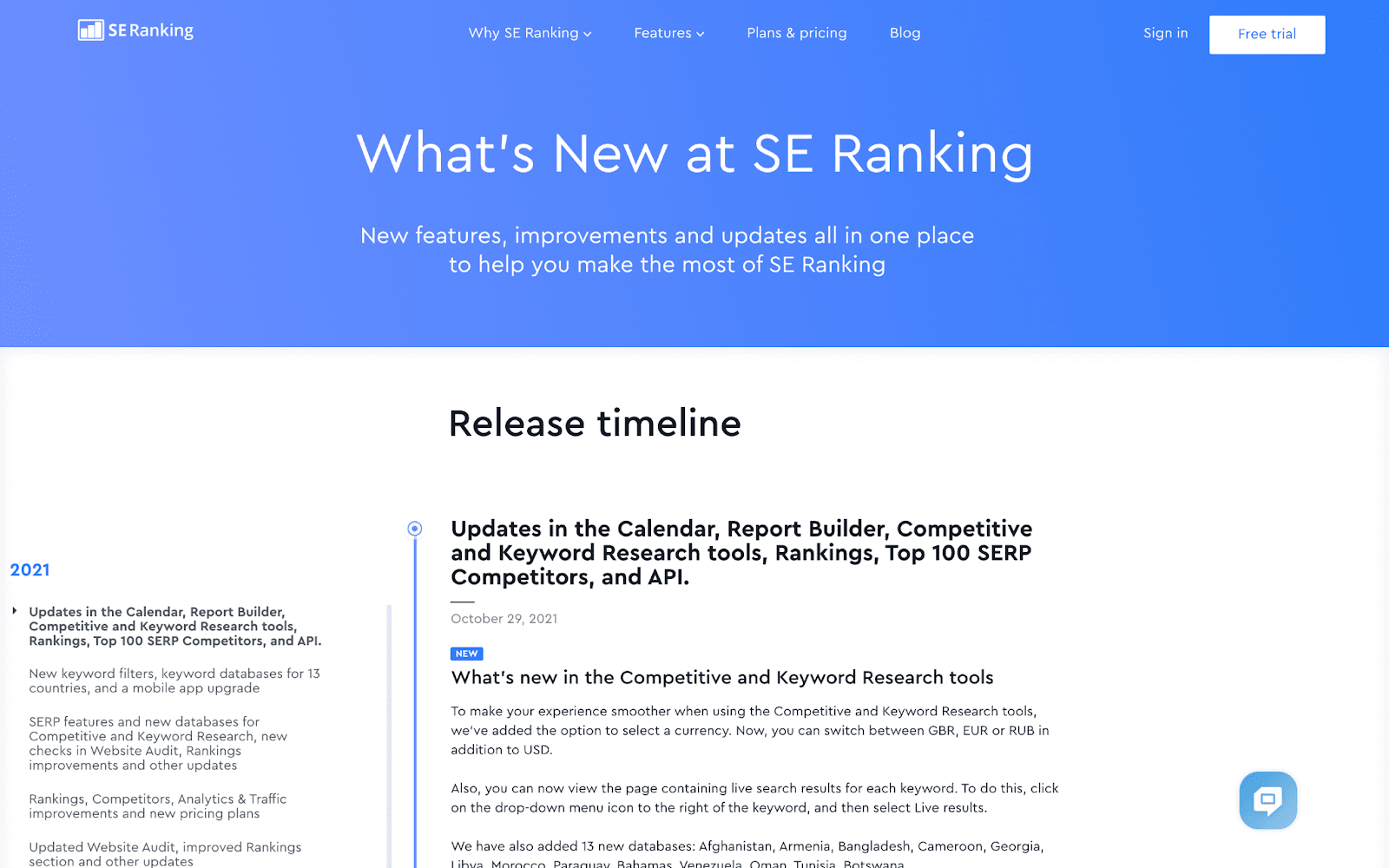 With so many constant developments, updates and expansions—by the way, we are working on modules on Local SEO, Content, and updating our On-Page SEO Checker—it can be hard for our busy users to keep track of everything that we do to improve SE Ranking.
So, to make it easier for them to learn about our latest updates, we post product update articles on our blog once every one or two months, send out notifications through the platform, and we have a What's New page that you can check out to learn about SE Ranking's capabilities.
And there you have it, folks! 20 actionable ways to take advantage of SE Ranking that you might not have known about. Despite the fact that this article is rather long, I actually tried to keep it short. If you want to get more information about our SEO platform, be sure to check out our Help Center, YouTube channel, or reach out to us via Live Chat.
Do you want to share any other ideas on how to make the most of SE Ranking? Let me know in the comments, and I'll expand this list over time!