Getting SEO and PPC to work together: Tips for creating the perfect tandem
At first sight, it may seem like SEO and PPC don't have much in common. Both strategies are supposed to make your website visible on SERPs and that's basically it, right? Well, not quite.
To launch a successful pay-per-click campaign, you need to perform thorough keyword research, analyze the competition, and create an optimized landing page. Promoting a website organically also requires you to do all of these things, which in turn means that SEO tools can help you handle your PPC routine more effectively. It helps to think of these two marketing methods not as polar opposites, but as two sides of the same coin.
In this blog post, we've outlined 8 ways you can align your SEO and PPC strategies to ultimately help you set up and run campaigns that convert well.
1. Take advantage of competitor findings
What can you do to beat the competition? The simple answer is examine every single thing they do, then find out how you can do it better. For example, you could spend dozens of hours researching and compiling a list of targeted keywords that you want to rank for. Or you could simply look at the keywords that have already been researched by your competitors and are currently being targeted in their PPC campaigns.
Moreover, you can handpick competitor keywords that have lower rankings and develop a promotional campaign targeting those keywords with the goal of outranking your rivals. So much data is available in specialized tools like SE Ranking that can help you remove all the manual SEO research from the equation and save you hours of time.
Get started by accessing the Competitive Research tool. There you need to decide if you want to get information about the entire domain along with subdomains, just the domain, or a specific URL. Then, enter a competitor's domain into the search box, choose a region from the list of available options under the drop-down menu, and click "Analyze" to generate the data.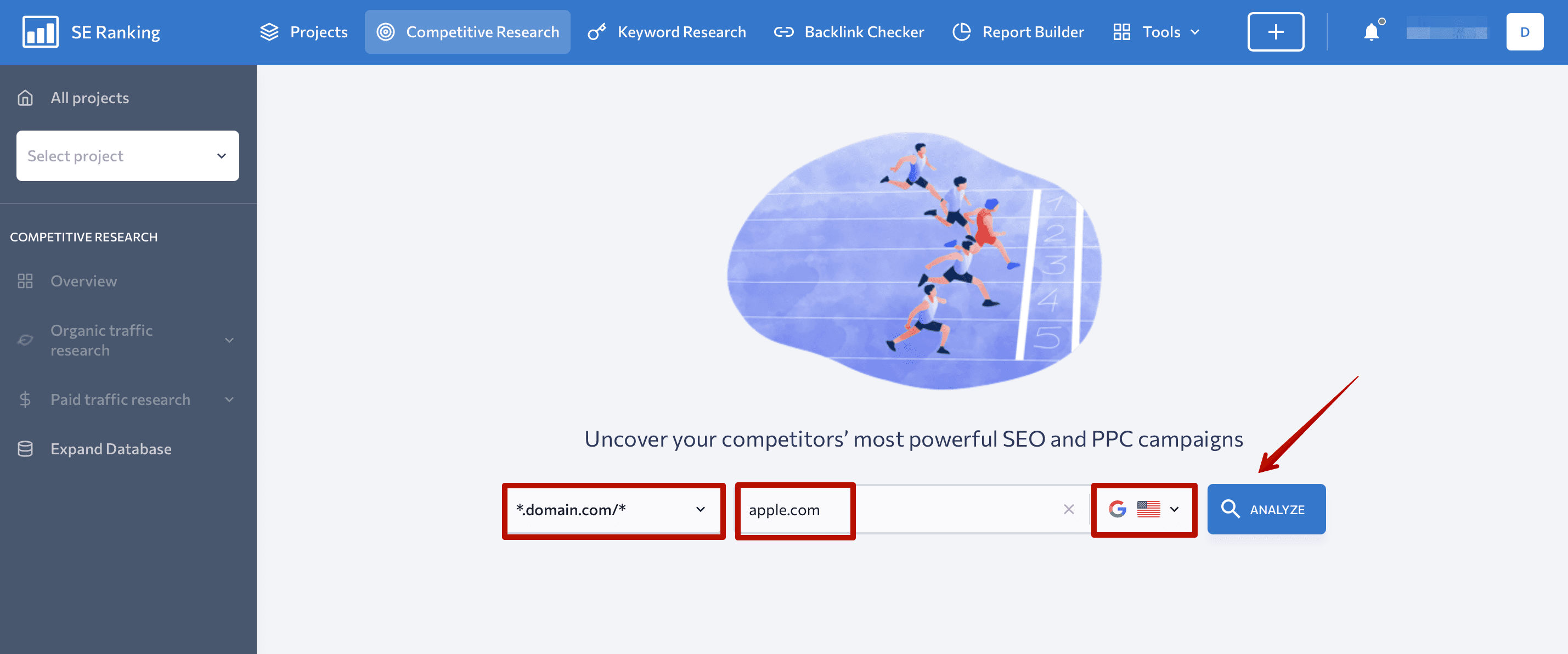 Once the data loads up, go to the Organic traffic research tab to get a list of all the keywords your competitor is targeting in its organic search campaigns. Naturally, you'd be interested in closely studying every keyword they work with, but since we're looking for those low-hanging-fruit opportunities, I recommend you click on the Position column to sort the keywords from lowest to highest ranking position.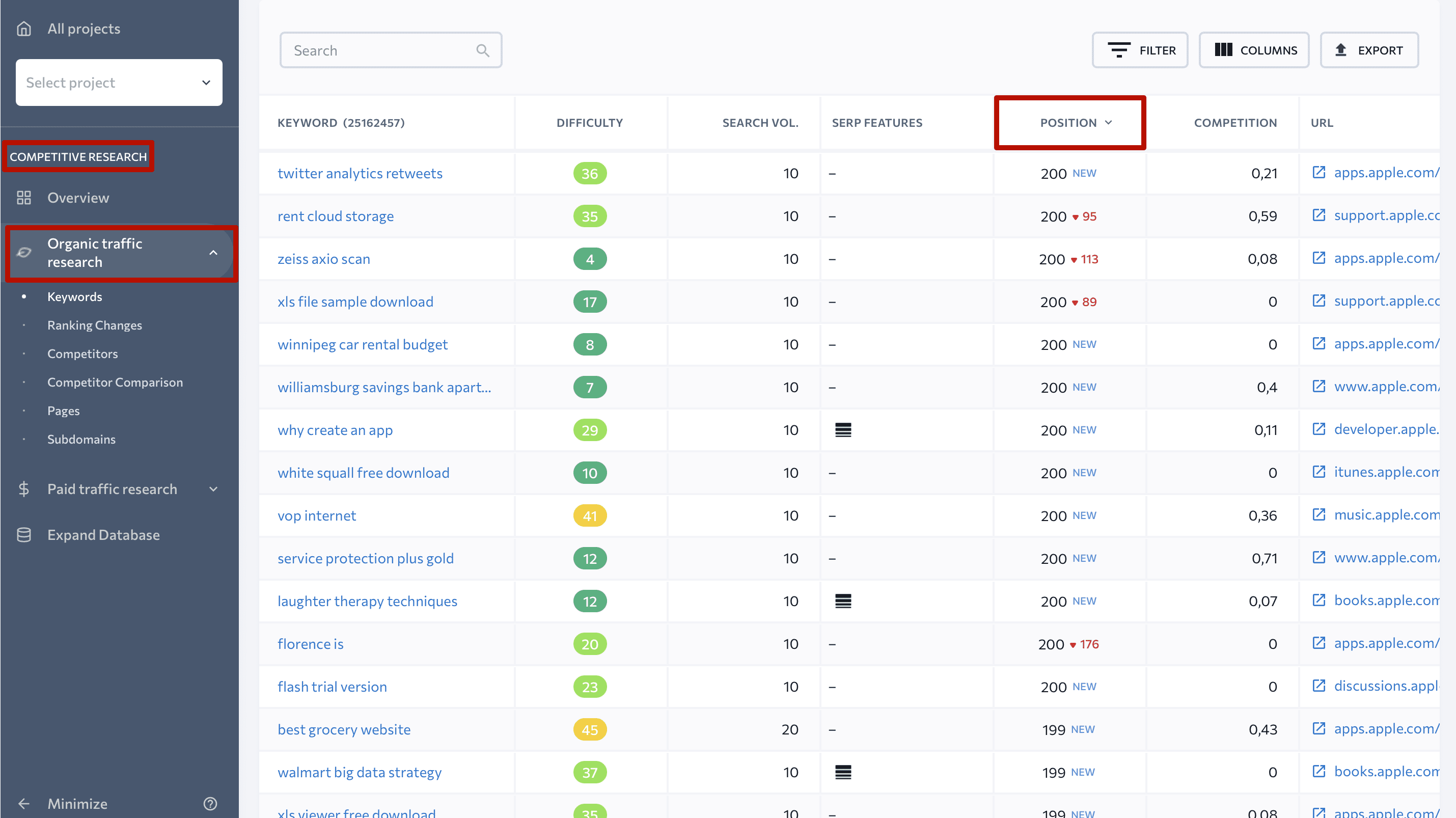 On top of that, if you see the word New next to a keyword's ranking position, you'll know that your digital rival only recently started targeting this search query and there is no guarantee that they won't make it into the top in the near future. For this reason, it's best to filter out keywords that are already showing results.
Once you have identified all of the organic keywords that you can target to steal traffic from your competitor, go to the Paid traffic research tab.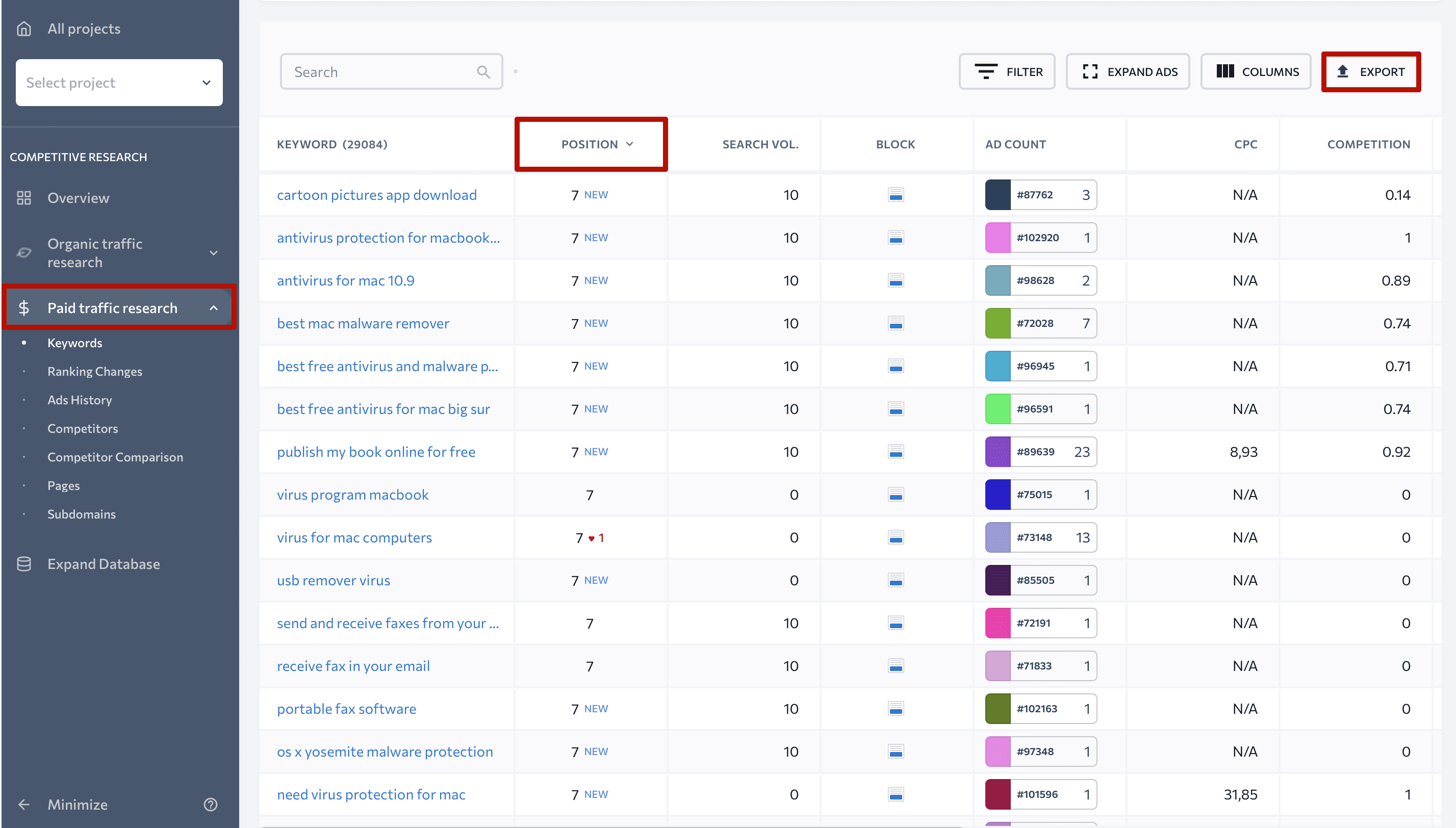 The idea is similar here: sort all of the keywords from your competitor's PPC campaign by their ranking position to find the ones they aren't having too much success with. These are the search queries that you can target in your paid search campaigns without as much competition.
Note that besides looking at the keyword's ranking position in organic and paid search, you should definitely take all the other data points into account, such as the keyword's difficulty, search volume, CPC, and level of competition. They will help you get an even better understanding of each keyword's SEO and PPC potential.
Then, you can use the filter to include only the keywords you believe you have a chance of ranking high for, and export them to a separate XLS file. Then, add them to your project for tracking, and create optimized landing pages and ads that people would click on.
Note that you can always use Competitive Research to find out what pages and ads your competitors used in their campaigns, analyze them, and create better versions people will engage with.
2. Test out your ad ideas on someone else's budget
One of the most crucial steps of an effective PPC campaign is sitting down to write the copy that will get people to click on your ads. We all know that it's all about creating a headline that will get internet surfers to become your site visitors.
But what makes an ad copy great? Well, it uses at least one target keyword that's relevant to the landing page, it calls people to take action, and it's always a plus if you add extensions like your address, phone number, and other additional links with the aim of boosting the ad's CTR and ranking position.
While all of this is great, it still leaves you with a lot of guesswork. And you may not have a deep enough pocket to test everything out before you find your best-performing ads. This is where analyzing your SEO and PPC competition comes into play once again.
In the Competitive Research tool, go to Ads History under the Paid traffic research tab to see a list of all the keywords that your competitor runs ads for. By clicking on an ad next to a keyword, you will be able to see the complete copy of that PPC ad the way it's displayed on Google.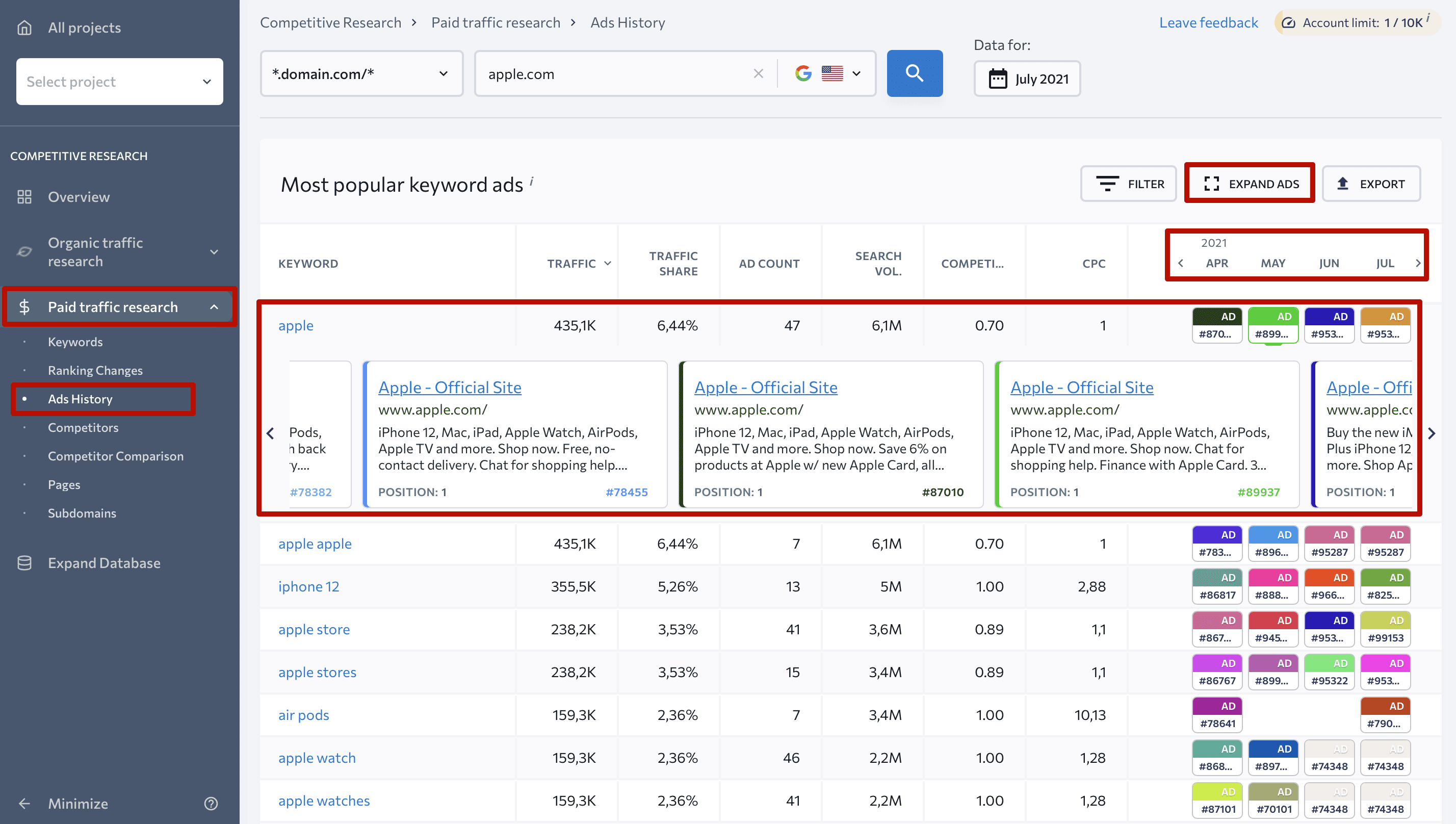 To improve on your own ad text, pay close attention to the SEO keywords your competitors use, their position in the text, as well as the entire text of the ads. But I want to stress that you simply cannot repeat your competitors' ads, but have to give it your own twist.
Besides improving on existing PPC campaigns, you can research your competitors as soon as you have an idea for a new ad. Just check what ads your rivals run for a specific keyword and analyze their effectiveness.
One of the most useful things you can do here is scroll through the ads from newest to oldest to learn how they evolved over time. For example, you can see if they used a specific text on Black Friday last year and if they changed it this year.
So instead of doing a lot of research and paying to understand the effectiveness of your ad texts, you can learn from other people's SEO and PPC management mistakes and only spend your budget on the most promising ad copy versions.
3. Know the best time to post ads
With the perfect ad copy ready to go, you ideally want to show it to as many people as possible. Using Google Analytics, you can get the information that will help you figure out when your ads are most productive based on previous user behavior.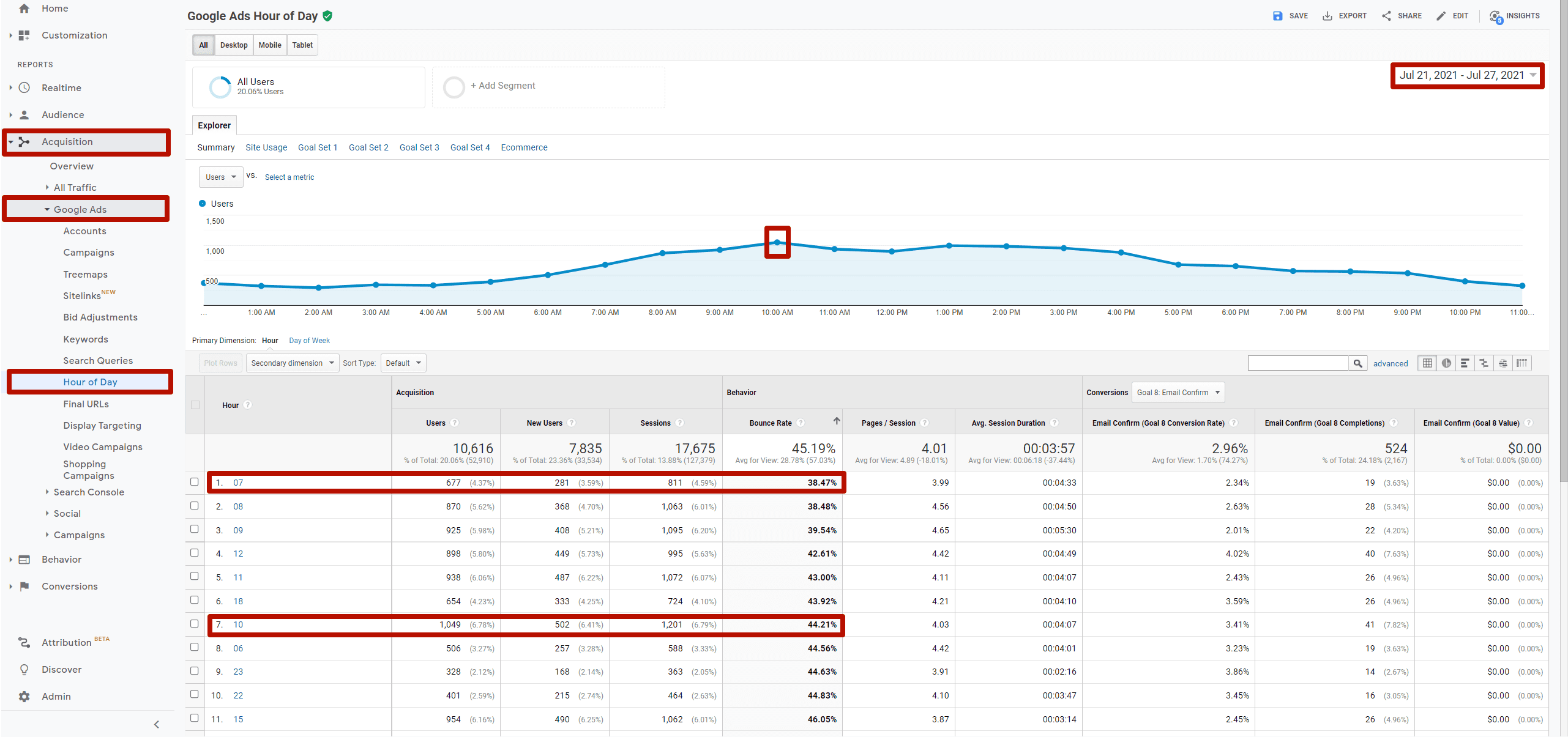 Go to the Acquisition report in your Google Analytics account, select to expand the Google Ads section, and then click on Hour of Day. Make sure to select a date range using the calendar to select a period that saw a lot of user engagement. Note that if you haven't been using Google Analytics, give it some time to collect data from your previous PPC campaigns.
Once you set everything up and see a page that is similar to the screenshot above, start analyzing the data to see when most people interact with your ads.
In the example above, you can see that the largest number of people click on ads from 10 to 11 AM, but their bounce rate is rather high. This can be a sign that while people are eager to click on ads at this time of day, they often get distracted and end up leaving the landing page almost instantaneously. As we start looking at the time of day with the lowest bounce rate, we can see that early risers—from 7 to 8 AM—have fewer distractions, but unfortunately, there aren't as many of them.
So, before you post your next ad, do your best to understand when your target audience is ready to click on your PPC ads and give them their undivided attention. This data can help improve the scheduling for your ads.
4. Create optimized landing pages
Depending on your goal, people who click on your ad and follow its link arrive on a page that impacts their decision to buy, sign up, read more, and so on. With so much at stake at this point, you can't afford not to present people with the information they expect to find on the page. You have to double-check to make sure that your ad and its landing page are both about the same thing, as in they focus on one keyword.
To help you with this, use SE Ranking's On-Page SEO Checker to learn how well your pages are optimized for their target keywords as well as for search engines in general.
Just enter the URL of the page you want to analyze and make sure to specify the target keyword(s). The On-Page SEO Checker tool reveals technical SEO issues that are negatively impacting a page's search engine ranking, providing a detailed breakdown of every error ranging from minor to critical ones.
Set your pages up for success by making sure that your visitors and search engines alike will love them. That way, if something goes wrong, you'll know to revisit the content of the page and check what's happening under its hood.
5. Always be aware of changes
With your PPC ad schedule set up, there is one more thing you need to be on top of 24/7. I am referring to the landing page people get redirected to upon clicking your ad on Google. You've put so much work into aligning SEO and PPC as well as making sure the page is optimized to convert visitors that you can't risk things falling through.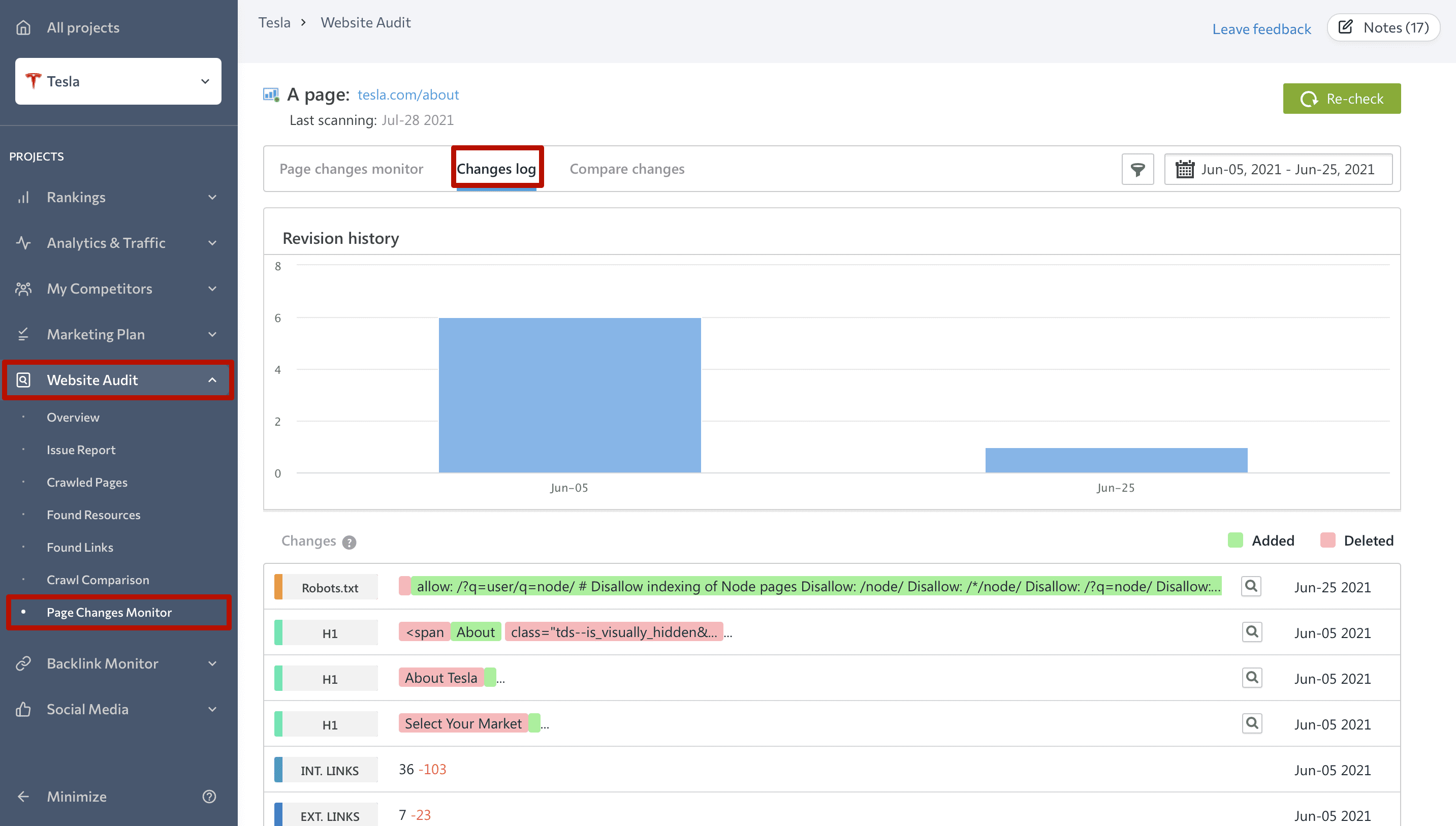 With the help of the Page Changes Monitor tool, you can keep track of everything that's going on with your pages in terms of updates. Just add the pages that matter to you the most in terms of SEO and PPC to the tool, do additional setup work on the page itself to make sure you can see all the changes in SE Ranking, and get notified if anything is altered in any way.
That way, if any of your colleagues or anyone else makes a change on the page that you aren't aware of, you will be able to fix things quickly and avoid suffering any negative consequences like a wasted PPC budget.
By the way, you can even add competitor pages to the tool but you won't be able to see any changes besides the meta title, meta description, and meta keywords unless you add a piece of code to their pages—something that sounds very far-fetched. Furthermore, the tool is very helpful for digital agencies that need to keep track of multiple client websites.
6. Know the SEO importance of URLs
On occasion, your team of PPC experts can all of the sudden decide that certain URLs that are already up and running need UTM tracking. On top of that, PPC pros often need to set up separate landing pages to support their campaigns. Let's look at why this can hurt your SEO efforts.
First of all, if you don't do your homework regarding the setup of UTM codes on the server or page side, there's a very good chance that this will result in them getting indexed. This can result in the creation of duplicate pages: one with the UTM tracking code and one without it.
At the end of the day, this can cause both pages to see a drop in organic rankings. You should always keep tabs on all of your pages and deal with duplicates in an appropriate manner.

Secondly, you can do your best to create a separate landing page to promote something in paid search, but if you already have a similar page integrated into your main website, both pages can go down in rankings.
When several indexed pages that belong to the same domain target the same keyword, search engines have a hard time trying to understand which page should appear higher up in search. This is known as keyword cannibalization which often happens if the PPC team doesn't communicate with the SEO team before creating a new page. To avoid this, you absolutely must communicate with relevant teams regarding your plans.
To stay on top of all of your duplicates and make sure that no page's search gains are impeded, take advantage of the Website Audit tool. Besides running a comprehensive technical SEO analysis of each website page and all of this content, the tool helps identify duplicate content issues.
Regular audits help you keep track of any possible duplicates, plus the tool points out specific pages that have this problem. It's up to you to decide what to do with each page on a case-to-case basis.
7. Report bid changes to the SEO team
Experienced marketing professionals know that a boost in paid activity can lead to a drop in organic traffic. Since SEO and PPC campaigns are different sides of the same coin, PPCs should always let SEOs know if the bid for a keyword suddenly goes up.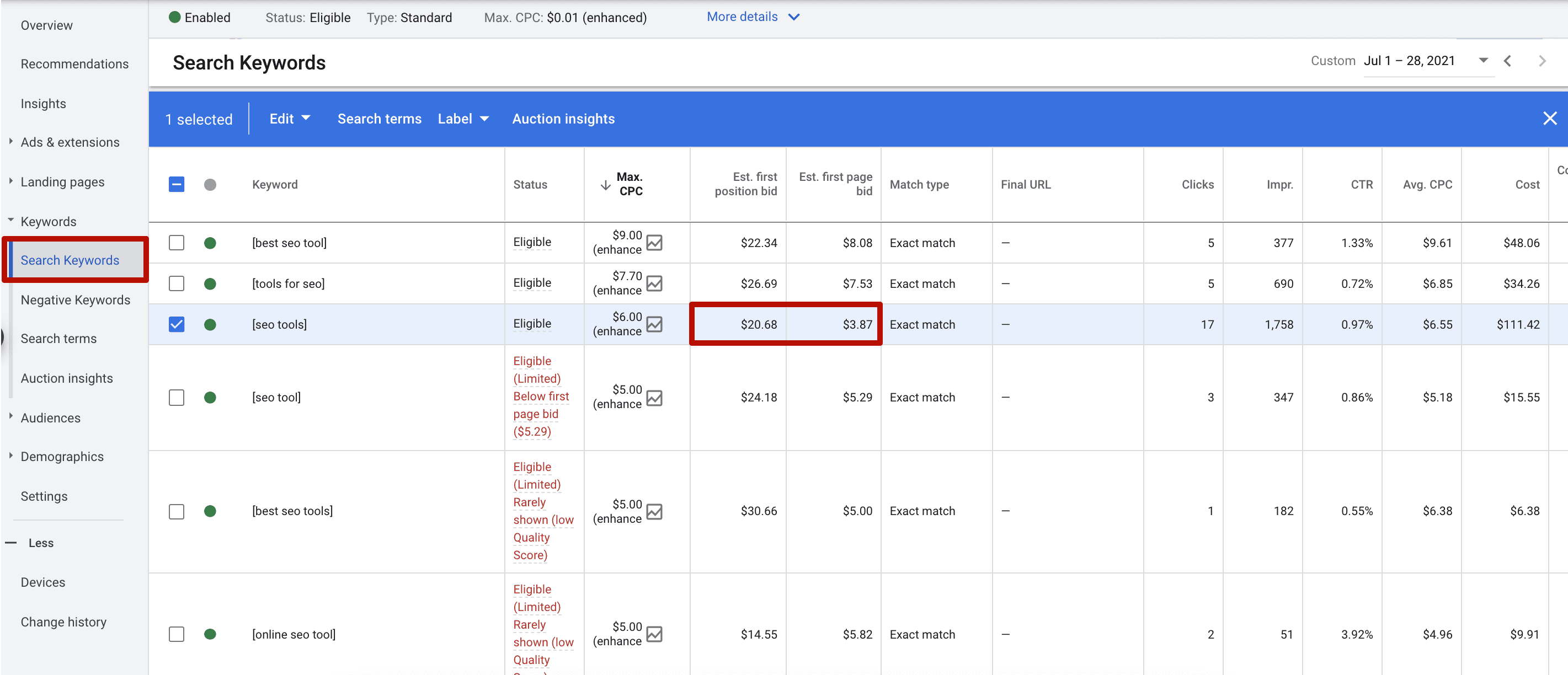 Failing to do so can cause the SEO team to break out in a cold sweat because of the decrease in organic visits. However, if the latter team knows what's going on with PPC campaigns, they will be able to provide a better explanation to senior management and/or clients as to why the rankings dropped.
On the other side of the coin, if pages targeting keywords rank well organically, there's a good chance PPC experts can take advantage of this in their bids as this can help improve the keyword ad Quality Score.
8. Track metrics to stay on top
Once your PPC campaign launches, you still have some work to do. And I'm not talking about making some final touches, but about performing ongoing work aimed at improving the overall SEO and PPC strategy and results. In order to do this, you need to get your hands on the numbers.
When you know specifically what's working and what's not, you are able to go all-in or take a couple of steps back, respectively. In addition to the tools I mentioned earlier, there is one more tool that can help you keep daily tabs on your site's organic and paid rankings.
Using Keyword Rank Tracker, you can add all of the keywords you target in your SEO and PPC campaigns and view their ranking positions for organic…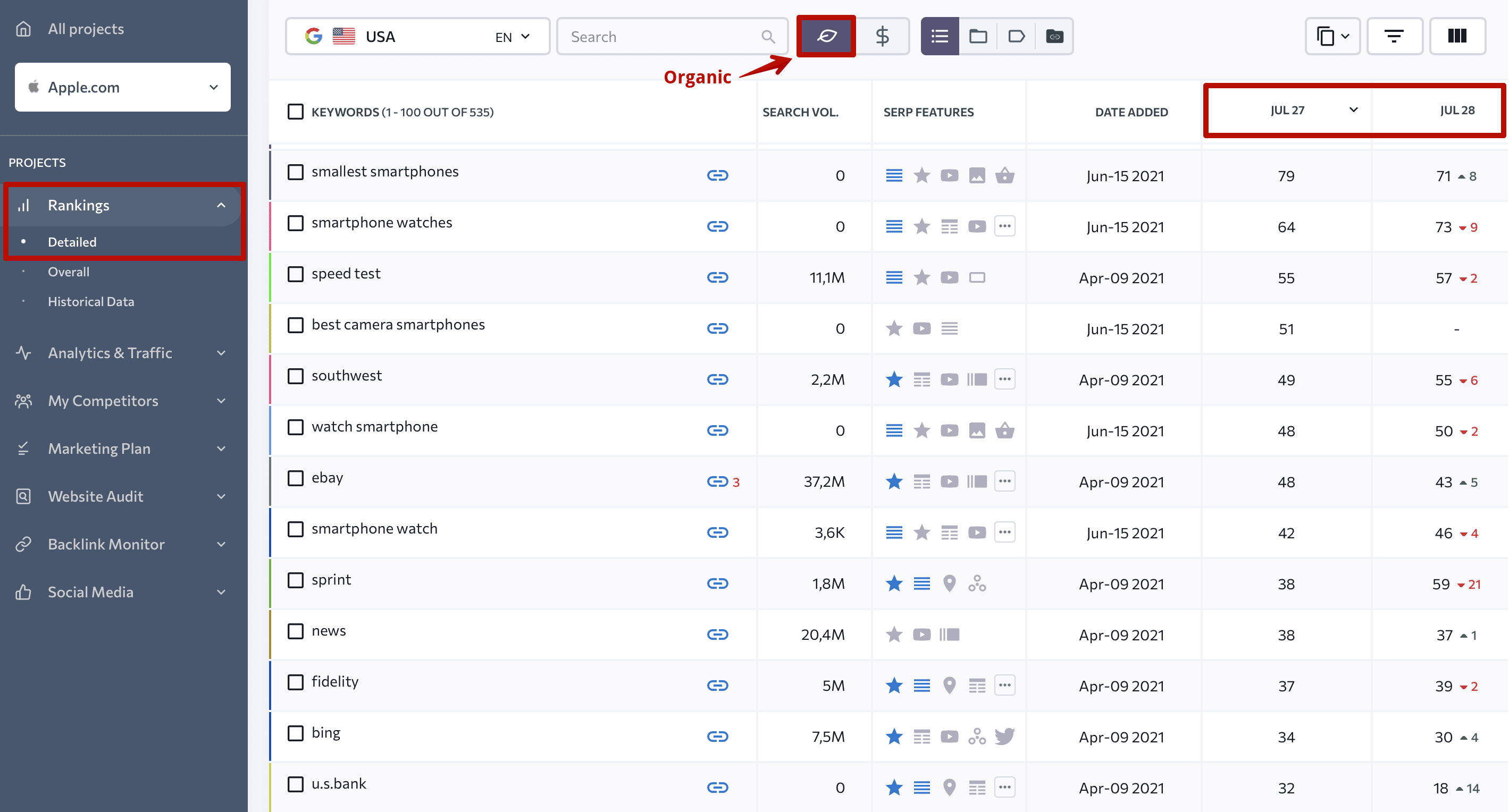 …and paid search.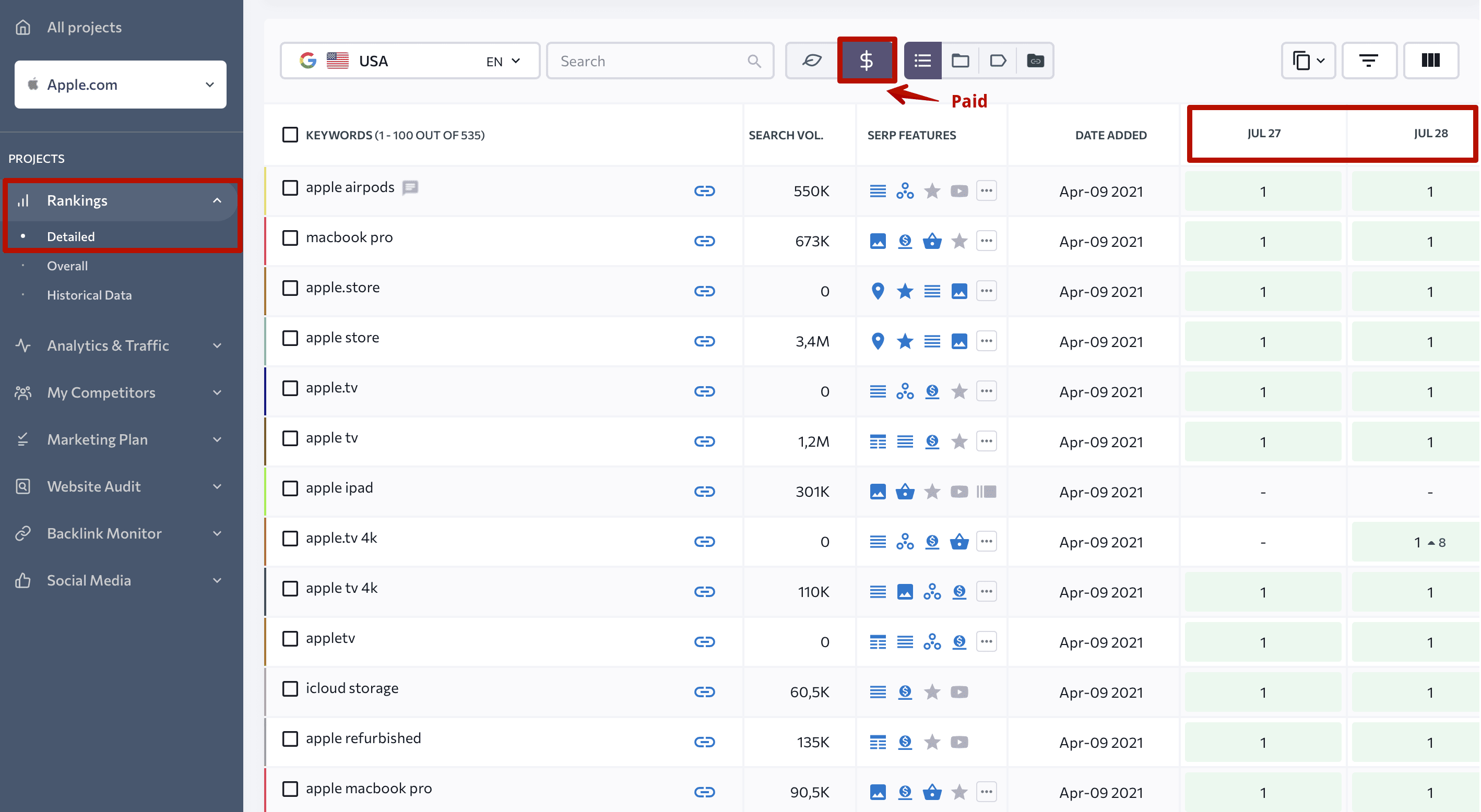 You can see how each keyword was ranked on a specific day, plus you can see the dynamics that allow you to get a quick assessment of your overall progress. If you see that something's not going according to plan, as in there's a drop in rankings, dig deeper to find the source of the problem.
Last but not least, since your website doesn't exist in an isolated vacuum, you have to always keep an eye on your direct competition.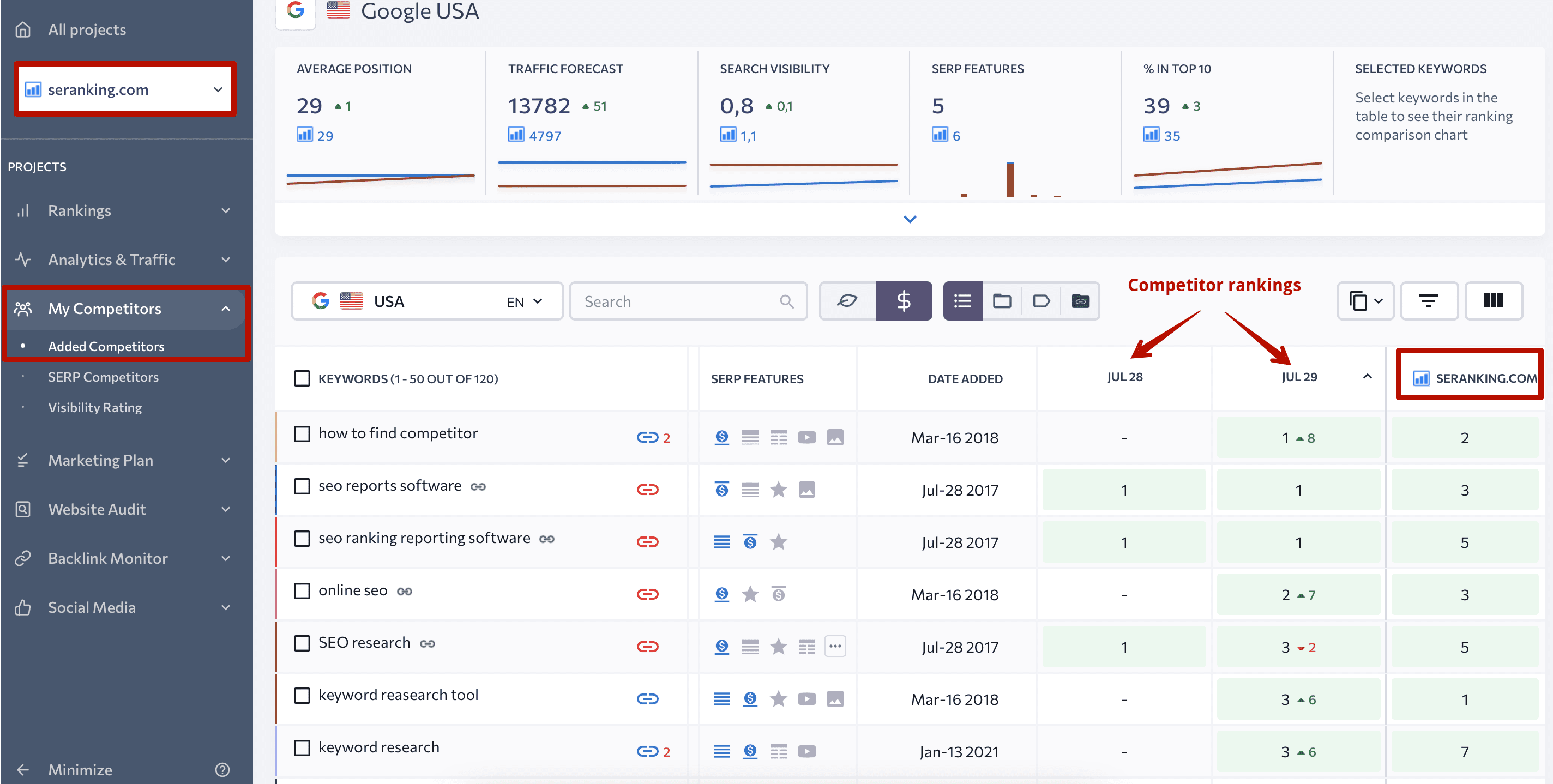 With SE Ranking's Keyword Rank Tracker, you can keep tabs on how your competitors rank in organic and paid search for your site's target keywords and adjust your campaigns accordingly.
Closing thoughts
Taking all of this into account, how do you combine SEO and PPC in marketing?
We know that PPC campaigns produce factual and tangible results. For every dollar you invest, you make $X. As a result, this makes PPC easier to measure in terms of bids, CPC, ROI and so on. If you're all about predictions and having at least a basic understanding of the results your campaigns will bring, PPC is the clear choice. SEO, on the other hand, is less obvious in terms of the results in brings.
But once we closely analyze the two approaches to driving traffic from search, we can see that SEO and PPC interact on multiple levels, such as investments, user behavior, and the way they appear in search. And because of this overlap, we can't ignore the fact that these two approaches need to work in synergy.
It all basically comes down to the fact that if you know what one of your hands is doing, you may be able to help the other accomplish its goals. Moreover, you will finally be able to uncover some search engine behavior mysteries that you simply can't solve without analyzing both marketing approaches together.
Know other ways PPC managers can benefit from SEO data? Let us know what your thoughts in the comments below.