Sign up for our newsletters and digests to get news, expert articles, and tips on SEO
Thank you for subscribing!
Even though Christmas is just around the corner and a new decade is on the horizon, everyone still has enough time to get a lot more things done this year. We at SE Ranking are also eager to cross more items off of our to-do list for 2019, which is why I'm excited to share with you everything we've updated in the platform over the past month.
SEO/PPC Competitor Research
It turns out that the SEO/PPC Competitor Research tool is our record holder in terms of updates.
In November, 10 new European countries were added to our Google keyword database, namely Liechtenstein, Luxemburg, Moldova, Romania, Slovakia, Czechia, Iceland, Lithuania, Latvia, and Estonia. In the table below, you can see how many keywords there are in each database, and here you can try out the tool itself.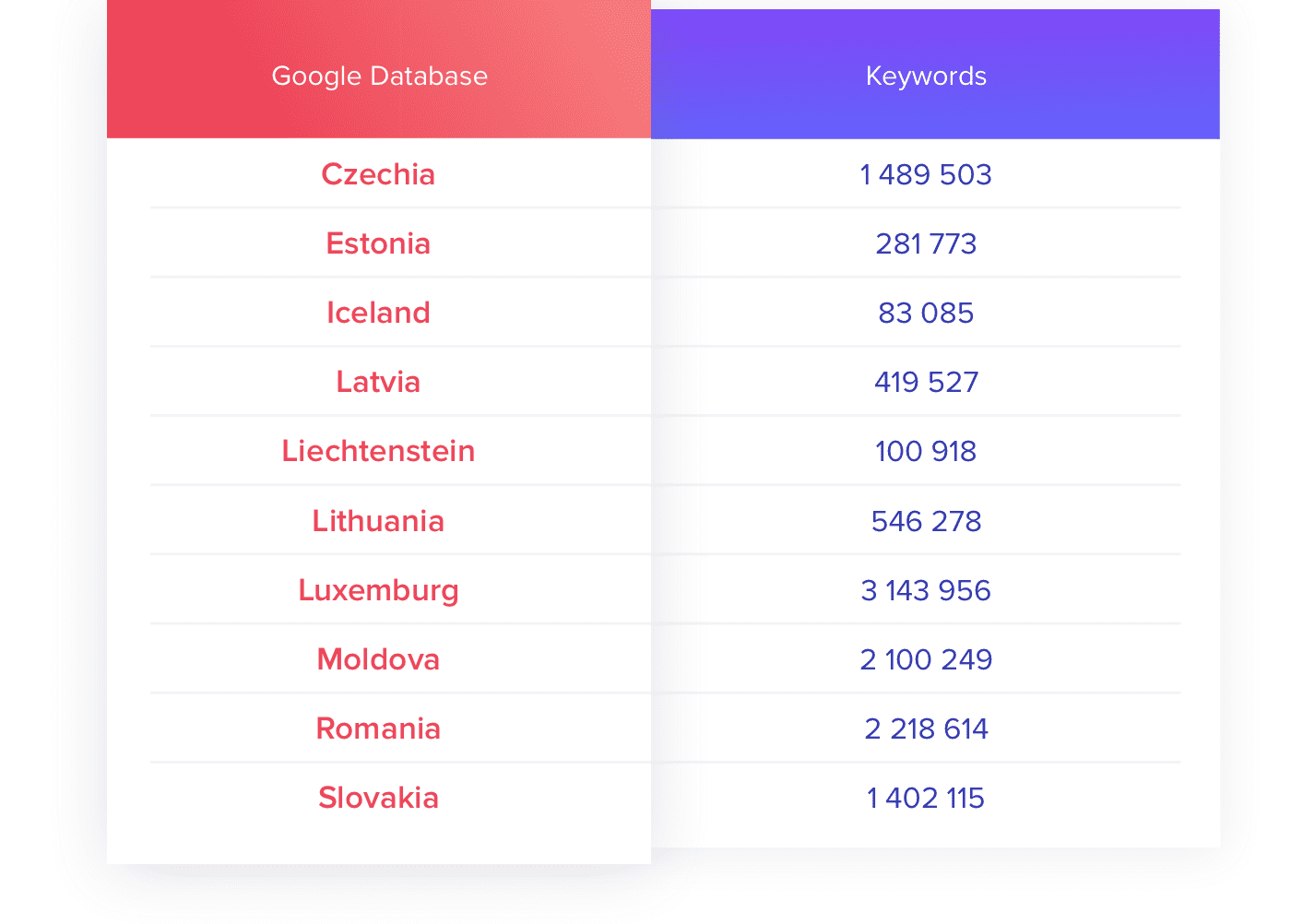 However, the updates don't end there:
We've added labels to the Keyword research, Overview, and Organic traffic research tabs that show the total number of found elements. This helps you understand how many results you can expect to see in the detailed report.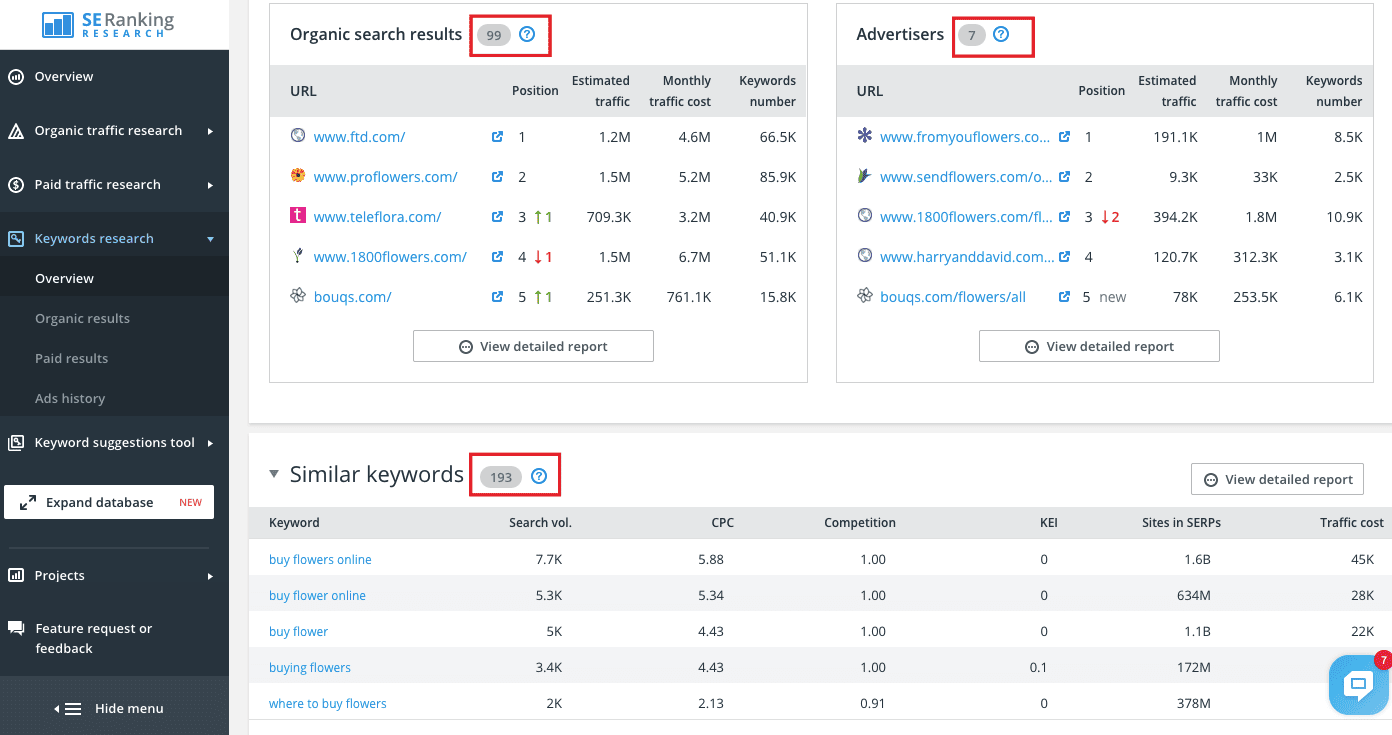 Improved the loading speed of the Similar keywords tab. Now, all the data loads up in a matter of seconds.
Favicons were added to each section of the Keyword research tab so that you can recognize you competitors at a glance.

The display of competitors on the graph under the Distribution of organic competitors section has been improved. Competing sites no longer overlap, and, as a result, you can immediately understand how they relate to each other.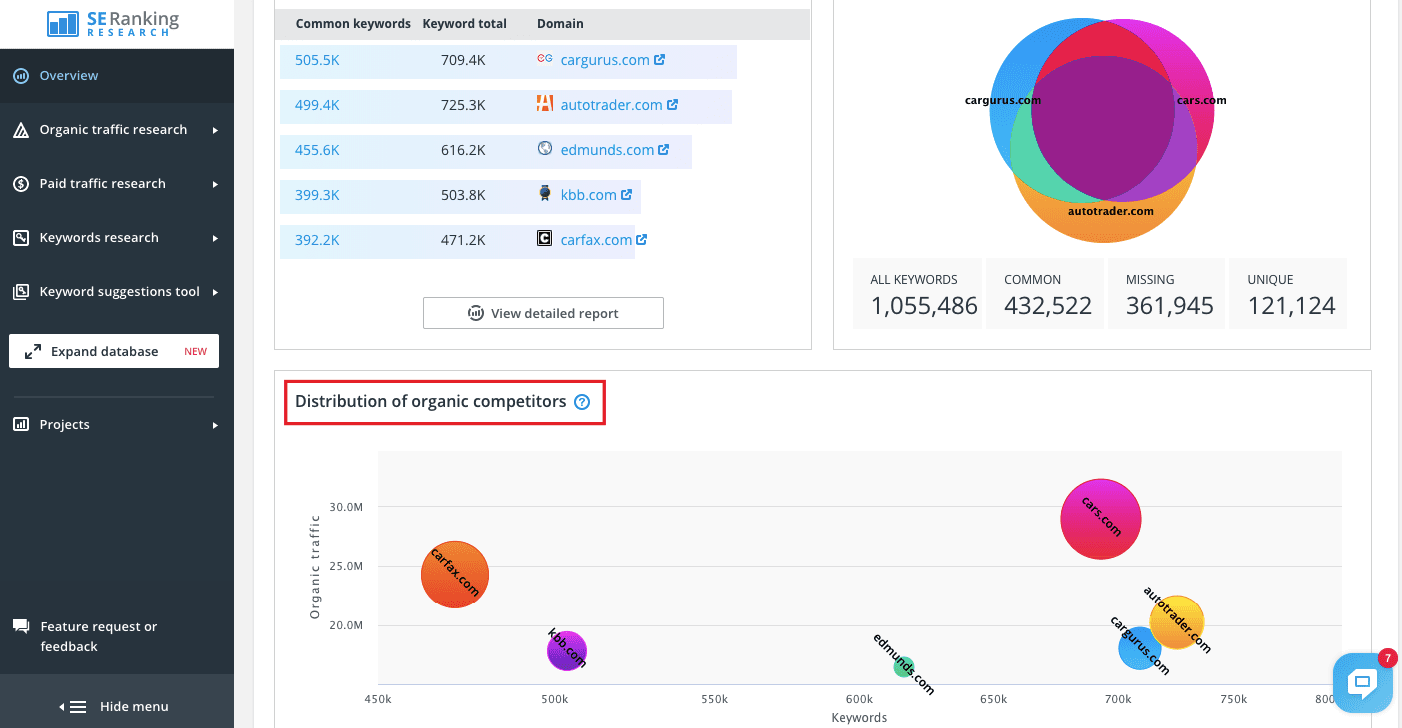 Report Builder
Although it's only been several months since we've fully redesigned the Report Builder, we are already continuing to enhance it with additional features. We've accelerated the data upload speed, added new sections, and made the tool more convenient to use.
But, let's look at everything in order:
The report list now displays each report's file format — PDF, XLS or HTML. This helps you quickly find the necessary report, which comes in handy if you have multiple reports on different projects.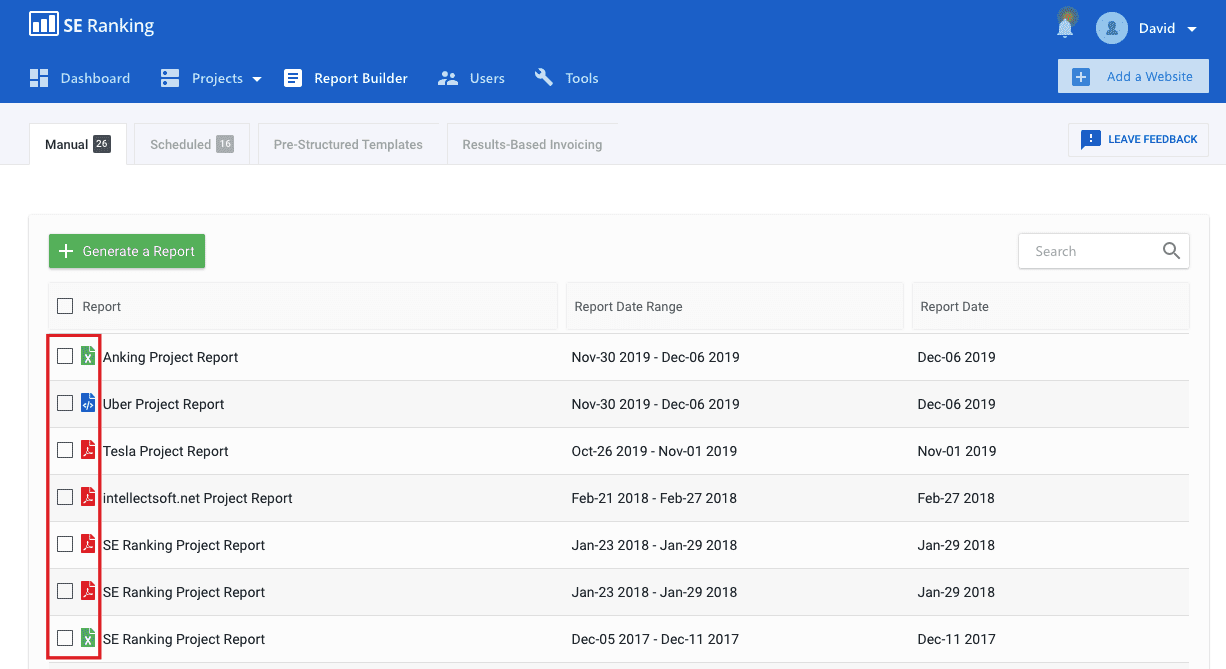 Made significant updates to the Analytics & traffic section of the Report Builder. The upload speed of the Overview section was increased by 3 times, plus a new section called Audience was added to the tool along with new Pages and Conversions subsections.
You can now generate reports from the Analytics & traffic section on any data set you are interested in. In order to see the necessary parameters in the report, just select them under the settings menu after adding the relevant section.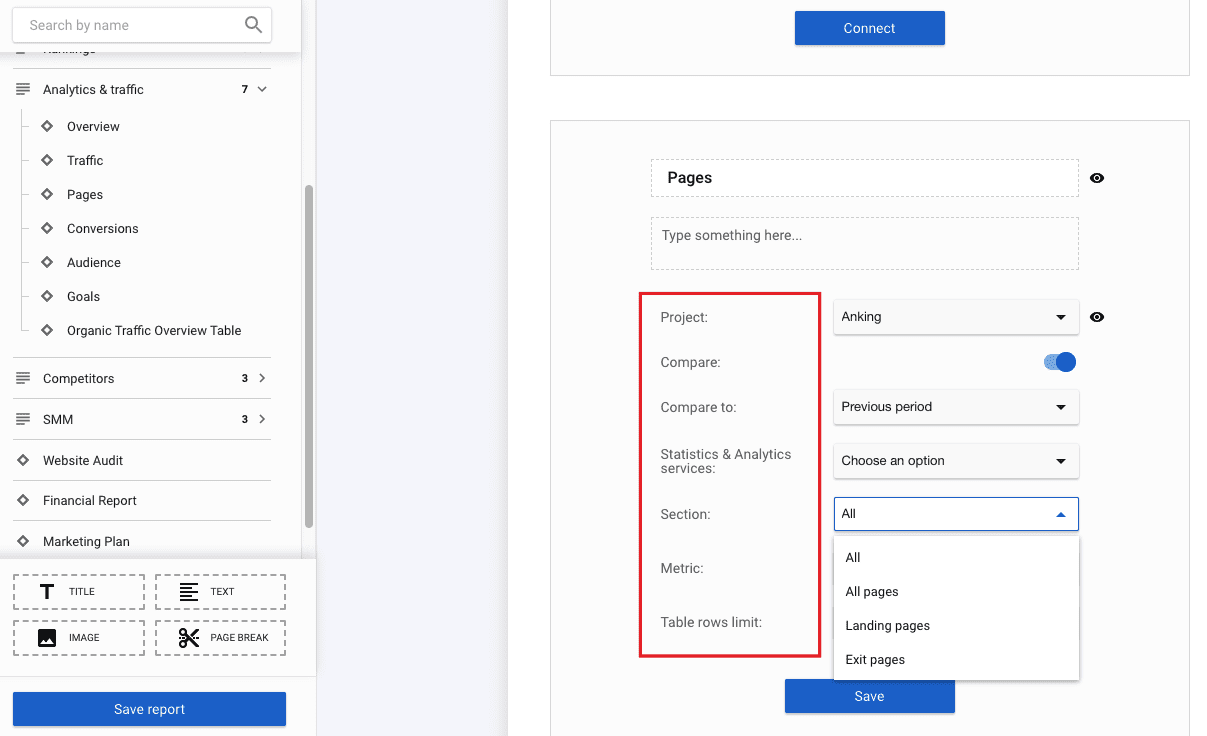 Under the Ranking section, search engines are displayed in the same order as they are defined in your project. That way, you can find your way around the report much faster and analyze only the data you need.
You can choose one of two display methods for report sections that use keyword grouping — by list or by group.
This is especially relevant for projects that don't have any groups or contain empty groups. Now, everyone can choose a convenient data output format under the section settings menu. The display keywords by group option is enabled by default.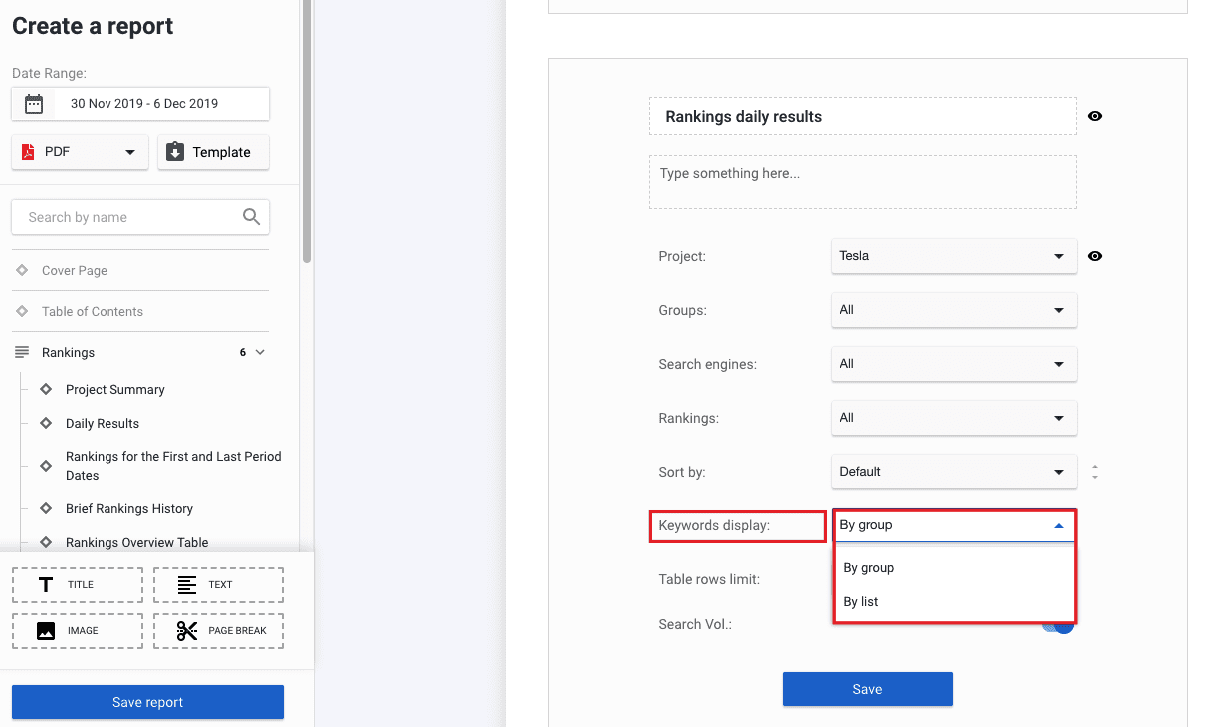 Analytics & traffic
All changes made to the Analytics & traffic section are mainly related to the data loading speed. Having completely updated this section, we received feedback from our users requesting that we add more options of downloading data.
Under the Analytics & traffic section, you can now export data not only in XLS and CSV file formats, but also in PDF. The new format enables you to upload analytical data to a document with a ready-made design that corresponds to the Analytics & traffic section itself.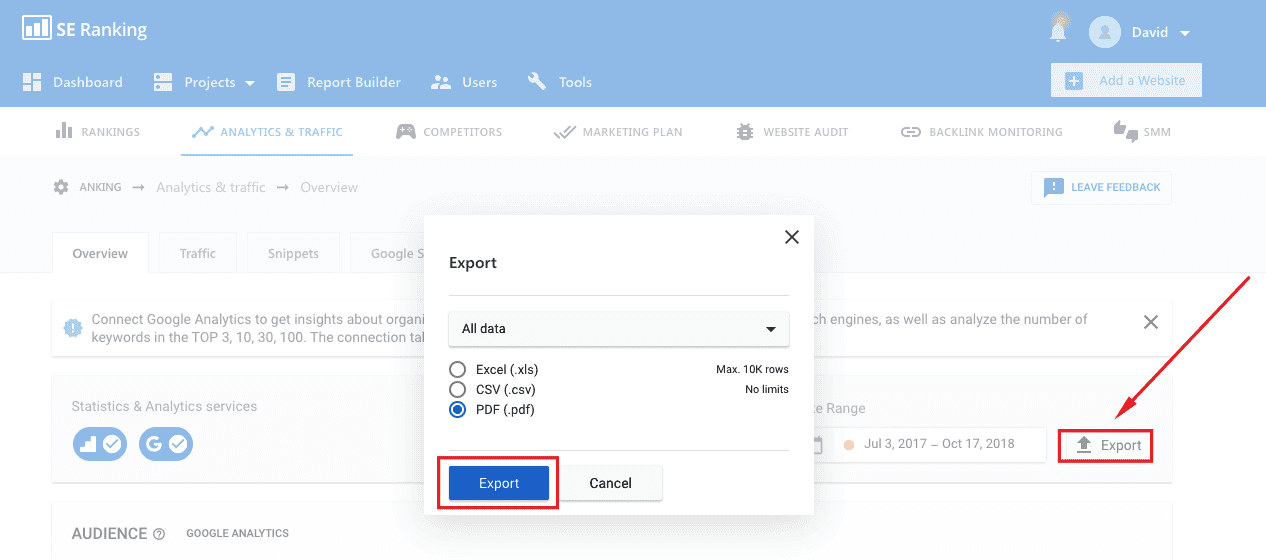 On top of that, another improvement has been made. Data can be exported from any section or graph in any available file format. To do this, select the relevant subsection and click the "Export" button.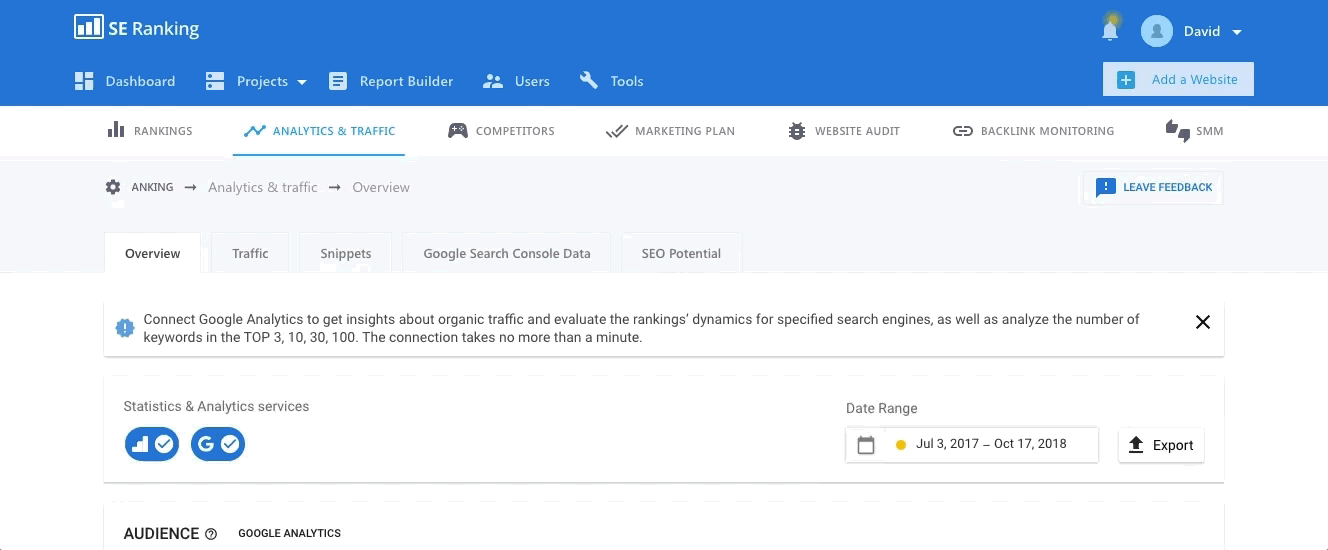 A few more important updates
Website Audit

The Website Audit tool has become a lot more powerful. Now, you can simultaneously run up to 5 audits with a single account. In addition, you can give your subaccounts access to each and every tool section.
Lead Generator
In accordance with the GDPR (General Data Protection Regulation), data processing consent forms have been added to the Lead Generator widget.
You are free to make use of our templates with ready-made text or edit the text at your discretion and add the necessary links.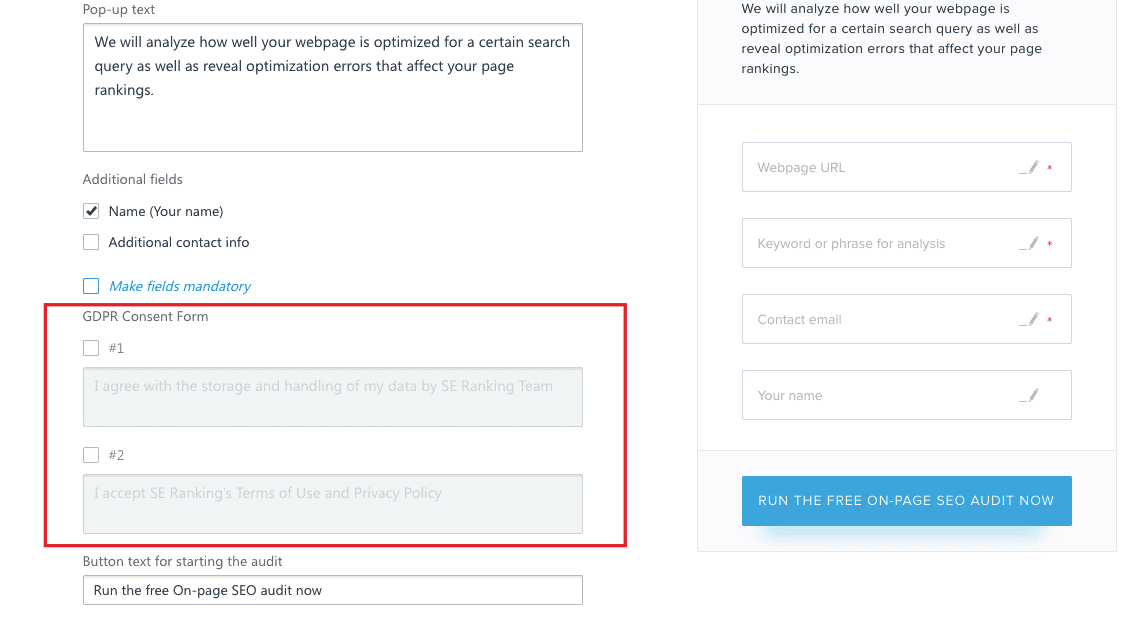 Project settings
Now, you can delete any project directly from the settings menu. This is especially useful if your account is blocked for exceeding the limits, or if you switched to a more affordable subscription plan.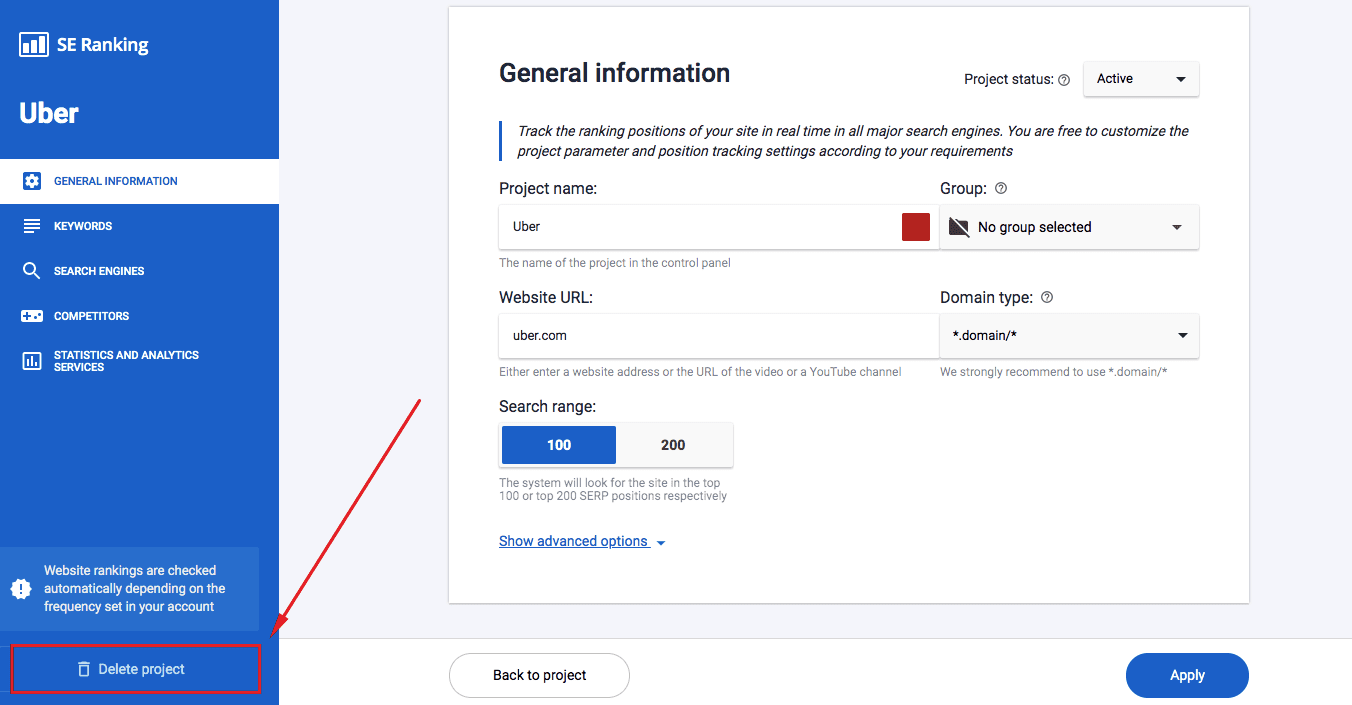 Pricing plans and subscription
You can find all of the account limits for each tool under the Subscription tab. There, you'll see all of the available and remaining account limits.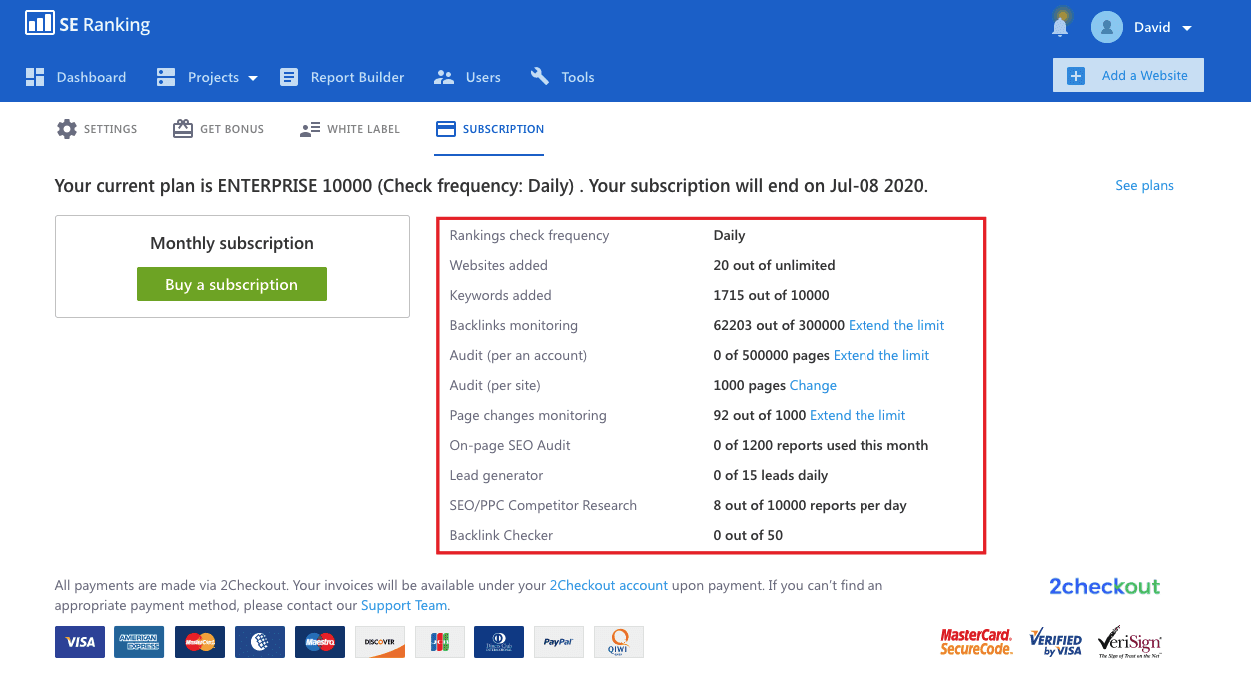 And that's a wrap. This is the last SE Ranking update we'll be publishing this year and decade. The next one will be coming to you at the beginning of 2020, so stay tuned!
In the meantime, we'll continue working on our next batch of updates. But to give you an idea of what to expect, the next update will affect the account limits set on our most popular SEO tools. And, as always, leave a comment under this post or in our Facebook community.