Frequently asked questions
Accounts
I have forgotten my password. What should I do?
Click the lost password link on the login page and submit the email address you used for registration. The new password will be sent to that email.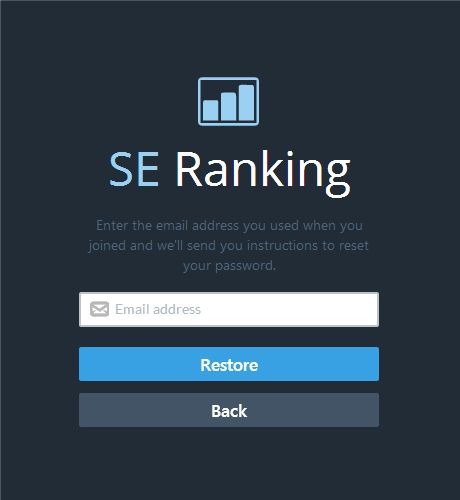 If I, the administrator, add new users, which sites do they have access to?
The users see the statistics of only those websites the rights for which they were given by the administrator.
How many users can I add? Where can I do it?
Unlimited number. You can add new users in the Permissions section.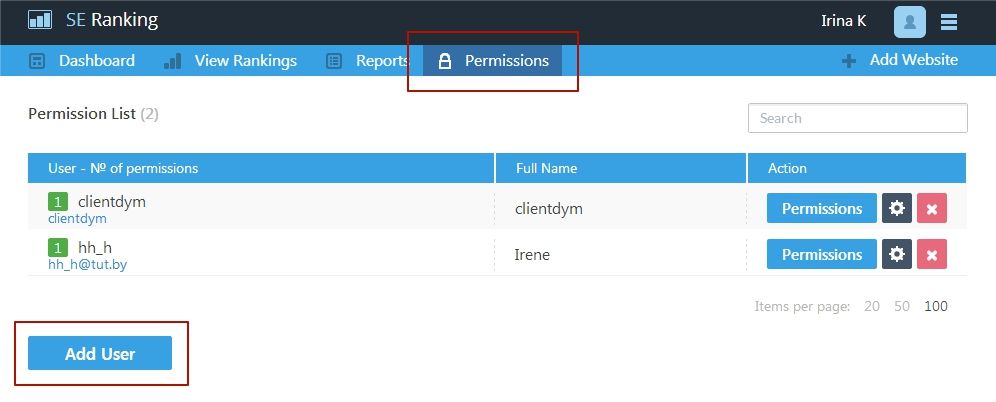 What is the difference between a trial account and a paid one?
A trial account is identical to a paid one with Lite service plan. Free service testing is available for 14 days – you can learn to use all the functions and check if the interface usability. To continue the work afterwards you will need to subscribe for the service.
API
Does SE Ranking have an API?
Keywords
The service plan allows 50/250 or other specified number of keywords. Does this number refer to a single website or the whole account?
This is the total number of keywords available within one account. The keywords can be distributed between sites in any proportion. Each keyword can be checked in 5 search engines/regions. Also, you can re-check position on each keyword once a day (if, for instance, you need to know the data at some exact time). Such additional checks are free of charge.
Can the queries be grouped or sorted alphabetically?
Yes, the queries can be split into groups (to do so, use the setting section). Later, when viewing the results in the Rankings section you will be able to choose one of the query display options: all of them together or each group separately.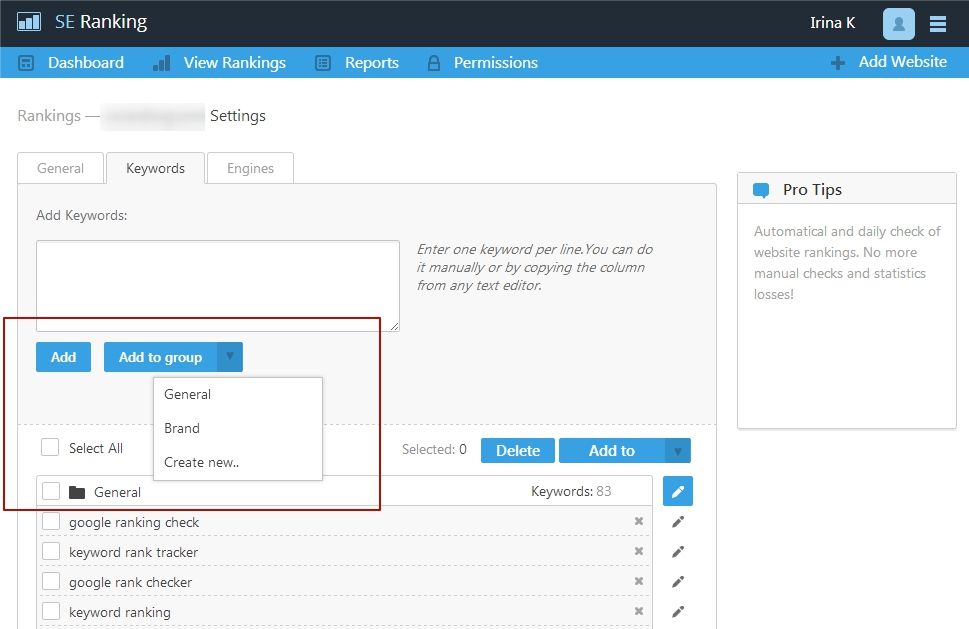 Also, you can drag the queries in the settings and arrange them in any order. The queries in the position tables can be sorted alphabetically, according to traffic, or positions. To do so, click the corresponding column header.
How to trace keyword positions in different regions?
For Google, turn on the advanced options and input the region manually.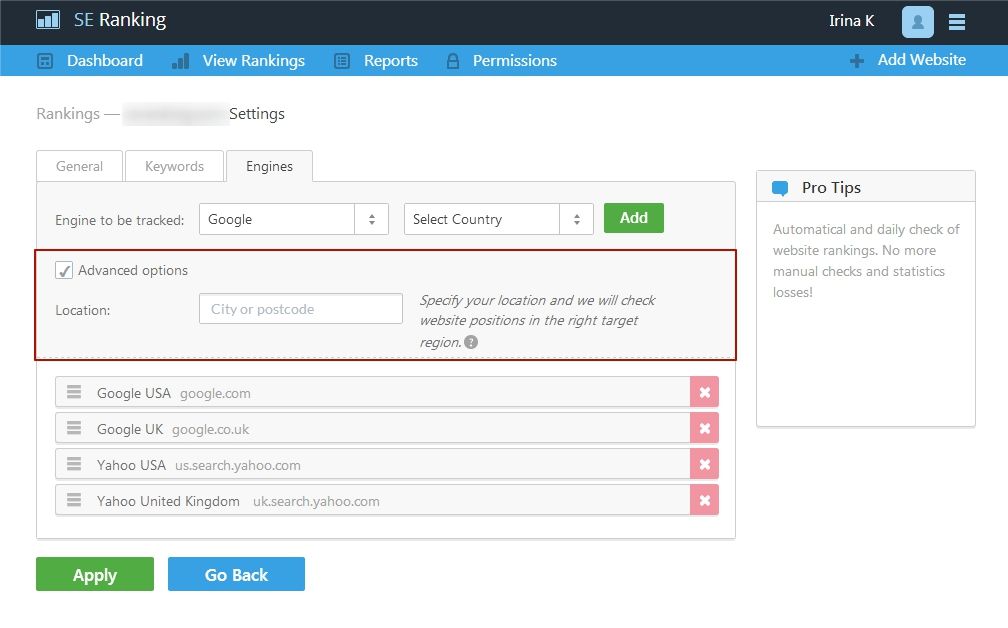 Reports
Which report formats are supported?
.pdf, .csv, .xls., .html
Can the reports be sent automatically? Are client reports supported?
Yes, apart from manual reports, the automatic ones are also available.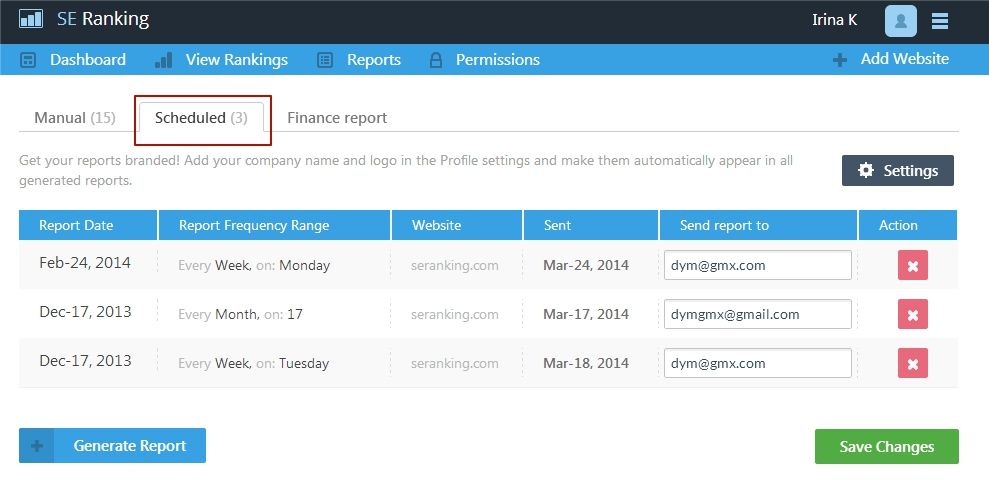 You can send them to the chosen addresses on a predetermined periodic base. All the reports can be branded, i.e. you can add your company name and logo. This function will be especially useful for SEO-companies.
Competitors
Does SE Ranking allow tracing competitors' positions?
Yes, SE Ranking allows tracking up to 5 competitors for each project in the online version. The positions will be monitored according to the same keywords, search engines, and regions, as for your websites. You can also check
"TOP 10" and "All Competitors" tabs
.
Payments
How can I decrease the price of service usage?
If you pay for the 3 months of the service in advance, you get a discount of 5 %;if you pay for the whole year, the discount is 20 %.
I haven't found a suitable service plan. What should I do?
Can I pay for SE Ranking via bank transfer?
Yes; for this purpose, choose the "Wire transfer" option on the payment page. After the payment is processed, all the necessary documents will be available in your account.
I transferred money with a Visa card. When will I get access?
The payment system takes up to 10 minutes to process transactions. After the transaction is processed, and email with access data will be sent to your address.
Is there any way to get a discount on SE Ranking purchase?
SE Ranking Features
How accurate are your data on the monthly traffic on each query?
All the data are taken from Google Keyword Planner. They show how many people Google-searched a given query in your region in one month.
What is the position depth in every account?
In the Trial version the depth is 100, while in every SE Ranking plan it is 200.
How many regions can be added in the paid version of the product?
You can add 5 search engines to each project; each new region will be counted as a separate search engine. If you need to check positions in more than 5 regions, you can create a new project for the same website, and add another 5 regions there.
Do I have to insert any code on the website after adding a website to your service?
No, you do not need to insert any code.
Can SE Ranking be used to trace positions in different regions of a country? Can the results be reflected in separate reports?
Yes, it is possible. The region is chosen when you add a search engine.
What makes SE Ranking different from free programs?
Technical support, guaranteed result accuracy, wider range of functions, neat reports and interface, client accounts, free mobile application for the online version, White Label model.
Is it possible to customize SE Ranking?
Yes. You can substitute all the SE Ranking logos in the interface with the logos of your company. The service can be made available at an address such as rankings.yourcompany.com. The whole procedure will take you just a few clicks – all thanks to the fully-featured
White Label model
.
Does SE Ranking have a mobile application?
Affiliate program
Does SE Ranking have an affiliate program?
Yes, we offer an affiliate program that allows you to earn 30% from every payment made by your referral visitors. You can learn the details on a
special subpage
.
How can I register for an Affiliate Program?
SE Ranking is a fee-based service. Do I have to pay to become your affiliate?
No, SE Ranking Affiliate Program is free. If you have a trial account (a new one or already expired), you can also use the Affiliate account. If your paid account is out of money or has an expired subscription, you will still have an access to the Affiliate Program section. If you want to register an Affiliate account, follow the
link
.
How often do you make payouts?
We make payouts every 14 days, if the amount on Partner's account is not less than 50$. You can choose the preferred payment option in the Payouts section.
What commissions can I get?
You can get 30% commissions on every payment made through your referral link. For example, if a user who has followed your referral link or banner purchased a $100 plan, you will receive $30 commissions. Next, the user becomes your referral, and all his subsequent purchases or any billing plan prolongations will bring you 30% of the price paid.
Do you provide commissions' statistics?
In the Statistics section, you can track all the transactions and sales analytics. Also you can find the detailed statistics in the Commissions section.
How can I track my sales?
Affiliate links contain unique identifiers that allow us to store the cookie of our website visitors. In addition, we store the data of those who registered a trial account by following your referral link, and permanently keep the data in your Affiliate account. This allows you to receive commissions from all subsequent purchases or any billing plan prolongations of the user.
Contact our support team
Technical issues
Affiliate Program, Payments
USA
United Kingdom
Have a question, comment or feedback?
Get in touch. Drop us a line
I've been using SE Ranking for tracking my progress in getting to the first page of Google for Qeryz for my target keywords. It's done a phenomenal job of keeping itself accurate - which sets it apart from all other rank tracking tools I've used in the past. That alone is reason enough for me to use and stay with SE Ranking amongst other things.

Sean Si

from Qeryz.com
SE Ranking is my favorite tool for tracking daily changes in SERP rankings, including localized rankings. Especially the possibility to re-check on request is very nice. Next to that, the Website Audit is very helpful for tracking on-page SEO issues.

Simon Kloostra

from Joomlaseo.com
So when I learned about SE Ranking, and tried it for our clients, I couldn't help but use and recommend it to our audience by writing a review about it. Such a promising tool!

Pam Sallegue

of SEO-Hacker
Content marketing is a key component of my marketing strategy. I want to create content that is relevant, engaging and ranks well. SE Ranking enables me to carry out keyword research and ensure my content is as effective as possible.

Paul Boag

from Boagworld.com
SE Ranking is my go-to rank tracking tool after years of trying to finding the right tool. It's easy to use and has all the features I need to keep on top of my rankings.

Adam Connell

from Bloggingwizard.com
I've been using SE Ranking for 4 months now and it is now an important tool in my arsenal of blogging tools. It's powerful and lets me track my rankings for keywords on Successful Blogging. I've been pleased with the support that they give you and the quality of SE Ranking.

Sue Anne Dunlevie

from Successfulblogging.com
I've been lucky enough to get an early access to SE Ranking and found it really user-friendly. I am very busy and I need to save time and SE Ranking is perfect for that: Setting up a site takes minutes and everything is very easy and fast to find. I just love those rankings reports SE Ranking sends every week or month. No need to login to check the rankings: You get your rankings in your email inbox and can continue working.

Ann Smarty

from www.seosmarty.com
All aboard! I brought my clients over to SE Ranking. I thought I would have never left my old KW tracking software, but guess what? I outgrew it. To all marketing agencies, start selling content marketing packages like we have. Record keyword rankings & monitor backlinks within one software. Nice keyword suggestion tool too. Thanks SE Ranking.

Francisco Meza

from planetmarketing.com