Affiliate marketing involves two actors. An affiliate can be a blogger, a website, a publisher and, on the other hand, there is the ecommerce brand (also known as the publisher) selling products online. There are always two sites involved in affiliate marketing and these two sites are always connected with an affiliate link.
The ecommerce brand creates an affiliate program and provides a unique affiliate link to each individual blog, which can track their user, attribute sales, and get paid the agreed commission.
Why should ecommerce brands use affiliate marketing?
Affiliate marketing is going to become an $8.2 Billion industry next year in 2022.
Affiliate marketing has been growing at a rate of approximately 12% annually. This growth is also reflected in the search trend for the past 5 years, worldwide.

Not only affiliate marketing is growing annually, but also:
Advertisers generate between 15% and 30% of all sales from affiliate programs (Uniqodo). Although the percentage may appear low, when compared to the rates of other marketing tactics, it is fairly substantial. Paid searches, for example, account for 20% of all online orders, which is roughly identical to orders generated through other methods such as email marketing.
Affiliate marketing is responsible for 16% of global ecommerce sales (Fetch Profits). As a result, successful affiliate marketers are responsible for one out of every ten ecommerce sales worldwide.
By the way, after reading the article on affiliate marketing for beginners, you will be able to learn the basics of this type of marketing and how you can earn from it.
Successful examples of affiliate marketing in ecommerce
There are a few brands that are nailing it with affiliate marketing. Let's have a look at the top two to dig deeper and see why they are successful.
WireCutter.com is probably one of the biggest success stories of affiliate marketing for ecommerce. Launched in 2011, it was acquired by The New York Times in 2016 for $30 million. They have a strong reputation with consumers for providing a comprehensive and educative review of different products.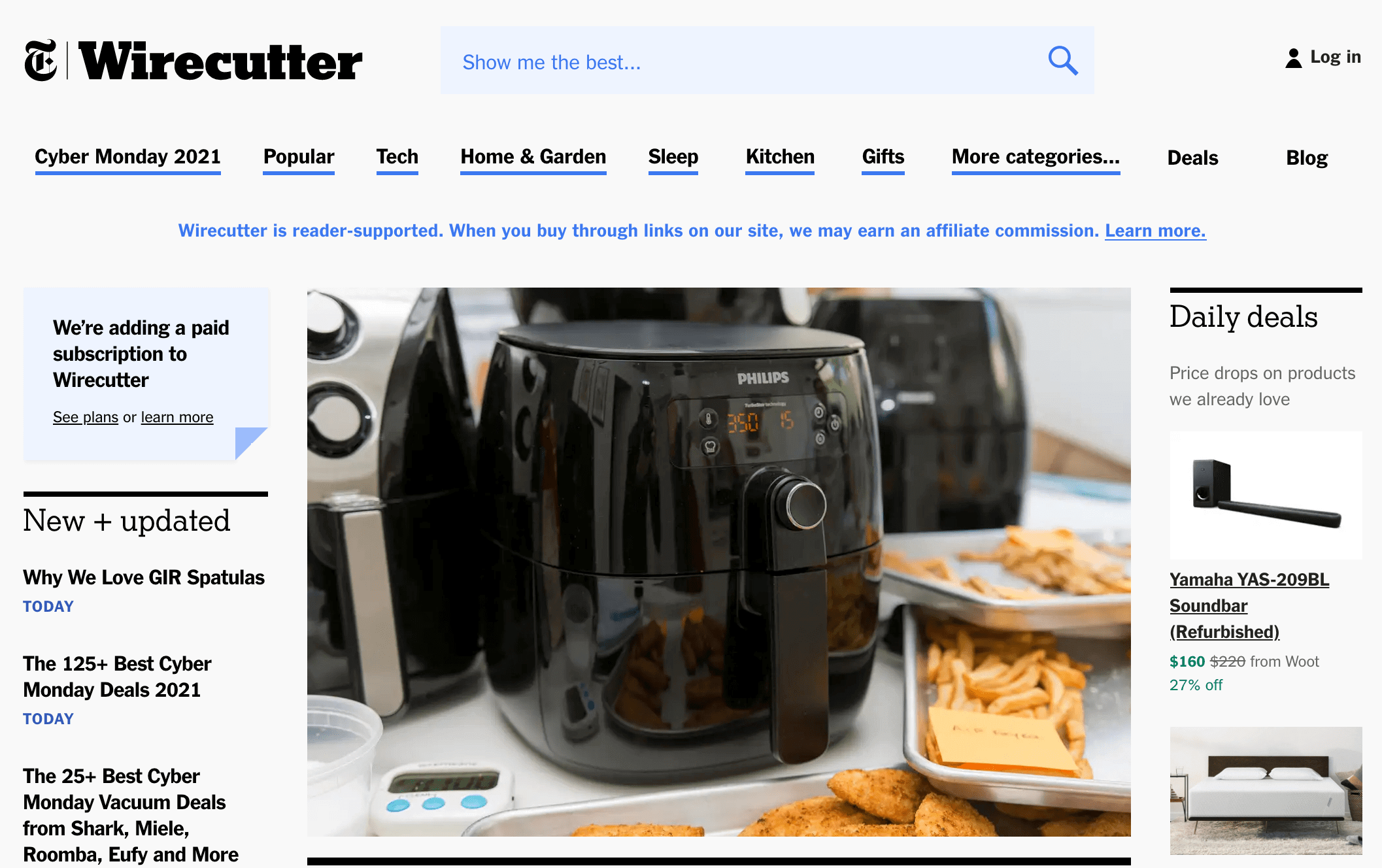 Virtually every ecommerce brand can be featured on WireCutter and many brands want to be reviewed, thanks to WireCutter's renewed reputation for being impartial and extremely thorough in their product reviews. This leads to a huge number of referral sales to ecommerce websites across many categories.
Benefits of affiliate marketing for ecommerce brands
No sale no commission
One of the main reasons why affiliate marketing is so attractive for brands is because of the no sale no commission approach. While other marketing channels are becoming more and more expensive, affiliate marketing positively contributes to your ROAS and customer acquisition costs.
Another benefit of affiliate marketing is that you can build credibility with bloggers and influencers in your industry. There is nothing better than other people talking about your business online.
Scale and distribution
The most important benefit of all, in my opinion, is the ability to scale and distribute your sales force. You can't be everywhere online, your website cannot rank for every possible query on search engines.
Say, you sell camping tents and you have an online store. Your prospect customers searching for the query "camping tents" are going to find bloggers, aggregators, reviews, ecommerce brands, and many other different things. But with affiliate marketing, you scale and distribute your message, and you control how much you spend on it.
You are able to get featured on websites where you have never had any visibility before.
Let's make an example. Most bloggers and affiliates earn their commission with reviews.
Affiliates start by conducting keyword research in their area, looking for product-related terms. These are keywords that are used by people looking for product reviews and frequently contain the word "best."
Product comparison blogs provide an even larger potential to sell since if a visitor decides one product isn't for them, they have numerous options to pick from. It's a win-win situation for everyone, and it's a great method to generate more referrals.
Their query with "best" is transactional in nature.
Take a look at what comes up when you Google "best website builders":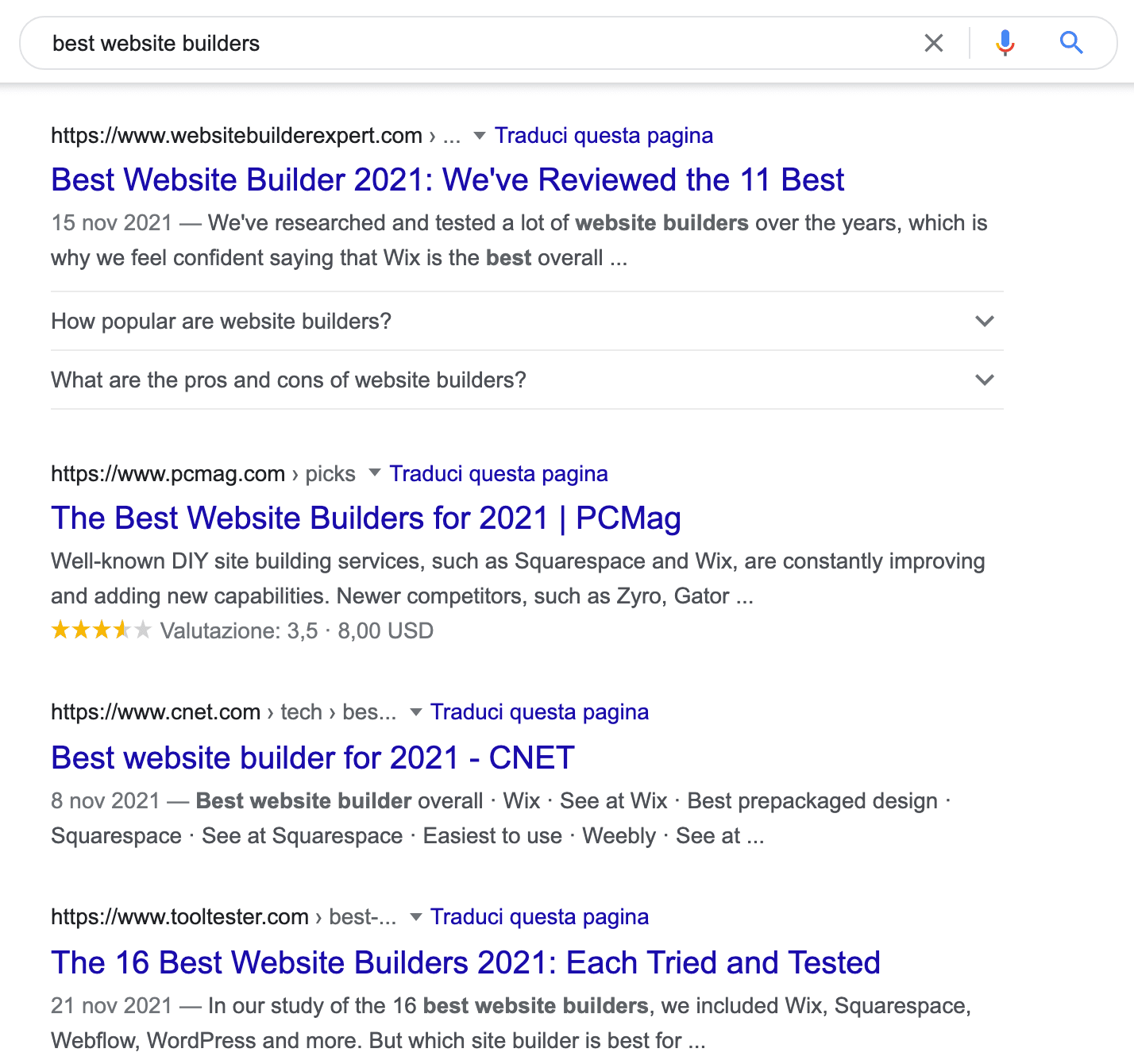 The top search results are dominated by affiliates:
Websitebuilderexpert.com
Pcmag.com
Sitebuilderreport.com
Cnet.com
tooltester.com
And these affiliates are making money any time that someone signs up via one of their affiliate links.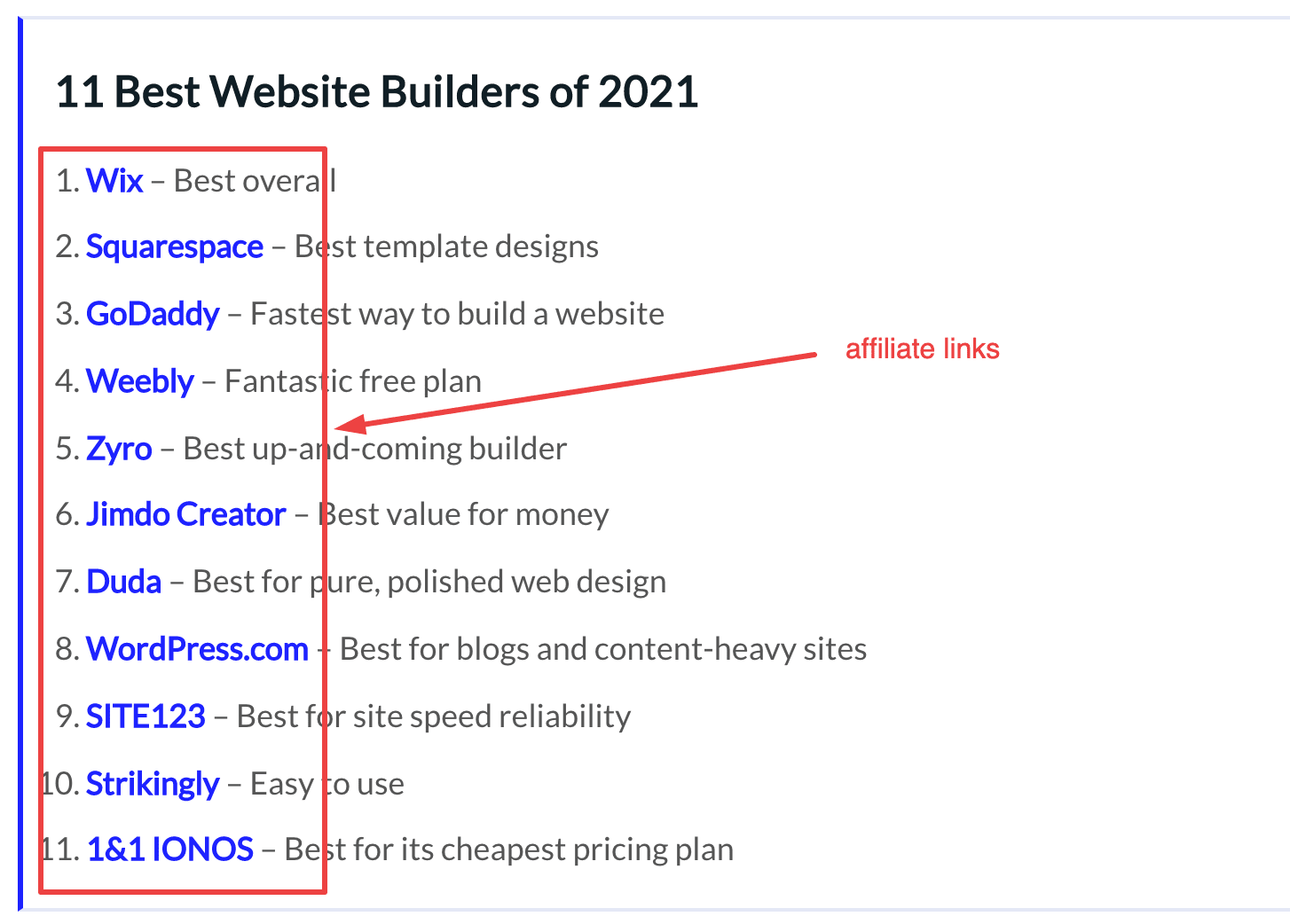 This affiliate mechanism helps generate 16% of sales in the United States and Canada.
Plan your affiliate program
In this section, we are focussing on how to plan your affiliate marketing program.
Conduct competitor research
Before you even start to plan your affiliate program, you need to look at your competitors and check the following info:
What are their offers?
How long is the cookie duration?
What is the commission they offer?
Normally you find this information at the footer of their website, in the section called "Affiliate Program".
But if you want to dig deeper into your competitors' websites to determine their SEO and PPC strategies, make sure to use SE Ranking's Competitive Research tool.
Once you know who your competitors are, you are in a position to define your objectives and KPIs. The objectives can vary from brand to brand, but mostly they answer questions about how much affiliate marketing contributes to the overall revenue. And you can put a number to that question, establishing, for example, that affiliates should contribute to 20% of all of your online sales in 3 months.
Another objective can be to reduce the ad spend because you are probably spending too much on Google Ads. With affiliate marketing, you can now control your ad spend by setting the fixed commission per sale, which leads to figuring out how much your cost per acquisition should be.
Figure out the CPA
You really need to know your costs and your margins to figure out the CPA. If you, for example, sell a $200 product and spend $100 CPA on PPC ads, it's 2 to 1 ROAS. Typically a good number for pay per click is 3 to 1, to make sure the business is sustainable and you can continue to trade online.
However, with affiliate marketing, you can spend 20% in commission which means your ROAS can be 5 to 1. So with this channel, you have better performance and you also pay after the sale, not before.
Plan your commission rates
These vary by industry. Electronics is a lower rate because margins are lower so commissions are around 2-5% of the sale amount.
Clothing is in the middle range between 5% and 10% while health and beauty are in the higher range with 10%-30% commission on the sale.
In my experience, I have worked for an online store that paid 100% of the sale, the average order value was $120 per year and the commission paid was exactly $120. As a result, the revenue was $0.
This worked because the ecommerce brand wanted to increase the number of customers, not their revenue, and they were backed by investors. In fact, a few years later, it was sold for an undisclosed amount.
This is not the objective everyone has, maybe a company is bootstrapped and needs to be profitable quicker. In which case your CPA is probably much lower.
Join an affiliate network
In your journey to start an affiliate program, this is the first step: you are ready to join an affiliate network. A network connects ecommerce brands to an affiliate.
Here are the steps:
An ecommerce merchant joins an affiliate network
The merchant puts all of their information on the network
Affiliates can sign up, grab their links, and promote them using their banners and other creative materials
There are a lot of different networks, such as CJ.com, ImpactRadius, Shareasale, and many more. It depends on your vertical, for example, Shareasale is probably best for fashion, while cj.com is better for software brands.
Onboard with an account manager
Every network has an Account Manager that guides the brand through the process.
Recruiting affiliates, negotiating deals, maintaining creative design, and ensuring affiliates are paid are all typical responsibilities. In other words, the Account Manager is your point of contact.
Set up your company's account
Normally, when you create your profile, this includes your website name, company information, business description, category and a few more details about your ecommerce store.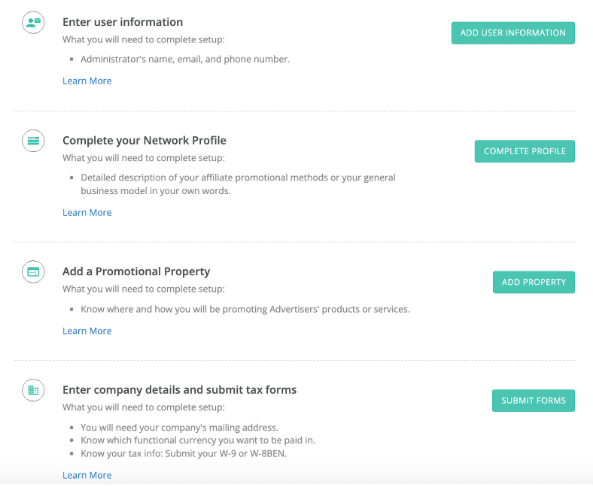 This admin part can be lengthy and tedious so prepare all of the information before you start the process. I recommend contacting the network account manager to make sure you are provided with a list of things you can prepare so that the signup process is more efficient.
Create the IO and payouts
IO stands for Insertion Order, which is a contract that can be agreed upon between the network and the brand. If you, for example, sell coffee machines online and want to offer a 20% payout, this % is visible to all affiliates as agreed in your IO.
Pro tip: check in the contract for exclusive relationships with the network and ask your Affiliate Manager to remove the exclusivity. You don't want to be tied up to one network only and not be able to open your chances with other networks as well.
Create ads
In this step, you can create your own ads. There are a lot of Google standard banners, such as leaderboards, skyscrapers, side banners, squares, and many more typologies.
My recommendation would be to create and share your own text links, which is the unique URL your affiliates can grab and share, that will determine where your users will land.
If you need more information on how to use affiliate links, check out this guide covering all nuts and bolts of this process.
Research affiliates
Expect to send a lot of outreach emails because, especially for a new brand that is not well known, affiliate marketers will not reply to you. Spend some time understanding and choosing the right affiliates as this process can be long and unfruitful otherwise.
A good idea would be to see which affiliates your competitors are using, so do make this research and you can raise your chances to be chosen.
Recruit and message affiliates
Another thing you can do on the platform is recruit and message affiliates. Use the search options to find affiliates you want to work with, such as bloggers, SEO or product experts.
You can send a custom message such as this one for example:
Hey,
We are [company name] and we sell [company products]. We would like you to come work with us, please have a look at our IO and our commission is 20% of the total sale.
Our conversion rate is 5% across the whole website, with some landing pages converting up to 20%.
In the recruiting email, you need to give yourself a chance of being chosen by the affiliate so explain why they should be working with you.
Manage the program
Expect to send a lot of outreach emails because, especially for a new brand that is not well known, affiliate marketers will not reply to you. Spend some time understanding and choosing the right affiliates as this process can be long and unfruitful otherwise.
A good idea would be to see which affiliates your competitors are using, so do this research and you can raise your chances to be chosen.
Market and promote your offers
Once you have agreed to work with some partners, the next step is to use the following strategies for promoting your offer. It's important to get this right.
Promote your AOV products
Let's take the example of a low-value product: if you sell $10 socks and you offer a 20% payout, your affiliate will earn $2, which is not worth it.
Affiliates want money, they want the highest commission they can get. So my recommendation is to pick your highest average order value products, paired with those products that have the highest conversion rates.
Reward the best affiliates
You are free to reward the best affiliates with custom deals. Before you do this, you need to create custom deals and commission rates. This can be inserted in the IO or you can create a new IO and change the 20% to 25%, for example.
Leverage high ranking blogs
As we have seen before, bloggers are very good at writing articles about "top 10" products or brand A vs brand B type of posts. Such pages tend to rank very high on search engines and this means your brand should be included in these posts, in order to gain visibility and referral traffic to your landing page.
If there is already a major site that is promoting ecommerce products, that is the ideal opportunity to start. In case your brand is new, I would recommend making your commissions really aggressive, as it's all about how much money the affiliates make.
Going back to the bloggers that write articles about "top 10 men shoes" or similar, it's rare that the top brands that are promoted within that article are actually the best products. The reality is that the brand paying affiliates the most is ranked high in the top 10 articles. So what affiliates do is promote the best commission product, which is not always of the best quality.
Provide free products to affiliates
You can also provide free products to affiliates, if you think this helps in promoting your ecommerce business. Sometimes they can be incentivised to write a better review after having tested your product inside out.
Plan your inbound strategy
The last part of your affiliate marketing strategy is to plan your inbound strategy. In my experience, 90% of the affiliates you work with come from outside the affiliate networks.
In my blog, I have a guide that can help you with outreach strategies and guest blogging, if you decide to hire affiliates directly. I use outreach tools like Hunter.io (no affiliation), where you can insert a website and job role and the tool will provide you with their email address.
Another way is to check the companies you want to work with on your affiliate network, then search for their Affiliate Manager employees on LinkedIn.
This is what outbound marketing looks like, but what you need to do is put a link at the footer of your website that says "Become an Affiliate" or "Affiliate Program".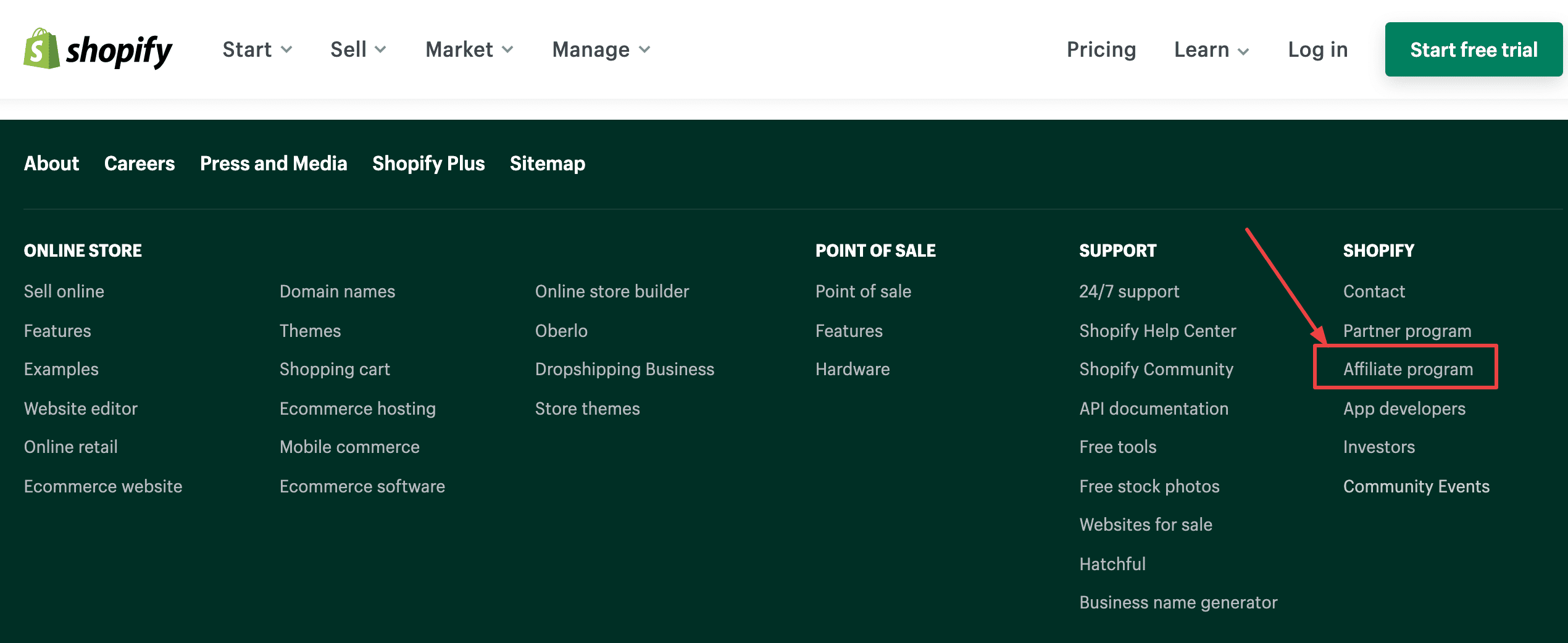 Create an affiliate sign-up page
Most affiliate networks have a sign-up page, so you don't have to create one yourself. But if you want to go down that route, you can use affiliate software such as PostAffiliatePro (no affiliation) to build your landing page, create your own affiliate links, and manage the entire program in-house.
When it comes to the content of your landing page, I recommend talking about the commission you offer, which should be very aggressive if you do affiliate marketing for the first time.
Here you can see how the affiliate landing page looks like for one of the authorities in the industry: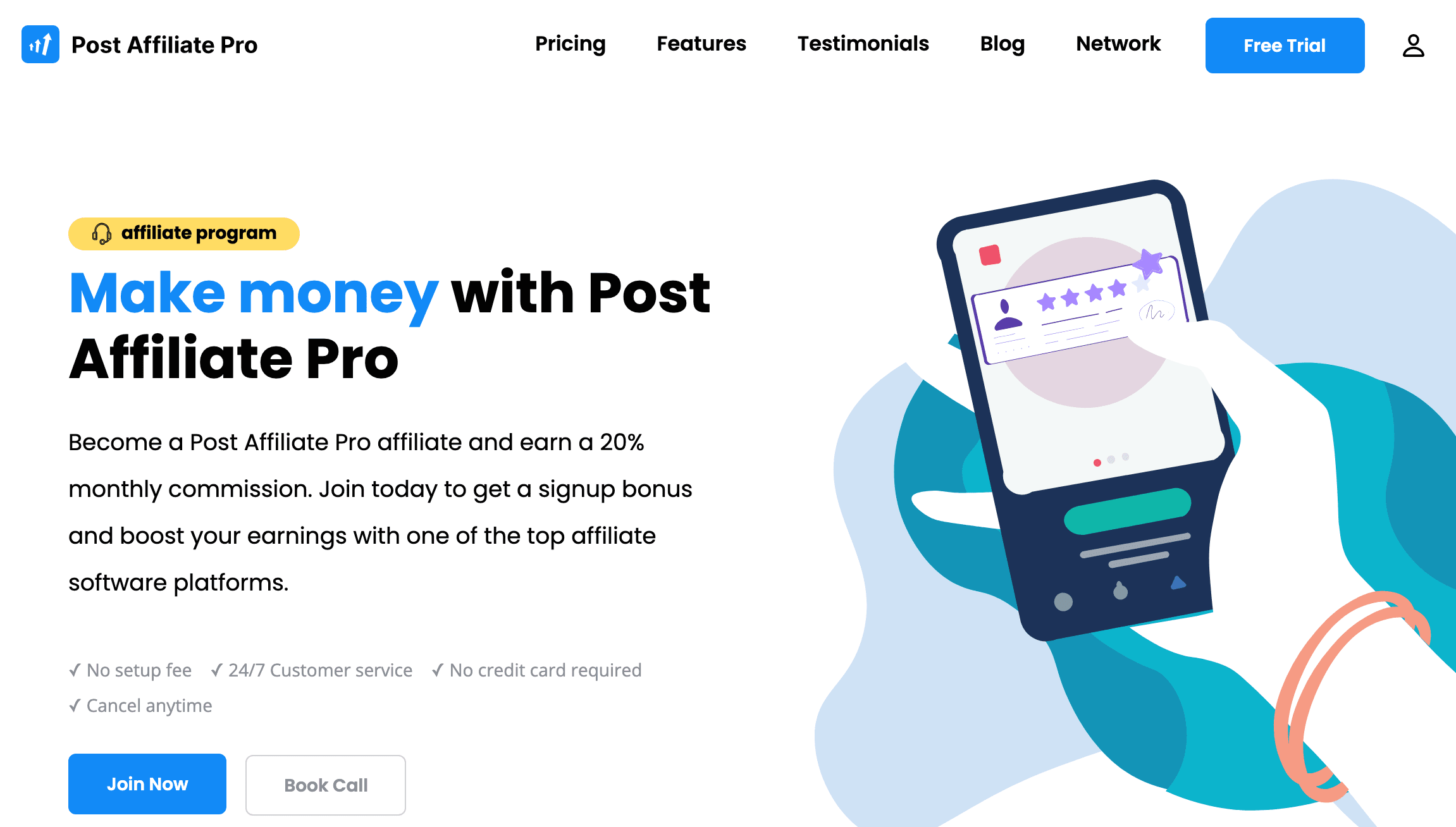 Add social proof
What makes a landing page highly effective is the presence of social proof, one of the 6 persuasion principles used in psychology and marketing. Here is the definition:
"Social proof is a psychological and social phenomenon wherein people copy the actions of others in an attempt to undertake behaviour in a given situation."

The term was coined by Robert Cialdini in his 1984 book Influence
Social proof has mainly three forms:
Testimonials: stories of customers that have tried and liked your product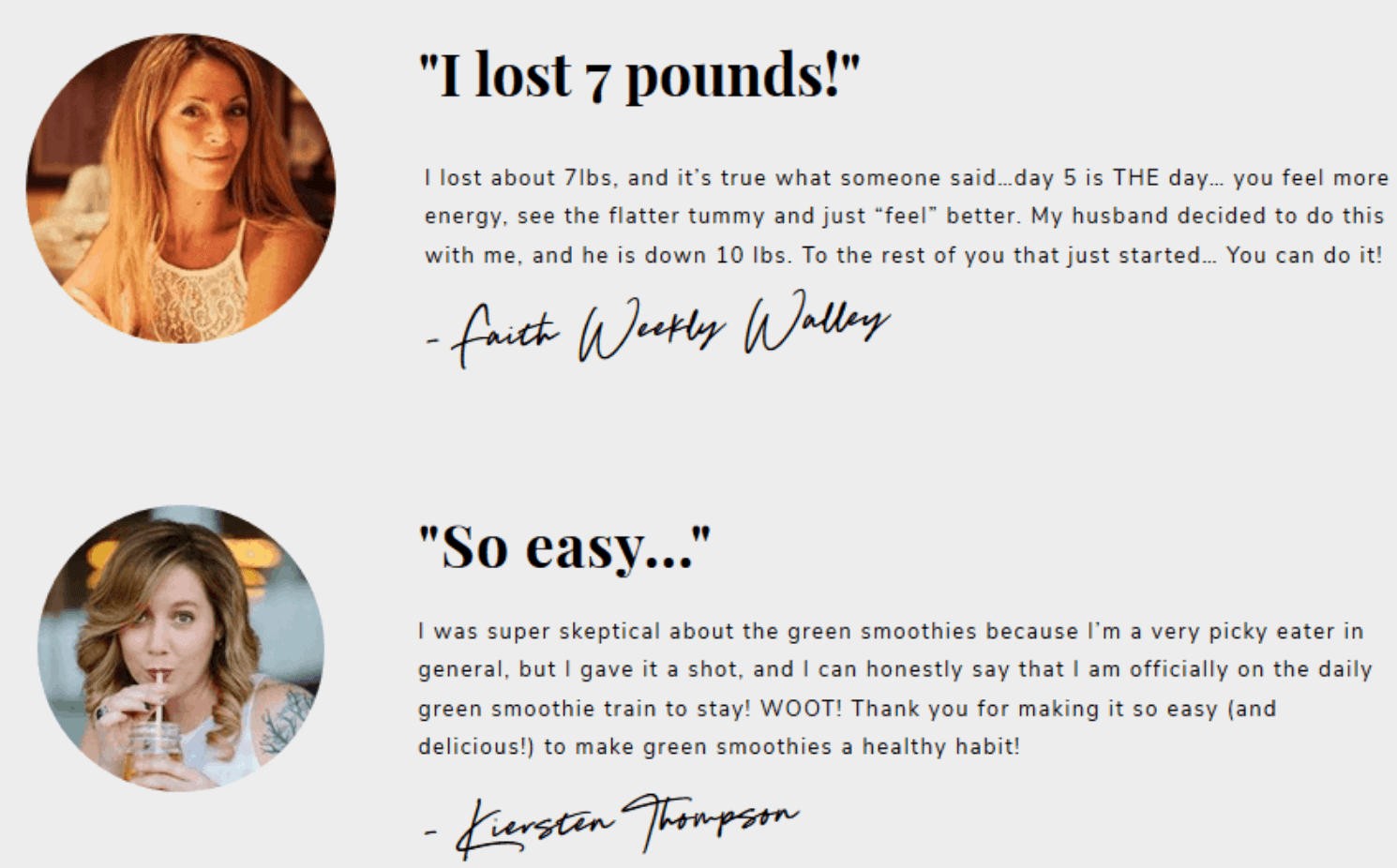 Reviews: experiences of your previous customers
Trust icons: icons that summarise the benefits of your ecommerce store

Provide an account manager
Same as the network, you need to hire an Account Manager that will actively recruit and manage the affiliates for you. Their job is essentially to make the life of affiliates incredibly easy, hold regular meetings, provide incentives to the best affiliates, and offer incredible value.
Conclusion
Affiliate marketing is an under-utilized but highly effective marketing channel with some of the highest ROAS. Because of the complexity of setting up a strategy, it's not always on top of mind for ecommerce brands, but I hope this article has given you some new actionable tips.