Sign up for our newsletters and digests to get news, expert articles, and tips on SEO
Thank you for subscribing!
This summer was pretty eventful and busy for SE Ranking. We've completely transformed the Project Creation Wizard, added new tools to SEO/PPC Competitor Research, and recently rolled out the SE Ranking mobile app for iOS and Android.
By the way, we've devoted an entire blog post just to cover our mobile apps, so be sure to check it out. As for the main star of the last in our series of summer updates, the Report Builder saw a huge makeover.
Remember how at the end of last year we asked you to make a holiday wish telling us what our dev team should work on this year? Well, it turns out that the vast majority of you wished to get an improved Report Builder ?
And, as promised, we worked on making your wish come true and are ready to share the results!
The new and improved Report Builder
The Report Builder module is a reporting tool that enables you to collect data on all of your projects, put it all into a single, neat PDF file, and automatically send it out to clients, partners, colleagues, and management.
Using the Report Builder's main panel, you can decide what sections to include in your report, choose a template, and if it's automated, indicate when and to whom it should be sent out.
Anyway, enough chit chat. Here's what the new Report Builder looks like ?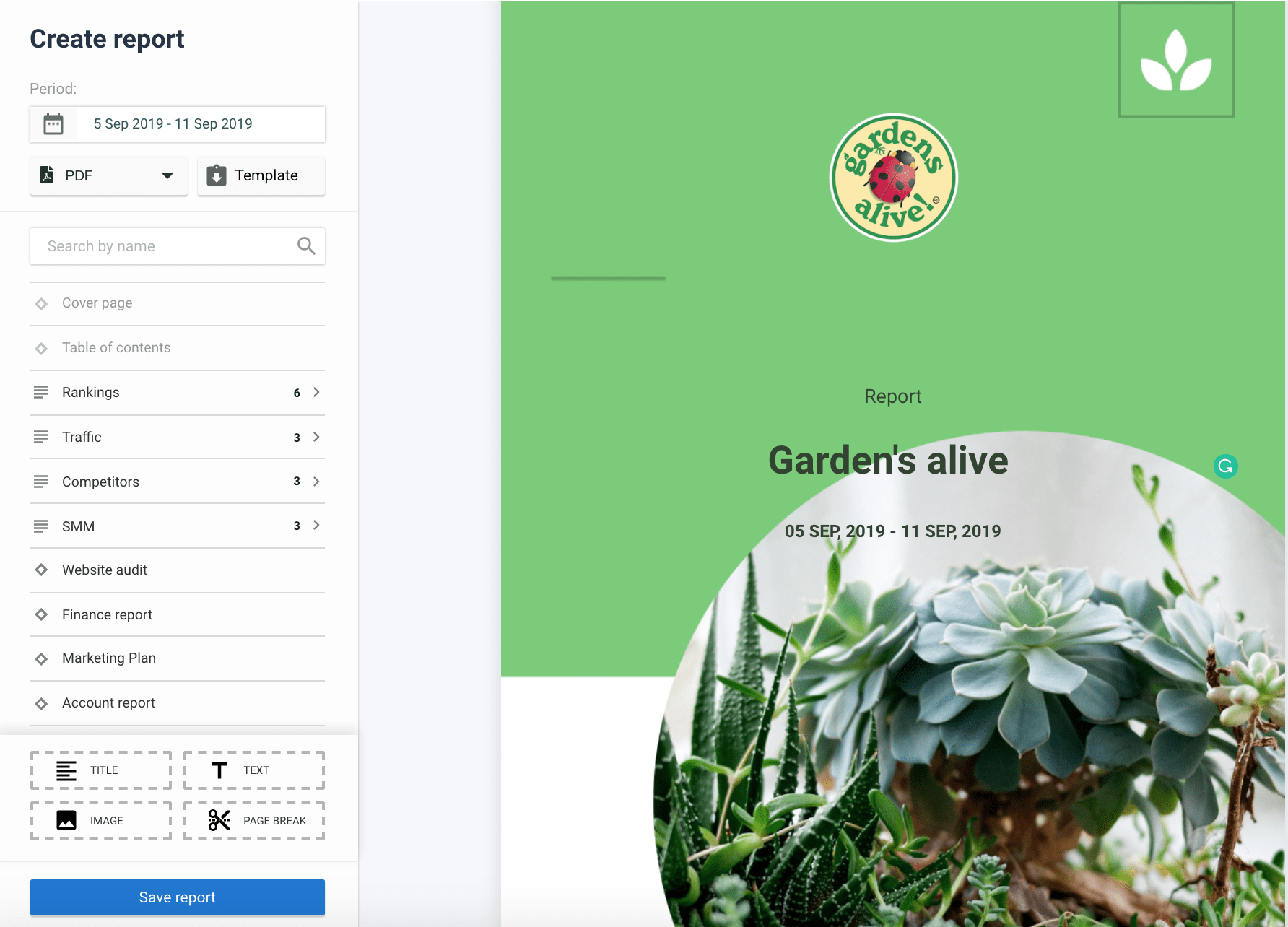 When using the Report Builder, the first thing you ought to do is select a template. Besides having the option to choose from a list of pre-made templates, you also have the possibility to create one yourself and apply it to your reports.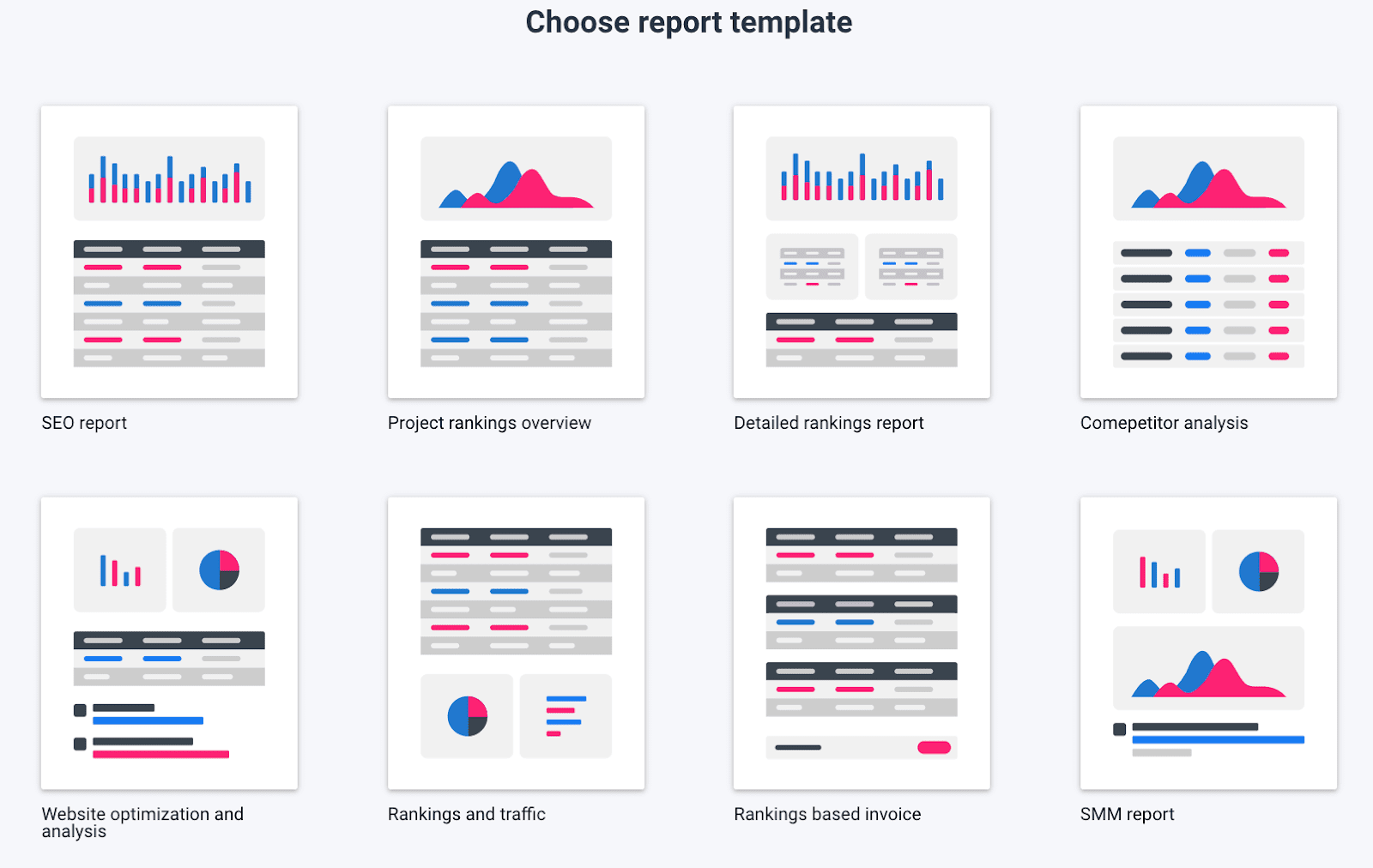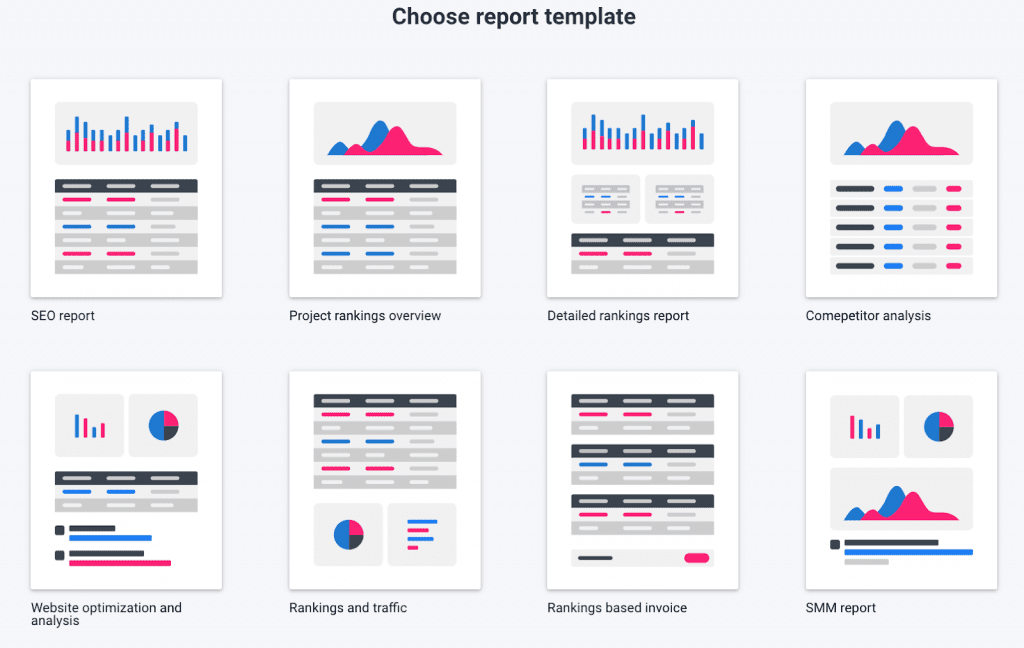 Once you've picked a template to work with, move on to the report's contents.
Add report sections using the new menu
Unlike the previous version, the menu in the Report Builder now displays all the sections by default and it's up to you to add the sections that you want to include. Plus, the menu is now easier to work with — different levels of section nesting make it clear where to find each block and what it's related to.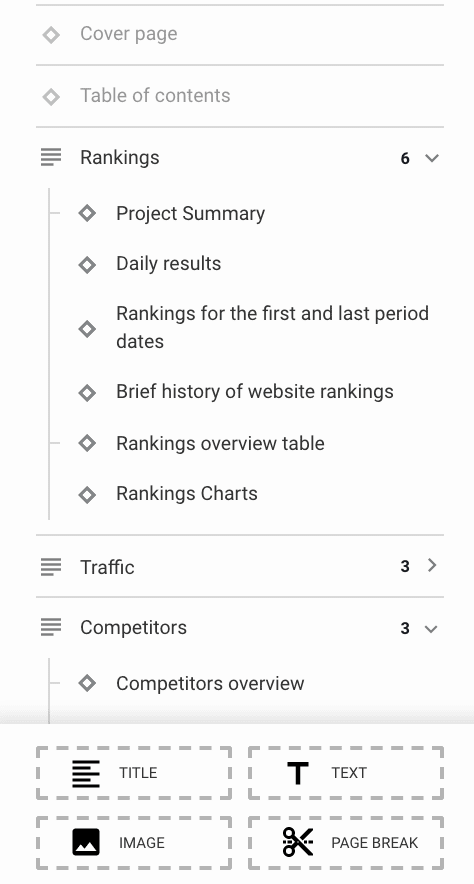 Besides the different sections, you can now also include additional blocks, such as title, text, image, or page break, and drag-and-drop them into the report. By the way, each one of them can be customized with the visual editor.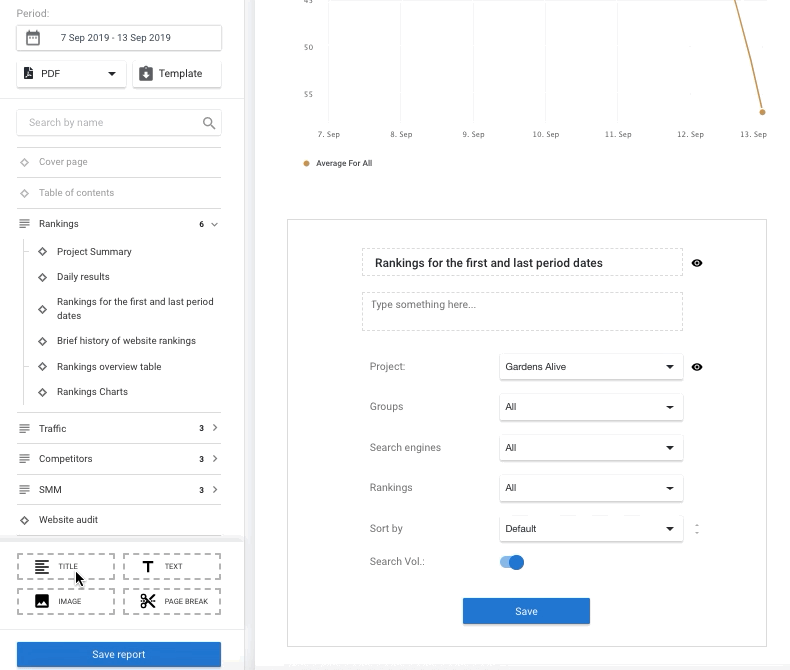 In simpler terms, you can choose sections, add them to the report, and rearrange them however you want. On top of that, you can add comments to reports by using text and image blocks.
Play around with the cover page style!
Unfortunately, books aren't the only thing that are judged by their cover. So are reports.
To make your reports stand out, the new Report Builder gives you the liberty to create a cover page that conforms with your brand or project style. Just select one of our pre-made templates or upload your own image. You can then set the text and background color, as well as add a logo.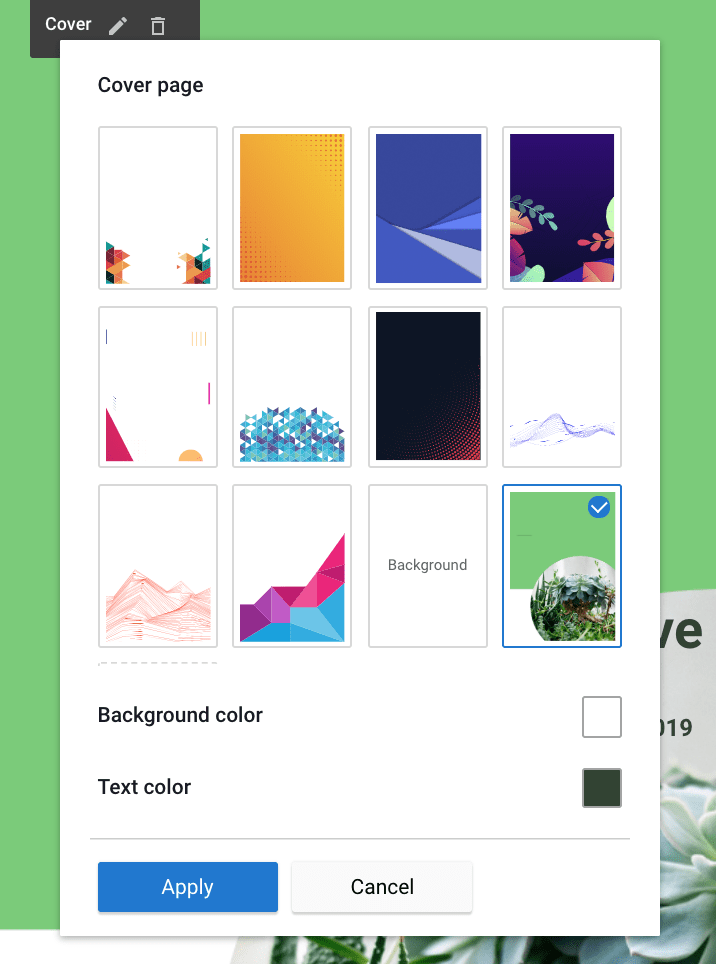 To complement the look of your report, you can customize its header and footer. You're welcome to specify the text of the header and the footer, decide if you want to add page numeration and the report date, as well as set the background and text color.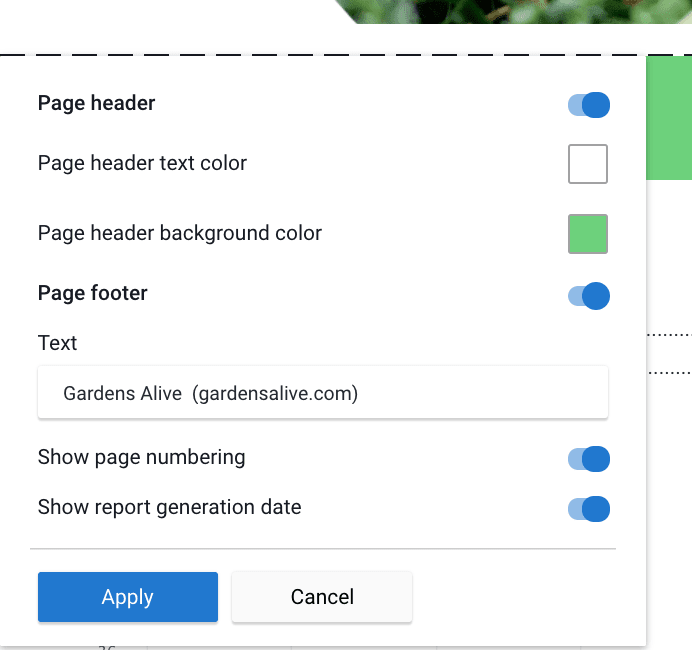 Once the cover page is ready along with the page header and footer, move on to the customization of report section elements.
Customize every report element
When we single-click on a section to add it to the report, a block with various setting options appears on the report layout page.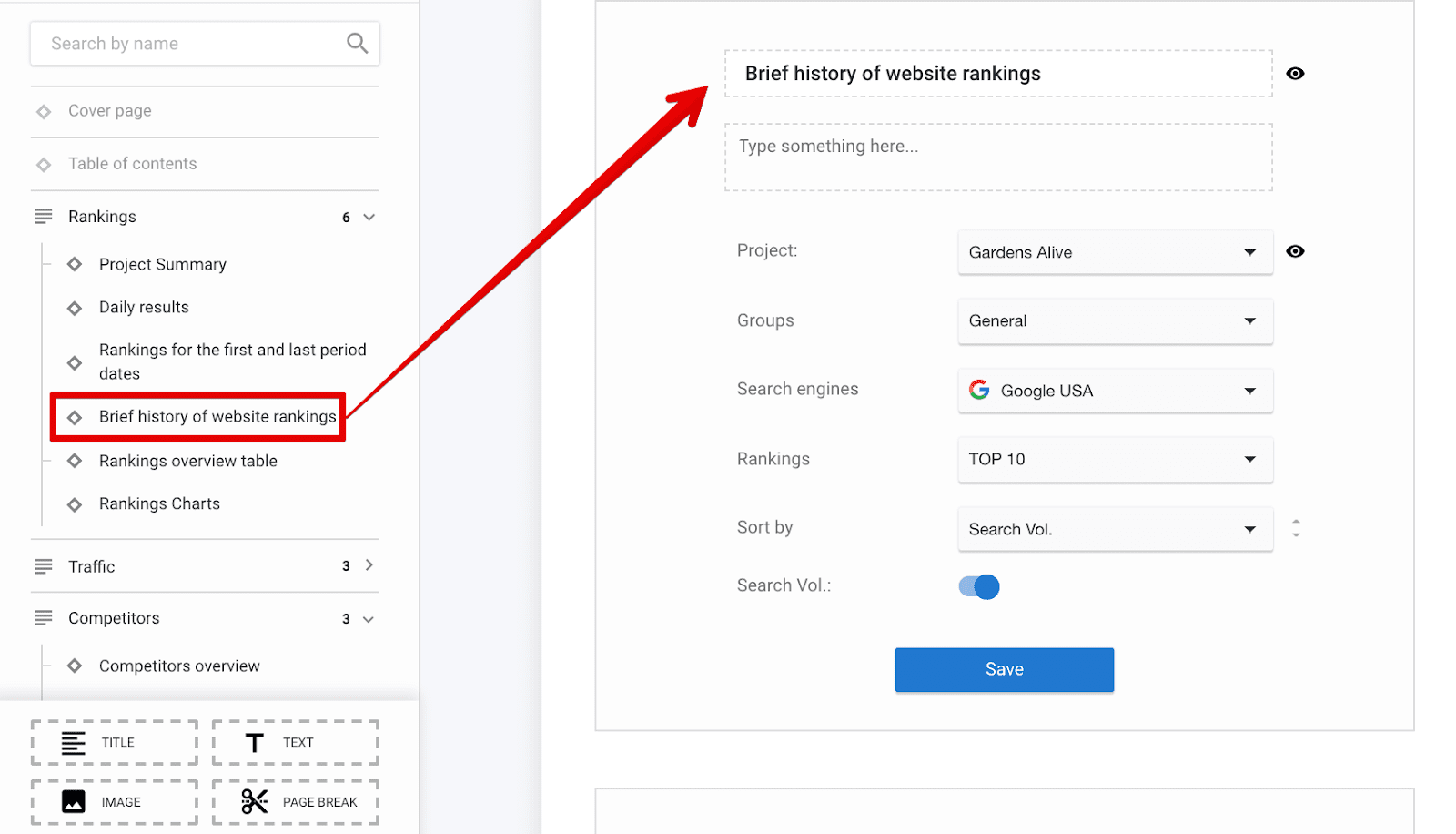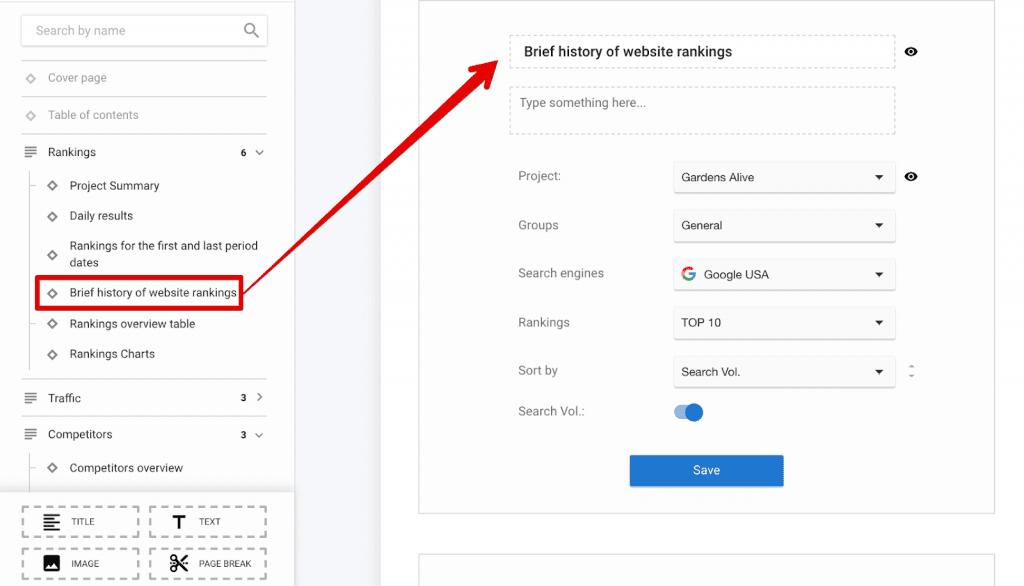 Here you can define the project that each report section is linked to. For example, you can add several sections with a brief history of website rankings for different projects. This is especially useful if you're promoting the same website for different regions. Say you're selling home furniture in three different cities, and you have regional subdomains for each one of them: San Francisco, Sacramento and San Jose. To successfully track data on your subdomains, you need to have a separate project for each city. In such cases, you can add rankings data to the report separately for each city.
Moreover, you can select a keyword group whose rankings you want to show in the report, along with the search engine and the range of ranking positions. For example, select only to show keywords that the site ranks for in the Top 10, 20, 30, or 50 search results.
There are different setting options for each section depending on what it includes.
However, every section gives you the option to add an explanatory comment. And I don't mean a simple text field, but a full-fledged editor designed to support voluminous messages that are full of images, tables and links.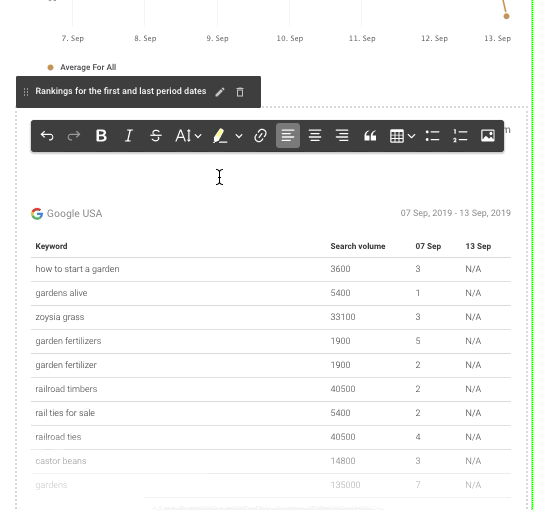 As you can see, we've updated the design of every single section. And, most importantly, the Report Builder now lets you get a preview of how each report section will look in a PDF file. That is, you won't have to guess how the PDF reports you send out will look like. You'll see it all as you're creating your reports.
Not only did the updates affect the work with the editor, but with the general list of reports as well.
New report list features
When accessing the Report Builder, you will find the same 4 tabs: Manual (reports that are created and sent out manually. They can be downloaded, edited and sent out via email at any time); Scheduled (reports that are generated and sent out based on a predetermined schedule. Such reports can't be downloaded or sent out off-schedule), Pre-Structured Templates and Result Based Invoicing (here you have to define how much it costs to promote each keyword for the finance report.)
Among the other new features is the possibility to work with with list of reports. Now, several reports can be deleted at the same time and renamed right in the list. And I want to note that here you can also see which project each report is related to. This comes in handy if a report contains data from different websites.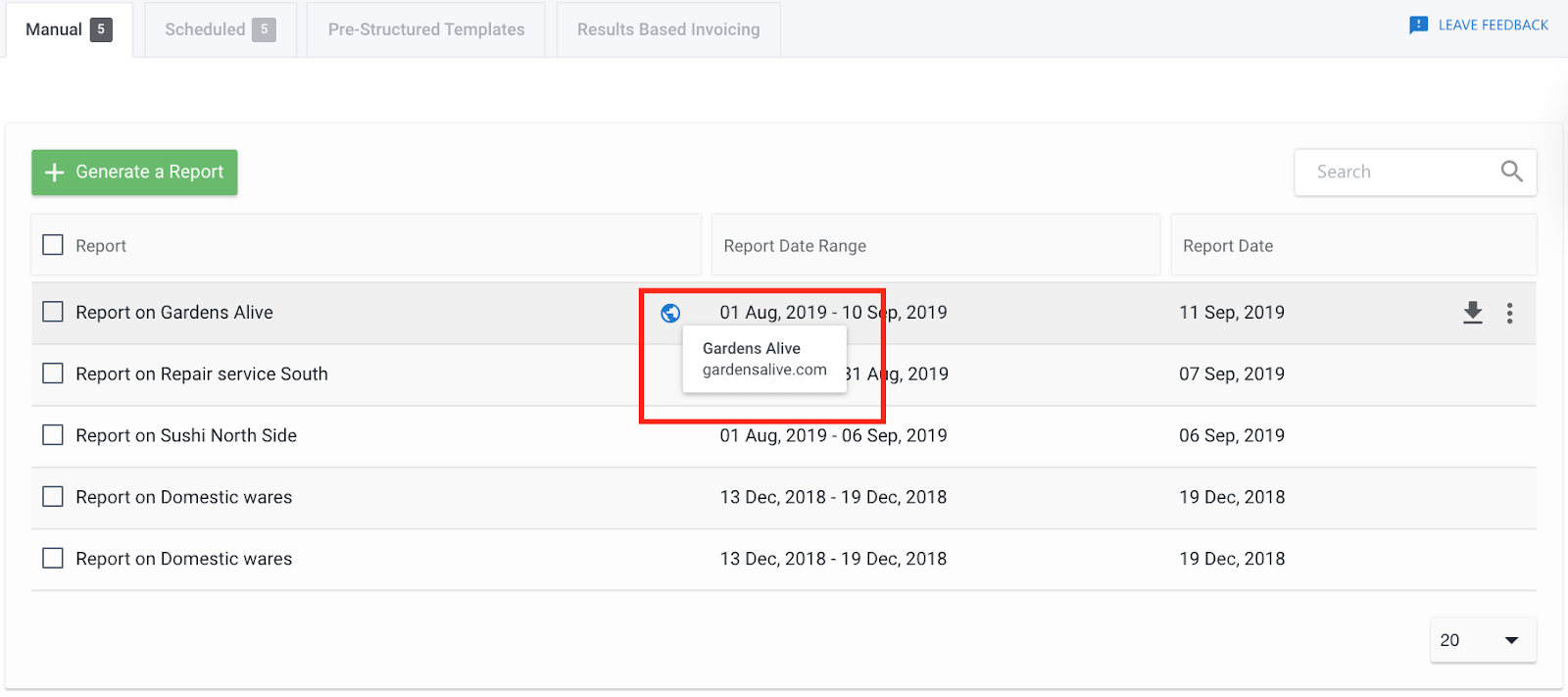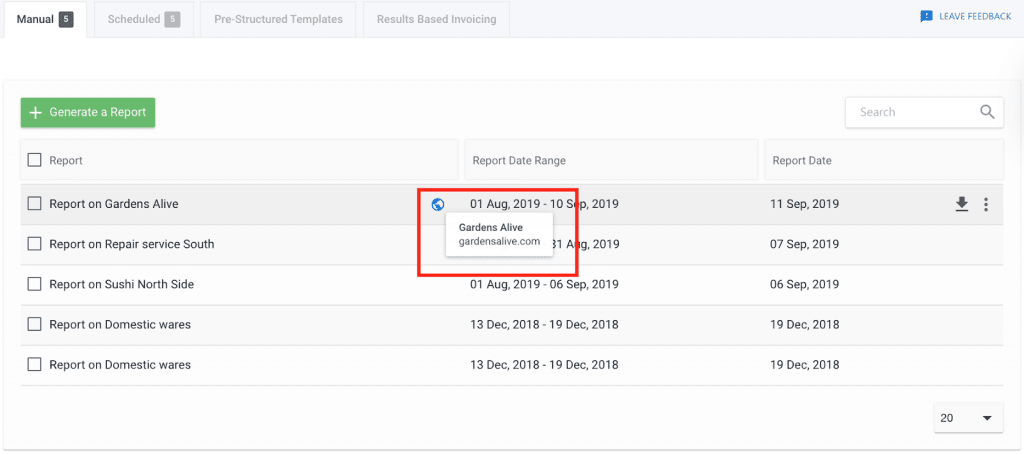 And that's it for the Report Builder updates. Be sure to test out the new and improved module — we're very proud of how it turned out! By the way, here's a sample PDF report for you to check out.
Send all of your questions over to our Support Team, if you have any. They know every nook and cranny of the new module and will gladly help you out.
And, as always, let us know what your thoughts are. We appreciate your feedback and input!