SE Ranking's 2022 Accomplishments and Product Vision for 2023
2022 was one of the most challenging years for the SE Ranking team, but it was also one of the most productive ones. We set ambitious goals and stuck to them no matter what. It translated into 7(!) tool releases, a major keyword database expansion to cover the whole world, and new cross-tool integrations for better user flow.

With all the tool releases and database expansions we made in 2022, now you truly can fulfill almost any SEO initiative within the SE Ranking ecosystem. This expansion is reflected in your wishes, which we traditionally collected in December.
Previously, you asked us to add a content tool to the platform or to develop a local marketing suite (if you didn't participate in the beta-testing, hold on a bit—public release is almost there!) This year, most of you requested various upgrades of our existing tools.
So, here's our 2023 resolution: no big and bold releases to be expected, but we promise that you won't be disappointed!
In 2023, the SE Ranking team will shift our focus to refining our existing tools and to delivering even better insights and user experiences.
Further keyword database expansions and top-notch data quality
Quality data is the cornerstone of any SEO strategy and one of the biggest challenges for SEO software. Last month, we published a blog post that explained the behind-the-scenes operation of data collecting and processing by the SE Ranking team.
In 2023, we'll be further improving our data processing algorithms to deliver even more accurate values on keyword search volume, keyword difficulty, and traffic estimates.
We'll also add a new metric to the Keyword Research and Competitive Research tools—search intent. You'll no longer need to carefully study the SERP to decide whether a keyword's search intent matches your goals.
Finally, we'll continue expanding our databases so our customers from around the world—who are working in different industries—can find even more keyword opportunities.
Major UX adjustments
Delivering an impeccable user experience has always been our top priority. We systematically add smaller and bigger UX adjustments to the platform based on your continuous feedback.
There's always room to improve, so in 2023 we'll be further tweaking SE Ranking's interface to make it as intuitive and user-friendly as possible.
Expect to see more advanced filtering options, additional customization opportunities, and even more cross-tool integrations so that you can move between tools and transfer analyzed data in one click.
Seamless data sharing between users
Many of you value SE Ranking for its teamwork and unlimited reporting capabilities. It'll get even better in 2023. We'll be adding new sections to the report builder and making more datasets sharable via a guest link. We'll also implement more granular data-sharing settings for the subaccounts so your team members can collaborate more efficiently.
The long-awaited release of the Local Marketing tool
Local Marketing was one of our most requested tools, and in November those of you on the waiting list could finally beta-test it. We've collected your feedback, and it'll take us a few more months to polish the tool and present Local Marketing to the whole SE Ranking community.
Soon, all users who are working with local businesses will be able to:
Track their local rankings.
Manage GMB profiles.
Assess their own company's presence in local listings.
Get AI-powered insights on the customer's pain points based on their reviews.
Monitor brand citations and manage customer reviews.
Keep an eye on their NAP.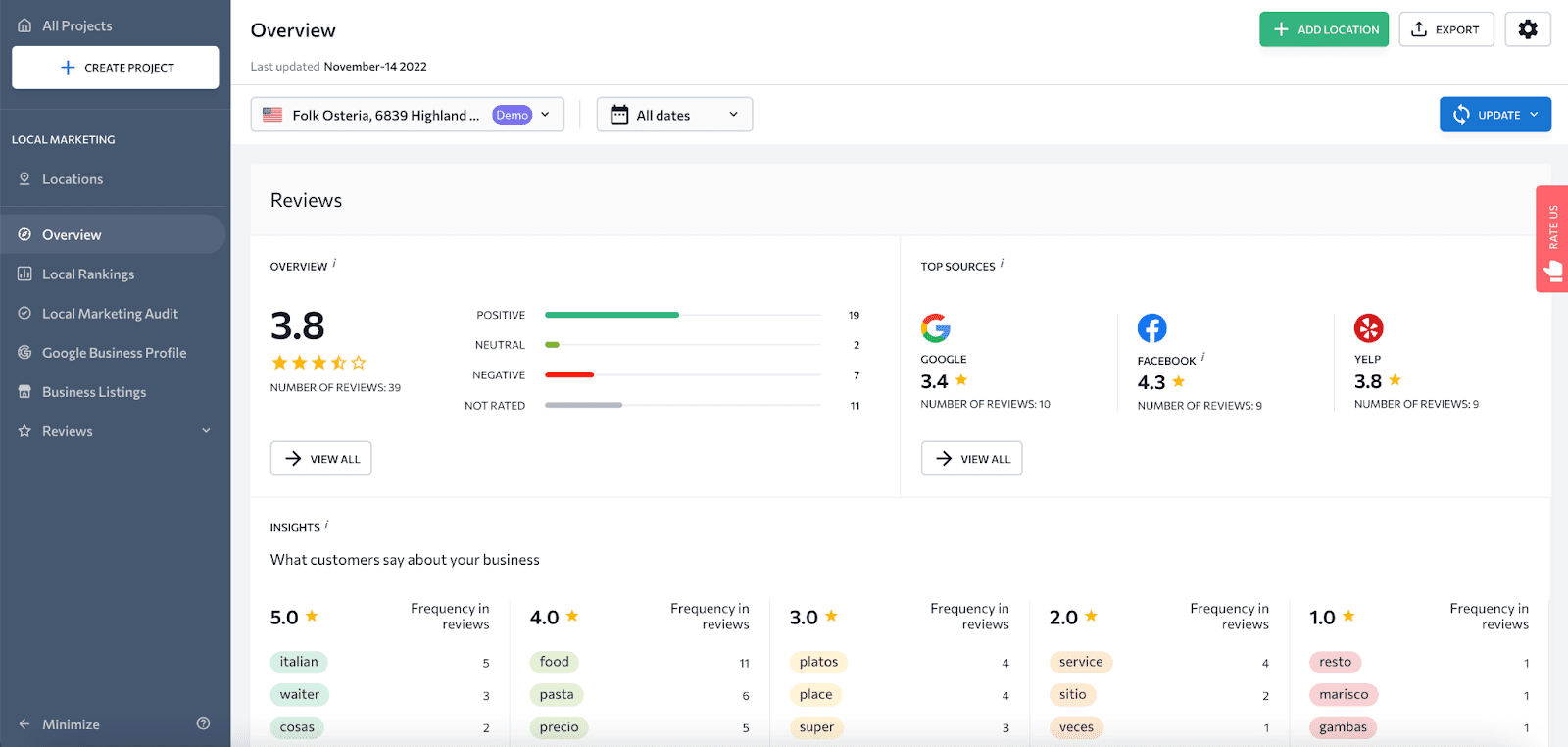 AI Content Generator, Google Docs extension, and other game-changing content features
Content Marketing tool received your very warm welcome, which truly inspired to keep going. If you already started creating content with SE Ranking in 2022, we've got exciting news for you. We'll be adding plenty of advanced features to the tool throughout 2023, making it even easier for you to create quality content.
Currently, you can use our AI-Writer to rephrase sentences whenever you feel stuck. In 2023, we'll also add a powerful AI Content Generator to the suite that can create a whole article from scratch—you'll only need to polish and optimize it from there.
For those of you who prefer writing content pieces in Google Docs, you will be able to do so thanks to our add-on.
Android app makeover
The last point on our 2023 checklist is the major Android app update. Earlier, we added new Keyword Research and Competitors sections to the IOS app. They assist users in finding new keyword opportunities and in analyzing competing sites ranking for your target keywords. The iOS app also has more advanced keyword sorting and grouping capabilities.
In 2023, we'll be adding the same features to our Android app so that all SE Ranking users can always keep track of their projects' performance as well as solve basic SEO tasks anywhere—right from their mobile devices.
Keep tabs on our What's New page and join SE Ranking's Community so you don't miss any of our forthcoming updates. Note that our community members get a chance to beta-test new features before they become generally accessible.
---
Let us know in the comments section below, which of our new features you're the most excited about. If your most coveted features aren't on our list, leave a comment as well.
We hope that 2023 will be as productive for our team as was 2022. And we also hope that it will be nicer to all of us. From the whole SE Ranking team, thank you for being with us. If you're not using SE Ranking just yet, you can test it out for free.