Black Friday has already kicked off and loads of various SEO and marketing offers and discounts are already starting to flood the internet.
We don't want you to miss out on any of the big deals that are currently available, so we handpicked the best ones from SE Ranking, our friends and partners, and put them in a list so that you can easily take advantage of them. Feel free to share any other sweet deals you know about in the comments section below the post.
1. SE Ranking
SE Ranking is an all-in-one cloud-based SEO and digital marketing solution for business owners, SEO pros, and digital agencies. The platform offers a complete set of tools that enables small and midsize businesses to run a comprehensive on and off-page website audit, analyze competitors, track rankings, collect and group keywords, monitor backlinks, get automated SEO reports, and do so much more.
Besides standard SEO tools, SE Ranking offers a set of additional features such as White Label and Marketing Plan aimed at bringing your professional digital services to a whole new level. Forget about switching apps. Do it all through a single user-friendly interface!
Offer
Don't miss out on this incredible Black Friday offer from all-in-one SEO platform SE Ranking! The tool is all about making SEO easy and this is your chance to save big on SEO tools. Only once a year for 2 weeks we're offering an amazing 30% discount on ANY purchase.
Select a pricing plan, enter the promo code BLACKFRIDAY2020 and get your perfect SEO toolset at the best price. Keyword rank tracking, competitor and keyword research, website audit, backlink monitoring and much more all under one roof. Join the growing 400 000+ community of SE Ranking users by getting your subscription from November 18 until December 2.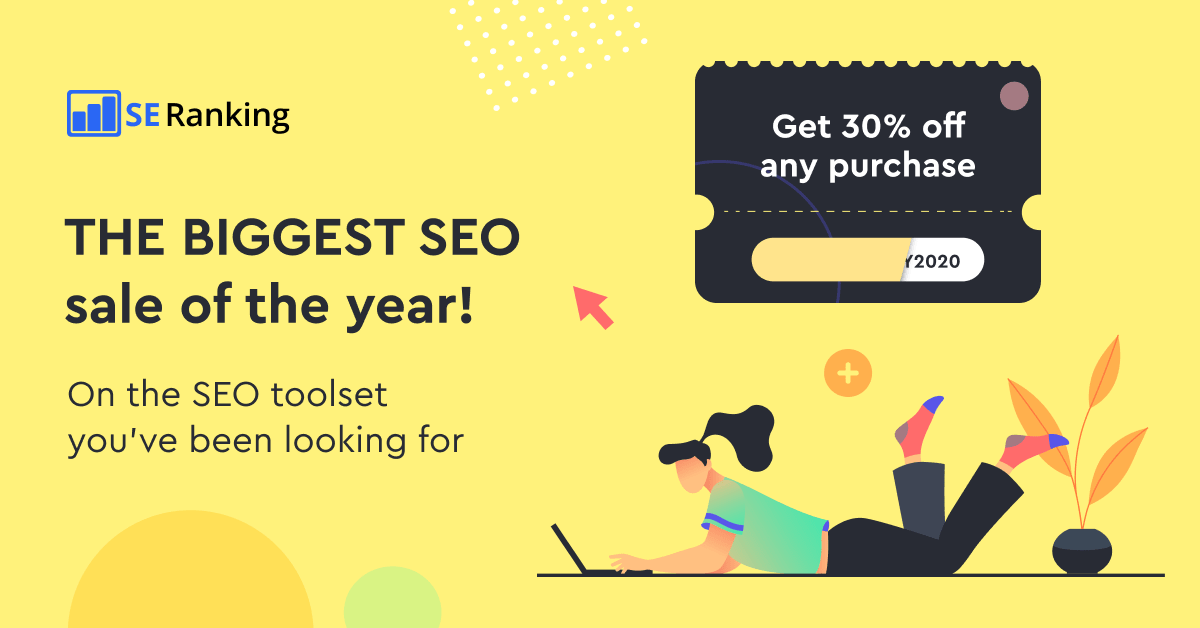 2. HelpCrunch
HelpCrunch is an all-in-one customer communication tool offering a comprehensive set of features for customer support, marketing, and sales. If you need a live chat and knowledge base solution, it's one of the most affordable options available. Set up proactive chat messages, send manual chat campaigns, and engage with customers and visitors at every step of their journey.
Offer
Get 25% off your first month or 45% off the first year with the promo code BFCM2020.
If you sign up for 12 months right off, the Black Friday promo code adds up to the usual 20% annual discount. This way, you'll be getting up to 45% off the entire year. The offer is valid from the 23rd to the 30th of November.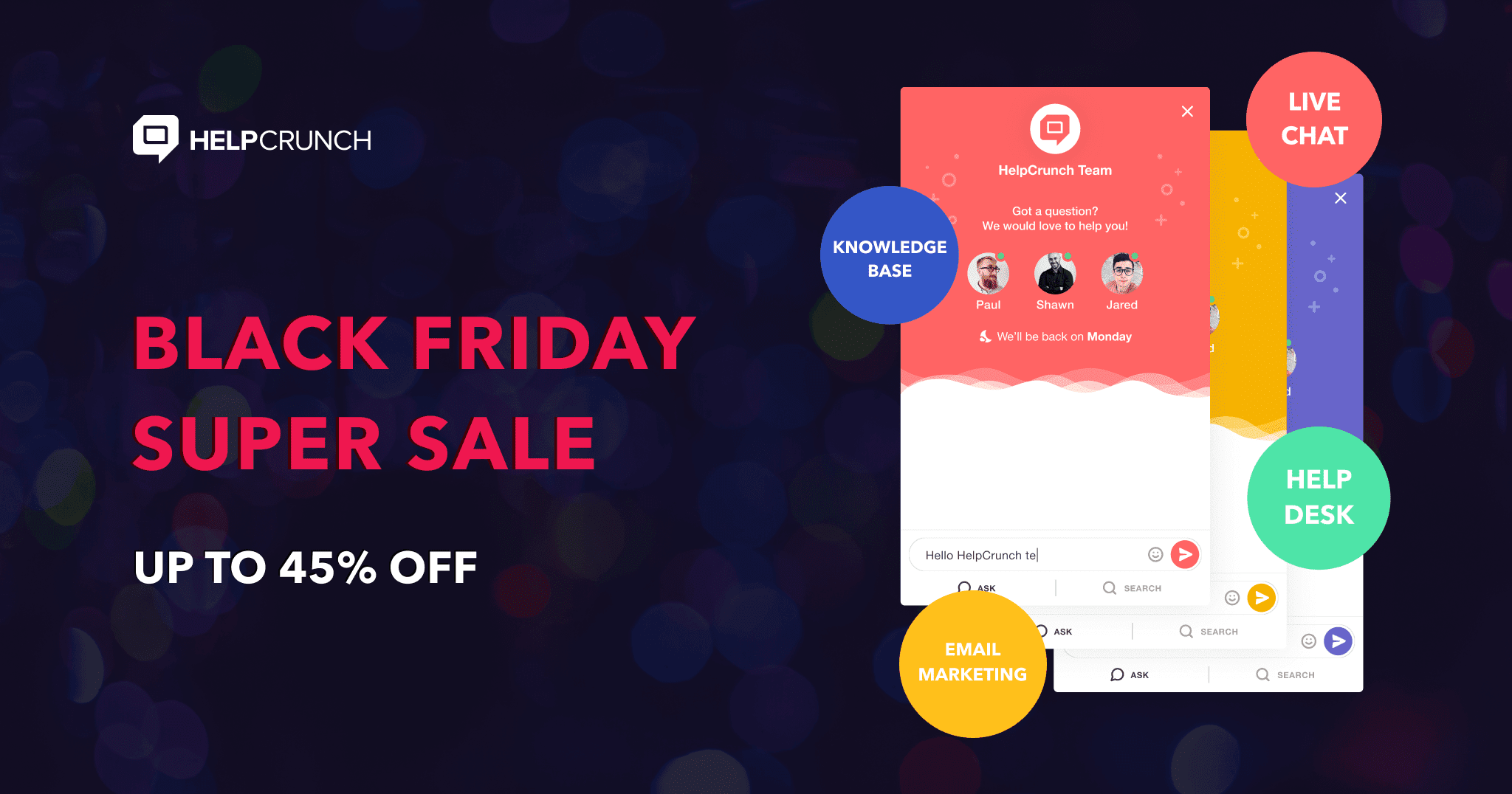 3. ONE by TemplateMonster
The ONE Membership service provides thousands of products for building websites, along with multiple first-class offers. It includes everything from themes for different CMS and HTML templates to extensions and graphics.
Offer
Make sure to look through all the sections before checking out your shopping cart. Moreover, you can also choose various Black Friday offers with up to -40% OFF. Webmasters might want to know about discounts on ONE Subscription. No coupon required. Offer valid from the 23rd of November until the 2nd of December.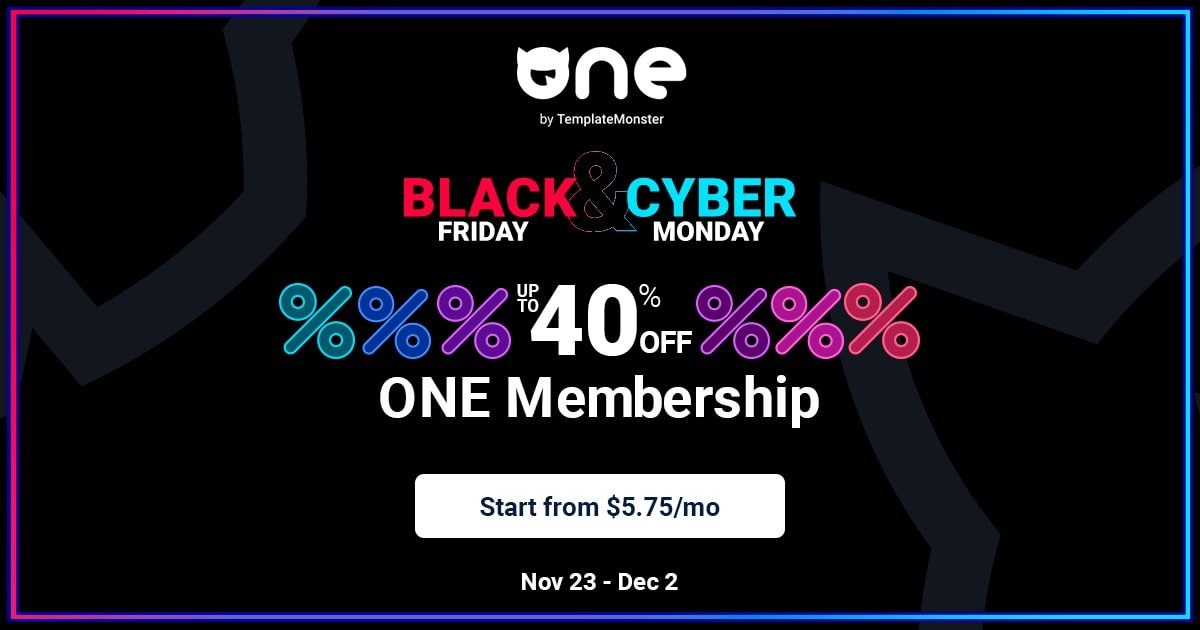 4. TemplateMonster
TemplateMonster is a large and growing marketplace where you can find high-quality digital products matching the latest web standards.
Offer
From November 23 to December 2, visit the marketplace to buy the desired products with up to -70% OFF in the Black Friday sale. No coupon required.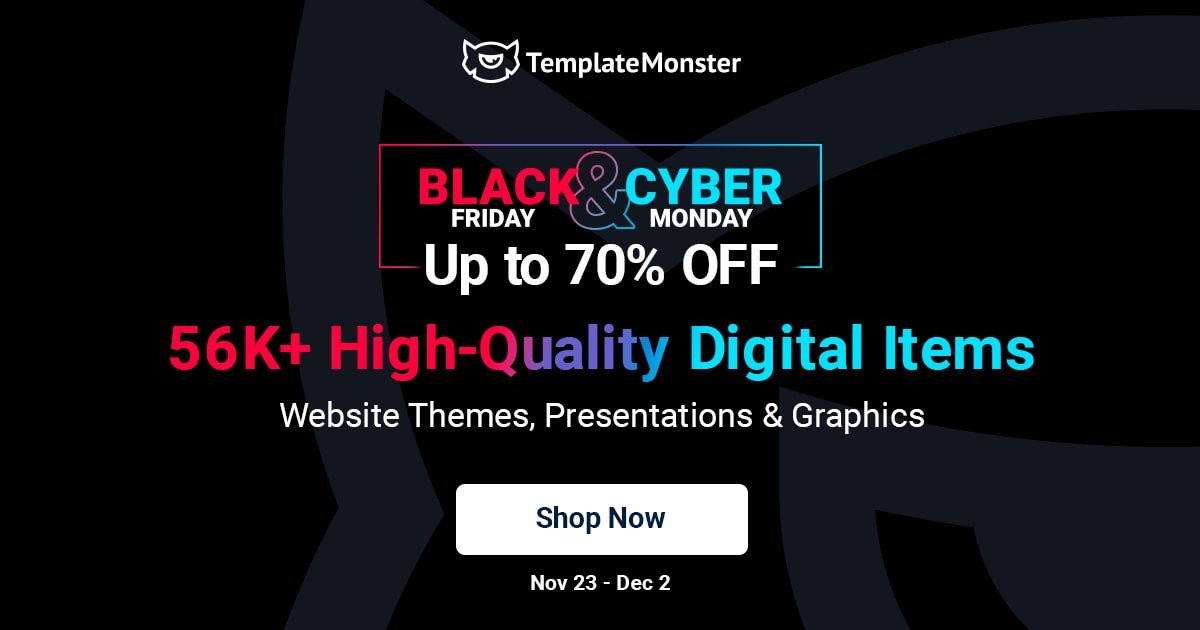 5. eSputnik
eSputnik is a marketing automation service made to embody the toughest ideas of enterprise-level solutions in a very clear and efficient way for everyone.
Offer
This Black Friday, get 50% OFF on Product Recommendations for websites! Personalized product recommendations based on the user website behavior can multiply your profits showing people exactly what they're most likely to buy at the current moment.
You can set different conditions for displaying recommendations for different pages of the site:
Products that users were interested in earlier.
Most popular products in the category.
The most popular products on the site by orders or views, and others.
And most importantly, you can manage product recommendations for websites via eSputnik on your own without involving programmers and editing code on the websitе! Use the esputnik friday promo code to get -50% on product recommendations. The offer is valid from the 23rd till the 30th of November.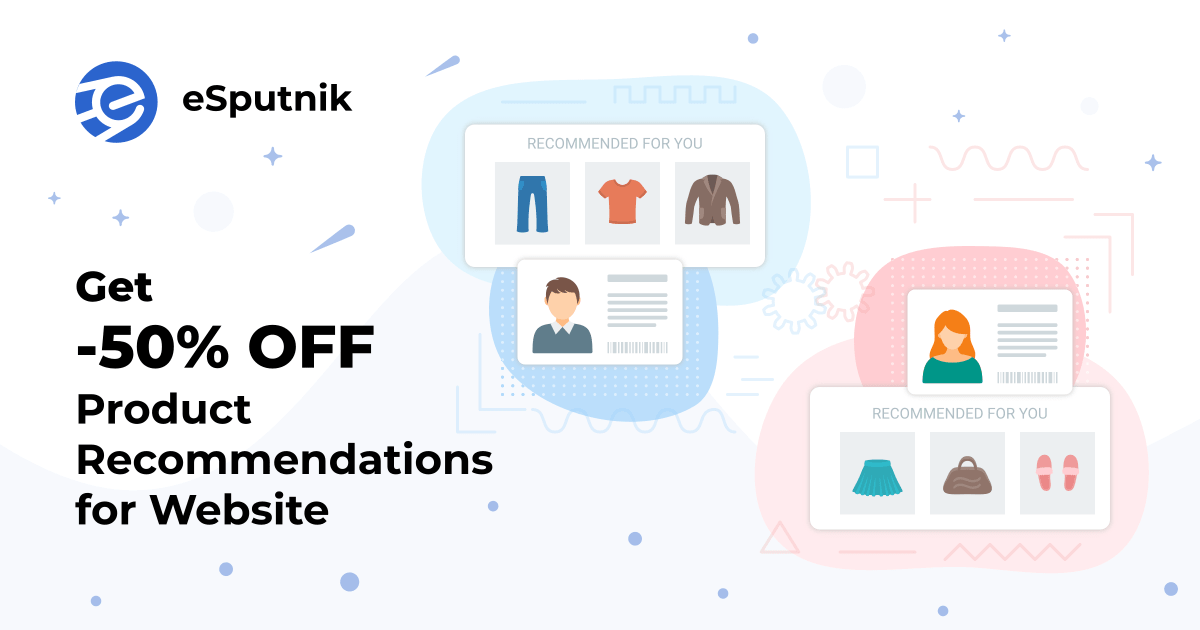 6. Adaface
Adaface helps companies automate first-round technical interviews with their revolutionary conversational bot, Ada.
Offer
The Black Friday deal from Adaface is offering unlimited credits for all new PairPro subscriptions until December 31.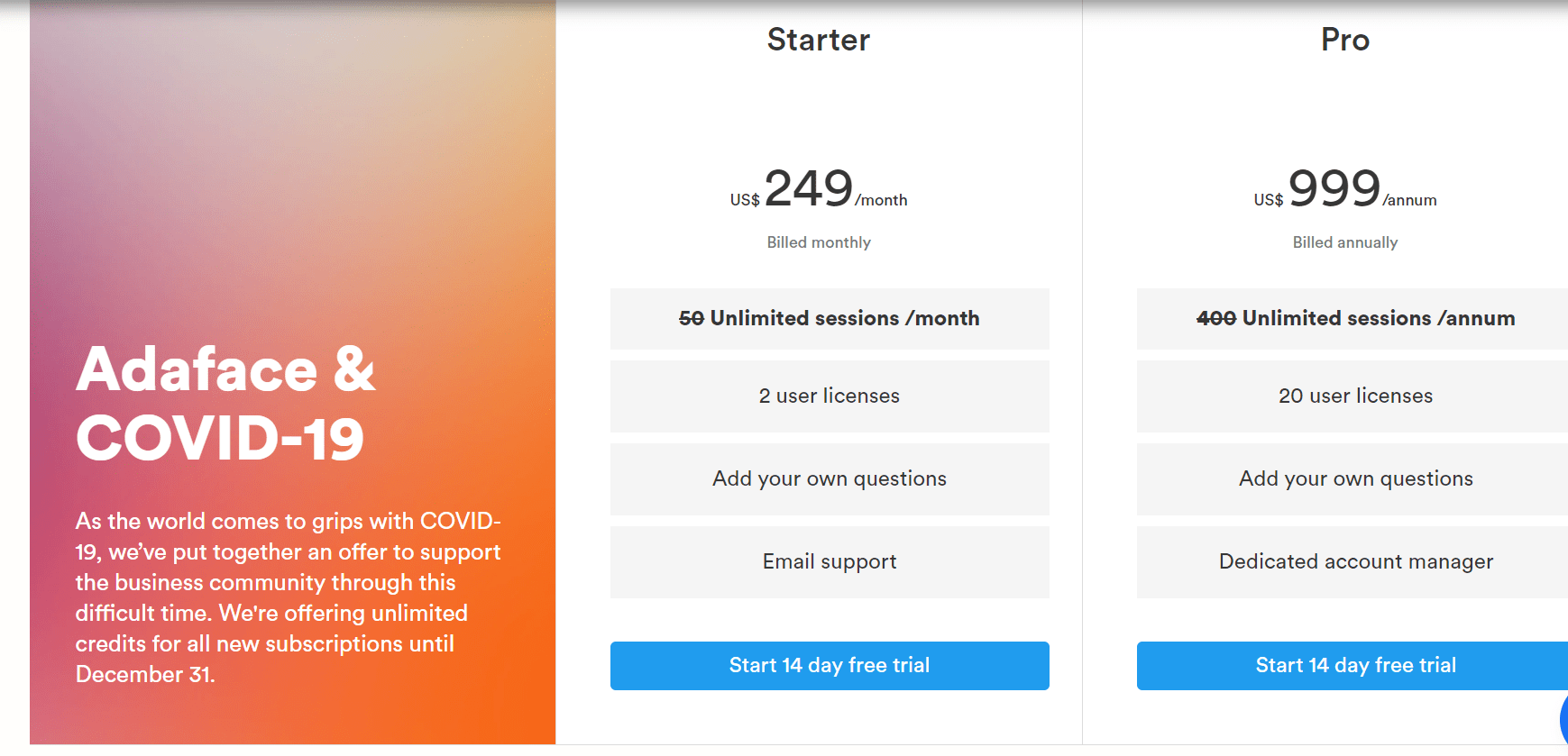 7. Cloudways
Cloudways is a managed cloud hosting platform known for providing the best hosting solutions for all PHP based apps which can be used on top-of-the-line cloud infrastructure providers such as DigitalOcean, Google Compute Engine (GCE), Amazon Web Services (AWS), Vultr and Linode.
Offer
This Black Friday, you can get 40% off for 4 months using the BFCM2020 promo code. The offer is valid from the 23rd of November until the 2nd of December.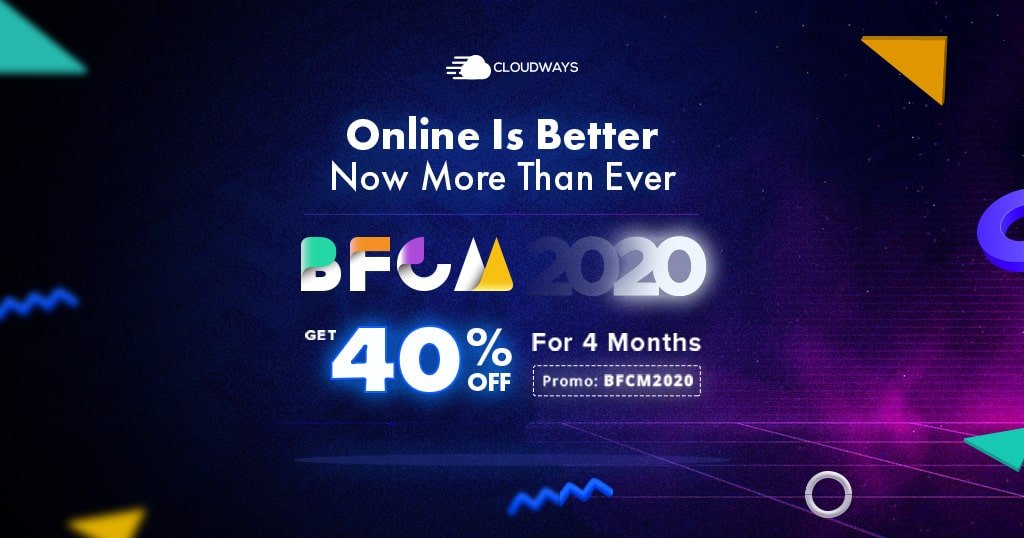 8. Nifty
Nifty is an all-in-one workflow management platform that helps teams reduce the length of project cycles and operate more efficiently by incorporating: gantt charts, task management, collaboration, docs and files in one central ecosystem.
Offer
Nifty is offering a 30% discount on all annually or monthly plan packages. Just use the BF30 coupon code from the 26th until the 30th of November.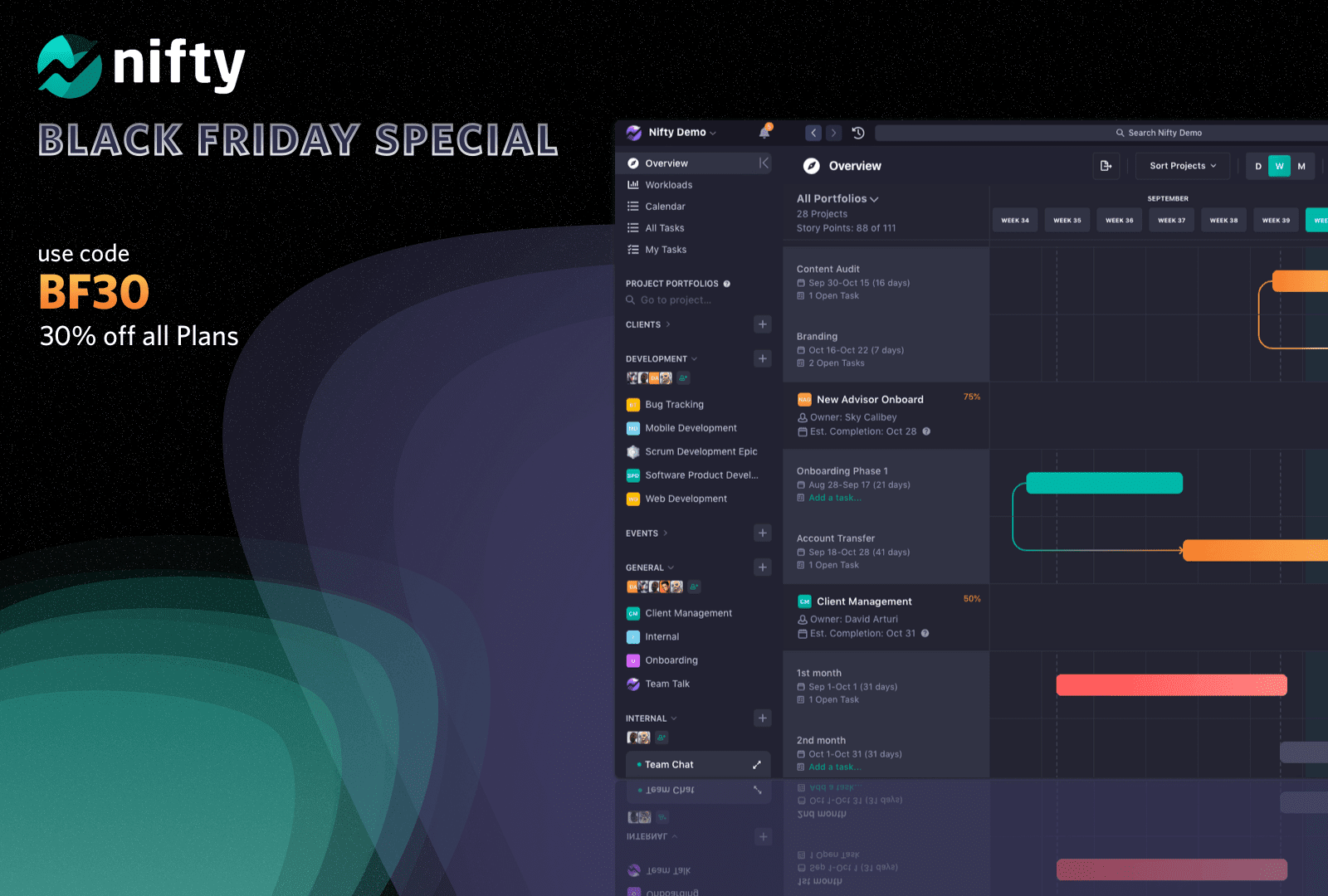 9. SocialPilot
SocialPilot is a simple & cost-effective social media management tool for small businesses and agencies that helps them strengthen their brand presence across all major social media platforms.
Offer
On account of Black Friday 2020, we're offering a flat buy-one-get-one deal on our Small Team and Agency plans. To grab this offer, start your trial now! Offer lasts till 3rd December 2020.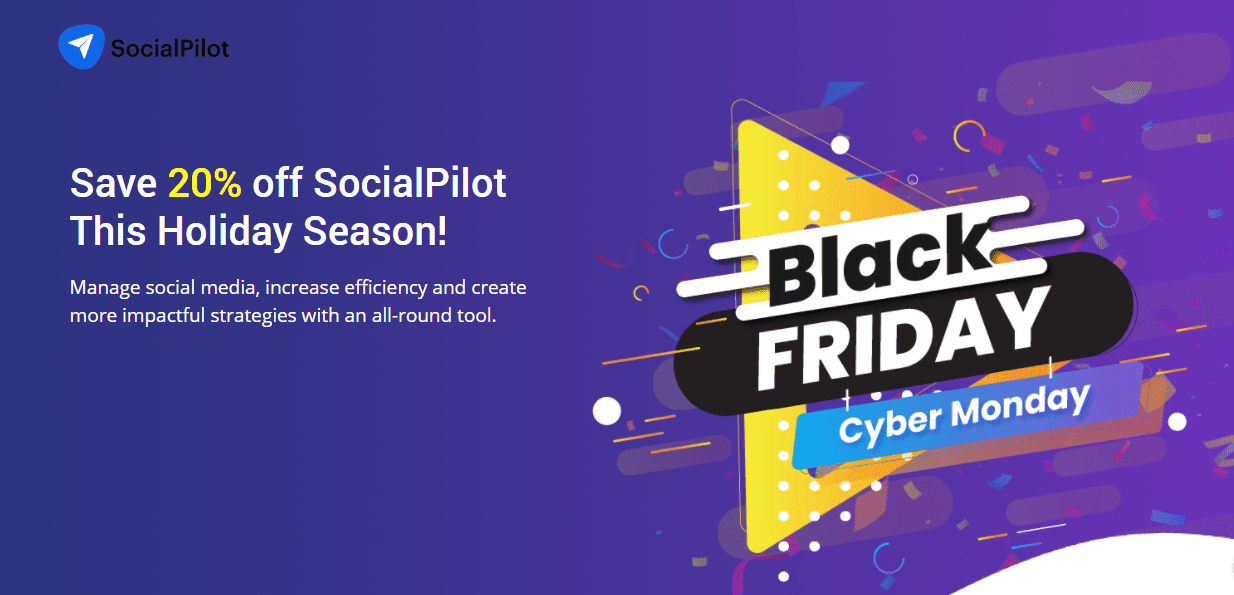 10. Social Tradia
SocialTradia is a professional and safe market where you can buy and sell active Instagram accounts in any niche. The accounts listing process takes 1-3 days which proves that they take their work seriously, check everything thoroughly, and do their best to provide amazing service.
Offer
With this Black Friday offer, you can get up to a 33% discount for above 100K Instagram accounts. The deal is valid from the 21st of November until the 6ht of December.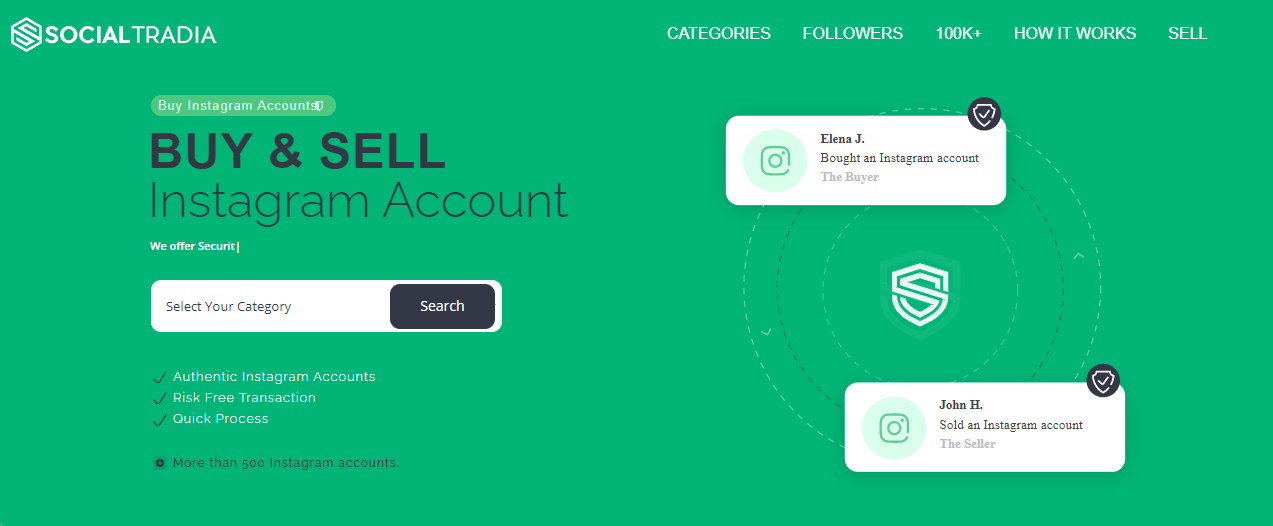 11. Weblium
Weblium is an extremely easy yet very powerful sitebuilder. With Weblium, you can effortlessly create both landing pages and complicated e-commerce websites, while marketing and management integrations and tools will provide superb quality and sustainability.
Offer
Ever thought of creating a website? Well, the time is now!Get 25% off annual PRO subscription, or 50% off monthly subscription for 3 (!) months this Black Friday using the SERANKINGBF25 coupon code. The offer is valid from the 20th of November until the 10th of December.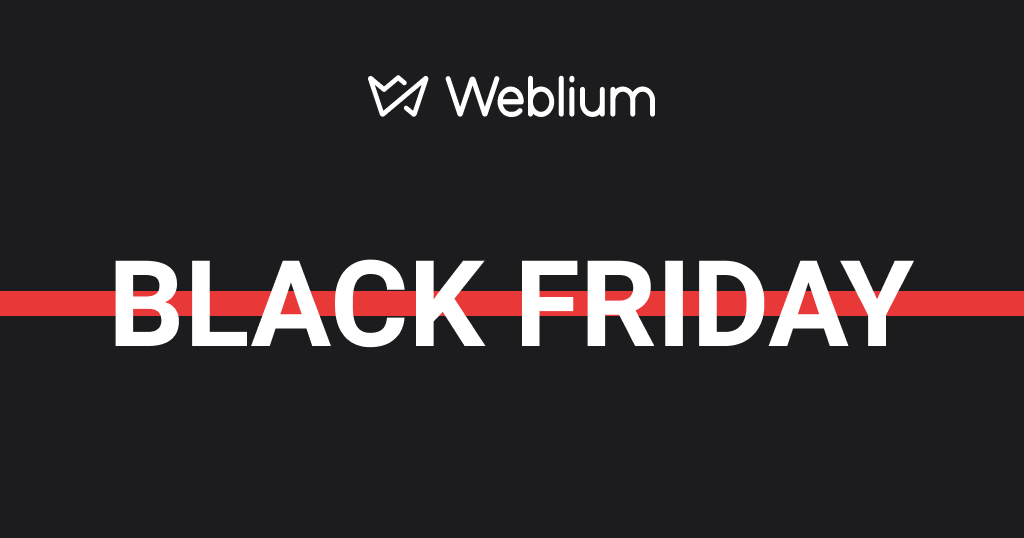 12. Sixads
Get free traffic and easy ads to accelerate your sales. Put your products in front of millions of shoppers who want to buy what you sell. Use Sixads automated Facebook, Google, and Instagram ads now.
Offer
Until the 1st of December, get +10,000 EXTRA impressions from Sixads when buying a Premium plan. Just contact the support team using the coupon code PantsOnFireBFCM and the offer will be applied.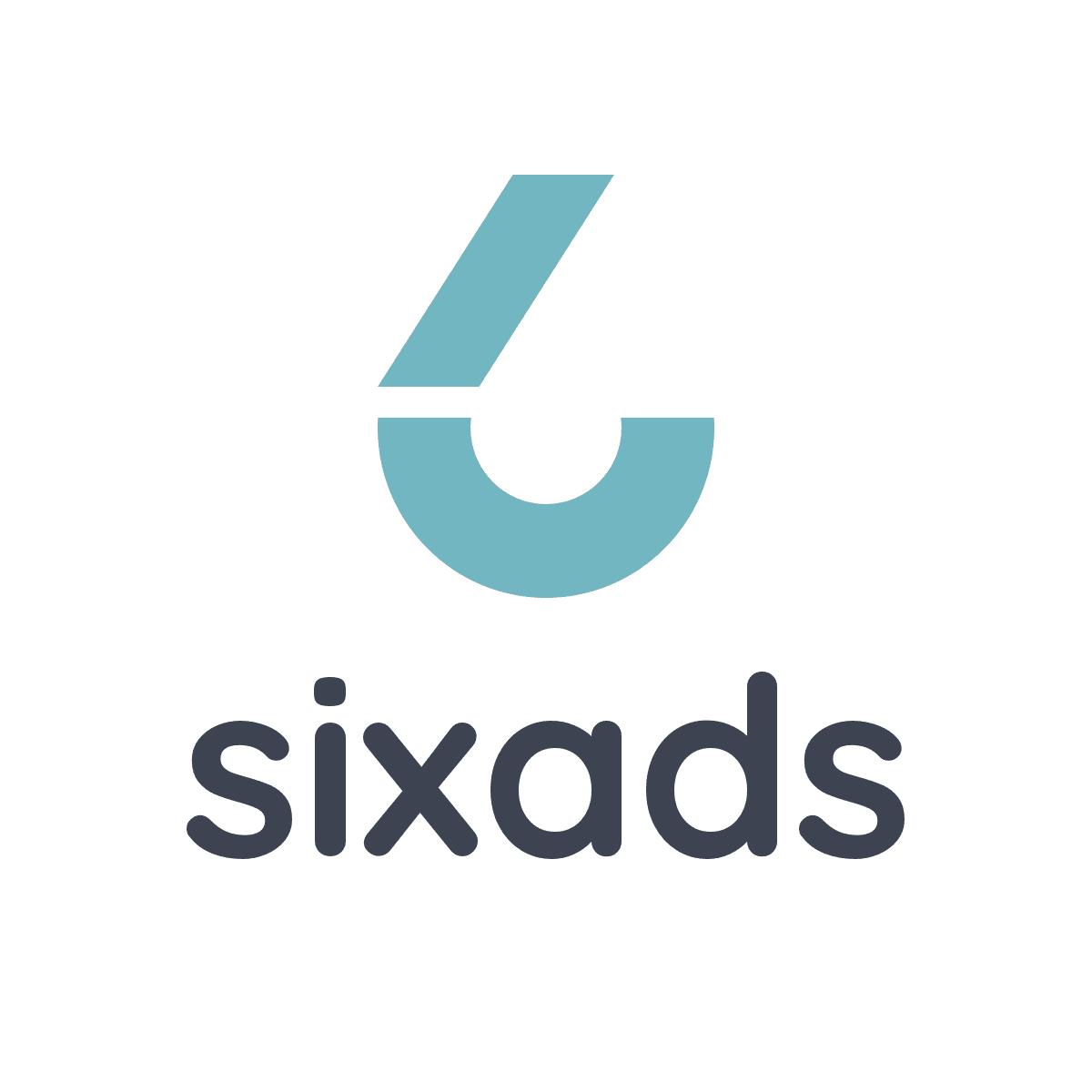 13. SalesHandy
SalesHandy is an automated email outreach tool. It helps the sales, marketing, recruitment and many other teams automate the prospecting email outreach campaigns with the power of high-level personalization and follow-up sequences up to 10 stages. It increases email campaign efficiency with higher email deliverability that gets more click, open, read and reply.
SalesHandy supports Gmail, G suit, Outlook, Microsoft office 365 and other SMTPs. For seamless data collaboration, it provides integration with 2000+ apps via Zapier webhooks.
Offer
SalesHandy is offering up to 60% discount on yearly subscription plans. Sign up for the 14-day free trial from the deal page without any coupon code until the 29th of November.

14. Breadnbeyond
Breadnbeyond is an award-winning explainer video company specializing in producing animated explainer videos. We create engaging animated explainer videos that help you introduce your brand, product, or service to the world – all from scratch, no template.
Offer
This Black Friday, Breadnbeyond is providing a $500-$1500 discount on explainer videos. The offer is valid until the 2nd of December. No coupon code required.
15. SMSAPI
SMSAPI is a bulk SMS messaging service available via the Customer Portal, mobile app or a simple and easy to integrate SMS API enabling integration with own IT systems, including e-commerce and CRM.
Offer
SMSAPI is offering +10% with the first top-up at smsapi.com with the code 10BLACK2020. Available only for new users with the payment up to 500 EUR until the end of November. Register for free and use the code while topping-up.

16. Kalicube
Kalicube is a groundbreaking digital marketing agency that pioneered the concept of exact match Brand SERPs (what appears when someone googles a brand name).
We lead the world when it comes to analysing Brand SERPs, extracting the underlying messages they portray and implementing proven optimisation techniques. And that means not only blue links, but also rich elements (videos carousels, image carousels, Twitter boxes, entity boxes, People Also Ask…) and, of course GMB and Knowledge Panels.
Head office is in Aubais (France), we serve clients worldwide in three ways 1) bespoke consulting 2) online courses 3) free use of our Brand SERP tracking tool.
Offer
This Black Friday, save a whopping 50% on all Kalicube courses with the coupon code BLACKFRIDAY2020 at checkout. Available from now until 29th November 2020 midnight.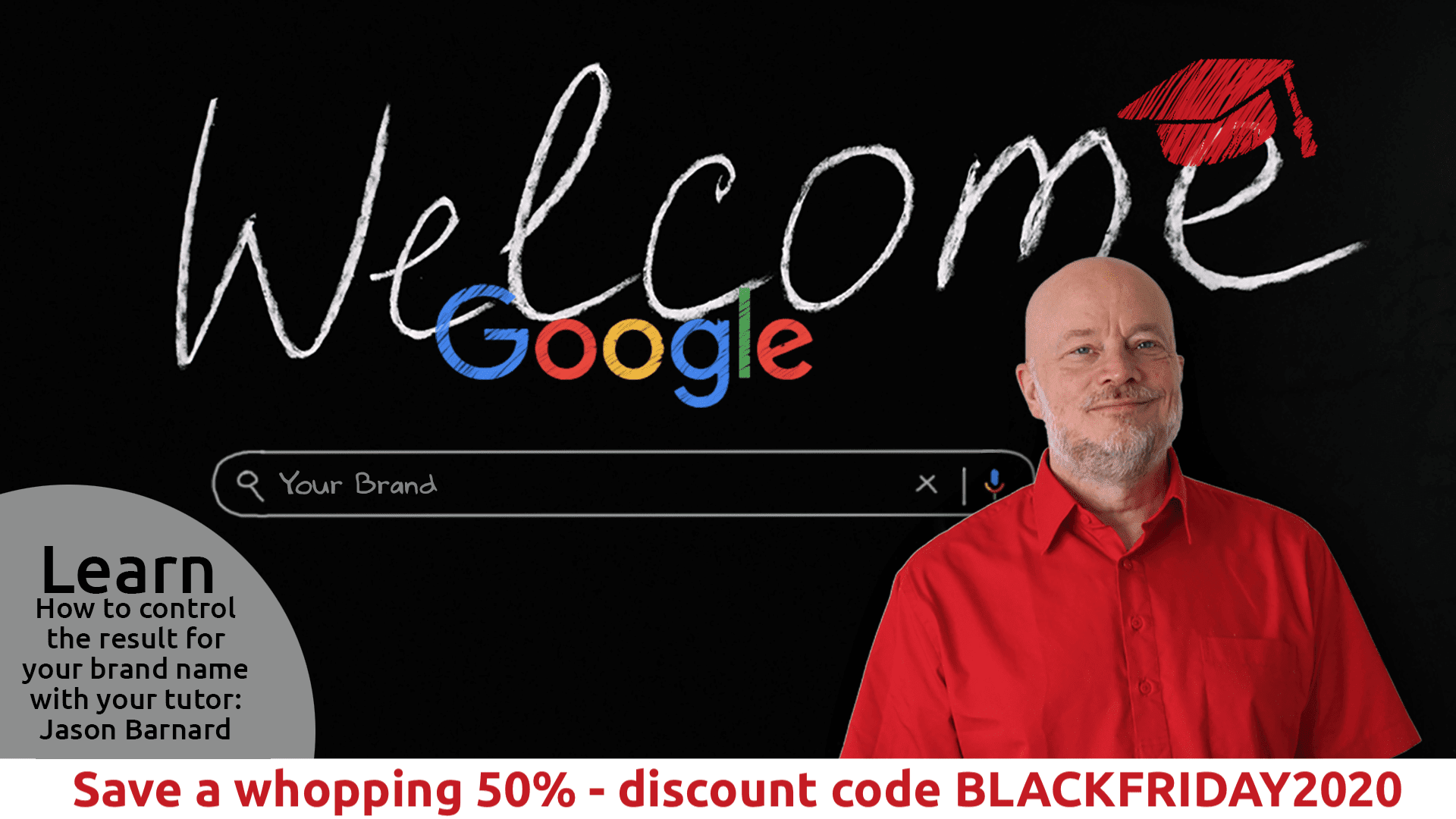 17. PublicFast
PublicFast is the marketplace that helps brands find and collaborate with influencers all across the globe. PublicFast helps brands create campaigns with micro-influencers and creators in less than 5 minutes and find the right fit for the business based on AI technology.
Offer
From the 25th of November until the 1st of December, PublicFast is offering a PublicFast Discovery Subscription for $299 for a year (normally – $828/year). They prepared a 65% discount deal on yearly Discovery subscriptions.
With this subscription, you will get:
Full access to 10M influencers in the database
Unlimited searches
500 personal contact details / month
Full access to the PublicFast marketplace
Run barter campaigns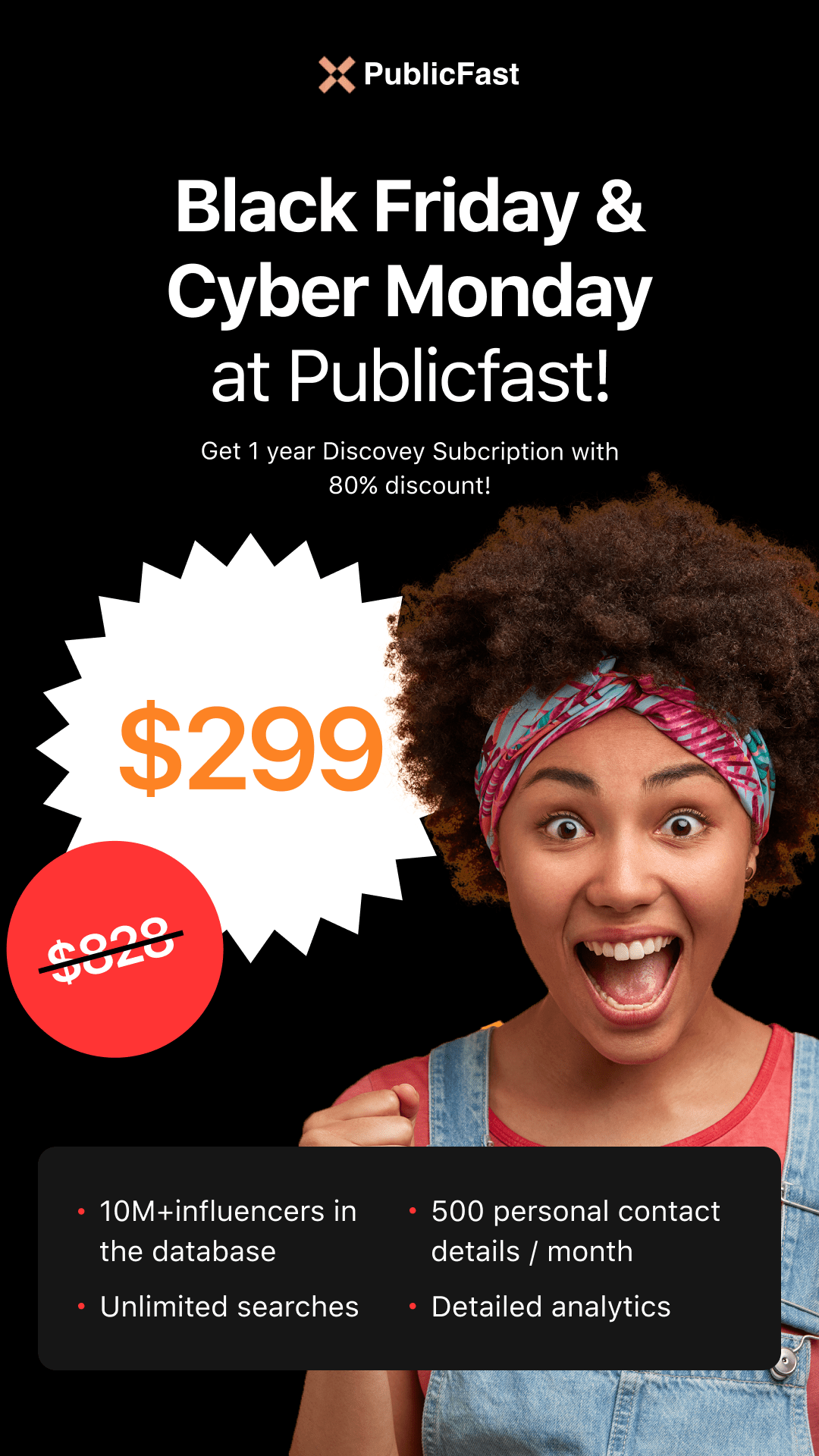 18. Reply
Reply is an all-in-one tool for SDRs that automates email search, LinkedIn outreach, personal emails, calls, SMS, and WhatsApp. The tool eliminates routine work and lets your sales team focus on what really matters—closing deals.
Offer
Reply is offering up to 30% off on Reply plans + UNLIMITED email search on LinkedIn and Sales Navigator via the Reply Chrome extension + FREE Reply implementation into your sales stack. The offer is valid until the 30th of November. No coupon code required.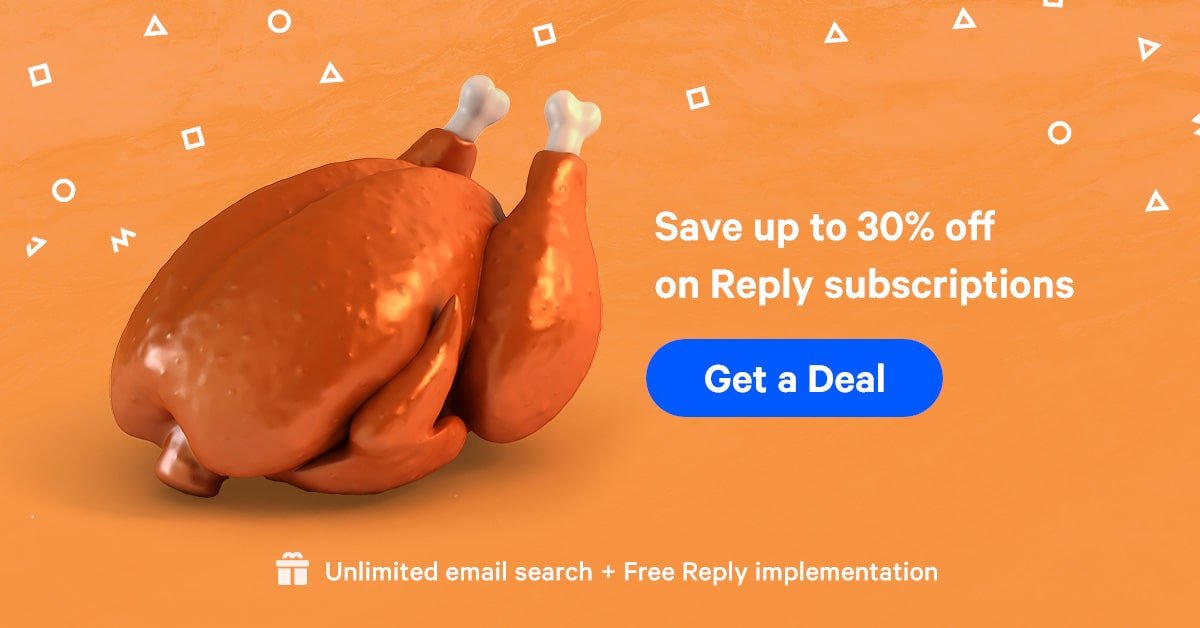 19. Depositphotos
Depositphotos is one of the world's leading content marketplaces with a library of more than 187 million stock photos, videos, vectors, templates and music. The company fosters a community of 100,000 creatives that submit their works to help clients from 192 countries around the world visualize their ideas. The company's headquarters are located in New York, with offices in Milan, Kyiv, Moscow, Warsaw and Limassol.
Offer
Purchase 100 stock images on Depositphotos at the reduced price of $80 (instead of $299)! With this offer, you can download any photos, vectors, and illustrations from the library of 180+ million files year-round.
In addition, being registered as a Depositphotos user these days, you unlock an opportunity to purchase 10 videos or 10 audio files for just $100. The offer is valid from November 26th until November 30th.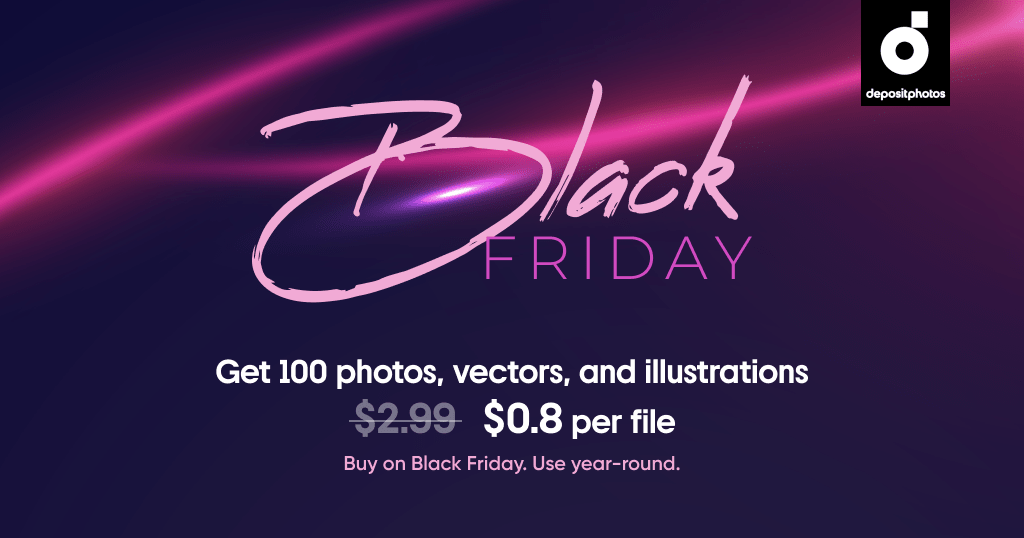 20. ContactPigeon
ContactPigeon is an omnichannel customer engagement platform that enables retailers to increase their customer retention, via automated personalized interactions.
The software is a leading solution in the EU region, with more than 350+ enterprise customers including L'Oreal, M&S, Hertz, Delivery Hero, and more. It's powerful automation engine allows retailers and eCommerce businesses to send behavior-driven messages at scale, across 9 different channels. The company was included within the top 20 marketing automation solutions of 2020 by Crozdesk.
Offer
ContactPigeon is offering 20% OFF on all annual plans for 1 year. The offer is valid till 30th November (Cyber Monday). To claim the discount, book a personal demo by submitting the coupon code BF2020PIGEON.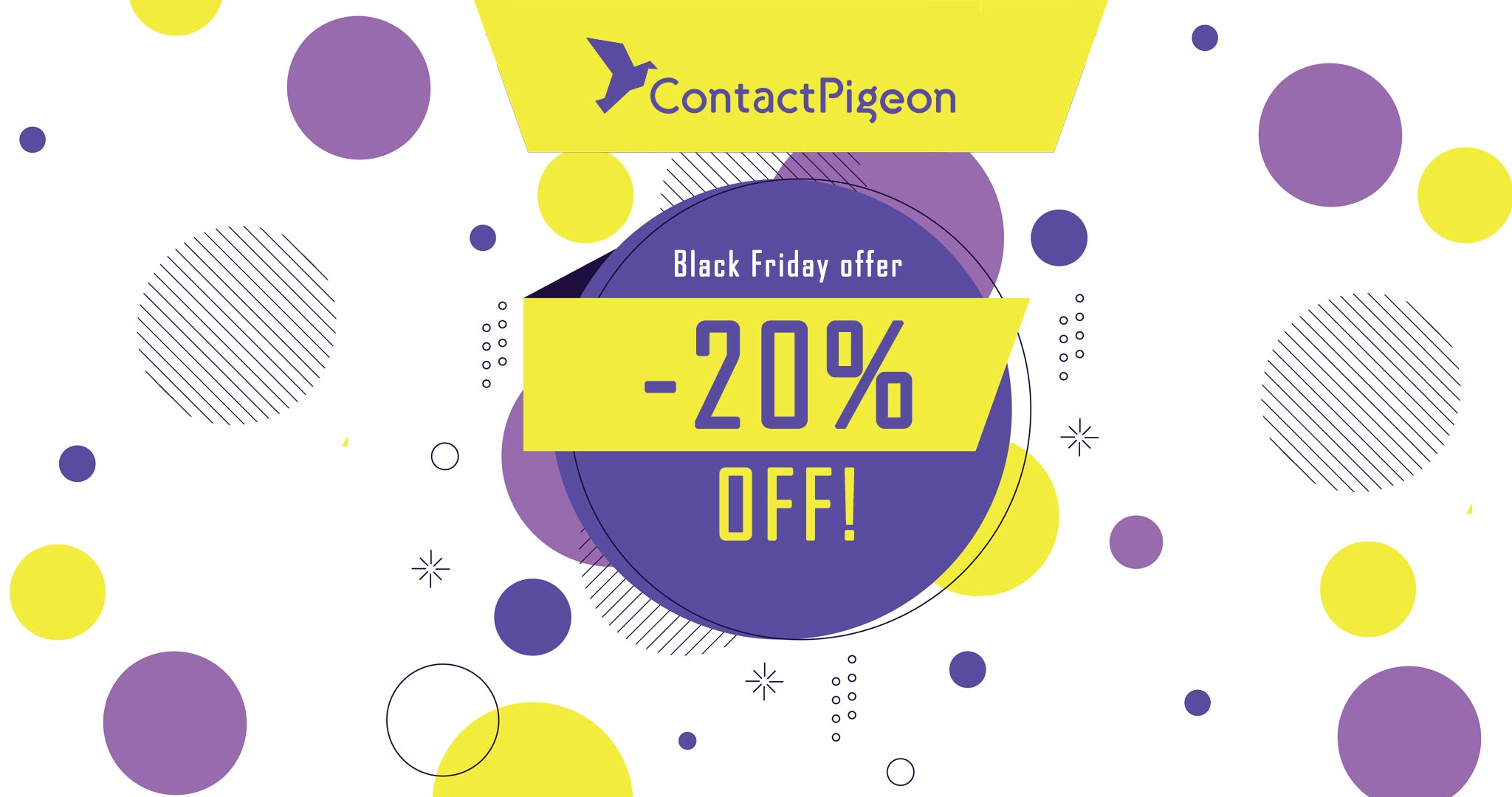 21. nTask
nTask is a project management tool that incorporates everything you need to streamline your project management through a single platform.
With this software, you can easily create and assign tasks, track the progress of those tasks, organize team collaboration, and help teams communicate with ease.
Offer
nTask is offering 50% off on all plans. Just use the BF2020 coupon code at checkout. The offer is valid from the 23rd until the 29th of November.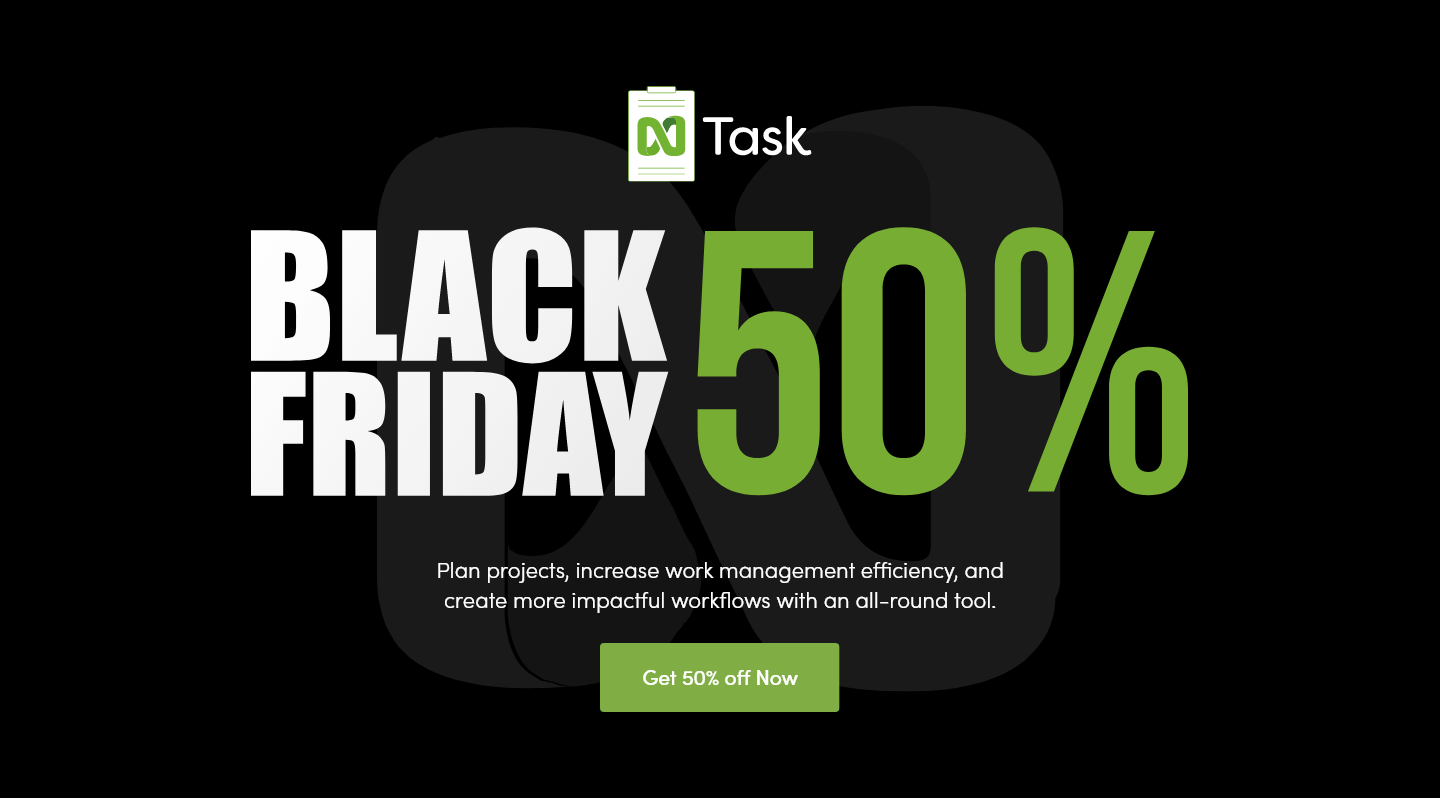 22. Apploye
Apploye is all-in-one time tracking, employee monitoring, scheduling, and payroll management software. It provides remote teams, big companies, and freelancers a secure platform to optimize productivity, and work progress.
Offer
This year during Black Friday & Cyber Monday, Apploye is offering a 25% lifetime discount on any monthly and annually subscription plan. Use the festivefriday2020 coupon code from the 25th of November until the 25th of December.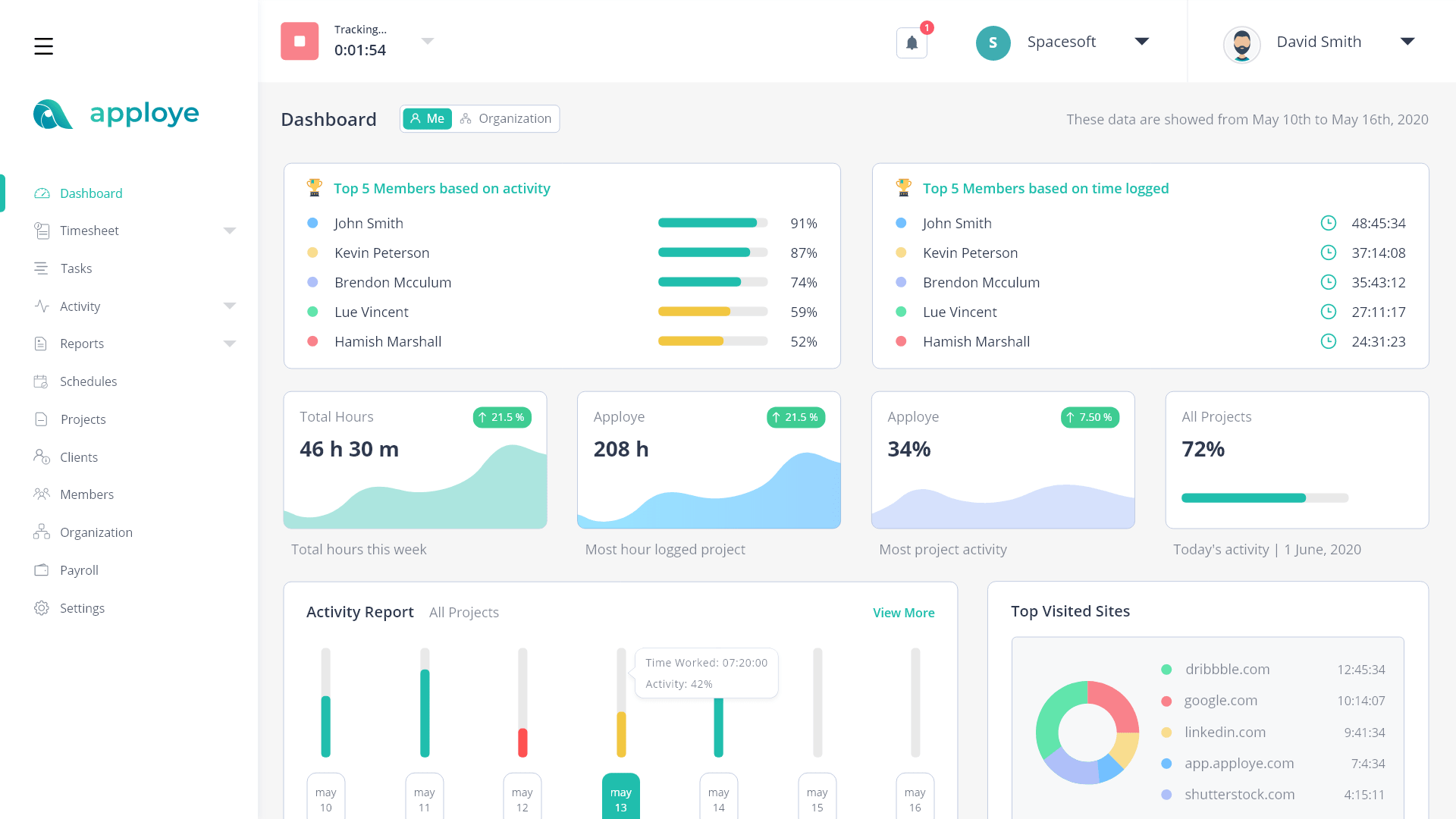 23. Brosix
Brosix is an instant messaging platform for internal business communication. Brosix gives its clients a fully administrable private team network, which provides an exclusive and secure collaboration space. It comes with a package of unique features and tools aimed at boosting team collaboration and streamlining communication. From a range of chat options, to screen-sharing and unlimited size file transfers, Brosix is designed with the modern work environment in mind.
Offer
This Black Friday, sign up for a Brosix Premium Plan before November 30 and get everything you need to improve team communication and maximize workplace efficiency. Unlimited user accounts. Total productivity. Full control. Half the price.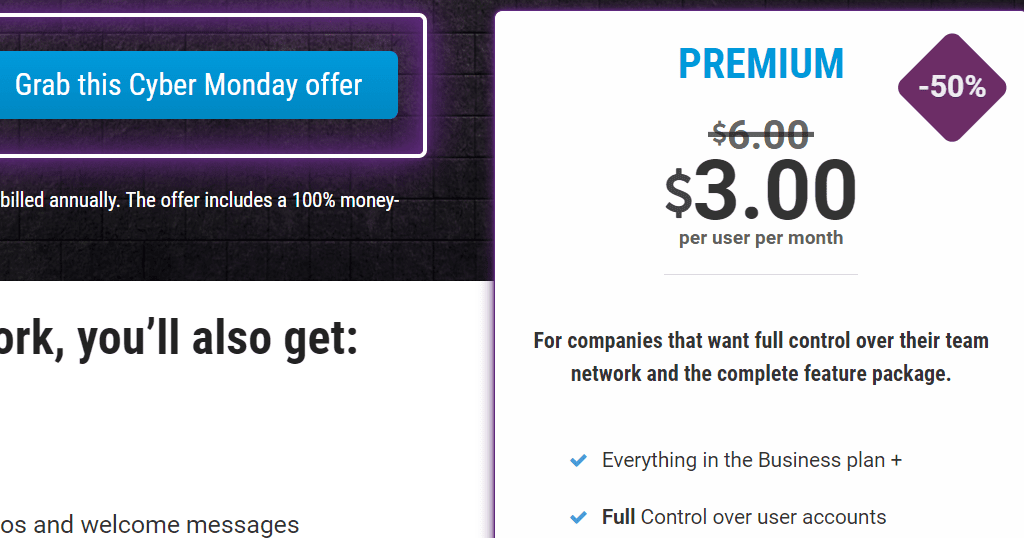 24. LinksThatRank
LinksThatRank is the new link building service on the block that was founded by Matthew Woodward. It prides itself in building high quality authoritative links that will give your search traffic a huge boost. The Link That Ranks team perform a 23 point quality control check on every site/link they place and have a strict blacklist of websites.
Offer
LinksThatRank is offering a 10% discount + free link building swag box + free anchor text analysis from the 26th until the 30th of November. No coupon code required.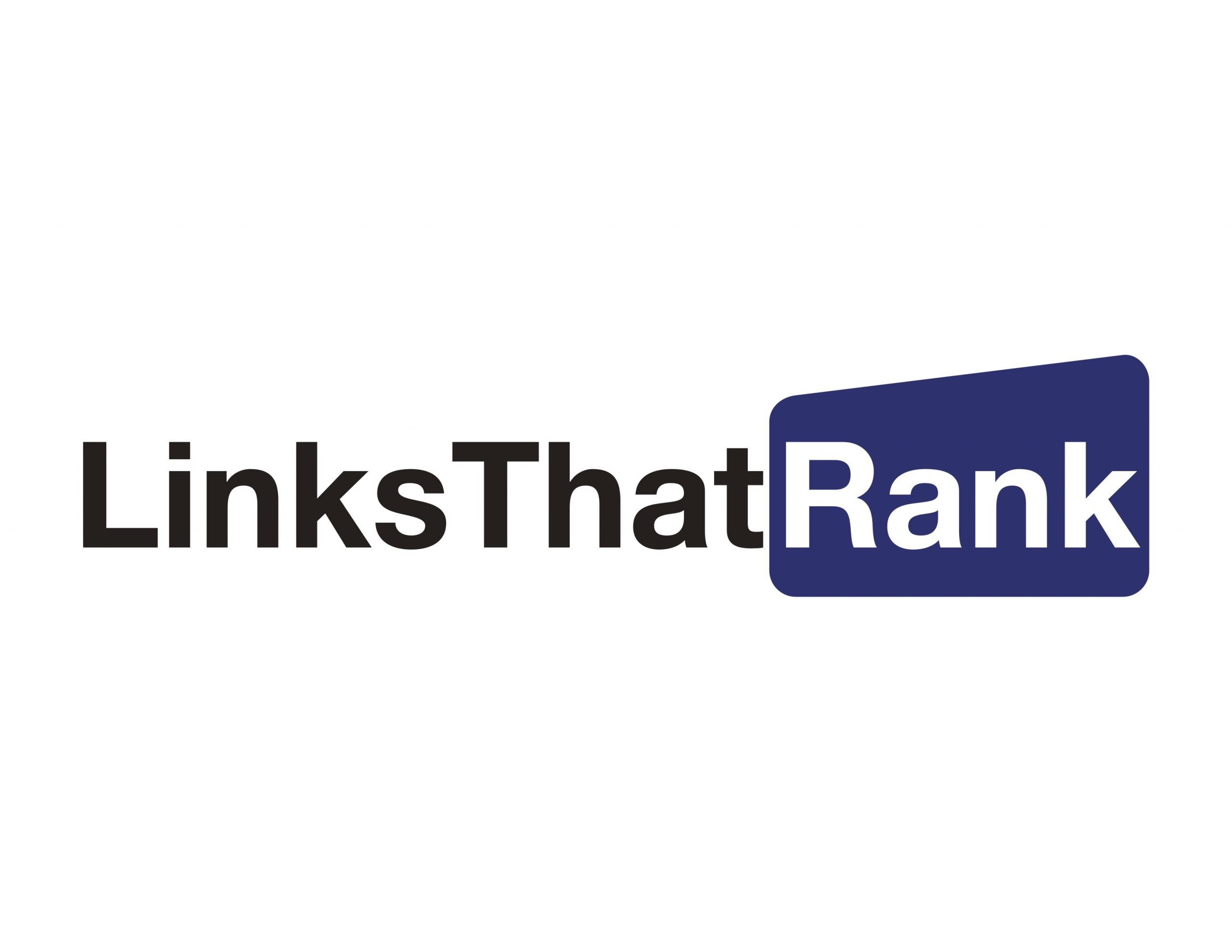 25. 90DaySEO
90 Day SEO is a full course created by Matthew Woodward that teaches in depth repeatable SEO strategies using text, images, videos, worksheets and more. The courses covers keyword/topic research, how to build a strong website foundation, on page SEO, content strategy, link building and exactly how to execute all this from start to finish. You'll also have access to the 90 Day SEO Facebook group and receive a box of free swag.
Offer
The course offered by 90DaySEO is usually $997 and has been reduced to $697 for Black Friday 2020. The offer is valid from the 26th until the 30th of November.

26. ReferralCandy
ReferralCandy is the referral marketing software for ecommerce that focuses on getting businesses more customers via rewards and other incentives.
Offer
ReferralCandy helps brands setup and run a customer referral program, allowing them to acquire new customers while retaining existing ones. You can now start your own referral program by taking advantage of this offer! $50 off after your 30-day free trial. The offer is valid until the 1st of December. No coupon code required.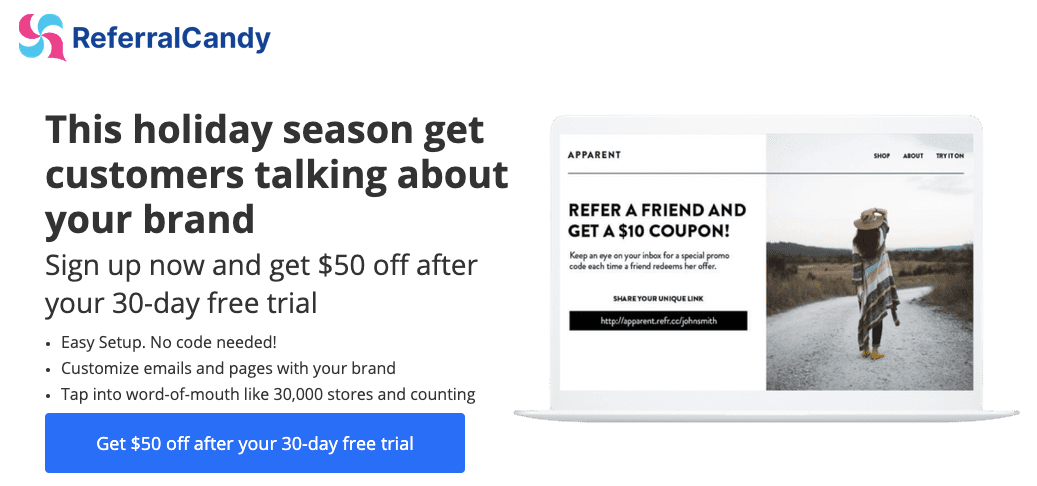 27. Taskeo
Taskeo is a comprehensive business management suite that allows you to run your entire business from one platform. The solutions offered by Taskeo include appointment scheduling, project management, customer relationship management, time tracking, billing and email marketing. Gain access to everything your company needs from one account!
Offer
Taskeo Black Friday deal offers you lifetime access to its business management solutions (each product is charged separately). Pay $59 once to upgrade up to five accounts with the PRO version of a chosen solution. Note that the coupon code will arrive via email after purchase. The offer is valid from the 27th until the 30th of November.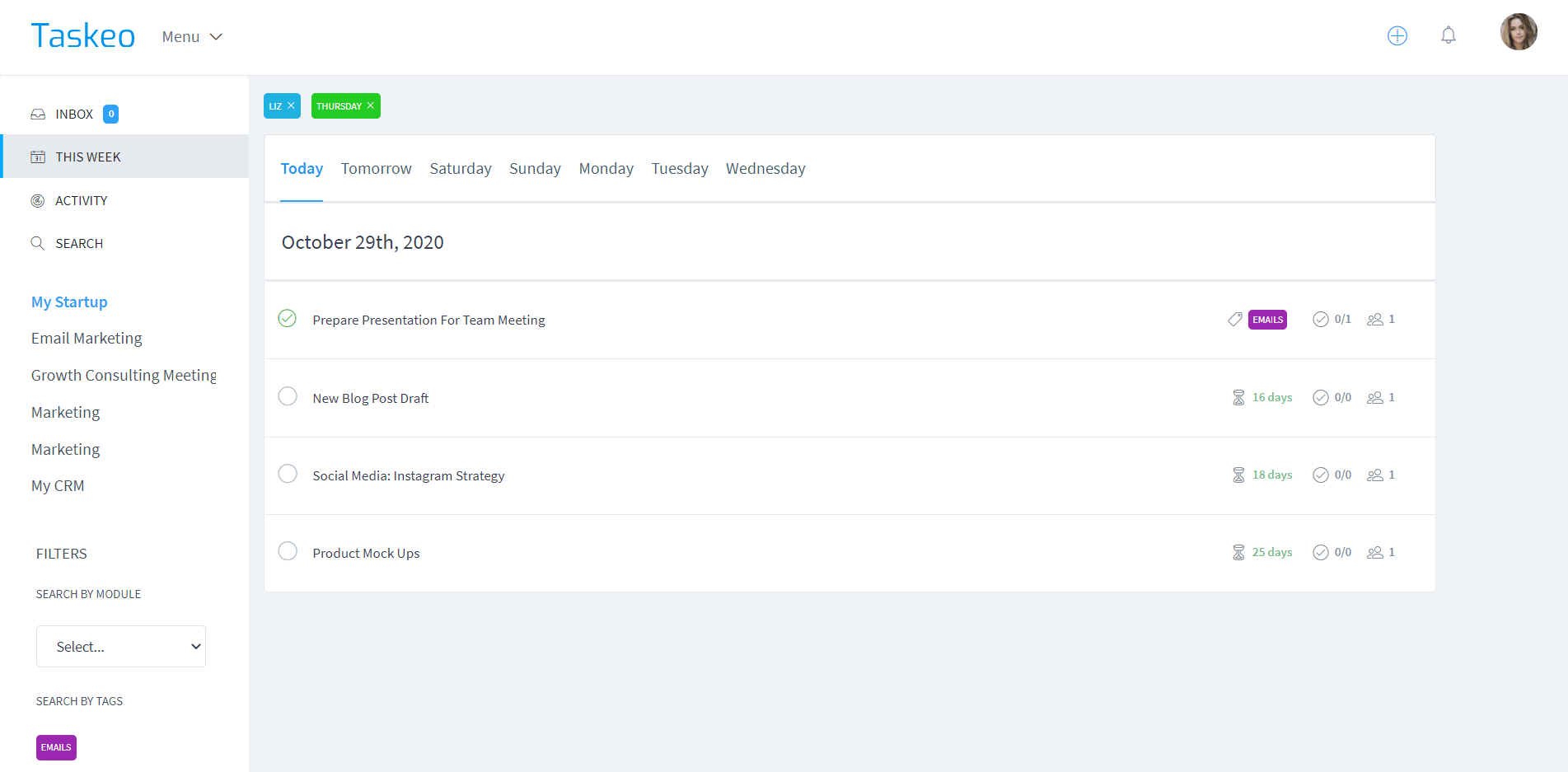 28. LiveWebinar
LiveWebinar is a cloud-based solution with superior screen sharing, live video streaming, and recording features, plus customized branding, social media broadcasting, and audience engagement analytics.
Offer
New and existing LiveWebinar customers can enjoy a 25% discount on plans ordered from November 26 to December 1. To collect the promotion, use the code: FRIDAY20.
29. CloudTalk
Remote ready business phone solution that allows customers to create a virtual phone system for sales and customer service teams from anywhere in the world. 2,500+ call centers and phone systems powered by CloudTalk and counting.
CloudTalk is a cloud call center software for SMB used by sales and customer service teams across the globe. With CloudTalk, you can grab a local phone number from 140+ countries and make VoIP calls and send/receive SMS within minutes.
Offer
From the 26 until the 30th of November, CloudTalk is offering 10% off on the first 5 payments. Just use the coupon code: BLACKFRIDAY20.
30. Replug
Replug is an all-in-one link management tool for branded URL shortening, adding retargeting pixels, embedding call-to-actions and creating social media bio-links.
Offer
Replug is offering a lifetime plan this year. Just pay once and you do not need to pay anything anymore. The offer is valid until the end of November. No coupon code required.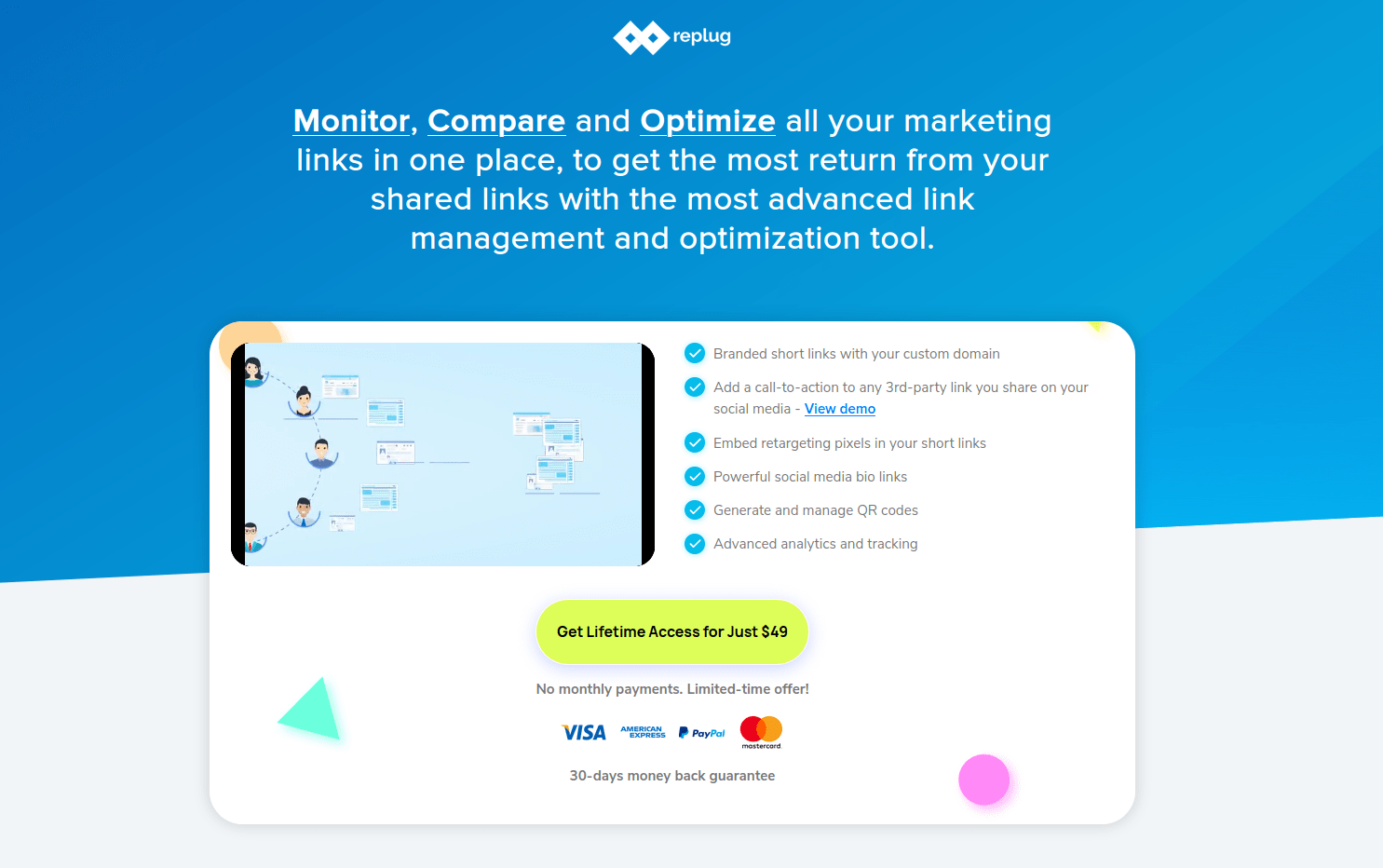 31. Finteza
Finteza is an advanced analytics and marketing tool that gives unique opportunities to optimize website conversion rates, create and manage advertising campaigns, receive traffic quality details, and retarget campaigns for third-party advertisers.
Offer
Finteza is offering a 30-day free trial to create, manage, and improve your marketing campaigns. The offer is valid until the end of December. No coupon code required.

32. Sitechecker
Get a FREE SEO report by 100+ parameters with the best website checker. Detailed SEO analysis for a website will help to find and eliminate issues, and calculate SEO score.
Offer
This Black Friday, use code blackfriday2020 to get a 50% discount on the first sale of any subscription (monthly or annual).
Apply the discount by visiting the pricing page on Sitechecker. Choose a plan that suits your needs and click subscribe. Create an account if you have no one yet. Click Add Coupon at the checkout page. Paste code blackfriday2020 and apply it. Make sure that plan cost decreases by 50%. The offer is valid from the 27th of November until the 31st of December.
33. GanttPRO
GanttPRO is an online Gantt chart software that gives an instant view on every project detail for managers, teams, and stakeholders. Packed with an intuitive interface and short learning curve, it offers a robust set of features that simplify and cover daily project management challenges: smart deadline management, timely communication, efficient team and resource management, time logging, and many more.
Offer
GanttPRO offers a 30% discount on all plans. There is no need to copy & paste coupons. Just follow this link straight to their home page and the coupon will be applied automatically. This Black Friday deal is available for those who register from November 25 to November 30.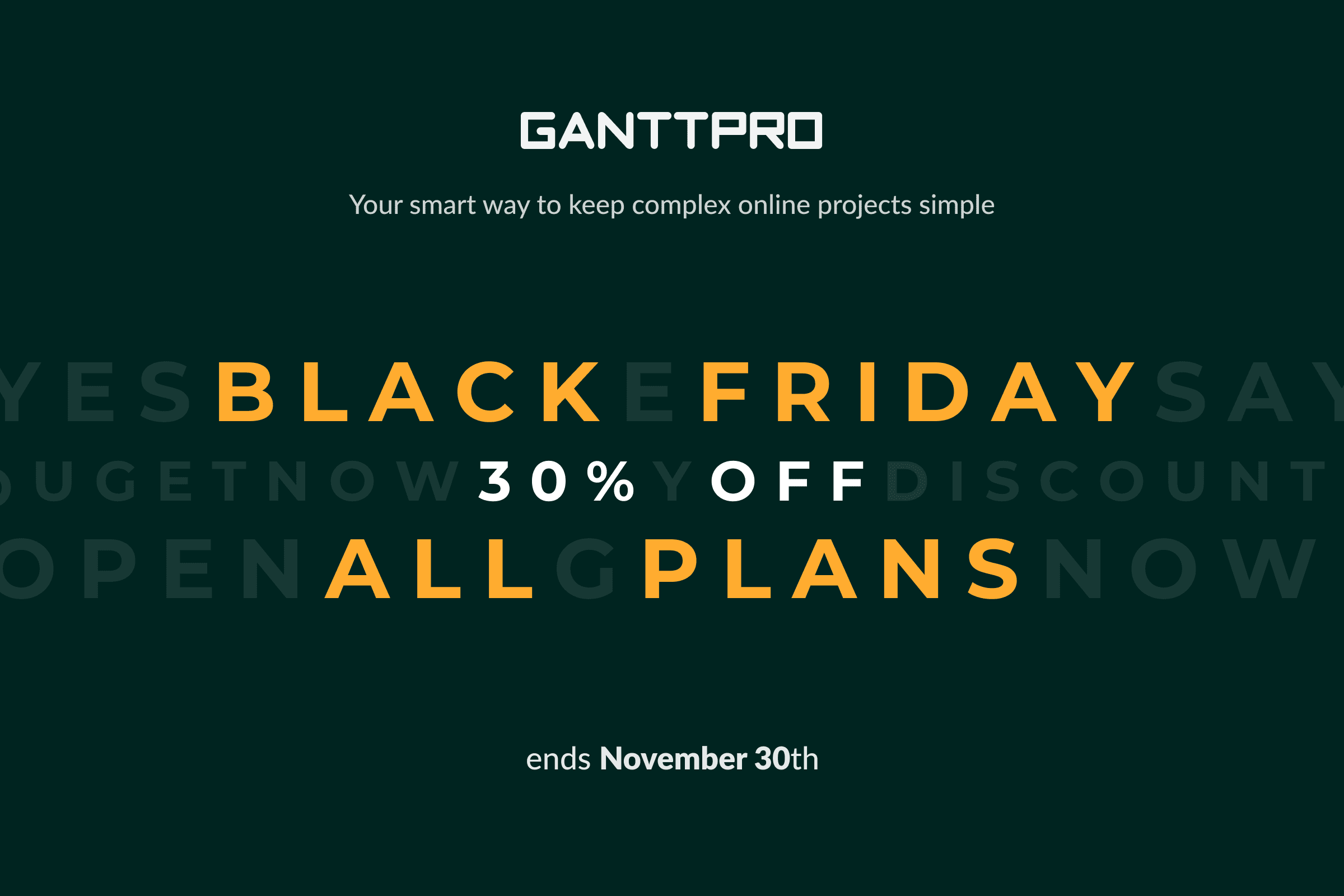 34. Chanty
Chanty is a team chat app for communication and task management within your team. You can make audio and video calls, exchange voice messages and manage tasks using the Kanban board.
Offer
Chanty is offering 50% off the annual business plan from the 27th until the 30th of November.
35. EasySendy
EasySendy is a hybrid email marketing software for small and medium business.
Offer
Inside all new EasySendy subscriptions plan, get flat 40% OFF on yearly (annual) subscriptions via the coupon code BLACK2020. Get Aritic Mail email delivery API stack-able deal at EasySendy for Flat 40% OFF on 900K Emails until the 30th of November.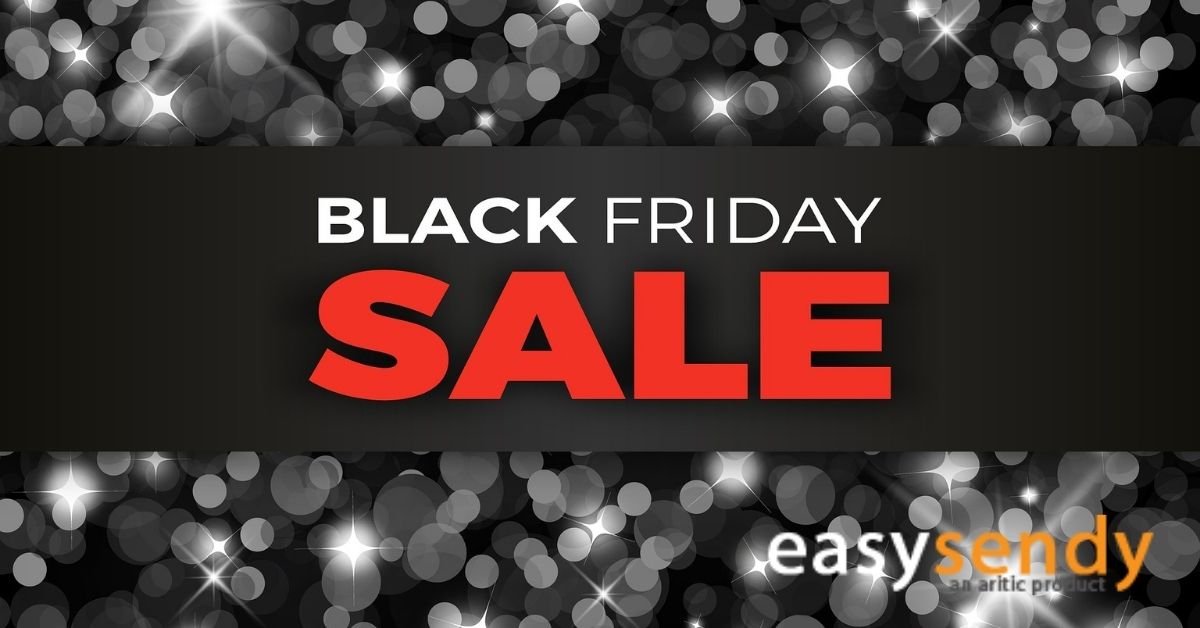 36. OWOX BI
OWOX BI is your personal marketing analyst that helps you grow faster and achieve your marketing goals.
With marketing analytics by OWOX BI, you will find growth areas and identify your risks, get an AI-powered forecast of your marketing plan performance, receive actionable reports for every employee and create your data-driven marketing strategy.
OWOX BI will build any marketing reports you need so you know how your efforts affect sales, which channels are effective, and which are draining your budget. Also, you will save your time and get rid of manual data analytics routine by combining data from your website, CRM, and advertising services into a single database.
Offer
Get a 90% discount on every subscriber for the first month of OWOX BI Marketing Data with promo code black_friday2020. This is an ultimate tool to help marketers combine all advertising data from different sources, in Google Analytics (5 sources). Use your chance to fire up your business engine. The promo code is valid through November 30.

37. Adzooma
Adzooma is an award-winning ad platform that helps to optimise your Google, Microsoft and Facebook Ads in one place.
Offer
Adzooma is already free, so this Black Friday they decided to do something different. Adzooma is giving you the chance to get your hands on a ton of free prizes. Not just any prizes, but exclusive Amazon gift cards worth up to $1350 to spend on your favorite products. The offer is valid until the 22nd of November, so act now.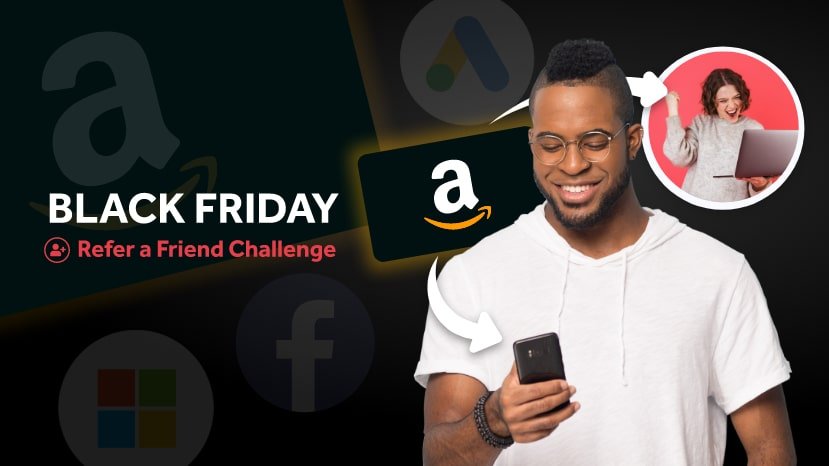 38. MalCare
MalCare is a cloud-based malware scanning plugin with 1-click instant malware removal used by 300,000+ websites. As a bonus, every 10th, 25th and 50th customer gets their purchase for FREE – up your security now!
Offer
MalCare is offering 30% off on all plans from the 26th of November until the 1st of December.

39. BlogVault
Trusted by 400,000+ websites, BlogVault is the go-to for reliable cloud backups, staging, migrations & website management. It is used by top WP agencies like GoWP, WPBuffs, Maintain & WPValet to grow their care revenues. Bonus: Every 10th, 25th and 50th customer gets their purchase for free!
Offer
BlogVault is offering 30% off on all plans from the 26th of November until the 1st of December.

40. ContentStudio
ContentStudio is a content marketing and social media management suite for businesses to grow and amplify their social presence.
Offer
This year at ContentStudio, they are offering an exclusive 70% discount on the ContentStudio Growth Plan. You will get access to all features and updates at $99/year. The offer is valid until the 30th of November.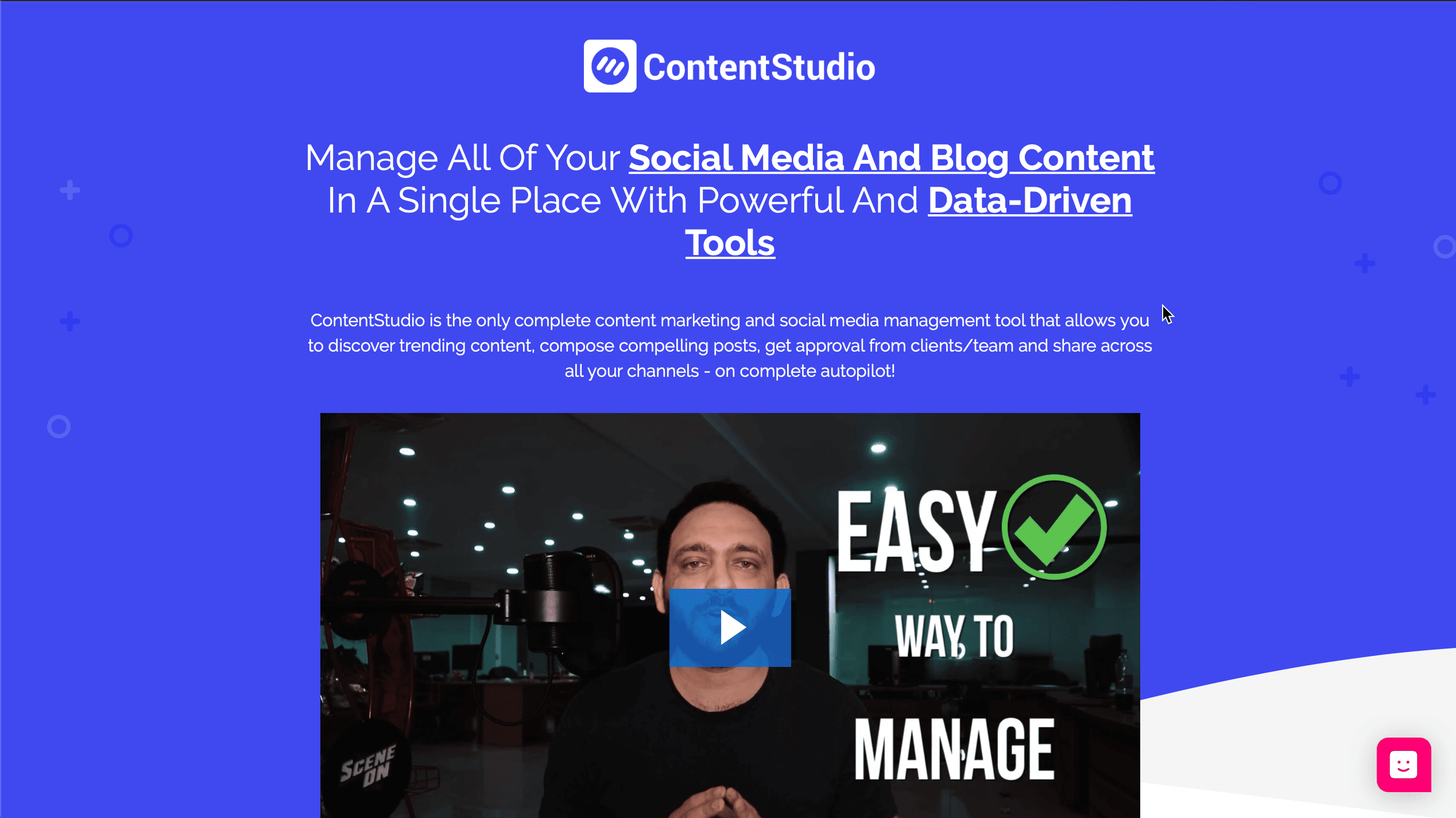 41. Pics.io
Pics.io is an advanced digital asset management tool. Working on top of your storage, it will help you store, organize & distribute assets easily and quickly.
Offer
Pics.io is offering a 50% discount for the first 3 months for a micro plan subscription. The deal is for new users only, and the coupon will be valid for 24 hours only on the 30th of November. Use the coupon code MPCM20 at checkout.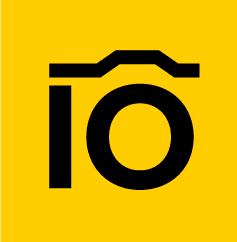 42. Pixpa
Pixpa is the ultimate all-in-one website platform for photographers and creatives to showcase, share, and sell their work online. Trusted by Pro Photographers around the world, Pixpa enables you to create a beautiful portfolio website in minutes, complete with built-in client galleries, online stores, and blogs. With plans starting at just $7/mo, Pixpa gives you all the tools that you need to manage and grow your business – all without any coding knowledge.
Offer
Create your portfolio website on Pixpa and get 50% OFF for the first year on all plans. Claim your discount using the coupon code BLFPIXPA50 between 24th November to 4th December.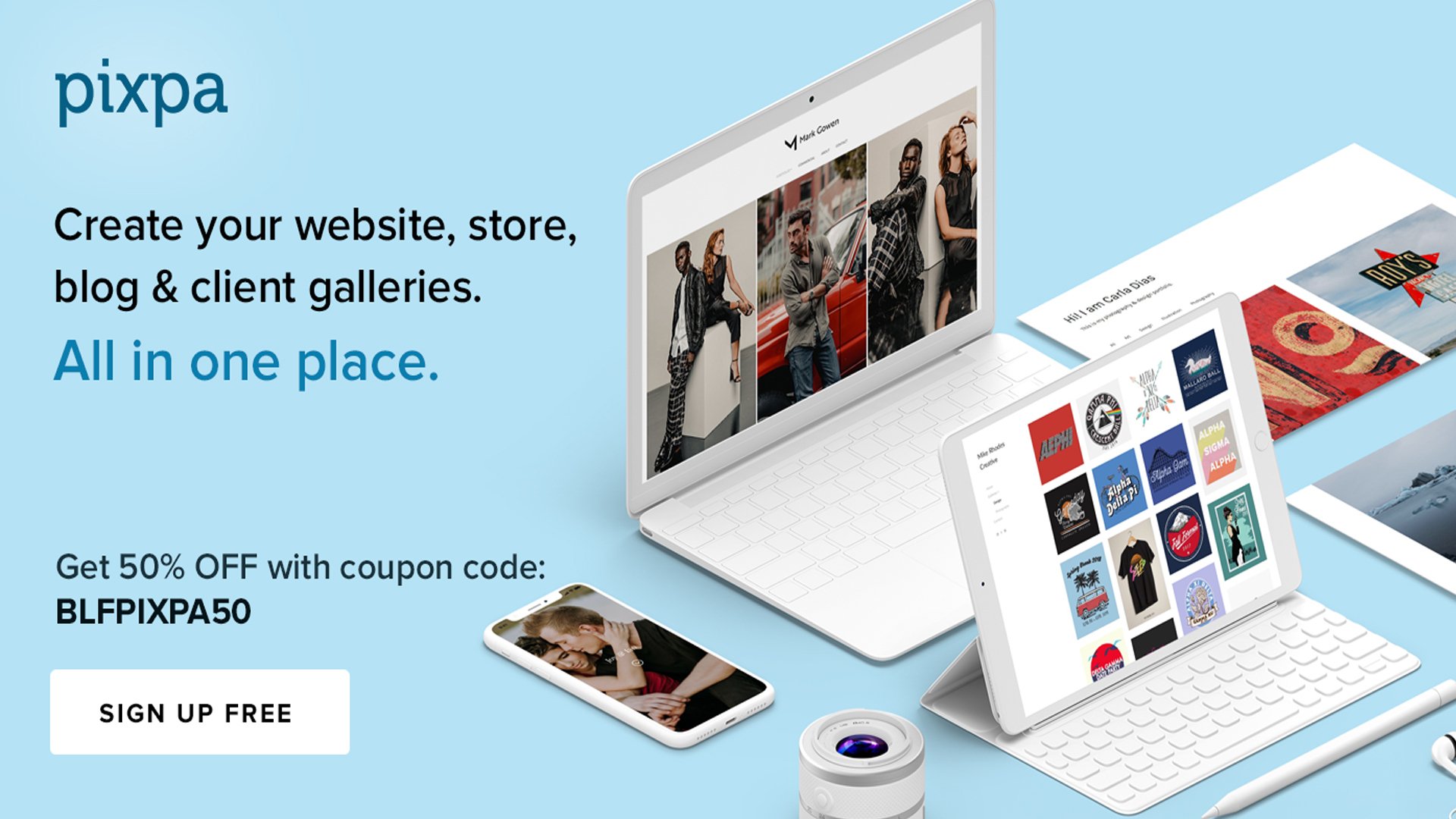 43. VYPER
VYPER is a viral marketing tool that allows brands to build giveaways, referral, and reward programs. These campaigns help businesses generate more email leads, customers, traffic, and social followers in less time. VYPER leverages gamification or incentivization to stimulate engagement and share-ability to help grow businesses faster!
With VYPER, you can:
Host giveaways and contests
Run referral, reward, or loyalty programs
Design landing pages for your campaigns
Offer
This Black Friday, get 50% OFF VYPER and unlock their Instagram Growth Course. The offer is valid from November 27th to December 4th for all new users.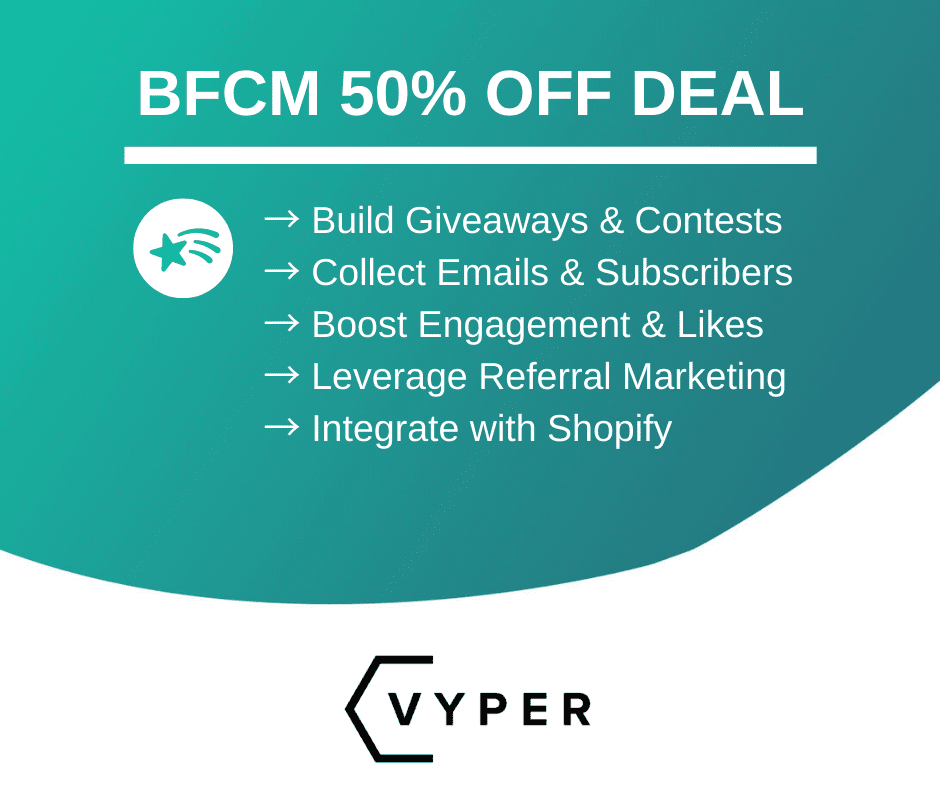 44. OutreachBuzz
OutreachBuzz's purpose is to help people connect with influencers and bloggers in order to publish and promote their content, increase their traffic, and reach the highest ranks in search engines.
This tool is offering access to more than 3800 curated websites, grouped in 38 categories, crucial information about each website (SEO metrics, Social Media reach, traffic, Important pages, etc) project management dashboards and wishlists.
Using OutreachBuzz you wouldn't have to worry about getting bloggers to promote or link to you.
Offer
From November 27th till December 3rd, OutreachBuzz is offering a lifetime deal for Outreach.buzz at a 80% discount. This means that for $99 you get lifetime access to our tool and all future updates.