The holiday season is upon us and while some look forward to spending time with loved ones, others are looking for ways to save big. We at SE Ranking are also about to say goodbye to 2019 and welcome in the new year with renewed hope and in anticipation of greater opportunity.
Now, although the winter weather may be bringing around a lazy holiday spirit and you are eager to get your 'nog on, do not go into full rest mode just yet. The holiday shopping season is turning up the heat and a number of sweet Christmas deals are coming your way.
Here, we've listed some of the best holiday SEO and marketing deals for 2019. So, take a look at these awesome offers below, and remember to shop responsibly.
1. SE Ranking
SE Ranking is an all-in-one cloud-based SEO and digital marketing solution for business owners, SEO pros, and digital agencies. The platform offers a complete set of tools that enables small and midsize businesses to run a comprehensive on and off-page website audit, analyze competitors, track rankings, collect and group keywords, monitor backlinks, get automated SEO reports, and do so much more.
Offer
Stock up on SEO for a whole YEAR at a reduced price! From December 16th to December 31st, redeem the HAPPYHOLIDAYS2019 coupon code to get a 20% discount on any annual plan from SE Ranking.

2. VYPER
VYPER is a marketing tool that allows brands to build and run giveaways, referral and reward programs. Connect VYPER to your email service provider and eCommerce store to track growth.
Offer
VYPER is running a special promo all throughout December, get 20% off on the AGENCY, ENTERPRISE, and PRO plans.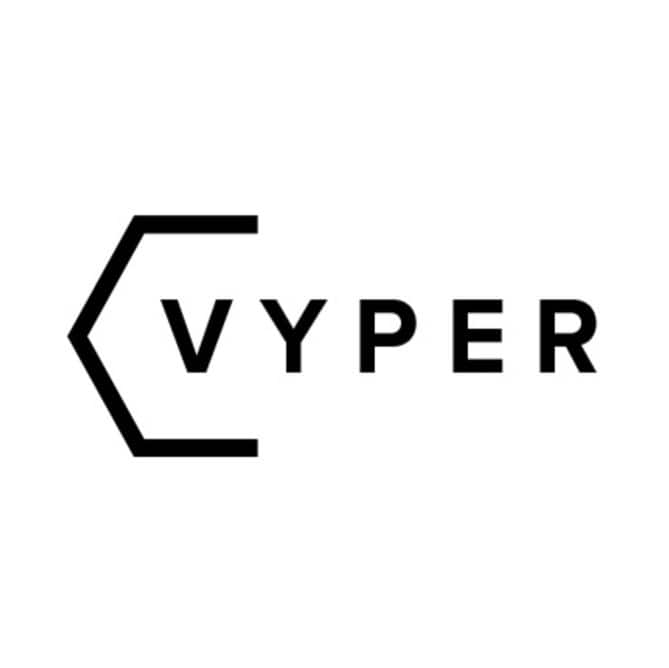 3. HelpCrunch
HelpCrunch is the highest rated (4.8/5) customer communication platform that helps you convert more website visitors into leads, send targeted email campaigns and provide self-service, chat and email customer support.
Offer
Start your 2020 with HelpCrunch, from $115 for the first year. Use the HOLIDAYS2020 coupon code from December 19, 2019 to January 1, 2020 to save 40% when choosing an annual subscription.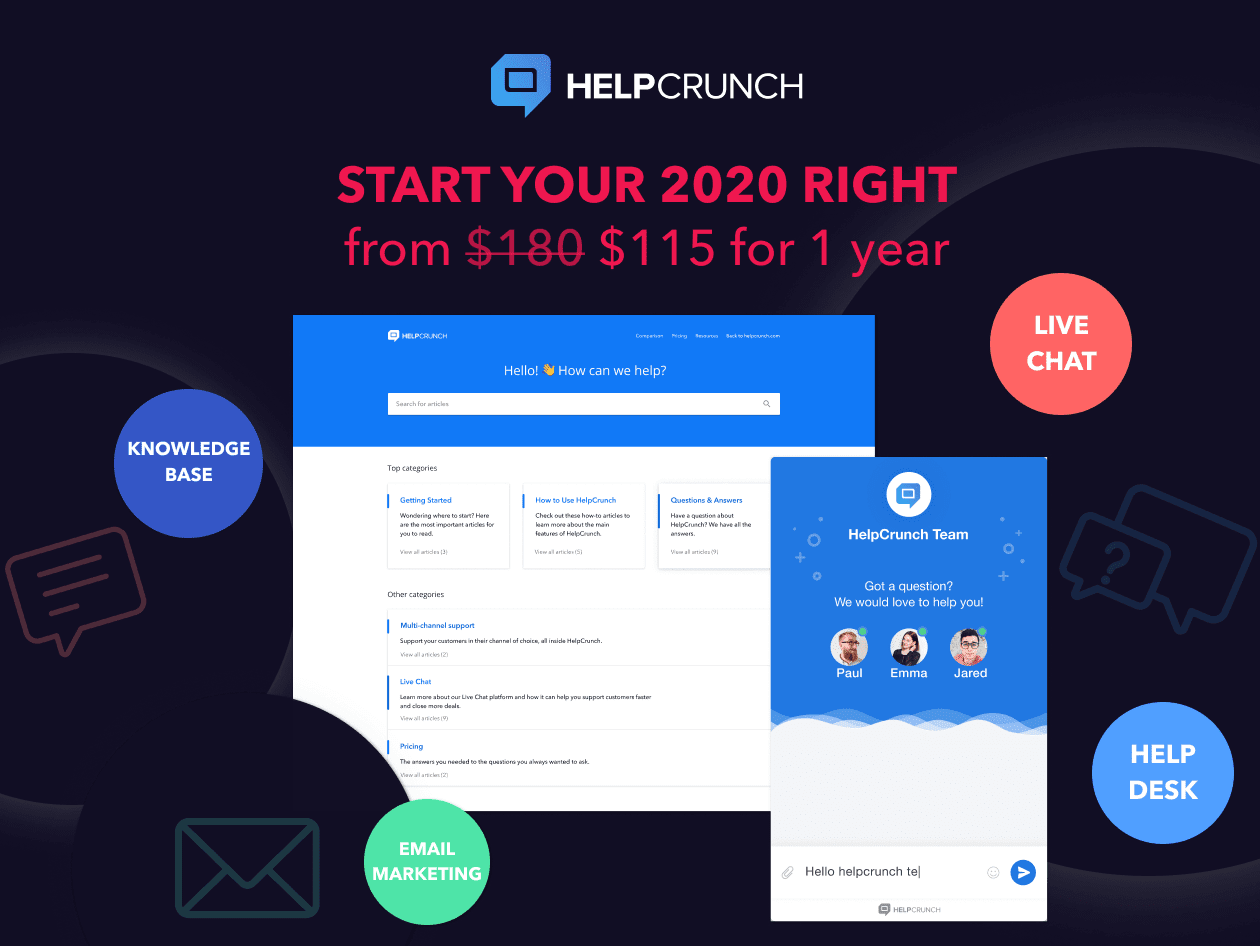 4. TMetric
TMetric is a user-friendly time tracker for freelancers and teams of any size allowing you to report time easily. This service is made to eliminate routine in a workflow and automate collaboration of remote teams. You can track time within popular applications like Jira, Trello, Asana and 50 more.
Offer
The holiday season is quickly approaching, so are our deals! Grab any TMetric paid plan from December 19 until January 5 with a 25% discount.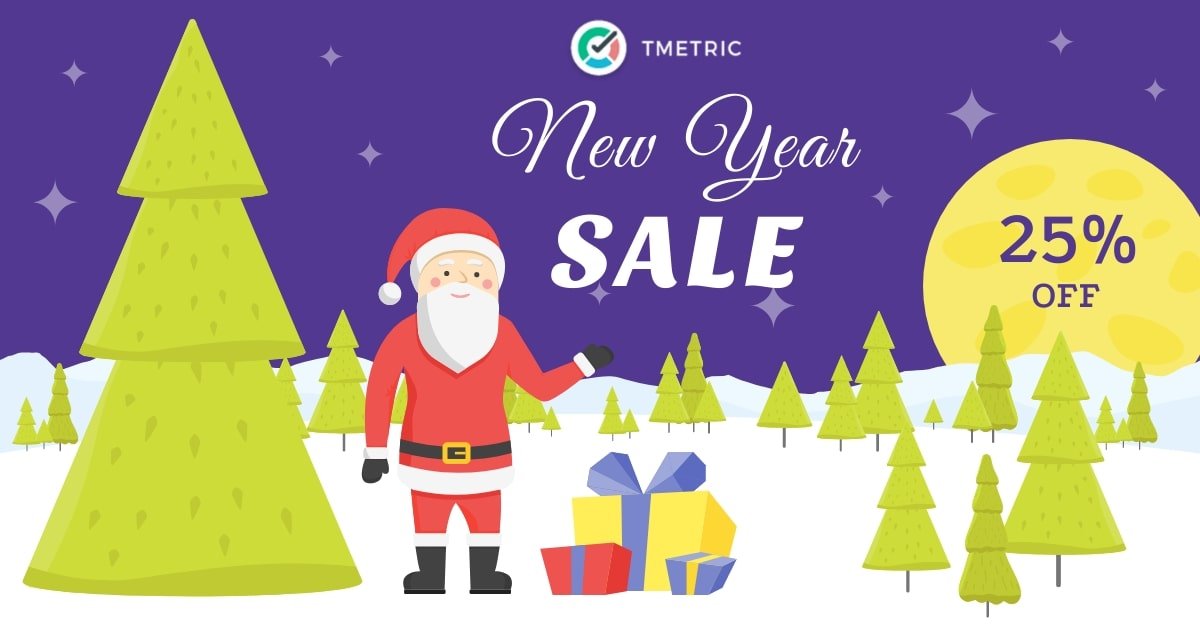 5. OWOX
OWOX BI is a comprehensive marketing analytics service that helps companies meet their marketing goals on time and grow 22% faster than the market average. CMOs use OWOX BI as a personal marketing analytics assistant for strategic decision-making; marketers use it to get precise estimates for advertising campaigns and find growth areas; and analysts use it to easily merge data from different sources while minimizing the time-to-value gap.
Offer
60% discount to every subscriber for the first month of OWOX BI Pipeline Basic 100 with promo code christmas_gift. This is an ultimate tool to help marketers combine all advertising data from different sources, in Google Analytics. It also allows to analyze data in a single interface and quickly import it to Google Sheets without the annoying monkey work. Use your chance to fire up your business engine! Your promo code is valid through January 31st, 2020. Once activated, you'll have 1 month to purchase our Basic 100 plan with a discount.

6. eSputnik
eSputnik is an omnichannel marketing automation service that allows you to manage cross-channel messaging campaigns via email, SMS, Web Push, Viber and other instant messengers.
Offer
Launch into the New Year with eSputnik! Special offer for all new eSputnik clients! Get 3 months of using personalized Web Push notifications for free! Send Web Push in Google Chrome, Yandex Browser, Opera, Firefox, Microsoft Edge. Manage subscription in one click. Advanced segmentation and personalization based on user geolocation, browser type, and version, browser language, OS and subscription page URL. Precise targeting based on the email contact data, including gender, date of birth, and purchase history. Raise the effectiveness of your marketing channels with eSputnik!
To get the offer, send the eSputnik20 promo code to online support. The offer is valid for all new users until January 15th inclusive.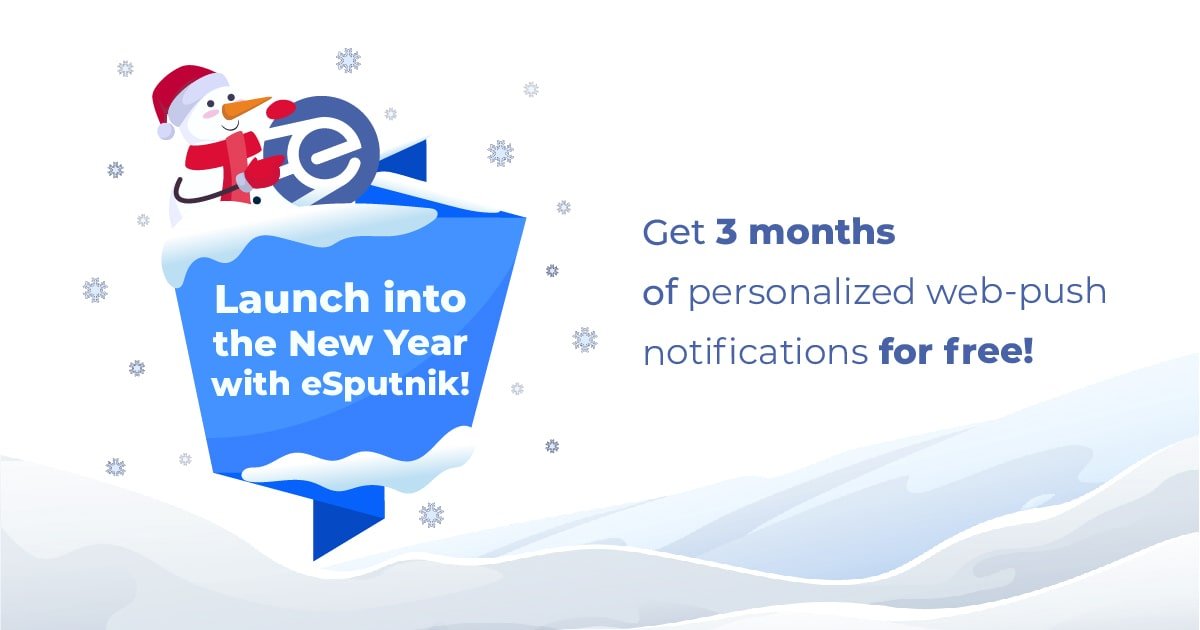 7. Reply
Reply automates personal email outreach, calls, and tasks, while Sales can focus on what really matters – closing deals.
Offer
Throughout the month of December, select any Reply plan and get more contacts to reach out to, users to collaborate with, or additional email addresses.

8. Draftium
Draftium is a site prototyping tool for those who want to ideate a site prototype at absolutely no cost. Draftium is a product that you may fall in love with at first sight because it is easy-to-use, fast, minimalistic, and has a wide variety of pre-made blocks and templates.
Offer
This Christmas season, until December 29, we're giving out coupon code DF-CHRISTMAS-19 so that you can buy Draftium Pro with an amazing 35% discount. A free Draftium account is limited to 3 site prototypes. A Draftium PRO subscription will make it possible for you to create unlimited prototypes and take advantage of more advanced features.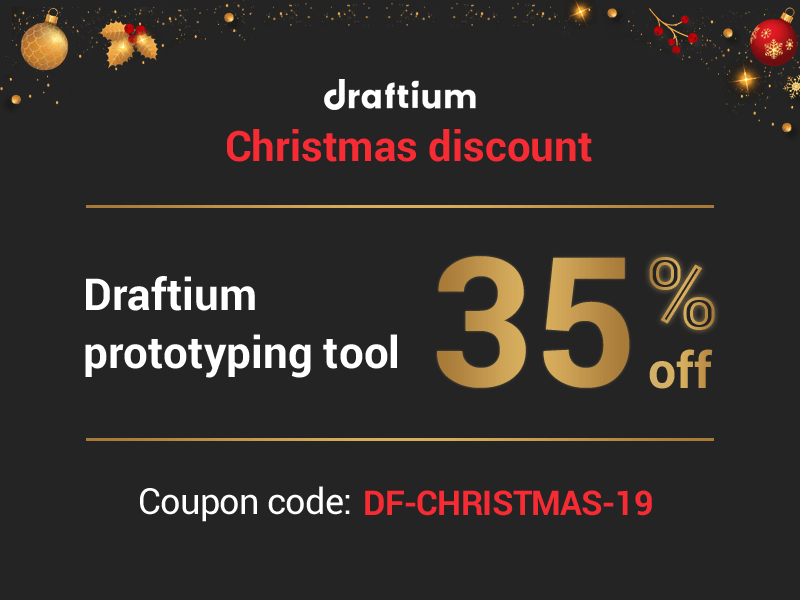 9. Weblium
Weblium is the most convenient website builder you've ever tried. With Weblium, you can create a professional site yourself even if you don't know anything about web design or have only a few hours to build a site. Weblium AI site builder is assembled in such a way that you'll be fully covered.
Offer
We're offering a 30% discount on a PRO subscription by December 29. To upgrade your website to PRO, use the coupon code WEB-CHRISTMAS-19 at checkout. We're excited about your business going live. Launch your site at Christmas time to see its performance in 2020!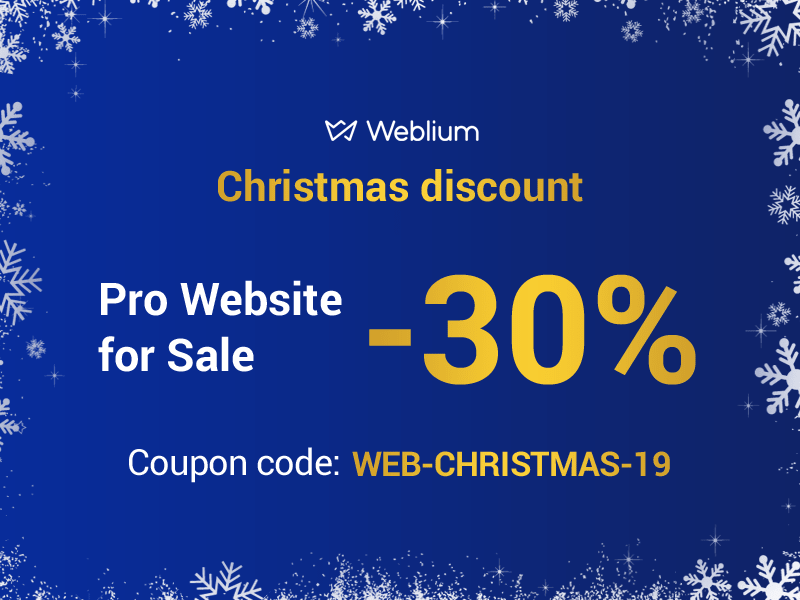 10. Indydesk Sales
Indydesk Sales is a simple, easy to use, customizable sales CRM tool to manage all your leads, pipelines, tasks, & team. It covers all the major touch-points in the sales journey from a lead to a customer. It helps you to achieve more sales with less stress. With our tool, you could easily handle the following activities:
1. Visualize & analyze revenue opportunities
2. Create custom pipelines & assign leads in stages
3. Integrate your lead source & automatically fill leads
4. Import your existing leads & perform actions
5. Prioritize more leads with pipeline
6. Put more efforts on leads with high conversion probability
7. Manage team & tasks seamlessly
8. Create, assign & handle tasks among your team with ease
9. Manage meetings & appointments
10. Don't let your meetings & appointments missed
11. Customize & save your report dashboard
12. View all your sales metrics under a single dashboard
Offer
We are giving a discount of 70% every month until the lifespan of the customer. Just use the Xmas2019 coupon code from December 25 to January 4.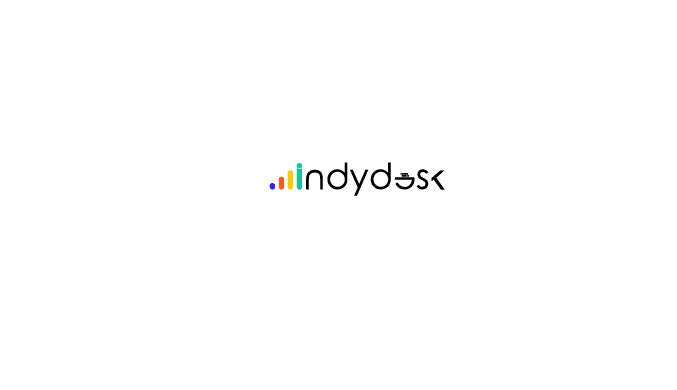 11. Plerdy
Plerdy offers CRO tools for internet marketers and businesses. Heatmaps – we see exactly where the clicks were on the website. All clicks on the website are recorded and displayed in real-time. Which helps to understand how users behave on the website. PopUp smart forms – you can quickly create and show on the website different pop-up forms without developers and designers. Examples: The pop-up form for collecting leads from the website. Offer to the users when they shopping cart abandonment. SEO-alerts – Get daily information about page site optimization, individually for your PC and mobile version of the site. Most important SEO tags. The semantics of site pages. Plerdy has more than 100 features and reports.
Offer
From December 26 to January 10, get 40% off for the first year of any plan using the Christmas_deals_Plerdy coupon code.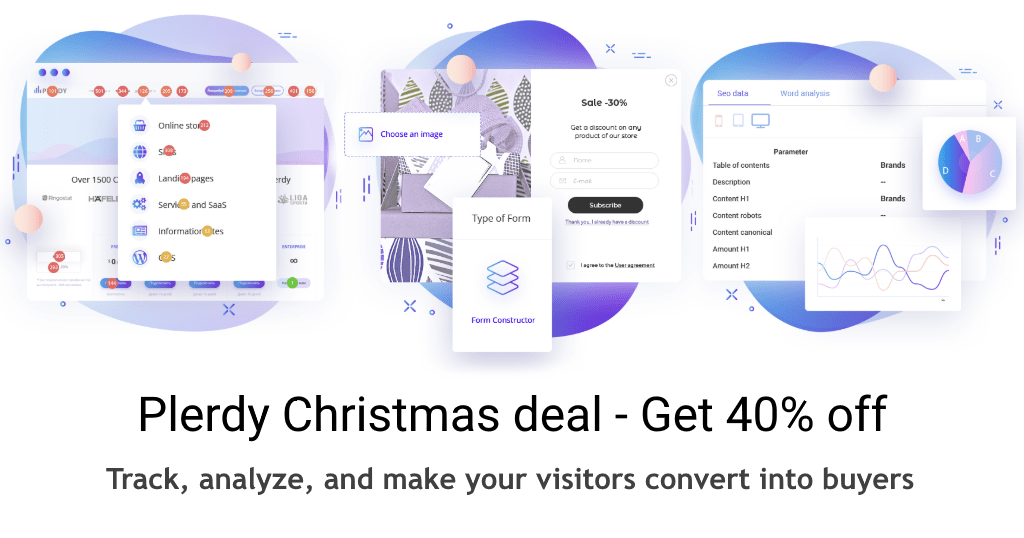 12. SocialPilot
SocialPilot is a social media management tool helping small businesses and digital agencies to excel their social media marketing activities.
Offer
Until the end of December, get a flat 20% off lifetime deal on monthly & yearly SocialPilot subscriptions plans (Professional, Small Team & Agency) using the SPXMAS20 promo code.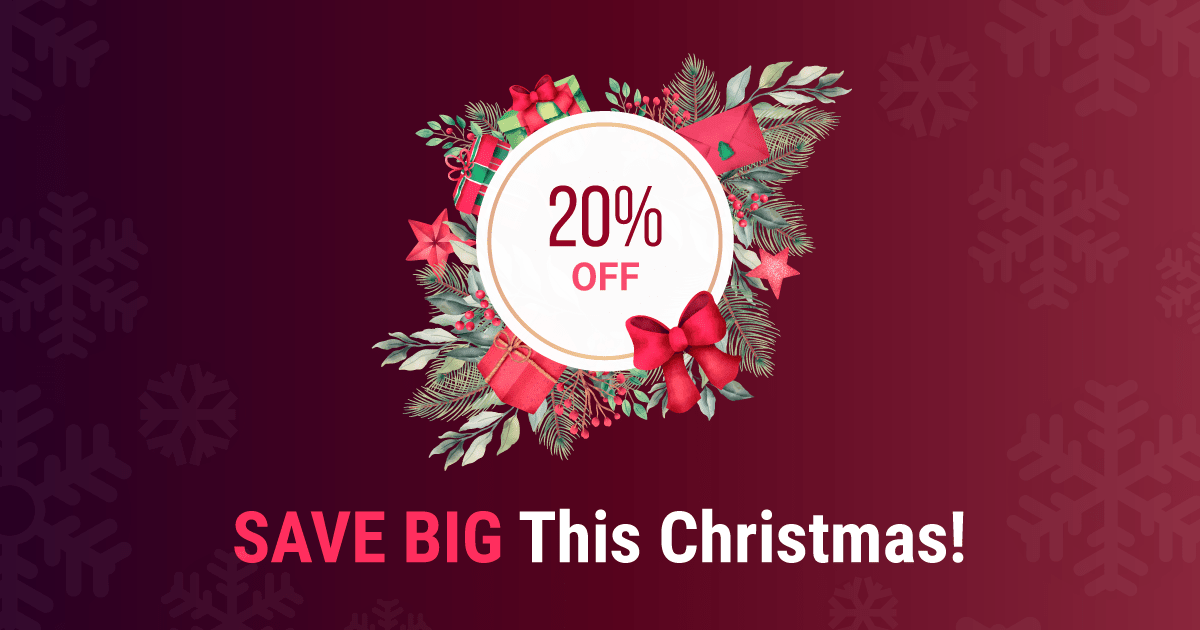 I hope you enjoyed going through the offers as much as I did curating them. Wishing you a Merry Christmas and a Happy New Year from everyone here at SE Ranking!