Sign up for our newsletters and digests to get news, expert articles, and tips on SEO
Thank you for subscribing!
In this blog post, we will show how SeoTools allows you to extract site and keyword statistics, create powerful formulas, and have it ready for analysis in Excel in a matter of seconds.
Don't worry if your Excel spreadsheet doesn't look as the example above. The extra tab "SeoTools" is added when SeoTools for Excel is installed. Below you'll find all the links necessary to setup your SE Ranking account.
Selecting the type of data to extract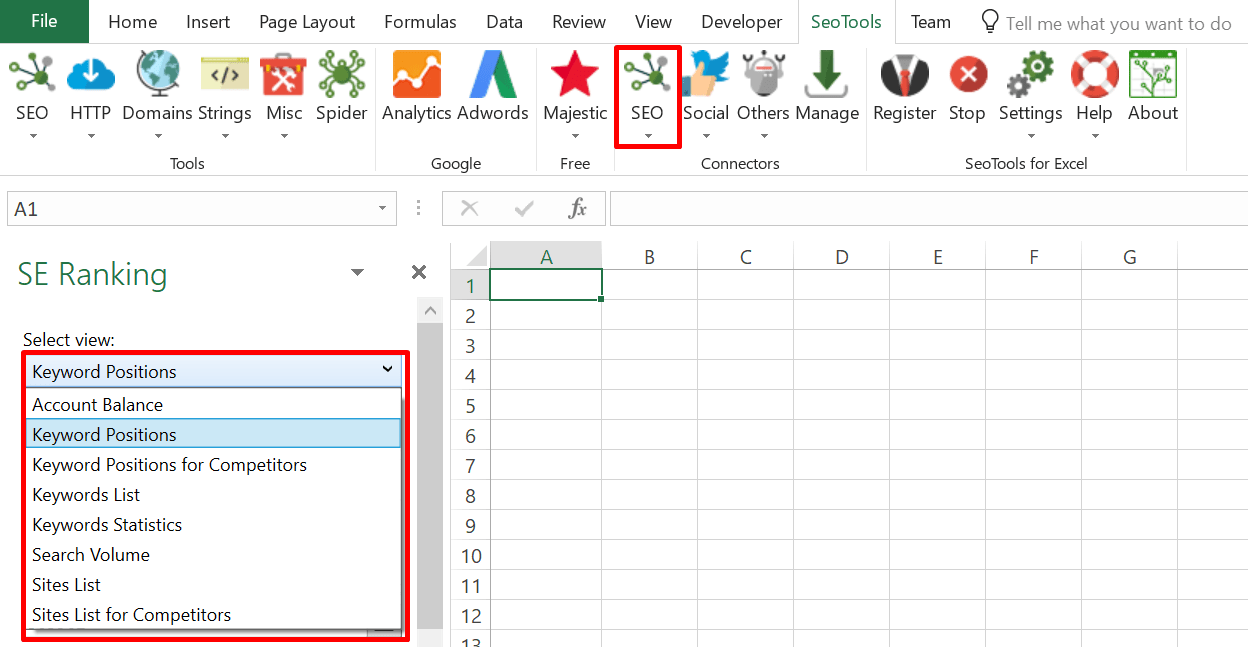 The SE Ranking Connector, located in the SEO category, consists of several views that are adjusted for the type of data you want to extract. Let's say you need statistics on the keywords for one domain. Selecting the "Keywords Positions" view presents you with additional parameters and sorting alternatives: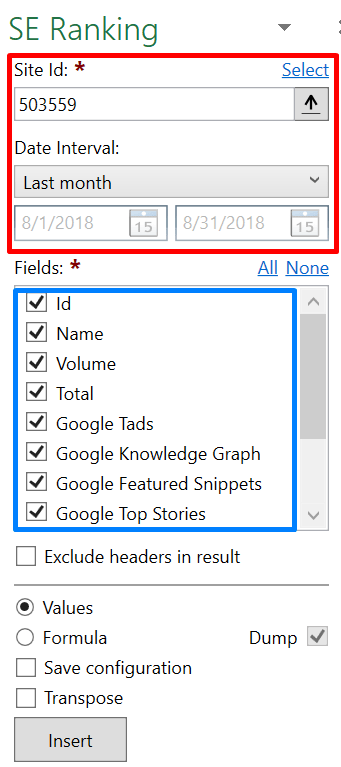 The inputs marked in red represent filtering options to limit the data according to your preferences. The checkboxes marked in blue are the values you want to extract based on the filters.
When you are satisfied with your settings, click "Insert", and SeoTools will generate the data in columns A and onwards.
Save time and automate the process
Exporting and filtering Excel data from web based platforms takes time, especially if it's required on a daily or weekly basis. The filtering part of standardized files is also associated with human error. SeoTools solves this with saving and loading of "Configurations":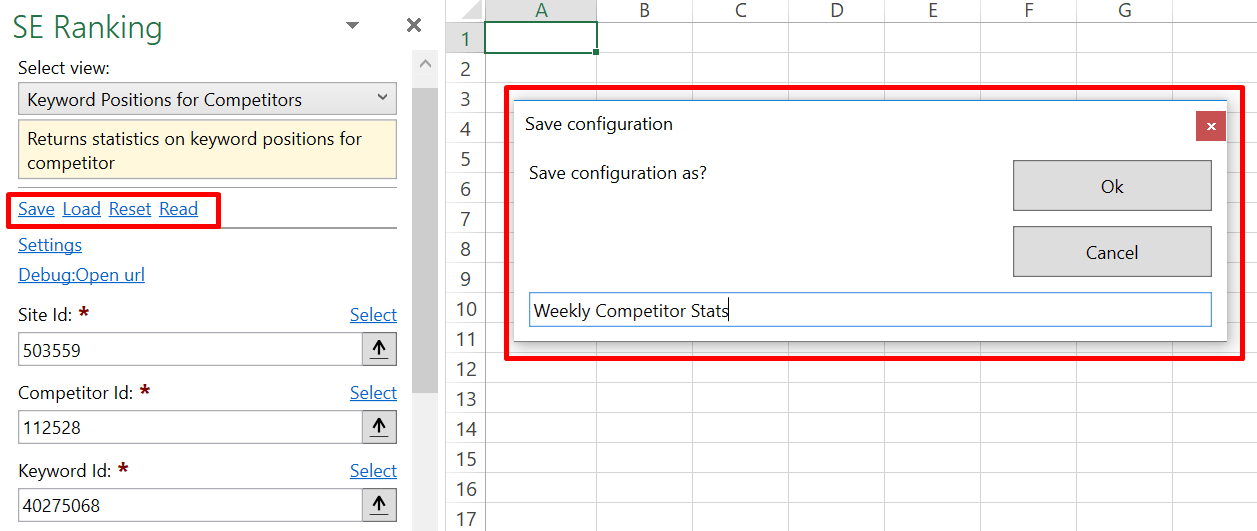 Next time, just load a previous configuration and you will get statistics based on the same settings as last time.
As you can see, Id-numbers represent most inputs. You don't need to write down or remember these, simply use the Select buttons to choose from a list of all available items: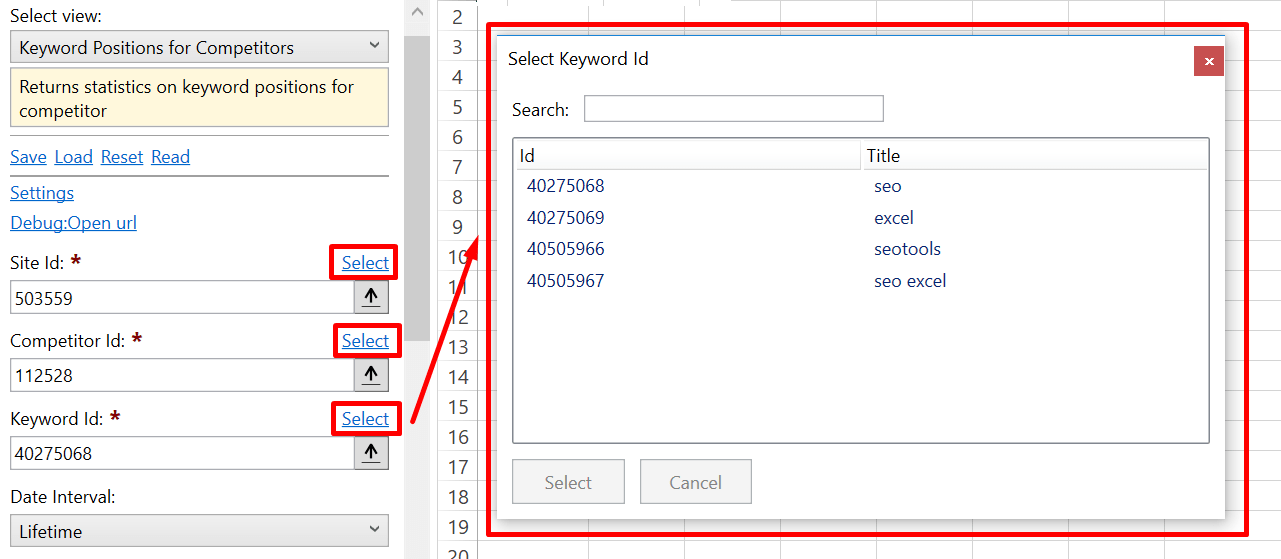 Use Formula Mode to supercharge your analysis!
The beauty of combining SE Ranking with Excel is the ability to create large numbers of requests automatically. Instead of populating the cells with values, select "Formula" before Inserting the results: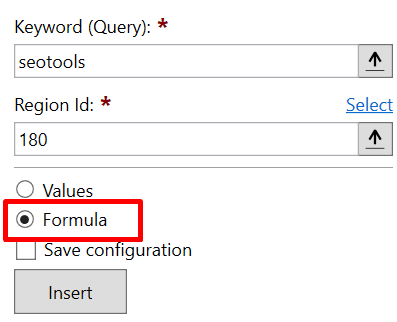 Next, you can change the formula to reference a cell and SeoTools will generate results based on the value or text in that cell. In the following example, we've chosen to extract search volume for the list of keywords in column A: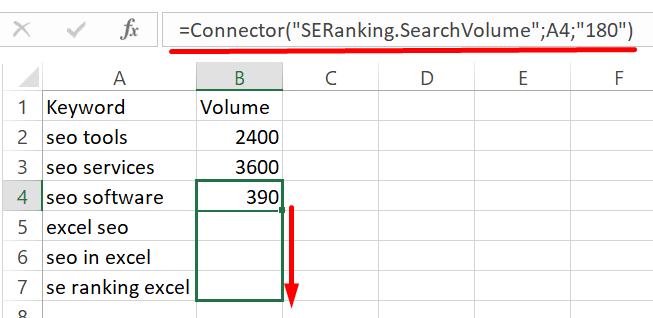 Just drag the formula down and SeoTools will generate statistics for all keywords. As you can see in the example above, the "180" parameter represents the Search Engine Id. This can also be changed to cell references which means you can extract volume based on combined lists of keywords and locations. The formulas can be combined with other native Excel functions as well as SeoTools functions such as Regex and Dump.
Do you want to try SeoTools with your own SE Ranking account?
Sign up for a

free 14-day Trial and follow the instructions to download and install the latest version of SeoTools.

Register your license key under "

Register

":

Next, enter the SE Ranking Connector in the SEO category. Click on Settings and enter your username and password.
The complete documentation for the SE Ranking Connector features can be found here.
If you have any questions, feedback, or suggestions about ways to improve the Connector, please contact [email protected].
---
About author:
The article was witten by Victor Sandberg.
Victor is a data-scientist at day and co-developer of Seotools for Excel at night. Born and raised in Sweden with degrees in economics and film theory. Current world record holder in Atari´s Missile Command after a 72-hour marathon session.