Keyword Suggestion Tool
Get a list of keyword suggestions to target in your and your clients' Google campaigns with our bulk keyword generator
Start free trial
With this keyword research tool, SEO pros and digital agencies can
Analyze core keyword parameters
Difficulty score
Get an idea of how difficult it will be to get a web page to Google page one by targeting a specific keyword. Keywords targeted by websites with high domain authority usually have a higher difficulty score. Filter out keyword recommendations with our tool to understand the promotion efforts needed.
Search volume
Find out how many monthly organic searches the selected keyword gets on Google. You can also see the search volume dynamics for suggested keywords, such as how the number of searches has changed over the last year.
CPC and paid competition
Discover the average price of a click you would pay in a pay-per-click (PPC) Google Ads marketing campaign. Additionally, you can see CPC data for other regions to have a better understanding of how competitive the keyword is globally.
Pick the right keywords
Build your new project's keyword list from scratch
Get keyword suggestions to expand the keyword list of an existing website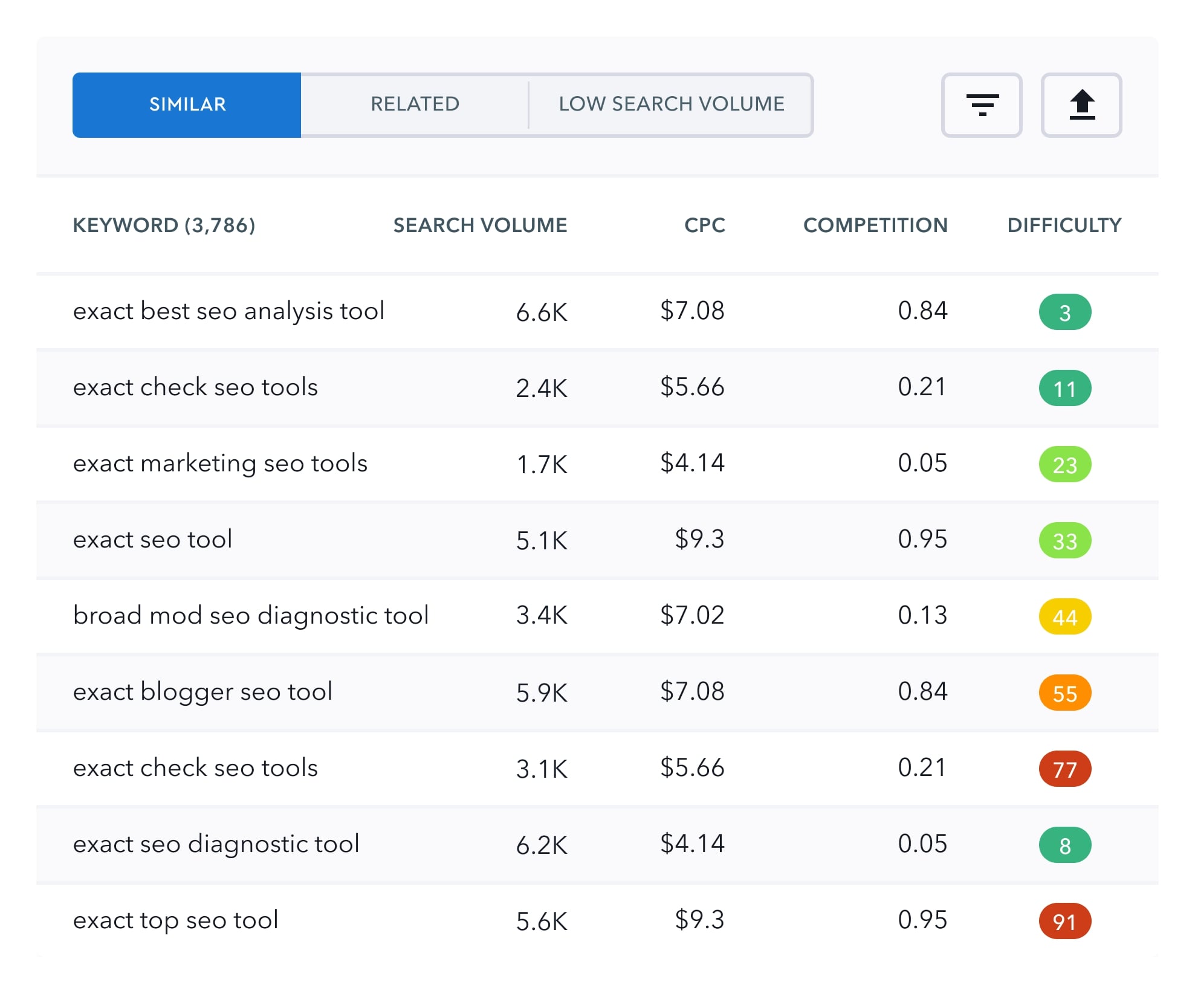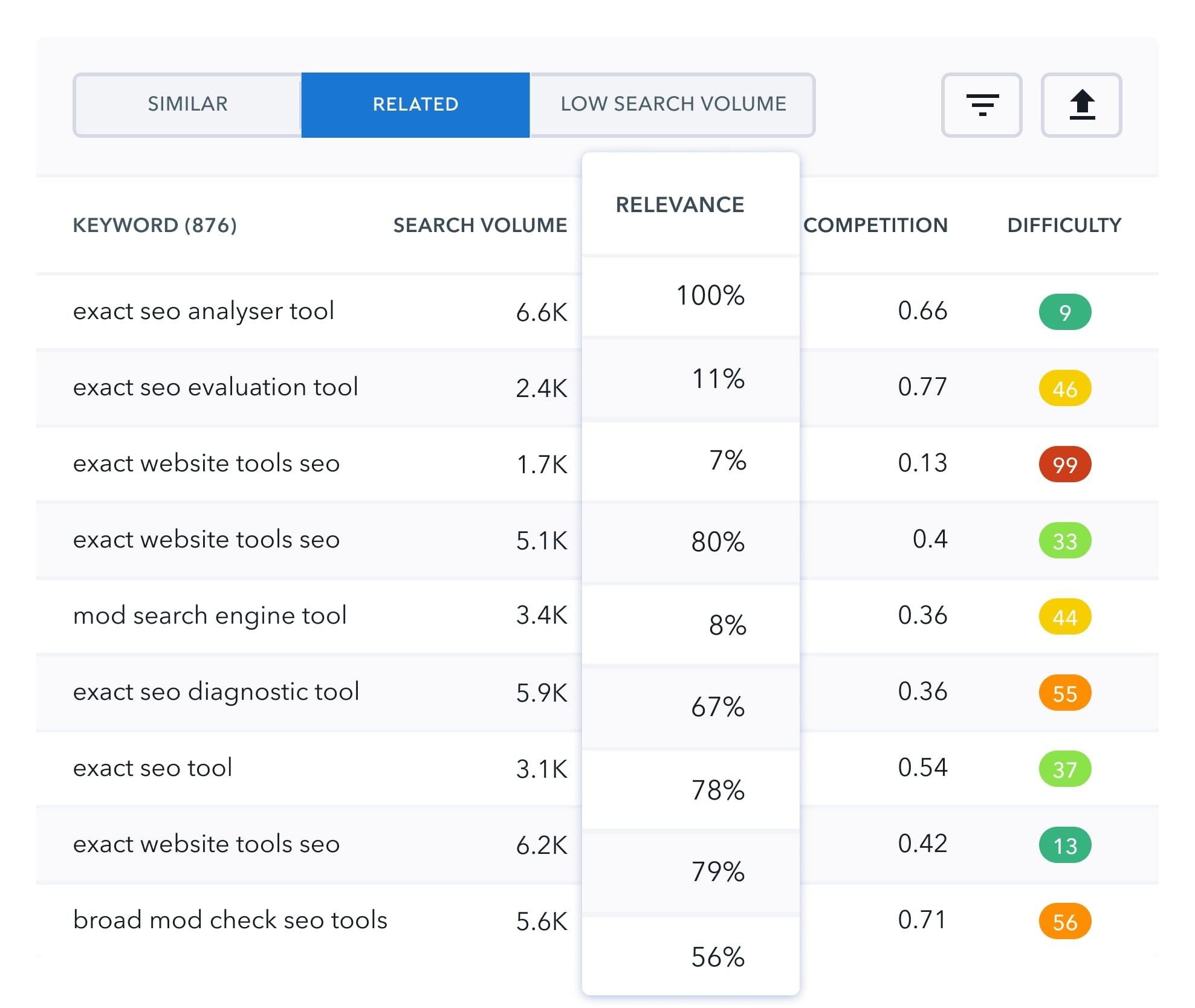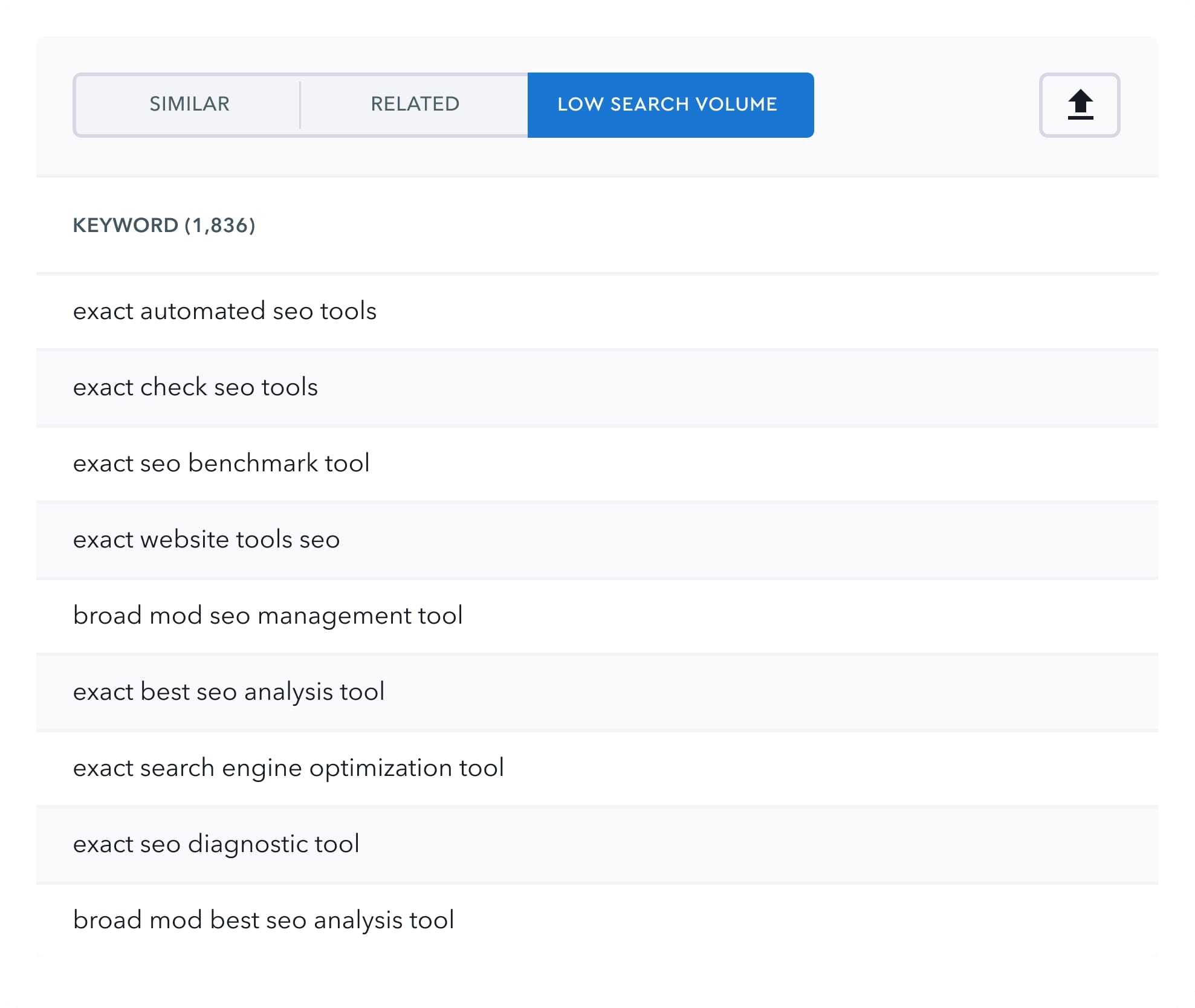 Bulk keyword analysis
Need to investigate hundreds or even thousands of keywords fast? With our bulk keyword generator, you don't have to worry that the keyword search will take ages. Now, in a matter of seconds, you can evaluate search queries in groups and get a full report that contains detailed data on all your keywords.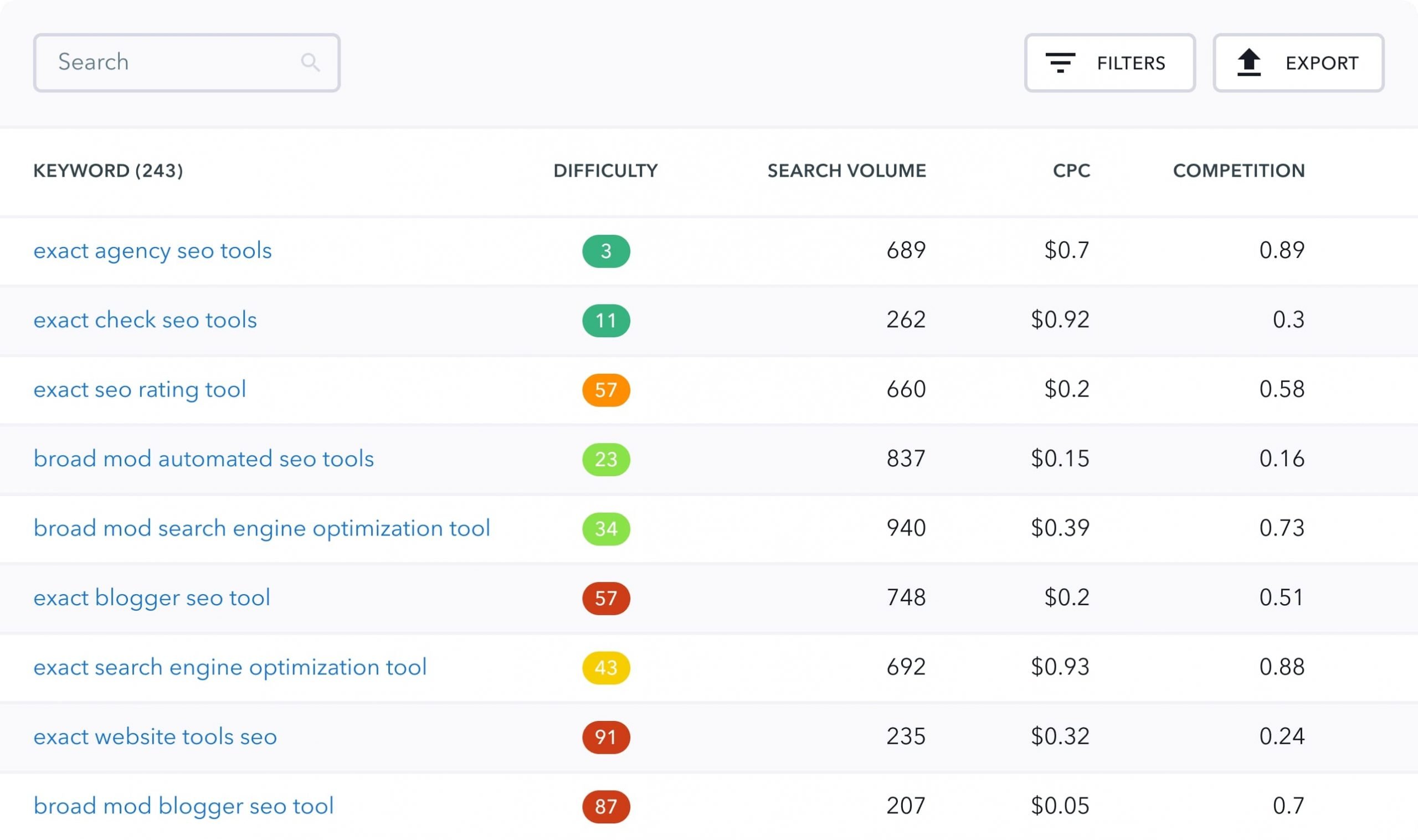 Identify and assess your keyword competitors
Find out who is targeting the same keywords as you and how they do it. Use our keyword suggestion tool to expand your keyword research insights and to create more effective search campaigns.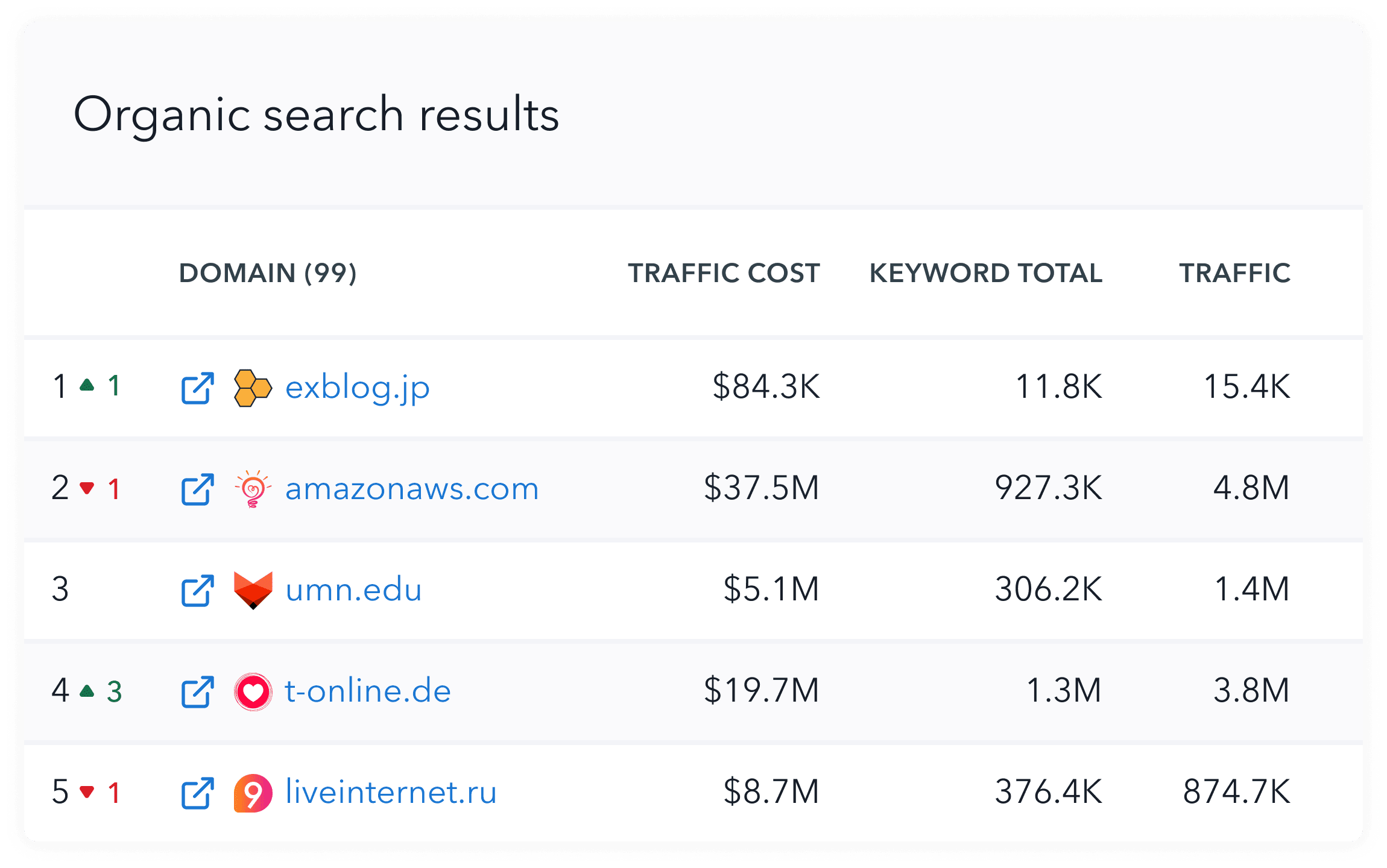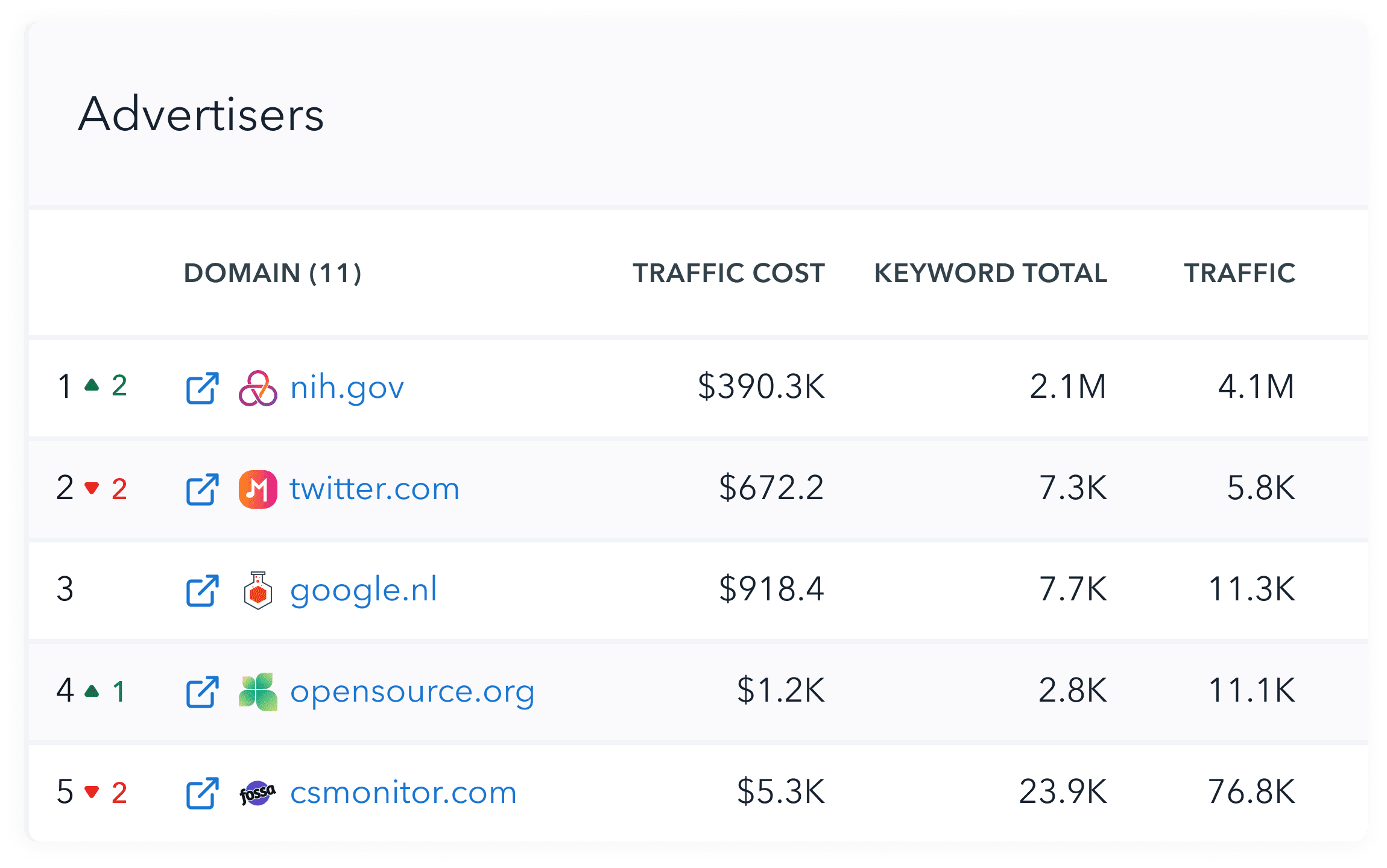 Analyze your competitors' paid campaigns history
Get a preview of the ads your competitors run to promote the analyzed keyword
Find out which competitor ads turned out to be more popular and effective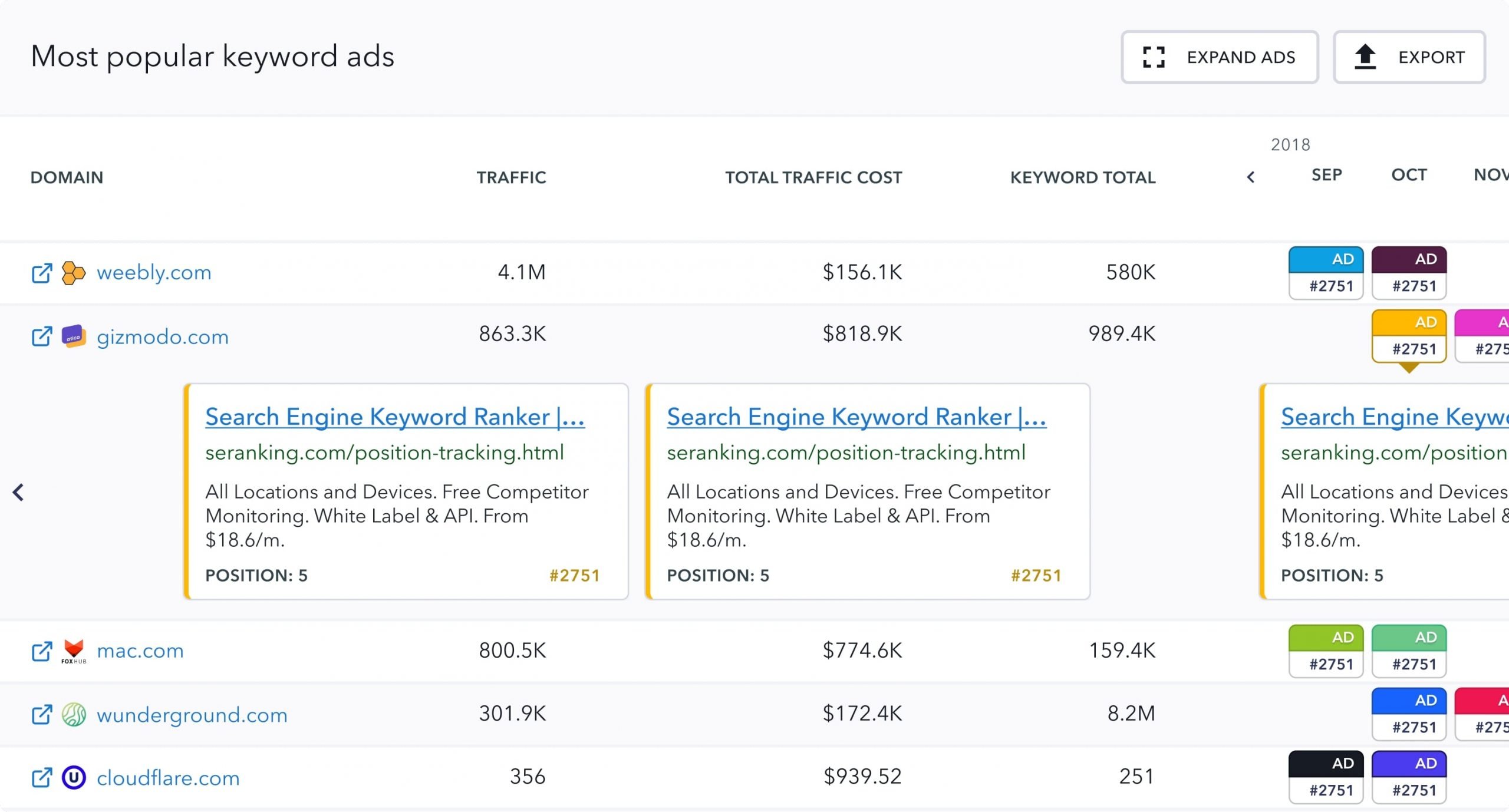 The biggest US database
USA
659M
Canada
89M
Philipines
36M
UAE
26M
United Kingdom
652M
Germany
590M
USA
122M
Canada
37M
India
42M
Singapore
25M
United Kingdom
92M
Ukraine
61M
Flexible pricing to fit any budget and for any SEO project
Pick the Pricing Plan that suits your needs, or contact us to request a custom quote
Essential
100 keyword/url checks per day
Up to 10 projects
from 250 keywords for Rank Tracker
from 40,000 pages for Website Audit
Keyword Manager
See pricing plans
Pro
Most popular
5000 keyword/url checks per day
All Essential features with extended limits
Historical data on keywords/domains
Organic SERP history
User seats
See pricing plans
Business
10000 keyword/url checks per day
All Pro features with extended limits
Extented historical data
API access
See pricing plans
See pricing plans
Frequently Asked Questions
What does your Keyword Suggestion Tool do?
With SE Ranking's Keyword Research, you can get plenty of keyword ideas along with every essential metric such as search volume, keyword difficulty and cost per click. You will also see if shown keywords trigger any SERP features. Additionally, you can analyze a keyword and check out the top 100 pages that currently compete for it in organic and paid search.
Is your tool a Google's Keyword Planner alternative?
Google's Keyword Planner and SE Ranking's Keyword Research do overlap in functionality but they aren't identical. Using both tools, you can check monthly search volume, CPC, and get keyword ideas. On top of that, SE Ranking allows you to estimate current and historical competition in organic SERPs plus view the most popular ads for the analyzed keyword.
How does your keyword research tool work?
To analyze a keyword, you should type it into the search box, choose a relevant search engine and country, and click search. It'll take the system a few seconds to collect data and display it in the overview and detailed reports. You can analyze the data in the interface or download your reports in .CSV or .XLS file formats.
Can I use your keyword generator for free?
You can use SE Ranking's Keyword Research without signing up to get 10 reports a day. You'll be able to see the pages ranking among the top 10 search results and get a limited number of keyword suggestions in your reports. Using the keyword generator to its full capacity requires you to sign up for a free trial that lasts 14 days.
Where does your tool get keywords from?
SE Ranking has its own keyword databases for 100+ regions. They cover more than three billion keywords and get expanded regularly. If your business belongs to a specific niche and you don't see relevant keywords in SE Ranking, you can submit a list of keywords you want to analyze and they will be added to our databases within a month.
Does your keyword search tool support different languages and countries?
SE Ranking's databases cover keywords used by searchers in multiple languages and countries. Currently, you can use the Keyword Research tool to search for keywords used in 100+ regions. We increase the size of our regional databases every month and regularly expand our reach to new markets.
Why should I choose SE Ranking for keyword research?
SE Ranking provides you with a comprehensive yet easy-to-use tool to collect relevant keywords for your website, analyze them against key metrics, and immediately see your SERP competitors. With SE Ranking, you get all the necessary data to plan your organic and paid search campaigns within a single interface.
How to do keyword research for SEO?
To do proper keyword research, you should go through the following steps: create a list of seed keywords, use SE Ranking's Keyword Research tool to collect the maximum number of search queries for each seed keyword, remove duplicates and junk search queries, and segment relevant keywords to distribute them across your website.
How do I find long-tail keyword ideas with your tool?
SE Ranking's Keyword Research generates a separate list of low search volume keyword suggestions. The keywords on the list are mostly long-tail. They consist of more than 3 words and reflect very specific search intents.
4.9 / 5
4.6 / 5
4.8 / 5
9.8 / 10
4.7 / 5
Join over 800,000+ users
You are in good company
Start two week free trial