Sign up for our newsletters and digests to get news, expert articles, and tips on SEO
Thank you for subscribing!
Over the past decade, video content has grown to become an essential part of the modern-day digital society. A vast majority of businesses have changed their marketing strategies to incorporate videos in order to communicate with their target audience in a way that is easy to consume on the go, yet at the same time, provides flexibility, value, and relevance.
However, videos aren't just great for engaging people and turning their attention toward your company's offering and profile — they can also improve your SEO and, ultimately, website rankings.
The big question is: how exactly do videos help boost your SEO efforts?
In this post, we'll look at everything you need to know about the role video content plays in improving your SERP rankings. But before we get to that, let's first understand why videos are so in demand.
Why are videos popular
Videos are short and sweet
One of the main reasons why videos became the go-to form of content is because they work very well at delivering large amounts of information in a short concise manner. We all know that a picture is worth a thousand words, and if you follow that logic, we can communicate 1.8 million words in a minute-long video — that's around 3 600 pages of text!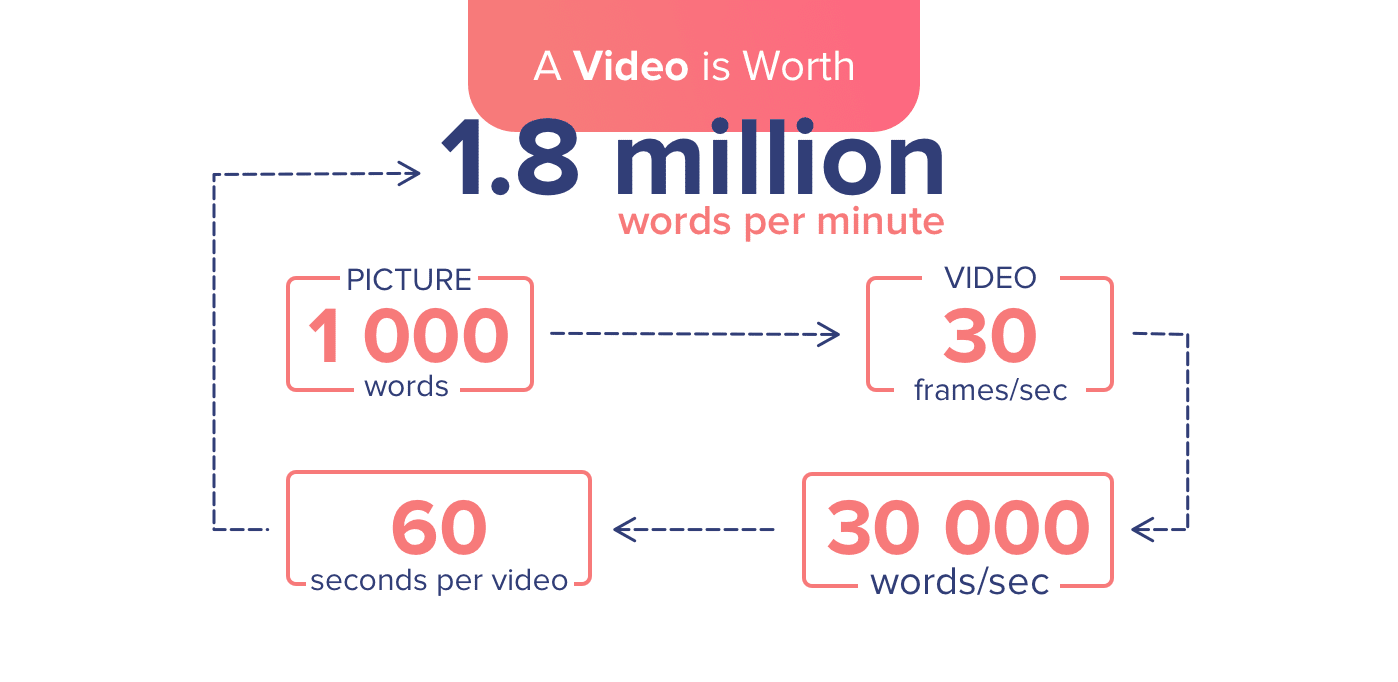 Videos are powerful storytellers
In addition to being packed with information, videos tell stories. For this reason, they tend to stick in people's minds for longer period of time than cold, hard facts. With 80% of people remembering watching a video ad over the past month, and more than half performing a follow-up action, the effectiveness of video content can hardly be contested.
Perhaps you remember Audi's Daughter ad they released for the Super Bowl last year — they did a great job at captivating the audience and taking them on a short, but emotional journey. Right in the feels!
Videos improve user experience
Videos focus on the user experience — they communicate everything that people like by seamlessly blending together visuals, sounds, and movement. Plus, videos can easily be watched on mobile phones, and around 60% of global video views are made from this medium.
Another example of a short, but impactful video is brought to us by Pornhub… And don't worry — it's SFW.
The smut website's ad is a satire of sportswear commercials that was created to promote its new line of branded socks. They parody athletic marketing ads from brands like Under Armour and Nike in a fun, clever way to hype up the release of their new sock collection. After all, why #RuleYourself when you can #BeatYourself?
From the look of things, it doesn't look like videos will be losing momentum anytime soon, which is why experts predict that more than 80% of all consumer traffic will be videos by 2021. And with so many eyes constantly directed at videos, something that is helped by mobile devices and smart speakers like the Google Home and new technologies like voice search, video content is bound to bring in positive business results.
How Google adapts to the growing popularity of videos
Looking at all these user behavior trends, Google couldn't stand idly by. So, in 2013 the search giant released a new search algorithm called Hummingbird. This shifted the focus from keywords to the user's intent behind a search query.
But wait — what does this mean for videos?
Even though all of this is theoretical — since Google doesn't shed light on any secrets related to its ranking algorithms — as you are creating a video, think about what question it answers.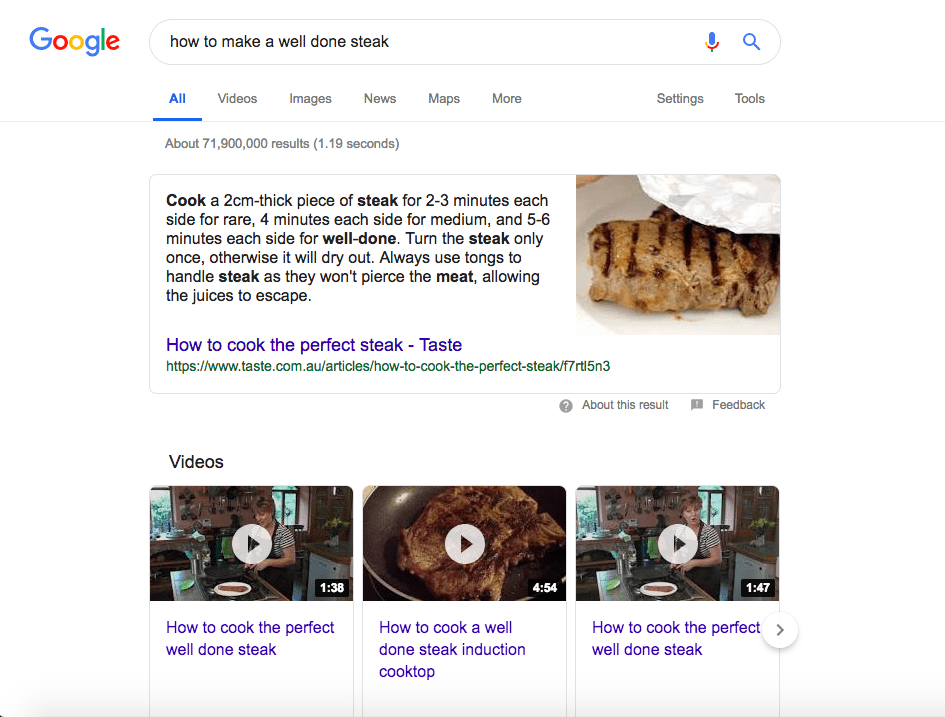 Since people prefer watching videos, Google tries to display them on SERPs whenever possible for certain informational and educational queries, for example, those that start with What is or How to. The results for such queries can include videos as a Suggested Clip, an Instant Answer or as a Video SERP Feature.
Give it a go yourself, if you haven't done it a billion times already. Try asking Google how to remove a SIM card from an iPhone, how to make an apple pie, or how to use airpods. Chances are that Google will return at least one video result.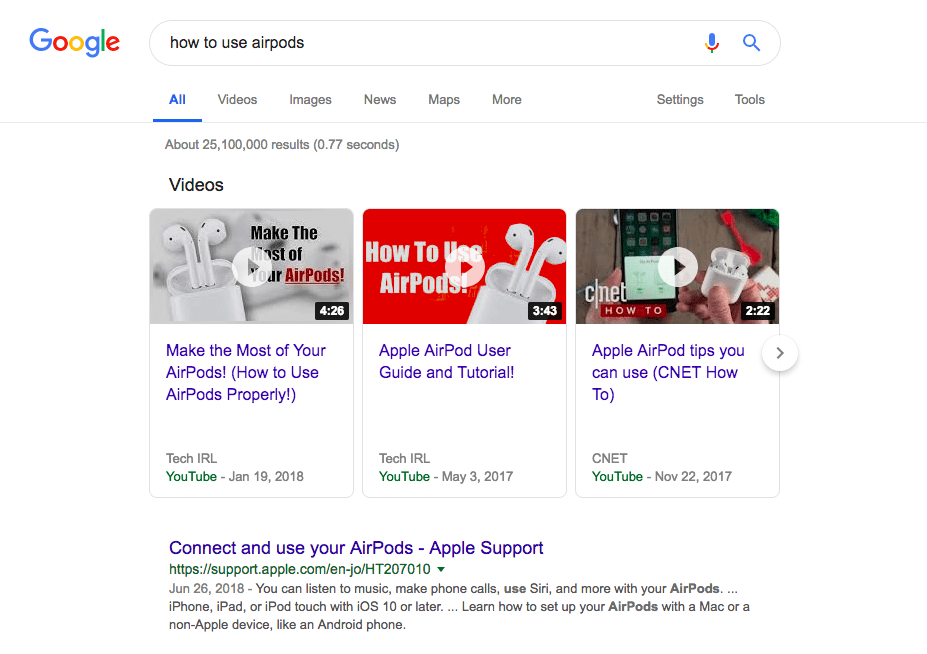 As you can see in the example above, Hummingbird is considering the user's intent as it delivers search results, and so should you. If your video provides a relevant, valuable answer to a specific question, there's a good chance it will appear in the blended search results.
Now that we can see why videos are so well received and that their popularity is supposedly being increasingly recognized by search engines, let's look at how you can leverage videos to improve your SERP rankings.
How can videos help boost SERP rankings
Let me start off by making one thing clear: simply adding a video to your webpage won't boost your rankings. That'd be too easy. The impacts of videos on search rankings are a little more nuanced than that.
So without further ado, let's look at how the presence of a video on a webpage can impact its SERP rankings.
1. Longer Dwell Time & Lower Bounce Rate
When a new visitor comes to your website, you don't have much time to convince them to stay. This is where videos prove to be powerful.
The engaging nature of video content — as opposed to images and text — means that people are likely to spend more time absorbing it. In fact, it has been reported that people spend 2.6x less time on pages without video content than on pages with videos.
From the standpoint of SEO, this is a big deal. The longer their session or "dwell time" is, the higher your chances at getting search engines like Google to see the value of your video and the trustworthiness of the webpage it's hosted on — and, ultimately, give the page a higher rank.
And, naturally, if people spend a lot of time over your content, there's a high possibility that they will dig deeper into your website and check out what other pages have to offer. Not only will this increase pageviews, but it will also bring down the bounce rate.
The bounce rate is a problem that a lot of us are familiar with. With so many choices online, distracted users will often leave a page within seconds if they don't find instantly what they're looking for. This is where you can use videos as an anti-bounce tool. After all, unlike written text, you must watch a video — or at least a part of it — in order to learn what it's about.
Here's an example of a video that is placed above the fold in the background of the homepage of Dutch drinking water supplier Oasen.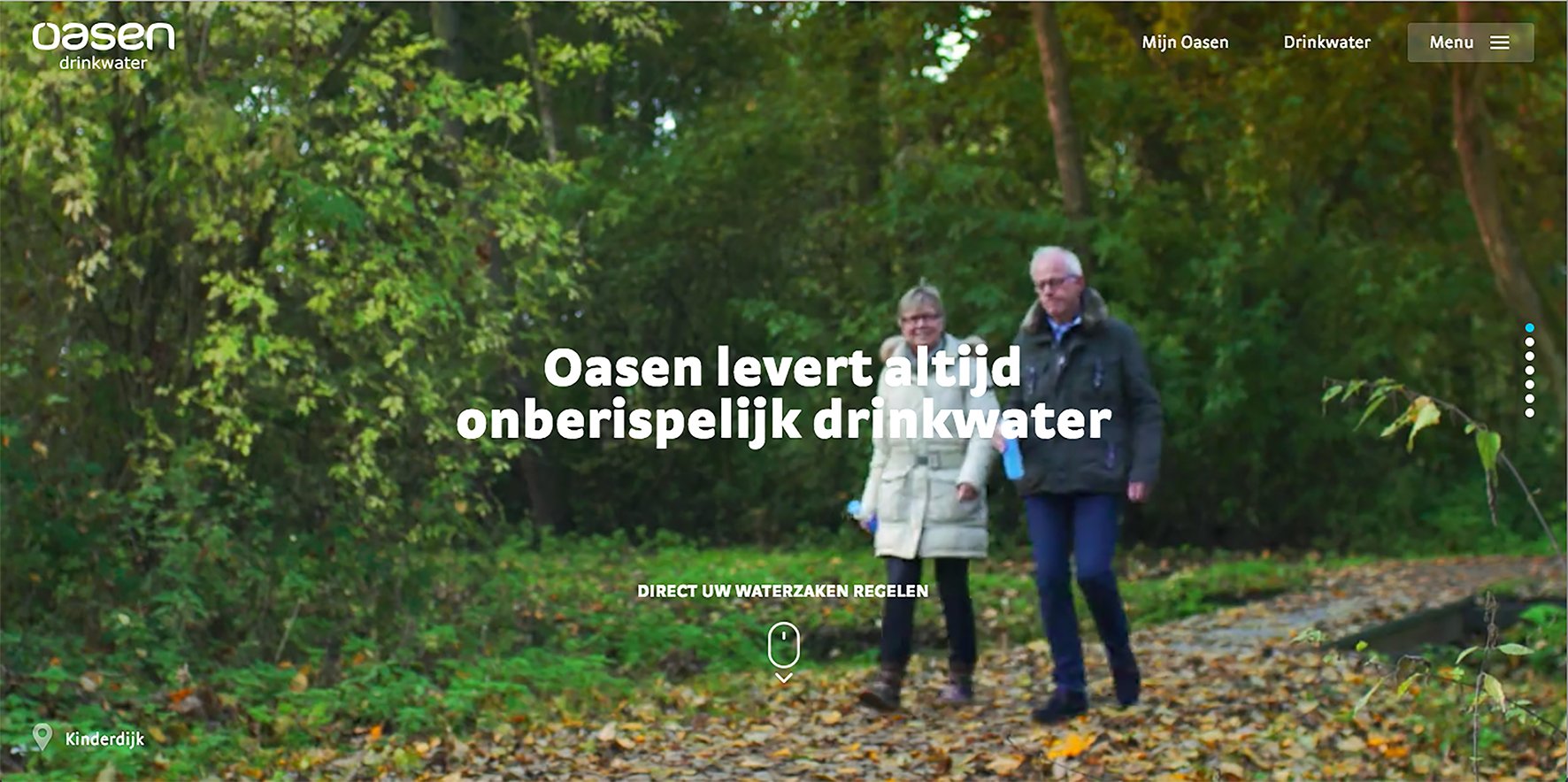 This video gives you the feeling that the entire website is interactive and you can't help but explore it a bit further. It's a great tactic to bring additional value to the website.
The Yacht Company offers another great example of a background video. You can almost get lost exploring the beautiful scenery and landscapes portrayed in their videos. By the way, video content is not solely featured on their homepage, so there's plenty for visitors to check out.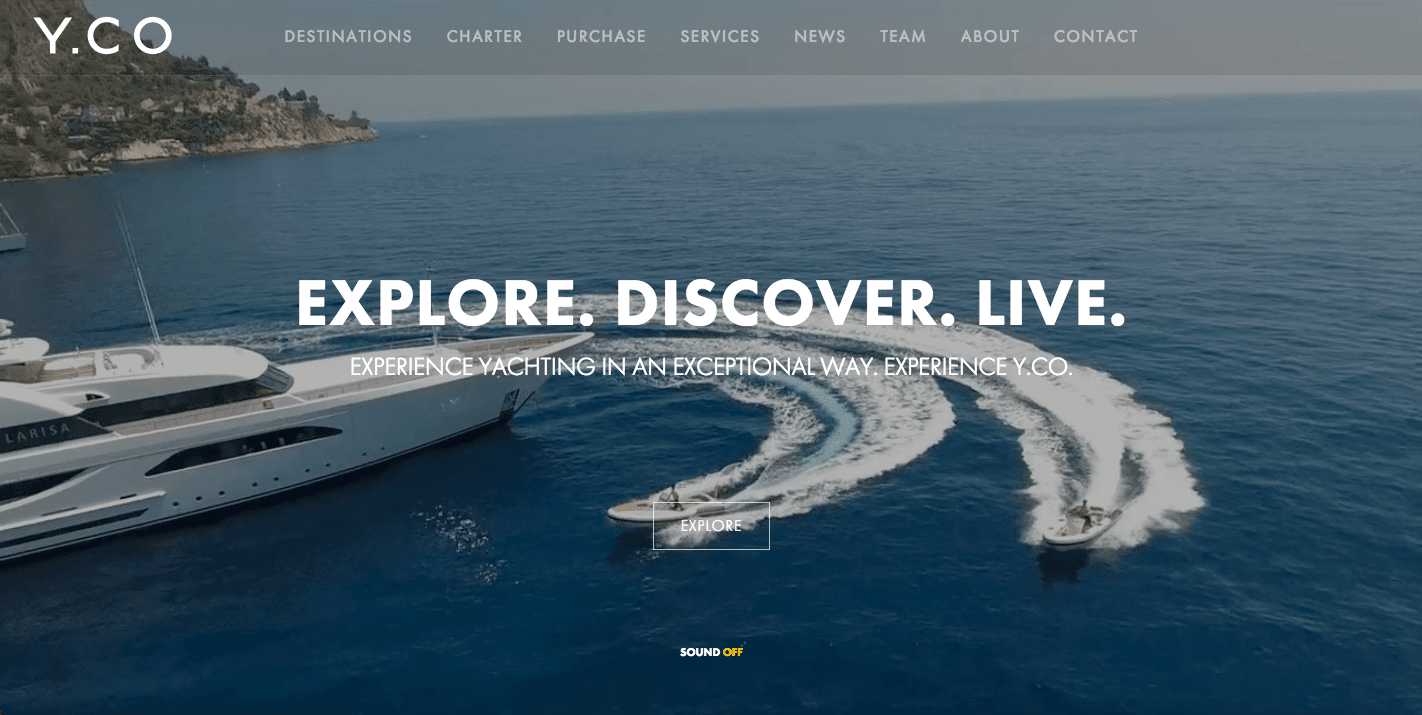 So, if your rankings are low, you're struggling to engage visitors and keep them on your site — something that is reflected in a low dwell time and a high bounce rate — featuring an above-the-fold video on your webpage can do the trick.
2. Increased Click-Through Rate
As people search Google for information, they tend to click on results that contain videos a lot more often. By letting search engines and people know right on the SERPs that your webpage has a video, you can increase the click-through rate and drive a lot more traffic to your site.
Google occasionally updates its SERPs to provide users with more info about websites and their content. Such information is delivered through rich results also known as rich snippets. They are designed to help people understand what they will find on a page even before they click through.
Just look at the example below. In addition to providing Google with textual information about the video, your video needs to have a thumbnail. The latter is even more important with regard to the SERP click-through rate, since we, as humans, are naturally drawn toward beautiful, catchy images.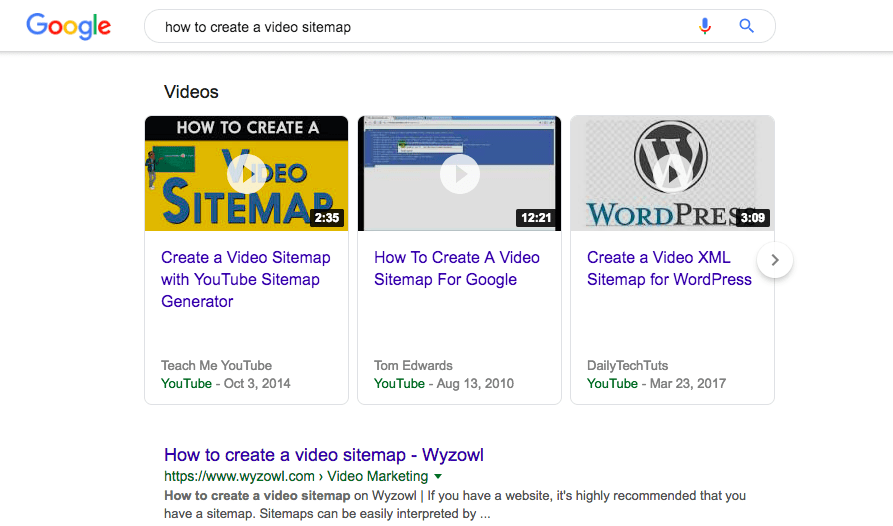 Looking at the picture, which video result would you choose to click on? The one that just features the WordPress logo? The one that just looks like a blank browser window? Or the bright yellow one that actually says what it's about?
It'd be a real shame if your amazing video was not getting any clicks, traffic and, hence, engagement just because you didn't create an eye-catching thumbnail.
3. Improved Backlink Profile
People love sharing amazing content. If your video strikes a chord with viewers, they are likely to link out to it — another vital ranking factor. As long as your high-quality, unique video is circulating the web, it will passively get backlinks to the page containing the video.
Just look at the example below: Dior's ad on the new Eau de Parfum is getting a lot of buzz online and, as a result, it's getting frequently referred to in various posts. It just goes to show how a quality piece of content can go a long way.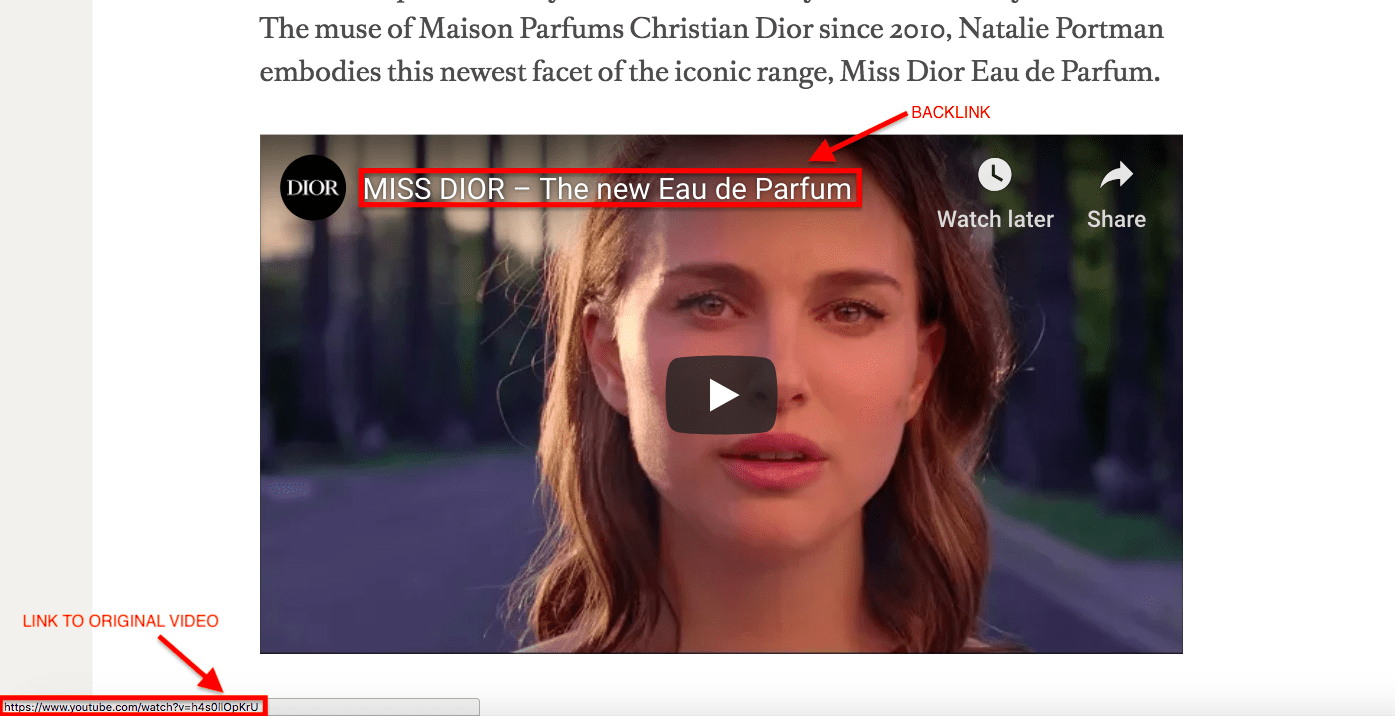 If you host your video on a third-party website like YouTube, you can earn backlinks and qualified referral traffic by adding a link to your website under your channel information or video description.
Of course, if you host the video on your own website, you can also reap backlink and outreach benefits. If the video is of top-notch quality, people will link out to it no matter where it's hosted.
Additionally, even if your videos don't result in more people clicking through to your website, you can boost brand awareness and searches by branding your videos with your logo. This, in turn, will increase your brand authority in the eyes of search engines.
4. Google My Business Listings
Google appreciates brands that take full advantage of Google My Business listings and reward those that do with a spot in the Local Pack.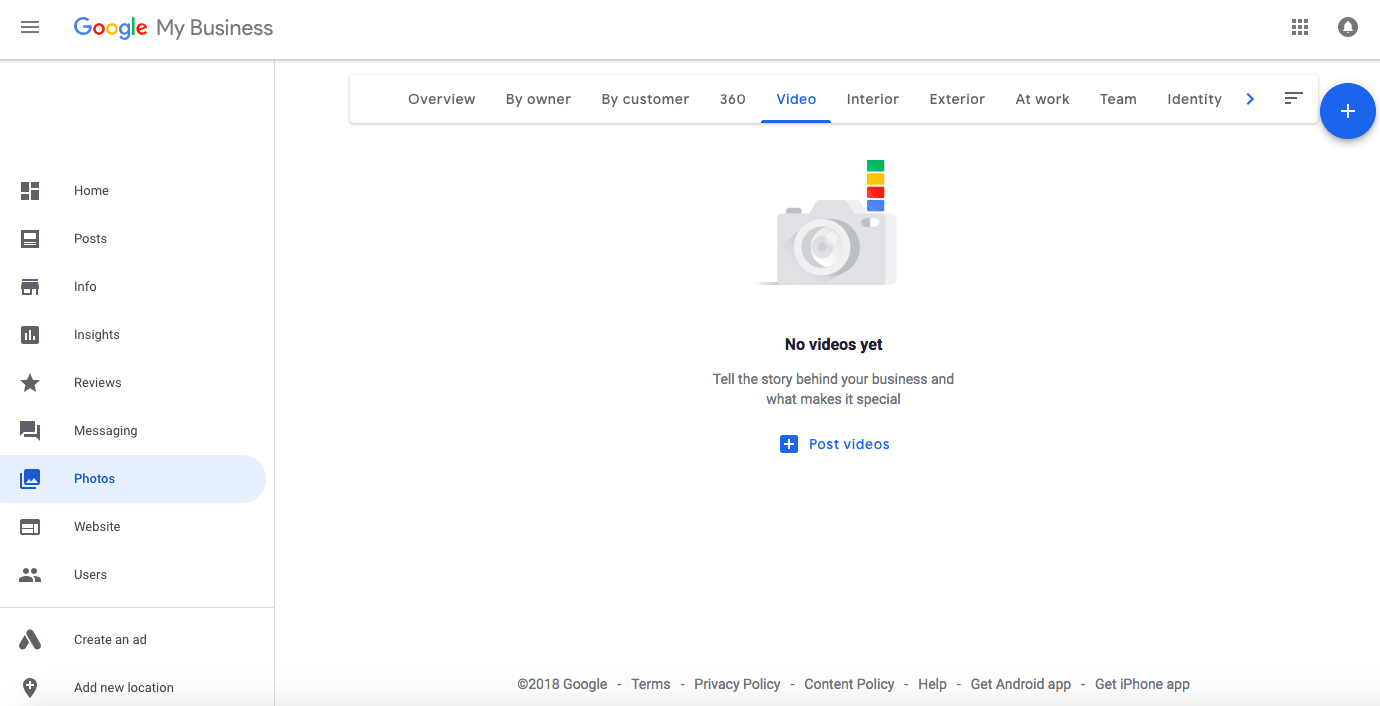 It is considered that local business listings with images, posts, and messages rank higher than those that provide the bare minimum of information. Imagine what adding a video will do for getting your GMB listing ranked in the Local Pack.
Create an appealing video explaining your business or demonstrating your service/product in under 30 seconds and add it to your GMB page. That way, you'll have an edge over competitors who failed to make use of this opportunity.
In fact, adding visual information to your GMB listing helps people "get to know" your business, and it is believed that the more recent your photos or videos are, the more clicks you will get to your website. In addition, visual content lends you a hand in keeping engaged all those who see your listing, plus Google keeps track of the interactions that take place with your listing.
Wrapping up
It's safe to say that because of their immersive nature, the use and popularity of videos will only continue its upward growth in the near future. The bottom line is that people prefer watching videos, engage with and tend to remember them — exactly what every marketing strategy aims to achieve.
However, you have to make sure you don't only use videos for their marketing potential, but for their SEO advantages as well. Videos have repeatedly proven their capability to boost the online visibility of brands, drive more traffic and increase website rankings in the eyes of search engines.
Putting money and effort into the production of video content can bring back amazing results both from the SEO and marketing perspective. So, if you managed to make it through 2018 without a video marketing strategy — be sure to make it your primary focus in the next year.