Sign up for our newsletters and digests to get an ebook on Backlink Monitoring
Thank you for subscribing!
Let's not go beating around the bush, and start with the most important thing – why this article is worth reading. First of all, all the names, characters, and incidents portrayed here are not fictitious. This is a story about SE Ranking team discovering Quora marketing and sharing their outcomes. Second, here you will find the most useful tips learned from this experience. And third, Quora does give results if you use it competently.
According to DMR statistics, more than 200 million users visit Quora monthly to get the answers they need. Could you imagine all the possible opportunities here? We've identified 10 major questions about Quora and found 10 answers we would like to share with you.
1. What to expect from the platform
Let's start from the finish – our results from the Quora activities. After all, you have to understand why it's good to invest your time and resources to this channel. During the first three months working with the platform, we got the following:
Monthly traffic grew to about 120% on the average.
Multiple mentions of the company and its products on the web.
Our contributing profiles became the ten most viewed in the SEO Tools, Keyword Research, Local SEO, Search Engine Optimization topics.
2K to 20K saw our contributions daily through Quora emailing activities.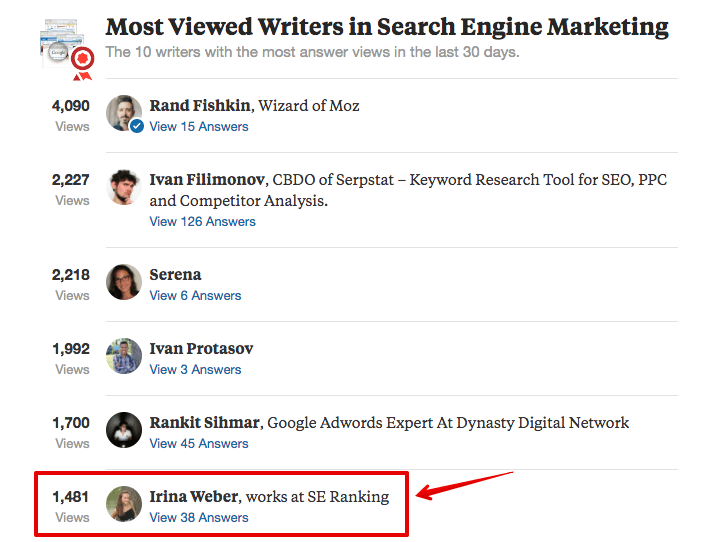 Most often our answers contained the links to SE Ranking product pages, blog, articles of authoritative media about us (Search Engine Journal, Marketing Land, SEO Chat etc.).
Depending on the goals the answers can encourage people to:
Sign up for the demo.
Register for the trial version.
Download the ebook or subscribe to the newsletter.
Make a purchase.
2. How to choose questions
First, show respect to Quora community and become its member. Follow the topics that might be interesting to you: sports, travel, cars, computer games and so on.
What you'll gain:
Learn from your own experience which Quora answers are really useful.
Your profile will become more "alive" so the users will see a person with real interests and not an answers-writing machine.
You will get more followers.
Follow the topics related to your industry so the relevant discussions will appear in your feed. For example, we are subscribed to:
Find "converting" questions that are already popular or display following parameters:
Have a large number of followers (from ten).
Show high engagement. Check the ratio of the number of answers and followers: the higher it is, the better. The ratio of one answer to five or more followers shows fairly good engagement.
We also track new questions within the topics of our interest and try to answer them first.
Search for high-frequency keywords. They will help find more topics that have your target audience.
3. One account or several
Everything depends on goals and resources. For example, Moz actively promotes Rand Fishkin's profile. He has about 22K followers, 1.5M views and an average of 200 votes on pretty much each of his answers.
This is a great example of how the profile became a real knowledge base with extensive answers to almost all popular SEO questions. And even now, when it is inactive, these answers collect positive feedback from users.
We decided to develop several profiles at once since the first goal was to increase the volume of mentions and build a positive image of a professional team rather than one person. A good question here would be whether is it good to state that you work for the company you promote. We've tried both options and eventually figured out that it's better to state right away who you are with – it's become really clear pretty soon anyway.
4. What is a perfect answer
Make sure to personalize your answers, add important details and use the following:
Relevant images (screenshots, infographics, funny pictures or GIF-animations if applicable).
A personal story. People rely more on phrases like "I remember how…", "In my last project …", "When I was …"
Storytelling from the first person – no "we", "our team", "our company".
Readability. Use paragraphs, bullets, numbered lists; highlight important facts in bold or italics.
At least 300 words. Long texts are ranked better.
5. What is a perfect profile
In fact, the profile is what you need to start with. By optimizing it you show your expertise and get additional links. Optimize your profile as if it is your personal brand:
Tell about your role in the company.
Share your achievements (give links to your articles, awards, ratings).
Add links to the company website, blog, social network accounts, video etc.
Add professional interests and your company to the Knows About section, so that users can contact you with relevant questions.

6. Who should write the answers: an expert or a marketer
Each one of your answers should look meaningful and comprehensive.
Therefore, we suggest the following strategy:
If you don't know the answer, it's no good just waffling. Try to answer the questions that you know the answers to.
Keep to the subject and give practical tips but if you have some doubts make sure to consult an expert.
7. How many answers to write
Actually, you can post as many answers as you can. Just make sure that you choose relevant questions and add some value to your answers. Also, try not to use the same answer for a lot of questions as this can result in a ban.
In our experience, you can write more than 40 answers per month – about 2 answers per day. Make sure you have both educational and brand awareness answers as well as personal ones that do not promote anything and do not contain any links.
8. What if you can't afford a dedicated Quora specialist
Two answers per day can be already resource-intensive because even an expert should check the data, make screenshots, formulate and personalize the answer. One of our partners has a special guy who is responsible only for Quora. He owns four or five Quora accounts and publishes two or three answers per day from each of them.
If this option doesn't suit you, follow our example:
Motivate! We've involved the whole team of digital marketing specialists and part of our support team.
Create a schedule. We've assigned each employee a day to write Quora answers and upvote colleagues' posts. For example, the author of this article has such a day – Friday. Of course, you have to control the process for the first month and remind everyone to delve into Quora until it becomes a Friday habit.
Create a community. It could be either a Skype chat or Slack channel, the main goal is to provide a space where all the participants can consult each other, remind everyone of Quora-days and share their successes.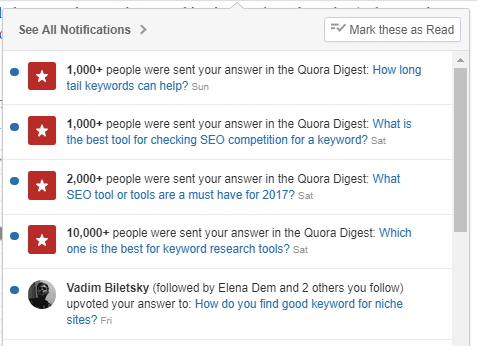 9. What about links
The good news is Quora allows links. But don't overdo it. Your answers shouldn't be spammed with links or seem promotional:
Use a maximum of one or two links per answer.
If you use two links, the first one must necessarily lead to your site.
Try to insert links organically, without calls for action or clickbates like "Click here to download the free version".
10. How to move forward without upvoters
It's simple: in order to be in the top of the topic and get into Quora's newsletters, you just need to be the most viewed writer in your topic. No pressure!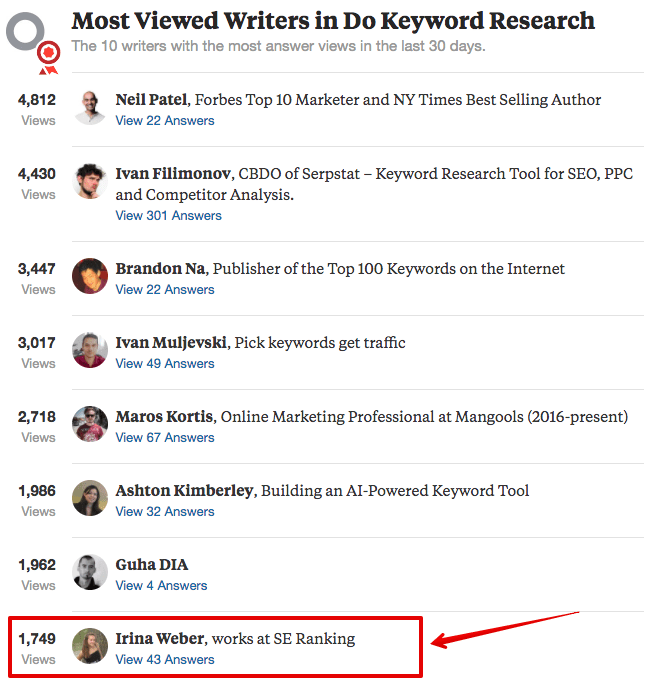 What's the most important thing about Quora? It allows you to be helpful to people. And that's an unquestionable value as well as a straight way to stand out from the competition. Nevertheless, Quora works well for us, and if you don't try yourself, you will never understand whether it works for you or not.