Now you can add your own keywords to SE Ranking database
Let's get one thing straight: SEO analytics services that include every possible imaginable keyword (search query) are a myth. They simply don't exist.
This is especially hard on niche businesses that promote their pages using long-tail keywords with a low monthly search volume. Because we want to give all of our users, regardless of their business specifics, the possibility to get the keyword data they need, we've added a useful new feature.
You can now find a new tab called 'Expand database' in our SEO/PPC Competitor Research tool that we are constantly updating based on user feedback. With this feature, you can upload your own keywords to our country databases and get a detailed SERP analysis on each one, organic and paid results included.
Let's take a closer look at the new feature.
Who needs it and why?
Think of this new feature as a lifeline for people who work with specialized products. Imagine that instead of selling "used iPhones" or "anniversary gifts for moms", you are in the business of selling something like "bentonite clay powder". In this case, you'll have a much harder time finding the necessary keyword data. That being said, search engines remain an important traffic channel for niche products, and having relevant keyword data is crucial.
And don't be so sure that analytics tools will come to your rescue — they might not even be aware that the keywords you need exist. But our tool has the perfect solution for such problems.
You can ask us to analyze the keywords you need, and get data on them all at once. Basically, as soon as our system gets a new keyword, we start analyzing every domain that ranks for it. As a result, you'll learn everything about your keywords and search competitors.
How does it work?
First, you submit a list of keywords, then we analyze them and send all of the pertaining info back to you:
Key metrics (search volume, traffic, CPC, ads competition and so on).
Organic results overview (who's competing for each keyword, which competitor pages rank high, what other keywords to competitors attempt to rank for, what competitor keywords can your own domain rank for).
Paid results overview (who's running ads for each keyword, what ad versions were tested out, what other keywords do your competitors use in their PPC ad campaigns).
You will have your very own special dashboard where you will be able to see all of the keyword processing stages along with the progress made on each added keyword.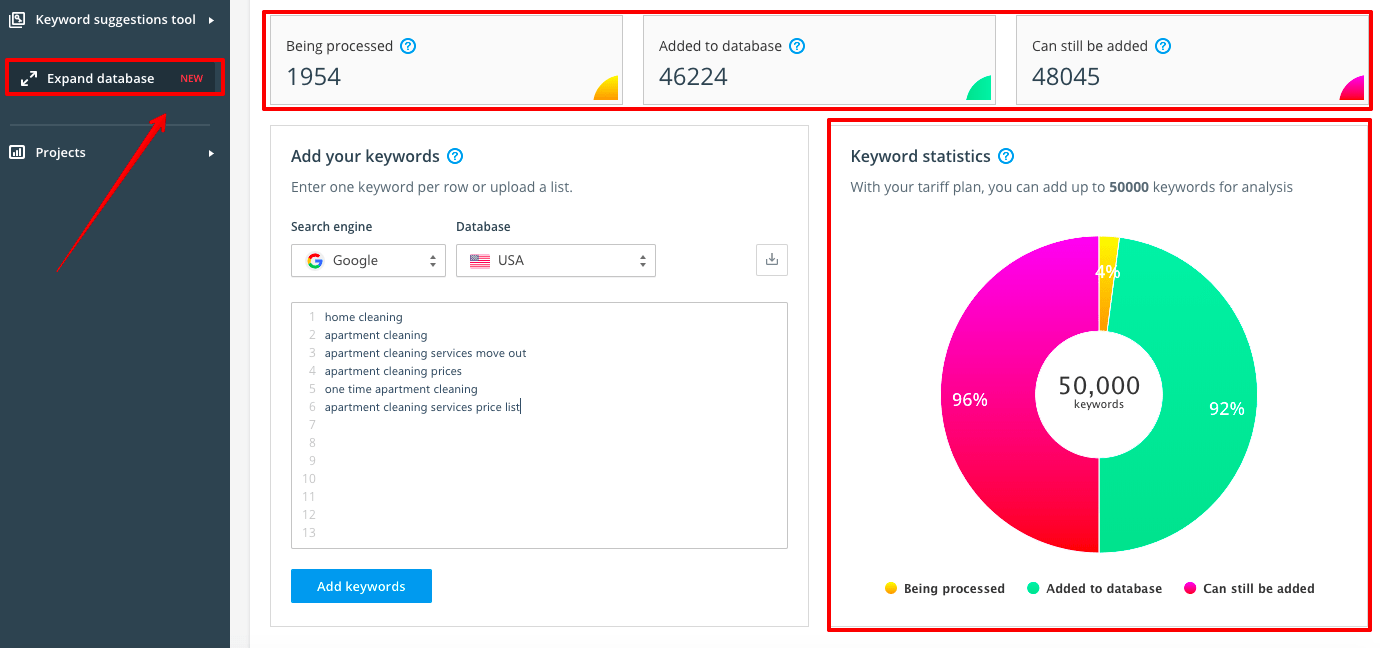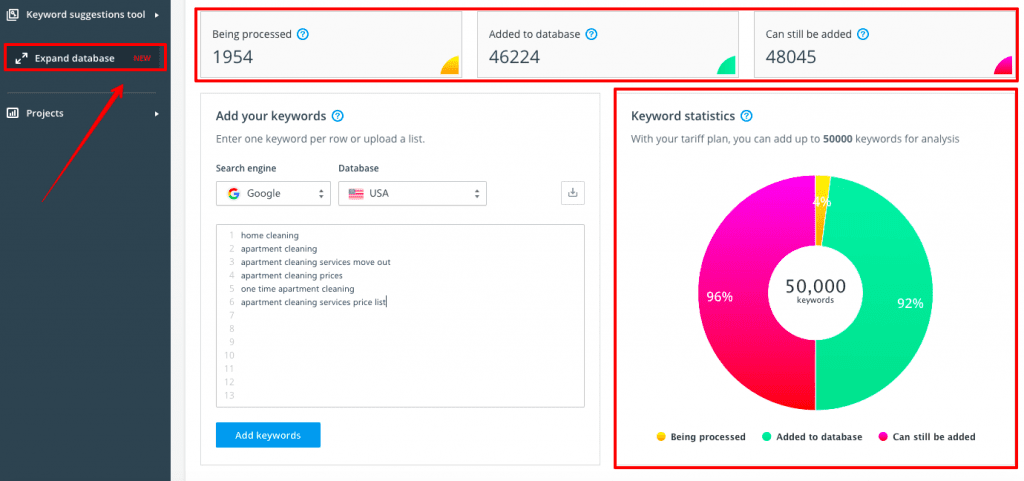 Use the "History of added keywords" table to find out what keyword lists you've already added. Get data on when it was added, to which search engine, for which regions, and the processing stage of each keyword list.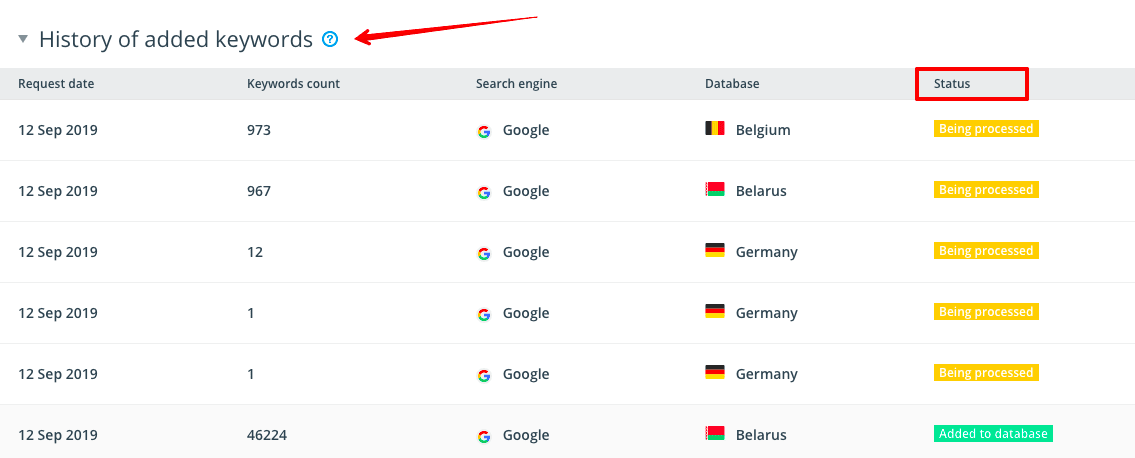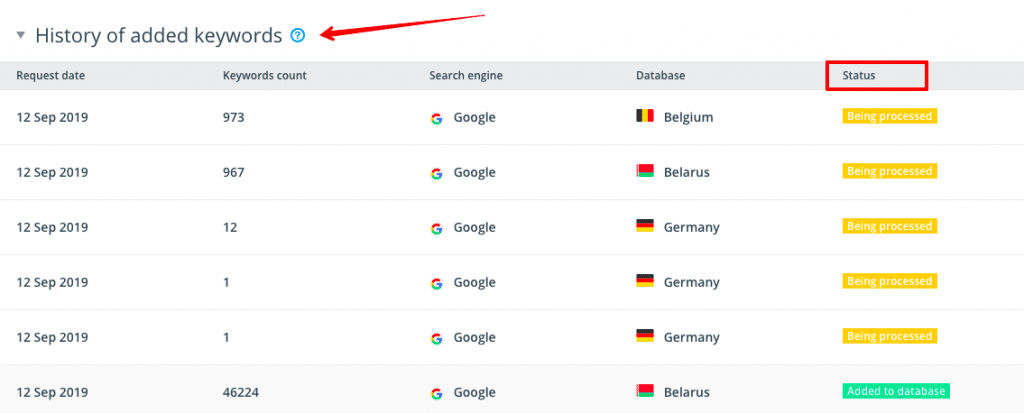 How to upload keywords for analysis?
The process of uploading new keywords to the SEO/PPC Competitor Research database is very similar to how you add keywords to your SE Ranking projects.
Just select the search engine that you want to analyze (e.g., Google) as well as pick a region from the list of available databases. Then, upload your list of keywords.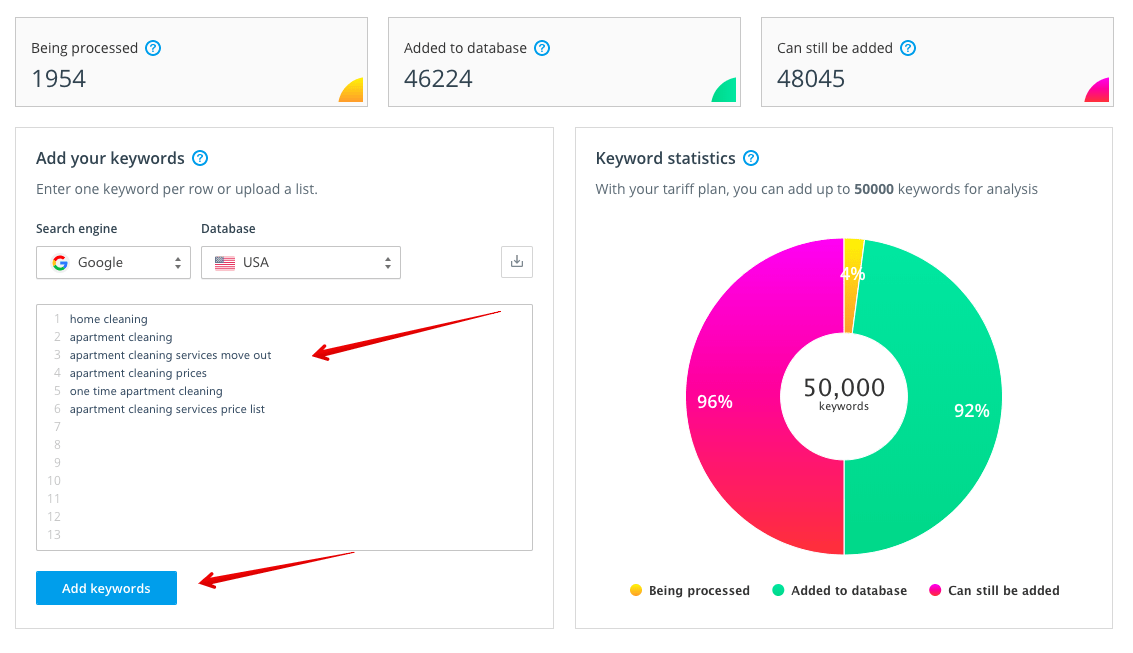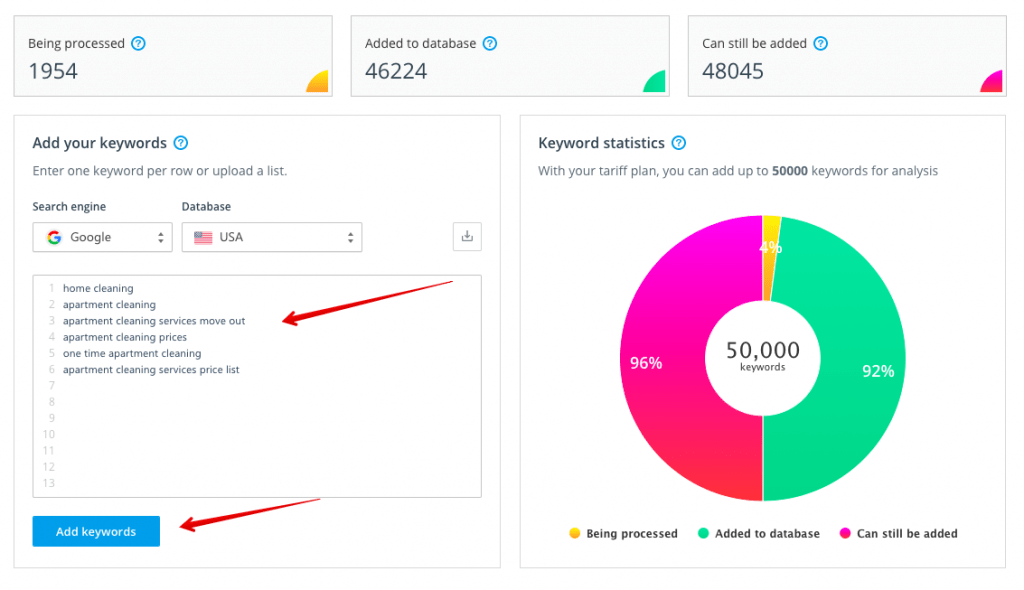 Before processing the list, the system will first filter it out. For example, we will not add keywords that are already in our system, duplicates or words with incorrect characters or symbols. You can rest assured knowing that your account limits won't be spent on useless or non-existing keywords.
You can get more details on the new features in our Help Center.
29 Google country databases can currently be expanded, and the list keeps growing. Keep an eye on our updates and let us know in the comments which countries you want to get more keyword data on.
Be sure to test out the new feature! The ability to analyze niche keywords will give you a decent head start over your competition. And this is not the kind of opportunity people usually say 'no' to ?