Keyword Rank Tracker
Get extensive data on your and your clients' keyword positions with pinpoint accuracy across every major search engine
A comprehensive SEO rank tracker designed with teams' needs in mind
View SEO Agency features
View In-House Teams features
Deliver more value to your clients with unique datasets and efficient reporting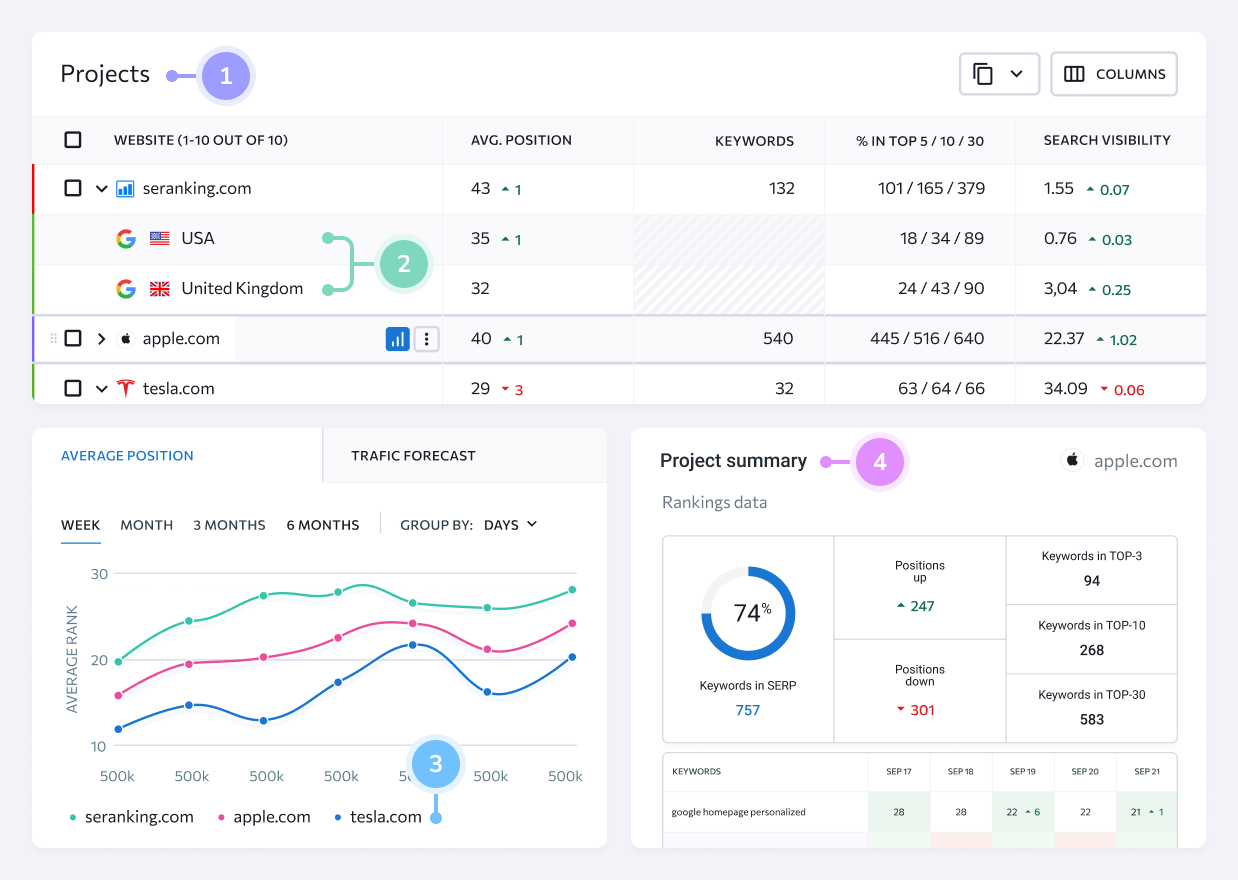 Get precise daily ranking updates—check cached SERP when needed

Manage bulky projects with huge keyword lists through grouping & tagging

Create unlimited client projects using Pro and Business plans

Create easy-to-read automatic reports or keep clients informed by granting them platform access

Finetune your SEO strategy using data-rich ranking insights

Monitor rankings daily and improve them by adopting suggested on-page and content fixes

Spot top-performing URLs/keywords and detect ranking drops

Monitor up to 20 competitors along your site's rankings for free

Sync your GSC and GA with SE Ranking for smooth performance tracking

Trusted by 40,000+ businesses

Trusted by 40,000+ businesses

Get more value with website rank checker's pro features

Track competitors' keywords

See how your website stacks up against your competition

Identify top keywords

Find out what keywords and pages bring the most traffic to your site

Ensure steady traffic flow

Spot ranking drops and prevent traffic loss proactively

Refine your SEO strategy

Single out the most promising keywords and pages to focus on

Prevent cannibalization

Identify pages competing for the same keyword and fix the issues

Stay on top of Google updates

Learn how ranking algorithms updates impact your website

Keep the finger on the pulse of your site's SEO visibility

See if your SEO strategy is paying off

All the data you need for business decisions in convenient, easy-to-understand tables and graphs

Added search engines

Track rankings across multiple locations within a single project

Target URL

Define target URLs to spot cannibalization issues

SERP Features

Special features triggered by the keyword, marked in blue if earned by your site

Search volume

The amount of traffic a keyword receives monthly

Traffic forecast

The amount of traffic a keyword can drive to your site

Content Score

A higher Content Quality Score leads to better rankings

Get a bird's-eye view of your standings in SERP

Keep a close eye on your competing sites with dedicated tools

Highlight competitors

Single out added competitors

Calendar

Analyze any date range

Highlighted site

Pick any website to see how it performed over time

Find a full list of sites targeting the same keywords as you

Use tags and groups to study a particular cluster of competing sites

Groups and tags

Manage your keywords by tagging them and creating groups

Competitors list

Get an overview of every competitor's major parameters

Comprehensive data

Click the data to study competitors' keywords or backlinks in detail

Analyze your competitors' performance and predict their next moves

Proud to be chosen by businesses from over the world

800K+

active registered users

40K+

companies use se ranking

4.8 / 5

our average reviews rating

Flexible pricing to fit any budget and for any SEO project

Pick the Pricing Plan that suits your needs, or contact us to request a custom quote

Essential

750 keywords

Up to 10 projects

from pages for Website Audit
Competitive & Keyword Research
Backlink Monitor and Backlink Checker

See pricing plans

Pro

Most popular

From 2000 keywords

All Essential features with extended limits

from 250,000 pages for Website Audit
User seats

See pricing plans

Business

From 5000 keywords

All Pro features with extended limits

from 700,000 pages for Website Audit
API access

See pricing plans

See all pricing plans

Сheck keyword rankings on different search engines

Google

Want to outrank the competition and boost your performance in the most popular search engine? With our rank tracker, you can monitor your keyword position in Google over time and monitor competitors.

Google rank checker

Bing

Want to track keywords in the second-largest search engine besides YouTube? With our rank tracker tool, stay on top of your activities in Bing as well as drive traffic with lower competition.

Bing rank checker

Yahoo

Don't want to put all your SEO eggs into one search engine basket? Diversify your audience! With our keyword position tool, track keywords in Yahoo! and get more organic traffic from alternative markets.

Yahoo rank checker

FAQ

What is a keyword position in SEO?

When a user enters a keyword into a search bar, within seconds a search engine delivers result pages with dozens of relevant websites. Ranking algorithms define the order in which sites are placed—their position in the search for particular keywords. The higher keyword position a site gets, the better they rank for that keyword.

What is keyword rank tracking?

SEO specialists need to keep track of their SERP (search engine results page) rankings to make sure their optimization efforts are paying off. The first five search results get a lion's share of clicks, so SEO specialists often aim for the top-5. With proper optimization, positions of the site's target keyword will gradually improve.

What keyword rank tracker can I use to check website rankings?

To check a keyword position, you can use one of the webmaster tools (offered by Google, Bing, etc) or check it manually. Unfortunately, you won't be able to get accurate fresh data in both of these cases. For this reason, SEO specialists prefer special keyword rank checkers. It checks website rankings automatically and provides you with analytical insights.

What is a good keyword position?

Most users never go any further than the first page of search results, which means that all pages ranking below the top-10 will get very little traffic. In a SERP free of distracting special features (such as featured snippets, Twitter boxes, video blocks), the top-5 results get 68.5% of all clicks, of which the top-3 results get 58.5%.

Is your keyword rank checker free?

SE Ranking's Rank Tracker is not free but it comes with a free trial. However, if you get a subscription, you'll get access to 30+ SEO tools.