SE Ranking's 2021 accomplishments and product vision for 2022
Traditionally, in the last week of January, we share our plans for the year ahead. As usual, they are based on the wishes you shared with us—it's your needs that drive our platform's improvements 🙂
But before we get to setting out our new year's resolutions, let's take a moment to look back at what we've managed to accomplish in 2021.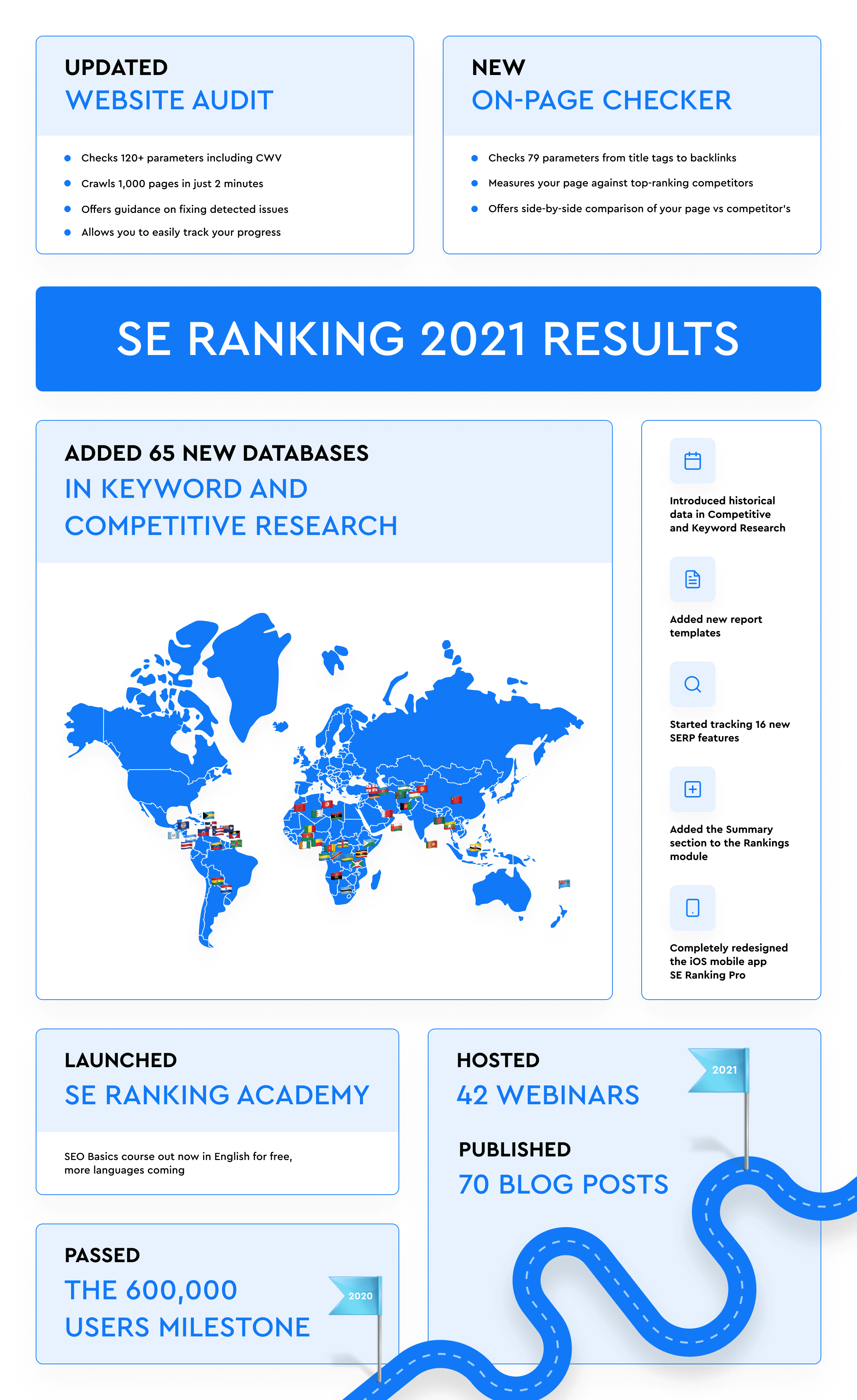 Major 2021 updates to SE Ranking's tools
A more powerful site audit
Back in February, we launched a fully revamped Website Audit, and throughout the year, we've been further expanding its capabilities by adding more parameters to the checklist.
Historical data on keywords
When analyzing keywords and competitors' websites, you can now operate with historical data going back to February 2020.
More insights from ranking checks
We started tracking 16 new SERP features and developed the new Summary section for the Rankings module.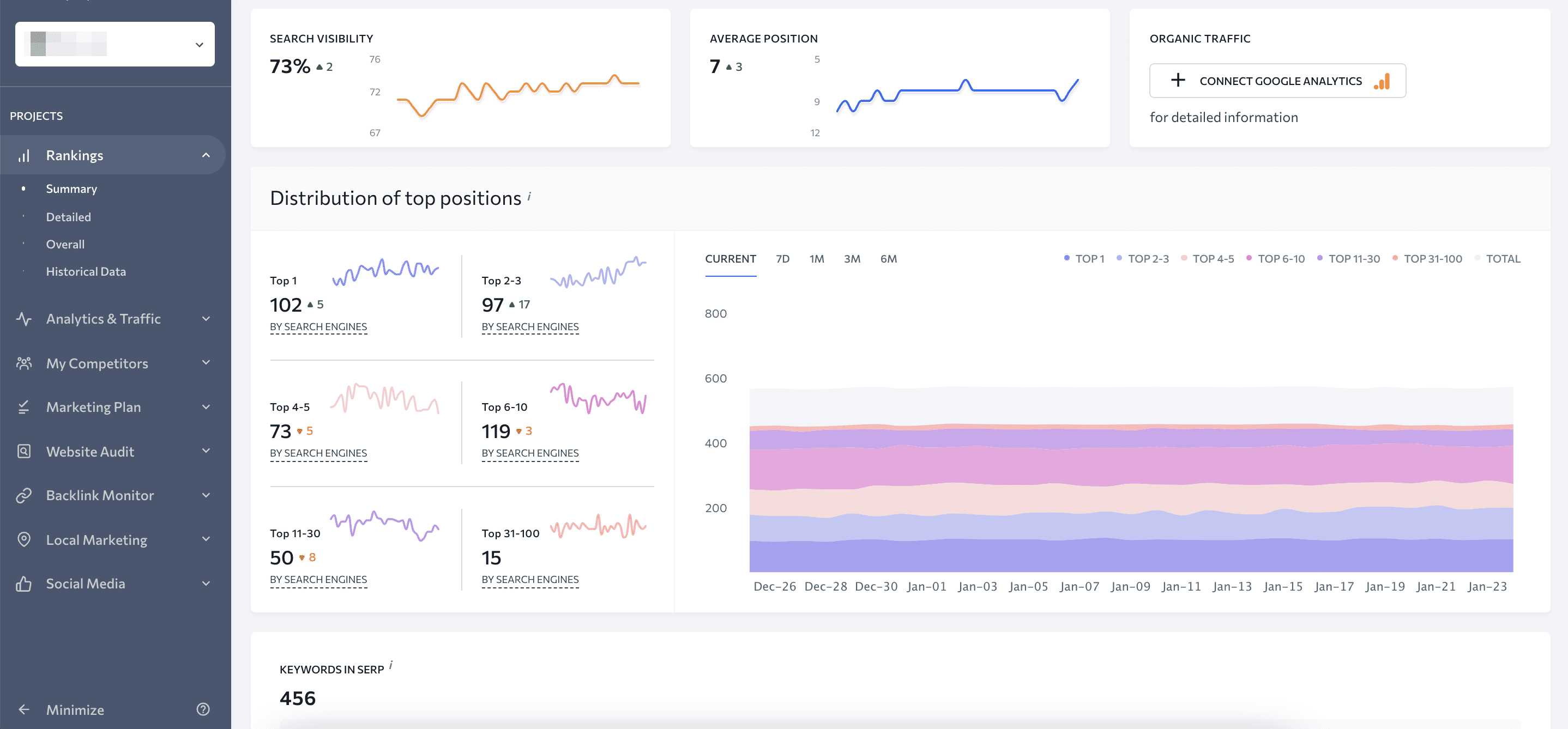 We've redesigned the SE Ranking Pro app to make it more intuitive and functional. We created a new page in it to help you track your overall SEO progress based on site audits, marketing plan, and presence in business listings.
This year, we're working on adding new tools to our mobile app: Competitive Research, Keyword Research, and Local Marketing to name a few.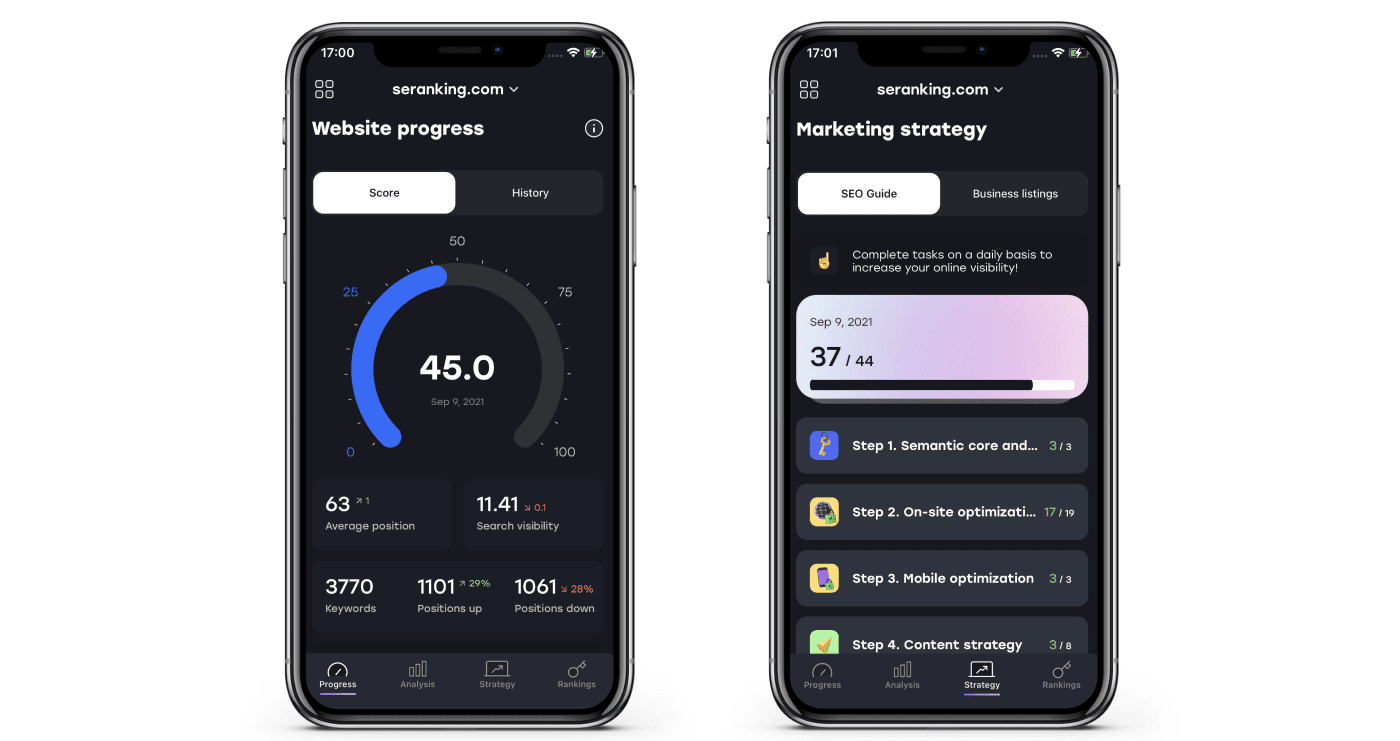 Free SEO tools accessible right on the website
Besides making our platform more data-rich and shiny, we're integrating some helpful tools on the website. Previously, you could view real-time SERP data for any chosen location without having to tweak your settings and personal search history. Now, you can also check your IP address against multiple parameters right on the landing page.
We're planning to launch lots of free SEO tools this year, including TLS/SSL certificate check, domain check, robots.txt generator, secure password generator, and many more.
What does 2022 hold for SE Ranking's platform
On top of what we've mentioned, there were dozens of minor updates inspired by your requests. We want to thank you for actively sharing your feedback and helping us grow as a result.
As always, our 2022 plans are also based on your feedback. We've gone through all of the wishes you shared with us and transformed them into a roadmap. Here's what we're planning to develop:
The general Insights section for all added projects
You may be kicking your work week off from a cup of coffee and a routine ranking check, but soon you'll have more digestible overview information at your fingertips.
The Projects dashboard will include the Insights section that will gather all available data from other tools (keyword rankings, competitors, audit reports) and give you recommendations on what to prioritize in order to get more traffic.
Improved On-Page Checker
The new On-Page Checker has been beta tested and is will soon be available to everyone. Keep an eye on our publications not to miss the release date.
It works similarly to the updated Website Audit: it finds all the issues on a page and divides them into errors, warnings, and notices. All of the issues are organized across 14 different SEO categories: from tags to usability to links.
Under the Competitor Comparison section, you can add the pages of your major competitors and see how well they are optimized for your target keyword. The tool highlights differences and similarities in how you and competitor web pages use keywords, as well as gives a comparison table on the most important on-page SEO metrics: Page Trust score, speed-related parameters, tag length, number of links, etc.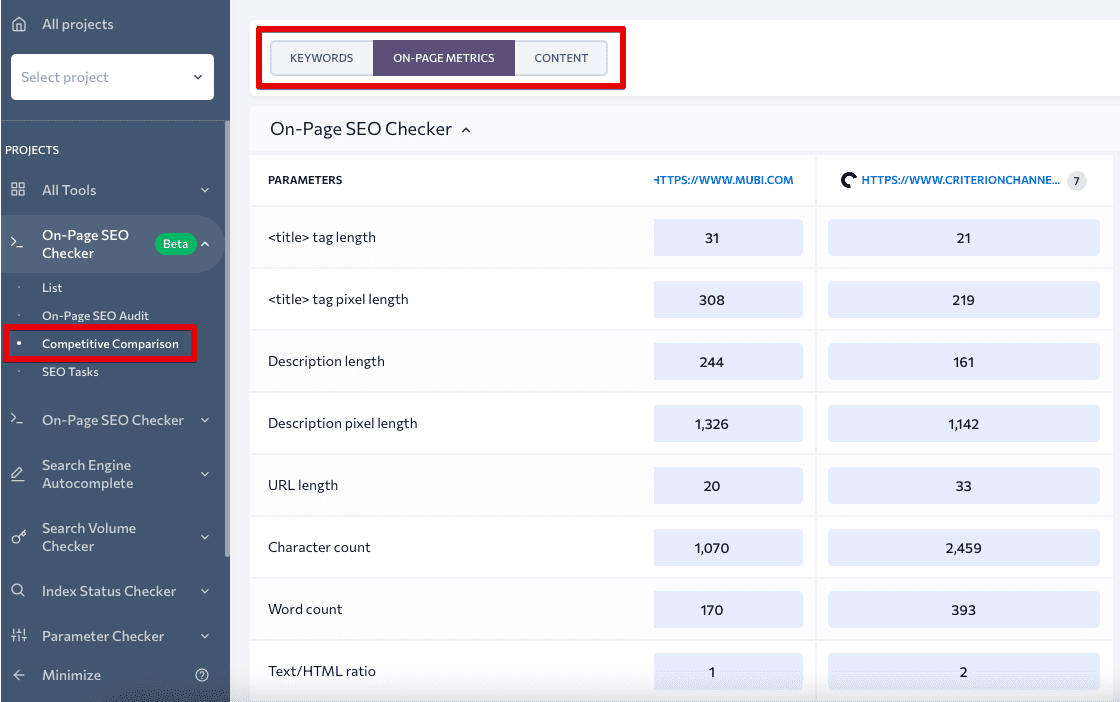 We've also introduced the SEO Tasks section to the On-Page Checker tool. The system automatically sets tasks for you to complete based on the page audit reports and found issues. The tasks can be filtered by category, priority, or status, plus you can create custom ones to cover your particular needs.

We're excited to tell you that On-Page Checker is the first tool we're incorporating AI to, and in the years to come, we'll be gradually unleashing the full power of AI/ML technologies. We're working on NLP algorithms that are able to understand the words behind search queries and process content in a way humans, and most often search engines, can.
More locations covered and more flexibility with location-specific data
We're constantly expanding our keyword databases, which now cover 190 countries! On top of that, we're planning to make traffic research more efficient by providing breakdowns by world, continent, specific country, or region.
The local SEO tool, finally
We've created a brand new module—Local Marketing, and its beta testing is now running in full swing. This tool will allow you to connect your Google Business Profile and analyze the data that's valuable in terms of local promotion. You get an overview of each business location, track Google Maps stats (searches, reviews, calls, etc.), and add your information to relevant business listings.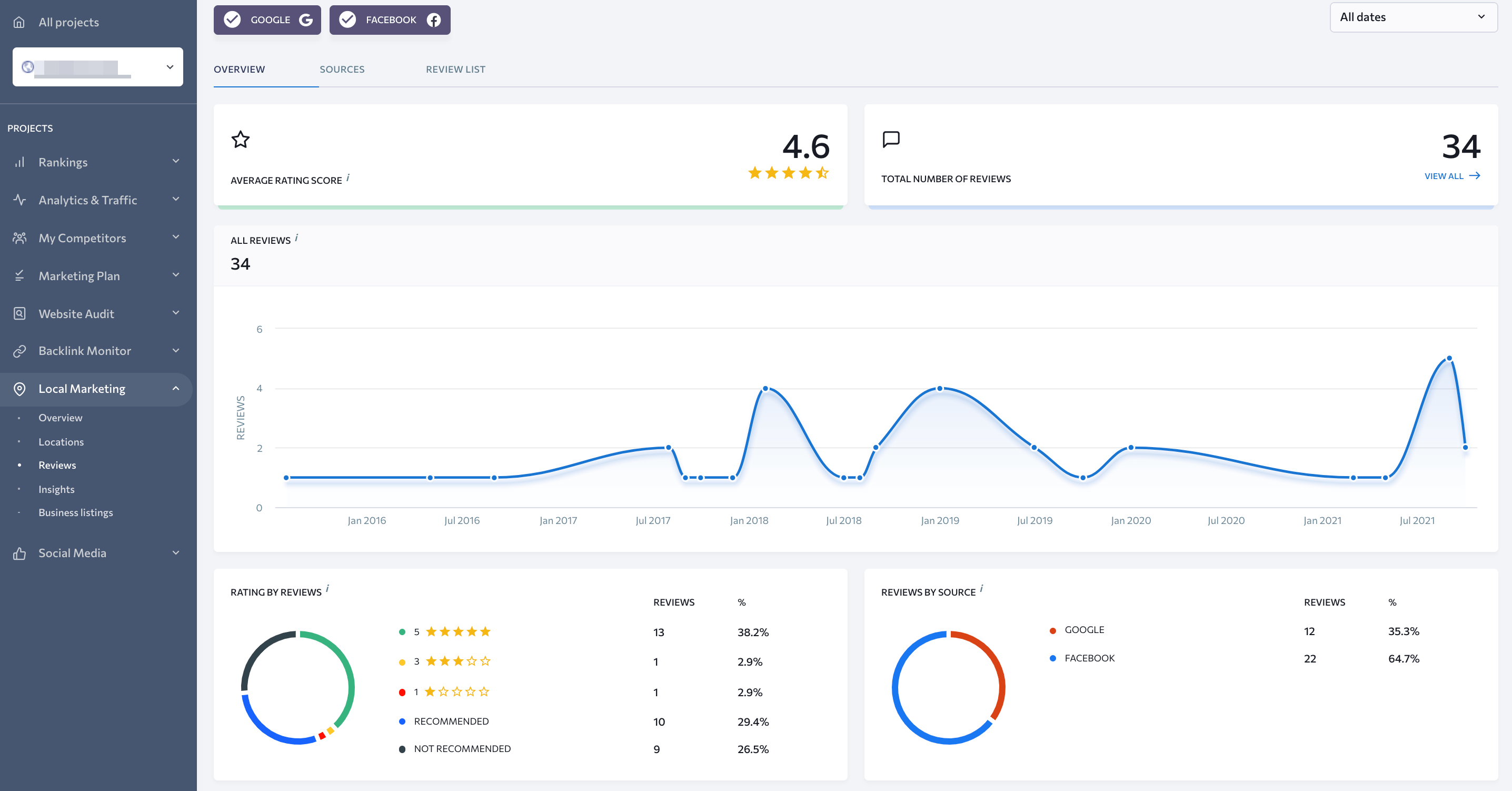 The tool allows you to understand more about your customers and improve your local search presence.
For instance, the system scans all user reviews left on different platforms and identifies the most popular keywords mentioned in them. By going through the keywords used in positive and negative reviews, you'll get a more holistic view on your business' strongest suits and potential vulnerabilities.
Forget about struggling to make sense of reviews manually collected from multiple sources—Local Marketing will serve all of them up to you on a platter, with the list of keywords that can be added to your project.
Throughout the year, we'll grow the number of business listings available in the tool and further improve its functionality based on your inquiries.
More flexibility to the Rankings module
We've polished Rankings off in 2021 and will continue doing so this year. What's already finished is:
Import of ranking data from other SEO tools
Technical optimization—now, large projects can be quickly and easily exported in the .xlsx file format
We plan on adding even more filters to the module to organize the data and incorporate related keywords: you'll be able to track the block of related keywords, add any of them to your project, and get notified about any changes in the block.
More possibilities to manage your keywords
Many of you requested a keyword manager tool, and it's currently in development. With the help of this tool, you will be able to create your own keyword lists with the queries added manually or pulled from the Keyword and Competitive Research tools. You'll be able to edit and delete your lists, add keywords from them to your projects, and check detailed information on any search query on your list.
No more working with data scattered across spreadsheets and other documents—SE Ranking will allow you to create and manage keyword lists right on the platform, with loads of SEO metrics at hand.
The tool to boost your content marketing efforts
One of the major updates we have on the 2022 roadmap is the launch of a new tool designed for content marketers and anyone who wants to check their content or get new ideas on what to write about.
This is something that has been missing on our platform: many of you have asked for an SEO writing assistant, content audit, and content ideation capabilities. Our team is now in the active research phase, defining the tool's essential features.
What you can expect from SE Ranking's content marketing tool is content suggestions based on market research insights, templates for content briefs or copywriter assignments, and more. Stay tuned to find out about new releases!
Other changes to the platform
We're also working on:
making the Website Audit tool more independent and allowing you to analyze any domain without being bound to added projects
providing you with backlink suggestions based on competitors' data and recommendations on how to grow your backlink profile
More is coming
We're excited about 2022 and can't wait to see all of these updates in action. Meanwhile, we're always open to your suggestions so if you haven't shared your thoughts during the December campaign or if you have any new questions, concerns, or ideas, reach out to us via chat or leave a comment below!