Sign up for our newsletters and digests to get news, expert articles, and tips on SEO
Thank you for subscribing!
In August 2017, Google rolled out the Questions & Answers feature. Just like featured snippets and the "People also ask" box, it helps users get the answers they need directly on the SERP. But what does this mean for businesses? Less organic traffic, as users won't make it onto the company's website. But don't panic. You can get your conversions directly in search if you learn a few tricks about Q&A.
In this post, we'll take a look at what Q&A is, who uses the feature and which simple actions will help you get the most out of it.
How Google Questions & Answers works
Google Questions & Answers started with the Google Maps app for Android, and at first, it was the only place where both users and businesses could ask questions and give answers. Now, the Q&A section is included in Google's Local Pack and the Knowledge Graph, meaning that more and more people are using it.
Google Questions & Answers was initially designed to be crowdsourced, as such an approach would allow Google to build an image of a local business based on insights from old customers. Since such insights could be positive or negative, the main goal here was: the more information users provide, the better.
Thanks to Google's efforts to engage users, it all worked well. And now the most popular locations (like the Louvre Museum or Google's headquarters in California) feature hundreds of questions.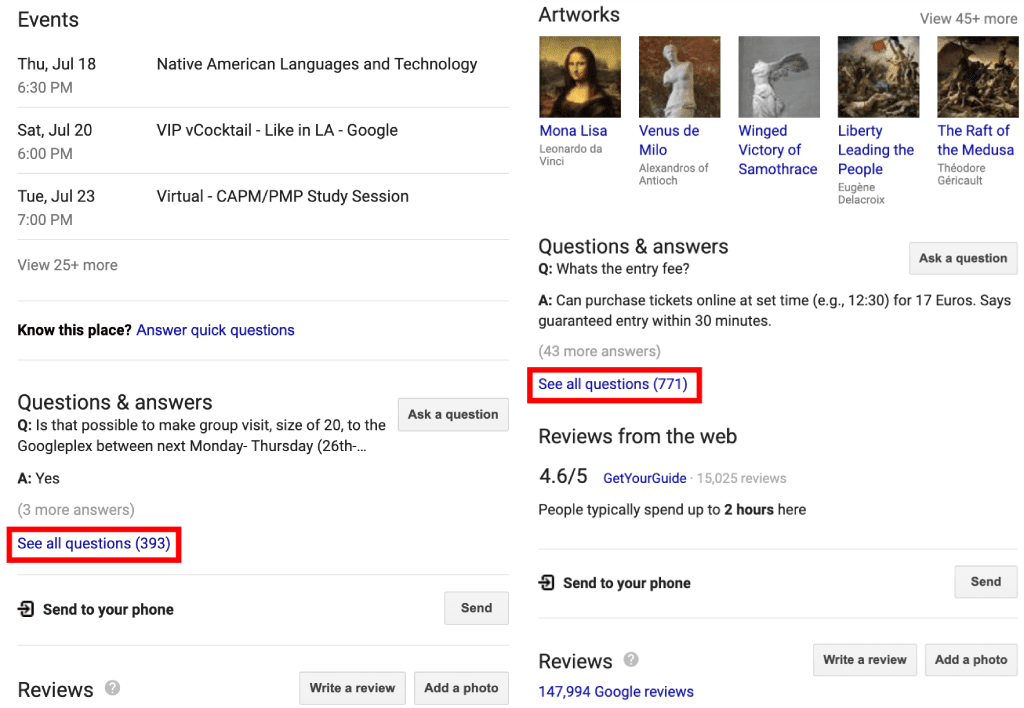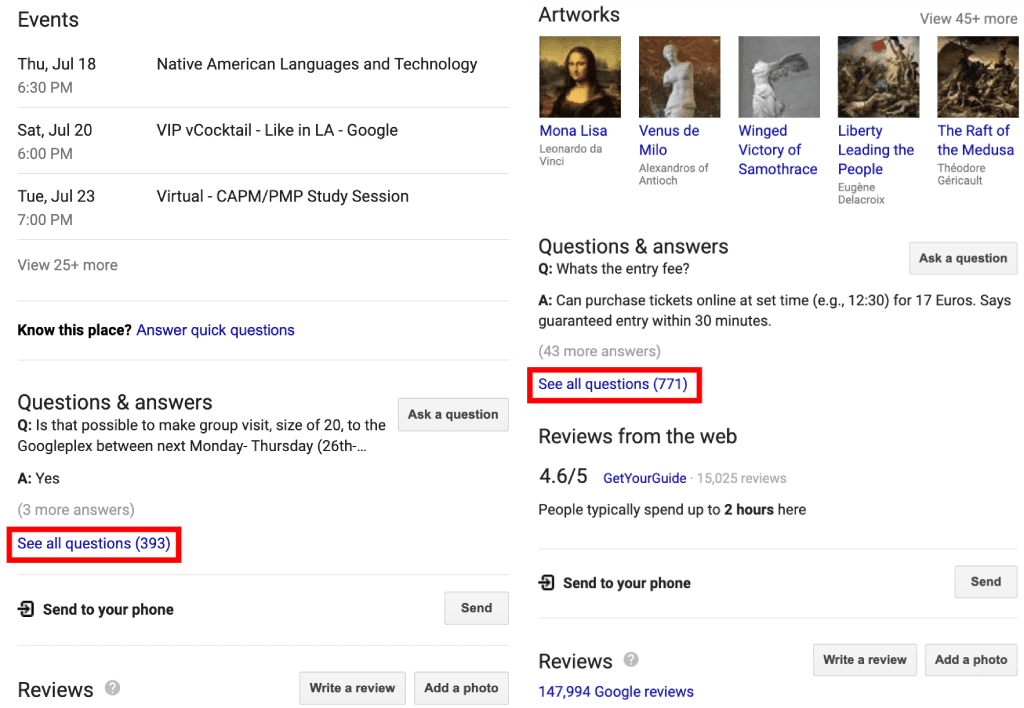 Who answers all those questions? Let me present to you Local Guides: the most ardent supporters of Google Q&A. Currently, around 62% of questions have at least one answer from a Local Guide according to research by ThriveHive.
What about business owners? They are pretty slow when it comes to jumping into discussions with a whopping 91% of all questions getting no answers from business owners at all.
Now, in April 2019, Google updated the Q&A feature. So instead of waiting for an answer from a Local Guide or a business owner, you can get an instant reply from Google itself.
The search engine relies on existing Questions & Answers along with user reviews to deliver replies in real-time.
This is how it works. If a business of your interest is popular enough, it's quite probable that the question you have in mind has already been answered (mostly by the Local Guides). Google will save your time and swiftly find the answer for you.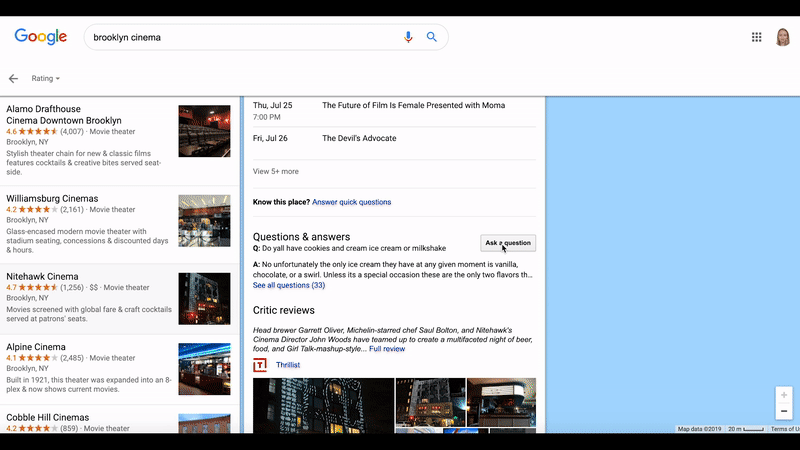 Everything looks great so far. So why not just let Local Guides and Google do their job?
Well, relying solely on Local Guides means giving them too much power. Your customers will decide whether to deal with your business or not based on the Local Guides' opinions. And here's the not-so-silver lining of such scenarios.
Local Guides can be both a blessing and a nightmare
Local Guides are the driving force of Google's crowdsourced approach. They add photos of the place, leave reviews, post questions and answers. Every time someone posts a question about a place that was once visited by a Local Guide, the latter would get a notification offering to leave a reply.
Why would people spend their time answering other people's questions if they are not in customer support? Besides the altruistic desire to help others, different perks make the whole thing work. If you register as a Local Guide, you will be awarded points for every contribution made. Every answer, for example, gives a Local Guide three points. If you acquire enough points, you can get free months of Google Play Music or purchase Google Play Movies with a discount.
In an ideal world, this would lead to businesses getting a bunch of unbiased reviews and useful questions and answers, and Local Guides getting rewarded for helping Google and other users. In practice, though, cases, when guides post meaningless answers for the sake of getting points, are not rare.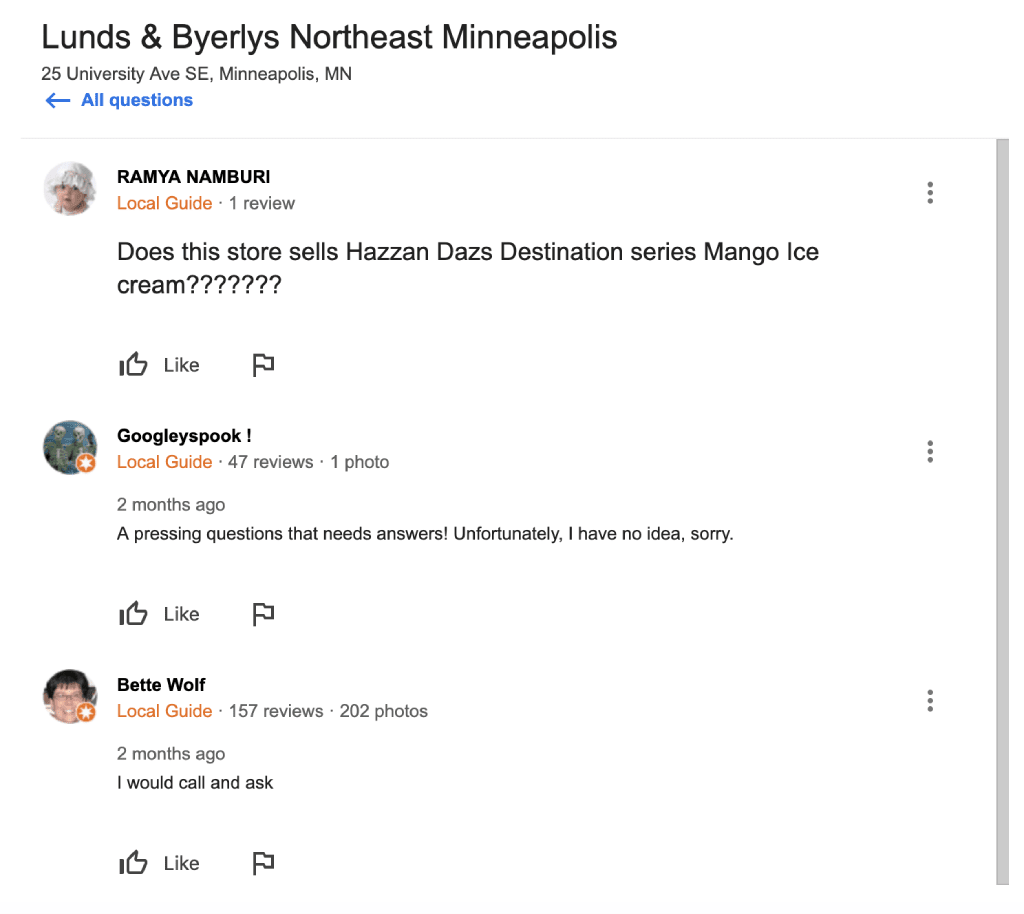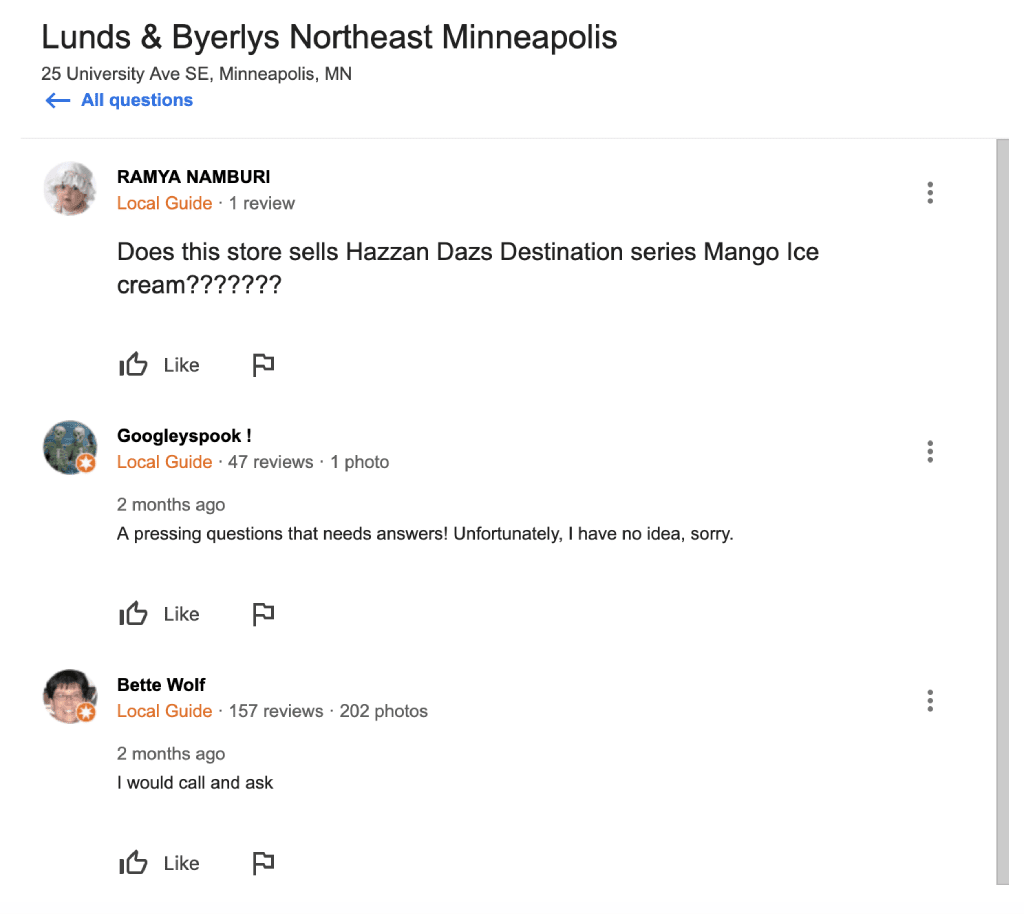 If a business owner posted a helpful answer along with senseless replies from Local Guides, customers would definitely appreciate it.
How to make the most of Google Questions & Answers
The Q&A feature is right there in the SERP, so anyone who Googles your brand or opens up your business profile through the Local finder will see it. And here's where it all matters: the number of questions the profile features, the kind of questions users ask, the answers users give, and the way the business engages with its customers.
The Q&A can be used as another tool to help you build a powerful and consistent brand story that attracts new customers. Start by actively monitoring and answering user questions. Helpful and informative answers coming from business owners clearly demonstrate that a business values its customers. A business that prefers to ignore its users demonstrates the "I don't care" attitude.
You may also find some "bad" questions and answers under your profile. And this is a perfectly natural thing, as crowdsourced environments have always been a great place to spread misinformation. The good news is that offensive questions and answers can be flagged and removed, but you will have to notice them first.
So, let's break down the details on how to work with Q&A in the most efficient way.
Monitoring the Q&A section
When the feature was first introduced, the only way for business owners to get notified about new questions was through push notifications on Android devices. In order to get the alert, you had to be logged into your Google My Business account.
Luckily, now it became much easier. You can set up an alert in GMB Settings to get notified via email every time someone posts a question.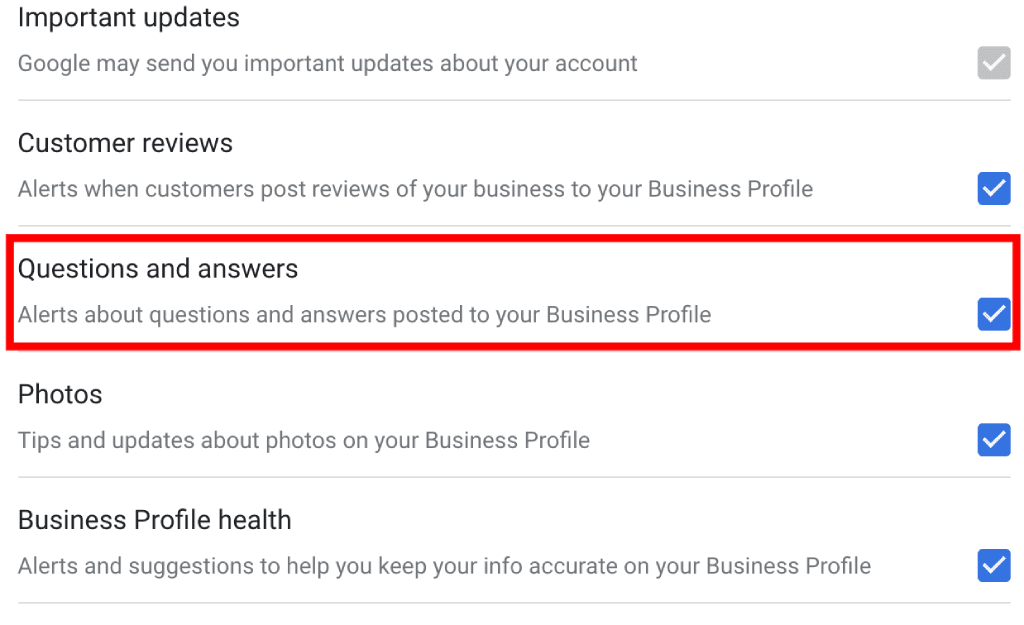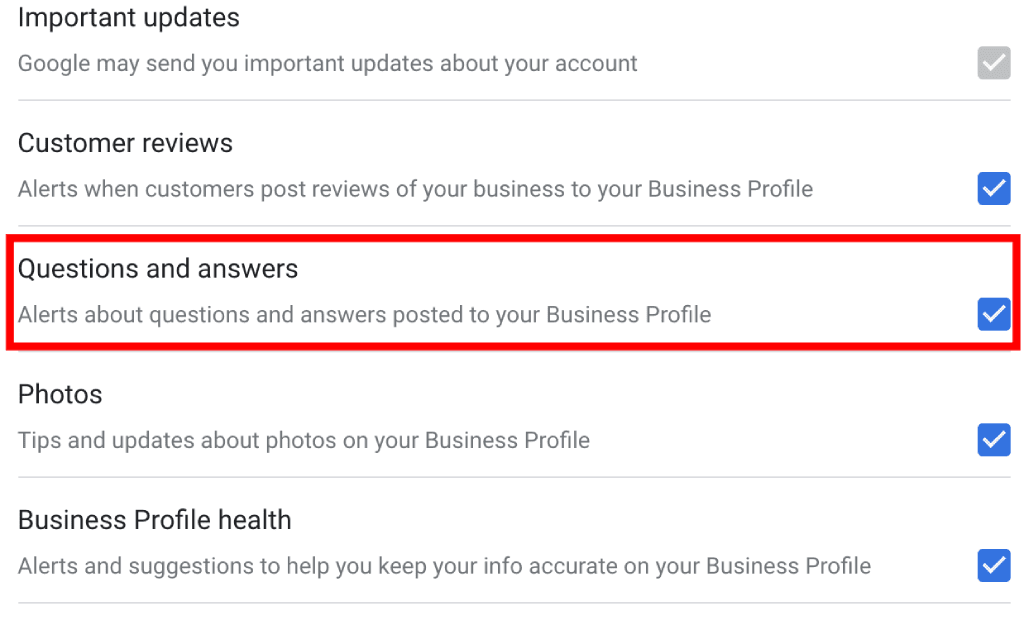 As of November 2018, you can also work with Q&A via the GMB API, which is a real blessing for businesses with multiple locations.
If you don't use the API but have numerous businesses spread out across the country, you may find SE Ranking's Google Location Changer tool rather useful. It allows checking SERP results for locations different from your physical one. Just type your brand name into the keyword field, choose the country, the exact location you need and hit Search Google. As a result, you will see the Knowledge Graph of your business in the chosen location or a 3-Pack listing if you have more than one business in the selected area.
Once you've made it into the Q&A, check if there are any queries that need to be answered or anything you'd like to have removed from your GMB profile. Here's what you need to know to make it right.
Answering user questions
To write out the questions in the best possible way, follow these simple tips:
Speak your customers' language. Make questions and answers easy to grasp, and don't try hard to sell it. The questions should look as if they're written by customers without any indication that you actually came up with them yourself. As for the answers, just make them helpful.
Less is more. Be informative and precise. Make the answers scannable and easy to read – your customers will appreciate it.
Always double-check. You don't want to find misspelled words in your answer after hitting the Post button.
Before answering, make sure that you are logged into the Google account tied to your business profile, as this is the only way your answer will clearly show that it comes from the business owner. Other than that, it is all plain and simple.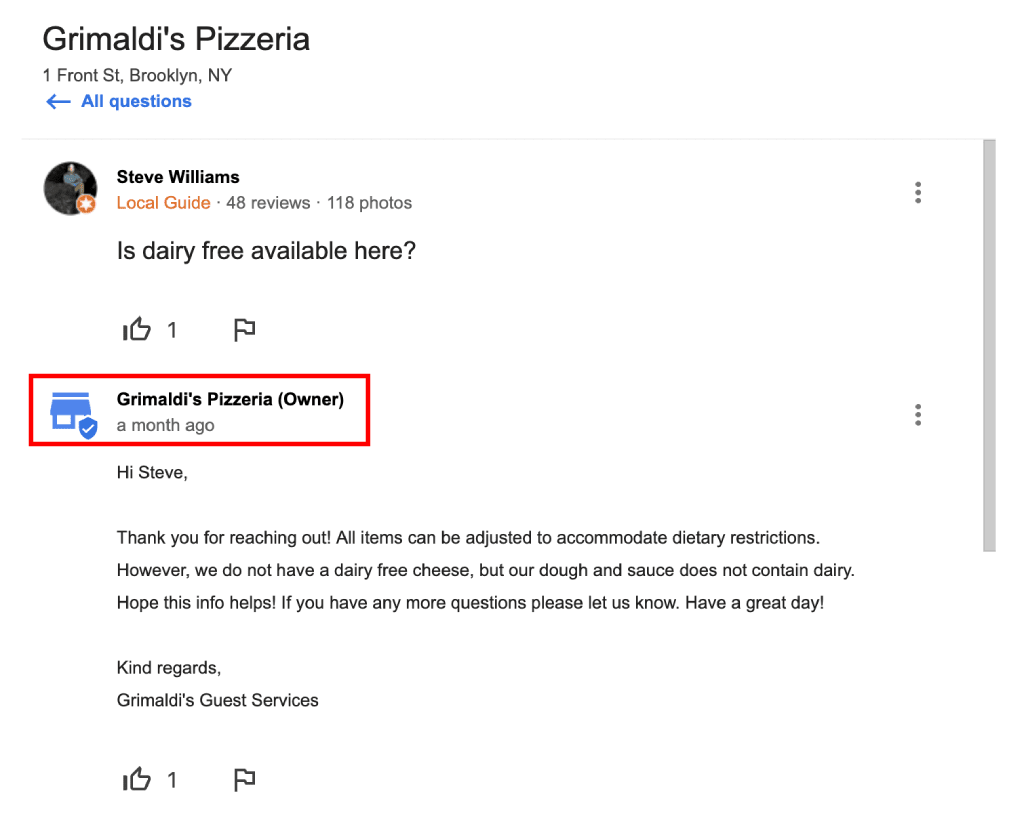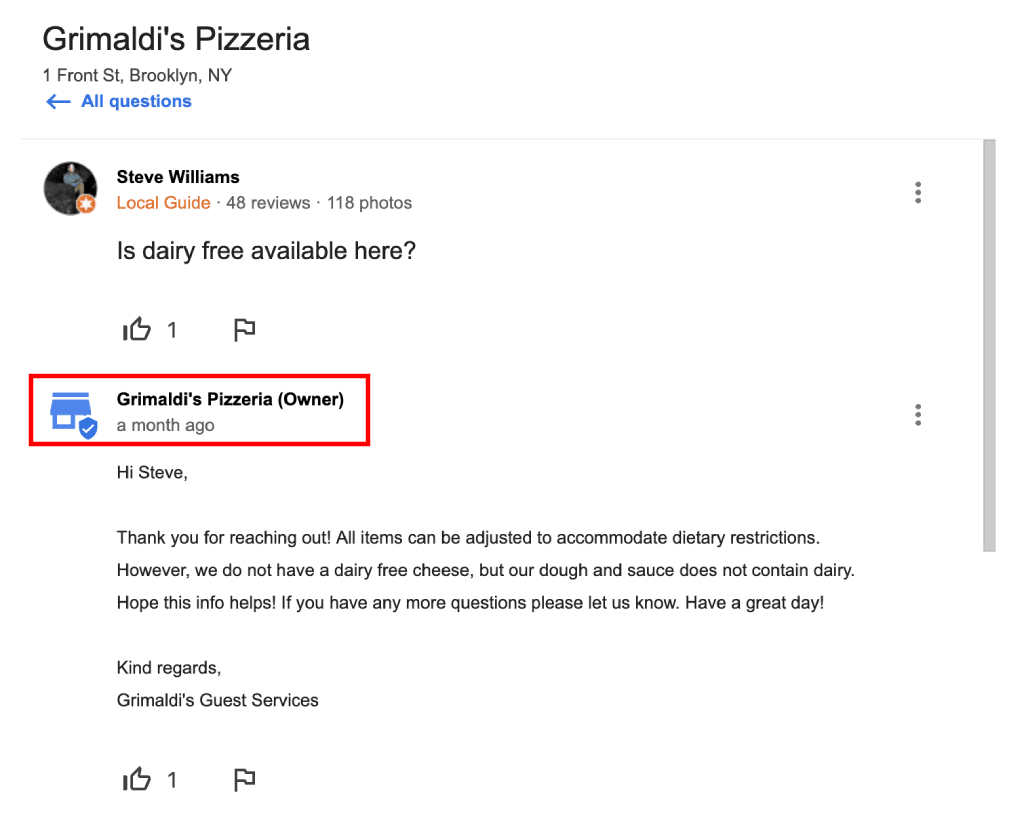 Oh, wait, there's one more thing worth mentioning. If you sell restricted goods or services (e.g. alcohol, medical devices or financial services), your answers should not contain any links, emails or phone numbers. Otherwise, it won't show up. You can check out all of Google's guidelines here.
While answering new questions should be your first priority, older queries that received no adequate response from Local Guides should be addressed as well.
Give meaningful answers to your customers' questions in a timely manner, because if you don't, chances are you'll have to deal with not-so-meaningful replies from the Local Guides.
Using the power of upvotes and reporting
Now, let's get to the questions and answers you'd love to get rid of. For this purpose, use the reporting feature.
Mind though that you can only flag somebody's "bad" answer or question if it violates Google's guidelines. For example, you can remove off-topic posts or those that include offensive language. Once reported, it typically takes 12 to 36 hours to take the answer down.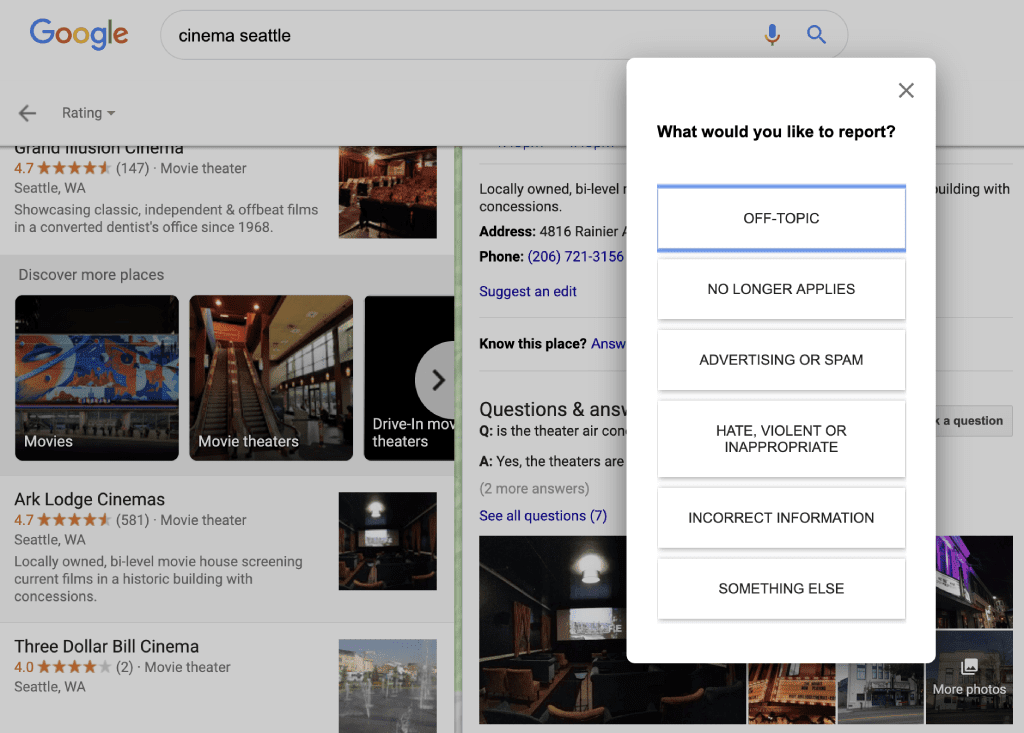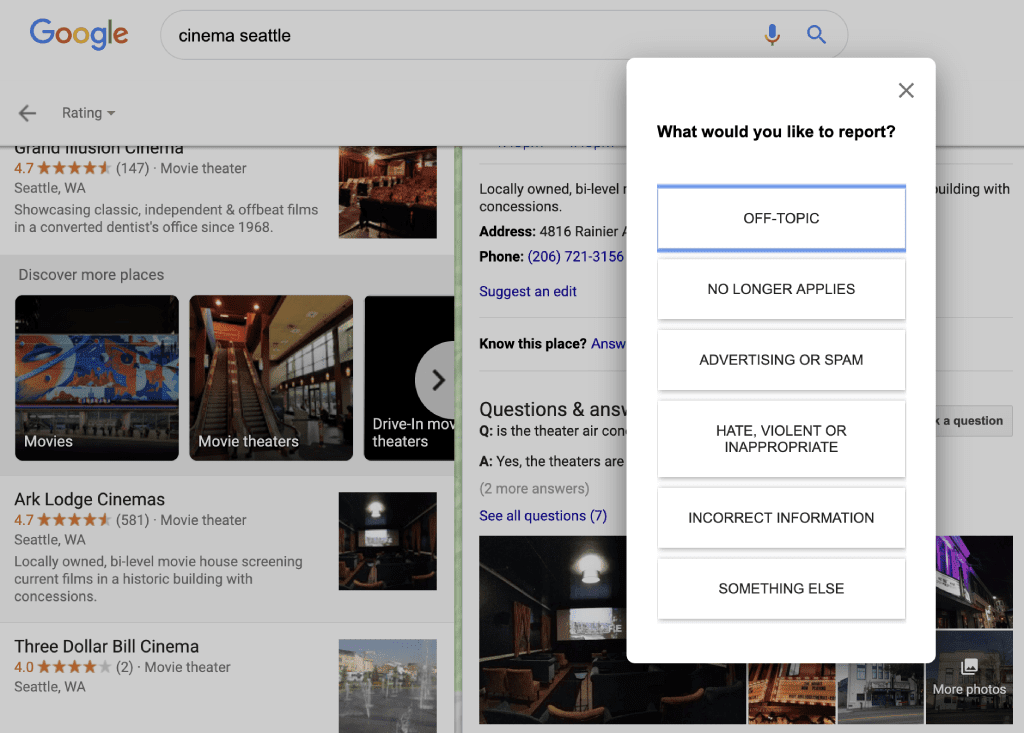 In addition to flagging inappropriate questions and answers, use the Like button to promote the good ones. Here's what you need to know about upvoting:
An answer needs to get at least one like to be visible in the Local Finder, and three upvotes to get into the Knowledge Graph. If no answer was upvoted, the profile will only show the number of questions and answers;
If several answers are upvoted, the one that got the most 'thumbs up' will show up in the Knowledge Graph;
If a question gets several answers, again, the most popular one will be displayed.
You can upvote both Local Guide and your own answers to promote them within your Q&A section.
Curious fact: The owner's answer to a question needs to get more upvotes to rank higher than those received from the customer. What can be done with that? Ask your loyal customers to upvote your questions and answers to push them to the top.
Posting some questions and answers of your own
While it's crucial to answer all of the questions you get in a timely manner, this, unfortunately, is not enough.
Be proactive, think of some FAQs that are not yet on your Google listing and post both questions and answers yourself. By the way, this approach is totally in line with Google's guidelines. Here are some tips on where to look for such questions:
Think of the questions you get from your customers when they call you;
Use the questions you normally get in contact forms or on social media;
Think of the services your business provides that are not yet in Google Q&A.
Try covering as much information as possible. That way, whenever a customer asks one of the questions you've already added to your profile, Google auto-replies will feature your responses. So you can rest assured that your customers won't be misinformed.
Pro tip: Promote your lesser-known products or services. If you want your clients to learn more about some of your products or services, use Google Q&A to spread awareness.
Final thoughts
Google Questions & Answers have been around for two years now, and it's a shame most business owners still ignore the feature. Yes, back in the day, it used to be a small addition to the Android Google maps app that remained unnoticed by the majority of users. Now, that it has evolved into a powerful tool that can automatically answer most of your customers' questions, shying away is no longer an option.
Start actively developing your GMB Questions & Answers section to gain control over your brand's image in search. Google now gives users all the tools they need to choose a local business directly in search, but it's up to you to craft a GMB profile that your potential customers will pick over others.