Sign up for our newsletters and digests to get news, expert articles, and tips on SEO
Thank you for subscribing!
Social communication has greatly evolved over the past decade or so, transforming from simple instant messengers into powerful beasts that are one of the best, most effective ways of promoting products and reaching vast audiences in today's world.
But have you ever wondered if the social likes, shares and comments your website content gets play a role in improving your Google ranking positions? This is actually a burning question that Google is asked quite often: "Does social media affect SEO?"
The simple answer is: Social media and search engine optimization work together in tandem to provide audiences with value and relevance.
However, you probably want to dig deeper beneath the surface to find out how exactly social media and SEO strategies interact with each other.
In this post, we will discuss how social media affects SEO and how you can optimize your social media sites for SEO benefits. So without further ado, let's jump right in!
Social Signals: Knowing the Pulse of Your Audience
In a nutshell, social signals are an integrative metric of how people interact with a brand's content on social media platforms. Social signals include all actions that define user engagement: reviews, likes, comments, shares, votes, pins, links, etc.
For search engines, user behavioral metrics, that include social signals, are critical in determining the relevance of a page to a search query, with the main idea here being the more content is shared, liked, commented on, the higher its quality, value, relevance, and, therefore, ranking in SERPs.
Essentially, social media has become an integral part of online life, and has completely changed the way we communicate and make decisions. Adding social signals to the search and ranking algorithms is simply the next logical evolutionary step to make sure that we, as readers, get the best content out there.
It's noteworthy, however, that one study found that there is a strong correlation between social media activity and rankings, but social signals are not on Google's ranking factor list yet.
With that in mind, let's take a look at how social media signals can influence your organic SEO rankings.
How Social Signals Directly Influence SEO
Below you can see the SEO benefits that arise from the immediate actions of users on social media platforms:
Driving traffic from social platforms back to your site
With 3.4 billion social media users around the globe in 2018, there's great potential for driving social traffic to your website that, in turn, can improve your Google rankings – if your content is of high quality – by spending time on your site, sharing content, and referring to it on other sites.
The number of likes/follows/shares are an indication of quality
These metrics are social engagement signals that tell search engines how interesting and relevant a page's content is for users.
If you add a social share widget to your content that displays sharing statistics, you can entice readers to continue reading your copy or even engage with it. And the more social media links your SEO-based content has, the more credible it is for search engines. So, positive user behavioral engagement can, in fact, affect SEO.
Boosting local searches with positive Yelp and Google Local reviews
If you run a small business or a service company that operates on a small scale, include your company in local business listings and get NAP (name-address-phone number) citations to boost your chances of appearing in organic local searches. For maximum results, be sure to verify that your info is consistent and complete all across the web.
Reviews are also a huge factor in local SEO marketing and are much liked by search engines. Truth be told, they account for 13 percent of ranking factors for local searches, and seven percent for general searches. Moreover, Google displays reviews from social media sites like Facebook and Yelp in its SERPs.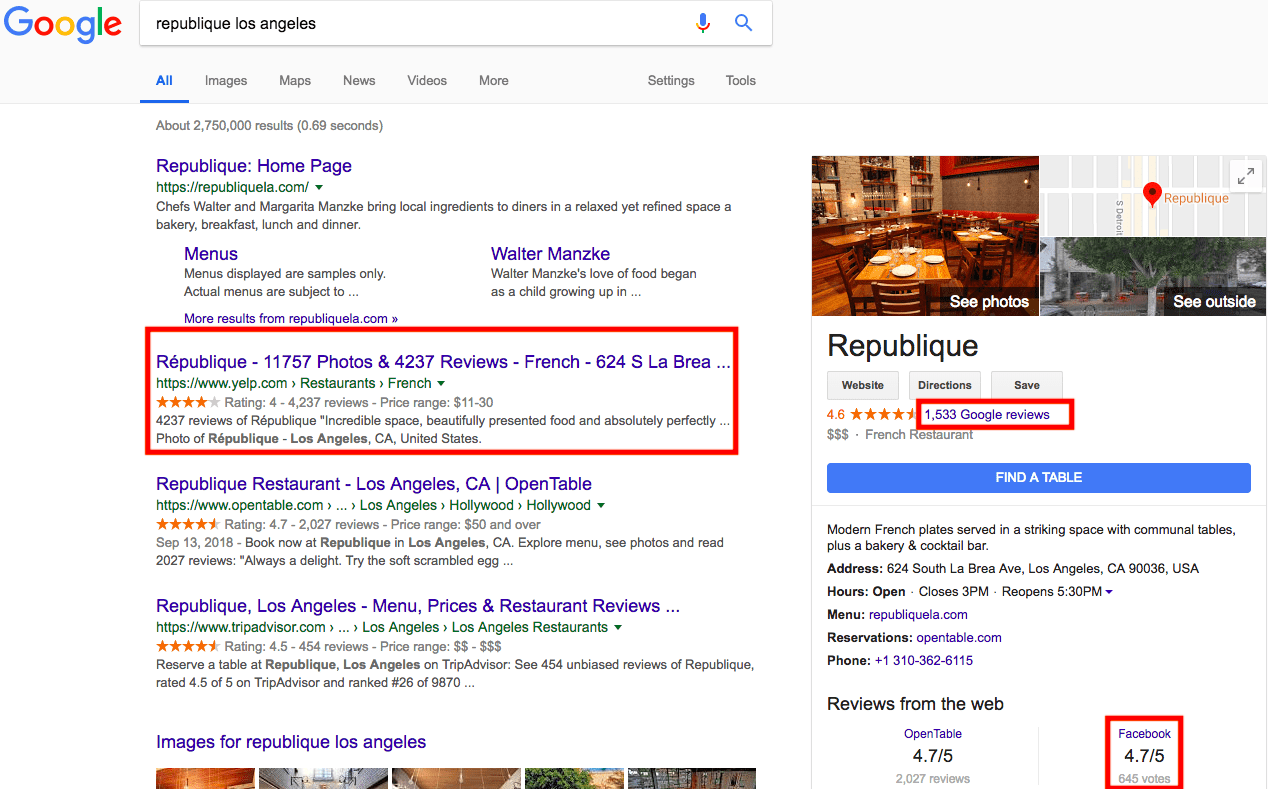 Enhancing authority with Tweets mentioning your brand or website link
Bing claims that it accounts for the number of tweets and retweets containing a link, as well as the Twitter authority of the user who shared the link. Moreover, Bing processes around 24% of searches in the US and looks at social likes and shares as a direct ranking factor. Additionally, social links can be considered quality backlinks and affect the page rank.
Attracting search engine crawlers with links in new posts
Search bots don't come to social networks alone. Once Google spots a new social post, bots from Yahoo, Bing and a pack of social bots will join the crawling efforts. On top of that, not only will they crawl the post itself, but they'll dig deep, indexing related posts and links.
Getting more visibility by ranking social media profiles in SERPs
Social profiles, which are more personal than corporate websites, are among the first search results people see when they browse the web for information about a company.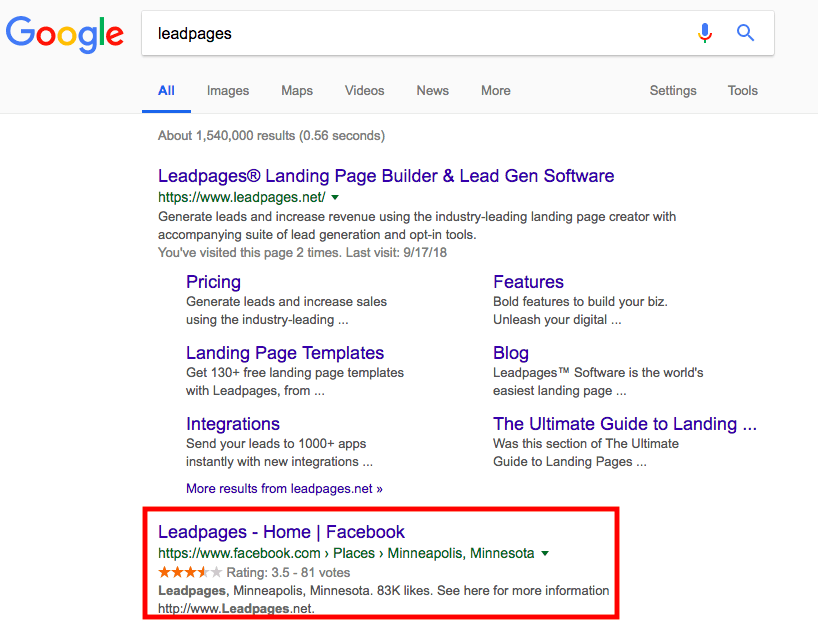 Social Media Activities Indirectly Affecting SEO
Now let's look at the SEO advantages that consequently result from user interactions on social media:
Boosting content engagement, visibility and lifespan
Social media can indirectly affect your SEO efforts by helping you promote content. You may have loads of amazing content, but it will be collecting digital dust forever unless you put it in front of people on social channels.
It is reported that Facebook is used by 76% of its users to find new content to read, making it a great place for disseminating content to a huge number of people who may even share it. Given this drive, social media backlinks from shares can enhance the bounce and engagement rates through such metrics as time-on-site, number of reposts, comments, etc.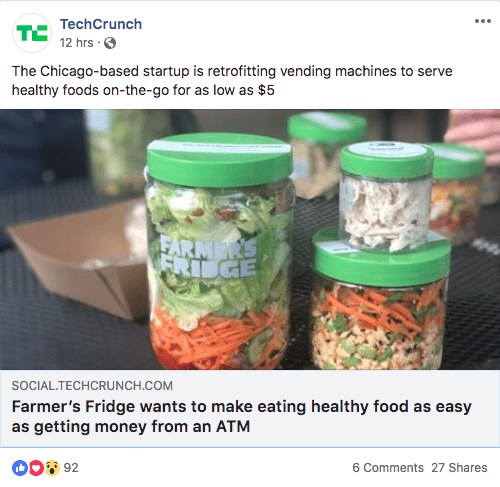 This Facebook post from TechCrunch sends users to the blog
where they can engage with the content
Moz stated that,
"to determine success, an algorithm looks at whether users engaged. If more people engage that's a clear sign that their algorithm is showing the right content; if not, their systems will audition other content instead to find something that generates that interest."
Another point is that the lifespan of blog posts heavily relies on search engines. Say you have a great post from a year ago on page ten of your blog. It doesn't stand a chance of getting noticed unless people jump through hoops to find it (even then there's competition on search engines).
But if you repost your old, but gold blog post on social media (perhaps even target specific audiences), it is bubbled to the top where it gets engagement and drives traffic to your website. Moreover, if you time posting relevant content correctly, it can rank high in SERPs.
Increasing natural link-building opportunities
Great content is shared more and gets more exposure, meaning more opportunities for your content to get naturally linked to by prominent influencers.
You can further boost your chances of getting inbound links by participating in online forum discussions on Google Answers, Quora, Reddit, etc. Find where your target audience posts questions/reviews about products similar to yours, and create a profile with authority, indicating your brand name and website link in the description.
Then provide valuable, comprehensive answers/comments (not obviously advertising comments), adding a link to your website, so that people can go and learn more. This sort of activity can contribute to your SEO efforts by growing your brand awareness, driving targeted traffic and increasing your website ranking.
On a side note, it should be mentioned that the vast majority of links from social media are actually "nofollow" (not "dofollow") but that doesn't mean they can't give your SEO efforts a boost.
Building up brand awareness through social profiles
90% of people get info from online reviews, with a whopping 85% trusting them as much as they'd trust a personal recommendation. 19% of people base their shopping decisions on Facebook posts, while 18% base them on YouTube reviews. Put the two together and you get great potential for positive results from branded content.
Social media does a lot for branding, but it can also do a lot for SEO, indirectly. Social profiles can help attract potential customers who, in turn, get acquainted with your brand. According to the Rule of Seven, potential customers need to hear and see your marketing message around 7 times before they decide to purchase from you.
Therefore, once people start noticing you in search results, they'll be less hesitant to take action and click, driving more organic traffic to your website and helping your branded search ranking. Eventually, your ranking for non-branded searches will have no other way to go but up.
Making the most of Google/Twitter Partnership
Not a lot is known about this partnership deal or what it means for the future of social media and SEO. But we do know that when you search for a brand on Google, relevant tweets appear in SERPs.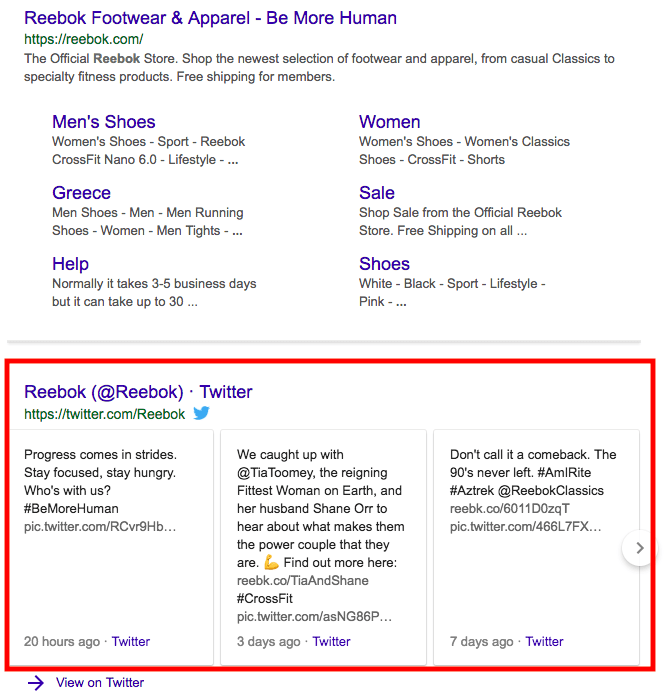 The fact that tweets appear in SERPs may not affect your SEO, but it does amplify authority, brand awareness and link-building efforts. There are a number of ways you can use this partnership to your advantage, but we'll go into that later when discussing optimization.
Getting more customer engagement through simple social interactions
Social media coughs up results much faster than corporate websites because people aren't afraid of being wrong.
If you wish to conduct a marketing research, survey your audience, or engage with your audience in any other way – there's no place like social platforms. Nowadays, everyone and their mother are creating polls to collect feedback and insights, drive decisions, strengthen connections, and entertain their audiences on social media.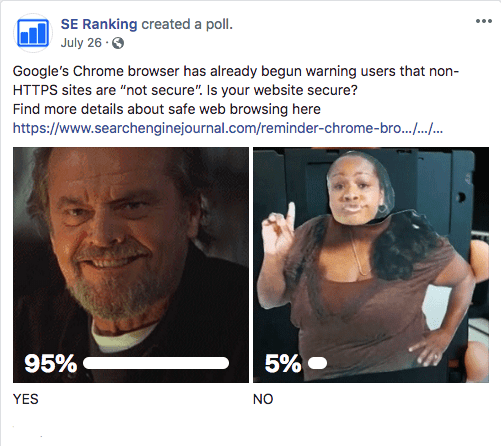 In the example above, a link has been added to the post to drive interested readers back to the corporate site once they've cast their vote. Now, the poll itself might not help your SEO efforts, but the social media traffic that pours into your website as a result of clicking that link will definitely play a role in influencing your search rankings.
Don't Try This at Home: Black Hat SMM Techniques
As you can see, social media can do quite a bit for SEO both directly and indirectly, if you put in the work. However, if you're getting the idea to boost your SEO performance through social media overnight, there might be grave consequences.
As is the case with SEO, there are also unethical methods of promotion in SMM known as "black hat". Let's take a look at a few examples of black hat SMM:
Acquiring

fake likes, followers, subscribers

Sharing

unsafe links

Using

auto-follow software

Creating

fake accounts

to get more likes, shares, or comments

Creating

fake competitor accounts

for negative reviews

Publishing

fake negative reviews

on competitors or positive reviews on your brand
So, if you've decided to score a quick win through such methods, you'd better think again. While black hat SMM tactics can quickly give you a short-term boost, in the long run, you will most definitely do more damage to your SEO efforts, social media marketing, and brand image on a whole than you think.
So, instead of trying to find a way around the SMM playbook, there are quite a few things you can do kick up your game and improve your social media presence. Which leads us to the next point: optimizing your social media profiles.
Tweaking Your Social Presence to Win at SEO
What can you do to get SEO benefits and more visibility from your social media presence? Read on to find out.
Hone your social profiles
Create a clear and consistent image of your brand across all your social media channels, so that you get more recognition. Write rich descriptions that are entertaining to read for humans, not robots.
Don't forget to always have a link pointing to your corporate website to drive more traffic and boost your SEO performance.
Post regular content updates
Don't just create a social account for the heck of it – provide your audience with regular, quality info and brand updates depending on the social media platform you're using. But remember that quality always trumps quantity.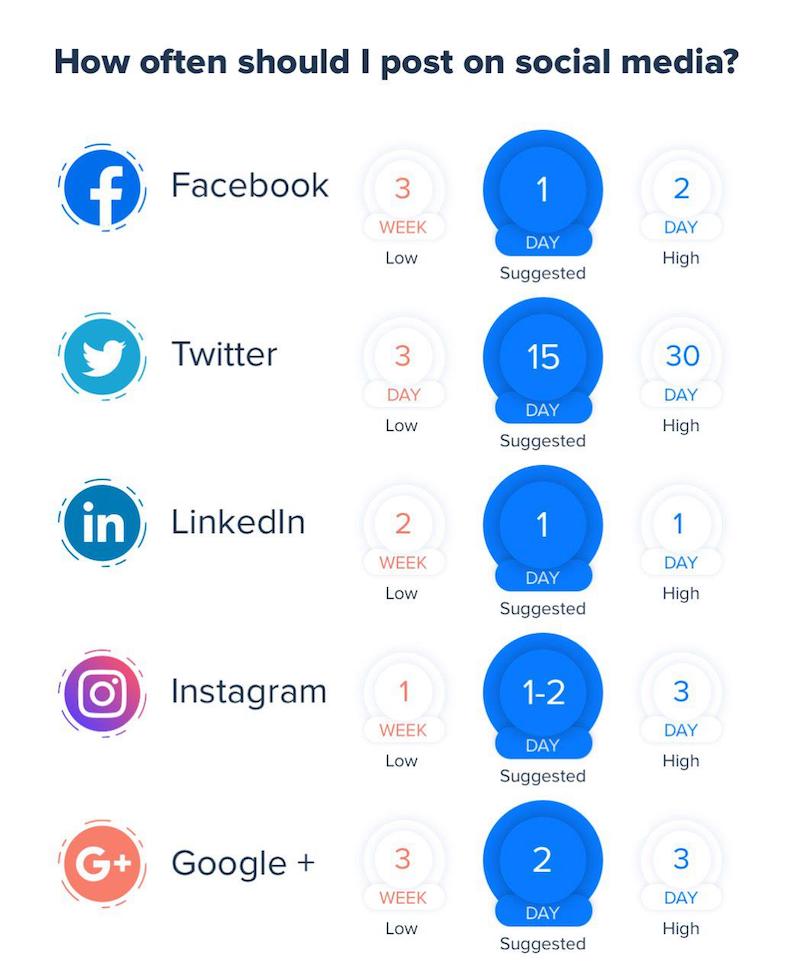 By the way, you can easily manage and monitor your social media accounts, pages and groups with the help of SE Ranking's Social Media Manager without having to switch between accounts to reach analytics and auto-posting facilities.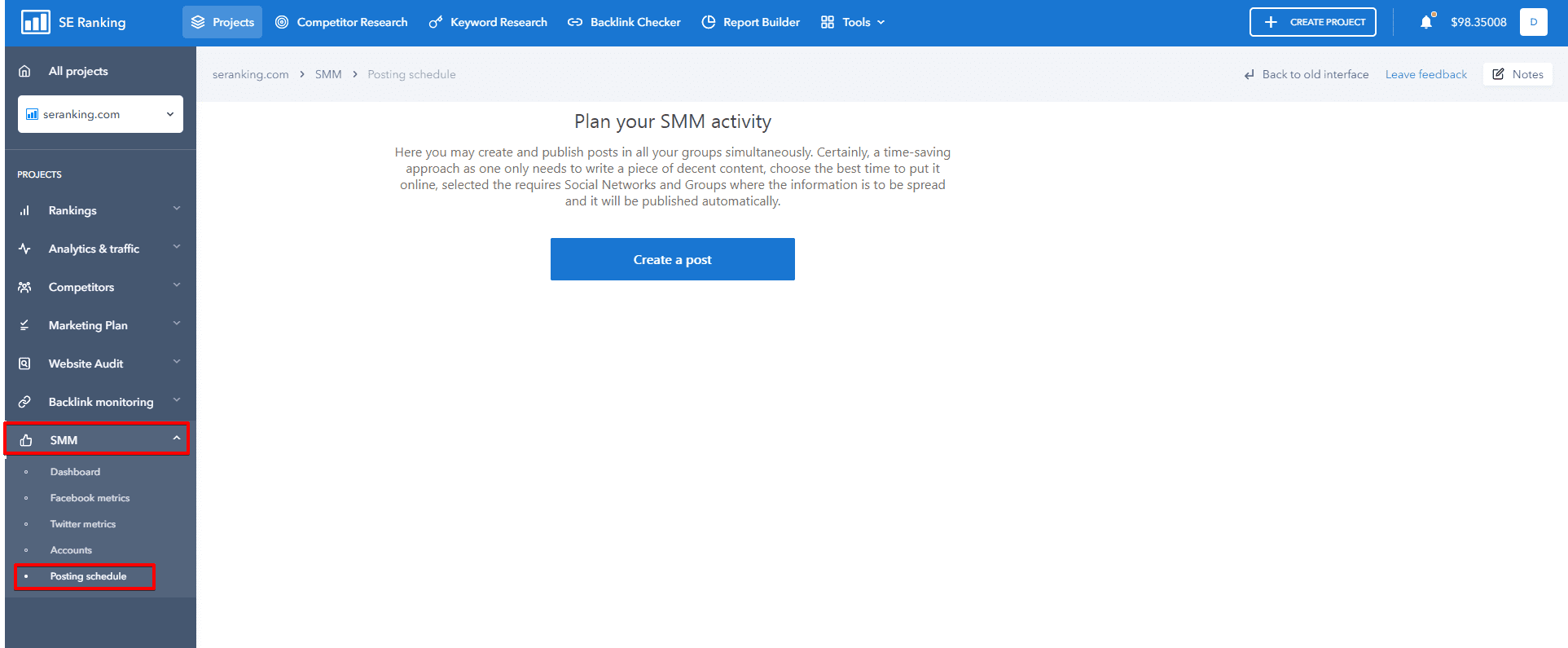 Create viral social content
Optimize your social media posts for maximum sharing potential by writing great headlines, using attention-grabbing images, hashtags, and… asking for a share. This may come as a surprise, but this tactic actually gets the job done.
Optimize your website for social shares
Make it easy for people to share content from your corporate website on social media. Of course, you need to have great copy, attractive images (for Google Images) or videos (for YouTube), but, most of all, you must have social sharing buttons.
Use Open Graph Protocol for social media posts
Open Graph is a protocol that enables you to control the look of social media posts that share articles from your website. It is a set of meta tags that structures information (a headline, a description, a preview) in a post so that it could get more clicks and shares.
Engage and involve your audience
Once you take care of the aforementioned points, you must actively engage with your audience on social media for SEO benefits.
Reply to comments to your content to show social media algorithms that the account isn't inactive, partner up with influencers, pay attention to local media outlets and share their content, engage on topical forums to attract more eyeballs, and keep adding new quality content to always stay visible.
Search Engine Reputation Management
With 92% of shoppers regularly looking for information about brands in online reviews, and almost half choosing not to do business with a brand due to negative online reviews, maintaining your brand's reputation is crucial.

Sometimes companies or individuals can leave a negative comment about a brand online. That's when SERM steps into the spotlight.

If there is no way of deleting that negative review, you can bet that it can be squeezed out from the top SERP by positive or neutral reviews. And what better way of doing it than making use of your social media profiles? Your social profiles are among the first search results to come up for branded searches, making it the perfect place to fight back to negative comments and the first thing to look at for SERM specialists.
Wrapping things up
With the search engines' increased focus in quality content, social media signals are slowly but surely one their way to officially becoming a ranking factor.
We can expect to see companies with a strong social media presence get miles ahead of those that don't, in terms of SEO, since they are generally more accepted, have more customer referrals and enjoy higher conversion rates. By reaching out and interacting with customers on social media, you can get more positive engagement metrics that consequently lead to higher SERP positions.
After all, the personal nature of social media is making a lot more people trust it. And if you look at how many youngsters are using the internet exclusively for social media today – their preferred means of communication – you can make a safe bet that tomorrow they will grow to become potential buyers.
As social media platforms continue to gain momentum, more people will turn to social signals for assistance in making purchasing decisions. Remember: if you provide people with value, Google will eventually recognize it as value as well.
So, boost your organic traffic and conversions via search by leveraging the power of social media.
How has social media helped your SEO performance? Do you know another way social media influences SEO? Let us know in the comments!