Sign up for our newsletters and digests to get an ebook on Backlink Monitoring
Thank you for subscribing!
Recently, a growing number of brands joined other 25 million business accounts on Instagram. Tight-knit profiles, branded hashtags, sweet posts from popular bloggers… Instagram today can be compared with a child who grew up from beautiful pictures to a robust business platform – with advertising, analytics and cool features. One of such features is Instagram Stories. Let's talk about business benefits of using this channel and how to achieve the best possible outcome.
1. How it began
Instagram launched Stories in August 2016. This feature allows posing photos and videos that disappear in 24 hours. The stories appear on the very top of the feed but it's not a part of it. They attract users as it's always exciting to check what the brand will show this time. It's ideally suited for the time-limited brand events (promotions, sales, new collections etc.).
They look like this – a colourful circle around a profile picture: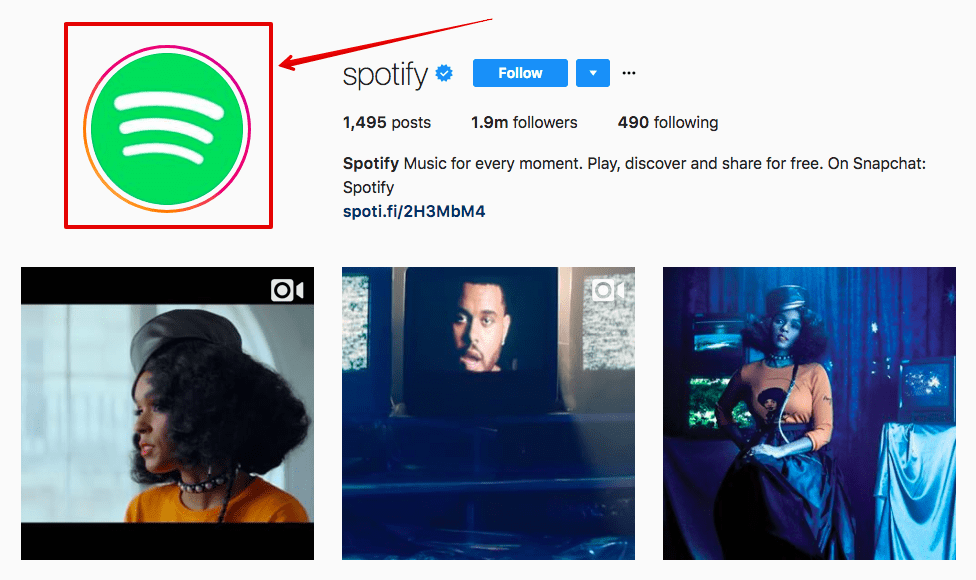 Tap the profile picture to see the story.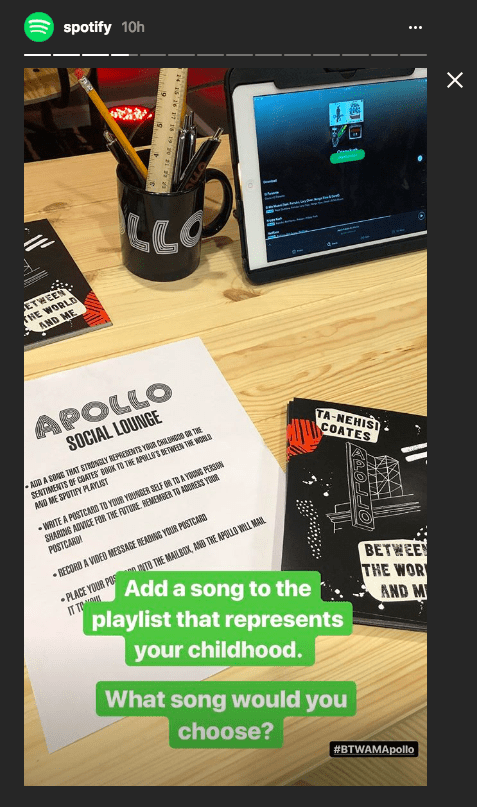 Takeaway: if the user taps the story, then his eyes will be enthralled to the screen for a while. And what you're going to show him matters the most.
2.What to post and how to analyze
We are not going to dwell into various Stories modes, stickers and text effects… You can look for an inspiration and detailed guides – to this end follow popular bloggers, SMM experts and your competitors. Note that a full imitating is unnecessary but keeping abreast of the latest Instagram trends is highly recommended, especially in your niche. If you're not sure who your competitors are, here is a quick way to find them using SE Ranking SEO platform. Don't be scared, everything is as simple as that – enter the query you are interested in (for example, fruit chips), select a region and get a list of all the websites that occupy the SERP TOP for this search query. There you have it – just go the competitors' websites, look for social networks icons and choose Instagram to discover Stories and the strategies your rivals follow.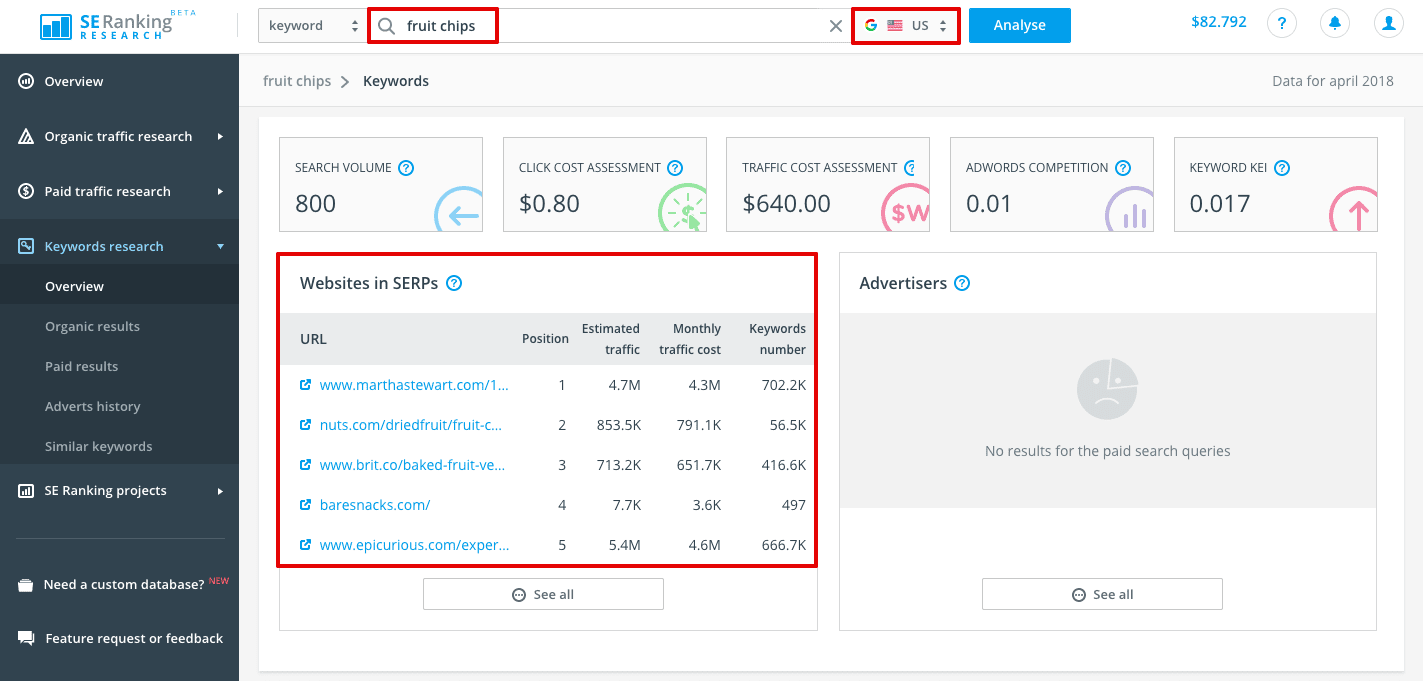 We've compiled a small cheat sheet with the Stories ideas you can use to show your posts to the community of 200 mln Instagrammers that actively visit business profiles every day.
Practical tips:
Learn from

success stories

and brands who are driving proven results with Instagram.

Ask questions in your stories – you will get all the answers in direct so you can analyze them afterwards.

Use polls – it's a great idea if you have two options to choose from.

Show your business backstage – here's the courier having breakfasts on the run to deliver all the orders on time. Here's a video from the workshop, where a tailor is working on another masterpiece… You've got the idea.

Use locations and hashtags – this will help users find your business quickly and increase brand awareness.

Tell stories – add a few photos or videos one by one. Thus, your subscribers will be able to scroll through the carousel gallery and give your offer even more attention.

Interact – this year, the Instagram algorithm as ever reacts to engagement. Add a call to action, launch giveaways and contests… The more interactions – the higher your chances at catching the attention.
To know the performance of a particular channel, you have to use an analytics tool of some sort.
Instagram is no exception. But beware that you should have an Instagram business profile for that – if you still haven't made a switch to it, use this guide to create Instagram business account in few minutes.
In your business profile you can view Instagram Insights:
impressions:

how many times your story was seen (for example, if one user viewed the story 15 times, you will get plus 15 impressions);

reach:

how many unique users have seen your story;

taps forward:

how many times someone tapped to skip to the next story;

taps back: how many times someone tapped to go back to the previous story;
exits:

how many times users closed your story;

replies:

how many replies to your story you got;

swipes away:

how many times someone swiped to skip to the next account's story.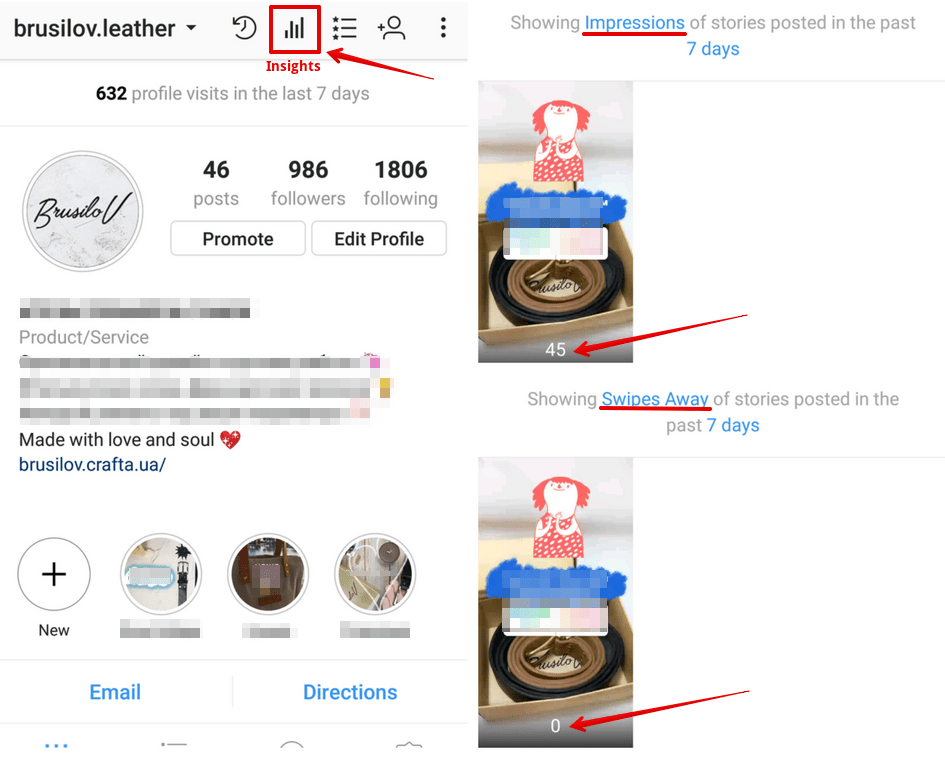 Takeaway: if you have not yet switched your account to the business profile, we recommend to do it as soon as possible. After that you can start analyzing which stories achieved better reach, impressions and replies, and which ones got more exits and swipes. The most successful stories can be highlighted in your profile in permanent collections. Read on to find out more about this feature.
3. Highlights
Instagram Stories Highlights are collections of your past stories grouped together. Highlights appear below your profile picture and look like this: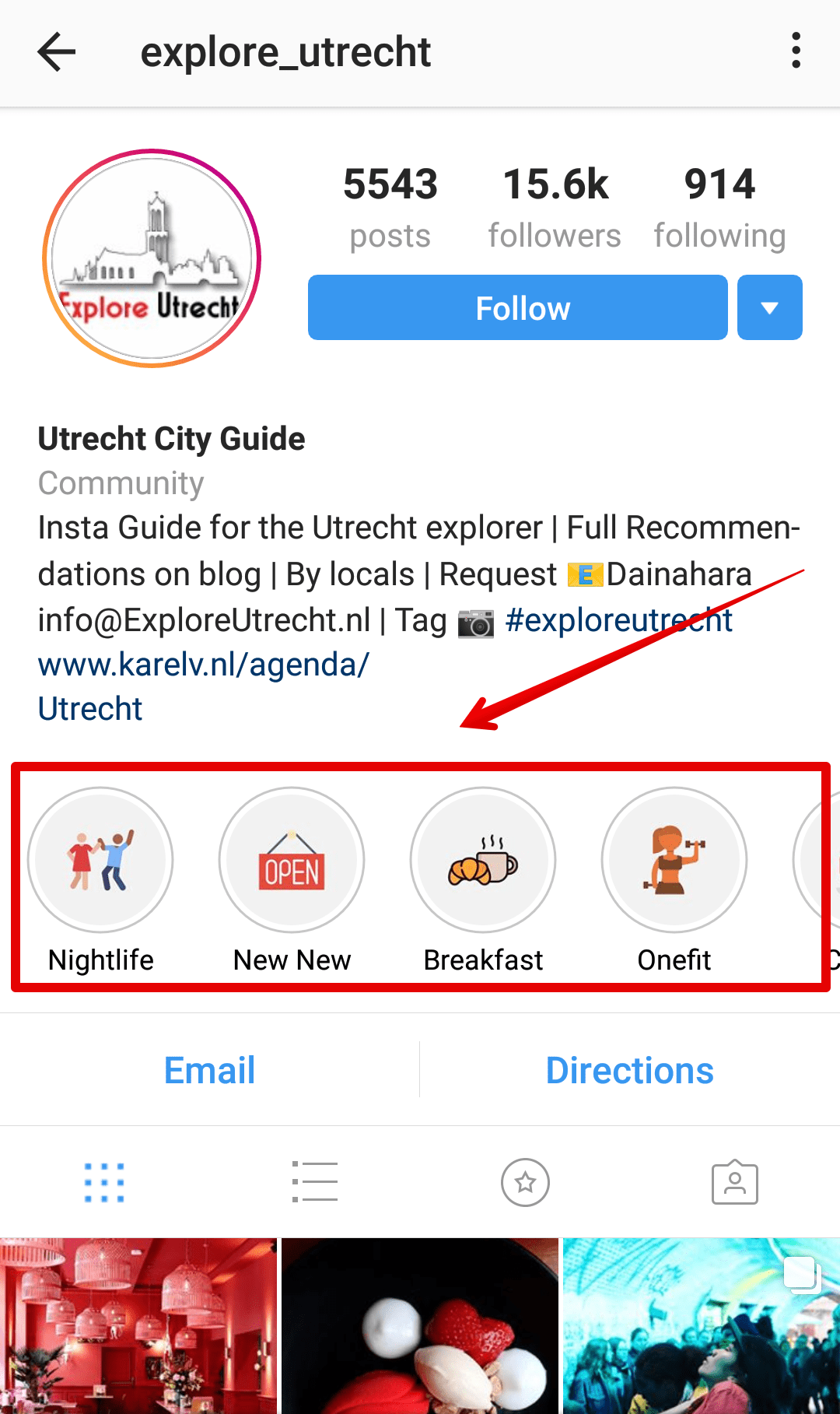 Such highlights provide amazing opportunities as they do not disappear in 24 hours and allow to structure the information. For example, you are often asked about delivery – make a story that answers this question, and pin it to the Highlights. Enter the cover photo and the album title to help users quickly find the information they need.
What works the best:
Answers to the most common questions (FAQ).

Promotions (update it with current offers).
About us (information about your business).
Pricing information.
Thematic collections (by category, colors, features, etc.)
Contests and their results.
Partnerships (bonuses to all customers from your partners).
PR (have you sponsored an event or received an award? Excellent! Tell about your achievements).
Events (conferences, exhibitions, workshops – all the events you participate in).
Takeaway: use your imagination and experience to create really useful highlights and anticipate what your customers want.
4. Maximum reach with minimum investments
While the Stories melt Instagramers' hearts around the world, brands use this channel for advertising. In fact, 30% of businesses plan to create Instagram Stories ads in 2018, while only 8% did in 2017. Why such difference?
Stories ads is a great opportunity to attract more followers and increase your target audience. They are inserted between other stories so you can distinguish them only with the help of a "Sponsored" note. My favorite thing about the stories ads is that you can post a link there, for example, to your website to generate leads and increase traffic (available for business accounts with more than 10,000 followers).
There are 3 ways to create Stories Ads:
Facebook shares an extremely helpful yet simple guide on how to create Instagram Ads that run in Stories. In the settings you can segment your audience by age, gender, interests, behavior, language, education, work, etc. Also, it is worth considering that the ads text should occupy less than 20% of the image space.
Takeaway: Stories Ads are worth to be tested while the format is rather new, and the stories feed is not oversaturated with the sponsored content. Plus, this type of advertising will cost you less than similar video and photo ads in the Instagram feed.
5. Grand finale
Today we can name Stories the Instagram's favorite child. No wonder they get all the gifts (updates) we can imagine and be able to get benefits from.
What else to know:
starting February 1, Instagram is offering a new format for Stories Ads – Carousel Ads which allows you to add up to 3 images and videos to your ad. While this format is available only to global advertisers, we are looking forward to its release to everyone.

Instagram has been testing a feature that alerts you when somebody takes a screenshot of your story. Of course, there will be ways to skip it, but in any case, another parameter for analytics won't hurt.
Instagram has recently introduced a new feature to its users, and it's really cool! Now you can add alt text to all the published photos to boost your overall traffic by appealing to the visually impaired. Alt text will be automatically read by screen readers that help visually impaired people to read text that is displayed on the screen. Here you can find a detailed guide on how to add Instagram alt text

to your photos.
Before you dive into Instagram Stories features, keep in mind that whichever traffic-generating channel you choose, its main goal is conversion. Likes and comments are very cool, but you know what's even cooler – improving your conversion rate and eventually increased revenue. Keep this in mind while choosing tools to attract potential customers and create such a short-lived but oh so memorable stories.