Sign up for our newsletters and digests to get an ebook on Backlink Monitoring
Thank you for subscribing!
If you run a small business and you want to get the most out of your online presence then you don't need me to tell you that you've got a lot on your plate these days. Whether it's SEO, PPC, Remarketing, Social Media, Paid Social or whatever's the next big bend in the road you can be forgiven for feeling slightly overwhelmed. But despite all the change your little old website is still there in the middle of it all, the centrepiece of your online presence.
So it's important that you make an informed decision when it comes to choosing the right type of hosting for your business website. And that's exactly what I'll explain in this post.
First we'll take a peek under the hood and I'll explain how hosting works. Then we'll look at the different options available and I'll explain the main points to consider. Finally I'll give you some examples so you can clearly see which is the right one for you.
Sounds like a plan? Great, let's get started.
What Is Web Hosting & How Does It Work?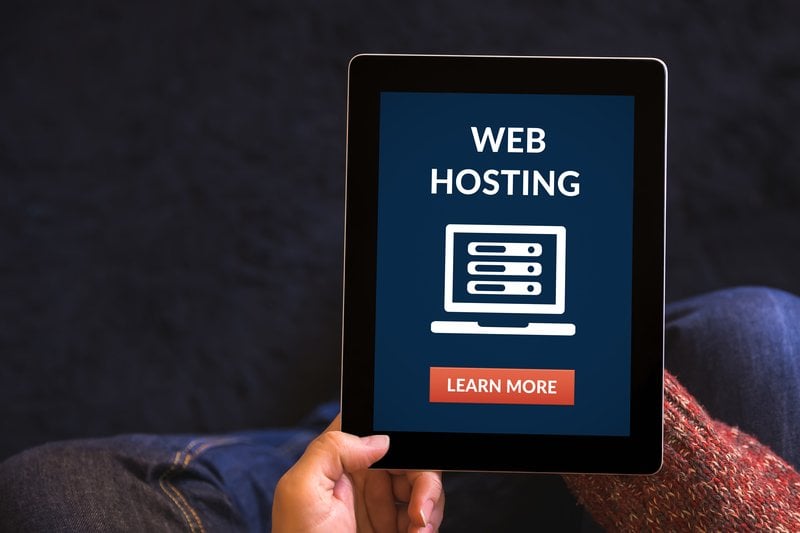 So first up, what is web hosting and how does it work? We need to start with the server. A server is basically a powerful computer which is permanently connected to the internet. Your website files are stored on a server and it also provides other services like email. In order to host many websites the servers have plenty of power in terms of CPU, RAM as well as having dual components such as hard drives, power supply units and network cards to minimize the possibility of downtime.
The servers are stored in a purpose built cabinet called a Rack which can hold up to 40 servers. The Racks in turn are stored in a secure, purpose built, multi-million Dollar facility called a Datacenter which has security baked in from the ground up whether fire suppression, network connectivity or round the clock on site personnel.
The whole point of this setup is to minimize the possibility of downtime (where your website or email service does not work) due to physical failure of the hardware or the Datacenter. Now when someone tries to visit your website what happens is their Internet Service Provider connects them to the internet and does a search to find your website.
The way it finds it is by matching your website's domain name with the address of the server that you are hosted on. Each server has a unique identifying IP address (IP = Internet Protocol) so the person is taken to the server and then specifically to your website.
What Are The Different Web Hosting Options?
So now that you understand how it all works, let's look at the different types of hosting and these can be broadly categorised as follows:
Shared Hosting
Reseller Hosting
SSD Hosting
Virtual Private Servers (VPS)
Dedicated Servers
Let's look at each in turn.
1. Shared Hosting
With Shared Hosting, as its name suggests, this is where the Server is shared between different clients. Each client gets a control panel which acts as a user friendly interface to manage day to day activities like setting up email accounts, managing databases, etc.
You will also get some extra tools like a Website Builder Tool and other tools to build a blog (eg: WordPress) or ecommerce platforms (eg: Prestashop). The advantage of the Shared Hosting is cost. This is the entry level hosting and is by far the most popular option. It's easy to use and you can get your site up and running in minutes.
The downside is that there are restrictions in terms of the software that you can run and also limitations in terms of what you can do with your hosting an the configuration. If you're a small business with standard requirements you should have no issues.
2. Reseller Hosting
With Reseller Hosting you get a large amount of disk space and bandwidth allocated to you which you are free to resell to your own clients. This is ideal for Web Designers, Developers or other web professionals who want the ability to sell hosting services without investing in the expensive infrastructure or servers. You get a master control panel where you can set up plans for your clients and allocate resources like disk space, bandwidth and the number of domains they can host.
Again, a fairly gentle learning curve, but you will still face the same limitations in terms of the software configuration. If you're running exotic tools or demanding applications you might be advised to consider a Virtual Private Server (see below).
3. SSD Hosting
SSD stands for Solid State Drive and refers to the type of hard drive used in this type of hosting. SSD can be used across the spectrum of hosting formats but for the purpose of this post let's assume it refers to Shared Hosting.
Basically SSDs are really fast storage devices. Whereas traditional hard drives are mechanical devices with moving parts, SSDs are 100% electronic so no moving parts. The result is that they operate at speeds hundreds of times faster than traditional hard drives. That means your website will run faster. Why is speed important? Well 2 main reasons:
People prefer faster websites
Google prefers faster websites
It's a pretty well established fact that faster websites sell more than slower ones. This is probably because people hate waiting around. Google's noticed this so it takes this into account in its Ranking Algorithms.
SSD is perfect for Ecommerce sites or busy websites in competitive niches. Because it's a relatively new technology and because the drives do not offer as high capacity as traditional drives (i.e. up to 500GB typically for SSD vs up to 8GB for older SATA drives) they do come at a premium but expect the price point to drop as it's more widely adopted.
4. Virtual Private Server (VPS)
A VPS is where a physical server (or servers) are split up into logical or virtual servers using the same hardware. This allows one physical server to host many different VPS each with their own Operating System.
Another variant is a Cloud VPS where several servers are pooled together and the data for the VPS are split across several servers so that there is no single point of failure – basically if one server completely failed then the VPS would continue working and would not be affected whilst the failed server is fixed.
VPS are incredibly flexible and offer the user the ability to customize their server to their exact requirements at a reasonable price point. It is extremely easy to self serve and upgrade/downgrade key components on the fly to respond to the changing requirements. For example, the Server Administrator might determine that they need more RAM or CPU power or Diskspace and this can be automatically provisioned.
VPS are ideal for Web Professionals and busy websites that require complete control over the configuration (Operating system, control panel, software configuration, permissions) as well as the ability to quickly upgrade or downgrade as required without the need for manual intervention (i.e. add more CPU/RAM etc.).
They are usually at a good price point between Reseller Hosting and a Dedicated Server and can be provisioned in minutes and do not require any manual intervention for upgrades or downgrades which can usually be performed remotely by the Server Administrator.
5. Dedicated Server
Finally Dedicated Server which as their name suggests are only used by one client. There is no sharing of resources whatsoever. These are appropriate when the client wants to be 100% sure that they are not sharing any resources with other users. They tend to be higher priced than VPS purely because of the rack space and power that they use as well as the up front cost of the server. However, they are a robust and powerful solution for demanding websites or applications.
Points To Consider When Choosing Your Host
Of course, these days you are spoilt for choice when it comes to choosing a host these days. But before you buy here are a few questions you should ask your host before parting with your hard earned cash.
Type of Hard Drive: Check what type of hard drive you'll be hosted on. There are 3 main types – SATA (slow and reliable), SAS (fast and more reliable), SSD (fastest and most reliable). SSD is usually a premium service but either 10K or 15K SAS Drives will give you superior performance and reliability. SATA should only really be considered for backup these days.
Level of Support: Do they offer true 24×7 support? Check also if they offer Live Chat support as this is the fastest and most accurate type of support. Try them out of hours to see what their response is.
IP Integrity: Are their servers constantly getting blacklisted? If they are that means you might have email deliverability or SEO issues. Check if they offer free outgoing spam filtering so that they're staying ahead of the curve and preventing issues before they become problems.
Noisy Neighbours: Nobody likes noisy neighbours. If you share a server with clients who are hogging all the CPU and RAM then your website will perform sluggishly and could even go offline. Check if they use a tool like CloudLinux to prevent this from happening.
Extra Software: Do they offer extra software for free to improve performance and security such as LiteSpeed or CloudFlare? These tools are an extra overhead cost for the host but they offer you a superior hosting performance.
Customer Feedback: It would be great if everyone believed everything we said about ourselves. Unfortunately that just doesn't happen. So make sure to check popular review sites like TrustPilot to get a feel for this. Do the reviews seem genuine and can you pick up any common threads amongst the comments? This is likely to reflect the service you're going to receive.
Which Web Hosting Is Right For Me?
So, we've reviewed all the options. Now let's cut to the chase. Which is the best hosting for you?
If you're a small business just starting out and you're on a budget then Shared Hosting is going to give you the best bang for your buck. Just ask the questions above to your host to reassure yourself that you're getting a good balance of price to performance and customer service. If you're an established business and you have a budget and are determined to be the top business in your area then SSD Hosting is a good choice.
Easy to use and no need to worry about server admin chores you'll give yourself a serious speed advantage over less savvy competitors. Both Google and people browsing your website will like the speed it runs at. SSD is also the right choice if you're an Ecommerce retailer. If you're selling online then people don't want to be kept waiting and SSD Hosting will hit the mark there.
For Web Designers your best bet is to go for Reseller Hosting. This gives you a low cost way to generate a recurring revenue stream for your business with an intuitive and easy to use control panel.
If you're a Web Developer and you need hosting for busy client websites or power hungry Apps then a VPS is the right choice for you. You can start small and scale up as your requirements grow over time. You're also in complete control over the Operating System and Software Configuration.
If you need belt and braces when it comes to power and security then a Dedicated Server is the right choice for you. It is a more expensive service but you have the peace of mind that you have a resilient service for your online business.
Wrap Up
Before you part with your hard earned cash check your requirements to see whether you need Shared Hosting, Reseller Hosting, SSD Hosting, a VPS or Dedicated Server. These days you're spoilt for choice when it comes to hosting but cheap doesn't necessarily mean best. Check out factors like the type of hard drive they use, the level of support, their IP integrity and their online reputation first and you'll be fine.
---
Author Bio:
Tony Messer is the Founder & CEO of UK Web Hosting Company Pickaweb.co.uk. Tony is passionate about helping small to medium sized businesses get the most out of their online presence. He is the Author of the 5 star Amazon rated book "The Lazy Website Syndrome" and speaks to audiences regularly on this subject.