Backlink Checker
Backlink checker tool will help you analyze backlinks of any domain and build a strategy based on that
All link-building insights packed into one Backlink Checker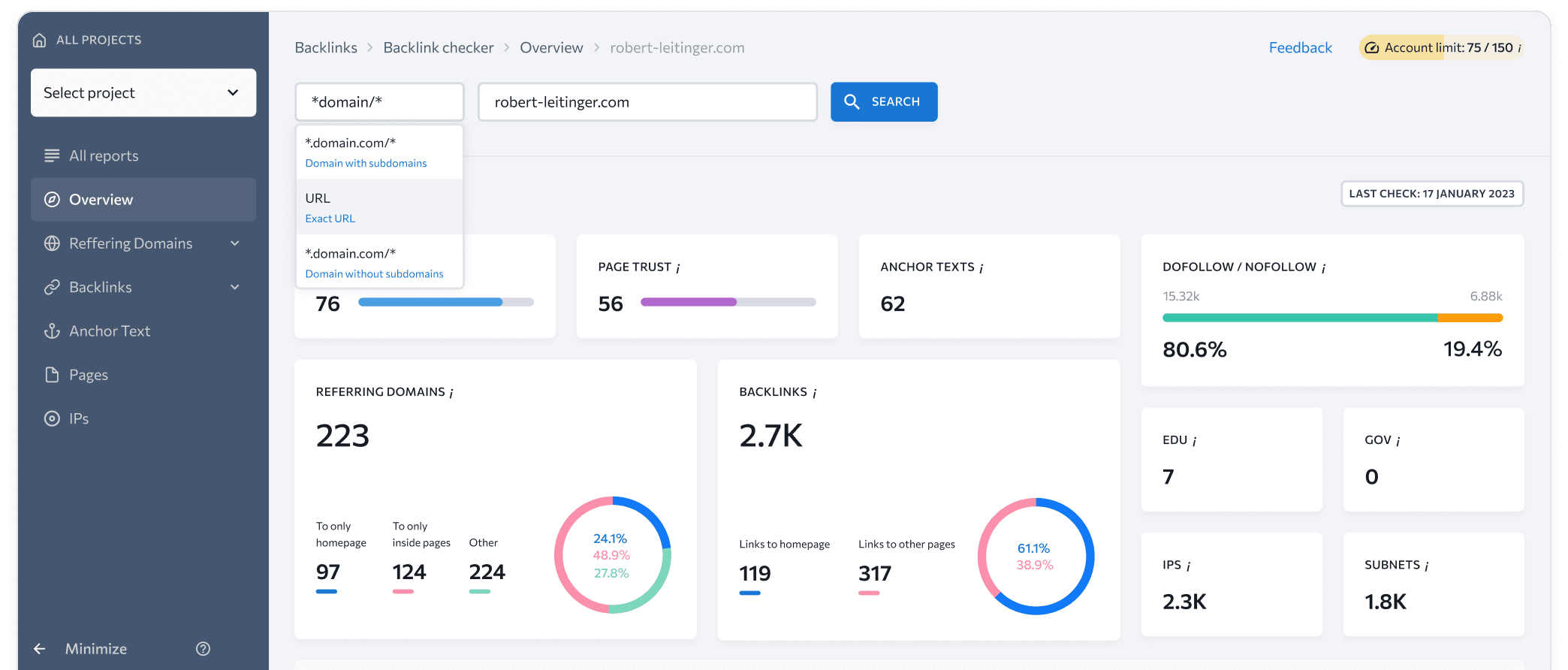 A score that shows how likely a domain or a page is to rank in SERPs

Referring domains

A list of domains pointing to the analyzed domain/URL

Backlinks

Active, new, and lost links with additional SEO data

Anchor texts

Top anchor texts and their count

Top pages by links

Pages on a domain that get the most backlinks

IPs & subnets

List of links grouped by IPs and subnets
Grow your business with our reliable backlink data
Use our database to benefit your business, analyze your or competitors' links
In-depth backlink analysis
View a complete list of backlinks and referring domains with all their key metrics
Enter a domain name to get a complete rundown of every link leading to any page with our backlink finder. Each link is evaluated based on a set of essential SEO parameters, such as domain/page trust, the link type (e.g., image, text), and whether it is nofollow/dofollow. You can also check each link's target URL and anchor text.
Check backlinks right away
Get a list of any website's backlinks to spot weaknesses and find link opportunities
Analyze anchor texts to measure backlink profile health and build a strategy around it
Under the Anchor Texts tab, you can identify the most common anchor texts and find the exact number of backlinks/referring domains using them. With the help of anchor text distribution data, you can now identify spam or toxic links (ones with irrelevant anchor texts). It will also help you decide which links the website is missing so you can build a more natural link-building strategy.
Check the top pages by backlinks to see the most robust URLs on a website
The Pages Report in in SE Ranking's Backlink Checker offers in-depth SEO data on the pages that are getting the most backlinks compared to the ones that still need to be worked on. This data is worth its weight in gold and can help you determine the type of content that attracts links in your niche. It can give you hints on why some pages aren't getting the needed results.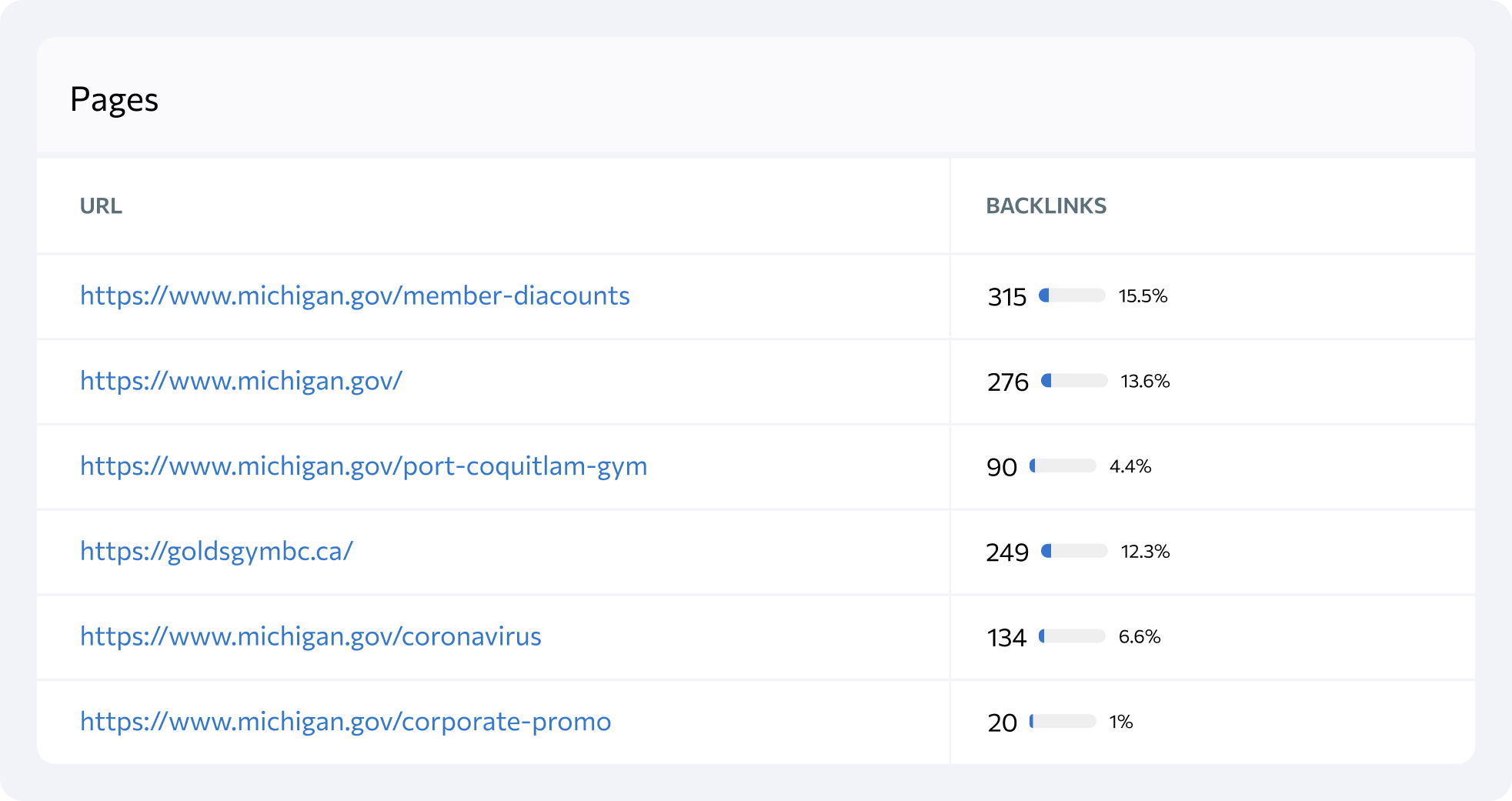 Why backlinks are important
Getting unique and trusted backlinks plays a key role in increasing the website's authority and, as a result, improving rankings. These are known as "votes of confidence" in SEO, and they not only increase exposure but also improve your credibility and trust in Google's eyes.
If search engines could talk, they would say that the more websites that link to a certain page, the more likely the linked content is of high value. That website, then, is likely to get a higher ranking position on SERPs as well as more organic traffic. Knowing this, you can now go to our Backlink Checker tool and analyze your or your competitors' links.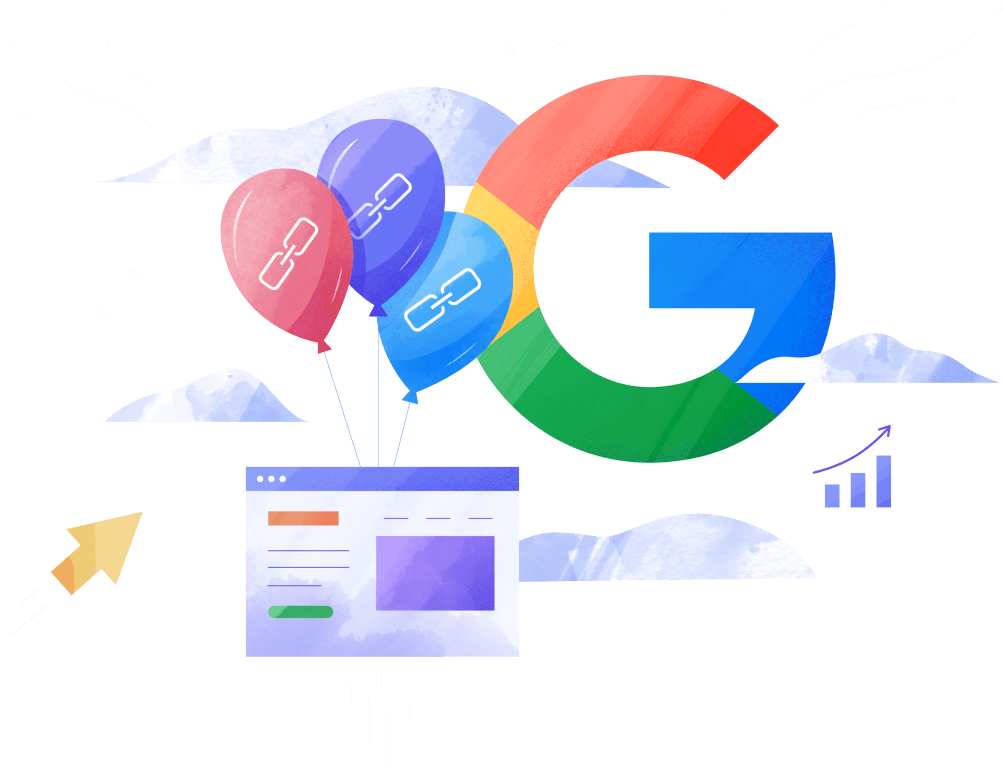 How to use our backlink analyzer tool to improve your backlink profile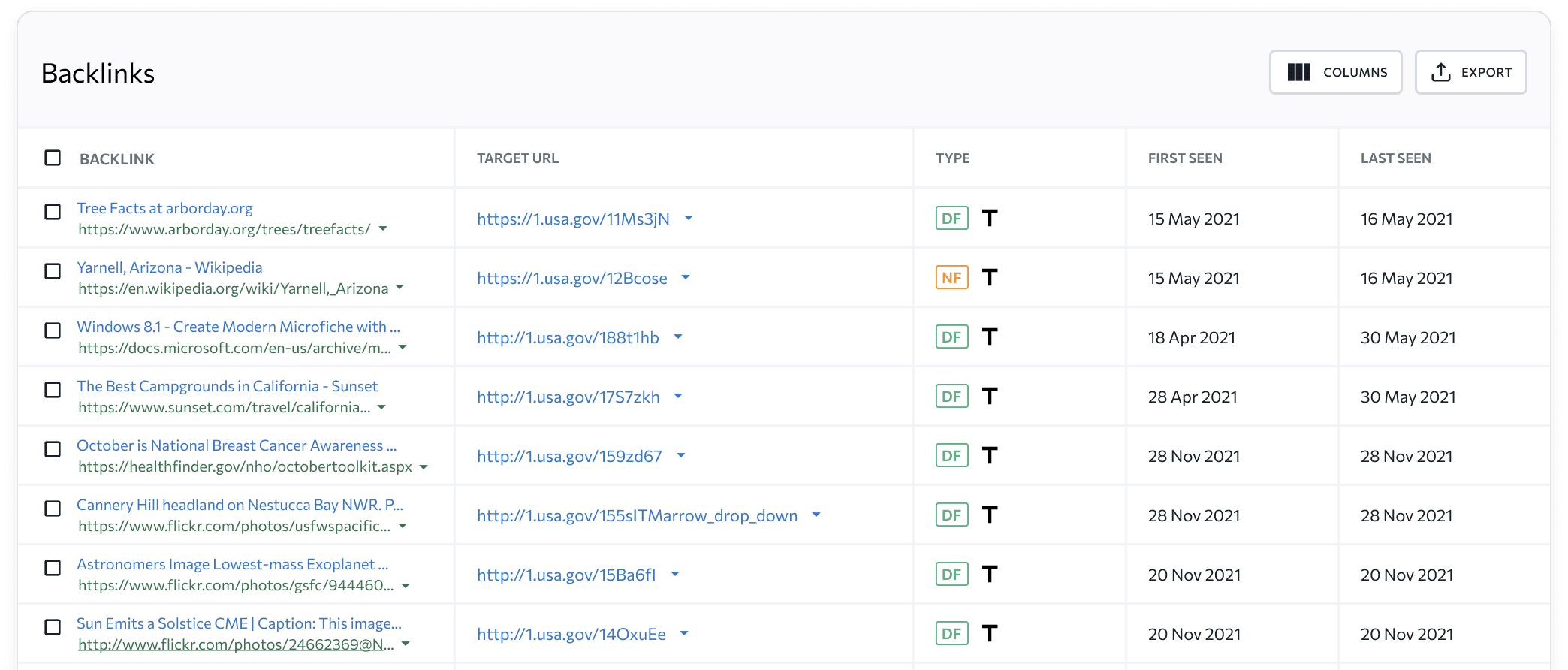 Check your backlinks to assess its health and find out which content gets the most backlinks.

To see where your link profile stands, enter your domain into the corresponding field. When analyzing your backlink list and anchor texts, you'll be able to make a list of links to disavow. You can also use our backlink checker tool to identify the pages that get the most links and compare them to your focus page list.

Check your competitors' backlinks to devise a strategy that helps you outrank them.

Identifying the backlink strategies that your rivals are relying on is a great way to discover link-building opportunities. You can do this by identifying the pages your competitors are focusing on, as well as their anchor texts and what types of links they use. Backlink analysis takes time, but it's a surefire way to beat out the competition.
Other backlink tools by SE Ranking
Backlink Tracking
Keep an eye on all the links that lead to your site, get notified if they go missing, check their indexing status and more.
Go to Backlink Tracker
Backlink Gap Analyzer
Check your site's backlink profile and compare it with up to five competitors. Uncover new SEO opportunities with our unbeatable backlink tool for gap analysis.
Go to Backlink Gap tool
Sounds great! I'm ready to go.
Flexible pricing to fit any budget and for any SEO project
Pick the Pricing Plan that suits your needs, or contact us to request a custom quote
Essential
50 Domain/URL checks per day
Up to 10 projects
750 keywords for Rank Tracker
100,000 pages for Website Audit
Backlink Gap Analyzer
See pricing plans
Pro
Most popular
100 Domain/URL checks per day
All Essential features with extended limits
from 2000 keywords for Rank Tracker
from 250,000 pages for Website Audit
User seats
See pricing plans
Business
300 Domain/URL checks per day
All Pro features with extended limits
from 5000 keywords for Rank Tracker
from 700,000 pages for Website Audit
API access
See pricing plans
See all pricing plans
FAQ
How do I find my competitors' backlinks?
Backlink research is essential to learning linking trends, patterns, and opportunities. Open a backlink analyzer tool and enter your competitor's website URL. Once the report is ready, you'll get a list of every backlink that's linking out to that competitor's website.
How do backlinks affect my rankings?
If your website or specific web pages have multiple links pointing out to them from many authoritative websites, search engines like Google and Bing can see this as a sign that your content is of high quality. As a result, your web pages can have a higher search visibility and SERP rankings.
Can backlinks hurt your site?
Quality backlinks let search engines know that a trusted resource confirms the quality of a page's content. So, links from authoritative sites can boost page rankings. However, backlinks from spammy websites may harm site rankings and even lead to penalties.