Website Audit
Assess any website's score in just 2 minutes with a powerful site audit. Harness growth opportunities and share your achievements to clients in a few simple clicks
Trusted by 25,000+ businesses
Why agency and in-house professionals choose us
Our website audit tool combines expert-level insights and seamless reporting
All crucial metrics in one simple dashboard
Get an overview of a site's health and communicate any issues to clients using easy-to-read graphs
Raw crawl data combined with expert tips
Start by fixing critical errors reported by the tool or filter through the extensive raw crawl data for unique insights
Powerful crawler handling large sites
Crawl up to 1,000 pages in just 2 minutes and audit up to 150k pages per project
Measurable progress to report on
Compare website audit results and generate reports that clearly demonstrate your achievements
Custom crawler settings to match your needs
Set your own scanning rules, exclude irrelevant checks, set your own metric parameters, and more
120+ metrics for in-depth analysis
Rest assured that no crucial tech issues hindering your SEO efforts will go unnoticed
Give your site a quick health checkup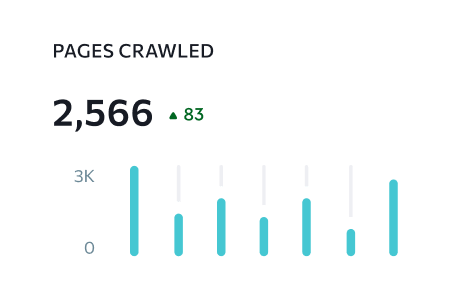 Pages Crawled:
The number of website pages audited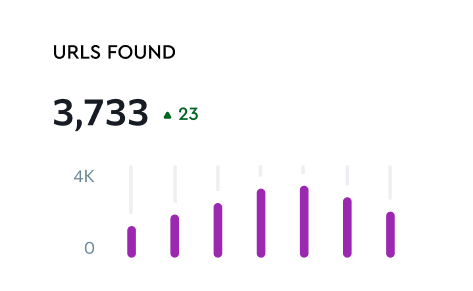 URLs Found:
The number of individual web addresses found on your website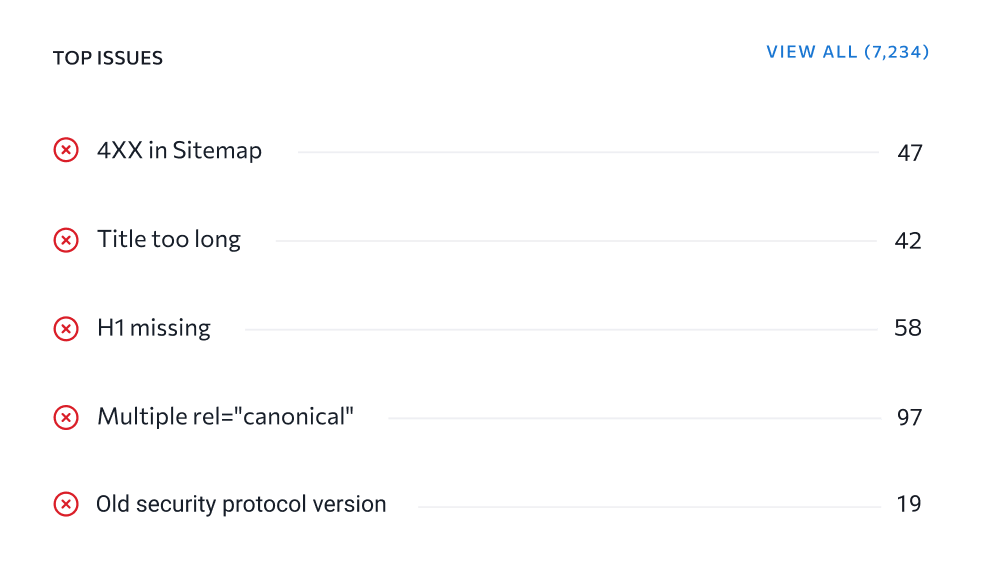 Top Issues:
The top-5 detected issues based on their level of significance and prevalence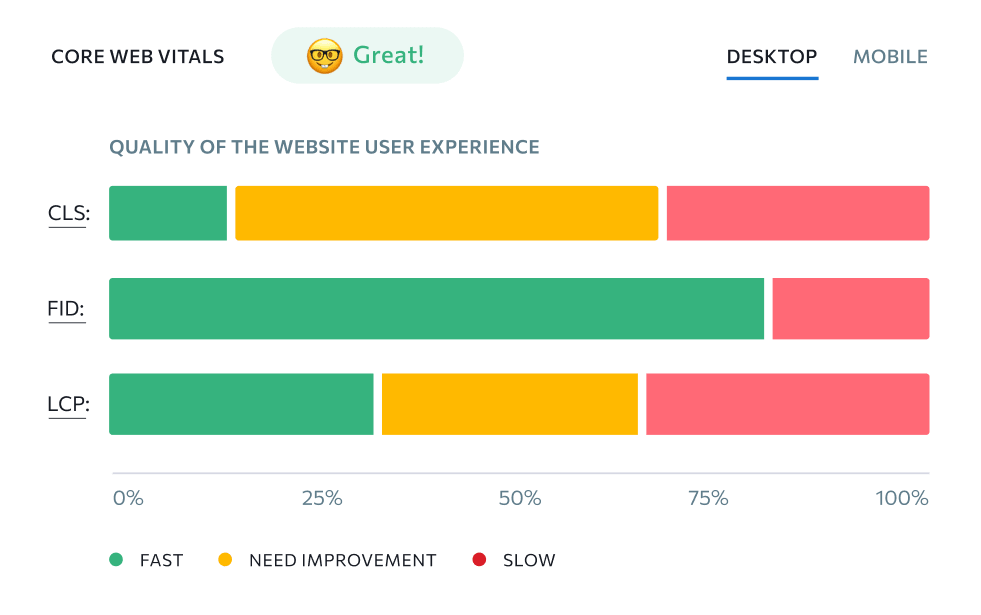 Core Web Vitals:
Check your site's Core Web Vital scores and enhance the user experience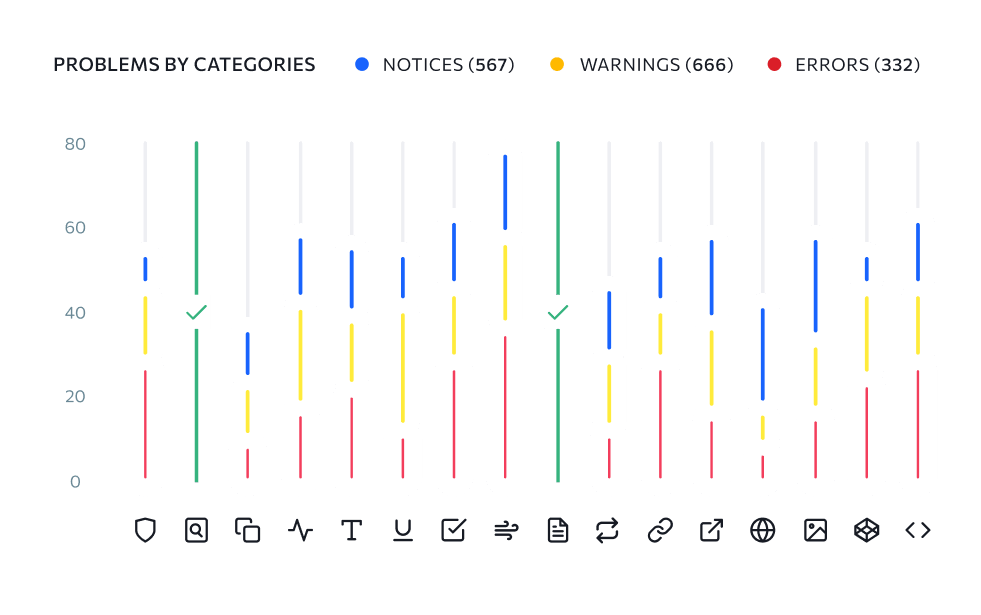 Problems by Category:
A simple chart showing errors from various categories and how often they occur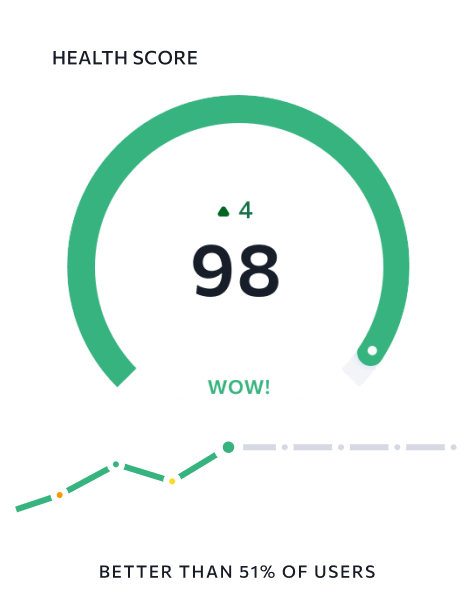 Health Score:
Assess your website's technical SEO health
Site audit with essential domain metrics
Domain validity and expiration dates
Total number of backlinks
Number of pages indexed by search engines
All critical metrics, one clear dashboard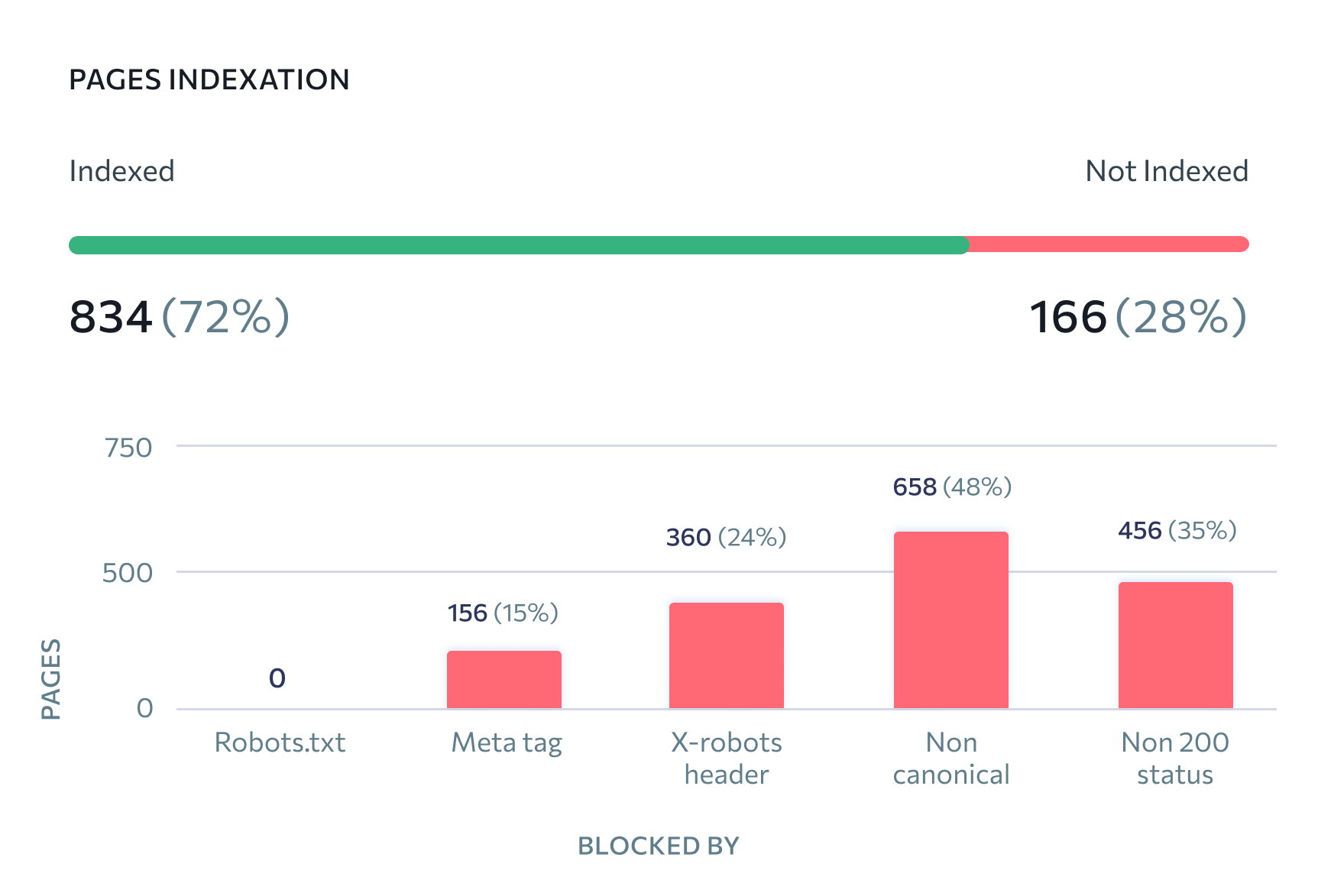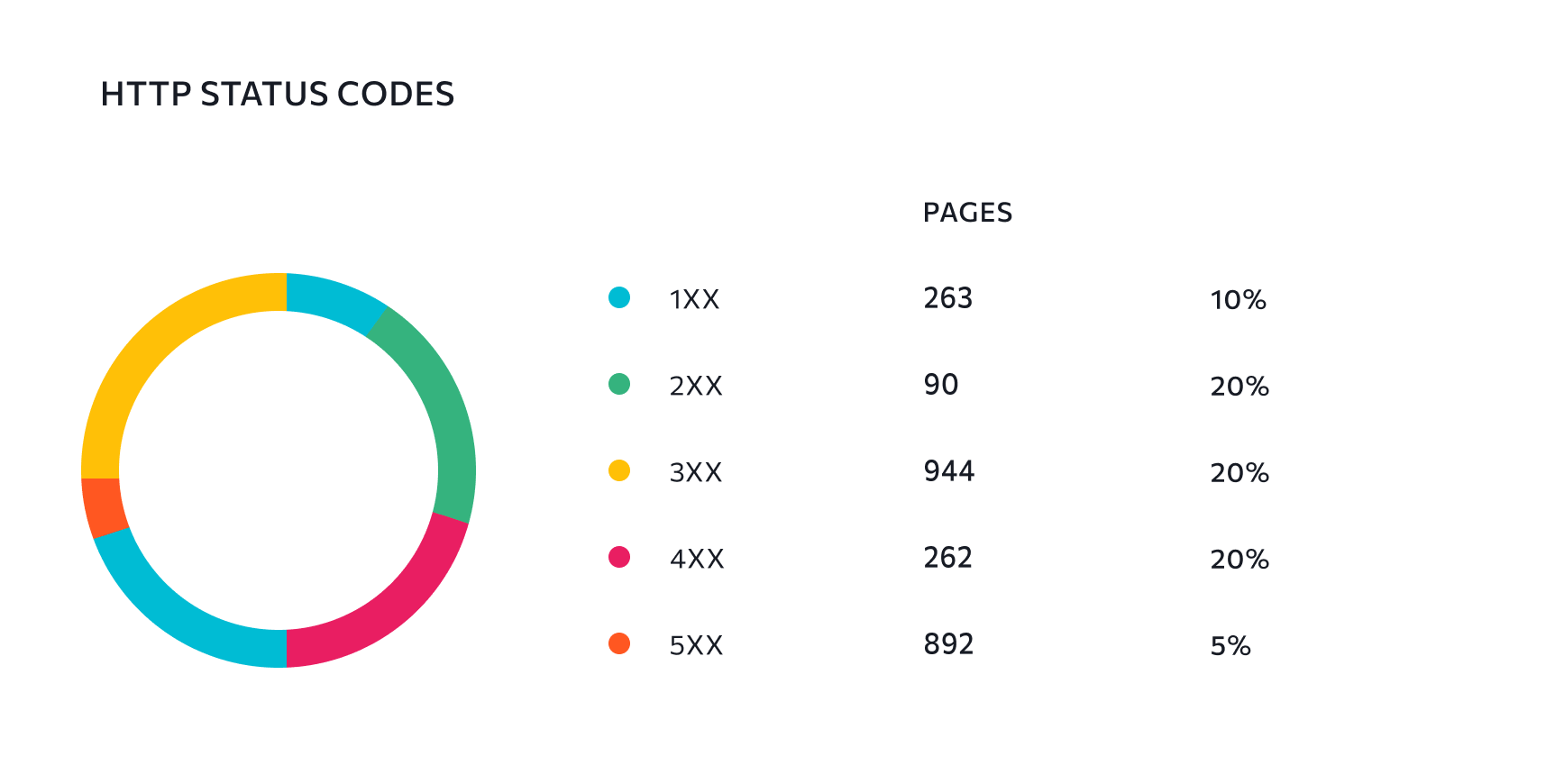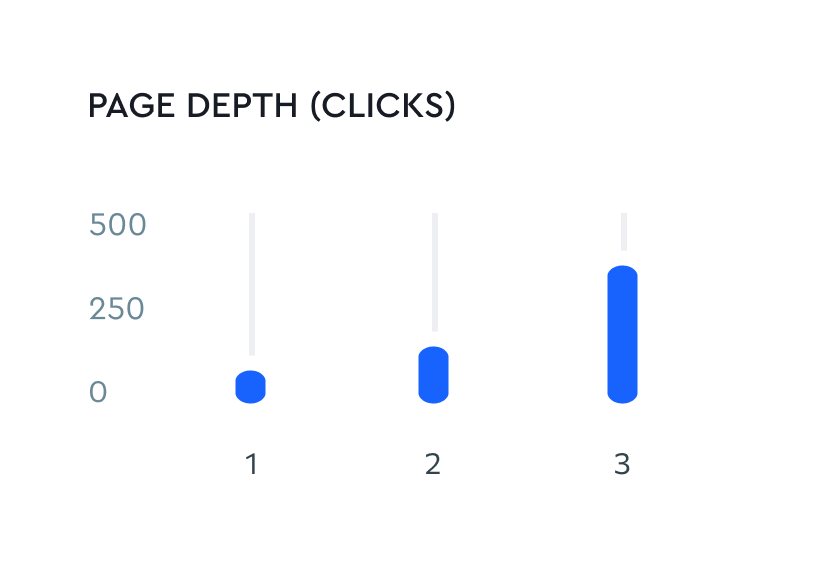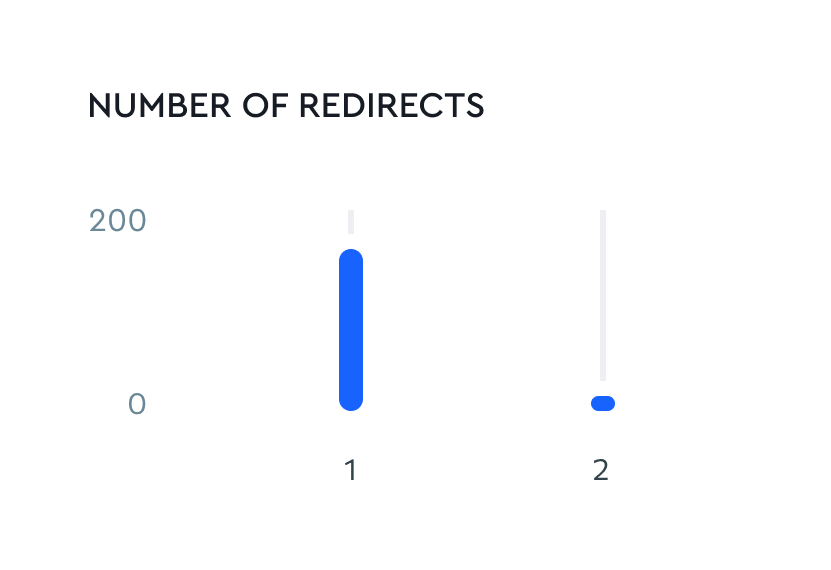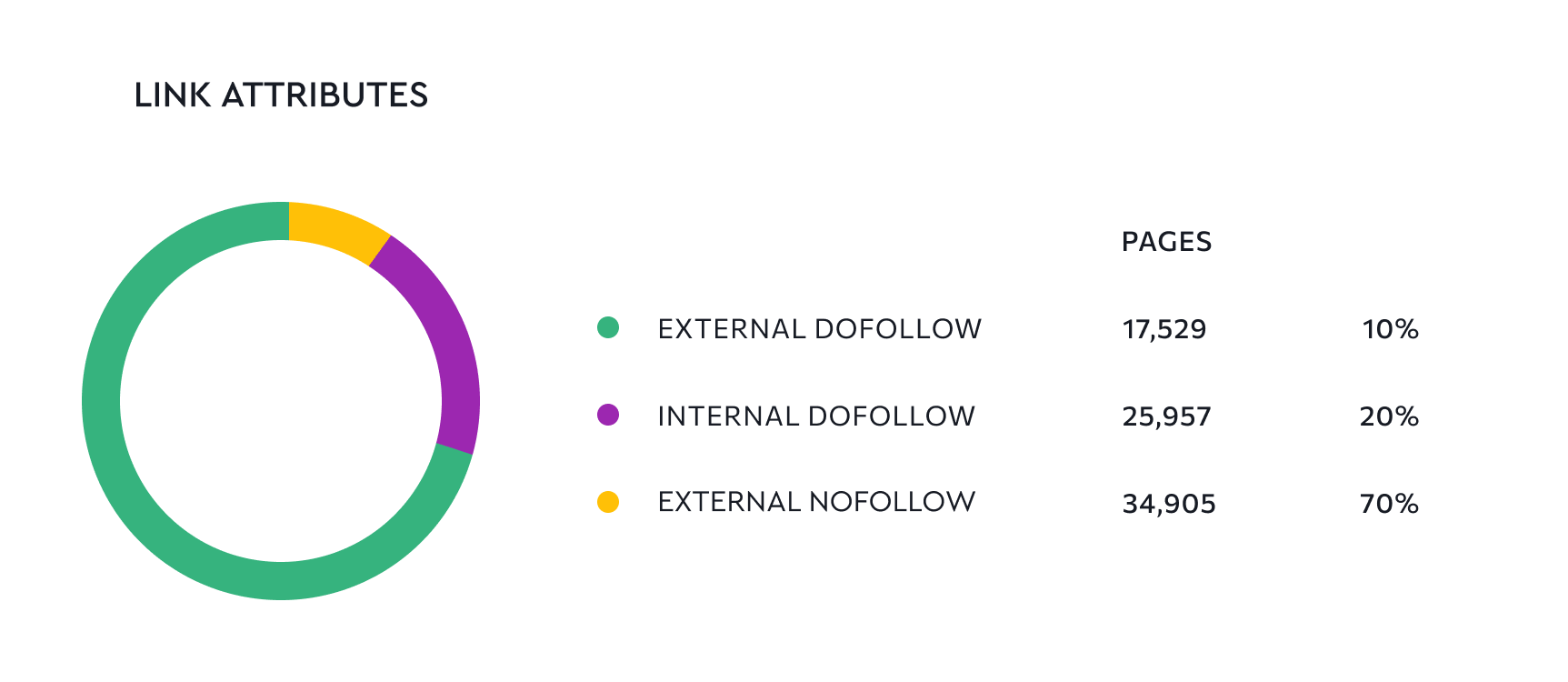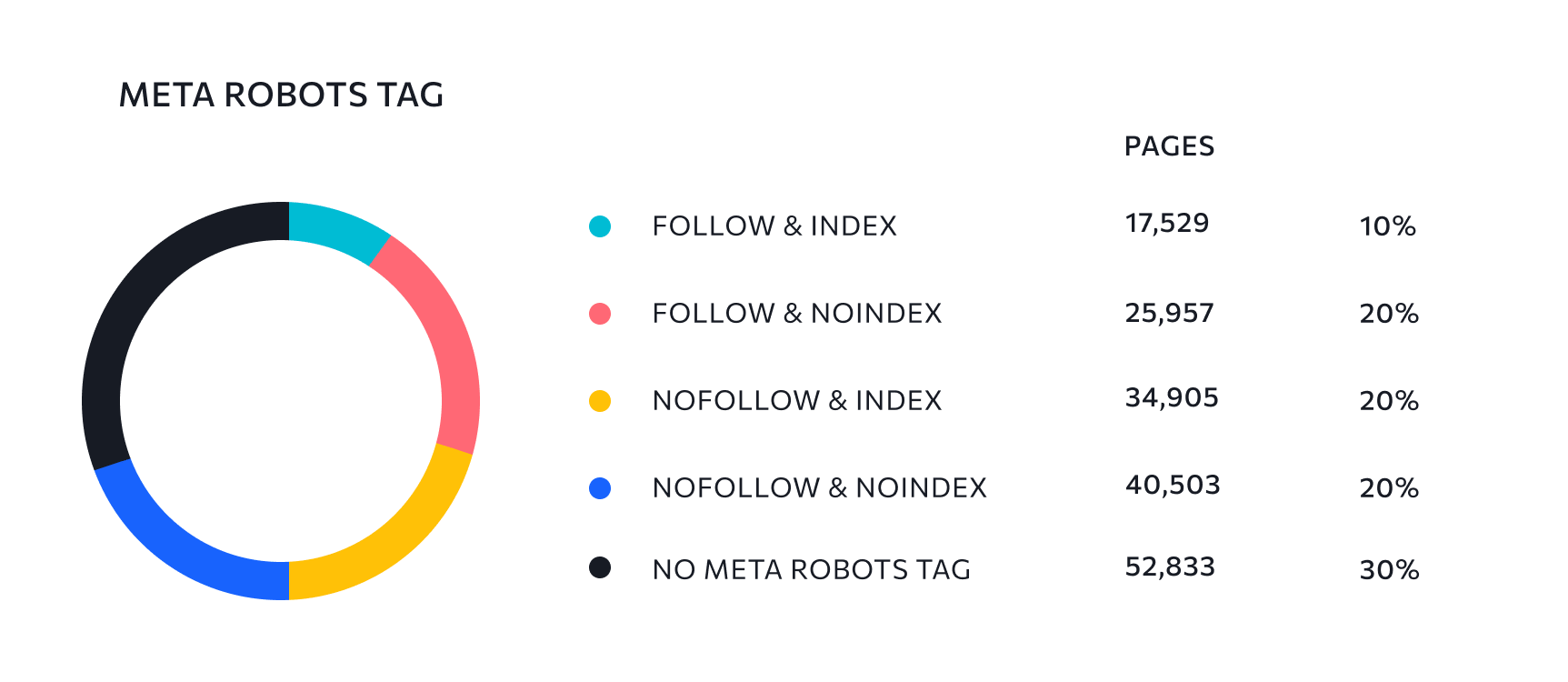 Dozens of technical SEO metrics that matter
SEO audit tool with a full breakdown and solution for every major website issue
Security
Understand HTTP and HTTPS issues to keep your site safe and secure.
Speed
Fast websites rank better and attract more users. Learn how to bring your site up to speed.
Usability
The best sites are user-friendly. Find out how to make your website work better and improve your user experience.
Localization
Help users find the right language versions of your page. Find and fix hreflang and HTML lang mistakes.
Crawling
Give your site the best chance of ranking high by making it easier for crawlers to scan and index your site.
HTTP status code
Make sure all your important pages return the correct status code for a better user experience and search engine ranking.
Duplicate content
Tell search engines which URL to list higher in the search results by resolving duplicate content issues.
Redirects
Send users to the right page and maximize link value, even when your website changes.
Internal/External Links
Link out to the right pages to grow your authority, rank up, and drive traffic.
Content
Push the right message with quality content that boosts your SEO efforts.
Title
Set the tone with better <title> tags that help users and search engines to find the right content
Description
Great meta descriptions can generate click-throughs from search engines.
Images
Grab users' attention with optimized images that look good and load fast
Javascript
Make a dynamic and interactive experience with JavaScript that doesn't slow your site down
CSS
Bloated CSS can make browsers struggle to load a page. Keep it tidy and attractive with optimized CSS that won't bring your site to a halt.
SEO audit of every single page, link, or resource
Analyze every single website page in detail or filter them using custom parameters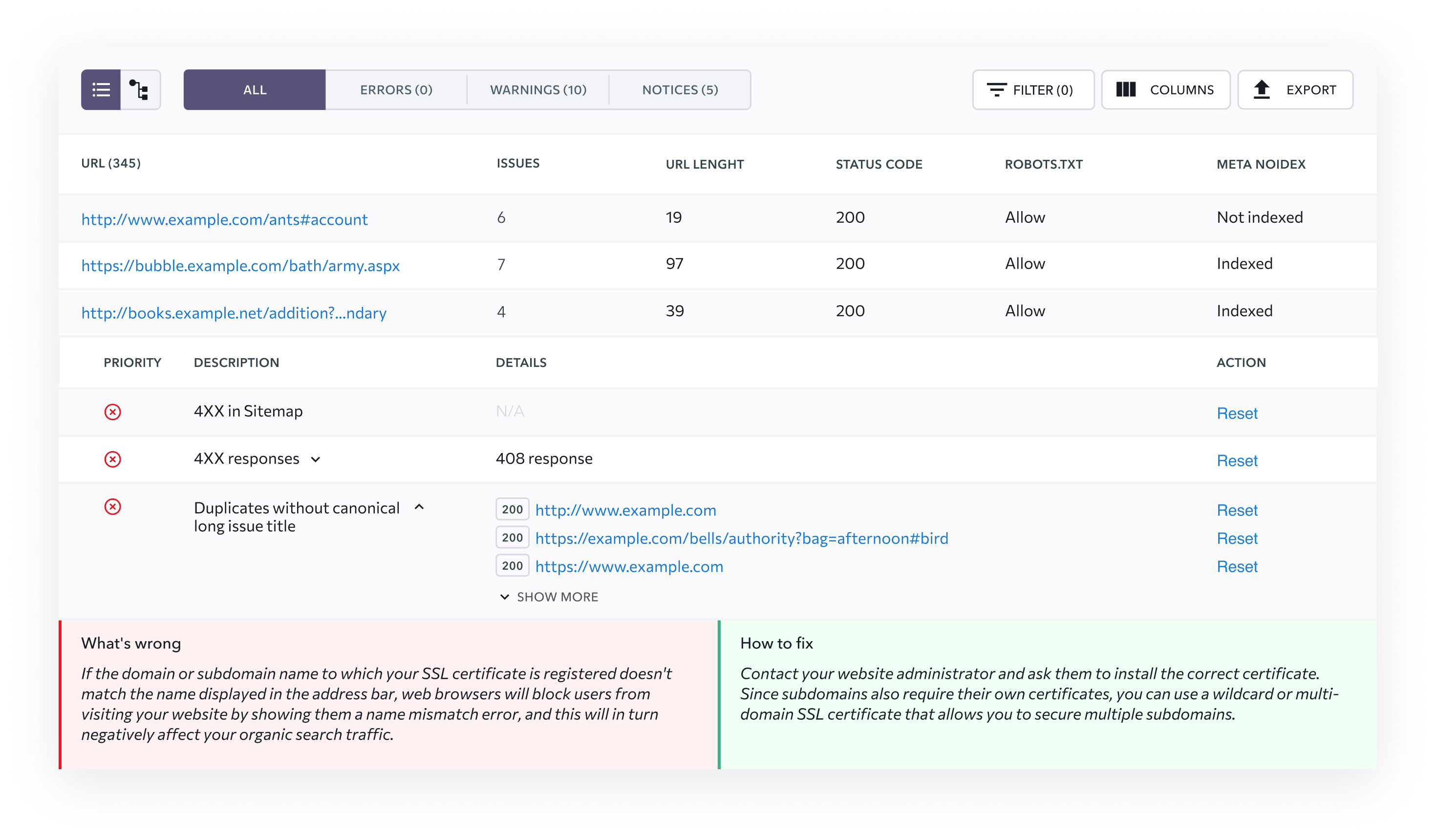 With detailed tooltips, even beginners can easily manage their websites
Get notified if your files are not optimized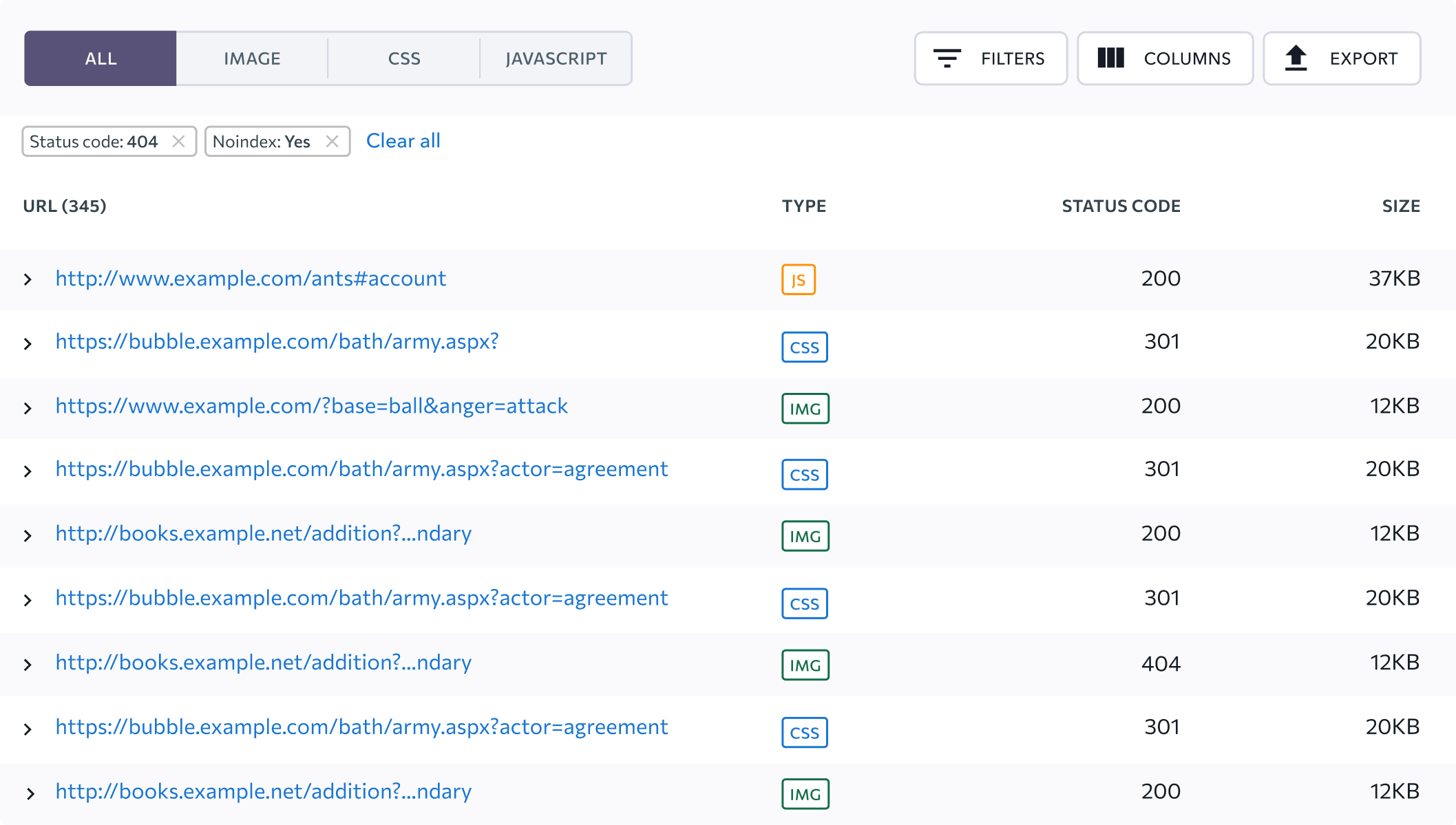 Images
Optimize heavy images and find the missing alt text to improve your site's performance
CSS
Optimize the code of large CSS files, remove unnecessary lines, store cached copies of your files, and more
Javascript
Create dynamic and interactive websites by fixing all errors in JavaScript files
Compare your site audits to measure your progress over time
Check the effectiveness of the changes
Build website audit reports to share your progress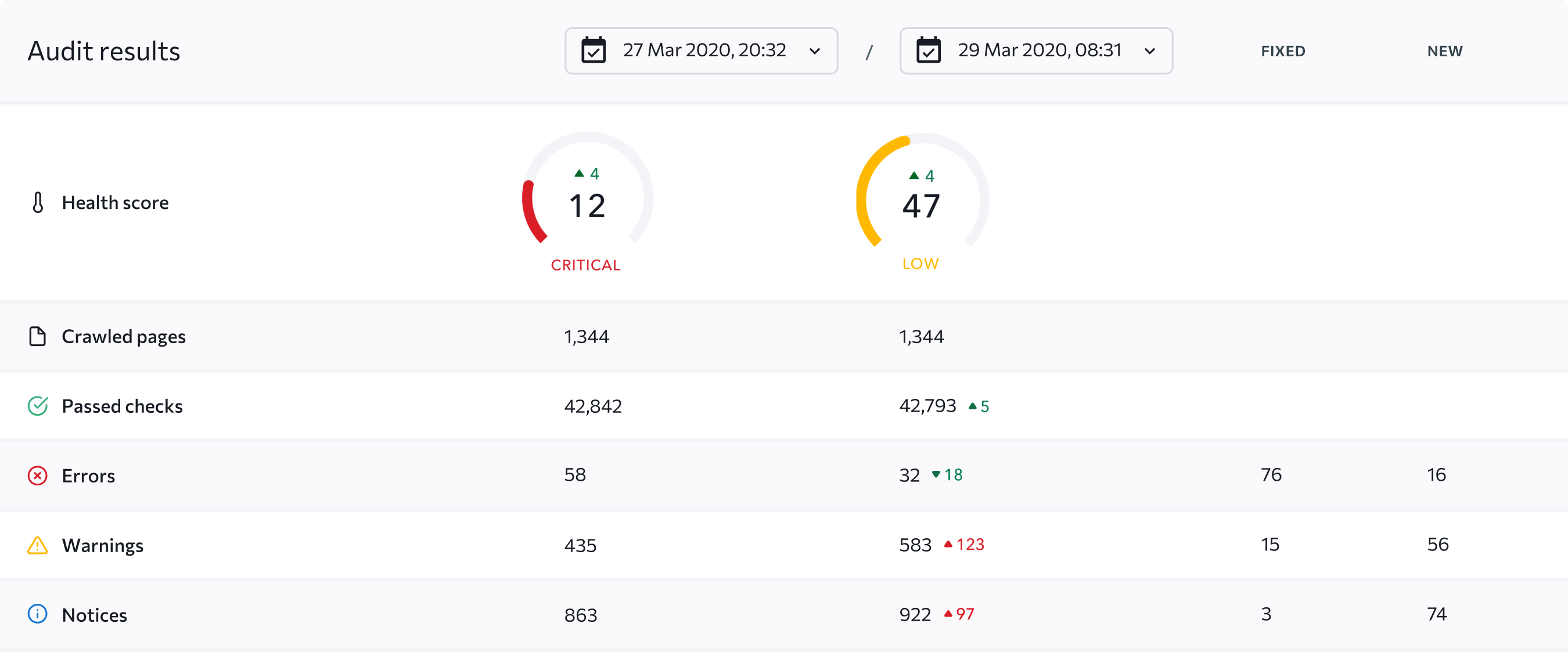 Your audit, your rules
Define site audit periods
Choose when to audit your site and how to do it: start the audit manually or set up automatic checks
Get audit reports in your inbox
Say goodbye to time-consuming technical SEO audits with reports sent straight to your inbox
Check specific pages
Limit a site audit or expand it to your whole website. Our reports are laser-focused either way
Set website audit limits
Manage parser settings and decide the scope of your audit with full control over the entire process
Choose parameters to check
Worried about page load speed but already sorted your title and meta tags? Choose the website audit categories that reflect your needs
Create custom rules
Your site. Your Choice. Create custom rules that generate the insights you need, and start supercharging your SEO strategy
Perform a website audit easily with SE Ranking
Simple technical SEO audit checklist:
1
Choose a website you want to audit and hit the "Analyze" button
2
Go make yourself a coffee or tea—we will crawl your website and deliver a comprehensive report before you even finish
FAQ
A technical website audit is conducted to obtain a comprehensive analysis of every factor that can impact a site's search engine visibility and ease of use for users. The audit aims to identify campaign weaknesses that affect web performance. Through this process, you can get actionable on- and off-page SEO insights into any website as well as its individual pages.
Do I need a website audit?
Yes, website audits automate processes that take a lot of time to do manually. Website audits are designed to provide webmasters, SEOs and digital marketers with in-depth analysis reports on the overall health, speed and web performance of websites. Such reports identify site issues that are preventing search engines and people from getting the most out of your online resource.
What is included in our website performance audit?
The key areas covered in a website audit include the site's overall health score, page-by-page analysis, reports on Core Web Vitals, technical SEO issues, website speed and security, user experience, domain metrics, page indexation status, HTTP status codes, link attributes, meta robots tags, and more. Plus, you can generate sitemaps, compare audits and monitor pages for changes.
How long does our website audit take?
Website Audit is a blazing fast and customizable solution that checks every issue that's related to the site's technical setup as well as to the user experience. The tool can easily crawl up to 1,000 pages in under 2 minutes.
How often should I conduct a website audit?
There are no strict rules as to how often you should conduct a website audit. However, most webmasters, SEOs and digital marketers run a technical audit at least once every couple of months to identify issues like broken links, duplicate content, loading speed and website security. This allows websites to stay healthy and avoid any issues.
How can I check my website loading speed?
There are a number of ways you can check your website's loading speed. Besides using a specialized website speed test tool, you can run a technical audit of your entire site to uncover various issues including loading speed that may be preventing search engines and people from properly interacting with your site.
Does our audit include a mobile usability issue checker?
Of course, every reliable website audit solution allows you to perform a number of checks against the factors that may be holding your site back from success in terms of search engines and user experience. Given the popularity of mobile devices, website audit tools provide reports on mobile optimization and usability.
Can I audit tags with your technical audit?
A comprehensive website audit tool gives you the opportunity to analyze various tags across your website, including title, description, H1-H2, X-Robots-Tag, canonical, viewport meta tag, Twitter Card, and more. You can get a detailed breakdown of every web page and their tags along with the full report on the site's health.
Can I run a website performance audit of my competitors?
Yes, you can run a website performance audit of any competitor website. All you have to do is add the competitor website as a project to the SEO tool of your choice, and the tool will automatically crawl your digital rival's entire website to identify any technical issues that may be preventing it from getting top ranking positions in search.
Flexible pricing to fit any budget and for any SEO project
Pick the Pricing Plan that suits your needs, or contact us to request a custom quote
Essential
website audit for 100,000 pages
Up to 10 projects
750 keywords for Rank Tracker
Backlink Monitor and Backlink Checker
SERP Analyzer
See pricing plans
Pro
Most popular
website audit for 250,000 pages
All Essential features with extended limits
from 2000 keywords for Rank Tracker
Unlimited number of projects
User seats
See pricing plans
Business
website audit for 700,000 pages
All Pro features with extended limits
from 5000 keywords for Rank Tracker
API access
See pricing plans
See all pricing plans




Much better than expected!
The most useful feature may be the Website audit, I know there are enough sites that provide you with data which shows you errors, missing anchors, empty H1 and H2 tags etc. etc., but SE Ranking has it all in one checklist. So now you can 'clean up' your website on every little inch. Even the most deeply covered problems are unveiled. When completing the full checklist, you will have a good amount of knowledge of common errors on websites and you have a great foundation on your website to build your SEO on.
Superfast and User-friendly navigation Internet Marketing Tool
The website audit feature of the Se Ranking tool is out of the box and blazing fast. And not only the speed but the graphics, animation, and design used in Website Auditor also looks very dashing. I just became a fan of Se Ranking Tool.
Easy to use, very powerful, with great support
Ease of use and professional-looking results. The website audit tool is incredibly fast and produces easy-to-understand reports. It allows website owners to do it themselves or provide their development team the audit report. We recently started using the keyword ranking functionality with our customers, and it works brilliantly well. Lastly, the support, incredibly responsive and helpful
Perfect for starters or beginners
I really love the Website Audit. There is a description about what the issue is all about and tips on how to fix it. I also love the marketing campaign where there is a SEO checklist for your project – perfect for beginners.
Great experience - website audit tool is very helpful
The website audit tool is very easy to use – can set them to run in the background and you get a notification when ready. Weekly reports etc have been great help too – along with backlink checker and keywords.
Good even for newbies
The new website audit tool is designed so you can quickly identify what needs to be fixed on your page visually. What I like the most is that even if you don't have previous SEO experience, it is detailed what you need to do to fix the existing issues.
Load more reviews
Join over 800,000+ users
You are in good company
Start two week free trial