Sign up for our newsletters and digests to get an ebook on Backlink Monitoring
Thank you for subscribing!
The air was full of love last week, but if you're craving for more, the SE Ranking team is here to spread even more affection around❤️ We'll never get tired of thanking you for being such an amazing community—this time your feedback and support helped us once again get featured in reputable G2 listings: Highest Satisfaction Products and Fastest Growing Products.
If you've been around for a while, you'll probably remember that G2 is a top reputational platform for SaaS projects that we keep talking about. The reason we are so obsessed with G2 ratings is that the score we get is based on real-user reviews, and it basically reflects our customers' opinions on our product—the only opinion we truly value. Plus, the algorithm that determines who makes it into the top product listings is review-based as well.
We're constantly encouraging you to share your feedback on G2, and thanks to all of your reviews, we get listed among the best software products every time G2 reveals a new rating. The Fastest Growing Products listing was introduced in 2019, so this is the third time we got nominated. The Highest Satisfaction Products has only been around for two years, and yes, we made our way into this rating for the second year in a row.
Since all the ratings are based on user feedback, every nomination proves that we're on the right track—delivering the exact product and customer experience SE Ranking users deserve. There are no words to express how grateful we are for all your feedback—we do realize it takes plenty of time (30-40 minutes!), dedication, and energy to get through G2's reviewing process.
So far, we have received 719 reviews from you, and we've carefully studied every single one of them. Thank you for all your words of support and encouragement—they put a smile on our faces and inspire us to keep going. Also, thank you for all the criticism—it helps us get better and fine-tune our roadmap to make sure the decisions we make resonate with our customers' needs.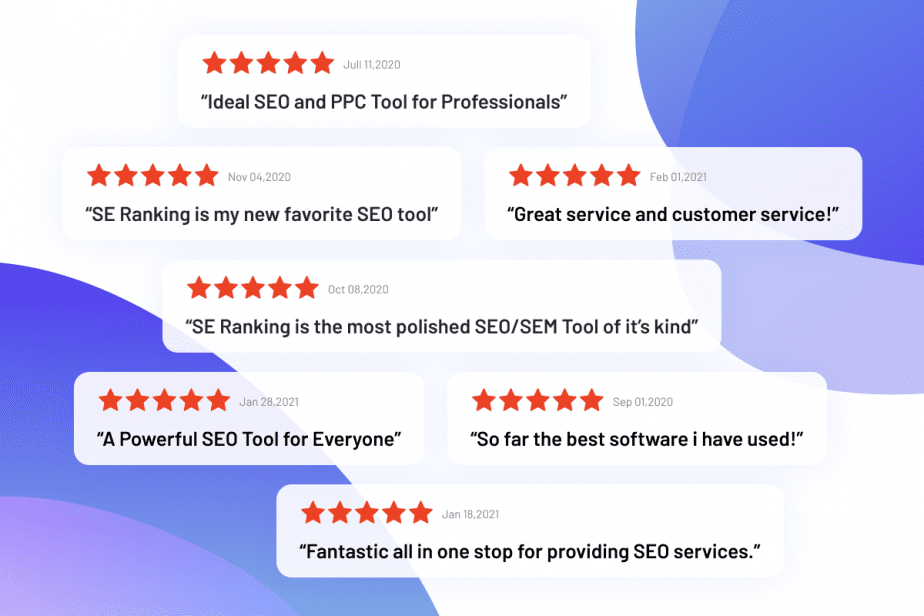 If you are not among the 719 SE Ranking reviewers just yet, and you feel like telling the world what you like about our platform, which tasks it helps you solve, and what you'd like us to improve, you can share your feedback on G2. We'd really appreciate it, and you can rest assured that your feedback will not go unnoticed.
In the months to come, we'll be doing our best to continue growing and keep you satisfied—not just for the sake of getting nominated again (even though it feels good to get appraisal for your hard work), but because shared success is one of our core values. Your feedback guides and shapes the SE Ranking platform, and your success is what encourages us to grow at a fast pace.
Today, we invite you to celebrate our mutual success and to dream big, because bold dreams tend to come true if you are bound and determined. And remember that we're always there to support you every step of the way. Now, if for some reason you're not yet using SE Ranking to reach your goals faster, you can grab our 14-day free trial and take all our tools for a test drive. WARNING: You will most probably be satisfied with what you find ?