What's The Deal
It's Easy
Becoming an affiliate is as easy as 1-2-3. All you need to do is just to log into your SE Ranking account or create a new one. Affiliate Program is available to all SE Ranking users. You do not need to register in other systems – everything processes on one platform.
It's Transparent
We reveal all analytics details for you in your personal account. You can easily track all the transactions, the number of registrations for the trial account, unique visitors from your link, the sales revenue. All the statistics are updated in real-time, no delays.
You Sell – We Support
You do not need to worry about accepting payments and maintenance. Any questions related to customer support are on us.
Simple Access to Your Money
We support various payment methods: Paypal and Webmoney. Choose your preferred payment option, and withdraw the commission every two weeks.
Passive Income
You don't need any special skills to be a successful SE Ranking affiliate – in fact, you don't even need to own a website to become one! You can use your blog, your Facebook account, Yahoo answers, articles, forums, etc. to place links to our website or simply recommend our tools to others.
Lifetime Recurring Revenue
When a visitor clicks on an add on your website, we remember him and store cookies for 120 calendar days. Even if he does not immediately decide to register or purchase a subscription, you will have 4 months to convince him. And if a visitor registers for a trial, then every purchase or any billing plan prolongation made by this visitor within the unlimited period of time will bring you 30% commission of the price paid. We pay commissions for each sale over lifetime.
See how it works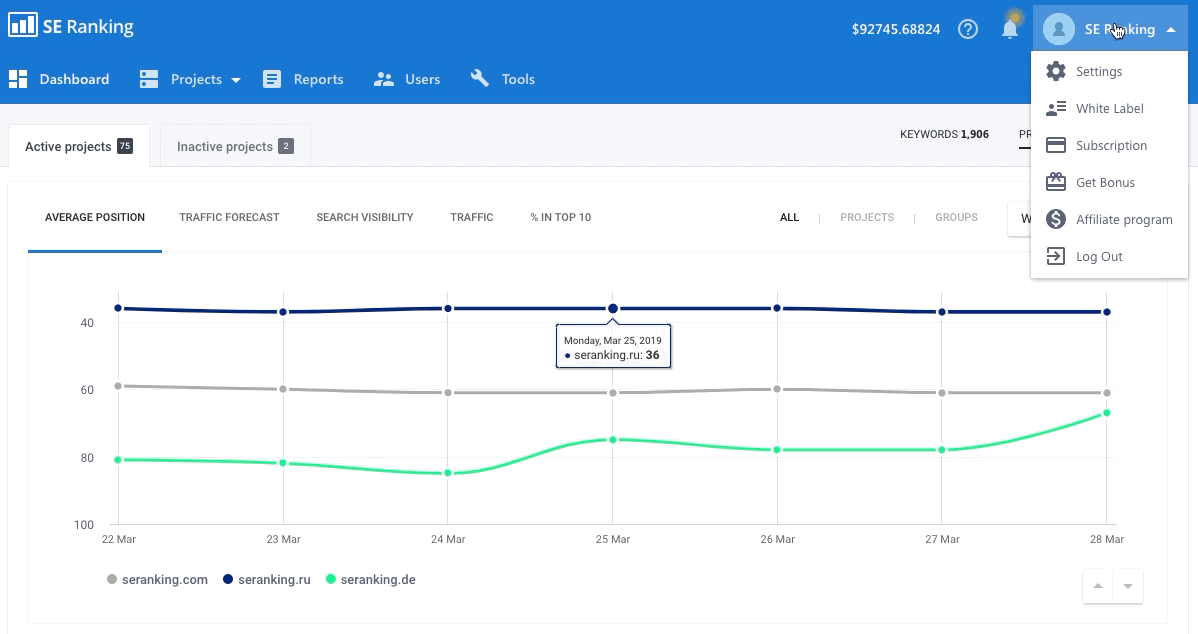 Are you ready to get your 30% commissions?
Join SE Ranking Affiliate Program
Become an Affiliate
Terms and Conditions
We reserve the rights to modify any terms and conditions at any time with no further notice. These modifications may include, but are not limited to, adjustments to the referral fees and Affiliate Program rules.
Affiliate URL – you must obtain a special URL after registering for SE Ranking Affiliate Program. The link will be unique to you and you only, and serve you as a certificate to be paid for affiliate referrals.
Branding – Affiliates may not use SE Ranking brand in any PPC or AdWords activities and in any variations in their URL.
Commissions – a non-coupon aggregating Affiliate will receive 30% commissions from orders placed through properly issued Affiliate links. We make payouts every 14 days, if the amount on Partner's account is not less than 50$.
The coupon distribution and coupon aggregation websites are not allowed to register with SE Ranking Affiliate Program.
Rights – SE Ranking reserves the rights to refuse the participation in our Affiliate Program if the site deems to violate our qualifying standards. All the coupon aggregators fall into this category. You will be terminated from the Program if you list coupon codes or discounts that were not generated through SE Ranking or if you promote the coupon you've found someplace online. Affiliates also can't use or promote "coupon stacking" sites where users can combine coupons to receive additional discounts. At the same time, SE Ranking will consider any partner proposals that will be sent directly to us.
Termination – The Agreement comes to its effect when you accept these terms and conditions and will end when terminated by either party.
It is forbidden to use the SE Ranking referral link in paid advertising in Google Ads, Yandex Direct, Facebook Ads. It is prohibited to use the paid search placement including an advertisement that you purchased through bidding on keywords, search terms, or other identifiers.
It is forbidden to advertise for keywords that contain SE Ranking brand name. For example, SE Ranking; SE Ranking coupons; SE Ranking discounts; SE Ranking reviews, etc.
It is forbidden to register through your own affiliate link, i.e. earn on your own payments to SE Ranking. You can earn only by attracting new users.
To calculate the partner's commission from users subscription purchasing, the user should be registered and logged in the SE Ranking account while paying.
SE Ranking helped our business increase efficiency and efficacy
We've used other tools in the past, but SE Ranking offers more up-to-date data and information, which benefits our agency and clients. SE Ranking allows us to access historical data with just a few clicks without ever having to leave the interface. From daily ranking updates to current search volume trends, there are numerous aspects that are essential when formulating client strategies, and with SE Ranking's continuously updated system we are able to use this data to help our clients succeed.
Perfect fit for our marketing agency
After trying a lot (10+ years of experience) SE ranking stands out on top of others because it combines everything we need for our clients. We do only provide the client with rankings, but also with the potential traffic (and revenue) of those ranking when they hit top 3 in Google. The tool let us provide the client with in depth analysis of the technical stuff ánd a marketing plan tool, so we can set goals and follow a checklist of monthly activities. And to top it all off it's fully whitelabel.
Most comprehensive SEO tool I've used
I like the competition analysis tools, it provides paid and organic data, which gives me an idea on how to catch up and outrank the immediate competition for my clients. It also provides data for the potential traffic, which helps show clients the potential gains of the campaign. And with the marketing plan, I know what needs to be improved in order to get results for my clients.
A very complete SEO Tool
The tool is very complete: keywords planning and tracking, backlinks analysis, competitions research… A very few SEO software provides all those features in this price range. Although, the customer experience is optimal: the UI is clear and intuitive and SE Ranking's people are very kind, empathic and helpful.
Good SEO Tool for small size business
I was used to work with Tools like Sistrix, Ahrefs or Searchmetrics and did not know about SE Ranking before. But those tools were too cost-intensive for a small and quick start into SEO so I tried it out and I am quite satisfied with it. I like the ability to pay for certain services with credits, as I am not using them on a very frequent level, so it actually gives me greater flexibility to only use them when needed and not paying for them even when not using them.
Excellent SEO tool for keeping track of customers
I like the automatic reports best. They are very much customisable until customer level and of course have the ability to style it to your own. This makes it easier for us, as we don't have to make them manually anymore. Apart from that the tools inside SE Ranking are great for a quick analyses or where you want, go in to the dept.
Best seo tool a company could have
SE Ranking is the best seo platform our company has used so far. The interface of the platform is great & user-friendly. The available options are many. From tracking rankings, monitoring backlinks, keyword research to competitor analysis and website audit, everything we need to optimize our sites is just one click away. Also, for any questions or anything else we needed, the live support team replied & helped me with straight away.
Real value for great price
Clear view of rankings and positions, site audit tool for quick scan and backlink checker are very useful. I use it a lot and also use the lead generator to get a free scan for potential clients which runs automated when they fill in the form. The dashboard gives you a good view of changes in traffic and positions. The marketing plan is a bit simple but it gives you some direction of what to do first on the website and you can also check the boxes when you finished a task which works very well
The choice of SEO tools is huge and the range of services and prices is also wide. We were looking for a tool that supports us in our daily work in the best possible way, offers a high usability, extensive functionality and a fair price at the same time. SE Ranking meets these requirements perfectly and we do not want to miss this tool anymore in order to push the rankings of our customers.
Join over 300,000+ users
You are in a good company