Sign up for our newsletters and digests to get news, expert articles, and tips on SEO
Thank you for subscribing!
Were you among the users who left feedback on how to improve the SE Ranking platform? Well, if so, we did our best to respond to your calls. Who knows, maybe you'll see that one of your own suggestions got turned into a new feature.
In this article, we will guide you through the updates in the Calendar, Report Builder, Competitive and Keyword Research tools, Rankings, Top 100 SERP Competitors, and a couple of improvements in the API. Alright, let's take it away!
What's new in the Competitive Research and Keyword Research tools
To make your experience smoother when using the Competitive and Keyword Research tools, we've added the option to select a currency. Now, you can switch between GBR, EUR or RUB in addition to USD. We use current exchange rates so that you only see relevant data on traffic cost, paid advertising, cost per click, and other metrics in Competitive Research and Keyword Research.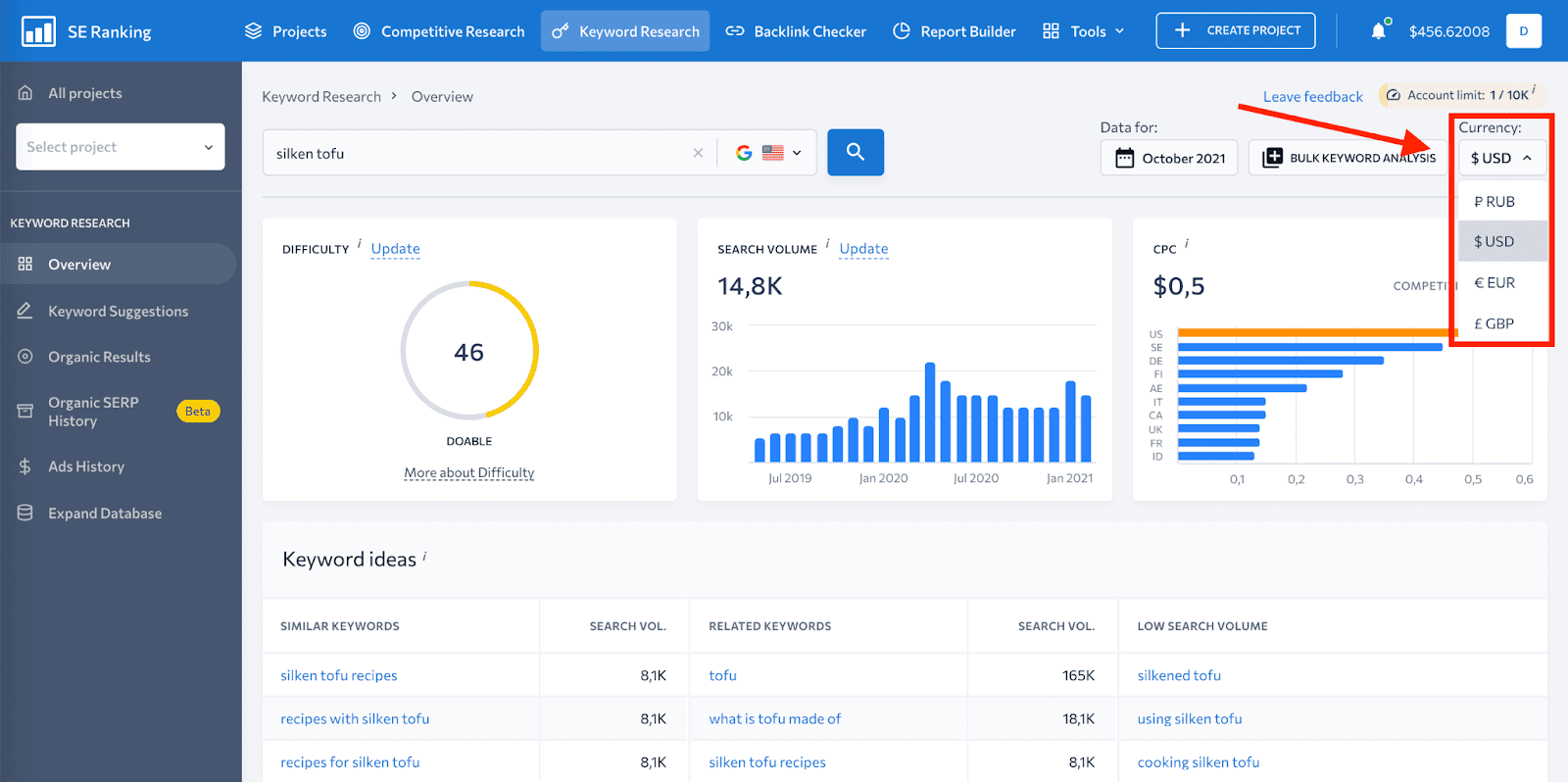 By the way, you can now view the page containing live search results for each keyword. To do this, click on the drop-down menu icon to the right of the keyword, and then select Live results. As a result, you will automatically be taken to a new tab containing search results for the given query.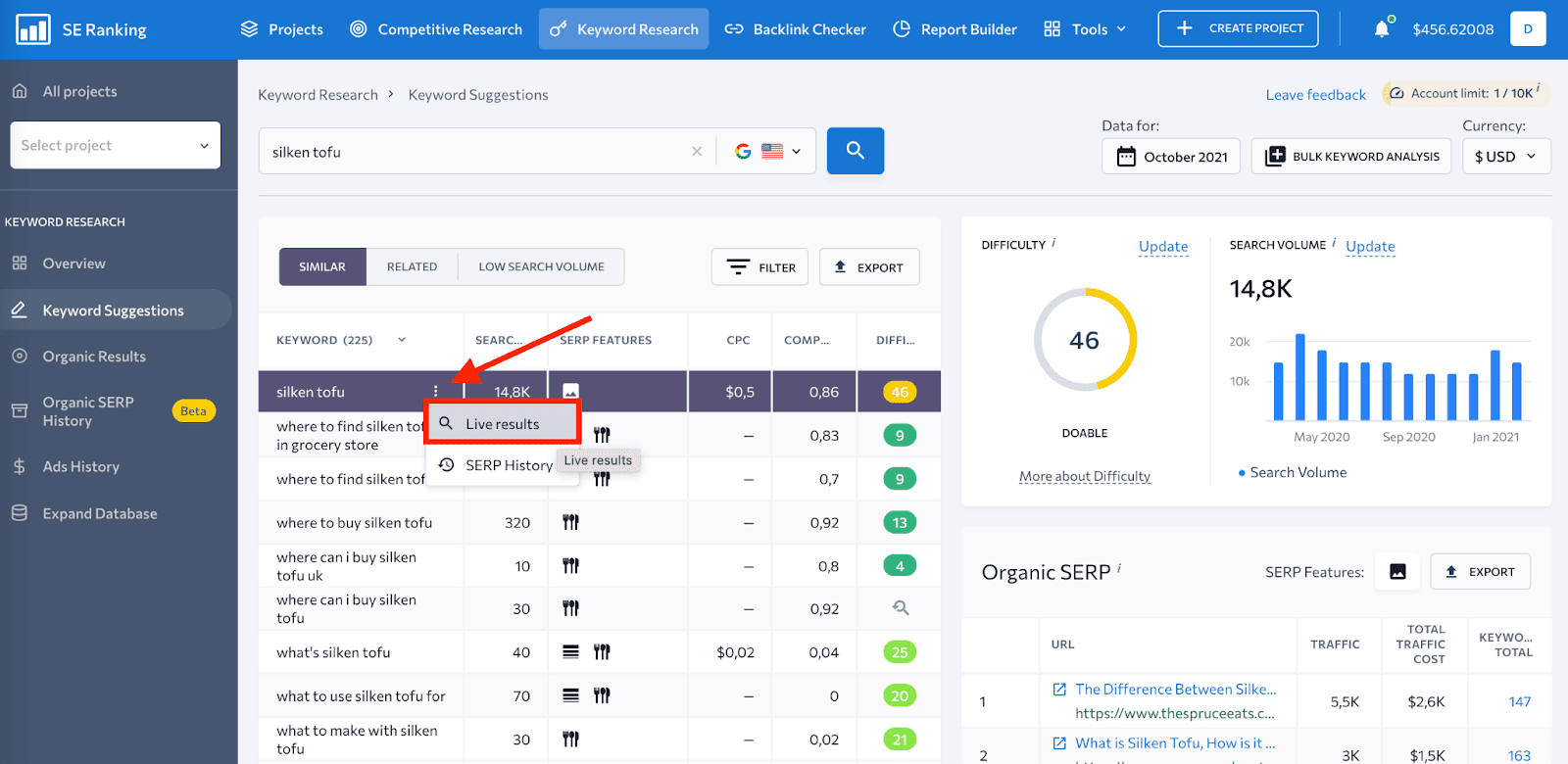 Of course, we have also added new databases 🙂 It has already sort of become our good monthly tradition.
| | | |
| --- | --- | --- |
| Country | Keywords | Domains |
| Afghanistan | 2 377 789 | 398 279 |
| Armenia | 3 483 441 | 811 461 |
| Bangladesh | 20 920 312 | 1 754 548 |
| Cameroon | 2 932 727 | 609 495 |
| Georgia | 3 541 626 | 1 231 689 |
| Libya | 1 849 244 | 322 074 |
| Morocco | 3 501 955 | 1 409 214 |
| Paraguay | 3 471 353 | 644 670 |
| Bahamas | 3 605 615 | 517,101 |
| Venezuela | 3 626 193 | 1 152 013 |
| Oman | 3 442 657 | 767 252 |
| Tunisia | 7 428 540 | 998 202 |
| Botswana | 2 462 966 | 455 229 |
We've also doubled the Google database for Spain—now it contains 244 302 521 keywords and 38 330 812 domains; and expanded the database for Colombia, which contains 27 652 595 keywords and 17 868 579 domains.
Country selection, period-over-period comparison, new keyword grouping methods, and Report Builder charts
Lately, we've been getting many suggestions to improve our reporting tool. So, for the past two months, we have been working on implementing four crucial updates that will help you create detailed reports containing information relevant to your projects.
What's new:
Now you are free to choose what traffic to display and from which countries, when adding the Analytics & Traffic > Audience section to your Google Analytics reports;
We have also added Previous month to the Analytics & Traffic section. You can now compare numbers from the previous calendar month with the selected period. We've also added Previous period to enable you to compare specific dates or a date range from the selected month with the same dates or period from the previous month;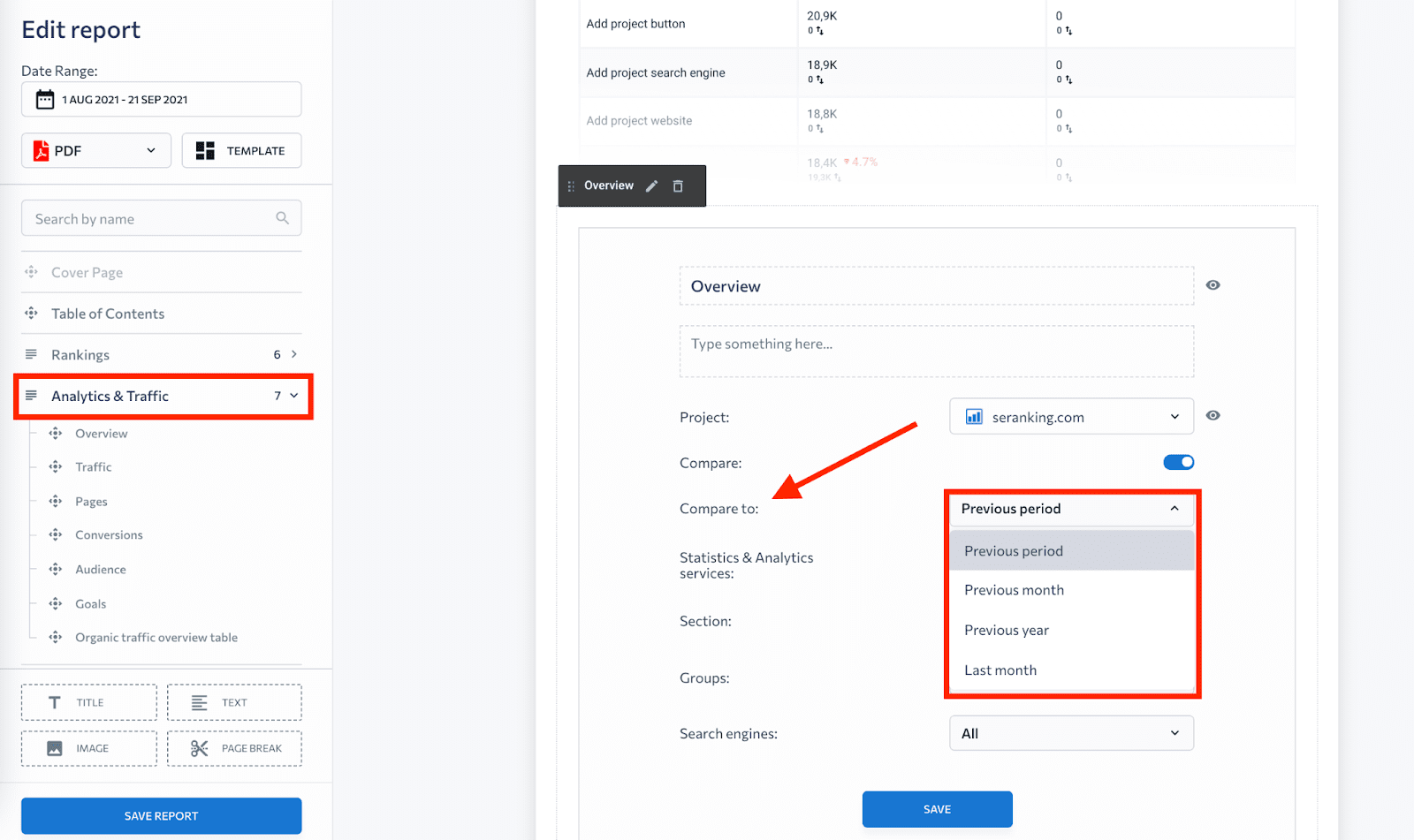 Under Rankings, you can now group keywords by tag, by target URL, and by the date when the keyword was added.
We have also added new position filters to the Rankings module: "% of keywords in top 1/3/5/10/20/30".
"Group dates by" in Rankings, keywords in top 100 results, and new API parameters
Our team has been working on refreshing the Rankings section. We've added the option to group data in the tables by day, week, month, and year, which is helpful to anyone who works with big data and wants to have a complete overview of the progress that's been made.
Go to the calendar and select a period. Then, the grouping will apply to all of the rankings tables.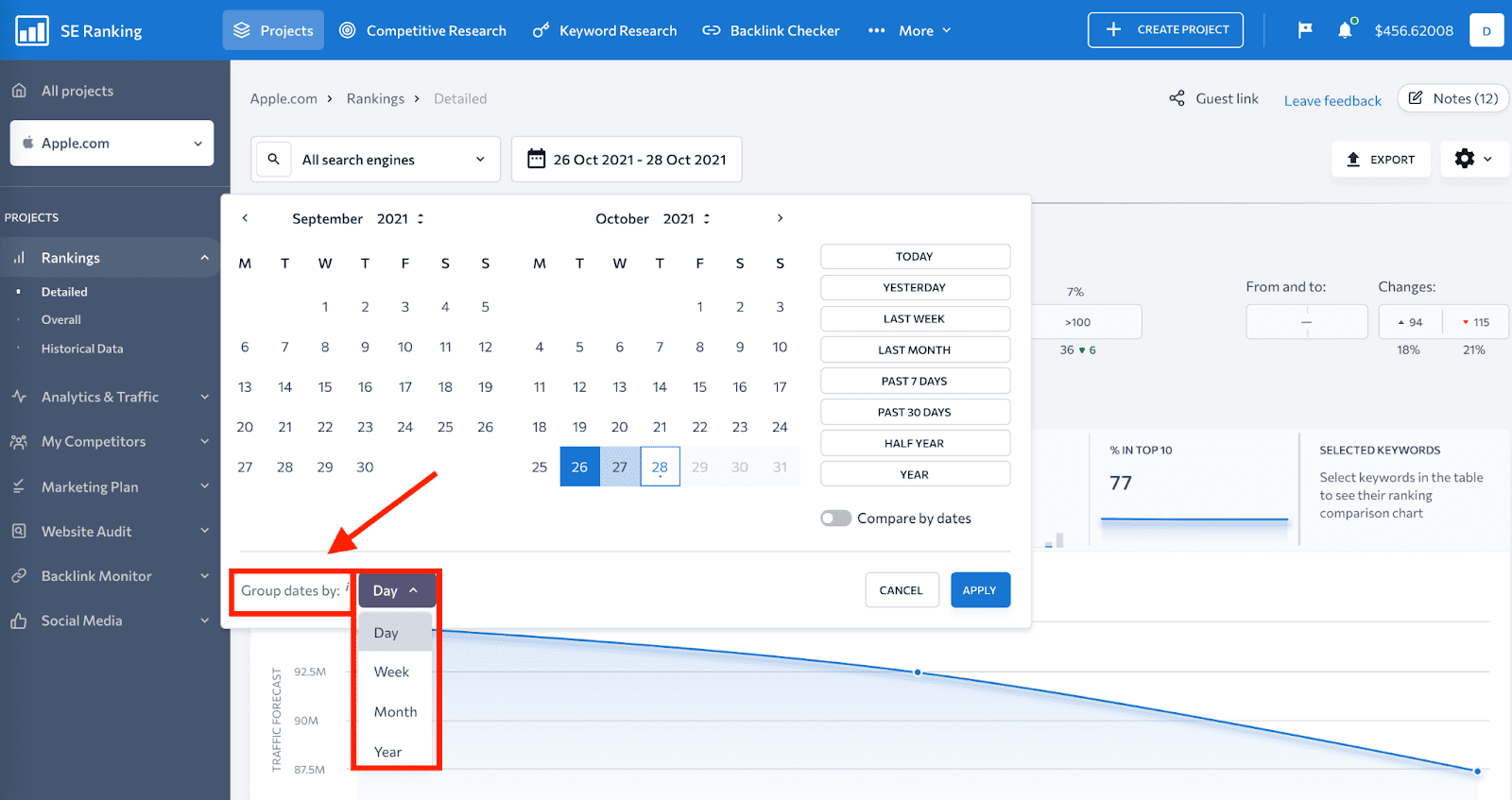 As a result, the information on your project will contain the average position over the selected grouping period under the respective column. When clicking on the average keyword position, you will see a pop-up window containing the history of position changes. Here you can see everyday rankings. This grouping method lets you use any filters to see the information you need. Let's see how this works.
You may have noticed that we have added new periods to the calendar for your convenience: today, yesterday, last week, last month, past 7 days, past 30 days, half-year, and a year. This option is available in the calendar under the Rankings, Snippets, Added Competitors, SERP Competitors, and Report Builder modules.
Under the Top 100 SERP Competitors section, we have added a new column containing the number of keywords a particular domain or a URL ranks for. By clicking on this cell, you will be redirected to the Competitive Research tool, where you'll find more detailed information on a competitor's URL or domain.
If you are more interested in data export, you're going to like this next update. Now, all of the available parameters, such as visibility, search volume, dynamics, traffic forecast, SERP elements, will be displayed for groups of keywords in exported files.
Let's move on to several minor, but important updates we've made upon the request of our users. In particular, we've added the German language version for Bing, and Thailand for Yahoo to the Project Creation Wizard.
And lastly, we have two great pieces of news regarding our API. Spoiler alert: one is more significant than the other. The first one is that we've implemented an API for automating keyword research. You can get more details in our supporting documentation. And the other piece of news is that we've added the Domain Trust API to help you access the score that predicts how likely a website is to rank in SERPs.
And that's it for the September-October updates. By the way, we are already working on a new tool you will be able to test out in the nearest future. Maybe you can guess? Give it a try and let us know your thoughts in the comments!