Sign up for our newsletters and digests to get news, expert articles, and tips on SEO
Thank you for subscribing!
Oh, the summer months. Rising temperatures, awesome vacations, and decreased productivity. Wait, what? The last part is not about SE Ranking because we actually did a lot in July!
I'm glad to share that last month our development team launched several new features, added more checks to Website Audit, and made improvements to tags and notes.
Apart from that, we've expanded our keyword databases for France, Italy, and Germany. Our Google database now covers four new countries, namely, Nigeria, Jamaica, Ghana, and Trinidad and Tobago.
If you haven't spotted SE Ranking's new features yet, this overview will help you catch up with the latest changes and learn how everything works. Give the new features a try and let us know in the comments what else you'd like to see in the platform.
SERP features in Competitive Research and Keyword Research
It's been a while since SE Ranking has been able to monitor SERP features for the keywords tracked in your projects. Let's recap how it works. Under Rankings, you see a column that shows what SERP features are displayed for a particular keyword. Having them highlighted or shaded lets you know if your pages are included in them or not.
Now you have the opportunity to view SERP features displayed for any keyword of your interest without having to add them to your project. Let's see how you can do it.
From now on, anytime you check a keyword in the Keyword Research tool, you see its SERP features under the Overview and Organic Results sections.

Moreover, SERP features are now displayed for all similar and related keywords under Keyword Suggestions.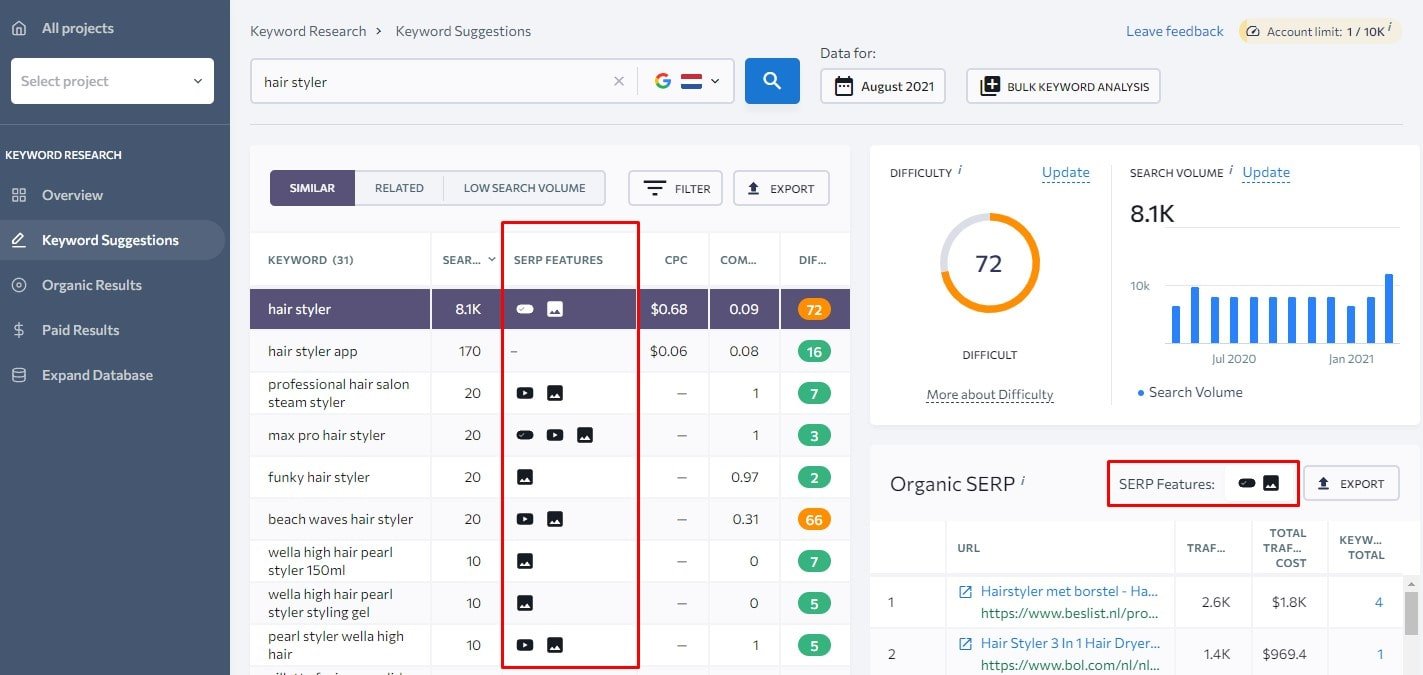 Another place where you can now see SERP features is the Competitive Research tool. Under the Overview section, you'll see all the SERP features that are displayed for a range of keywords that a particular competitor domain ranks for.
For example, in the screenshot below you can see that the Recipes feature is displayed for 5.6k keywords the analyzed domain ranks for. To see what those keywords are, click the Recipes feature tile and you'll get to the Organic traffic research section showing the full list of keywords that have this feature on their SERPs.

Currently, our database covers 33 Google SERP features. On top of that, thanks to the roll out of the historical data feature, you can now check data on SERP features not only for the current month but for any previous month going back to January 2021.
Google database updates and expansion
We continue expanding our ranking databases for Google. Last month, we added new keywords for the French, Italian, and German markets. It's worth emphasizing that the French database has grown tenfold.
The French database includes 357 774 665 keywords and 42 763 106 domains.
The Italian database now has 205 125 630 keywords and 37 453 950 domains.
And the German database reached 228 419 029 keywords and 23 372 434 domains.
Moreover, the databases used in Keyword Research and Competitive Research were expanded to new markets. Now you can analyze SEO data for:
Nigeria: 16 792 426 keywords and 717 996 domains
Ghana: 8 325 690 keywords and 298 867 domains
Trinidad and Tobago: 2 634 260 keywords and 166 539 domains
Jamaica: 2 408 058 keywords and 231 025 domains
If you have projects targeting those markets, your hands are no longer tied! Now you have a great opportunity to research keywords and competition in depth.
New features for tags and notes in Rankings
We've improved the Tags column under the Rankings section. Now you can sort keywords by the number of tags assigned to them. By default, you'll get them sorted in descending order to have all the untagged keywords at the end of your list.
Another update that has made its way to the Rankings section is the new column for Notes. You can now see your comments for every keyword you track right in the table. If you add two or more notes to a row, you'll see the first note and a number next to it. The number shows how many notes for the keyword there are. If you want to read through all notes, you can click the number to see the complete list in a pop-up window.

Paused projects activation and calendar settings
To reduce tedious clicks, we've made it possible for you to activate several paused projects at once. Under the Inactive websites tab, you can now select the projects or groups of projects that you want to resume and click the Activate Projects button just a single time. As a result, all of the selected projects will be moved to the Active Websites tab.

Another improvement concerns the general account settings and lets you change the way days are shown in the calendar. Now you can choose the day you'd like the calendar week to start, be it Sunday or Monday.

New checks in Website Audit, settings in Report Builder, and News filter in Analytics & Traffic
Every month we strive to extend the capabilities of our Website Audit tool so that it can check your website against more parameters. This time, we updated checks under the AMP category. Now it shows issues with an incorrect display of Accelerated Mobile Pages. The four new types of issues you can now detect include:
AMP HTML tag and attribute errors
Style and layout errors
Template errors
Deprecation errors
The last July update to announce is the new filter added for data from Google Search Console under the Analytics & Traffic section. The filter allows you to see data selected by News.
We are already working on new updates that will go live in Autumn. Some of the upcoming improvements were inspired by the comments you write under our articles and the feedback you give to our support team. Thanks for your input! Your suggestions motivate us to improve our platform and launch new cool features.