Sign up for our newsletters and digests to get news, expert articles, and tips on SEO
Thank you for subscribing!
We've recently added new keyword filters, expanded keyword databases for 13 countries, and rolled out a mobile app upgrade. In this post, we'll guide you through all SE Ranking updates of August 2021.
New filters and SERP features in the Rankings module
Monitoring your keyword rankings, you now can group the queries by the date they were added and by target URLs. Choose the suitable option in the drop-down View mode menu:

Grouping by target URL will help you understand if your particular pages are shown for added queries. You can also see which keywords work for your website but don't have a target URL set for them.
We've also added information on each SERP feature that added keywords have or might have. Now you not only can check if your web page owns any SERP feature by the icon in the Rankings table, but you also can get a general overview of each feature that might appear in the search results:

Other great news: thanks to technological advancements, your ranking data will be displayed faster.
Changes to White Label templates and multiple user access
Using preconfigured templates for emails via White Label, you now don't necessarily have to fill the Body, Comment, and Footer fields. If left empty, these fields will no longer be filled with default text in the email.
To secure your data, we've added the "one user per account" rule. It means that several users will no longer be able to view the same account simultaneously. When someone logs in a profile from a different browser or device, the previous user session will be shut down. While using the platform, you will see if someone is trying to access your account and will have the choice whether to continue your current session. In case a user is switched, all the changes made to added projects by a previous user will be saved.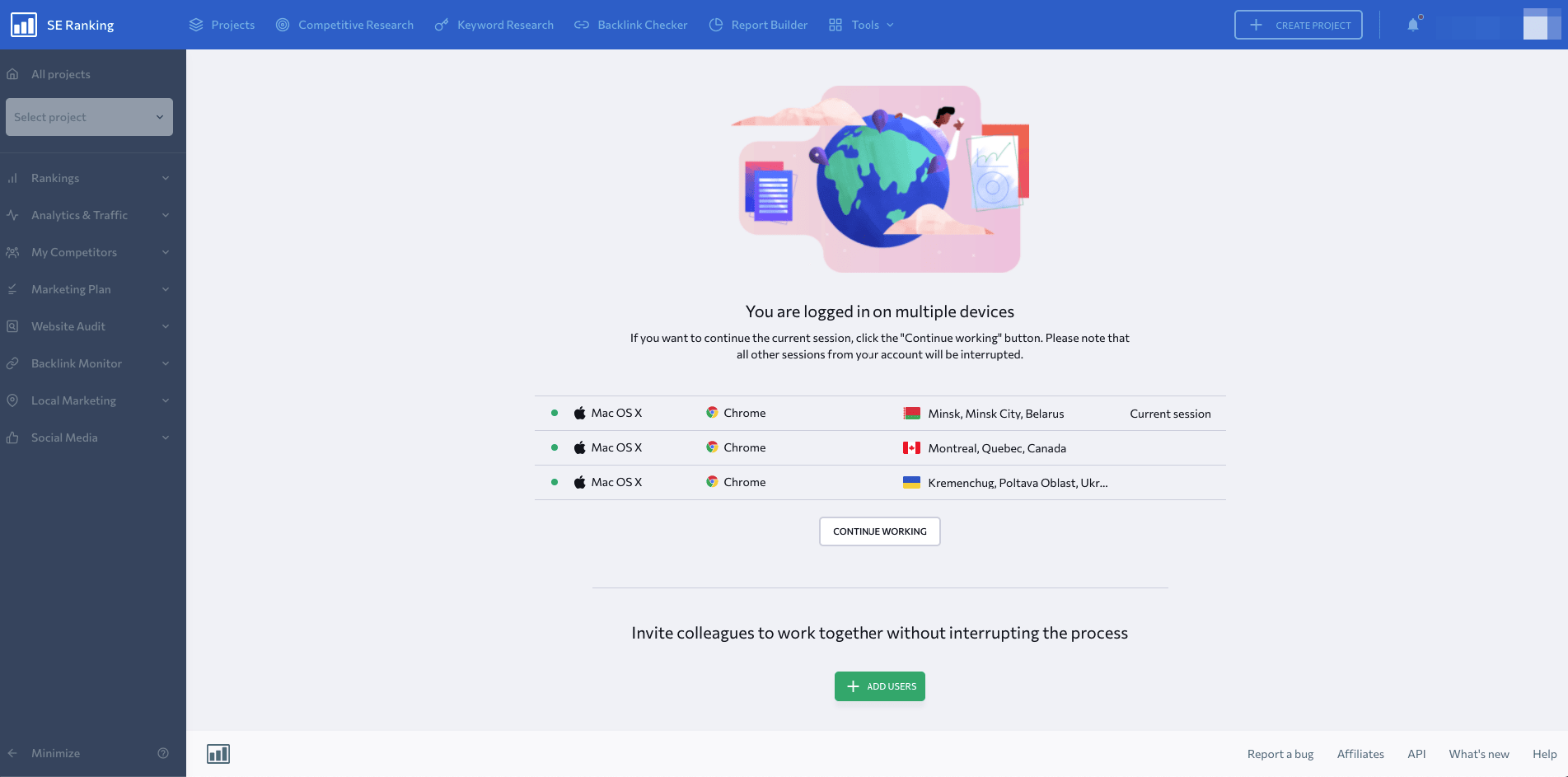 Changes to the Subscription section

We've redesigned the Subscription section to give you more detailed information about your balance activity.
In the Payments subsection, you can see when and at what price you purchased the subscription. You can also download the invoices regardless of a payment method.
To see the list of account's transactions, open the Transaction history subsection. You can choose the time period and analyze what projects and tools were used at additional cost.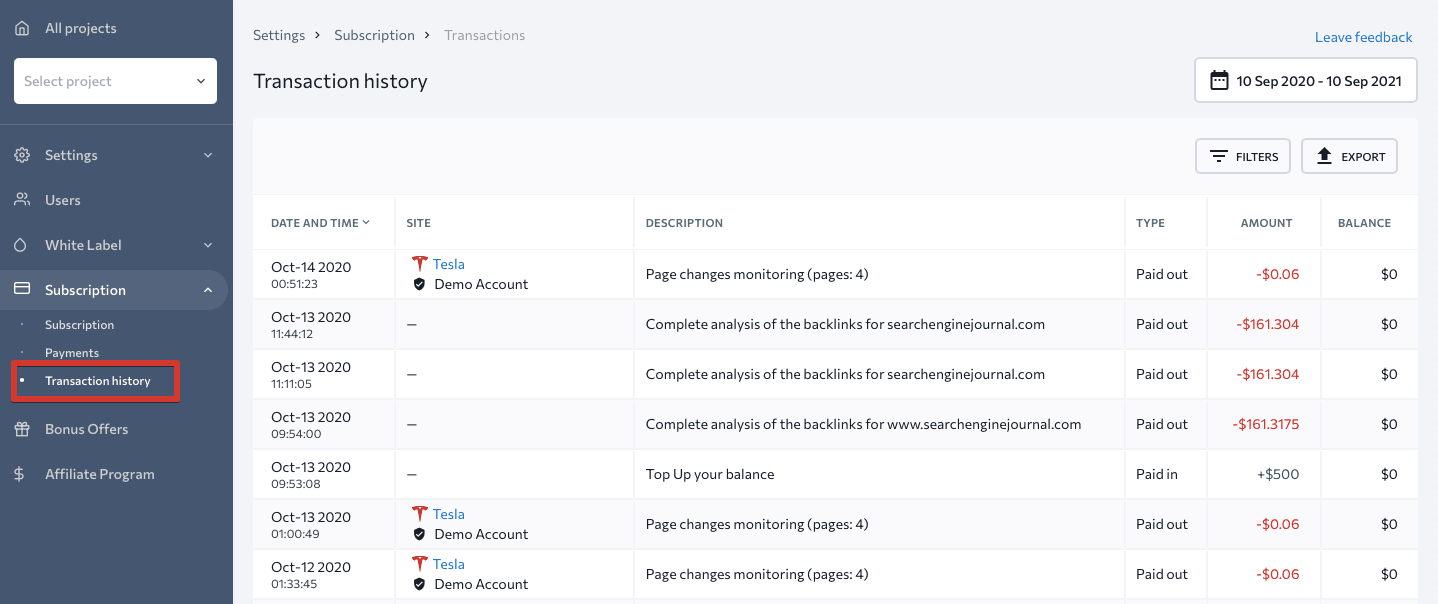 The updated mobile app SE Ranking Pro
If you're using our iOS mobile app SE Ranking Pro, update it to the latest version.
We've completely redesigned it: now the app offers more intuitive and simple UX, especially for those starting to promote their websites. There's a new page with the general SEO progress information—it shows a score based on website audit parameters, marketing plan completion, and availability in business listings.
We also plan on adding new tools to our mobile app: Competitive Research, Keyword Research, and Local Marketing.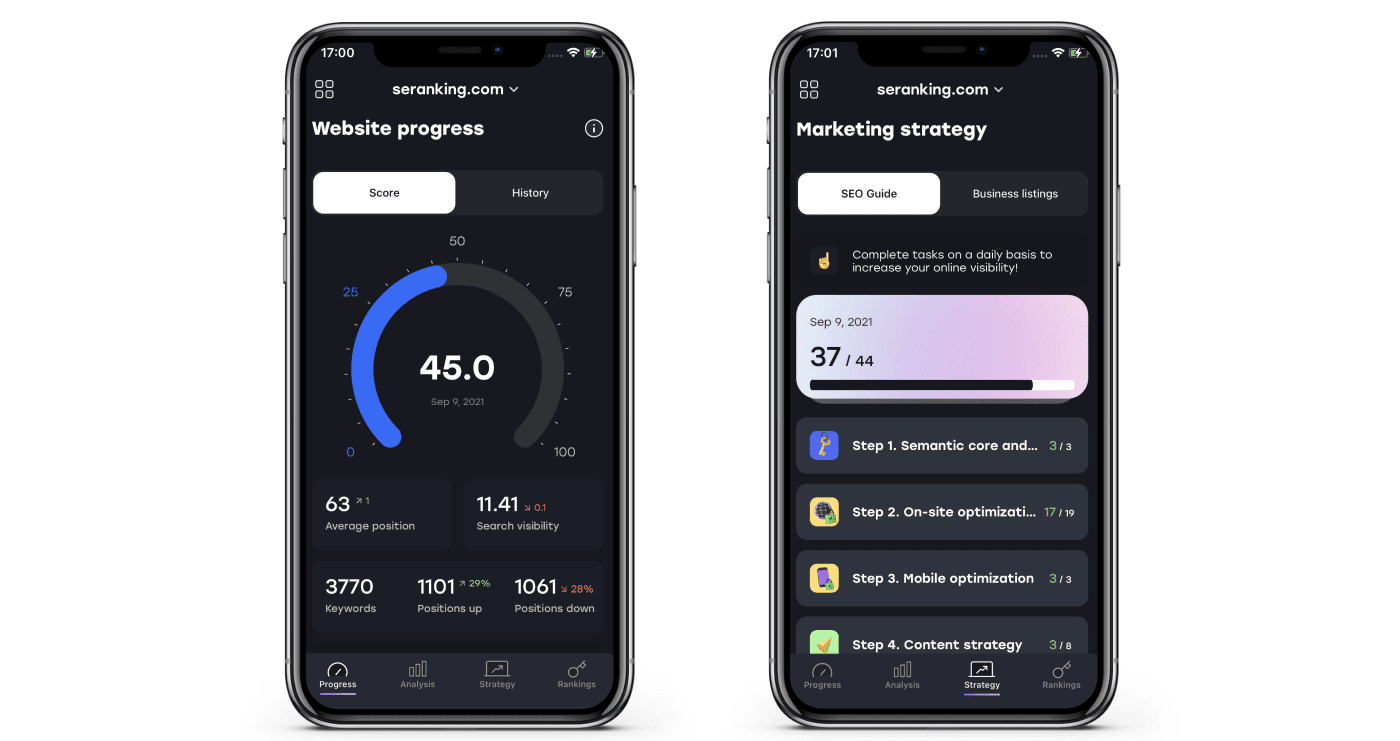 New filters and databases in Competitive Research and Keyword Research tools
We've added new filters to Competitive Research and Keyword Research: now you can easily group added queries by the number of words, number of symbols. You can also include or exclude certain keywords while doing your research.
Last but not least, meet new keyword databases for Google in 13 countries:
Pakistan: 21 988 667 keywords and 352 254 domains
Mozambique: 2 310 355 keywords and 53 349 domains
Mauritius: 6 661 197 keywords and 153 898 domains
Lebanon: 10 507 258 keywords and 297 637 domains
South Korea: 14 860 940 keywords and 309 993 domains
Haiti: 1 920 333 keywords and 38 022 domains
Guatemala: 6 393 242 keywords and 215 001 domains
Dominican Republic: 6 353 486 keywords and 226 074 domains
Costa Rica: 8 210 985 keywords and 251 275 domains
Republic of the Congo: 1 950 473 keywords and 48 878 domains
Brunei: 966 874 keywords and 272 593 domains
Bahrain: 6 682 817 keywords and 165 160 domains
Algeria: 8 732 451 keywords and 238 541 domains
If you're targeting one of these countries with your website, you will have a lot more data on what's happening on their markets.
We hope you find our recent upgrades helpful. If you have any ideas on how we can improve SE Ranking's tools, you're welcome to share them in the comments section!