With spring behind us and summer in full swing, it is once again time to tell you about our May updates — and boy do we have a lot to share with you.
In a nutshell, we have totally redesigned the Project Creation Wizard, enhanced the SEO/PPC Competitor Research tool, updated the Help tab, and spent a lot of time improving the platform's usability. And now let's look at each of the updates in more detail along with an explanation and screenshots.
1. Project Creation Wizard
Little by little, we are revamping the design of our service, with the Project Creation Wizard being the latest victim. It was critically important to pick the most suitable format since the Project Creation Wizard is exactly where our users start working with the service.
As a result, everything's changed!
Now, when you click the "Add a Website" button, you will see the following interface: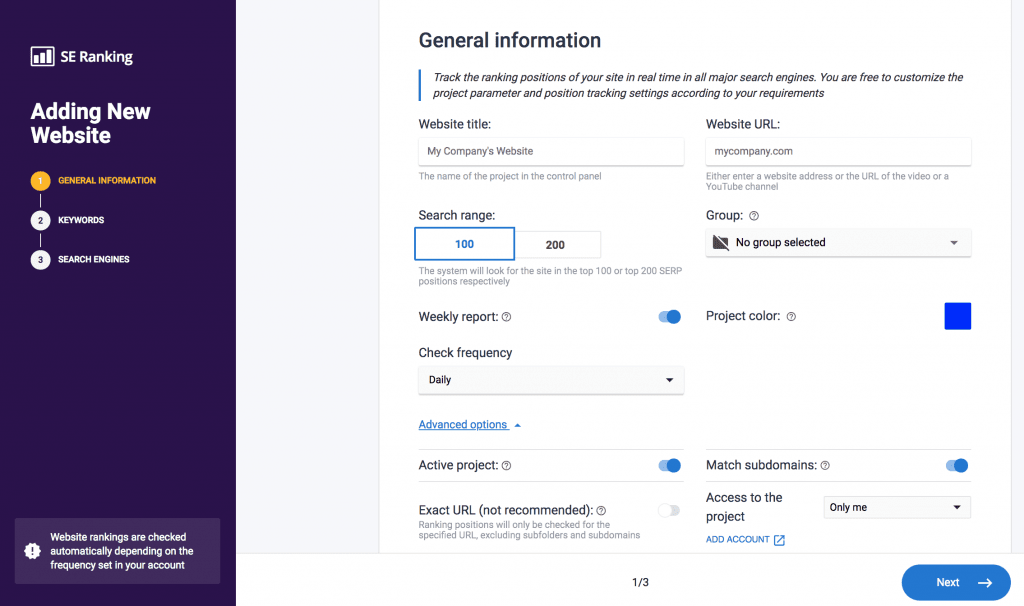 Essentially, the steps are the same. First, you need to specify the website's title and URL, select the search range, set up the weekly report, and use additional options, if necessary. As for what's new, you can now choose the project's color to identify it quicker in a list, as well as add it to a group of sites on the Dashboard.
The second step in creating a project is adding the keywords. At first glance, it may seem that everything here's just the same, but I'll let you in on a little secret — soon you'll be able to add keywords to projects directly from the Keyword Selections tool. We will tell you all about this update in greater detail in our next update digest, so stay tuned.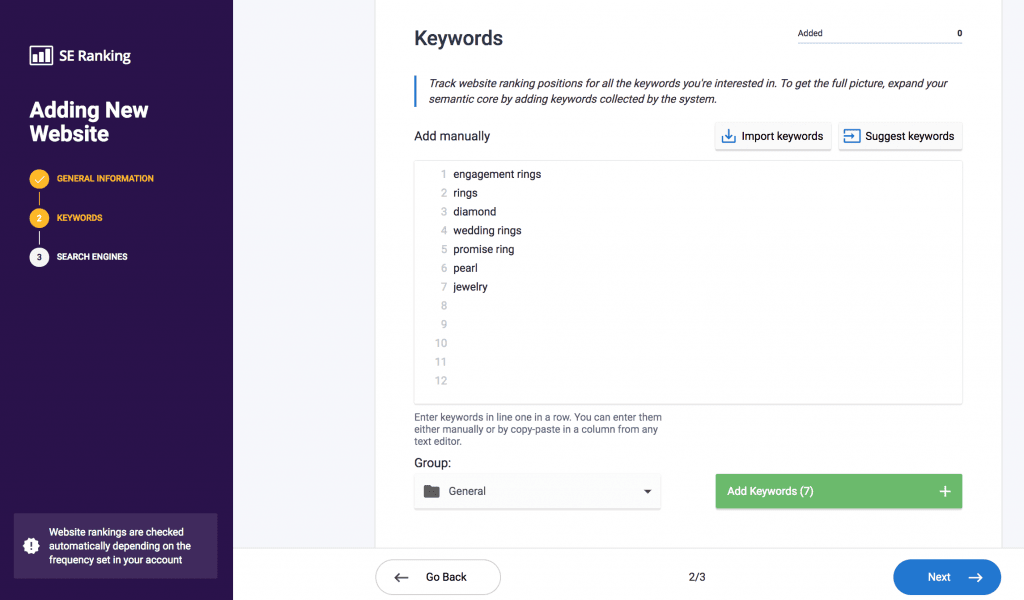 The final step in project creation requires you to add up to 5 search engines, select the location and Google interface language. Additionally, you can choose to track Google Ads rankings, include Google Maps results and Featured snippets.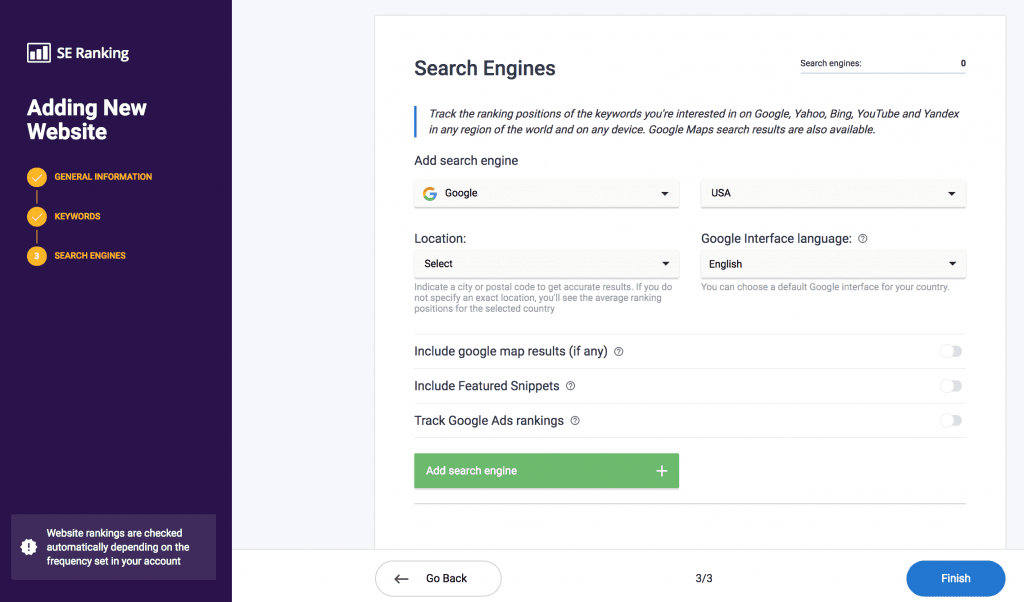 There are currently 3 steps in the Project Creation Wizard, but we plan to roll out 2 additional steps in the near future: Competitors and Statistics & Analytics services.
2. SEO/PPC Competitor Research
In this update, we paid a lot of attention to our favorite and, perhaps, one of the most frequently-updated tools. So, let's see what's new:
Under the Overview tab, you can now quickly find out which of your site's keywords jumped or dropped in rankings, as well as which keywords moved into or out of the SERPs. Moreover, you can see the number of keywords that fall under each category. By the way, this data is available both for organic and paid traffic.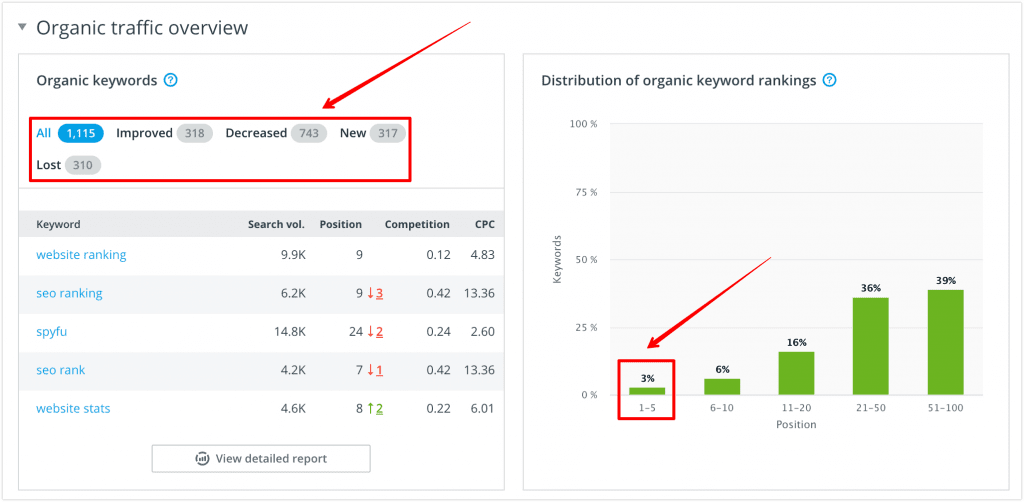 But that's not all we did to filters — we also added an autofilter, as you can see above on the graph of Distribution of organic keyword rankings. But how does it work?
Upon clicking on a column with a position range, as shown above, you can go directly to the Organic keyword rankings section and see the results with the respective filter applied. In other words, if you click on the column that shows ranking positions ranging from 1 to 5, you will see something like this: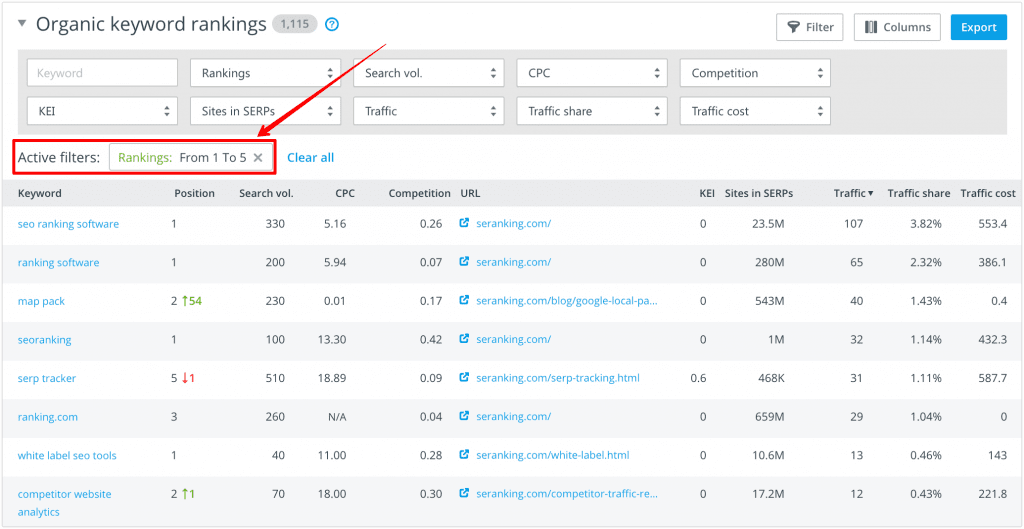 Domain semantics comparison
We've added a graph to the Overview tab that shows the semantic intersection of your domain with that of your competitors. The graph displays the total number of keywords you have in common with your competitors, your site's unique keywords, as well as those that are unique for your competitors.
Studying this data can reveal the competitors whose semantics overlap with your site, plus it can help you analyze the volumes. Plus, this data can be viewed for organic and paid traffic alike.

There is now a graph under the Ranking changes tab that shows how the ranking positions of the analyzed site have changed over time. As always, this data can be viewed under the Organic traffic research and Paid traffic research tabs. The graph visualizes site ranking jumps and drops indicating when exactly they occurred. This data empowers you to analyze what exactly influenced the ranking fluctuations.
Additionally, labels indicating the number of keywords that full under each category were also added to this tab — "Improved keywords", "Decreased keywords", "New keywords" and "Lost keywords".

Cleaned up the Google UK database
Now, our Google keyword database for the United Kingdom has fewer junk keywords and brings more value to anyone pushing a site onto the UK market. Next in line is the addition of new European keyword databases and the expansion of existing ones.
3. Help
Many of you have probably noticed that we have completely updated the Help tab. Thanks to its new design and well thought-out structure, you can now quickly find answers to any questions relating to SE Ranking.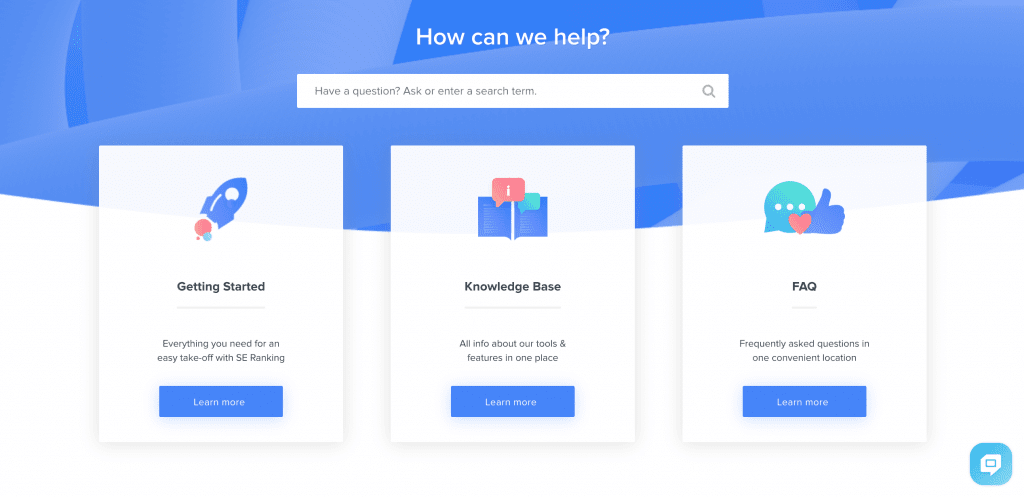 For your convenience, our help documentation is broken down into three main sections.
The Getting Started section helps all new SE Ranking users find their way around the platform and stay on top of all important steps. Basically, it has everything you need to quickly get the ball rolling in the service.
The Knowledge Base provides complete information on each section of the platform — projects, tools, personal account, reports, White Label, users, payments and integrations. All complete with detailed descriptions and screenshots.
The FAQ section contains answers to frequently asked questions, and is probably the most favorite tool of our Support Team. In fact, they are constantly expanding it with new questions, so make sure to give it a thorough read. Perhaps, you'll find something in there you've been meaning to ask us for a long time 🙂
Since we're currently working on creating educational how-to videos for the Help tab, it'd be awesome if you shared your ideas on the videos you'd like to see in the comments below!
4. Rankings and Website Audit performance improvements
Rankings
Streamlined data loading and display
The rankings chart now loads up much faster even if every filter is applied. Moreover, we have also optimized the display of all the SERP features that the target site ranks for. Such improvements are especially useful for accounts working with large volumes of data.
Website Audit
Updated PageSpeed Insights to version 5 and enhanced the audit
Now, when auditing your site, the latest (fifth) version of the Google PageSpeed Insights tool is taken into account. This tool analyzes the content of all pages and suggests how you can speed up the loading time. Now, the key difference between this version and the previous one is that the former uses Lighthouse as the analysis engine, plus the audit now includes data provided in the Chrome User Experience Report.
Since we updated PageSpeed Insights, new items appeared in the Website Audit report that can help you understand how well your pages are optimized and how their loading speed can be accelerated on various devices. The new items can be viewed under the Optimization tab.
Almost all of the updates we touched on in this blog post were implemented at the request of our amazing users. Over the summer, we will continue to fulfill our promises, but in the meantime — be sure to try all of these new features out and let us know what else we can work on in the future.
According to SE Ranking's forecast, this summer will be hot with a hundred percent chance of updates!