Sign up for our newsletters and digests to get news, expert articles, and tips on SEO
Thank you for subscribing!
The last release has delivered a few awesome updates that we would like to share with you.
Tracking positions in Google Adwords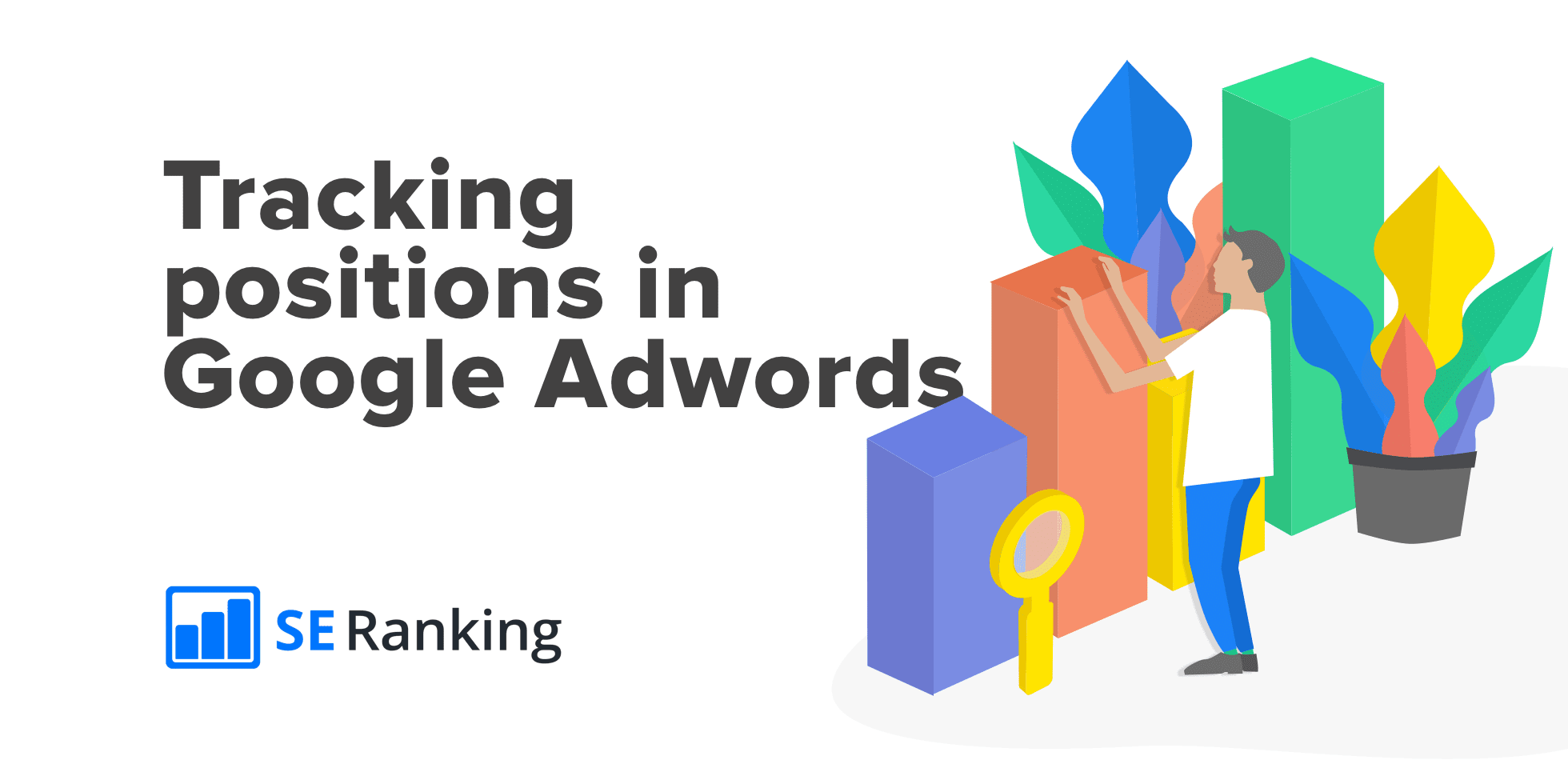 PPC Specialists – it's time for a happy dance! Last month we've released one of the most sought after features – Google Adwords paid search results tracker.
Why it is cool:
Now, you can track both organic and paid rankings of your keywords, and then compare the results.

Google Adwords rankings can help you evaluate the local visibility of your project.

This feature will make you Yoda in the competitors analysis – check their  keywords, positions in the paid SERP and how they run PPC campaigns. Then use this data in your own strategy.
How to track Google Adwords rankings using SE Ranking:
If your project is brand new.

 

Add a new project, enter the website URL and the keywords. While adding the search engines, select Google, the city or zip-code where you'd like to track the results, and then mark the Track Google Adwords rankings

checkbox. After that you will see both organic and paid results in the Rankings section.

If you already have a project.

 

Go to your project settings, choose the search engine settings and mark the Track Google Adwords rankings

checkbox.
Like that: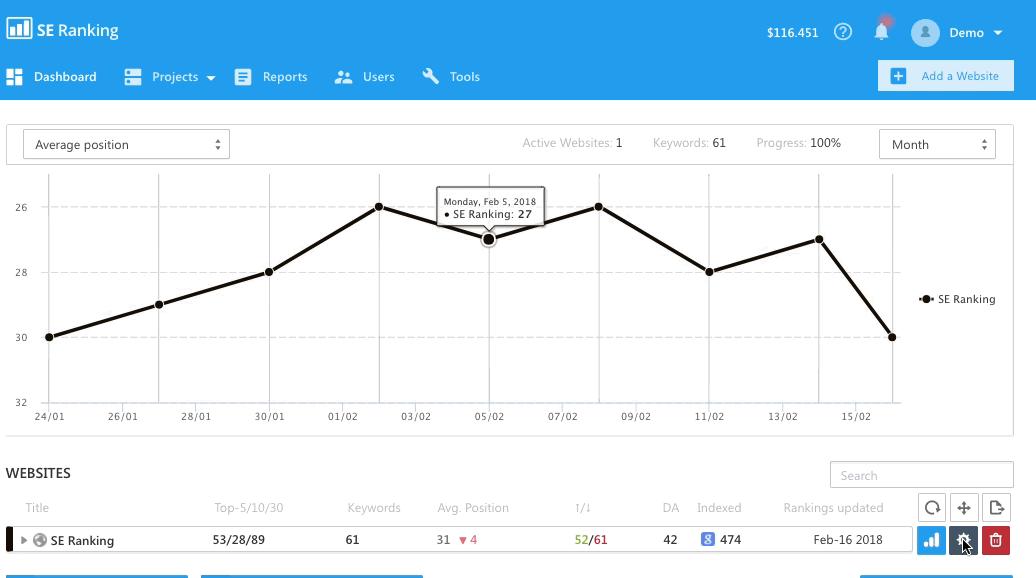 To analyze your competitors

go to the competitors section and track both – your own and your competitors' rankings for the common keywords.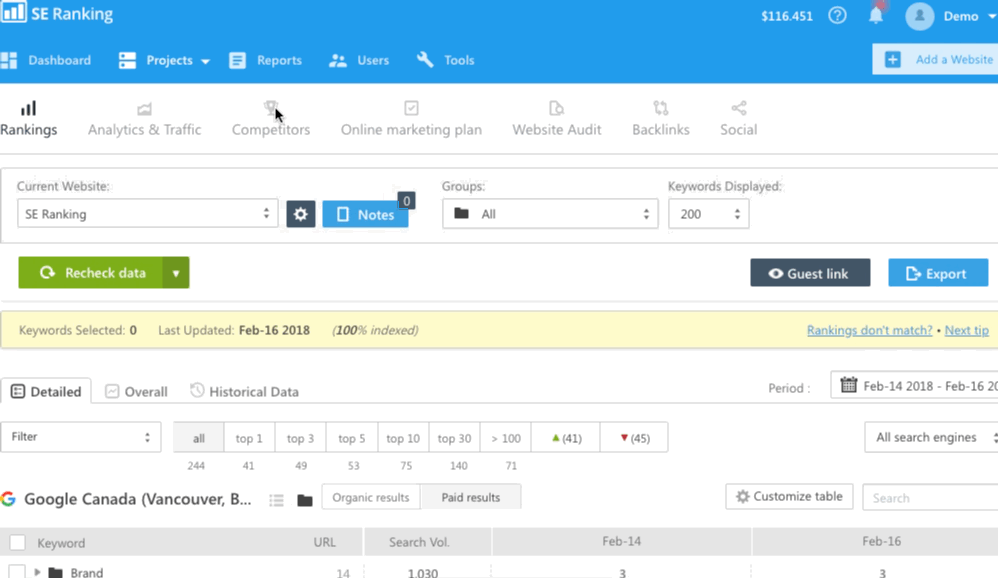 * To check the Google Adwords rankings, you have to specify the city/zip-code.
New blocks added to Website Audit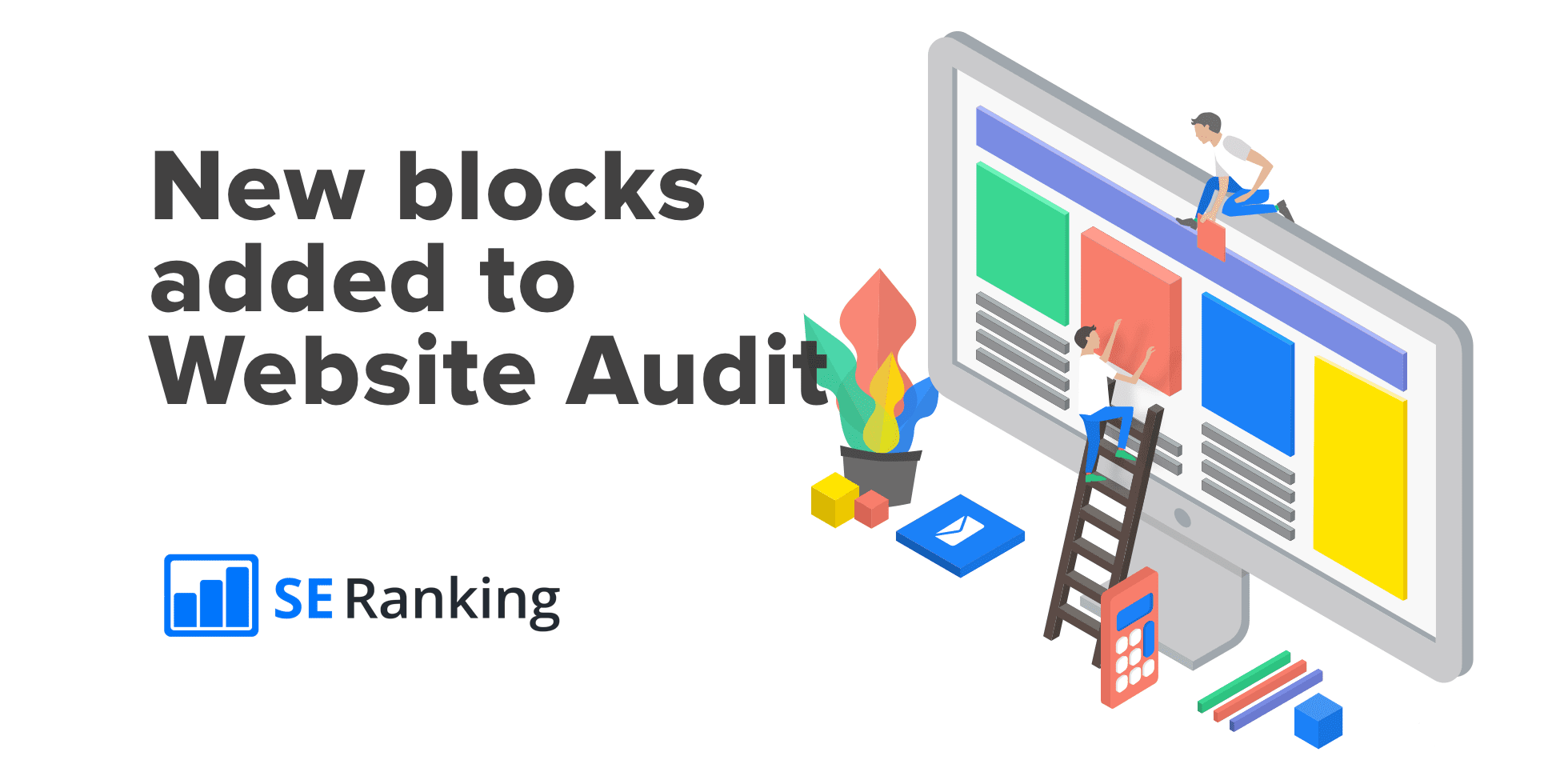 We've collected your suggestions and rolled a first batch of updates in our Website Audit – 17 new info blocks have been added and already available in all SE Ranking accounts.
In details:
XML sitemap module: we've added a list of all links to the XML sitemap.
Links Analysis section

– added a new module – "URLs with the excessive number of redirects." This element crawls and displays pages with more than 5 redirects. Also we've added new modules that will check the pages with no inbound internal links, the number of links in the XML sitemap and the number of external links with 5xx status.

The hreflang attribute.

This attribute is used to specify the language or regional URL in case the website has been translated into multiple languages. The search engine uses this attribute to serve the correct language or regional URL in the search results. The new website audit will show whether hreflang is used on your site, which pages contain the hreflang attribute and whether there are any errors in the attribute.  

Content Analysis section:

now you can check the pages with a duplicate H1 tag, pages with an empty H2 tag and with no H2 tag whatsoever.

We've also added Bing and Yahoo search engines in the indexed pages section.
The enhanced website audit will help you find and eliminate more errors. To see all the new updates, run new website audit in your SE Ranking account.
More updates to come – stay tuned!
New option for keywords sorting in the report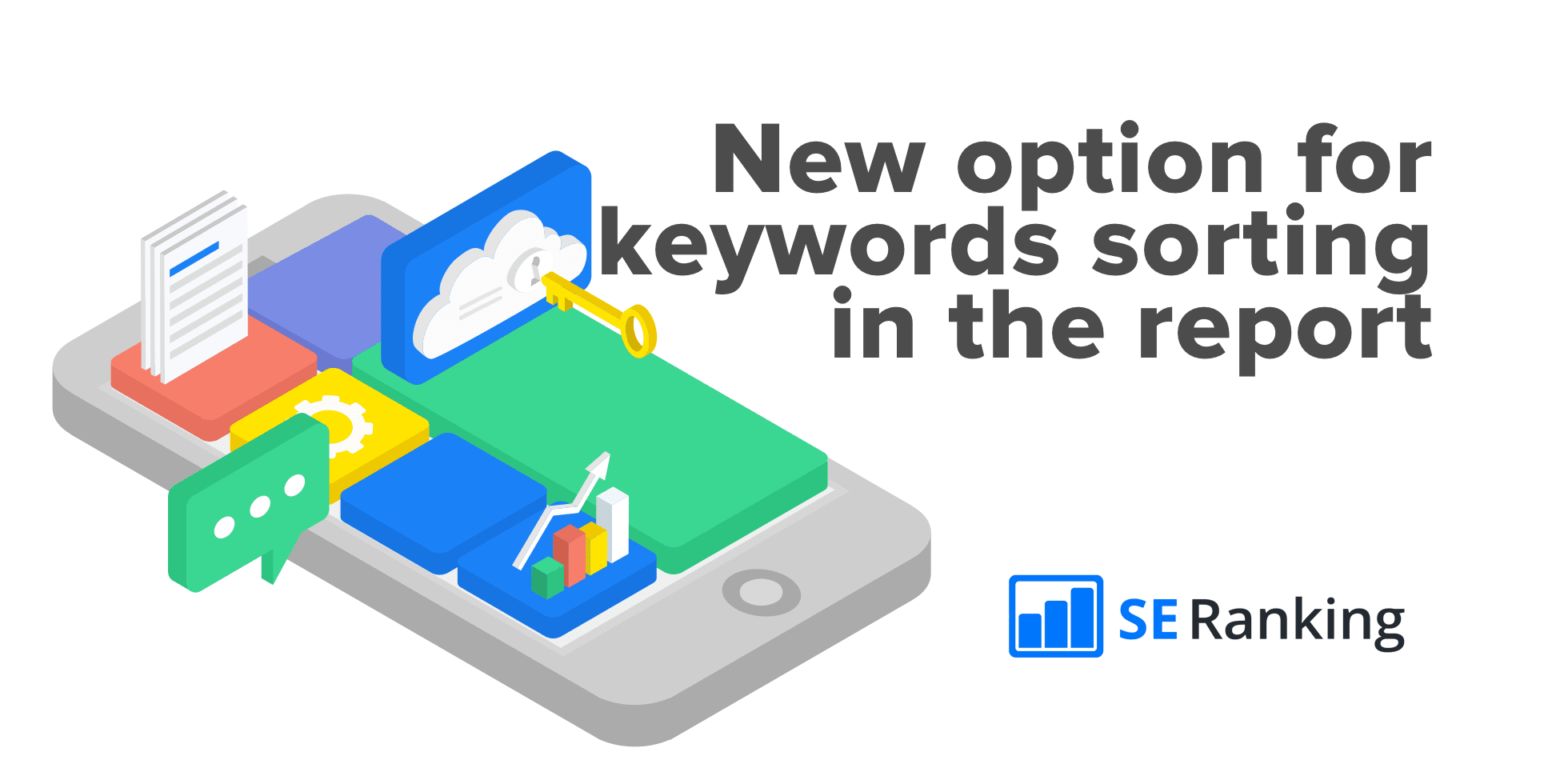 Many of you asked to add an option to sort keywords in the reports. You got it! Now you can sort them by any parameter: position, keyword, volume, KEI, competition, cost per click, results. You can also select keywords from a specific TOP: TOP 10, TOP 20, TOP 30, TOP 40, TOP 50, TOP 100.
To configure the settings, go to the Reports, select the Rankings section and set the parameters and what keywords you want to add to the report: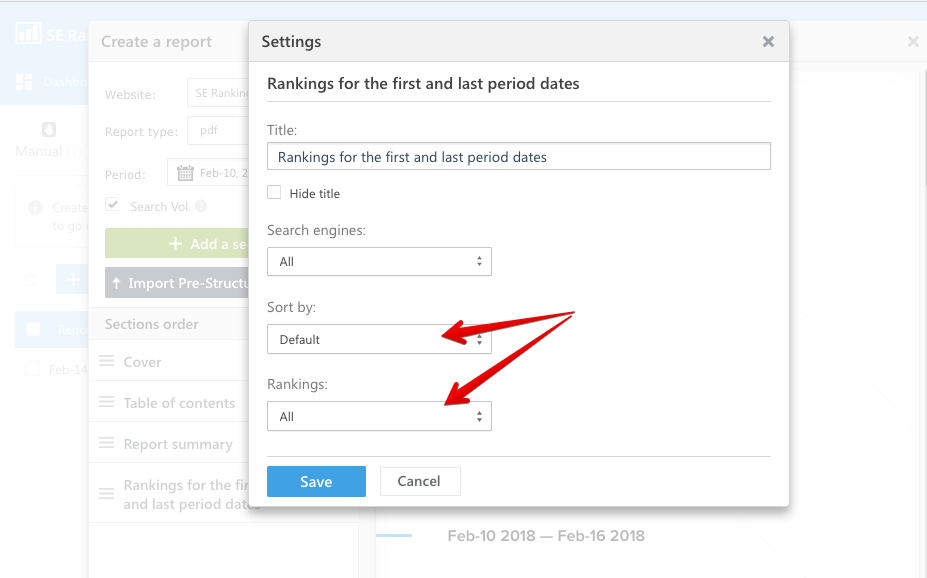 Auto-posting to Twitter
The recent Twitter update allows users to post updates up to 280-characters. This adjustment has been applied to the SE Ranking SMM tool. So continue using our auto-posting with confidence knowing that all Twitter requirements are followed and respected.
Number formats
We've added an option to change the numbers format in all SE Ranking sections and reports. You can choose the needed format in the profile settings by ticking the appropriate checkbox:
1234,10

1234.10

1 234,10

1,234.10
Unsubscribe from notifications about new backlinks
From now on you can unsubscribe from system notifications related to new backlinks that we send to your email. You can do it in all the automatic reports you get.