Sign up for our newsletters and digests to get news, expert articles, and tips on SEO
Thank you for subscribing!
With June behind us, we're officially past the halfway mark of 2021 and it's high time to start making vacation plans. But before you make your summer getaway, we're excited to share with you what we've been working on over the past several months. And we have a lot to cover because practically every SE Ranking tool got an update, most of which were implemented thanks to your feedback, comments and suggestions. See for yourself 🙂
Let me walk you through the main sections of the platform and show you what exactly we improved, how everything works and how we made things more convenient.
New filters in Rankings
We've added the Without tags option to the filters available in the Rankings and My Competitors modules. You now have the opportunity to view all of the keywords that do not have a tag assigned to them.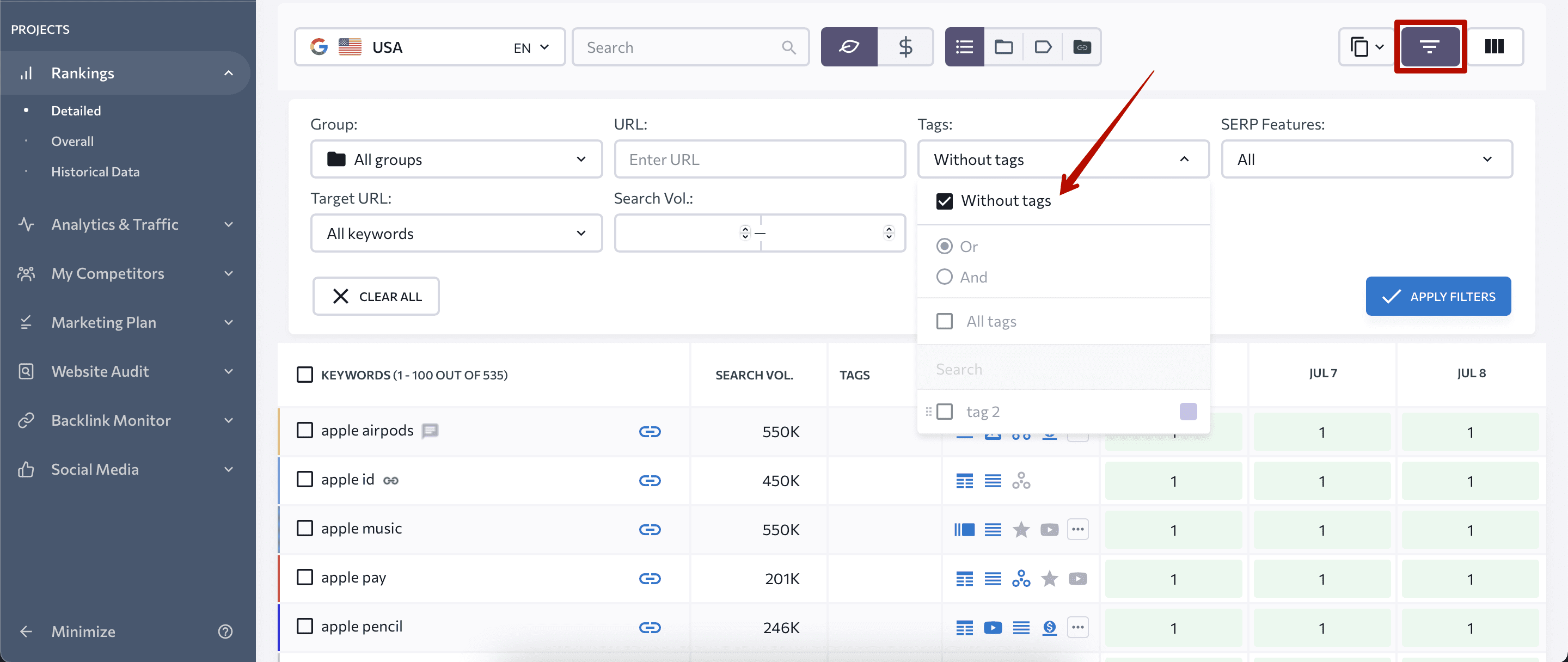 In addition, we have added a Target URL filter that gives you the freedom to single out keywords whose target URL either matches or doesn't match the search results.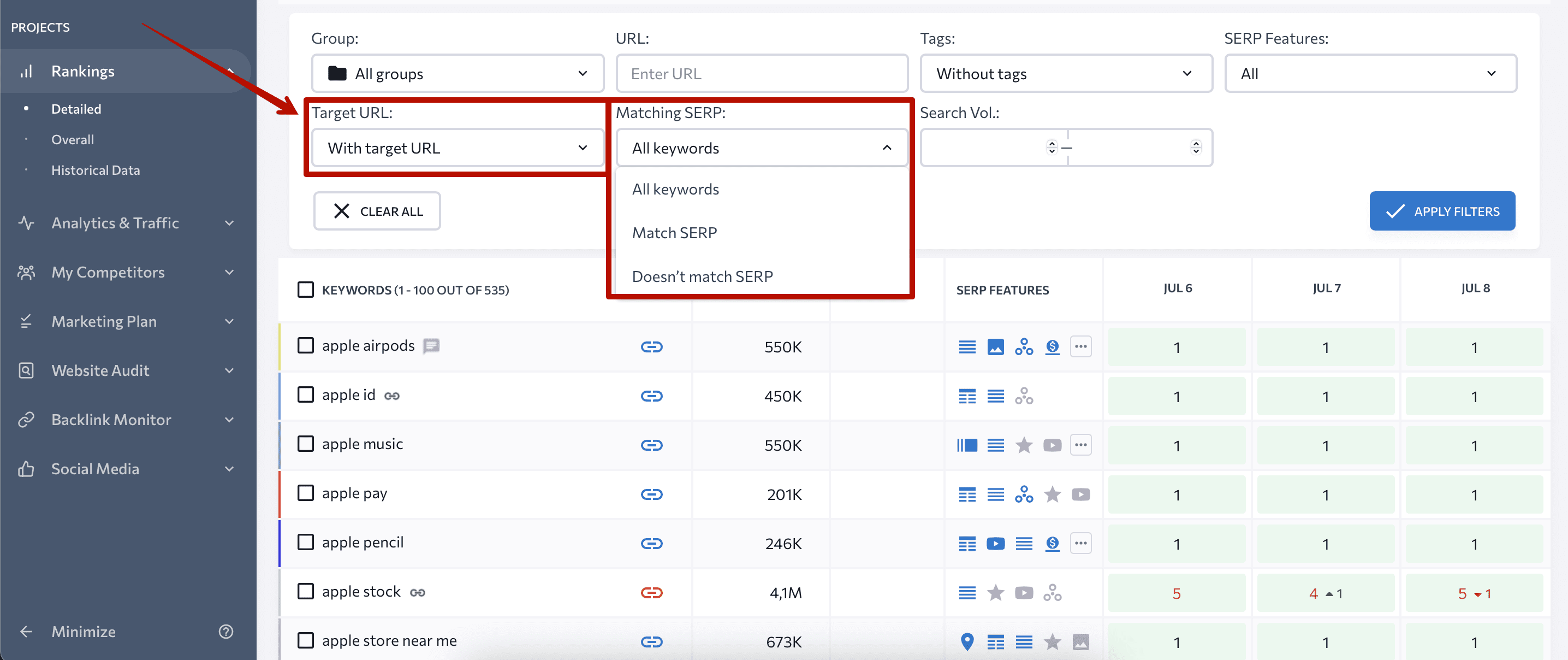 Another improvement that we made lets you delete notes as you are viewing them on graphs without having to go to the Notes section. Moreover, you can now edit notes, and the structure of the text will remain the same on the graph.

We also want to draw your attention to the fact that we have added a new column called Date added to the Historical Data section of the Rankings module.
In the rankings table, you can now straight away see when keywords were added to your project and sort them respectively. Plus, we have added dates to every other column with historical data periods to make it easier for you to analyze the dynamics.

If you are promoting your website in a single region and search engine but target people who speak different languages, you will be pleased to know that you can now see the selected interface language when choosing a search engine.

And in conclusion to the updates we made to the Rankings module, you can now select specific keywords or keyword groups and analyze them in a graph against key parameters (average position, traffic forecast, search visibility).
The data is shown for a period of up to six months so that you can easily assess the ranking dynamics. Furthermore, by selecting several keywords (or groups), you will be able to see their comparison on the graph.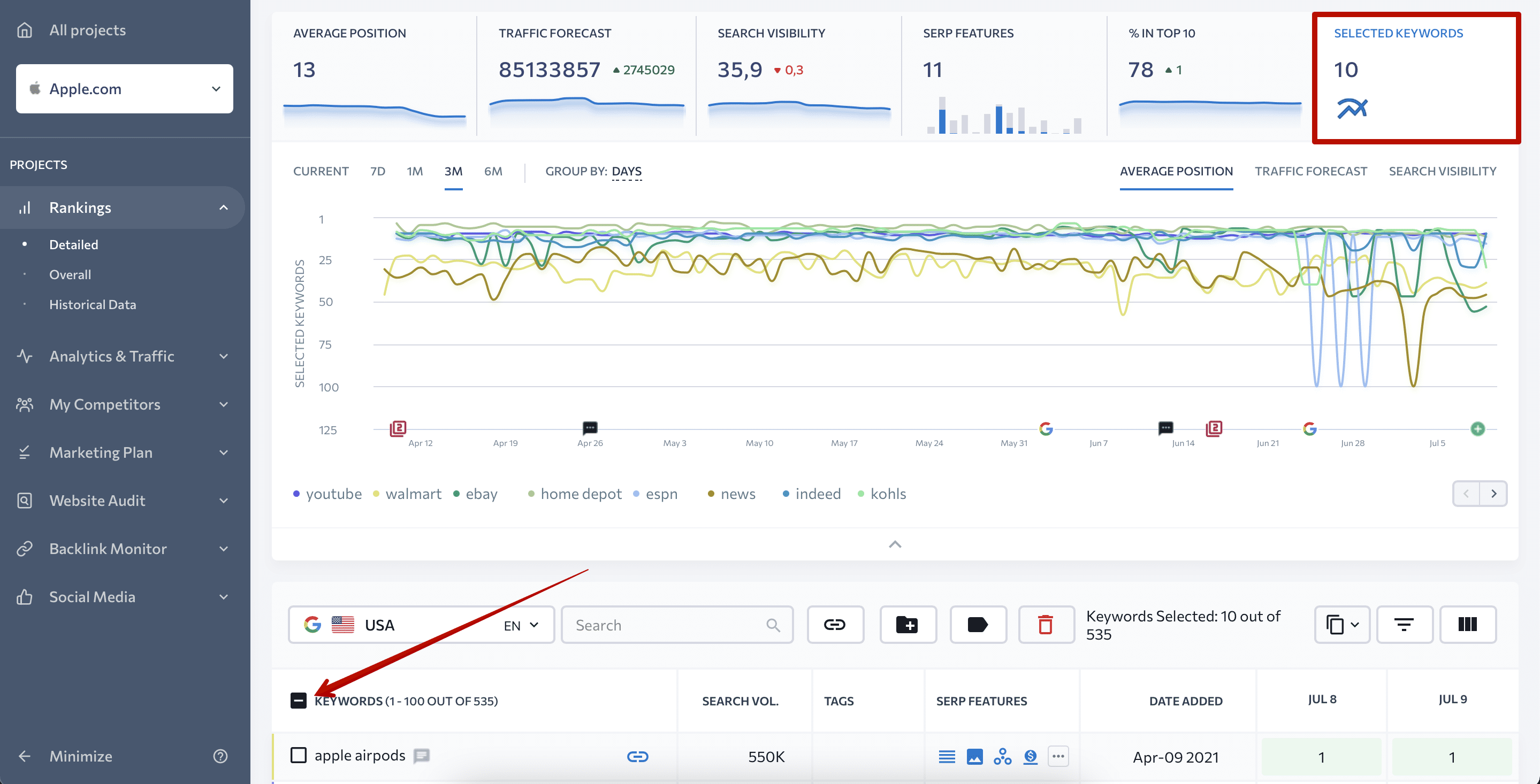 New competitor comparison opportunities
Under My Competitors, you can now get a quick rankings comparison by selecting the Detailed tab at the top of the page, checkmarking at least two websites and clicking the Compare button. Once the graph is updated, you will see a comparison of the selected websites.
On top of that, if you click to view a competitor's rankings and check mark several keywords, you will be able to analyze their data in dynamics against your own site under the Selected keywords graph.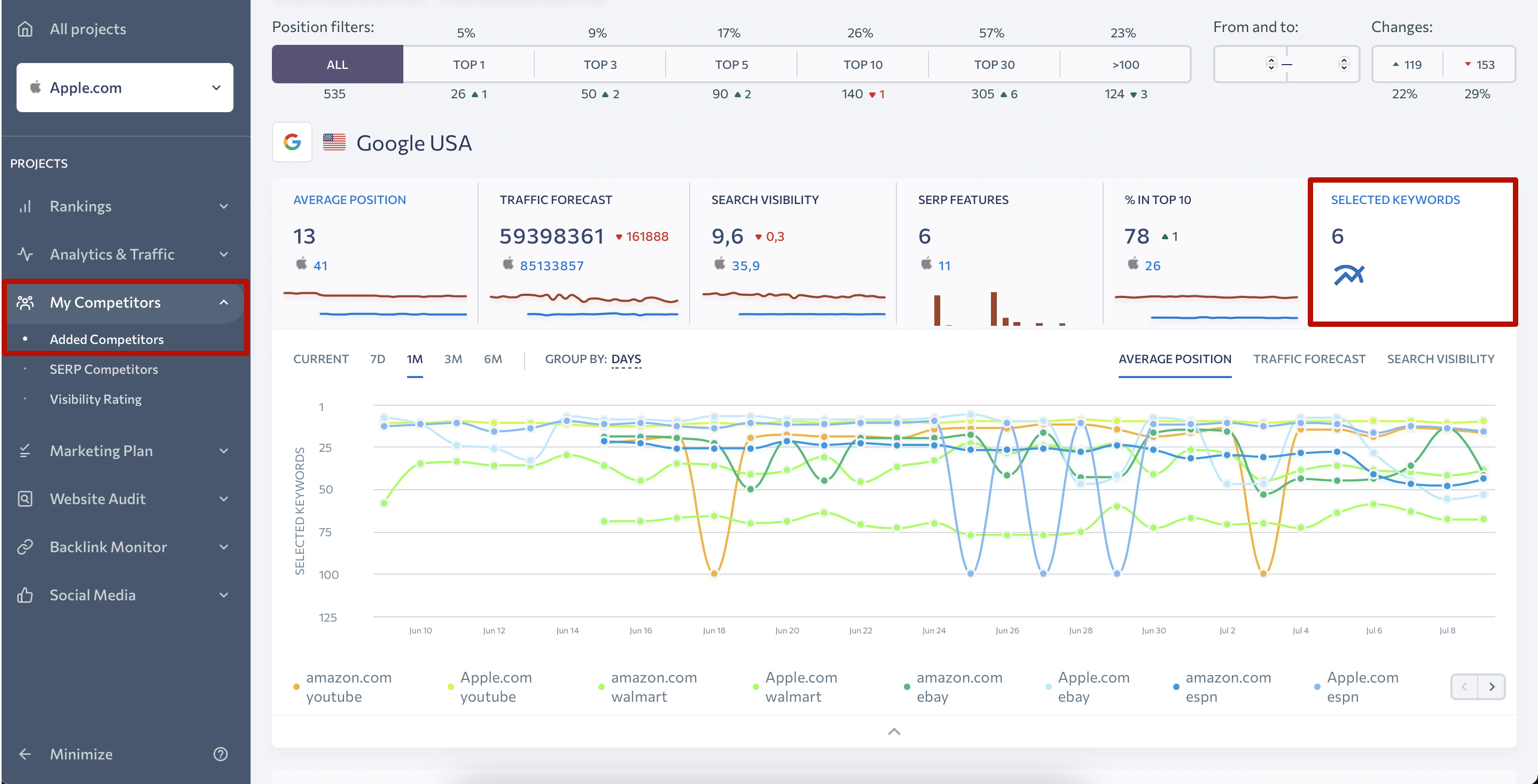 This makes it much more convenient to study data because you no longer need to switch between tabs. For ease of use, we now display the Overall tab by default so that you can immediately get a general comparison of your and your competitor's website standings.
To boot, the keyword graph now displays two lines: one for your project and the other for the selected competitor. In turn, this allows you to quickly compare data over time.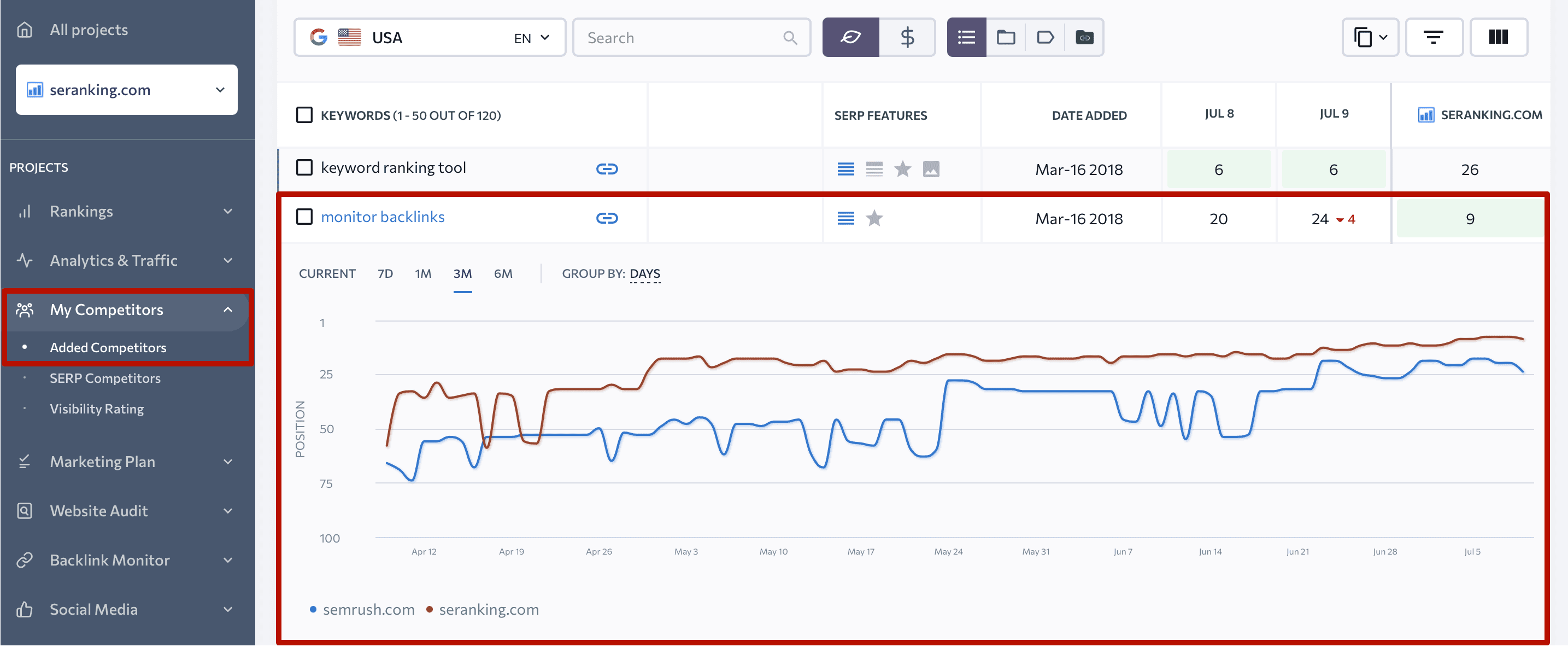 Analytics & Traffic update
Last month, we updated our Analytics & Traffic module in accordance with the new version of Analytics, Google Analytics 4. We slightly tweaked the design and data display, and are planning to expand the module further in the future to provide you with even more extensive and in-depth analysis capabilities.
Another thing that got updated in the module is the display of filters for Google Search Console data.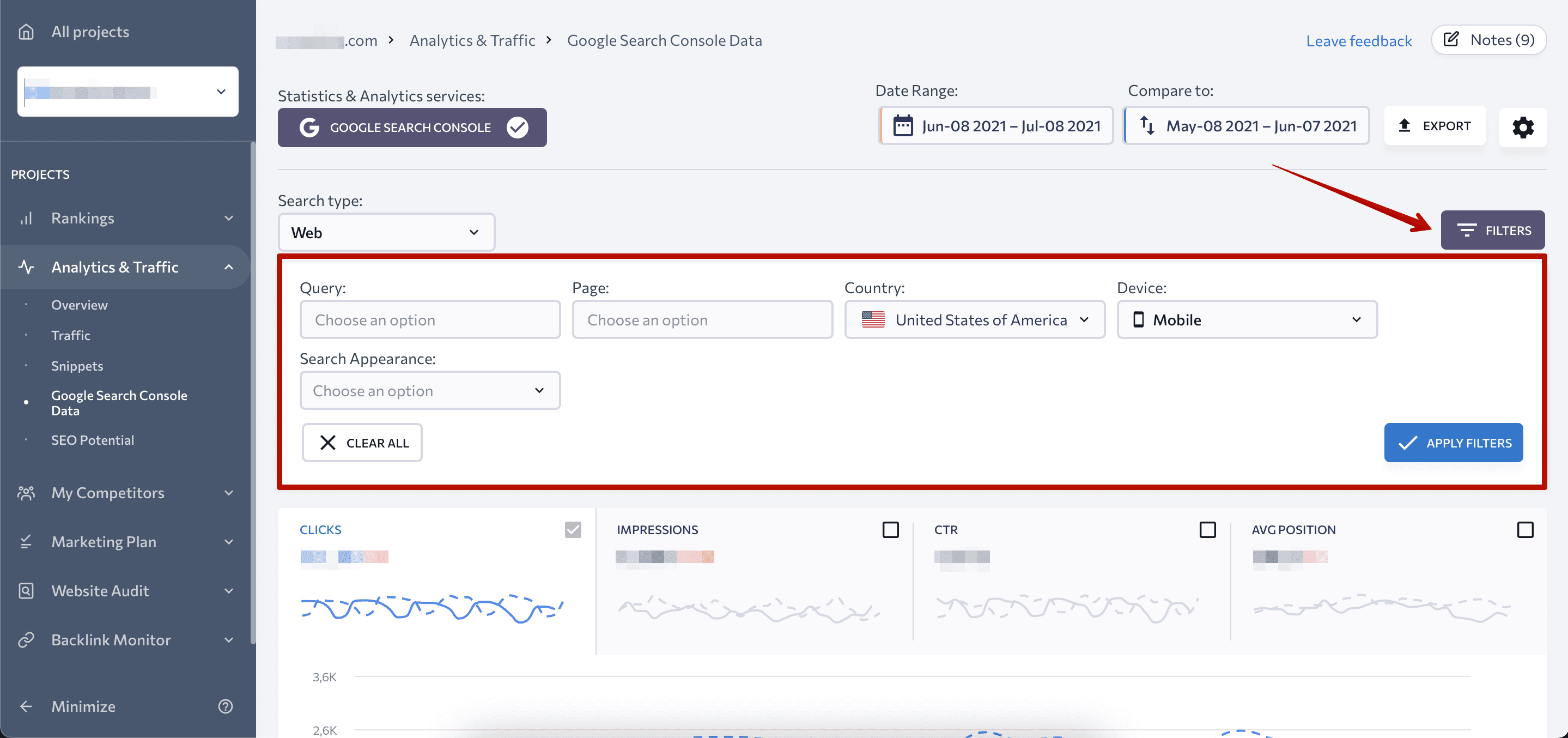 In a convenient and familiar filtering format, you can now:
select the search data display type (web, images, video);
indicate the necessary keyword;
enter a page you want to analyze;
select a country from the drop-down list;
choose a device;
select the necessary search appearance,
and apply every selected filter to get more accurate traffic data.
One more update can be found under Snippets: by selecting a keyword, you can view data on its average position, traffic forecast and search visibility in a graph.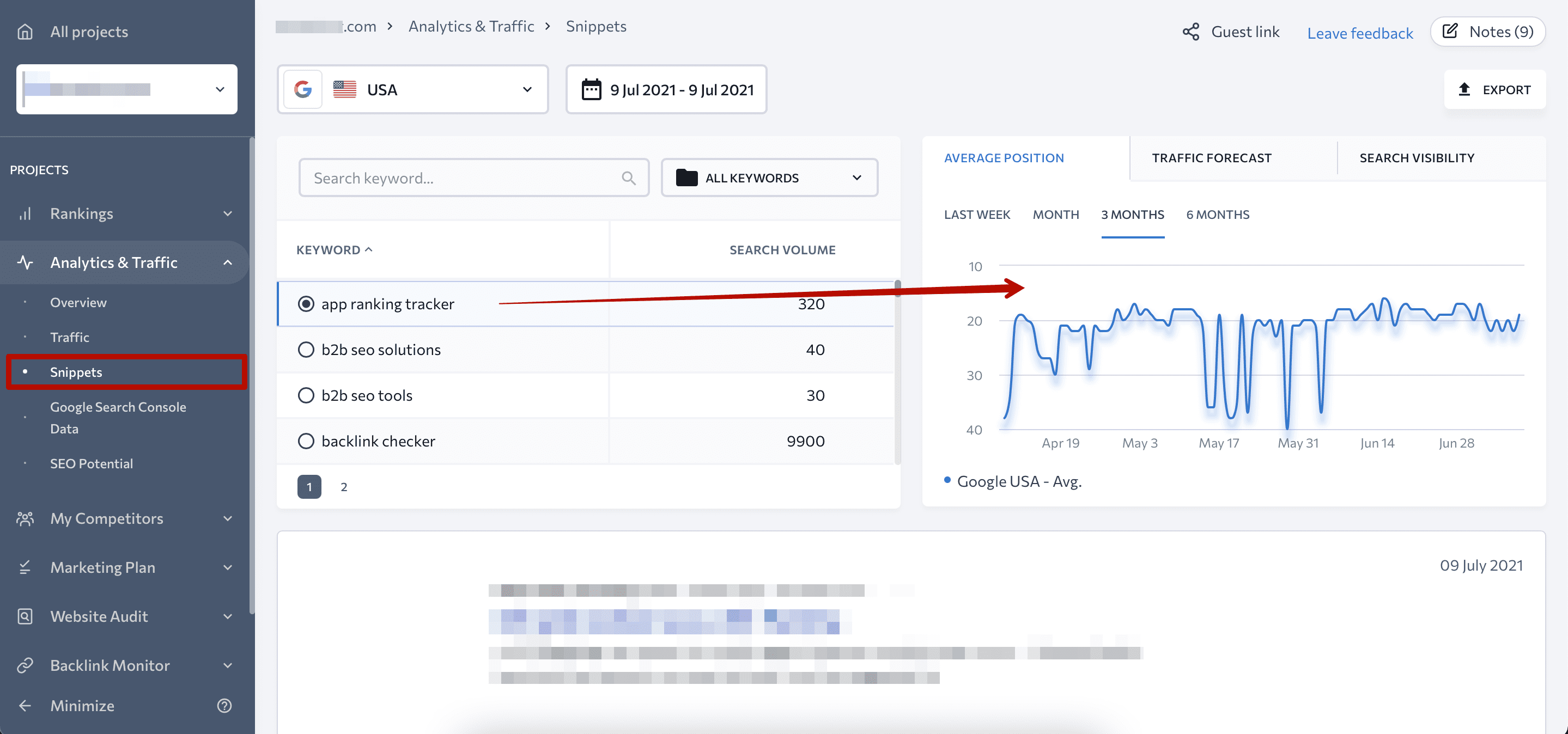 What's new in Backlink Checker and Report Builder
We have added country and ccTLD domain zone filters to the Backlink Checker tool. In a single click, you can now see how referring domains or backlinks are distributed across countries based on country code top-level domains (ccTLDs).
In addition, all of the numbers on the distribution map under the Overview tab are now clickable. By clicking on a number, you will be redirected to the Backlinks tab where the domain zone filter will already be applied.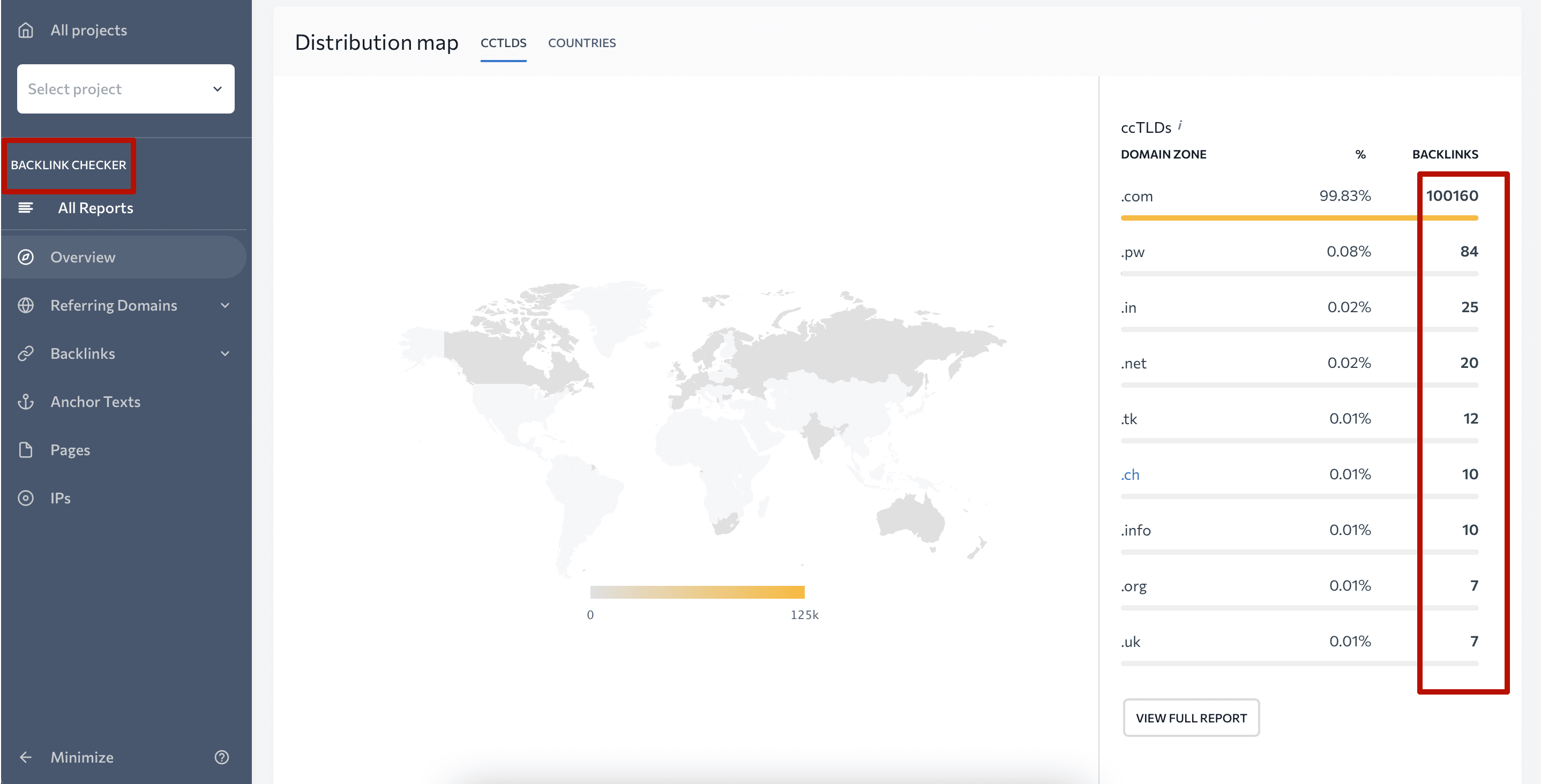 When creating Scheduled reports in the Report Builder, you can now select the last month under Date Range and export all the data you need in a click.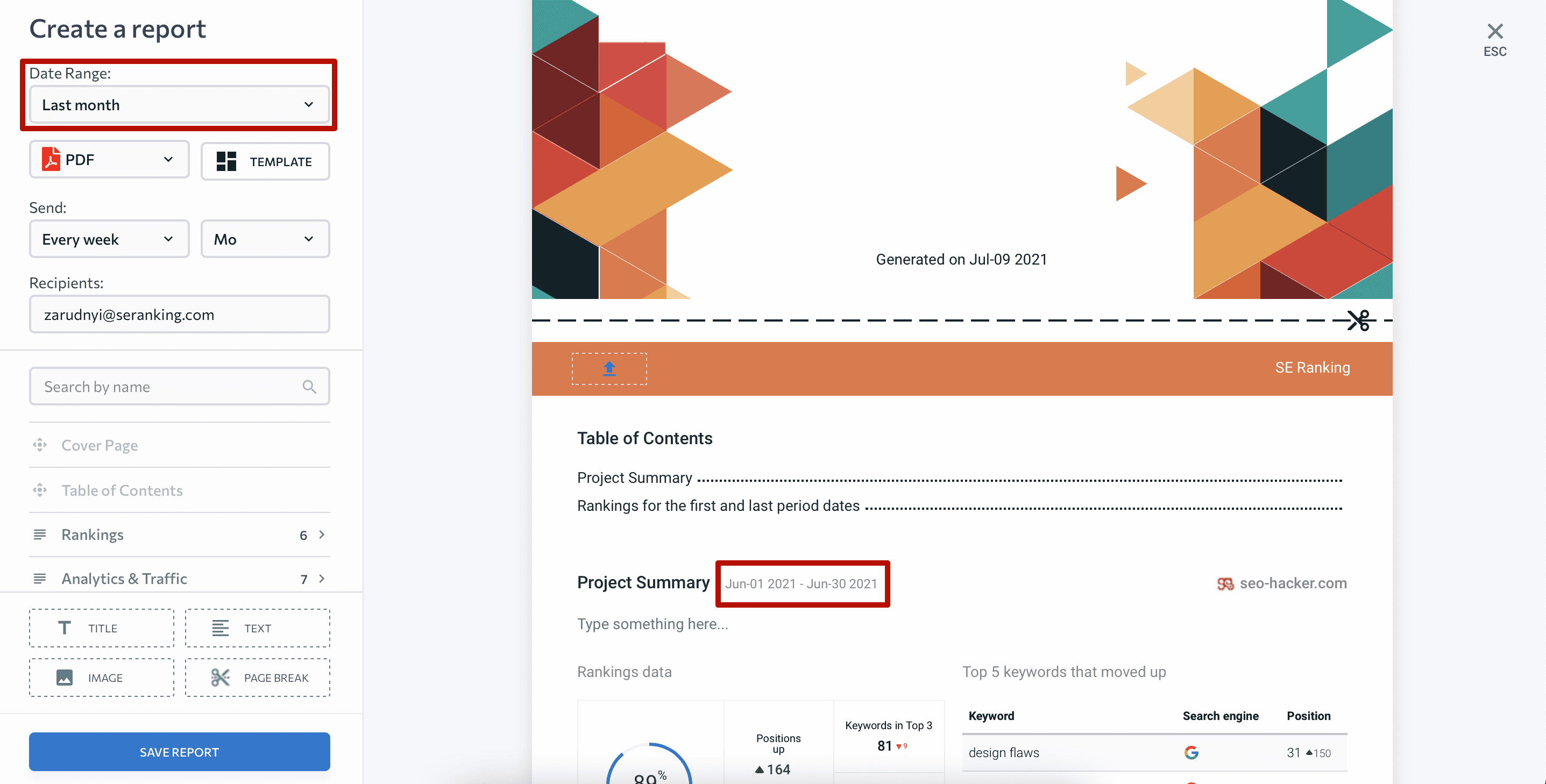 Historical data on domains and keywords in SE Ranking
In June, we launched one of our most anticipated updates for competitor and keyword analysis: historical data.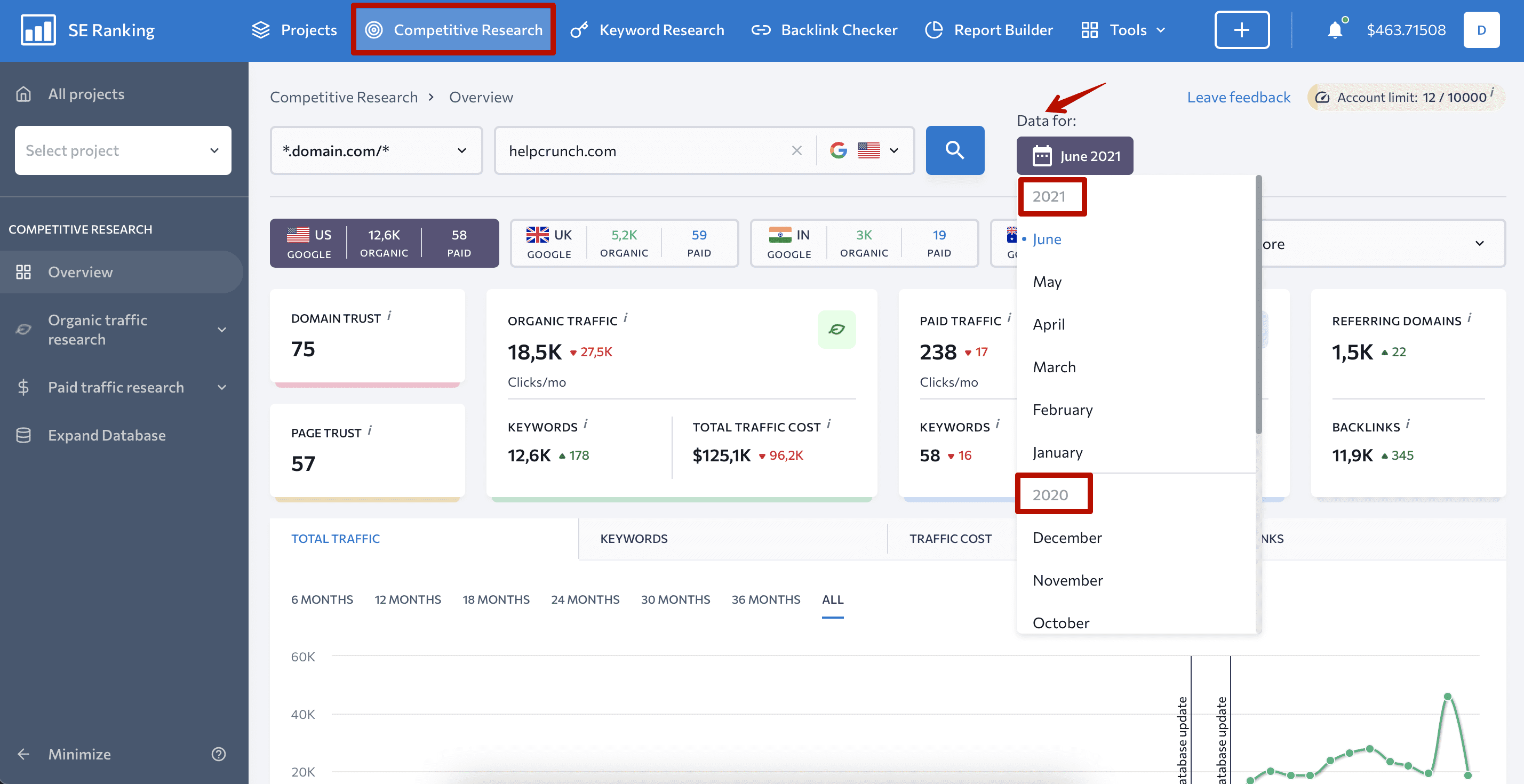 Now, in just a few clicks, you can go back in time month-by-month all the way to February 2020 to get valuable data on any domain's organic and paid traffic activities as well as on keywords. Check out our detailed overview of this feature in our blog post or watch the video.
Competitive and Keyword Research tool updates
Our software development team did a lot of work on these two tools to improve stability and loading speed. Plus, the following changes were made:
Keyword Suggestions under Keyword Research are no longer sorted alphabetically but by the best match with the analyzed keyword;
Now you can find data on URLs instead of domains under Organic traffic research of the Competitive Research tool;
Added a graph on backlinks for both organic and paid traffic to the Overview and Competitors sections of the Competitive Research tool.

Plus, the graphs allow you to choose a time period with 6-month intervals (the minimum period is 6 months, and you can go all the way up to 36 months);
Page titles of URLs are now displayed under the organic and paid traffic sections of both the Competitive and Keyword Research tools.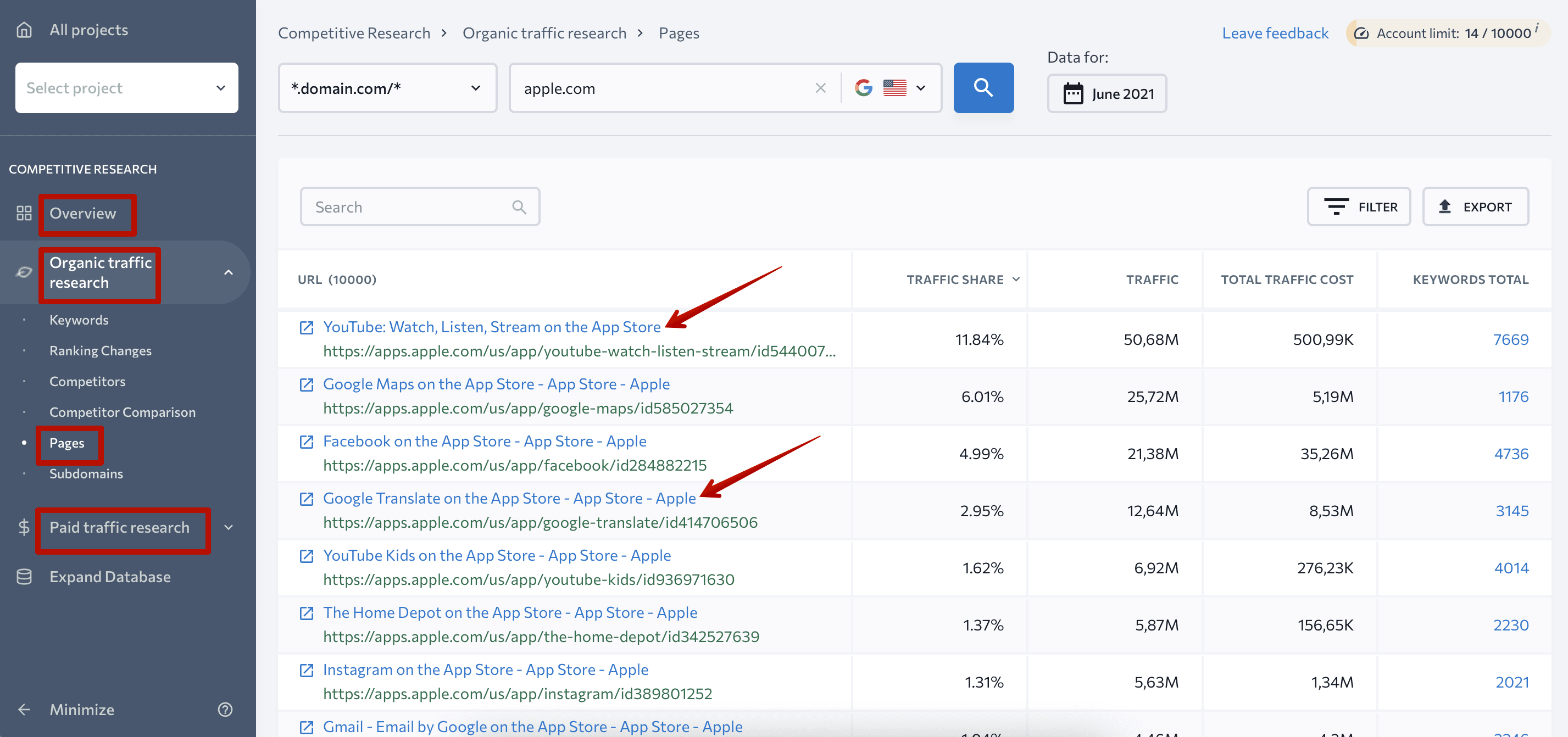 New checks and settings in Website Audit
Let's start with a feature that is useful for automation as well as for handling large projects: we have made it possible to launch website audits using the API.
We've also added a new check category to the tool, AMP, which focuses on the technical implementation of Accelerated Mobile Pages (AMPs) on the site.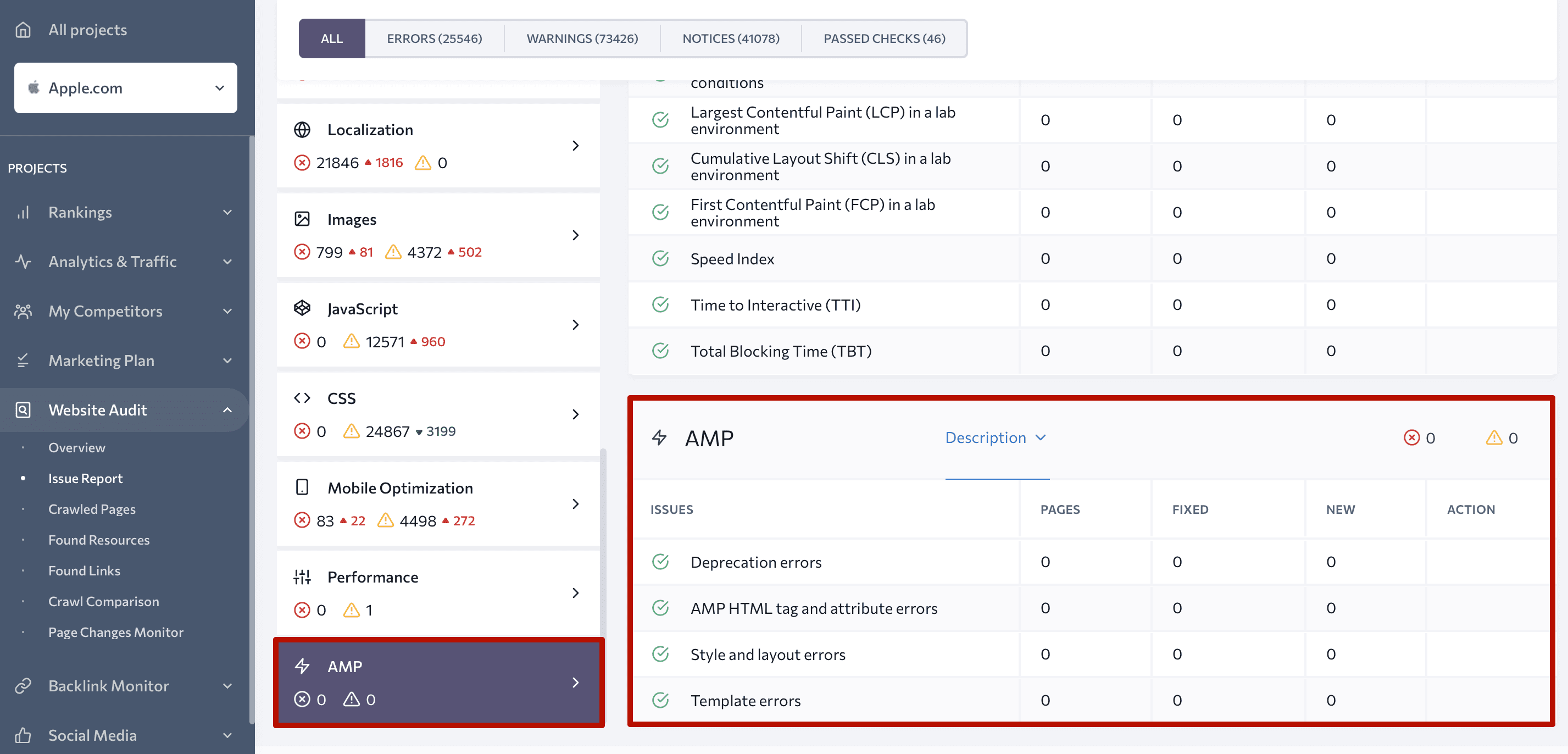 Under Crawled Pages, you can now see a column that shows whether the page is an AMP page or has a link to the AMP version.
New homepage checks have been added to the Performance category: Largest Contentful Paint (LCP), Cumulative Layout Shift (CLS), First Contentful Paint (FCP), Speed Index, Time to Interactive (TTI), Total Blocking Time (TBT).
Two new checks have been added for images to the Found Resources section, namely the tool analyzes to see if the Title and the Alt attributes match.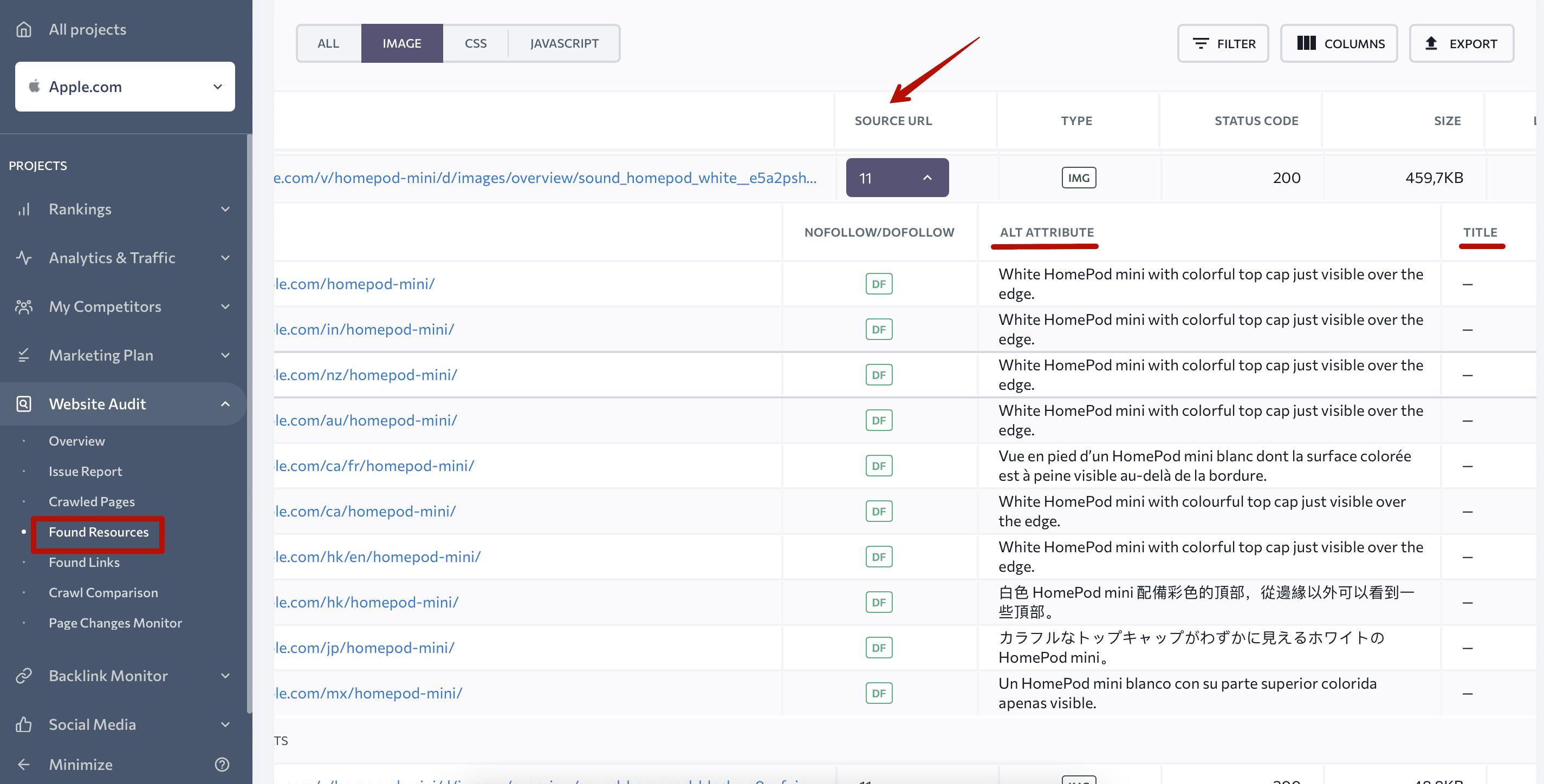 New pricing plans with expanded limits
Perhaps, you've noticed that we've renamed our pricing plans to Essential, Pro and Business.
If you are subscribed to one of our previously available pricing plans, you will still be able to renew it. However, we recommend you upgrade your subscription to one of the new plans.
Details on the new pricing plans:
We're introducing new limits on the number of available user seats in each account. Every pricing plan offers a different number of seats for additional users but you can always purchase additional ones;
Historical data is available for the Competitive and Keyword Research tools under the Pro (data for the previous month) and Business (data for all previous periods, starting from February 2020) pricing plan;
Limits have been expanded on the number of competitors whose rankings you can track for your site's target keywords, on the number of pages that can be audited and on the number of backlinks that can be monitored.
We're not changing the price and you get access to new features and expanded limits. Learn more on our updated pricing plans here, and reach out to us via live chat if you have any questions.
We are already working on new updates, but we are eager to get your feedback. Let us know if the new features are easy to work with, if anything is still missing for you, and how else we can improve SE Ranking to help you get your sites to the top of the search results!