Although winter is coming to an end, you hopefully still have time to build one more snowman to close the season off with a bang! But if you're looking to do something that doesn't depend on the weather, check out our blog post on the latest updates we made to our SEO platform ?
In February, we updated several fundamental SE Ranking tools, and worked long, hard hours to give the entire platform a new look that we'll share with you this spring. We're not going to ruin the big design reveal by leaking all the details now, but we will be happy to tell you everything about other platform changes.
Removed duplicate reports from Backlink Checker
Previously, the Backlink Checker tool displayed every single backlink report that's ever been generated. In other words, both new and old reports were all stored under the same list, which I think you'll find is very inconvenient when it comes to quickly finding the necessary report.
So, we decided to remedy the situation and removed all duplicate reports from the tool's History section. Now, when analyzing the backlink profile of a domain whose backlinks have already been found by our system in the past, you will immediately be offered to update the latest report instead of creating a new one.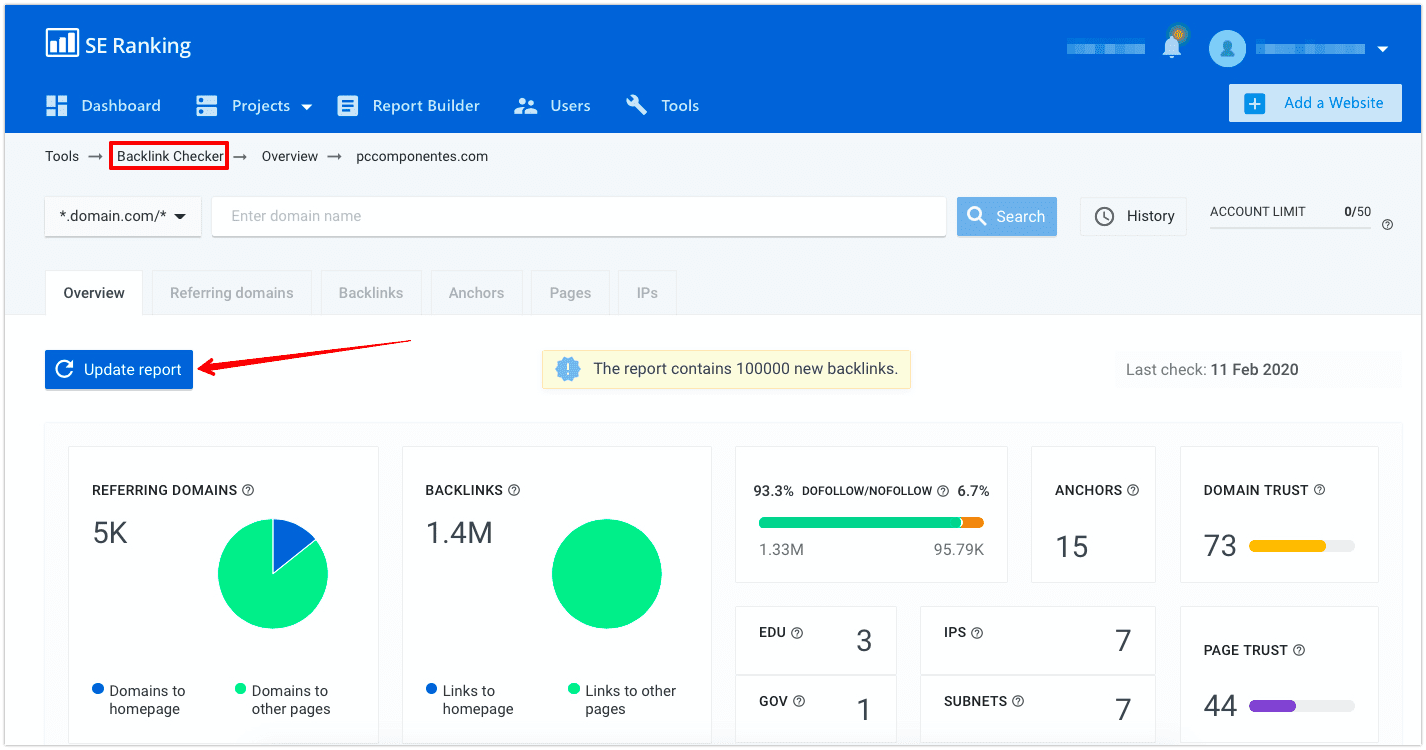 To recap, forget about wasting time going through duplicate backlink profile reports to find the one you need. All of the backlink reports are now unique and sorted by date.
New SEO/PPC Competitor Research databases
Give a warm welcome to two new Google databases that have just become a part of SEO/PPC Competitor Research!
I'm referring to Malaysia with 1,439,316 and South Africa with 23,149,143 keywords respectively. And we're still not even close to what we have planned for the tool! To give you a sense of how far we've come, the SEO/PPC Competitor Research database has expanded by 30% since it was first launched. I want to point out that we were able to achieve such results primarily because our database is constantly self-learning but also because of your contribution.
You may be wondering: What contribution am I talking about?
Well, if you don't see any data on your niche in our database, just add your keywords for analysis, and in a month's time, we'll provide you with all the data you need, including a complete overview of organic and paid traffic, search queries and competitors.
Simple as that!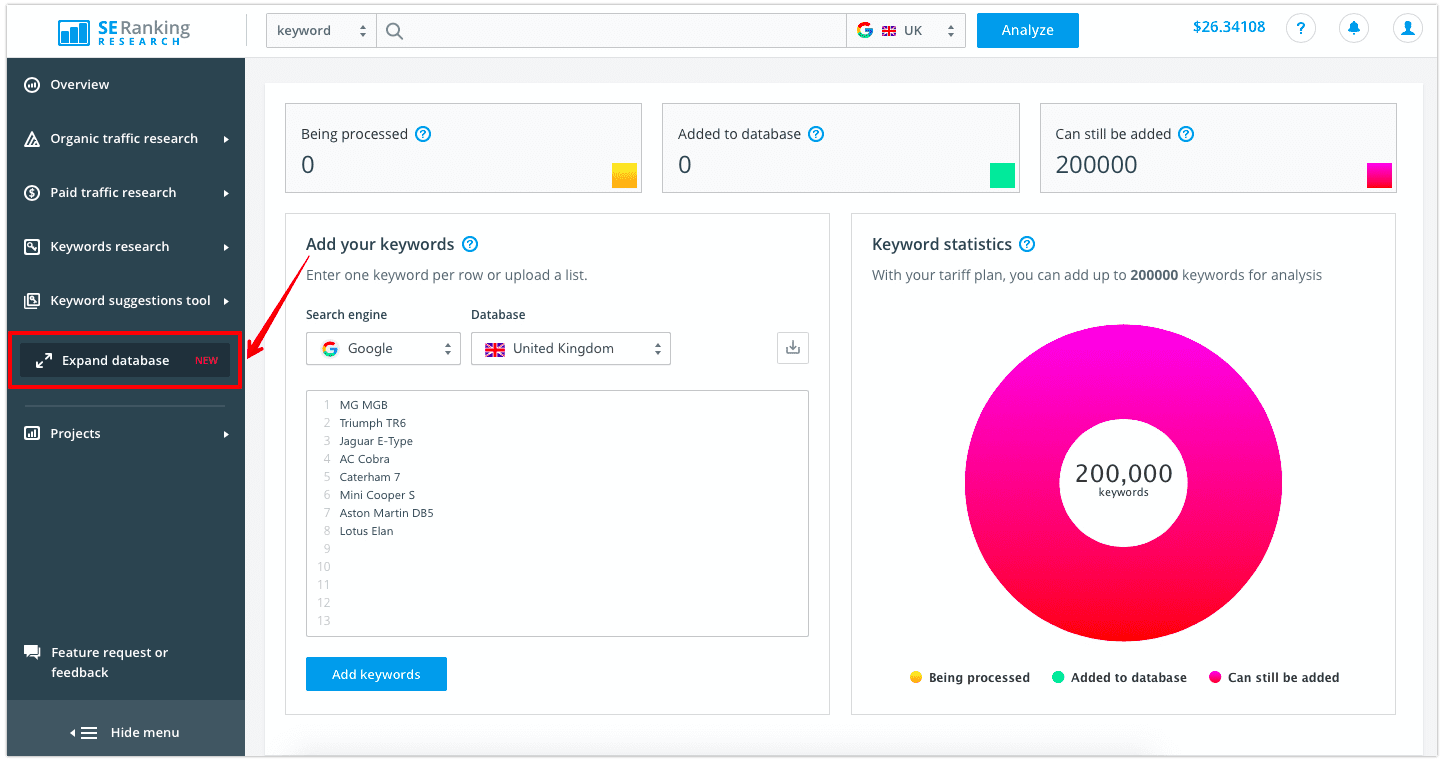 Mixed content tracking in Website Audit
In December 2019, Google's internet browser Chrome started blocking all mixed content that occurs when initial HTML is loaded over a secure HTTPS connection, but other resources are loaded over an insecure HTTP connection.
For this reason, SE Ranking's Website Audit tool scans sites for the presence of such content to make sure it doesn't pose a potential threat to both website owners and users. Under the Page Analysis section of Website Audit, you'll see how many web pages and which ones (if any) contain mixed content. Of course, it's up to you to fix the problem.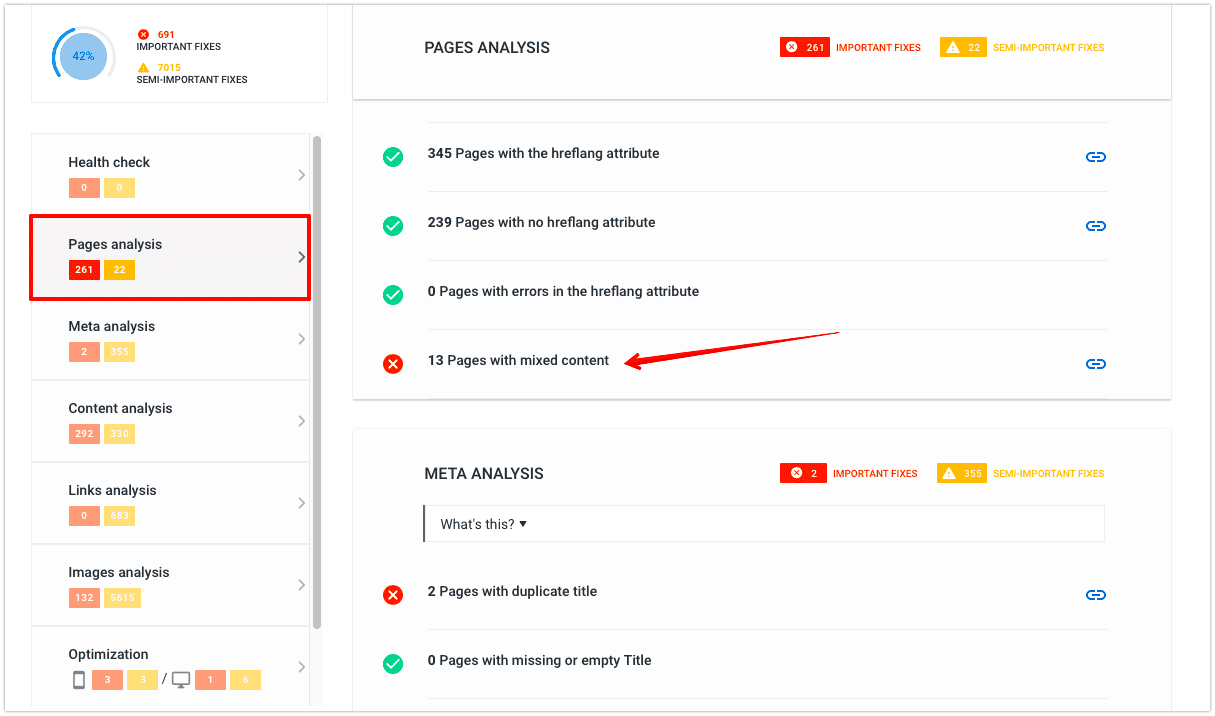 Modified the cached copy of the SERP
Another February update saw an improvement in keyword rank tracking. To elaborate, we've worked out all the kinks of displaying the cached copy of the search results for every single keyword tracked on Google.
By clicking on a ranking position that you're interested in, you can access the cached copy of its search results that, besides providing location data, also includes the region that was selected for rank tracking.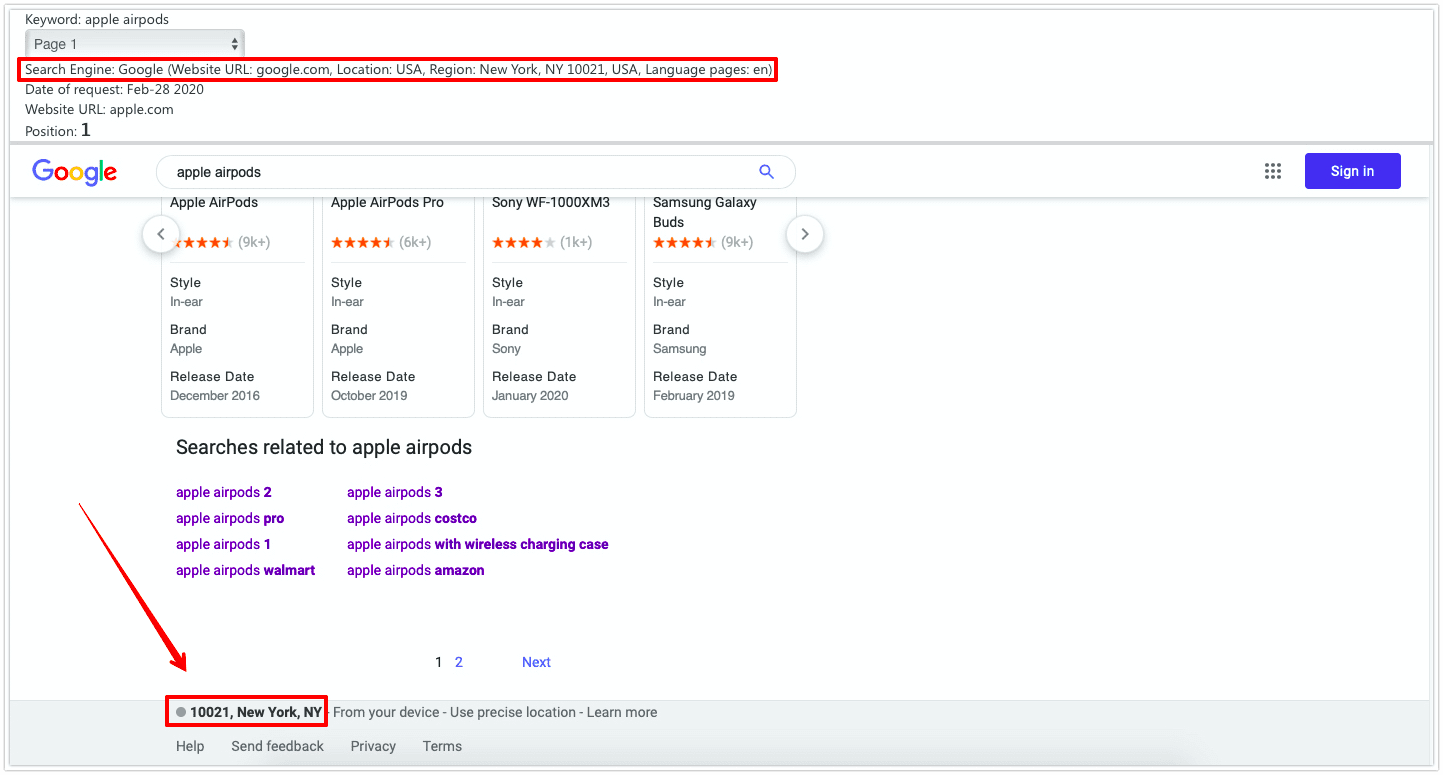 Among other updates, we have fully localized the platform for France and other French-speaking countries. This update has been coming for a long time, and we are happy to finally say that both our website and application are available in French.
Last but not least, if you're keeping a close eye on our updates, you'll be glad to know that we will soon start creating test groups aimed at giving you, our users, the opportunity to try out the new design and platform features, and give us feedback!
So if you want to help us make SE Ranking better, stay tuned for our next updates and ask our support team to give you access to the test groups as soon as we greenlight it. The design update will be the largest single update in 2020, so make sure you don't miss it!