SE Ranking going mobile – both iOS and Android apps are now live and kicking
Picture yourself lazing on the beach, sipping on a mojito and checking your website rankings. Just like that, a cocktail in one hand and your smartphone in the other. And no, in no way do we encourage you to spoil your work-life balance and work on your website SEO while you're on vacation. It's just that we know that feeling when you can't let your hair down because of work-related worries a little too well. And this is why we've created the SE Ranking mobile app for iOS and Android.
From now on, you can always have SE Ranking's essential tools at hand. The app will keep you posted on your website's SEO success wherever you are: stuck in a traffic jam, working from a beach bar or trying to find some peace amidst the mountains (provided that you have Internet connection).
So, what's in the app? Your current rankings and ranking history, on-site audit reports, your SE Ranking marketing plan, list of business directories and a keyword tool. The best part of it all — SE Ranking customers can access the mobile app for free. Once you download the app from the App Store or Google Play and sign in using your credentials, you'll have all your projects just a few taps away.
Now, let's start our journey across the app to see how you can use its tools to your benefit.
Know whenever your rankings jump or drop
Your favorite Ranking Tracker tool is now just two clicks away. Checking on your keywords' performance has never been easier – just launch the app whenever you have a spare minute and go to the Rankings tab. You'll be able to check on both up-to-date and historical ranking data. Rankings are conveniently marked with different colors depending on their movement direction — keywords entering/leaving the top 10, keywords with a solid top 10 ranking, and those entering the top 100.
So, if, for example, you are only worried about keywords dropping out of the top 10, you can swipe through the list blinding out the rankings that aren't marked in red. By clicking on a keyword, you can check out the graph of its ranking fluctuations.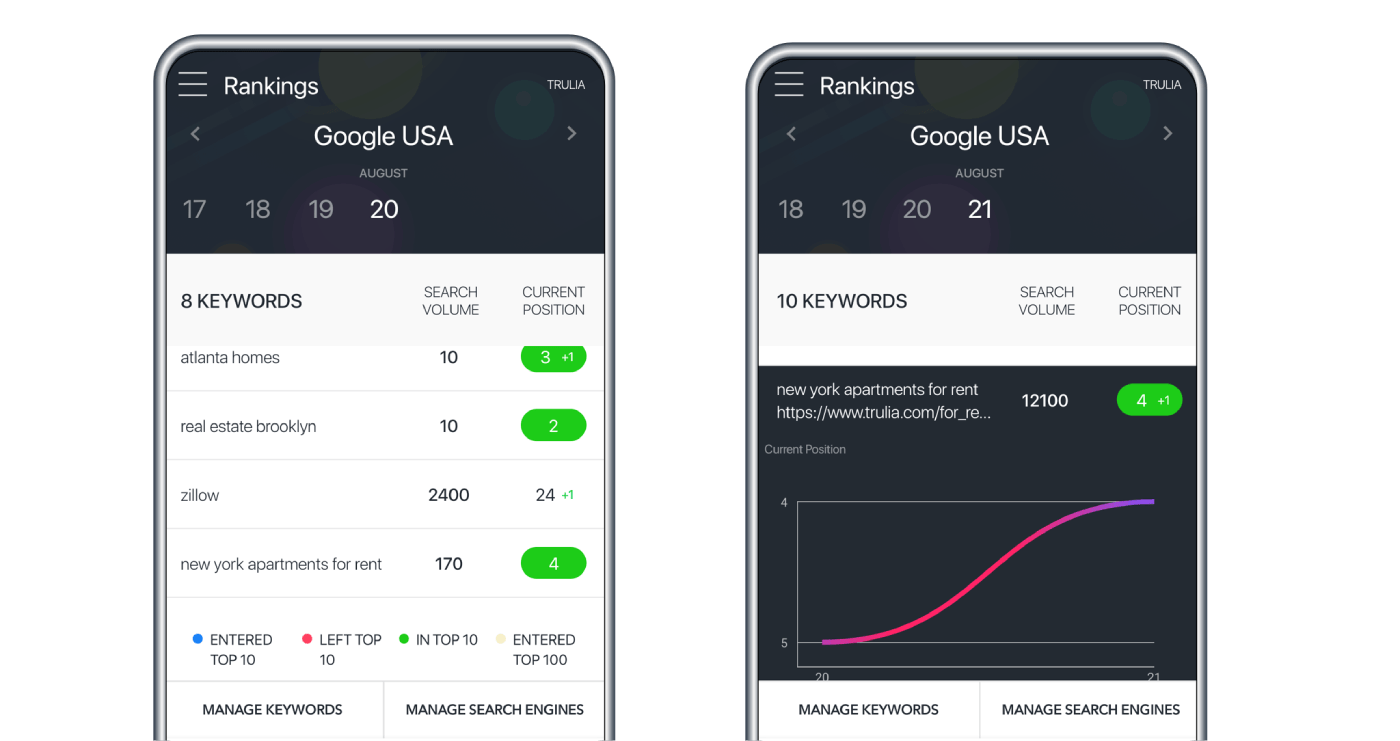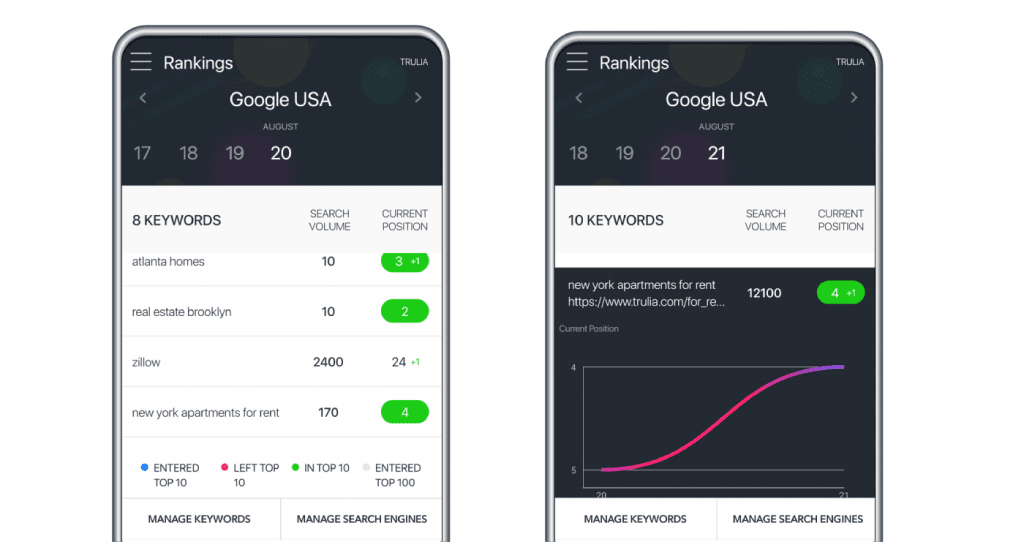 Besides, if you feel like tweaking your list of tracked keywords, you can do it within the app. Just remove keywords that aren't supposed to be there and add new ones. As SE Ranking Keywords Suggestion tool was integrated into the app, you can take a peek at your competitors and add some of the keywords they rank for to your own list.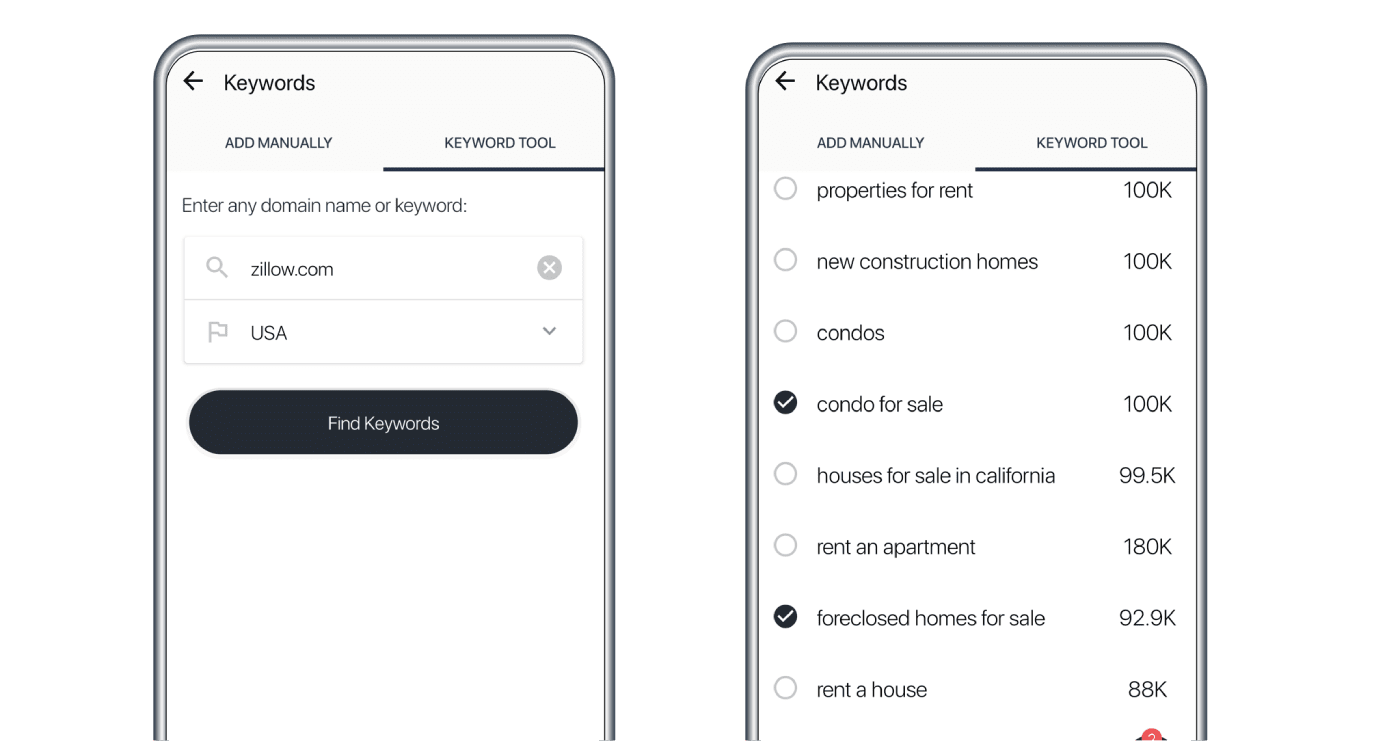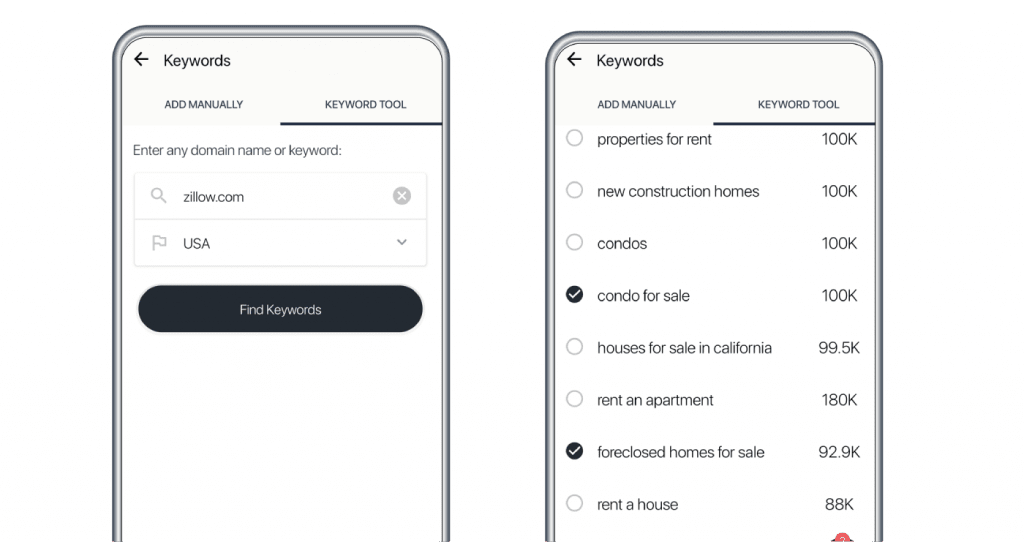 Check if everything's going right at a glance
If you downloaded the app, and the project you see is not the one you need, you can easily switch to a different website from the Dashboard section in the app menu.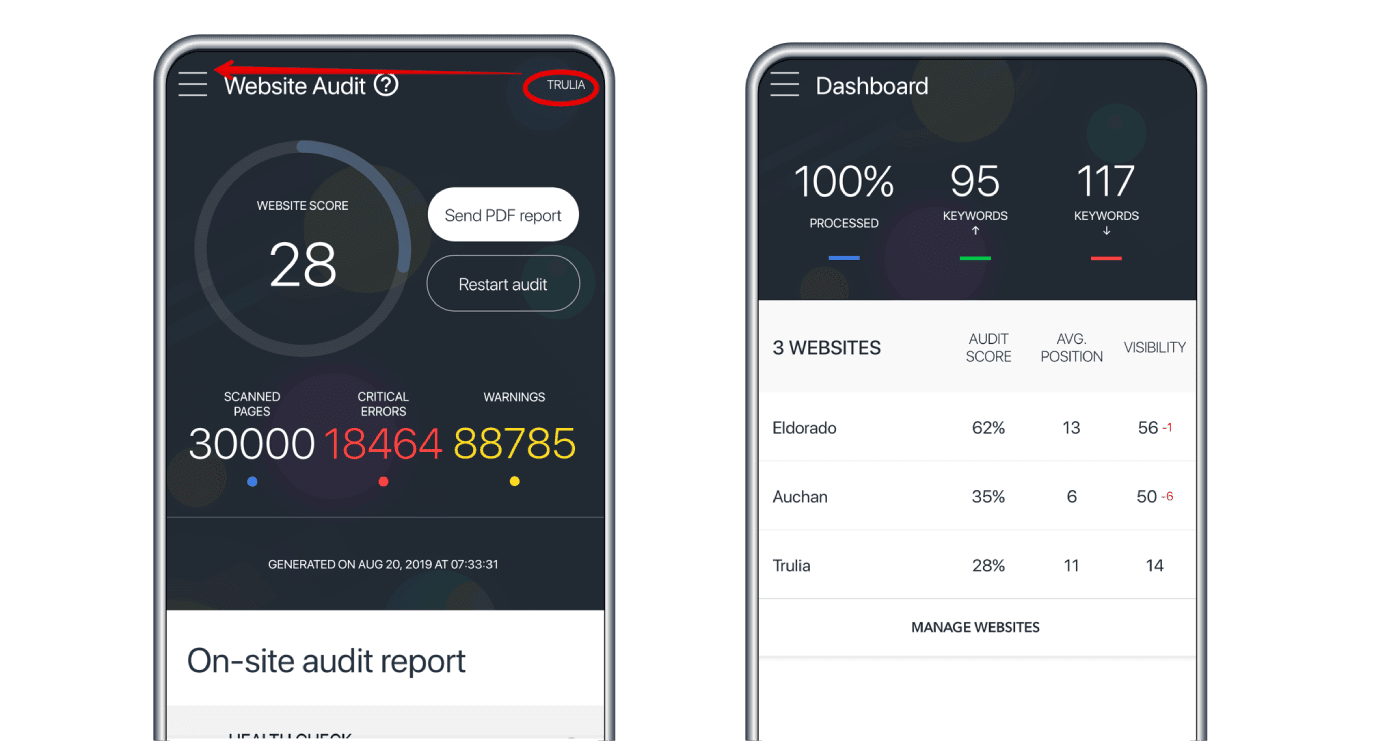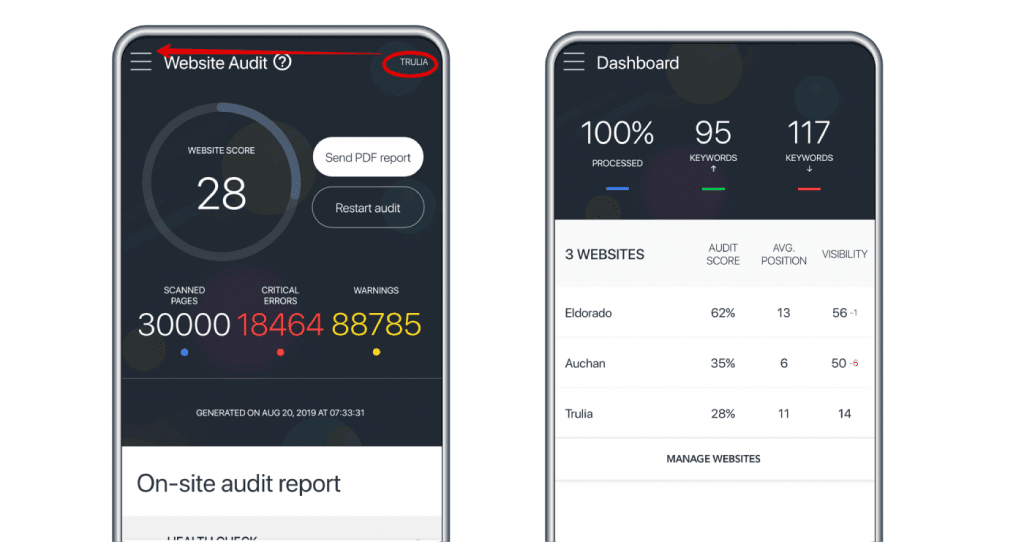 Here you'll find all your websites with their audit score, average position, and visibility score. The latter clearly demonstrate if all your SEO efforts were a success or fell short. If everything's going according to plan, your visibility score should be growing. Even if your average position went down while the visibility score increased, there's no need to freak out. So, all you need to make sure everything is fine is to take a glimpse at the SE Ranking app dashboard.
On the other hand, if you see your visibility score's dropping, you may want to check your website rankings for more details. And that's in the app as well.
Stay on top of all technical issues
You can now check if your website is fully optimized to succeed in search at any time. In the Website Audit tab, you'll find the latest report for one of your projects. General audit score, the number of detected issues and audit results divided into eight sections — the tab has all the elements you would normally find in the desktop interface.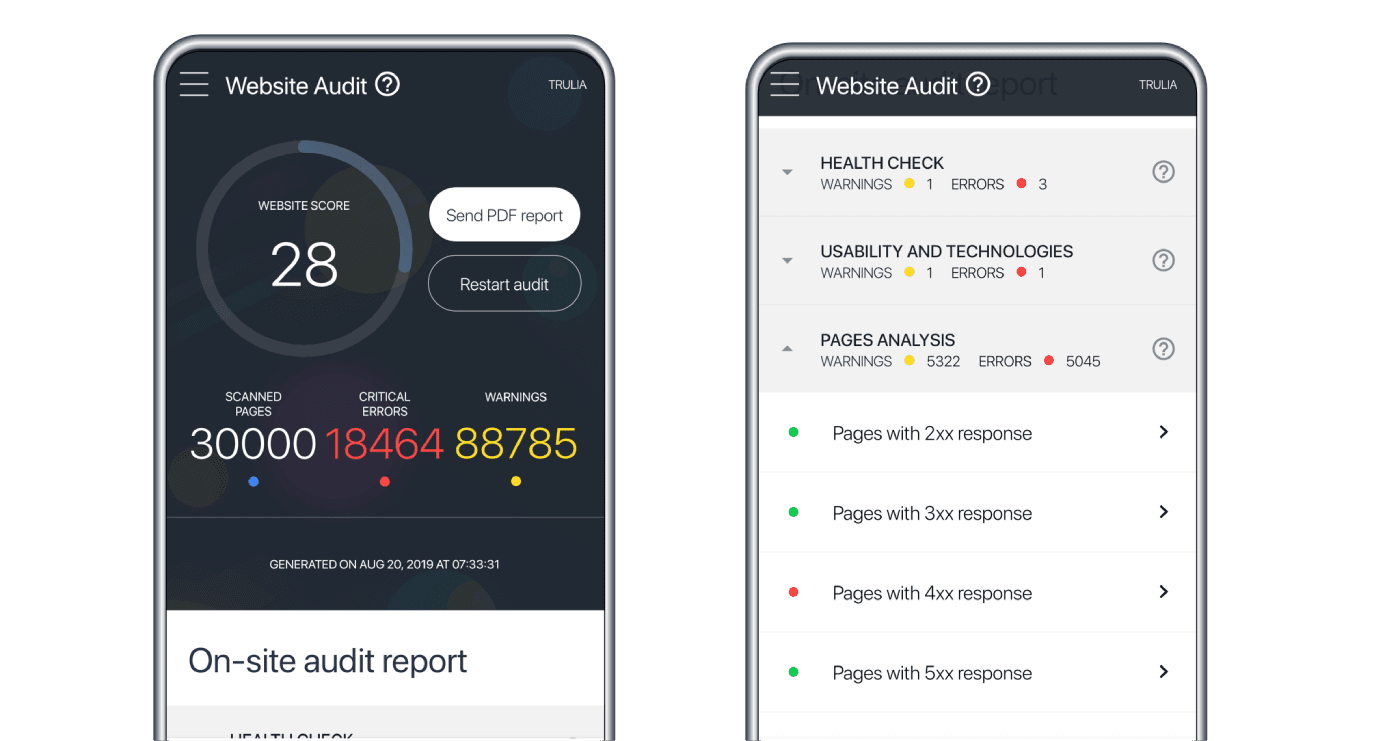 You can restart the audit at any time to check on the issues you are concerned with. Say, if your website visitors see the 404-page error message, you'd definitely like to know. The same goes if your website suddenly slowed down. Once the problem is detected, you can either fix it yourself or let the person in charge take care of it by sharing a PDF report.
Speaking of not-so-critical issues like missing meta tags or excessively long URLs, you can use the app to check on such problems on your way to work and assign tasks to yourself or your colleagues on the go.
Find out what to do next if you are at a loss
If you are new to the world of marketing and SEO, you probably spend a lot of time discovering the industry's best practices. SE Ranking did the job for you and developed an easy-to-follow marketing plan, which is now available in the app. This roadmap to your SEO success has it all from keyword planning to social media integration. Just six steps for you to take, but each one includes a lot of handy tips. On top of that, you can add some tasks of your own.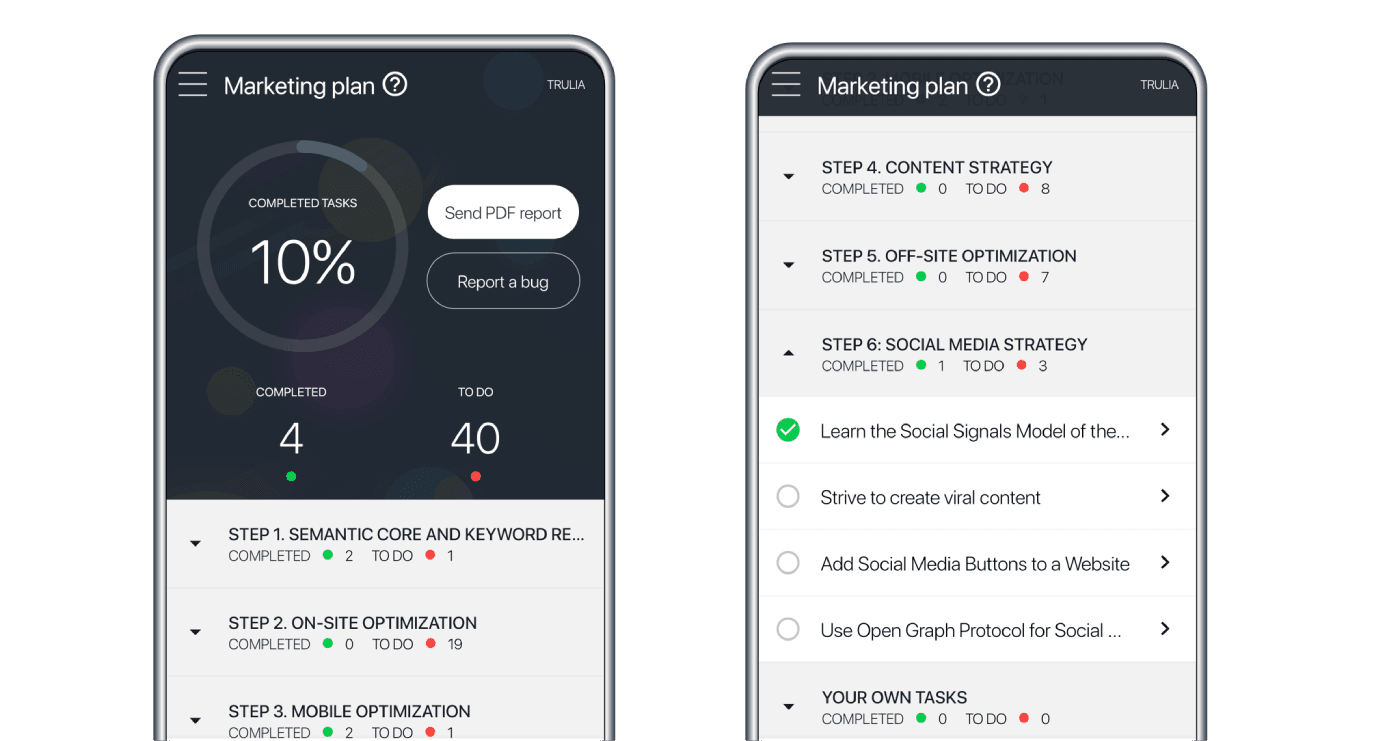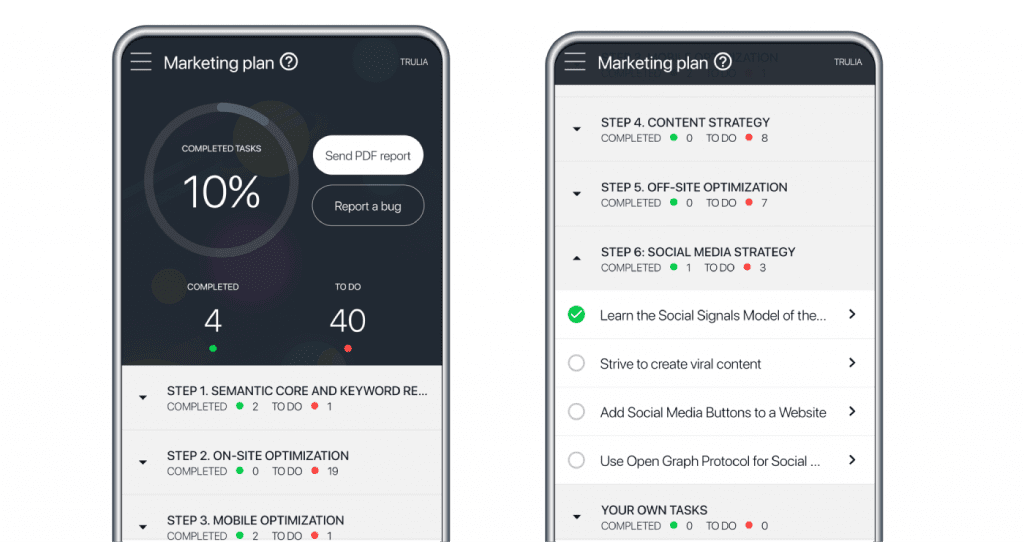 We do realize you won't be creating a robots.txt file or adding ALT tags to images via your phone. But you can, in fact, get some ideas from the marketing plan and transform them into tasks for your team — task management apps will definitely come in handy here. Plus, you can tick items off of your plan once the task is completed, which feels very satisfying.
Get some quality backlinks with minimum effort
To excel in SEO, you need to constantly strengthen your backlink profile. This translates to a constant search for new opportunities and ongoing negotiations for better terms. Listing your business in trustworthy directories is one of the easier ways to get quality backlinks. SE Ranking has hand-picked the top business listings for you, and they too are available in the app.
You can easily get your business listed in the suggested directories from mobile, whenever you have a spare minute. So, if you're ever waiting in line at the DMV, use the extra minutes to get a new backlink for your website and tick the directory off the list.
Customize your app and add new projects
If you are an SEO guru, you might not want to have the Marketing Plan and Business Listings tabs in your app. No problem, you can remove them if you want. Go to Menu → Settings and tap on the icon of the tool you want to get rid of. It will then turn blank and disappear from the app interface. You can bring the tool back at any time if you wish. Moreover, you can also pick the default website from the Settings tab.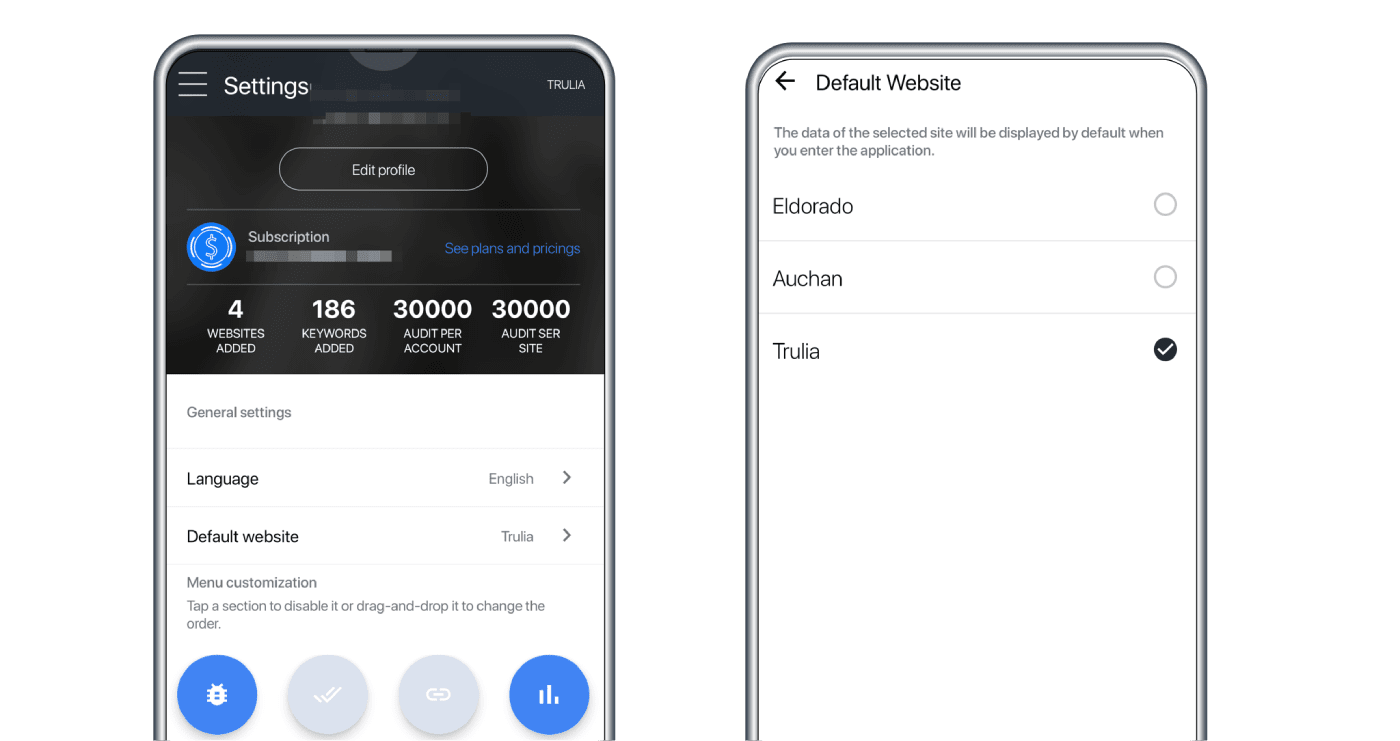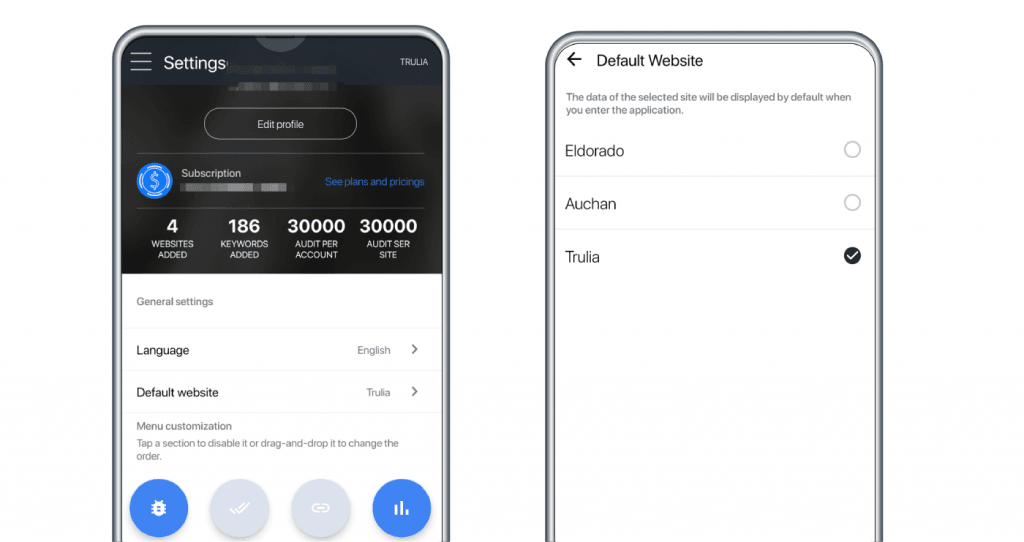 Finally, you can manage your websites within the Dashboard and remove old projects or add new ones. When creating a project, you can make use of the Keyword tool and pick the keywords you want to track from the suggested list.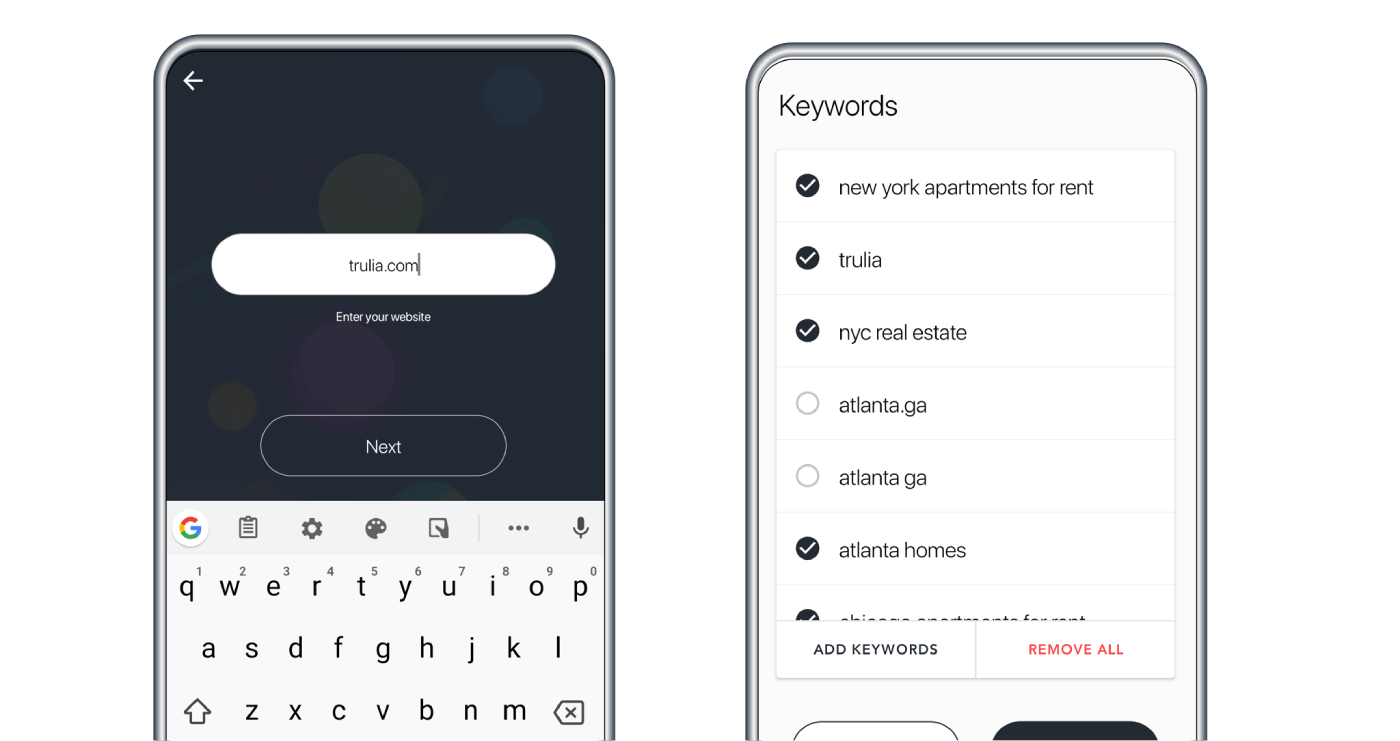 Ok, that's it for our tour around the SE Ranking mobile app. Now that you know all the ins and outs, you can easily use it to keep an eye on your projects and plan out your next SEO tasks. All you have to do is download the app and sign in to your SE Ranking account ⁠— all our customers get full access to the app with no extra charge.
At SE Ranking, we created the app to bring our product closer to our customers. It was designed to make things easier for you. So, don't hesitate to get in touch, if you have some feedback to share. You are also welcome to join the SE Ranking Community on Facebook and suggest your feature requests – if you want a specific tool or feature to be the next one to go mobile, please let us know.