Why SE Ranking
100% Accuracy

Get the real-time position of your website on Google, Bing, and Yahoo search engines in any region of the world

Learn more

Fully Automated

Automated daily update of your website's rankings in convenient,
customizable reports

Learn more

Intuitive Interface

Compact information display, user-friendly and intuitive interface with advice and tooltips

Learn more
Sophisticated Platform for Website Positions Analysis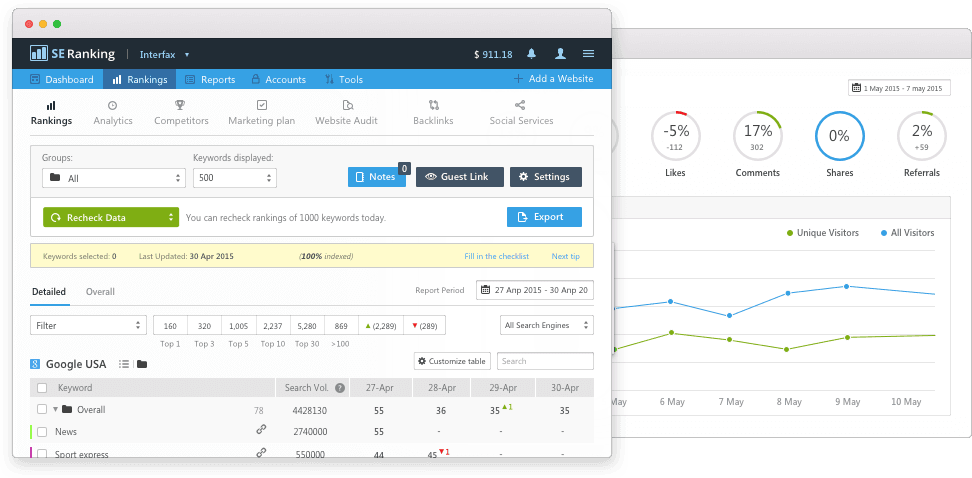 For Independent
Webmasters
For Companies Managing
Their Corporate Website

Brianna
Finally! Something useful. This was a God send! It's helped take the guesswork out of the top ranking sites and has helped my site be among them.

Chris Jones
Awesome Software! I found this product to be amazing in checking Google rankings pertaining to what I was offering. It was extremely easy to get up and running and is very user friendly.

Pam Sallegue

of SEO-Hacker
So when I learned about SE Ranking, and tried it for our clients, I couldn't help but use and recommend it to our audience by writing a review about it. Such a promising tool!

Er. Ziaul Haq
SE Ranking website analytics are just amazing with its colorful and comprehensive rankings charts and graphs. You can check search visibility, traffic forecast and average position.

Jim Misel
Simple but amazing. The website audit they have was a huge help and getting things better on my site.

Jessica Novak
Amazing Google rank checker tool. The biggest plus is an online marketing strategy that you get: I followed the steps and soon realized my blog coming up higher in Yahoo and Google searches, and I started getting more clicks/traffic.

Joseph Lewis
Perfect SEO Software! It has all the features needed to keep an accurate eye on your websites rankings. I run websites for a living and this has made my job 10 times easier!

Mozammel
Perfect Google rank checker tool ever! I was in search of a fully automated SEO software and recently came along SE Ranking and it made my life easy.

Yazmine Sheela
SE Ranking has been very helpful for me to keep track of where my company is ranking in SEO and I am able to see where all of my competition is ranking.