Voice search is on everyone's lips now.
If you have kids under ten years old, you know they search with voice only. Not the best audience to target since they don't pay for things, but adults are also in the game.
According to PwC, 32% of people aged 18-64 use voice search daily. It's too many people to ignore, so to make them find your website online, you should optimize it for voice search properly.
If you are new to the topic, don't worry. This post is all about voice search from what it is, to who needs to focus on it, and how to optimize your site to get found.
What voice search is and how it works
Voice Search is a technology that allows users to search just using their voices instead of typing. It works through the ASR system (automatic speech recognition) that transforms voice signal into text. Then Google uses the text as a usual query and proceeds with what it does the best – the search itself.
There are four phases of speech recognition that all queries undergo:
filtering the sounds (allocating the voice query from the flow of other sounds)

digitizing (turning sound waves into digital data)

voice analysis (processing the data)

pattern recognition (comparing the query to the samples in the database).

It's no secret that one of the most advanced ASR systems belongs to Google. The AI behind Google's speech recognition collects data from users and gathers millions of samples to create a model. Then all the new voice queries are compared to this voice model.
Millions of processed samples allow the system to recognize accents, different intonations, and many others individual speech details. It's almost impossible for a primitive ACR to tell the difference between 'you write' and 'you're right'. But the intelligent system can define the correct word based on the context. Today Google's speech recognition engine can transform the voice into text with up to 95% accuracy.
To perform a voice search, people can use two types of devices:
Mobile phones with voice assistants (OK Google, Siri, Alexa, Cortana, Samsung Bixby, etc.)
Voice-first gadgets

(Google Home, Amazon Echo, Apple HomePod and others)
The main thing to know about voice-first search – it's SERPless. You get only one direct answer to your query: no TOP 10, no knowledge graph, no related questions whatsoever. A user makes a verbal query and a smart speaker reads aloud a single answer to it. Sounds way too challenging to compete for, ha? It is challenging. The question is, whether it's worth it. Is it true that smart speakers are about to change the whole SEO game?
Are smart speakers really overtaking the search?
Before hearing the parties, let's take a look at some stats:
20% of U.S. adults have smart speakers (Voicebot, 2018)
For 72% of voice-activated speaker owners use the devices as part of their daily routine (Google, 2018)
71% of people would prefer using a voice assistant for searching on the web instead of typing (PwC, 2018)
Based on these numbers, experts predict a voice search boom. The logic is simple: the more people use voice-driven gadgets – the more searches are getting done by voice. So apart from the desktop and mobile SERP, we are about to deal with no-screen search results.
However, most of the ways to use smart speakers refer to the voice commands, not to searching by voice, as it's rightly noted by Rebecca Sentance from Econsultancy. It means that the spread of voice-based devices doesn't necessarily lead the steep growth of voice search use. In this light, the widely quoted presumption that about 30% of searches will be done without a screen by 2020 (Mediapost) sounds a bit premature.
Does it mean that we shouldn't target users of voice-first devices? Of course, not. Even Rebecca, the biggest speech search skeptic, admits that for some businesses optimizing for voice queries is a matter of urgency.
Yet, before joining the voice-first SEO race, one should be sober about its would-be profits. The main question here is what businesses should focus on while optimizing for voice search.
What kind of businesses can benefit from voice search
Benu Aggarwal, CEO and founder of Milestone Inc., had an insightful session at SMX West dedicated to voice search optimization. According to her research, more than half of respondents (52,8%) use voice search while driving. The question is, what people usually search for while driving? And the best guess is that they look for local services. That's one of the reasons local businesses are believed to be the most affected by the voice search emergence.
BrightLocal has also researched the topic (April 2018), having surveyed above 1,000 US-based consumers about their voice search experience. Turns out that among the Top-5 businesses searched by voice are cafes/restaurants, groceries, places with a takeaway option, clothing stores, and hotels. And how often do you think people use voice search to find information on local services? According to the survey, 48% of respondents use it daily.
Check out this infographic for more stats on when and how people use voice search:

Key points:
Voice search SEO is already a big deal for a local business. 46% of people look for a local business using voice search on a daily basis. Which means that for local businesses optimization for voice queries is not an option but a way to survive in the fast-changing rules of the market.
Restaurants and cafes are the most requested businesses among voice search users.
Getting address and contact info – is the most popular reason to use voice search for finding local businesses.
Classic SEO is far from dead:: both local and mobile optimizations are at the core of optimizing for voice.
How to optimize for voice search
If you decided that for your business it's worth to take a shot at voice search rankings, there is a good news for you. Voice SEO doesn't run counter to general principles of search optimization (for now). It means that most of the things you do for voice search SEO will improve your overall website's search visibility.
General SEO for voice search
For a voice search optimization, you need a full package of the basic SEO set-ups. The higher a page is ranked (the best is to get into Google TOP-3), the better its chances of becoming a voice search answer. Pay particular attention to:
Moving to HTTPS.  70.4% of Google Home result pages are secured with HTTPS (

Backlinko

).

Building up a domain authority. The average Ahrefs Domain Rating of a Google Home result is 76.8

. Important: not the Page Authority, but Domain Authority plays a definitive role in the voice search optimization.

Indexability and crawlability of your website's pages. Make sure that Google robot can access all the needed pages
PageSpeed. The pages appearing as a voice search result are more than 50% faster than average pages 
Using Google's PWA (Progressive web app) platform, which is believed to boost the chances of the website to be cited by a voice assistant
Mobile-friendliness. There are many reasons to focus on it, including Google Mobile First indexing and the fact that people perform voice search primarily via smartphones.
Using AMP – a part of mobile optimization that deserves a special mention. 
Using Schema.org markup to mark the content for crawlers. The Schema is a piece of code that marks different content elements of your page. It tells the robot what every part of your content means.
Local search optimization. Local businesses are defined to be the first in line to be interested in optimizing for voice search. That's why local SEO is a crucial part of voice SEO.
Having a Google My Business account (which is a part of local SEO) is needed to find your company in Google Maps and other SERP features that often appear as a mobile voice search result.
Content optimization for voice search
Points to know before embarking:
Voice search queries are different. When we type, we use as few words as possible. We search for "pizza near me" rather than for "where I can have a good pizza anywhere around." While using voice search, we are doing the opposite. Yes, we talk to a robot like if it was our neighbor or a colleague. That changes the keywords' semantic dramatically. According to Jason Douglas (SMX West section "Optimizing for voice search and virtual assistants"), 70% of all voice queries are done in the natural language format.  
Voice assistants read the Featured Snippet answer out loud, leaving other pages from the TOP behind. If the query is a simply structured question (e.g., "how to change a sim card in iphone X"), the SERP will most probably contain an instant answer – featured snippet box. In this case, the assistant will read the answer to a user.  
Google Search Console doesn't provide keywords for voice search. It means that we don't know precisely what queries people use while searching by voice. So on this matter, we can only rely on the best practices suggested by the voice search SEO pioneers and improvise.
#1. Researching keywords for voice search
Since no keyword research tool offers ready-to-use answers, there is a lot of manual work to do.
Turn "robotic" keywords into the natural language keywords:
Using conversational keywords is the most popular voice SEO tip one can follow. Makes sense since there is a huge difference between how people search by typing and by voice.
Robotic keyword: veggie burger best recipe
Conversational keyword:

what

is

the

best recipe

for

 

a

veggie burger
Don't ignore long-tail keywords
Purna Virji from Bing in her presentation at SEODay conference has stated that the voice queries are longer than the text ones. It's ok to use keywords that seem ridiculously massive, as long as they look natural in the content.
You can use any of the keyword research tools to collect proper long-tail queries. We'll show how to do it using SE Ranking. To collect long-tail queries for your seed word, open your SE Ranking account ➝ go to Competitor SEO/PPC Research tool ➝ enter the head keyword ➝ open Keyword Suggestion tool ➝ Long-tail keywords tab.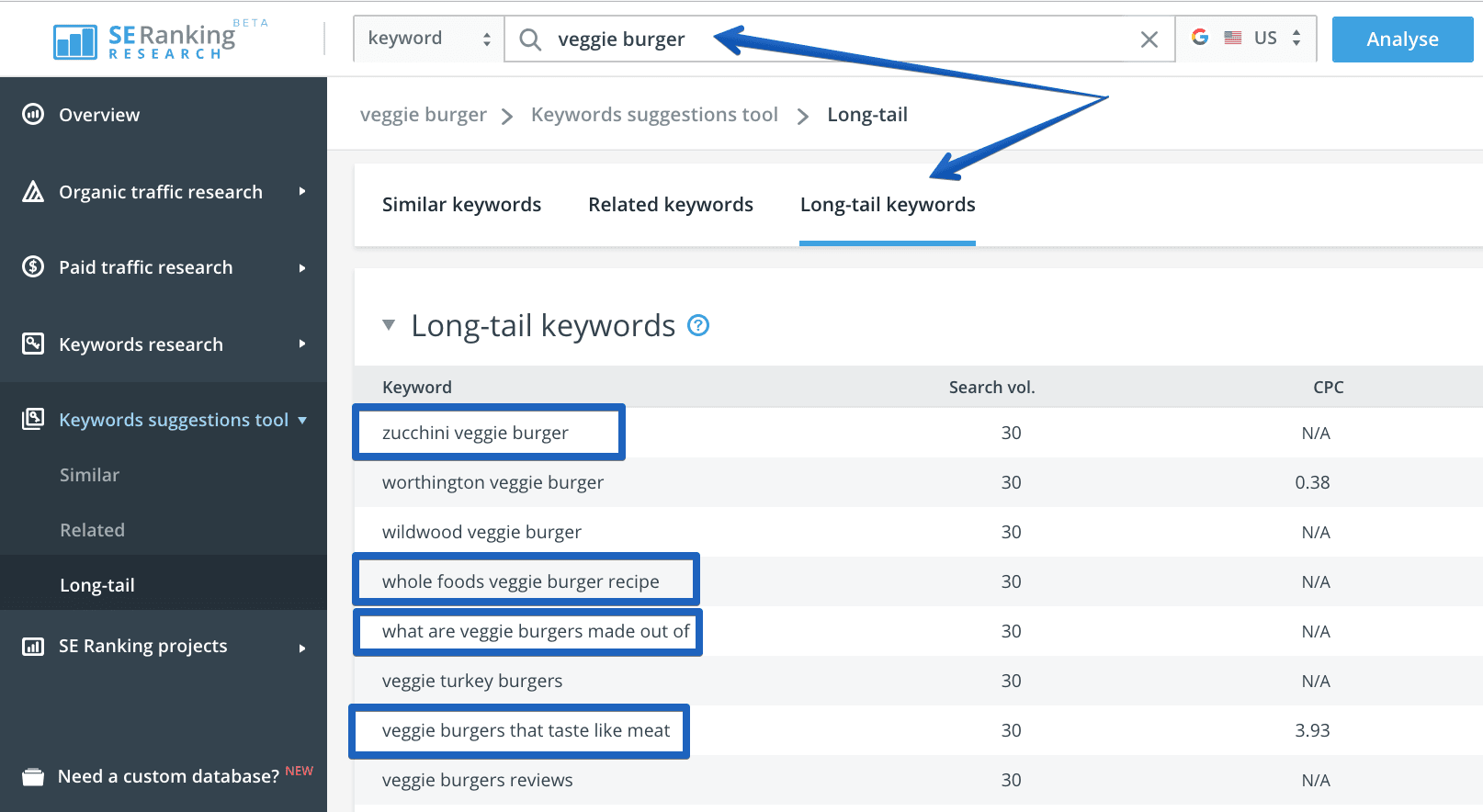 Keep scrolling down the list to find more ideas for conversational keywords related to your business:

When you have long-tail queries on hands, you don't need to think about optimizing a separate page for each of them. Just pepper your content with long-tail keywords. And remember that Google doesn't need to see them in H-tags to use for voice search answers – it can pick them up from any part of your content.
Use question-shaped keywords
Dr. Peter J. Meyers from Moz figured out that a large share of voice search queries accounts for questions:
So one should target question phrases while building a semantic core of a site.
You can find the option to collect questions for a given keyword in paid SEO services (e.g., SEMRush, Ahrefs, etc). But we like free things, and the best one is Answer the Public. It's easy to use, fast, and efficient.
Go to the main page, enter the seed keyword and get the result split into question groups (where, what, why, how to, etc.).
You can export the results in CSV file or see them in a radial graph. It's not a super user-friendly image, but does the job (and looks pretty cool too):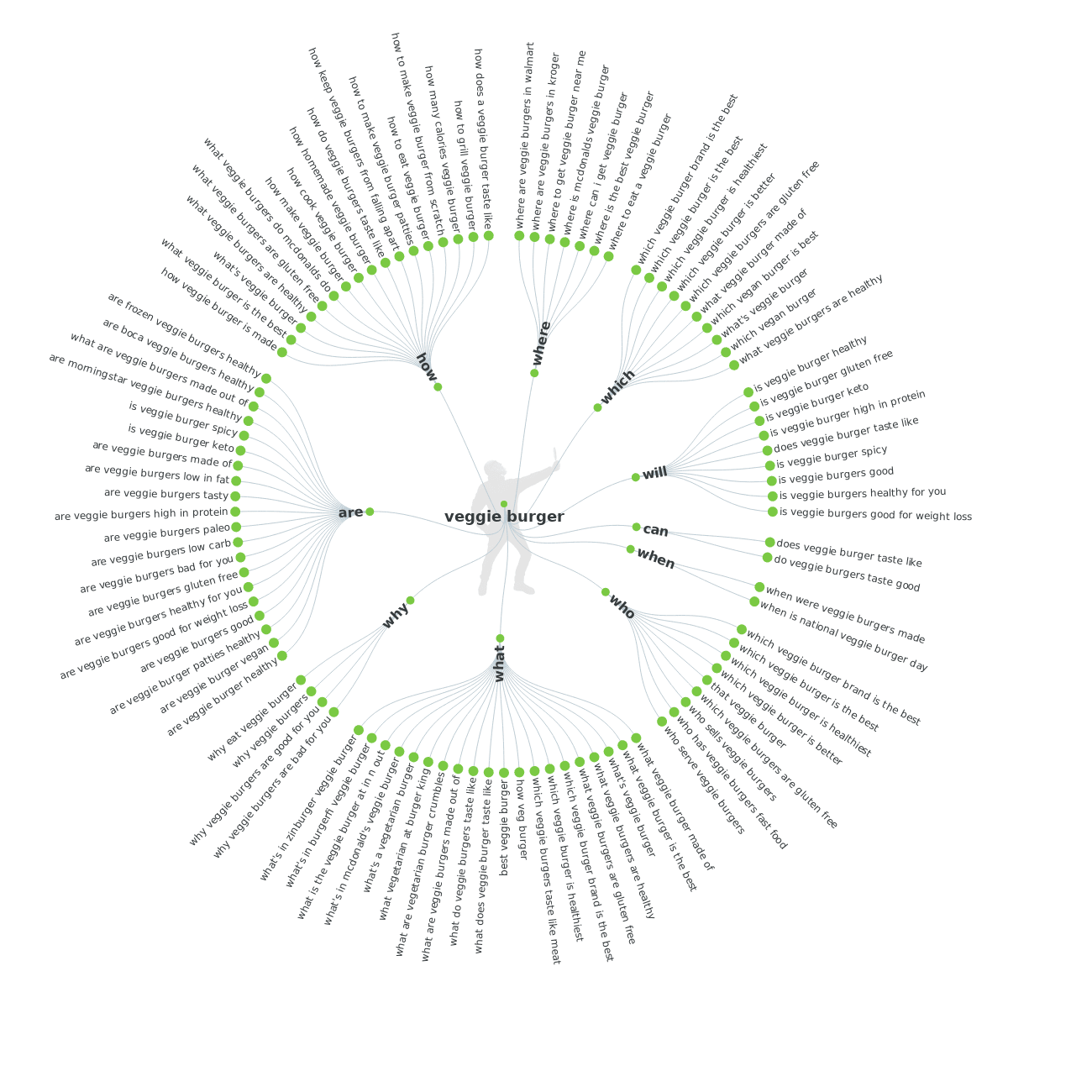 #2. Creating FAQ pages
FAQ is believed to be the optimal form of content to match a voice search result.
According to Backlinko's research, the average volume of a voice search answer is 29 words. So the best way to shape your FAQ page is to form a list of most relevant questions people ask about your service or product. Give a clear and concise answer to each question. It should be written in 8-9 grade-level English and jump right to the point.
The examples help to get an idea on how Google wants us to shape the answers for speech queries: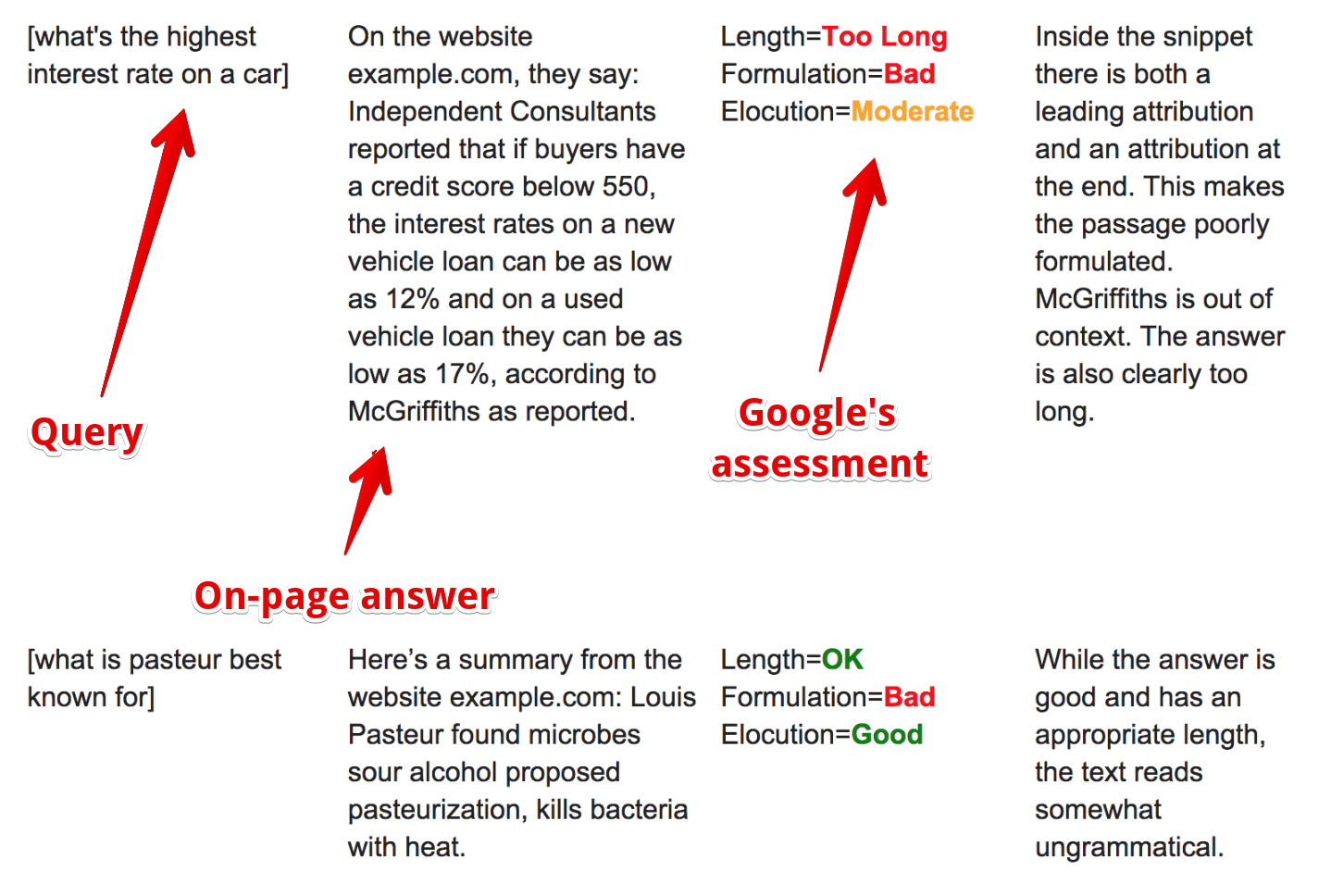 #3. Aiming for a featured snippet
Featured snippet (or an instant answer box) often becomes a voice search answer. There are two main reasons for that. First, they are taken from the authoritative and well-optimized webpage that has made it to the Google TOP-10. Second, they contain concise and straight-to-the-point answers to the queries.
If you search by voice via mobile, you'll see an instant answer as the only result. When you are searching via a smart speaker, an assistant will read you the featured snippet out loud.
That's it. No more SERP, no more links to other sites, just you and a voice snippet corresponding to your query.
How to get your content featured in this box, read in this guide.
The tricky thing about featured snippet is that it takes user's attention away from the other SERP results. In case of voice search answers, it becomes the only result a user gets.
For websites that don't rush for the voice search SEO it means the following: even if your webpage is in TOP 10, it can lose most of the customers to the page appearing as the instant answer. That's why it's crucial to track Google SERP features for your targeted keywords.
You can do it for all your keywords at once using SE Ranking Rank Tracker. Here you can see whether there are any SERP features on your queries (and whether you are in them):

If you see the instant answer in the SERP for your query, be ready to compete for it.
#4. General content tips
There are a few more tips for shaping the content that will be in favor of voice search algorithm:
Write content in a way that can be read out loud. That's a tip from John Mueller who shared it during Webmaster Central Hangout at the beginning of the year. A clear and consistent language used throughout site pages helps the content to be picked up by Google as a voice search result.
Don't over optimize. In the same Hangout, Mueller warns the publishers that having tons of pages optimized for a single query will be considered as a spam. The reason is apparent: such pages bring no value for readers.
Avoid sophisticated language. According to Brian Dean, the average Google voice search result content has a 9th-grade reading level. So don't complicate the content to make your point sound more credible. Keep it simple.
Keep the word count to over 2,000 words. Another fact from Brian Dean: the mean word count of a page shown as a voice search result is 2,312 words. It means that Google mostly sources voice search answers from long reads.
Write to the point. Cut the waffle from your content, avoid long purposeless introductions. Word count may be important but not for the sake of the number.
Wrapping it up
Voice search is a technology that is already here, and it's expected to grow more in the coming years. It's too soon to start a countdown for a traditional SEO, but there are things we need to be ready for. Among them are SERP-less search, a death of robotic keywords, a rise of simple content forms, a spread of conversational but AI-friendly tone of voice across the web, and many many others.
Voice search SEO is closely bound up with local and mobile optimization. Yet, it may require us to review our content strategy. How may an ideal page for voice search query look like?
The page belongs to an authoritative domain secured with HTTPS.

It is ranked for the first Google desktop SERP.

It loads fast and is mobile-friendly.

It contains long-form (over 2,000 words) content, written in a simple and clear manner.

OR it is an FAQ page, that contains answers (30-55 words) that sound naturally when being read aloud and optimized for question-shaped keywords.  
Such page has all the chances to appear in Featured Snippet and thus, become Google robot's #1 choice as an answer to a voice search query.
If you have comments, tips or questions about this topic, please share. So curious to hear your opinion!