Voice Search Optimization and SEO
Voice search is and has been a topic of hot debate for a couple of years now.
Anyone with young kids knows that they run searches using only their voice. Sure, they're not the best audience to target since they don't pay for things, but thankfully, adults are also in the game.
According to PwC, 32% of people aged 18-64 use voice search on a daily basis, and this number is only growing. This is obviously too many people to ignore. So, to make it easier for them to find your website online, you simply must properly optimize it for voice search.
If you are new to the topic, don't worry. This post is all about voice search. We'll dive into what it is, who needs to focus on it, and how to optimize your site in order to get found when people run a search using their voice.
What is voice search
Voice search is a technology that allows users to search by simply using their voices instead of typing. It works through the automatic speech recognition (ASR) system that transforms voice signal into text.
Then search engines like Google use the text as if it's a typical search query and proceed with what they do best—matching the search query with the right results. With voice searches becoming more and more commonplace, adding voice search into your digital marketing strategy is a must.
How does voice search work
So, how does voice search work? Well, there are four phases of speech recognition that all search queries undergo:
Filtering the sounds (separating the voice query from the flow of other sounds)

Digitizing (turning sound waves into digital data)

Voice analysis (processing the data)

Pattern recognition (comparing the query to the samples in the database).

It's no secret that one of the most advanced ASR systems belongs to Google. The AI behind Google's speech recognition, Search by Voice, collects data from users and gathers millions of samples to create a model. The speech recognition technology—initially developed by IBM—allows machines or programs to identify words spoken aloud and convert them into readable text. Then every new voice query is compared to this voice model.
Millions of processed samples allow the system to recognize accents, different intonations, and many others individual speech details. It's almost impossible for a primitive ASR to tell the difference between 'you write' and 'you're right'. But the intelligent system can define the correct word based on context. Today, Google's speech recognition engine can transform voice into text with up to 95% accuracy.
Multiple algorithms and computation techniques are engaged to recognize speech, transform it into text and improve transcription accuracy. One of the most frequently used methods is natural language processing, or NLP.
Although NLP is not a speech recognition algorithm, it is an area of artificial intelligence that closely studies how humans and machines interact through language, through speech and text. Many modern day mobile devices incorporate speech recognition into their systems to run voice searches or provide more accessibility related to texting.
Brief history of Google Voice Search
Back in June 2011, Google made an announcement that it would begin rolling out Voice Search on its website Google.com, but only for the Google Chrome browser.
At the time, Google Voice Search was a tool developed by Google Labs that let people use their phones to Google something. Users would have to call the number of Google Voice's search system and let it know what keywords they wanted to run a search for after the system says 'Say your search keywords'.
Then, searchers would have to wait for the page to be updated or they'd have to click on a link to see the results. This service has since been shut down thanks to new developments.
As you might have guessed, ever since this technology was first introduced by Google, its consequent products, like Google Maps and the mobile app, were designed to use the speech recognition tech in all sorts of ways.
In October 2012, Google rolled out a new Google Search app for iOS that included a more advanced Google Voice Search function that was similar to that of the Voice Search function of Google's Android Jelly Bean. Plus, it even tried to put up a fight with Apple's voice assistant, Siri, and did not lose, with many people saying that Google's product provided more depth.
Besides the obvious focus of the search giant on developing devices to support voice search, Google also launched a new search platform in September 2013 known as the Hummingbird update to support queries made using voice. The reason why this update was so monumental is that it completely transformed Google search by bringing more meaning to the words people used when running traditional searches.
This meant that Google was becoming more and more capable of understanding any type of search query. This laid a great foundation to the voice search technology we use today.
How voice search differs from traditional search
There's a huge difference between speaking and typing your question or search query into a device. Besides the obvious advantage for users in terms of how they input their query, there are other consequences to using voice search.
Longer and more conversational keywords
When we ask our smart devices something using our voice, we typically phrase the queries very naturally as if we're speaking to someone we know. Unlike traditional search, we don't just mash together and throw in several keywords that indicate our search intent.
For example, when conducting traditional searches on desktop, we'd usually type in something short like "make cake" or "cake recipe." Just take a look at the graph below to see how many words we use on average for typing searches: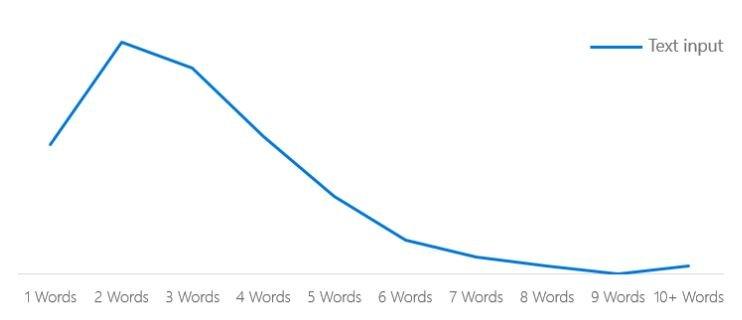 However, when we use our voice, we expect to be fully understood by our devices. So, we end up running colloquially-phrased searches, like "How can I bake a cake at home?".
As you can see, the difference in these two approaches to search is evident, with voice searches being more interactive and longer than typing. The graph below shows a comparison of the average number of keywords used in text and speech searches.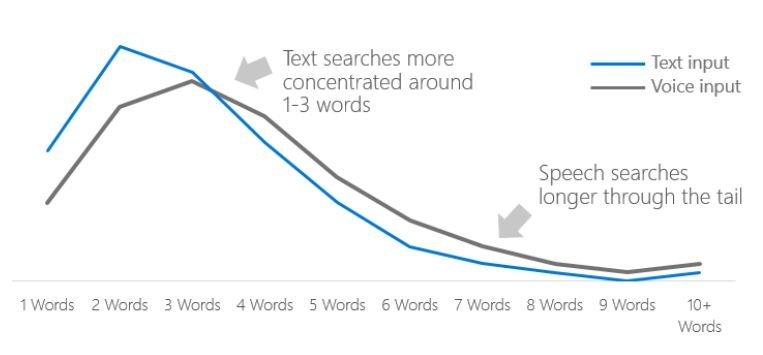 With voice searches being more conversational, SEOs don't have to focus on using precise keyword matches in their content to get matched for searches. Just like the query, the results also have to use keywords naturally and place them organically into texts.
Local listing searches include voice queries
The vast majority of verbal searches include the keywords "near me" in addition to questions about time and things like 'What are Best Buy open hours?' or 'Where is the closest Pizza Hut?'
Ultimately, these results are displayed in local listings.
Unless you live under a rock, you've probably used your voice on smart devices to find somewhere to shop, eat, relax, visit, and more. So, if you want your business to be found for such searches, you must have an up-to-date Google My Business listing, which we'll get to later on.
Clear and concise search results
When we submit a search using our voice to search engines, the results we get are typically taken from the featured snippets we see at the top of the page when we type in a search.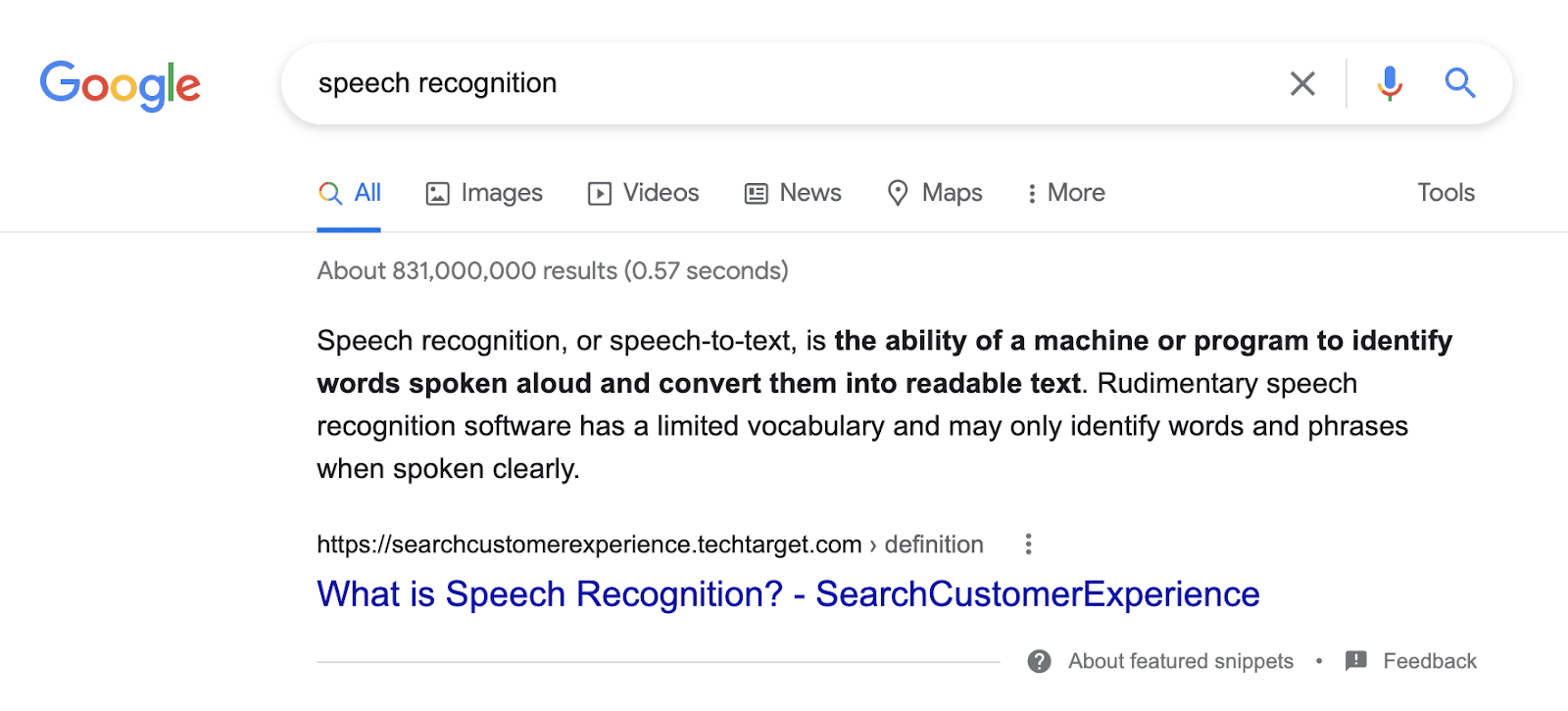 The thing that search engines, including Google, do to answer voice searches is they take the information provided in featured snippets and knowledge graphs, and speak the answer to the searcher.
The reason behind why people who search using their voice get only one answer is that they are most often looking for a quick answer, and flooding them with various options won't help speed up the process. As a result, search engines provide the single—besides Google Maps listings—best answer they can find to your query.
Giving searchers instant answers does boost customer service and their overall satisfaction rate, but this also means that your website will get fewer visits because people will convert to phone calls or buying directly from the SERP.
Are smart speakers really overtaking search?
In order to perform a voice search, people can use two types of devices:
Mobile phones with voice assistants (OK Google, Siri, Cortana, Samsung Bixby, etc.)
Voice-first gadgets (Google Home, Amazon Echo, Apple HomePod and others)
The main thing to know about voice-first search is that it's SERPless. You get only one direct answer to your query: no top 10, no knowledge graph, no related questions whatsoever.
A user makes a verbal query and the smart speaker reads a single answer to it out loud. Sounds way too challenging to compete for, huh? While it is challenging, the big question is, is it worth it? Is it true that smart speakers are changing the entire SEO game?
Before answering this question, let's take a look at some stats on smart speakers:
Of course, the COVID pandemic skewed the statistics for 2019 and 2020, but based on these numbers, experts still predict a voice search boom. The logic is simple: the more people use voice-driven gadgets—the more searches will be performed by voice. So apart from the desktop and mobile SERP, we are about to deal with no-screen search results.
However, the most common ways of using smart speakers refer to voice commands, not to voice search, as was rightly noted by Rebecca Sentance from Econsultancy. This means that the spread of voice-based devices doesn't necessarily lead to a steep growth of voice search use. In this light, the widely quoted presumption that about 30% of searches will be done without a screen by now sounds a bit premature.
But does this mean that we shouldn't target users of voice-first devices? Of course not! Even Rebecca, the biggest speech search skeptic, admits that for some businesses optimizing for voice queries is a matter of urgency.
Yet, before joining the voice-first SEO race, you should carefully consider its would-be profits. The main question here is, what should businesses focus on while optimizing for voice search?
What kind of businesses can benefit from voice search
Benu Aggarwal, CEO and founder of Milestone Inc., had an insightful session at SMX West dedicated to voice search optimization. According to her research, more than half of respondents (52,8%) use voice search while driving. The question is, what do people usually search for while driving? And the best guess is that they look for local services. That's one of the reasons local businesses are believed to be the most affected by voice search.
BrightLocal has also researched the topic, having surveyed above 1,000 US-based consumers about their voice search experience. Turns out that among the top-5 businesses searched by voice are cafes/restaurants, groceries, places with a takeaway option, clothing stores, and hotels.
And how often do you think people use voice search to find information on local services? According to the survey, 48% of respondents use it daily.
Check out this infographic for more stats on when and how people use voice search:

Key takeaways:
Voice search SEO is already a big deal for a local business. 46% of people look for a local business using voice search on a daily basis. Which means that for local businesses optimization for voice queries is not an option but a way to survive in the fast-changing market.
Restaurants and cafes are the most requested businesses among voice search users.
Getting address and contact info is the most popular reason to use voice search for finding local businesses.
Classic SEO is far from dead: both local and mobile optimizations are at the core of optimizing for voice.
How to optimize your site for voice search
If you decide that your business should take a shot at voice search rankings, you're in for some good news. Voice SEO doesn't run counter to the general principles of search engine optimization (for now). This means that most of the things you do for voice search SEO will improve your overall website's search visibility.
Let's dive into the various tips that will help you optimize your website for voice search. But before we do that, here are several points to keep in mind:
Voice search queries are different. When we type, we use as few words as possible. We search for "pizza near me" rather than for "where I can have a good pizza anywhere around." While using voice search, we are doing the opposite. Yes, we talk to a robot like it's our neighbor or colleague. That changes the keywords' semantic dramatically. According to Jason Douglas, 70% of all voice queries are done in the natural language format.
Voice assistants read the Featured Snippet answer out loud, leaving behind other pages ranking at the top. If the query is a simply structured question (e.g., "how to change a sim card in iphone X"), the SERP will most probably contain an instant answer in the featured snippet box. In this case, the assistant will read the answer to the user.
Google Search Console doesn't provide keywords for voice search. It means that we don't know precisely what queries people use while searching by voice. So in this matter, we can only rely on the best practices suggested by the voice search SEO pioneers and improvise from there.
User intent and voice search
In order to optimize your website for voice search, you first need to consider the user search intent. There are four types of user intent such as informational, navigational, transactional, and commercial.
In terms of the search intent, voice search is basically the same as traditional search, meaning that all of the keywords that have one of the aforementioned search intents can be used in traditional and voice search alike.
Besides working on optimizing the written content on your website, make sure to optimize visual content as well because Google looks at alt tags and file names to understand how to rank such content.
Voice search and local 'near me' searches
With voice search changing the world, local search will be impacted too. The vast majority of voice searches are specific to a certain location, plus voice searches performed on mobile are a lot more likely to be local-based. When looking for a product, a store or a service 'near me', we often use our voice. Plus, local mobile searches result in a same-day store visit most of the time.
So, besides creating conversational, mobile-optimized content that uses structured data and is sprinkled with long-tail keywords, what other ways can we leverage voice search to reap local SEO benefits?
Set up FAQ pages
FAQ is believed to be the optimal form of content to match a voice search result. According to Backlinko's research, the average volume of a voice search answer is 29 words. So the best way to shape your FAQ page is to form a list of most relevant questions people ask about your service or product. Give a clear and concise answer to each question. It should be written in 8-9 grade-level English and jump right to the point.
Examples help to get an idea on how Google wants us to shape the answers for speech queries: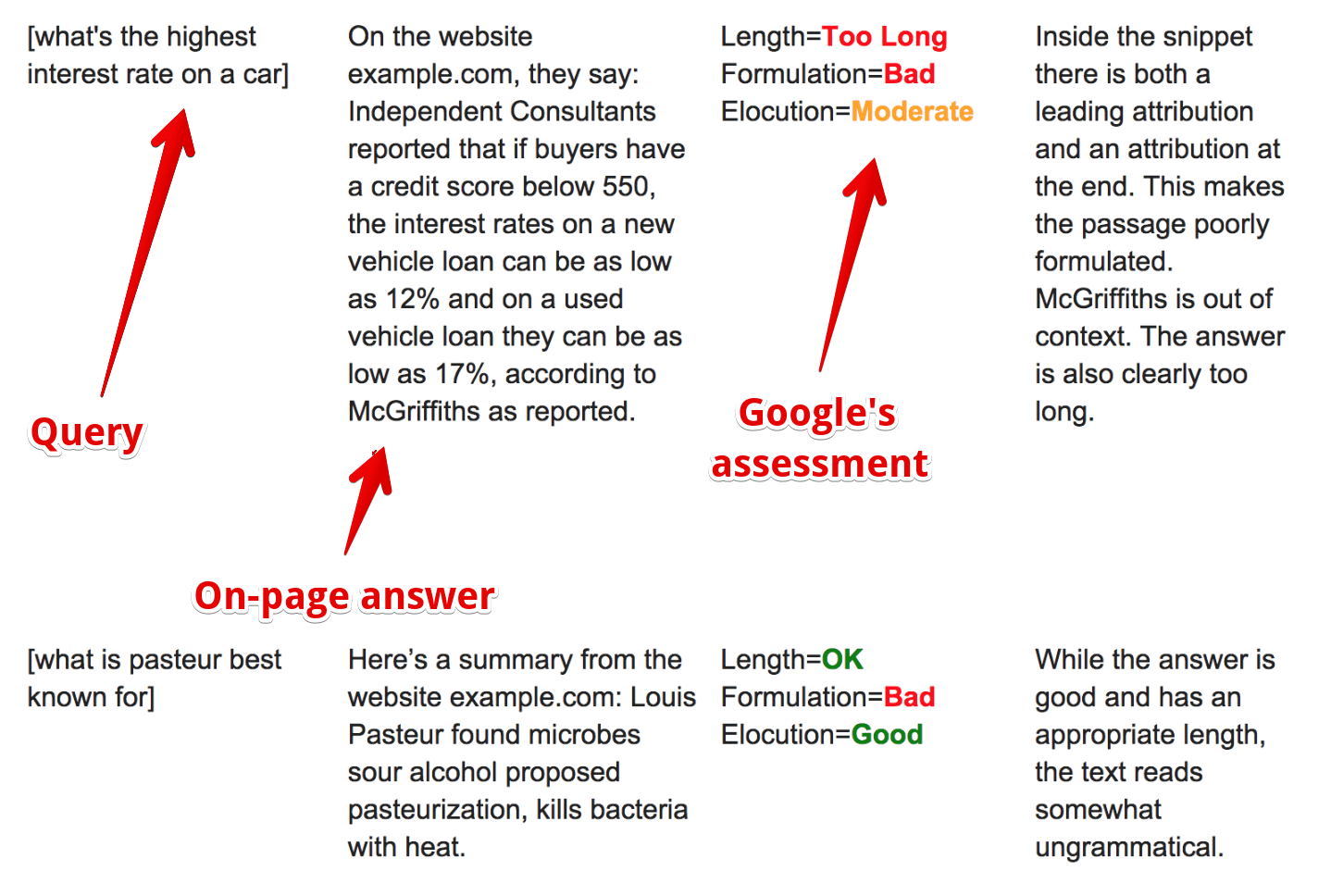 Set up your Google My Business listing
Verify that the name, address, and phone number (NAP) data of your business is consistent and accurate on your Google My Business listing. Add quality photos and images to your profile and reach out to happy customers for positive reviews. Similar to FAQs, be sure to take advantage of the Q&A section in your Google My Business listing.
Then, to make sure everything is set up properly, use your phone or voice assistant device to run verbal searches for your business. If you see any inconsistencies or if your business is misrepresented, go back and polish off your Google My Business listing as well as your NAP data.
Keywords research and voice search
Since no keyword research tool offers ready-to-use answers, there is a lot of manual work to do. The main job being to turn "robotic" keywords into natural language keywords.
Using conversational keywords is the most popular voice SEO tip one can follow. Makes sense since there is a huge difference between how people search by typing and by voice.
Robotic keyword: veggie burger best recipe
Conversational keyword:

what

is

the

best recipe

for

a

veggie burger
Don't ignore long-tail keywords
During her presentation at the SEODay conference, Purna Virji from Bing stated that voice queries are longer than textual ones. It's okay to use keywords that seem ridiculously massive, as long as they look natural in the content.
You can use any of the keyword research tools to collect proper long-tail queries. We'll show how to do this using SE Ranking's keyword builder. To collect long-tail queries with a low search volume for your seed keyword, access your SE Ranking account ➝ go to Keyword Research ➝ enter your head keyword and select a region➝ open Keyword Suggestions ➝ Low Search Volume tab.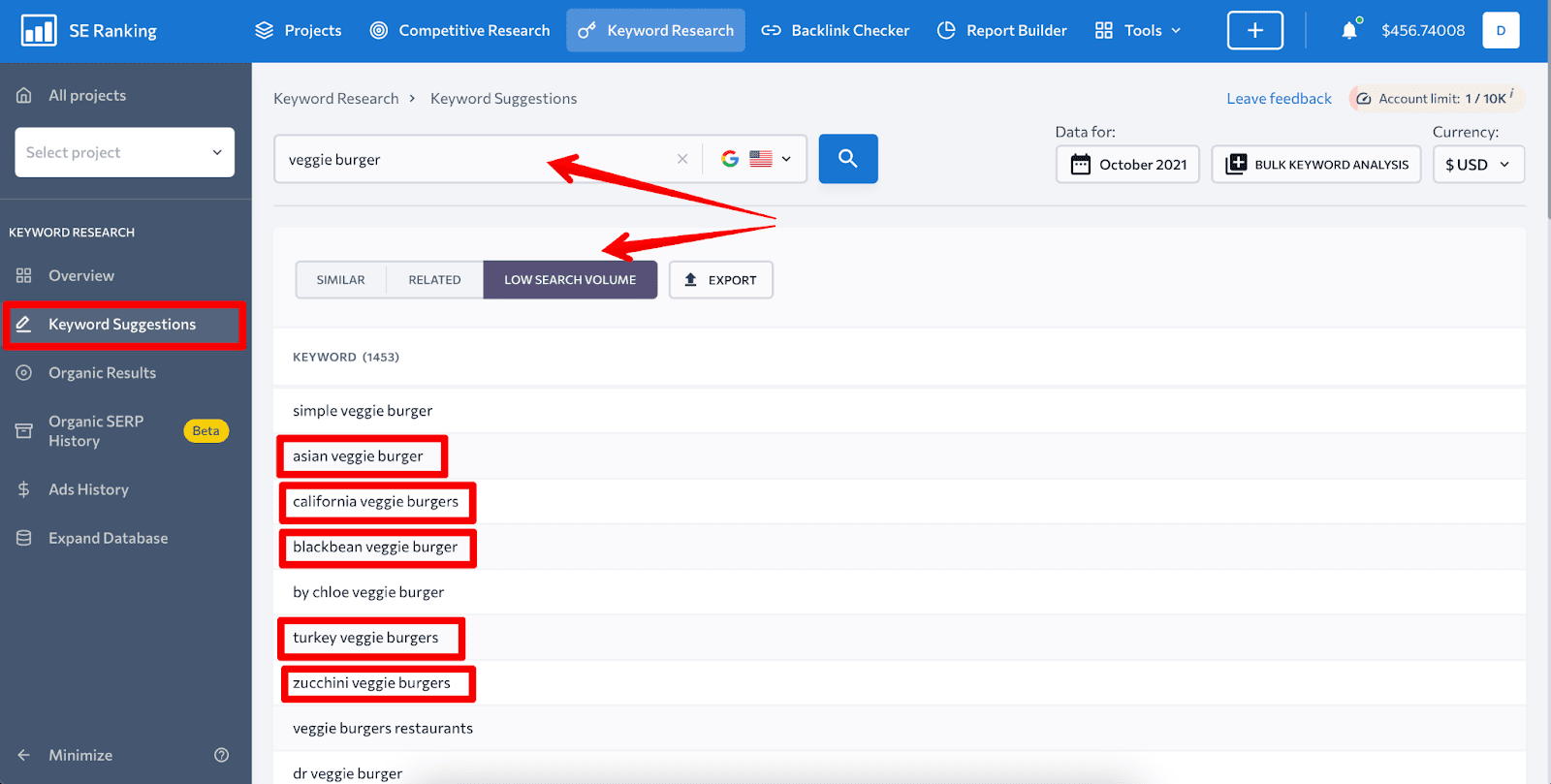 And just keep scrolling down the list to find more ideas for conversational keywords related to your business.
When you have your long-tail search queries on hand, you don't need to think about optimizing a separate page for each one of them. Just sprinkle your content with them. And remember that Google doesn't need to see them in H-tags in order to use them for voice search answers—they can be picked up from any part of your content.
Use question-shaped keywords
Dr. Peter J. Meyers from Moz figured out that a large share of voice search queries accounts for questions:
So one should target question phrases while building up your site's keyword list.
You can find the option to collect questions for a given keyword in paid SEO services. But we like free things, and the best one is AnswerThePublic. It's easy to use, fast, and efficient.
Go to the main page, enter the seed keyword and get the results broken down into question groups (where, what, why, how to, etc.).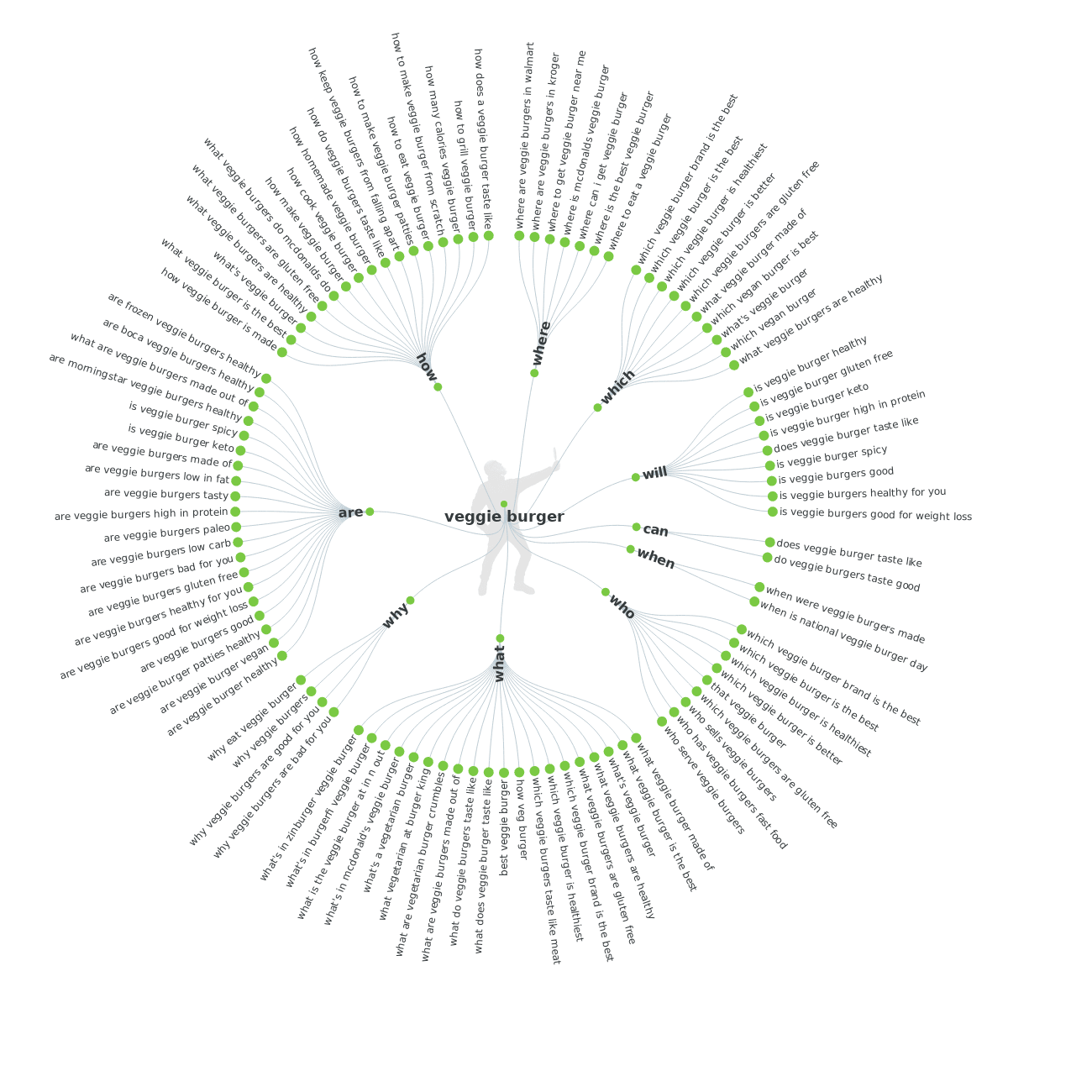 You can export the results in a CSV file or see them in a radial graph. It's not a super user-friendly image, but does the job (and looks pretty cool too).
Structure data and voice search
What will happen if you pick up a smart device and ask it what the capital of the United Kingdom is? Unless the device didn't hear you properly, you will probably hear the voice assistant reply to this question by talking about London.
This data is pulled from a web page most likely from Wikipedia about London. But how does your smart device know which part of the text to read out loud to you? The answer is: structured data.
Since search engines like Google consider a number of factors in addition to content to figure out how to rank a page on the SERP, SEO experts make the most of this opportunity to further search engine optimize web pages.
Structure data which is also referred to as schema markup is among the additional factors that impact a page's search rankings. Although structured data has an indirect way of influencing rankings, it can give you a competitive advantage in terms of voice search.
Structured data is placed into the source code of your website and provides data on your site's data. It is not visible to the people who visit your site, but search engines can use this microdata to understand every part of your copy. It takes a lot of effort to get it right, which is why many digital businesses are still not using it.
For example, below you can see a small part of the code from our homepage that defines the type and name of our company.

So, why does this matter for voice search?
Whenever people look for a business in their area, they often look for specific information relating to that business, such as where it's located, when it's open, what number to call, and so on.
In turn, you can leverage structured data to make sure that Google and other search engines know this exact information and are able to classify it accordingly. That way, you will enable your content to be found as an answer to a verbal search query.
FAQ markup
While adding structured data to your site's code, it's worth also focusing on marking up your FAQ pages. Frequently Asked Question (FAQ) pages are structured as a list of questions and answers that are related to a particular topic.
Here's the sweet part that makes it all worth your while: FAQ pages that are marked up correctly satisfying the appropriate conditions to be featured as rich results in search results as well as an Action on the Google Assistant. In turn, this can help you get to your target audience because FAQ rich results are available on both desktop and mobile wherever Google Search works.
Now, in order to satisfy the conditions for FAQ rich results, there are guidelines that you can follow:
Let's focus on the content guidelines in closer detail.
Only use the FAQPage structured data markup if your page contains a list of questions along with answers. Note that if your page just poses one question and answers can be submitted by users, make use of the QAPage.
The FAQPage must not be used for any advertising purposes.
Verify that the entire text of all questions and answers is displayed on the page and visible to the users.
If the content of your FAQs is obscene, profane, sexually explicit, graphically violent, promotes dangerous or illegal activities, or uses hateful or harassing language, it isn't allowed to be displayed as rich results.
If you have multiple FAQ pages on your website that are basically copies of each other, be sure to mark up only one of these FAQ pages.
Besides following and sticking to the aforementioned content guidelines, you must include several required properties if you want to make your content eligible for rich results and provide a better experience for your site's users. These properties include:
The FAQPage type. This property indicates that the web page is an FAQ that contains answered questions. Make sure to have only a single FAQPage type definition on a page.
The Question type. This property defines a single answered question that can be found on the FAQ page. Every use of the Question instance must be put into the mainEntity property array of the schema.org/FAQPage.
The Answer type. This property defines the acceptedAnswer to each of the Question instances on the FAQ page.
And then, once Google indexes your pages, identify any issues with the help of the Rich result status report.
Creating Content for Voice Search
As for optimizing for voice search, the bottom line is that you have to roll up your sleeves to make your site content the top answer to verbal queries. Here are a few tips you should take into account that will help you take advantage of voice search and get better SEO results:
Create content using a conversational, natural voice. Avoid using technicalese where you can afford to on your site or blog. For best results, use simple and concise single-line answers so that Google has the opportunity to use them when answering voice queries. Try to make texts that are no longer than 1 paragraph and at a 9th grade reading level.
Focus on answering your customers' questions. Do the research and communicate with your target audience to know what they are really interested in. Next, provide answers to their questions in written form on your site. Focus on a single search intent on a page and match search intent keywords with content.
Don't focus on keywords alone and keep in mind that context is extremely important. Your website content should take semantic search into account that includes context, user search intent as well as the relationship between the words you use on the page. Aim to write content that honestly answers your customers' questions, and Google will reward you for it. Ideally, you can incorporate the phrases your customers use to run searches and use that text in your content.
Use schema markup to make it easier for Google to identify information on your site. Structured data can help you get featured in search for relevant queries, which can help you become an answer to a voice search query. Markup questions using H2 headers for search engines and for people to improve readability. From the technical perspective, make sure your pages load up in under 3 seconds.
Specify your business locations for local SEO benefits. Voice search queries often include such clarifications as 'near me' and 'in my area'. If, for instance, your business has a physical location in Baltimore, you have to make sure to add keywords that include the city name to your website. As a result, whenever searchers will look for something in Baltimore relating to your business, your store will have a better chance of being listed among the results.
Think of voice search as an additional cool feature of the devices that we already use and have been using for some time. If you focus on creating valuable content for your customers and take care of the above tips, you will boost your chances of becoming an answer to a verbal query.
Multilingual SEO for Voice Search
Google is capable of recognizing around 120 languages with regard to voice search. While this goes a long way for the user experience, it makes it more difficult to rank high, especially if your site gets traffic from all over the world. This is where you have to focus on multilingual SEO paying more attention to voice search.
Obviously, people use voice search in their own language, which makes multilingual SEO especially relevant right now. Failing to do so will result in people who search in the native language not being able to find your website. Simple as that.
Let's focus on what you can do to cater to your multilingual customers.
Do keyword research in each supported language. For multilingual SEO, it's crucial to do keyword research for each language that you offer your content in. Simply translating texts won't do the trick at all. Get a professional translator to translate the original language, then brainstorm different keyword variations, and finally, use an SEO tool like Keyword Research to research each keyword and keyword phrase that is not in the original language of your website. Pay attention to the keyword search volume and level of competition.
Hreflang annotations are a must for websites that support multiple languages. This annotation helps Google and other search engines understand which visitor needs to see which page. Hreflang makes it possible for English-speaking people to see the English version of a website and Spanish speakers to see its Spanish version. Furthermore, make sure to use the alternate attribute. This attribute helps avoid having issues with duplicate content by letting Google know that the page is a translation of a pre-existing web page, not its copy.
Pay attention to the URL structure. Multilingual SEO often results in you creating different versions of a page under a single domain. To avoid issues, create a URL structure for each language version. Here's what Google has to say on the topic.
Another vital aspect is the content writing style. As was already touched on, create content in a conversational form and do not make it difficult to absorb. Voice search SEO isn't about using a specific number of keywords in all the necessary places. It's about being natural and using questions. So, stick to short, concise answers and you should be better prepared to answer verbal queries.
General SEO for voice search
For voice search optimization, you need a full package of the basic SEO setups. The higher a page is ranked (the best is to get into Google top 3), the better its chances of becoming a voice search answer. Pay particular attention to:
Moving to HTTPS. 70.4% of Google Home result pages are secured with HTTPS (Backlinko).
Building up a domain authority. The average Ahrefs Domain Rating of a Google Home result is 76.8. Important: not the Page Authority, but Domain Authority plays a definitive role in the voice search optimization.
Indexability and crawlability of your website's pages. Make sure that Google robot can access all the needed pages
PageSpeed. The pages appearing as a voice search result are more than 50% faster than average pages
Using Google's PWA (Progressive web app) platform, which is believed to boost the chances of the website to be cited by a voice assistant
Mobile-friendliness. There are many reasons to focus on it, including Google Mobile First indexing and the fact that people perform voice search primarily via smartphones.
Using AMP – a part of mobile optimization that deserves a special mention.
Using Schema.org markup to mark the content for crawlers. The Schema is a piece of code that marks different content elements of your page. It tells the robot what every part of your content means.
Local search optimization. Local businesses are defined to be the first in line to be interested in optimizing for voice search. That's why local SEO is a crucial part of voice SEO.
Voice search SEO case studies
Let's take a look at a couple of case studies from Backlinko that confirm that you can become an answer to a voice search query.
When Brian Dean was launching his YouTube Marketing Hub and was making content for it, he did his best to optimize the copy for verbal queries. To elaborate, he added a short FAQ section at the beginning of every page and at least one of them became an answer to a voice search query: "What is a YouTube channel description".
Take a look at the page that contains the content that Google decided to make the answer to this query. Besides being the answer that smart voice assistants read out loud, the answer to this question also got the featured snippet.
Moreover, the text of the answer is not too sophisticated and is written at the suggested 9th grade level.

And lastly, while the domain trust score is pretty high, the page that contains the answer itself doesn't have a very high trust score, which allows us to conclude that the page authority is not the decisive factor for voice search.
Let's consider one more example.
The question that was Lifehacker aiming for a voice search answer was "What's the best pay to peel garlic?"
In this case, however, Google still gives you 10 blue links, but the search giant directs you to a specific result by saying "Here's information from Lifehacker".
Now, let's figure out how Lifehacker managed to pull this off.

Again, the trust score of the domain is pretty high, but the page trust score is even lower than that of the previous example. On top of that, the page loads up very quickly both on desktop and mobile. In terms of the reading level, it doesn't go beyond the suggested level and is written at the 7th grade reading level.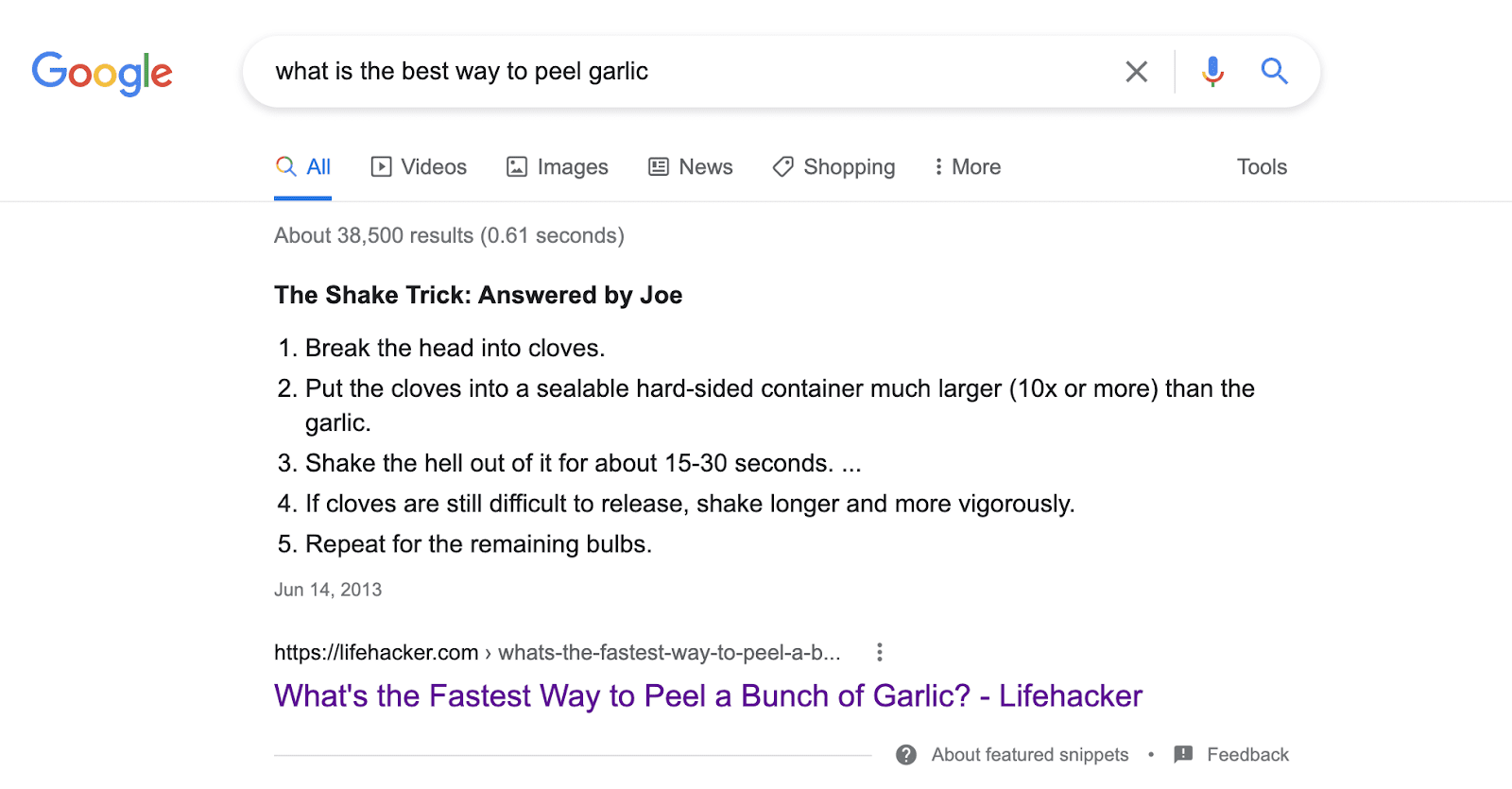 And, of course, the answer is in the featured snippet. This skyrockets the chances of this text becoming the answer to a voice search query.
So, as long as you stick to the suggestions and put in the work to write a great, clear and concise text, you should be able to become an answer to a verbal query.
Wrapping up
Voice search is a technology that is already here, and it's expected to grow more in the coming years. It's too soon to start a countdown for a traditional SEO, but there are things we need to be ready for. Among them are SERP-less search, a death of robotic keywords, a rise of simple content forms, a spread of conversational but AI-friendly tone of voice across the web, and many many others.
Voice search SEO is closely bound up with local and mobile optimization. Yet, it may require us to review our content strategy. How may an ideal page for voice search query look like?
The page belongs to an authoritative domain secured with HTTPS.
It is ranked for the first Google desktop SERP.
It loads fast and is mobile-friendly.
It contains long-form (over 2,000 words) content, written in a simple and clear manner.
OR it is an FAQ page, that contains answers (30-55 words) that sound natural when being read aloud and optimized for question-shaped keywords.
Such page has all the chances to appear in Featured Snippet and thus, become Google robot's #1 choice as an answer to a voice search query.
If you have comments, tips or questions about this topic, please share. So curious to hear your opinion!
What is voice search SEO?
Voice SEO is the process of optimizing keywords for searchers who use voice assistants. It is believed that if you get a featured snippet, you have a very high chance of becoming the answer to a voice query. Some believe that it is no different from traditional SEO as all voice text is transformed into written text in the process.
What percentage of searches are voice?
More and more people in the US are conducting searches using their voice. Reports estimate that 112 million people in the US used voice search in 2019, which is about a third of the total population. In 2021, this number was expected to jump to around 123 million, and it's expected to reach 300 million by the end of 2022.
Why is voice search important for SEO?
Although voice search does help create better customer experiences, it does take traffic away from your website. As a result, you have to do some fine-tuning to get people to convert from voice searches. The plus side for SEO is that content doesn't have to focus on specific keywords, but can be written in a natural, conversational language.
How do I optimize my website for voice search in 2021?
To optimize your website for voice search in 2021, you primarily need to aim to become an answer to featured snippets. Plus, use natural language in the answer, keep it under one paragraph, use simple language, use structured data on the page, make sure the page loads up quickly, and it also helps to optimize your Google My Business listing.
What type of keywords should be included for voice search?
Instead of sticking to traditional SEO that sprinkles keywords throughout the text, make use of the five Ws and How (Who, What, Where, When, Why, How) when optimizing content for voice search. Plus, make use of other question modifiers and go for conversational, long-tail keywords that satisfy the user intent.