Sign up for our newsletters and digests to get news, expert articles, and tips on SEO
Thank you for subscribing!
With only two months left in the year, this is no time to be slowing things down.
Throughout the month of October, we have completely redesigned the Backlink Checker tool, fully integrated with Google Data Studio, and have made other less significant changes and updates to the platform.
Find out everything about what's new in our monthly SE Ranking update blog post.
Fully upgraded the Backlink Checker
If you're a regular user of the Backlink Checker tool, you'll easily be able to spot at least 100 differences between the old and the new interface. Now, the tool's much faster, easier to use, and is packed with additional subsections and data.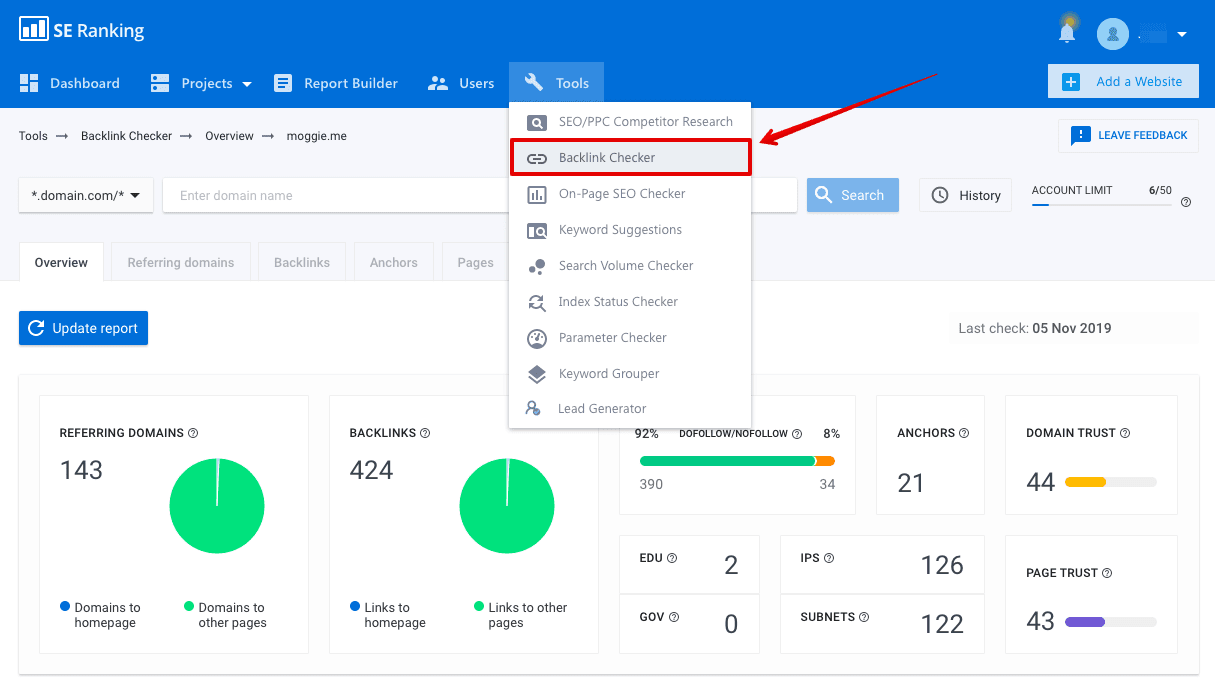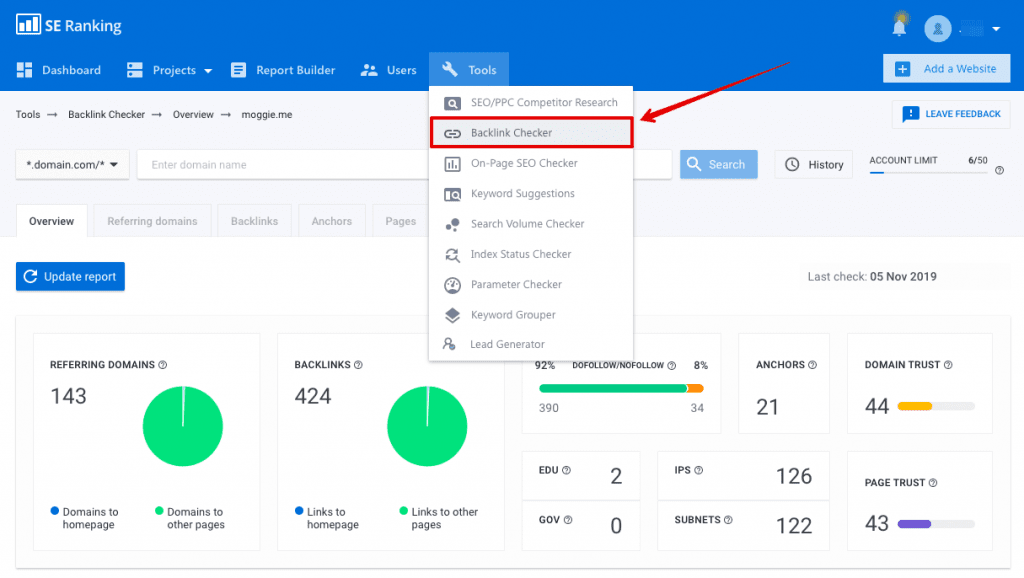 How to work with the tool
The basic principle of operation is still the same: get an analysis of your domain's backlink profile (or that of a competitor) by entering a domain URL into the search box and hitting the Search button.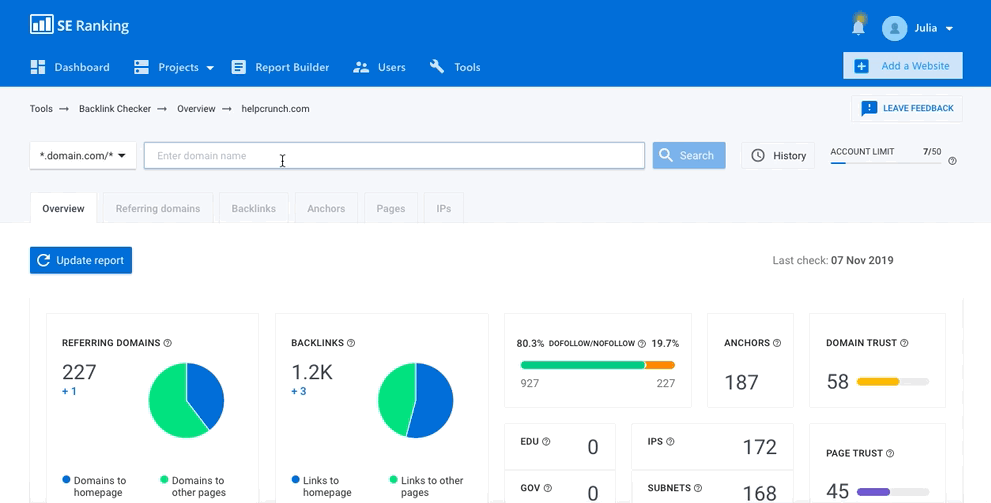 In a matter of minutes, you'll get a detailed report on every discovered backlink, referring domain and linked to page. With this data, you can put together a complete picture of a backlink profile and evaluate the promotional importance of every single backlink.
Under the Overview tab, you can quickly evaluate any backlink profile by analyzing it against the following parameters:
total number of backlinks and linked to pages;
distribution of dofollow/nofollow links;
total number of referring domains and linked to pages;
total number of anchors;
total number of IP addresses and subnets;
total number of referring .edu and .gov domains;
new Domain Trust (DT) and Page Trust (PT) metrics that predict how well a site or page will rank on search engine result pages.
But that's not all! The Overview tab also provides data on the anchor texts that are used more often and the geographical distribution map of the entire backlink profile. With the help of the interactive map, you can see from which domain zones and countries your site received links.
Domain analysis
All of the domain data is available under the Referring domains tab.
You can get a lot of information on each discovered domain, such as DT, Alexa rank, total number of backlinks, and the date when the referring domain was first discovered by SE Ranking. Parameter data can be easily filtered so that only the necessary data is displayed, and then exported in the CSV or XLS file format.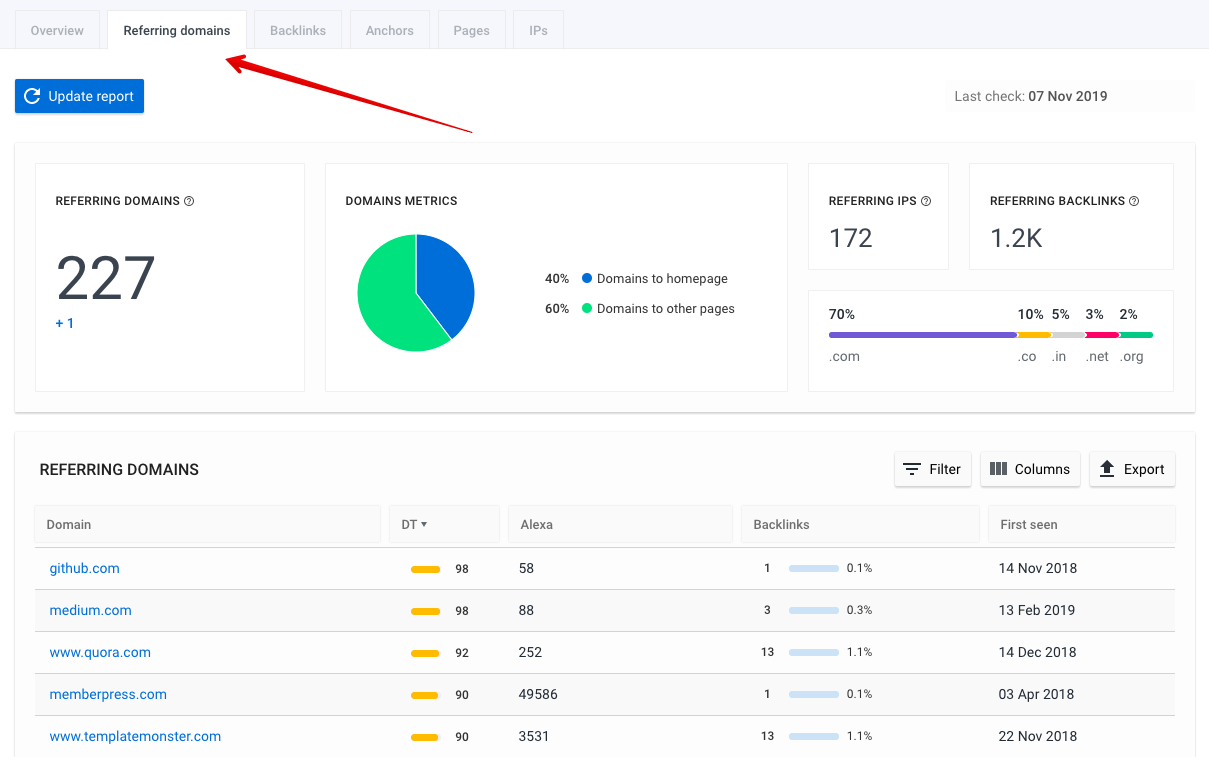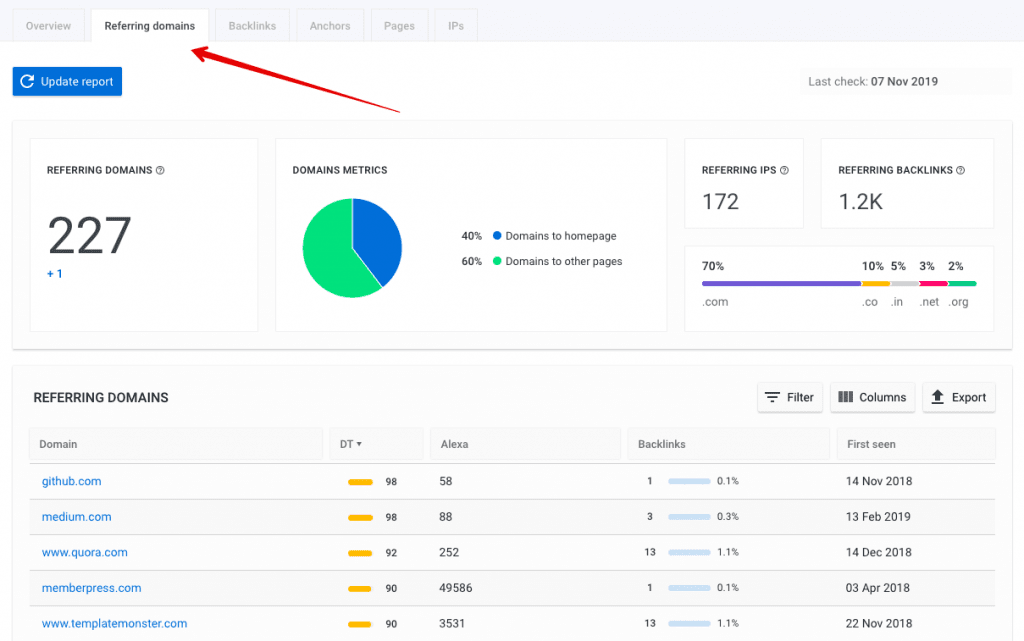 Backlink analysis and monitoring
Under the Backlinks tab, you can closely study the list of every discovered backlink, and even choose to look at the entire list or at one backlink per domain.
The following parameters are displayed on each backlink: anchor text, target URL, backlink type, DT, PT, Alexa rank, the date when the backlink was first discovery, and the date when the backlink was last analyzed.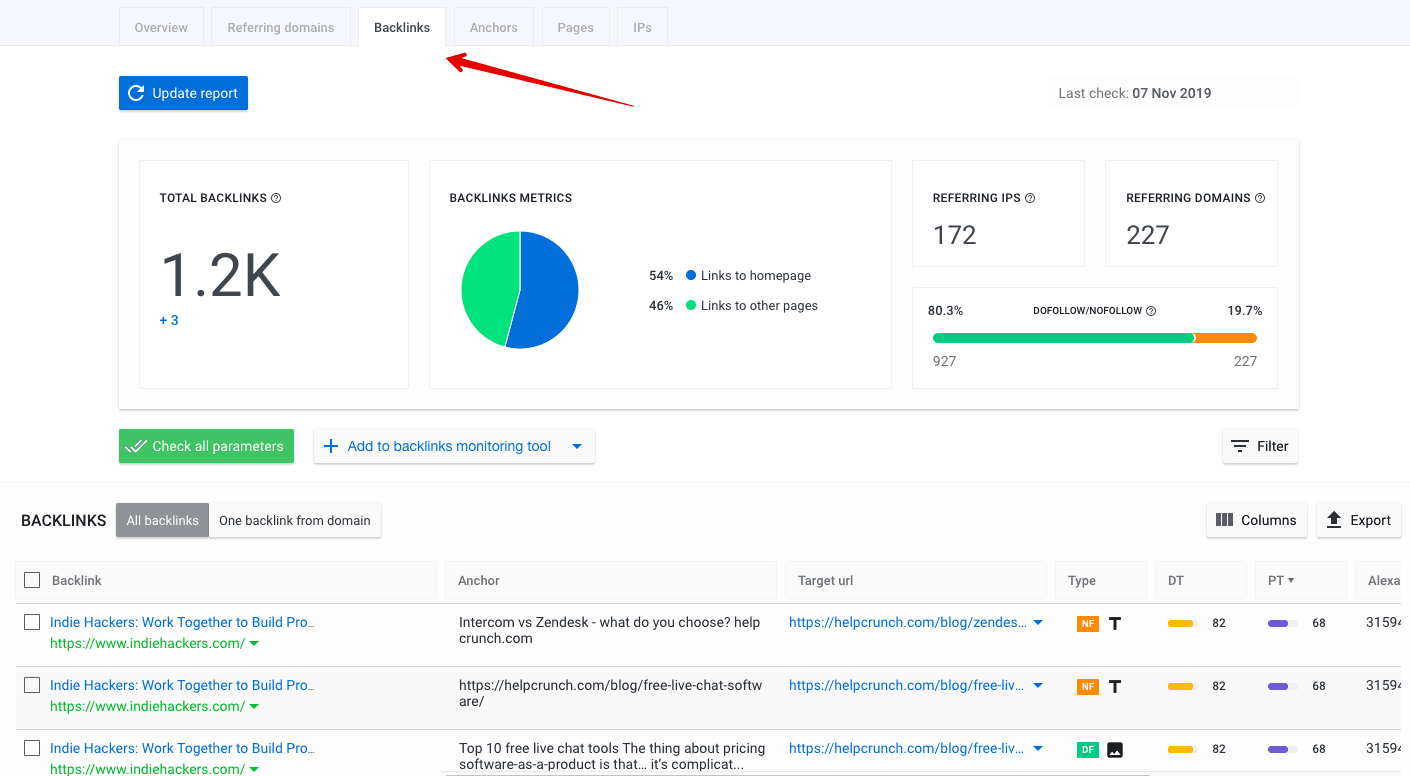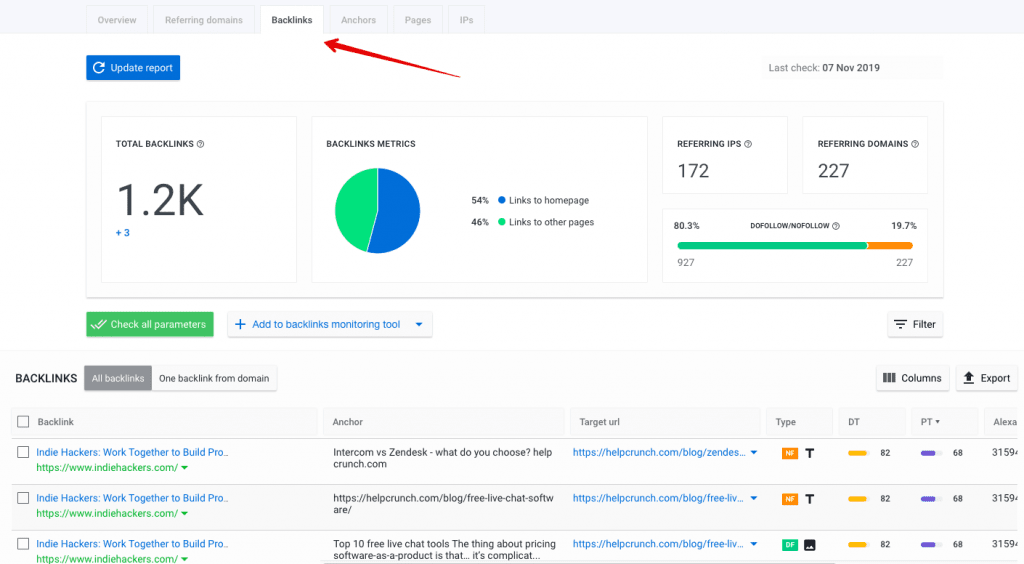 Another cool feature allows you to mark the backlinks you're most interested in keeping an eye on and add it to the Backlink Monitoring tool in a single click. With this tool, you can analyze even more backlink metrics, monitor their status, identify spam attacks, and even create a disavow file for Google.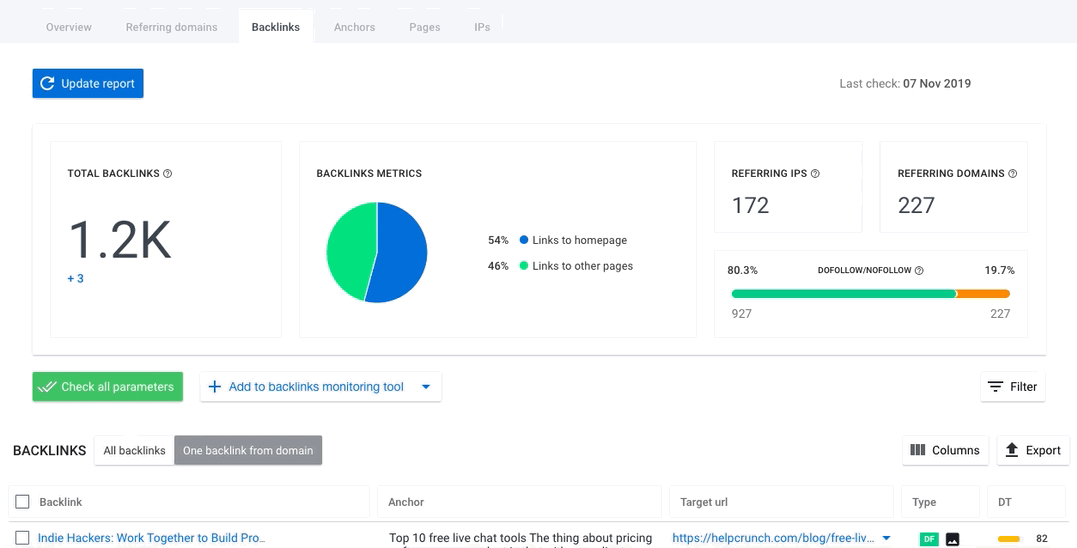 Analyzing anchors, pages and IPs
Under the next tab, Anchors, you can find data on the anchor texts that are most frequently used in the backlink profile. You can immediately evaluate which anchors come from backlinks and which ones come only from unique domains. That way, you can compare the difference between the two. You can also filter anchors by number of words, referring domains, specific anchor text, and dofollow links.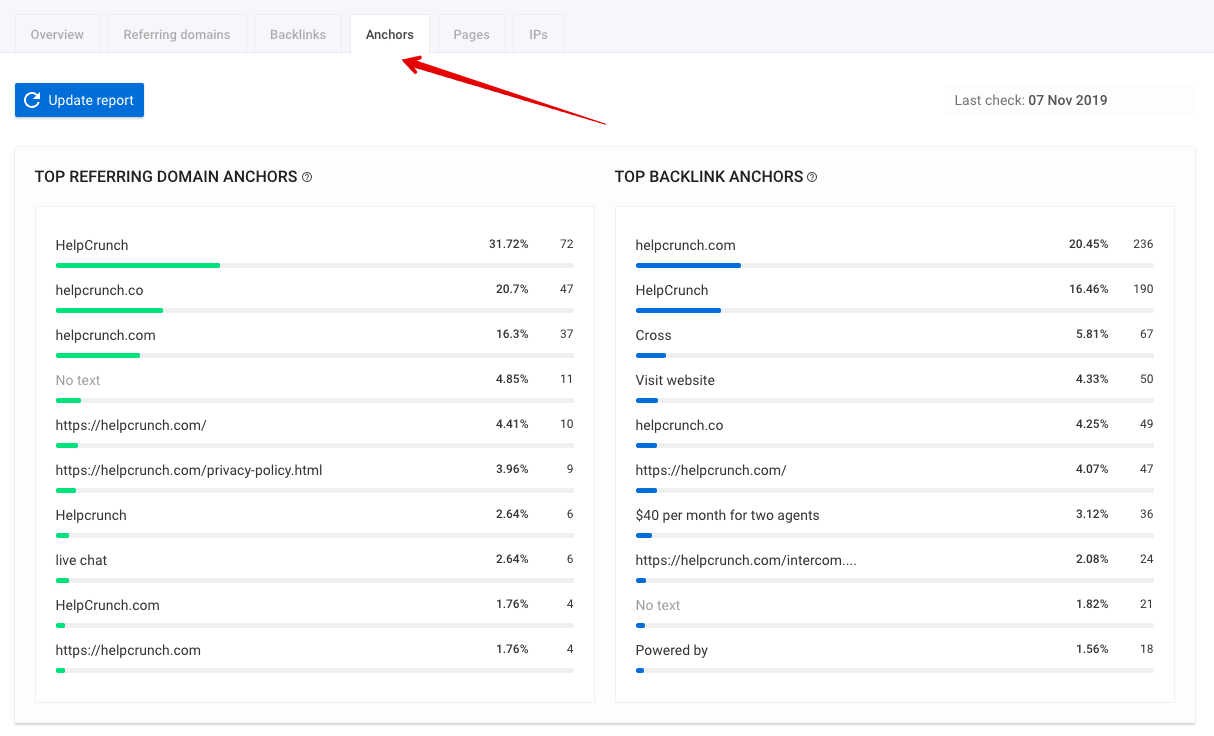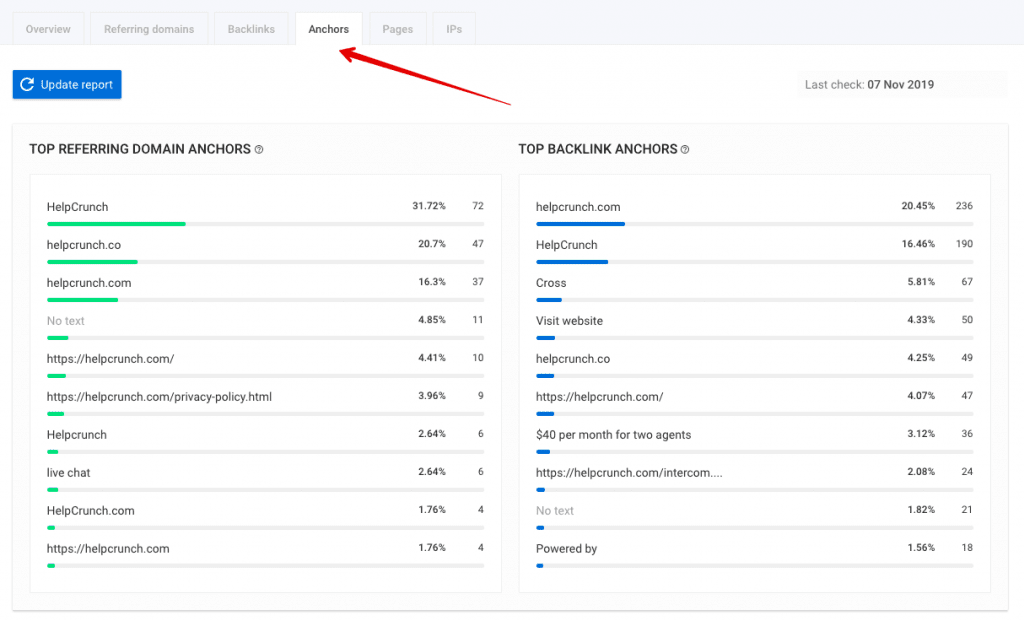 Under the Pages tab, you can find all the pages of the analyzed domain that are linked out to along with the total number of links and domains pointing to each page. By filtering the values, you can easily find out which pages are the most popular ones and get most links, and which ones still need to be worked on.
The last tab we'll be looking at is IPs. Here you can get all the geographical details on each referring backlink. The table shows the total number of IP addresses, subnets, domains operating from the selected IP address, and links from the selected IP address or subnet.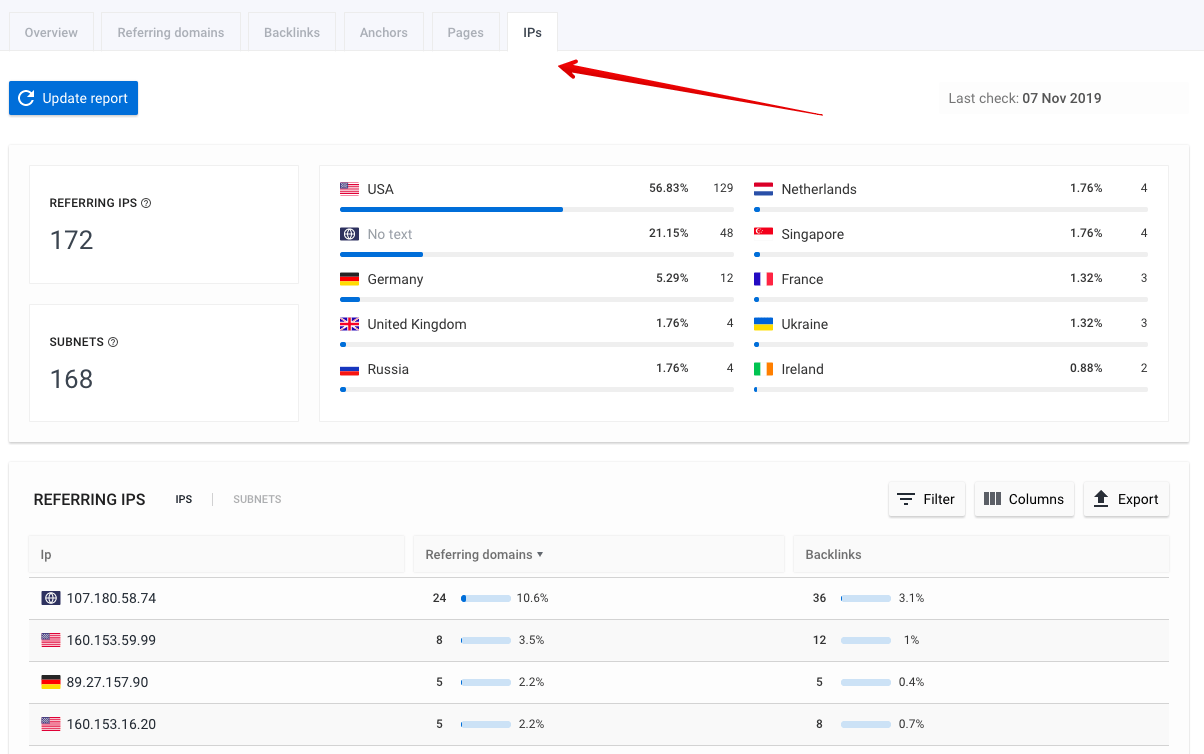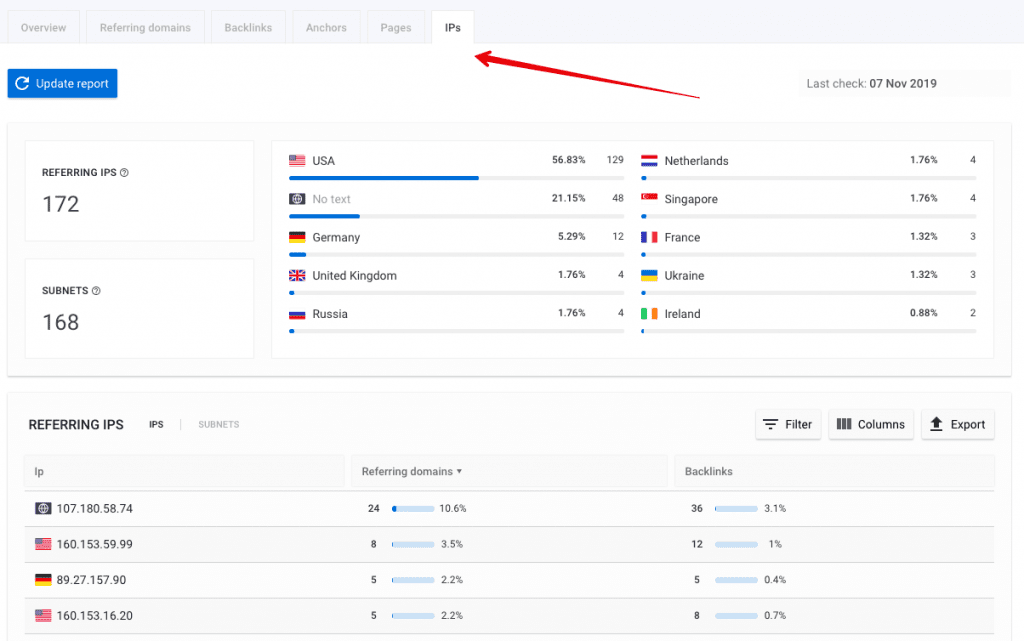 Every report found in the Backlink Checker tool can be updated at any time. But I want to point out that the number of reports you can get depends on the limit set in your subscription plan. If you exceed your monthly limit, you'll have to pay $1 for each subsequent report.
Be sure to try out the new and improved Backlink Checker and don't hesitate to share your thoughts with us! In case you forgot, we welcome all of your ideas and eagerly add them to our backlog, where we then gradually bring them to life to provide you with a more convenient user experience.
Your website rankings are now in Google Data Studio
Last year, many of you requested we integrate with Google Data Studio (GDS), and this October we finally made it a reality. Introducing the SE Ranking Rank Tracker Connector.
Why should you start working with the connector right now?
GDS is a free tool that you can use to quickly visualize large volumes of data, create custom reports and dashboards.
All of the data in the reports is displayed in real time, plus dashboard data can be easily shared via a link.
With the help of the connector, you can create custom reports based on your site's organic and paid rankings data.
More information on how to set up the connector, what parameters can be included in the report, and how to use it properly is available here.
Small but important changes
With every new release, our platform gets a new look and feel. And the vast majority of these changes are made thanks to your thoughtful comments and suggestions. So give yourself a pat on the back for helping us make SE Ranking the great SEO platform that it is!
Here are some other minor but significant changes we made in October:
We cleaned up and expanded our database for Spain to include 20 million search queries. Next month, we are planning to add a lot of new countries to the SEO/PPC Competitor Research Google database. 
The Keyword Suggestions tool will now always provide you with a list of similar keywords, even if they are not in our database. We use different data sources to instantly upload keywords and check their search volume among other metrics on the fly.


On top of that, you can also see how many similar keywords have been found in total and access the full list by clicking the See all button.
New SERP features display order. The SERP features now have a new order priority―every feature containing a link to your site (blue) will be displayed at the beginning of the line. We've also added a separator so that you can straight away see which SERP features you have selected to see.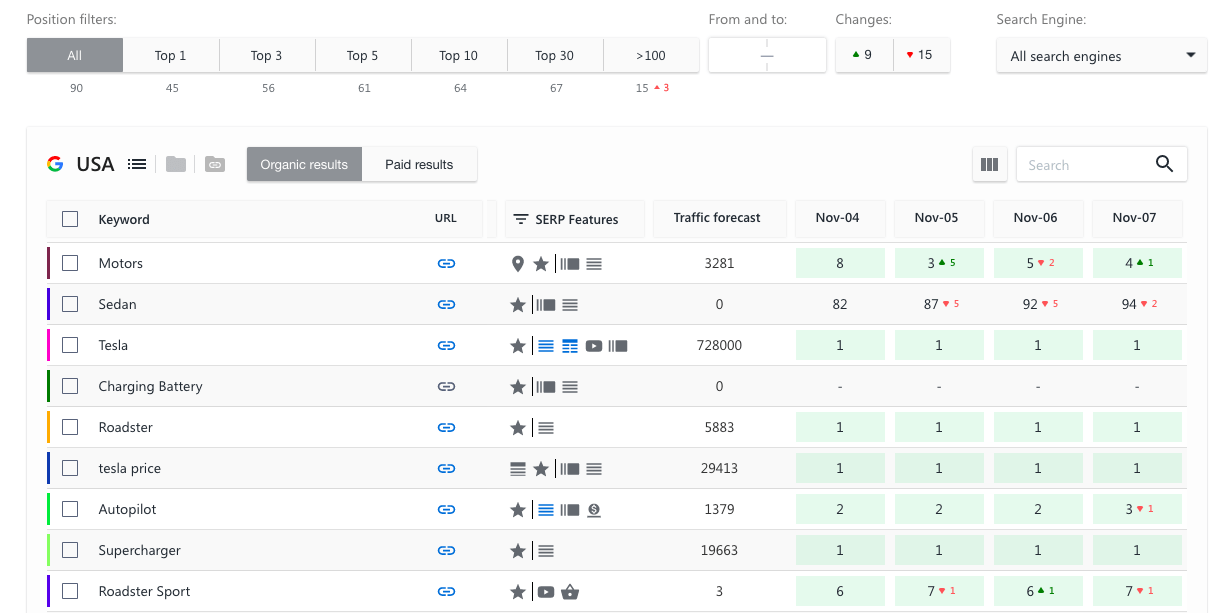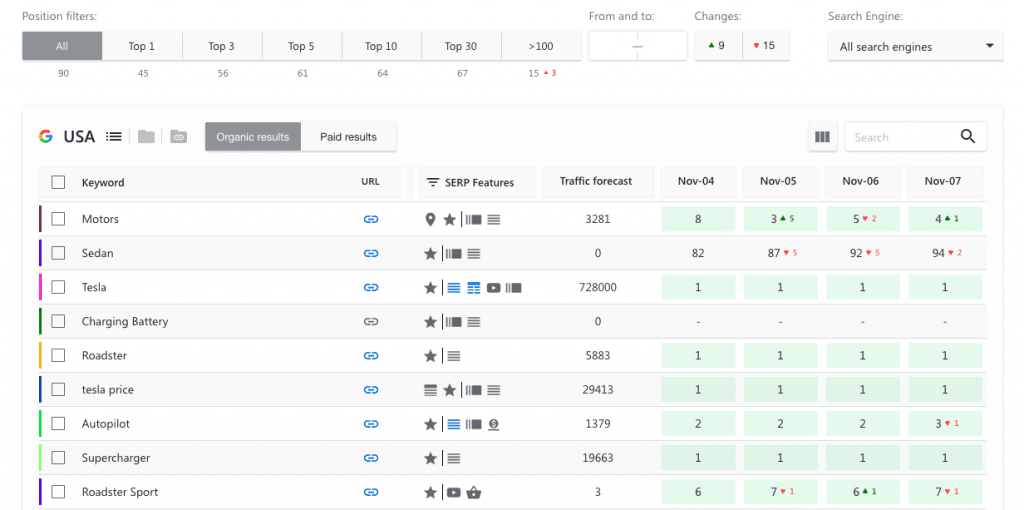 Added the option to disable automatic website verification in the Project Creation Wizard. When adding a website as a project, you can now turn off the option under Advanced options that enables automatic website audit. You can start the audit manually in the Website Audit tool whenever the need arises.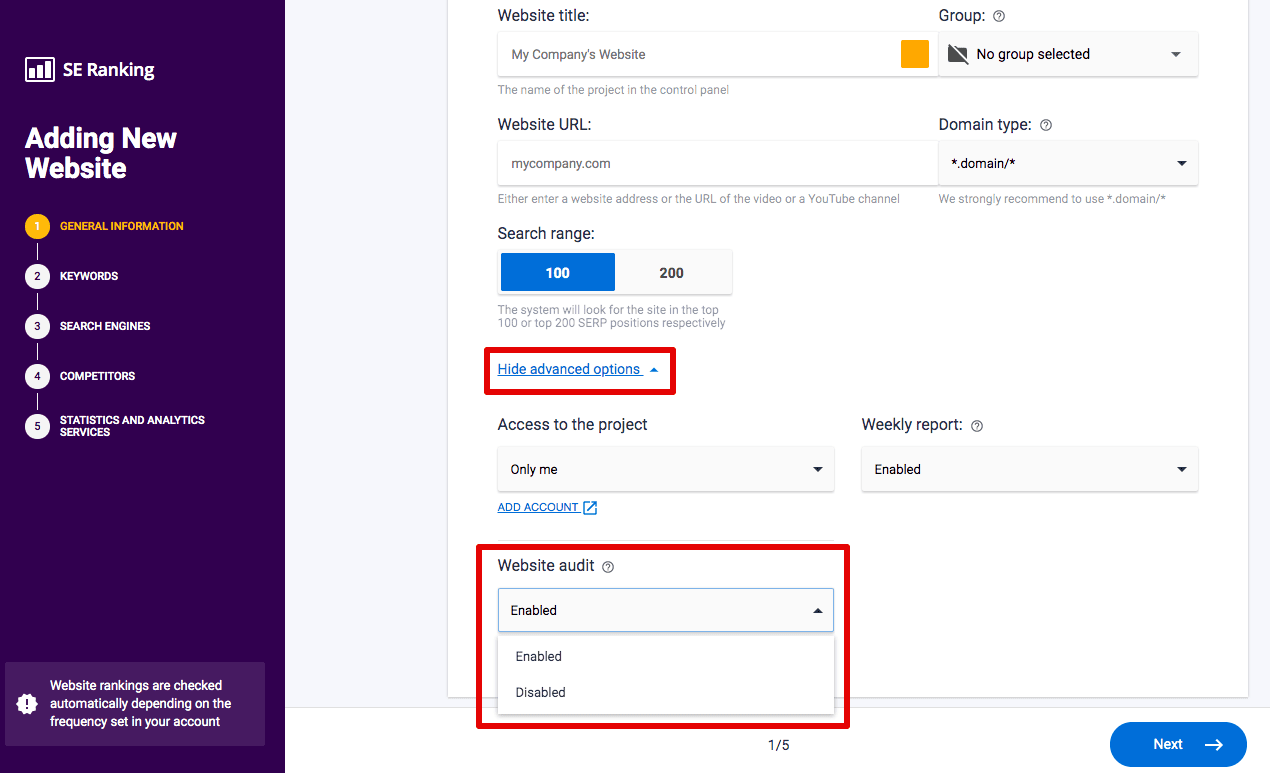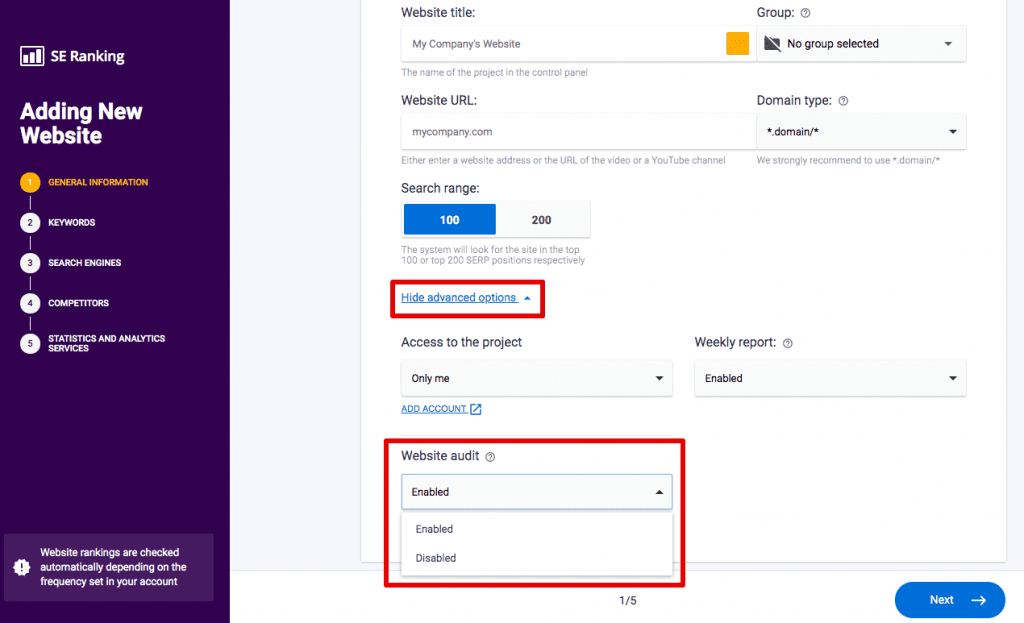 Select new report sections. Now you can add the necessary sections from the Analytics & traffic module directly to the report and then decide which sections and metrics are to be displayed.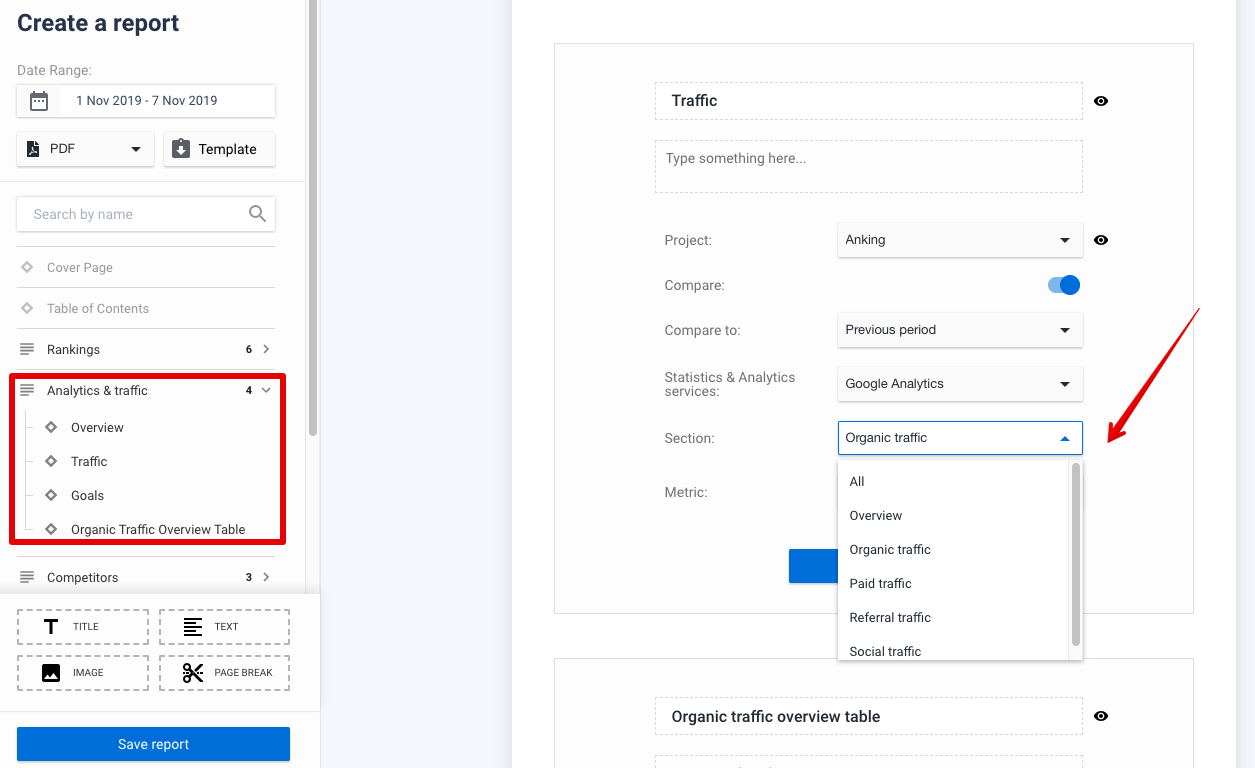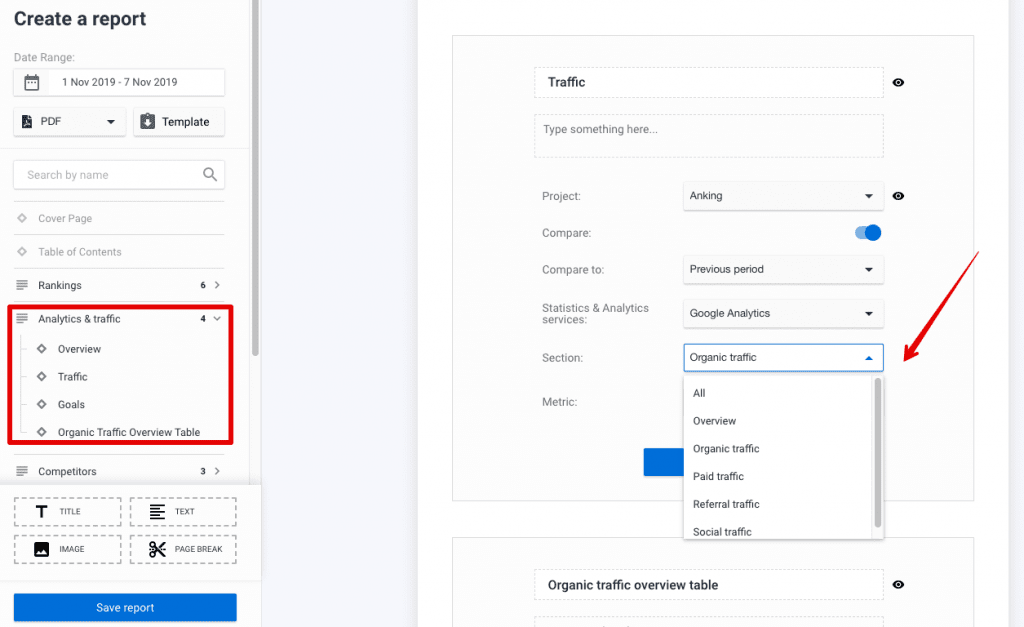 We'd love it if you'd leave a comment under this blog post letting us know what you like, what can be further improved and if the new interface is convenient enough. We'll definitely take a very close look at your feedback, so shoot away.
In the meantime, we are working hard on our November updates. Join our Facebook Community to stay on top of everything and join the efforts to make SE Ranking the best possible SEO solution out there.