SE Ranking is among the best software solutions. Thanks to you!
Remember how we were stubbornly pursuing you to leave a review of our platform?
Of course, you do! We were persistent (not to say annoying). Well, we have great news – all of it was for a good reason!
Just a few days ago, the largest reputational platform for SaaS projects–G2–summed up the results of 2019-2020, and It turned out we've been featured in three very important listings:
Not to mention the 24 (twenty four!) awards we got according to G2's Spring Report, where SE Ranking became the second-best SEO Software among 66 other tools listed.

This is an accomplishment that we accredit to all of us, and here's why.
G2 is one of the most trusted SaaS product review platforms
G2 is one of the largest platforms for reviewing business software solutions. Its goal is to collect real-user reviews on the tools that we use daily for email automation, social media marketing, SEO, time management, organizing teamwork, hosting webinars, and so on.
For being featured in the list of the best online products, we've competed with such software giants as HubSpot, Hootsuite, Zoom, Grammarly, and others.
On top of that, the winners were selected not by a jury, whose opinion may be subjective, but by an algorithm based on feedback from real users. According to the G2 report, they collected 383,749 new software reviews in 2019, bringing our total review count to over 1 million.
Moreover, leaving feedback on G2 is quite a challenge. Besides the profile and user status validation, reviewers need to answer more than 30 questions on the reviewed product! Each submitted feedback then must go through a careful moderation procedure. And to avoid any manipulations, G2 does not take into account reviews from partners or competitors of the company and marks such reviews with a special sign.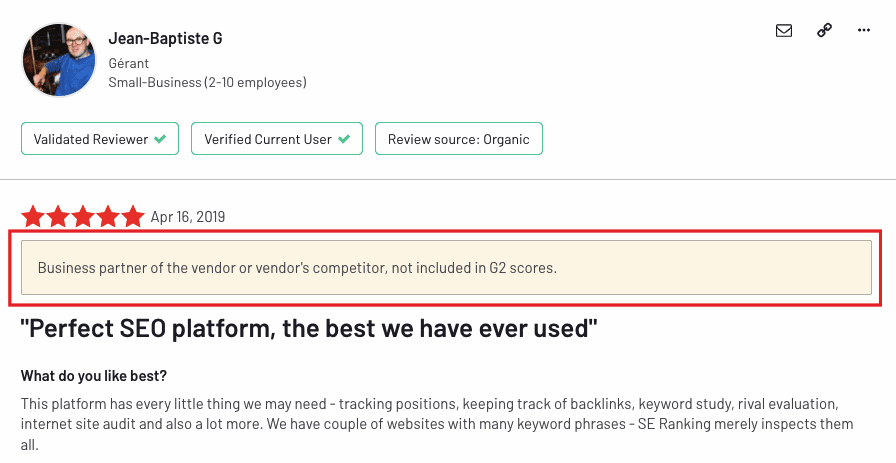 In the end, to leave a review you need to spend a good 30-40 minutes!
Here I would like to stop and take a moment to thank our clients who found the time and energy to share their experience of working with SE Ranking. It's all thanks to you!
Every review matters
We've been encouraging you to share your SE Ranking experience across every possible channel – email, online chats, Facebook, Twitter, and YouTube.
We don't know what played a great role in the end – the fact that SE Ranking is a great product or our perseverance – but we received over 500 reviews from our customers on G2 alone! And we don't take any one of them for granted.
Every review we read affected us on multiple levels, making us feel happy, amazed, and, sometimes, yes, even heartbroken! But most of all – they inspired us to keep up the hard work.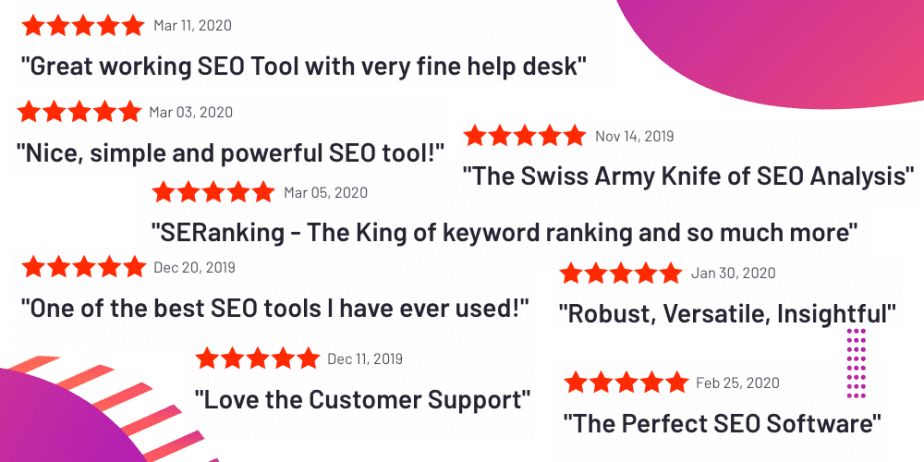 We are grateful to everyone who found time to leave feedback on SE Ranking! Not only did you help others make a better-informed decision, but you helped us (and still do) take the best path forward.
One of the basic values of SE Ranking as a company is shared success – we believe that the opinions of our customers are the most valuable source of insights into our product and our niche in general. For two years already, we've been building our growth and development plans together with our customers – we collect their wishes and include them into our roadmap for the year.
And right now is the time to celebrate this small but important victory together because that's what shared success is about – knowing that you'll never walk alone.
The kind of news we need right now
We, as much as everyone, are currently going through tough times and the news about us being acclaimed as one of the best software solutions out there is just what we need to keep up our good spirits.
So, during our last team meeting on Friday, we shared the news regarding G2 with the entire team and even threw a little Zoom party 🙂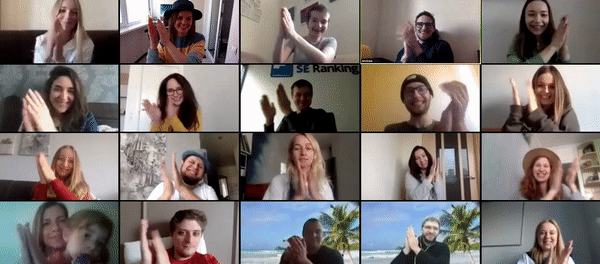 But the new week brings new challenges and today we are already working at full capacity to keep every promise we made at the beginning of the year, and more!
If for some reason you still haven't joined us, make sure you do! There's always room for one more. Take advantage of our free 14-day trial to get acquainted with, you know, one of the most trusted SEO platforms 😉