ALL THE OPTIONS
for tracking website rankings, gathered together in a single service
With SE Ranking you get simple but powerful tools for monitoring SEO-optimization results. The service lets you effortlessly monitor the daily changes in Google, Yahoo, Bing keyword ranking for your own websites and those of your competitors.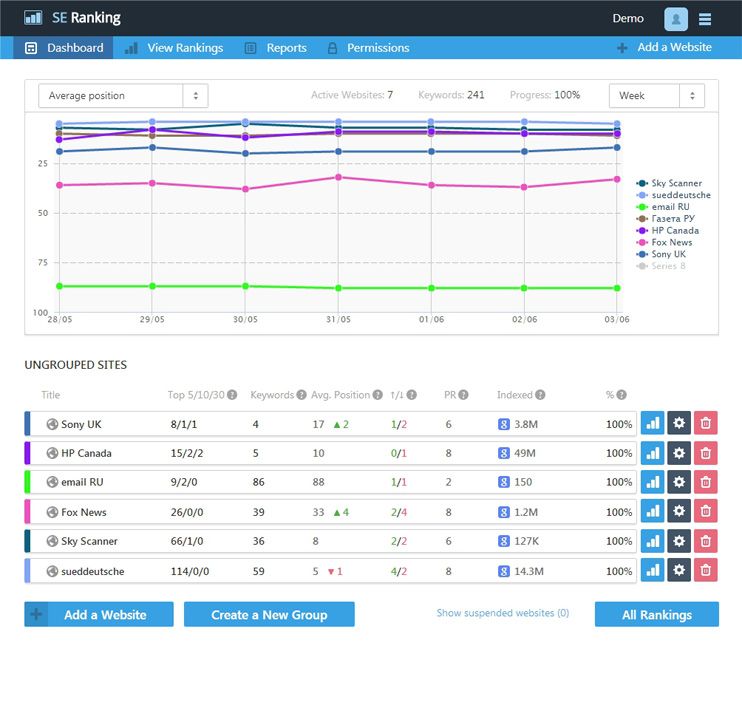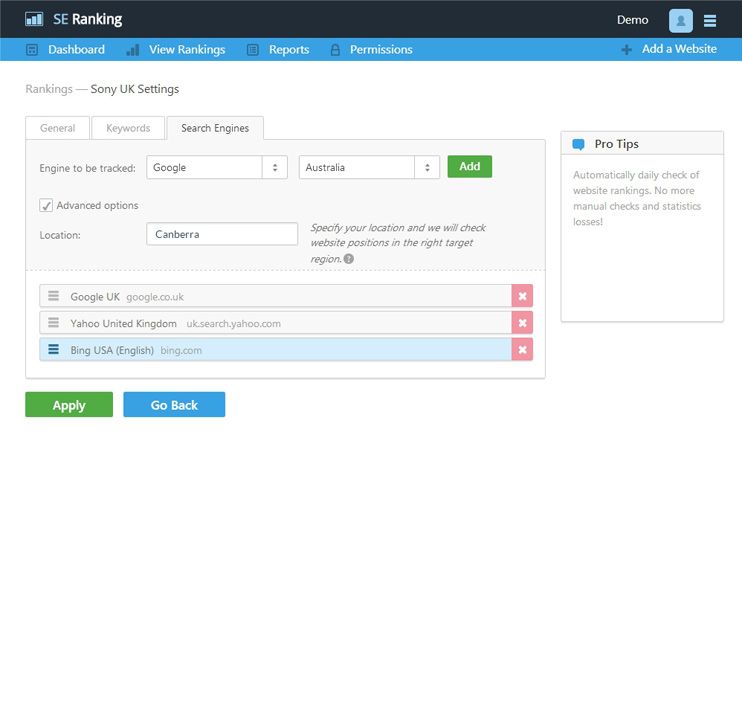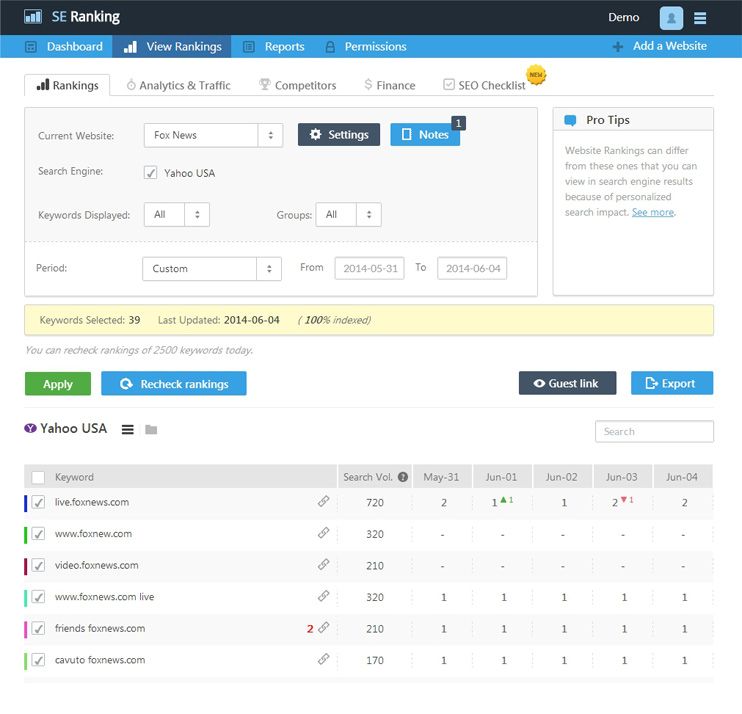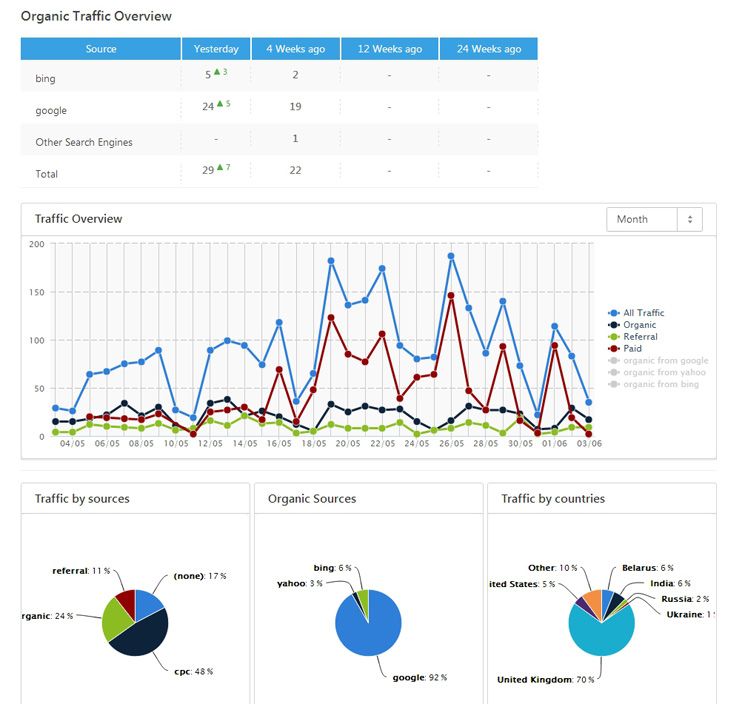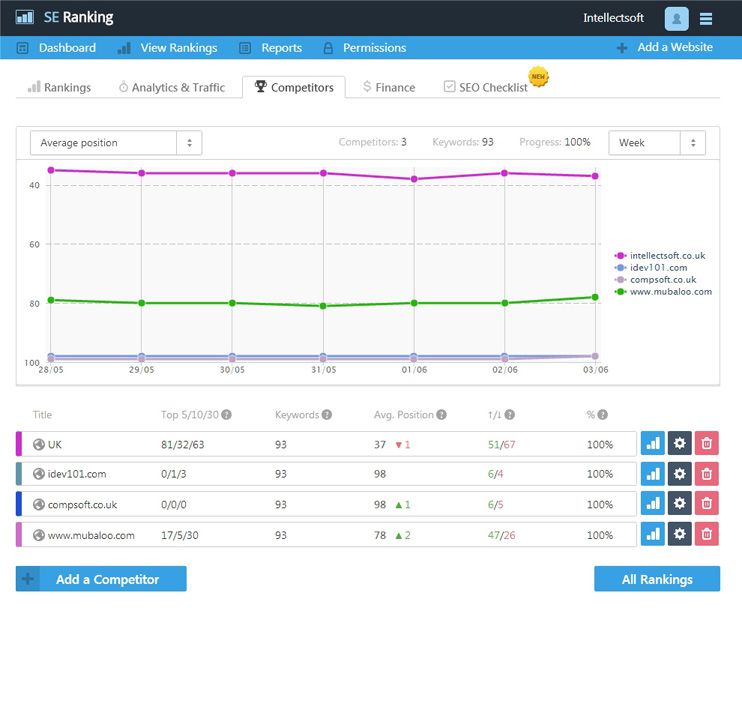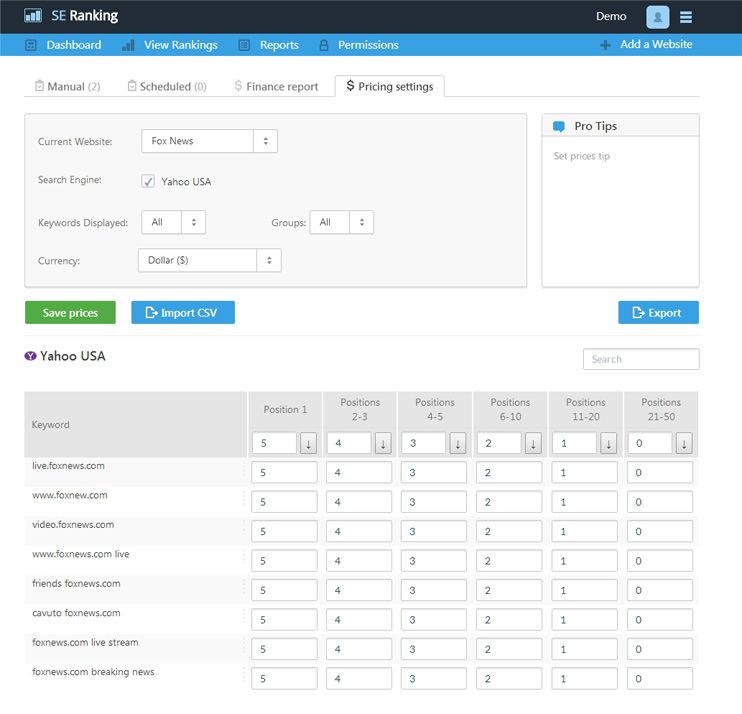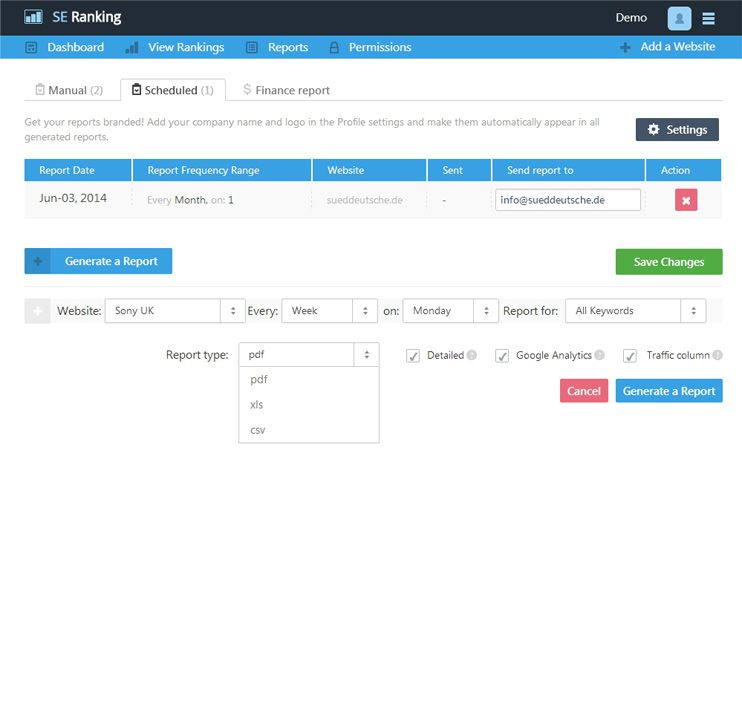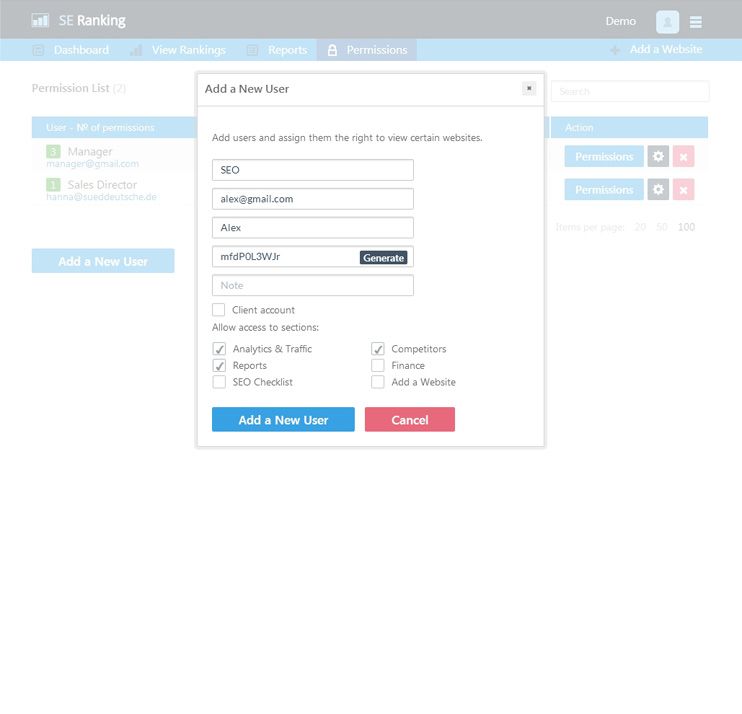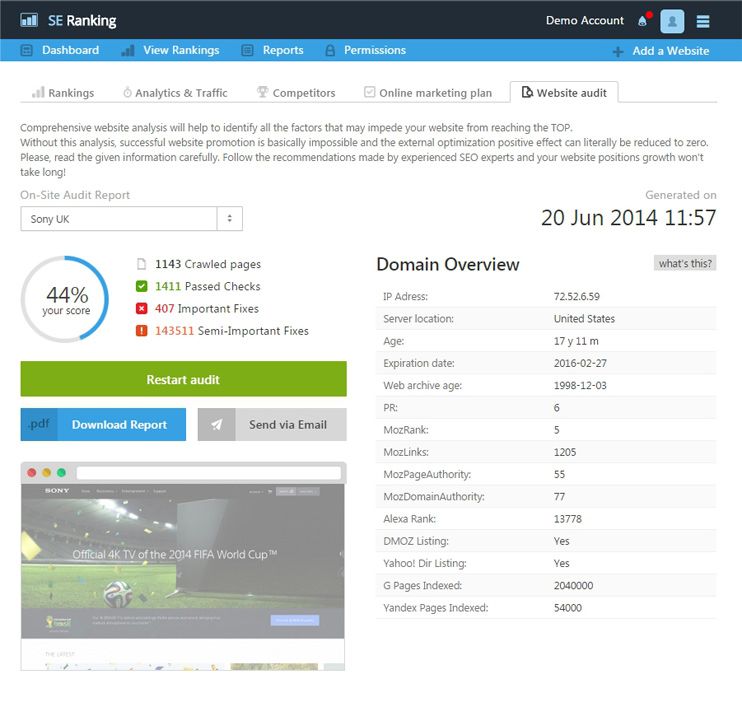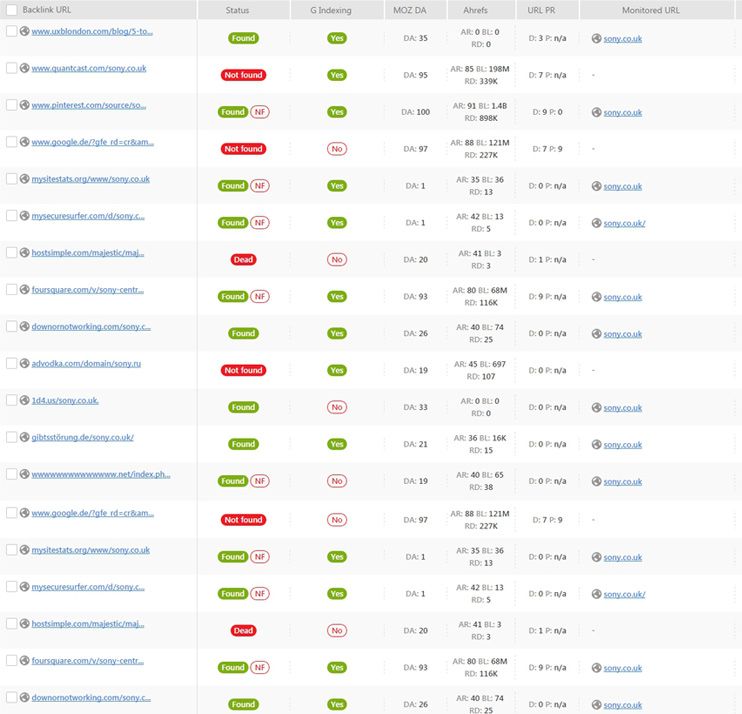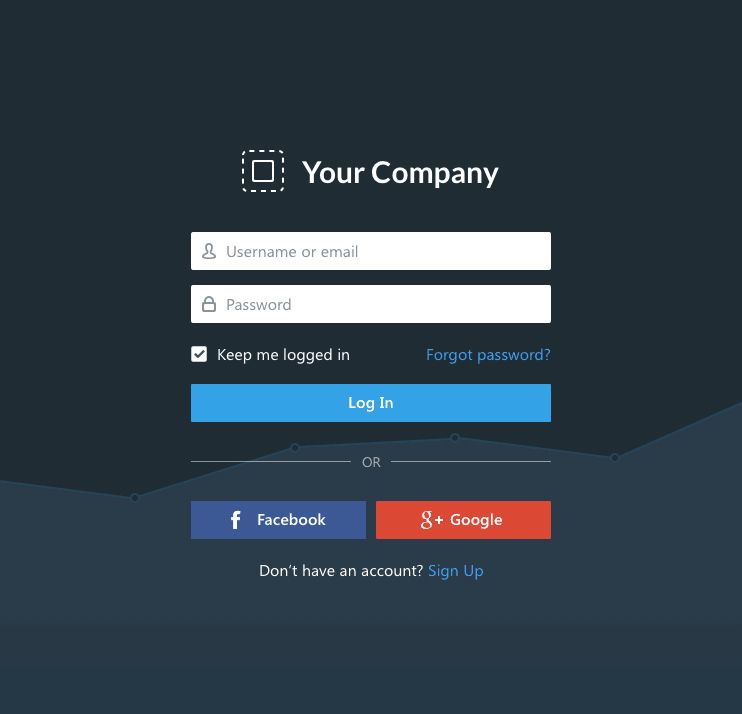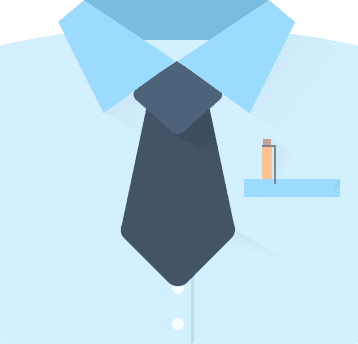 100% Accurate Results
SE Ranking is optimized to give you the best possible experience: simply choose the target region and the search engine (Yahoo, Google, Bing), and get the 100% accurate results.

Comfortable User Interface
Se Ranking utilizes a variety of statistical data and intuitive graphs to make analysis simple. The search queries can be shown in different order depending on their priority. Comments and notes can be added to projects. The interface is Retina Display optimized.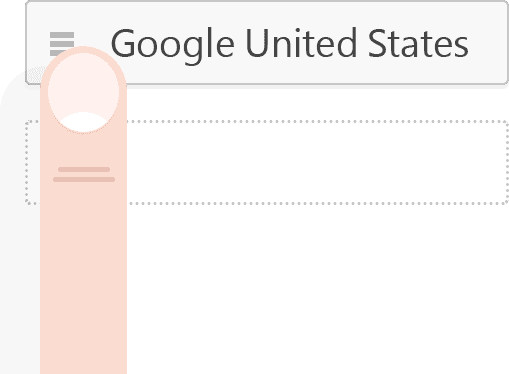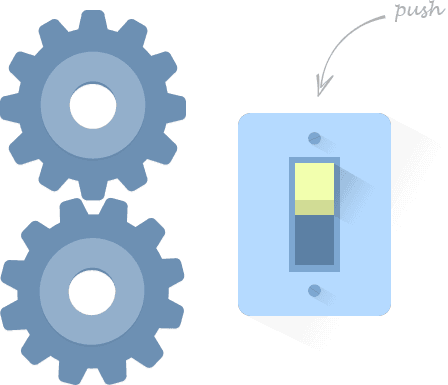 Automation and Speed
SE Ranking is a fully automated daily monitoring tool for checking positions on Google, Yahoo, Bing with instant access to statistics at any time. Need to re-check your ranking? SE Ranking offers real-time results at high speed, any time.
SE Ranking White Label
We offer White Label for SE Ranking Cloud. The user can customize his own domain to access the service: you can login through any given address, for example, rankings.company.com. All the interface of the service can be personalized, so you can upload a logo and a brand name of your company instead of the default SE Ranking logo.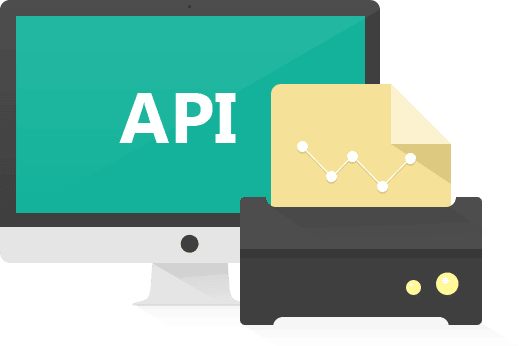 Report System
Reports are compiled in PDF format and available for download anytime. You can also brand the first page of your reports with your company's logo, adding a touch of elegance and professionalism.
Advanced Integration Options
With Google Analytics integration you can monitor your website's search engine rankings side by side with the number of visits, keeping general traffic statistics always at hand!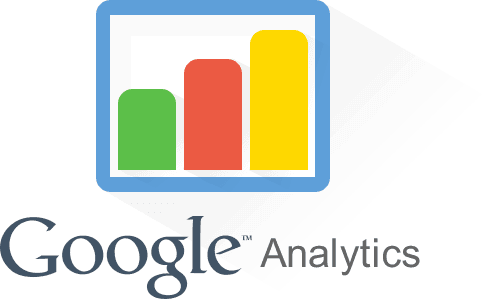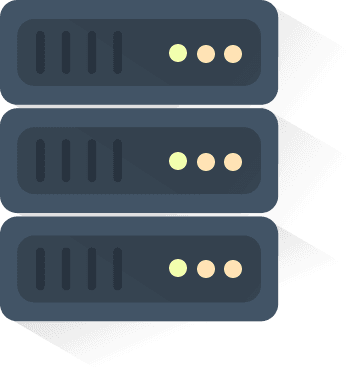 SE Ranking PHP Version
For those who work with a number of different projects we offer a convenient script version, which facilitates an unlimited number of websites and keywords. The script can run on any VPS or Server with PHP/MySQL support.
You can also work through several different proxy types (http and socks5, with or without authorization).
The Best SEO Helper
SE Ranking can check keyword positions of your website, its subdomains and its inner pages. It can track your rankings in social networking such as FB, YouTube video and etc. With SE Ranking you'll be equipped to monitor over 1000 keyword rankings! For your convenience, a relevance page is displayed for each keyword and you get access to a universal, multifunctional keyword rank-checking service at a reasonable price.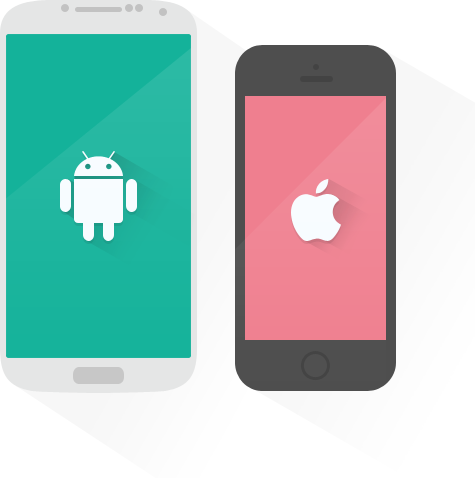 Anytime Access
Every SE Ranking online user gets a free mobile application for iOS and Android. It will let you check website rankings and traffic statistics whenever and wherever.

App Store

Google Play
An indispensable tool for strategy analysis
SE Ranking's versatility allows you to automatically check your Google, Yahoo, Bing positions of your own and your competitors' websites 7 days a week, and compare the results. Assess the efficiency of your marketing strategies based on objective facts, not guess work.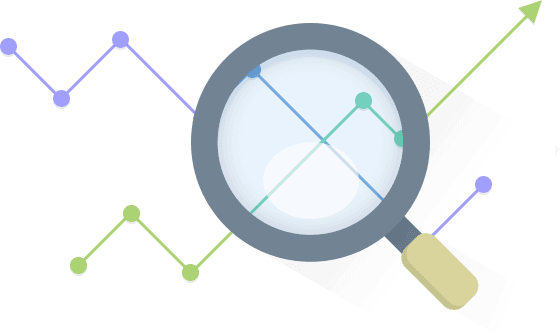 Choose your SE Ranking version and start working immediately!
Try SE Ranking PHP for 14-days: If you're dissatisfied for any reason, we'll give you your money back!
See all Plans


Sean Si

from Qeryz.com
I've been using SE Ranking for tracking my progress in getting to the first page of Google for Qeryz for my target keywords. It's done a phenomenal job of keeping itself accurate - which sets it apart from all other rank tracking tools I've used in the past. That alone is reason enough for me to use and stay with SE Ranking amongst other things.

Simon Kloostra

from Joomlaseo.com
SEranking is my favorite tool for tracking daily changes in SERP rankings, including localized rankings. Especially the possibility to re-check on request is very nice. Next to that, the Website Audit is very helpful for tracking on-page SEO issues.

Pam Sallegue

of SEO-Hacker
So when I learned about SE Ranking, and tried it for our clients, I couldn't help but use and recommend it to our audience by writing a review about it. Such a promising tool!

Paul Boag

from Boagworld.com
Content marketing is a key component of my marketing strategy. I want to create content that is relevant, engaging and ranks well. SE Ranking enables me to carry out keyword research and ensure my content is as effective as possible.
Adam Connell

from Bloggingwizard.com
SE Ranking is my go-to rank tracking tool after years of trying to finding the right tool. It's easy to use and has all the features I need to keep on top of my rankings.

Sue Anne Dunlevie

from Successfulblogging.com
I've been using SE Ranking for 4 months now and it is now an important tool in my arsenal of blogging tools. It's powerful and lets me track my rankings for keywords on Successful Blogging. I've been pleased with the support that they give you and the quality of SE Ranking.