Crawls every page of a website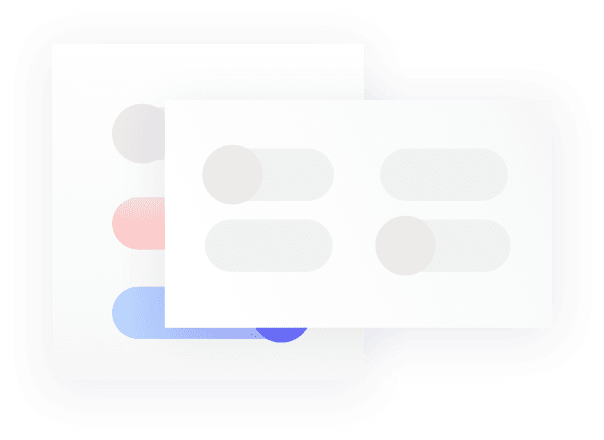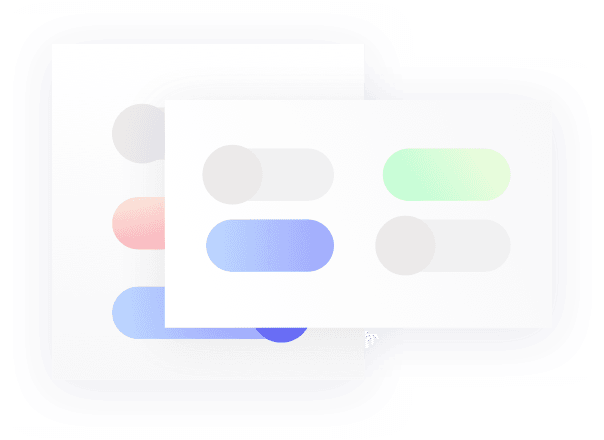 Uses multiple sources for scanning
Link-by-link crawling from the homepage to the deepest pages
Pages specified in XML Sitemap file
Your own list of URLs to analyze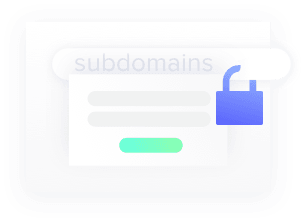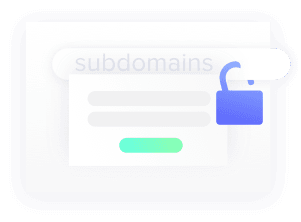 Covers test domains and subdomains
The site audit can scan subdomains within a single audit
The audit tool can even reach closed domains
Evaluates against all key parameters
Domain overview and website health
Server information
MOZ DA
Alexa
Number of indexed pages
Robots.txt
Mirror websites
Parameters per page
Pages with 404 response
Pages with 500 response
Redirects
Hreflang tag
Noindex tag
Meta tags and headings
Duplicate meta tags
Pages with missing meta tags
Empty H1
Missing H1
Duplicate headings
Image optimization
Broken images
Missing alt tag
500 status images
Size
Source URL
Link analysis
Broken links
Too many links on the page
Empty anchor
Pages without inbound links
Links with 301 redirect
Usability
Mobile optimization
Favicon
Custom 404 page
HTML validation
Fast and gentle at the same time
Control the crawling speed
Set up the maximum scanning depth, the number of requests and the number of pages to scan.
Protect your server
Adjust the limits and restrictions that will be used for your website analysis.
Comprehensive reporting down to the last pixel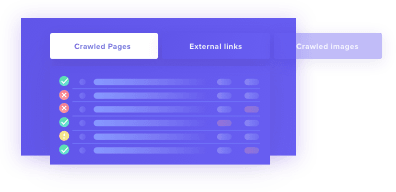 Acсess the list of crawled pages, images and external links with all necessary data presented on the separately detailed dashboard.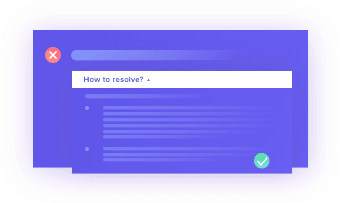 Get actionable insights on any SEO issue that may appear.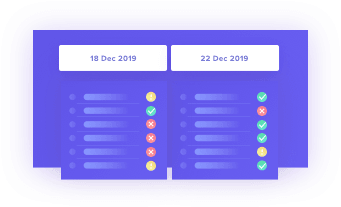 Get a dynamic comparison of website audits to see your progress and what still needs to be done.
Download or send shiny PDF report with all
the necessary data to your colleagues and clients.
Sample report
Flexible settings that fit your needs
Automated scheduled reports and rechecks allow you to keep your website under constant review.
Our bot can disregard directives from robots.txt, follow URL settings, or just follow to your custom rules.
Customize your website audit report: add a logo, write comments and make it "yours" as much as possible.
You are able to define what should be treated as an error.
Built-in
sitemap.xml

generator

Create sitemap.xml in one click regardless of the number of pages
ENTERPRISE
Website audit for:
250000 PAGES
Branded report
White Label
API
PLUS
Website audit for:
150000 PAGES
Branded report
White Label
API
OPTIMUM
Website audit for:
25000 PAGES
Branded report
White Label
API
Check as many pages as you need with SE Ranking
SE Ranking checks all of your website pages. Get the results depending on your pricing plan.
Pick Pricing Plan that fits your needs or
contact us
to request a custom pricing.
See pricing plans
How do I run a website audit?
The website audit starts automatically when you
create a new project
.To restart the audit, click the appropriate button in the
"Website Audit"
module. Also, you can set up a schedule for automatic rechecks – once per week or month in the
Settings
.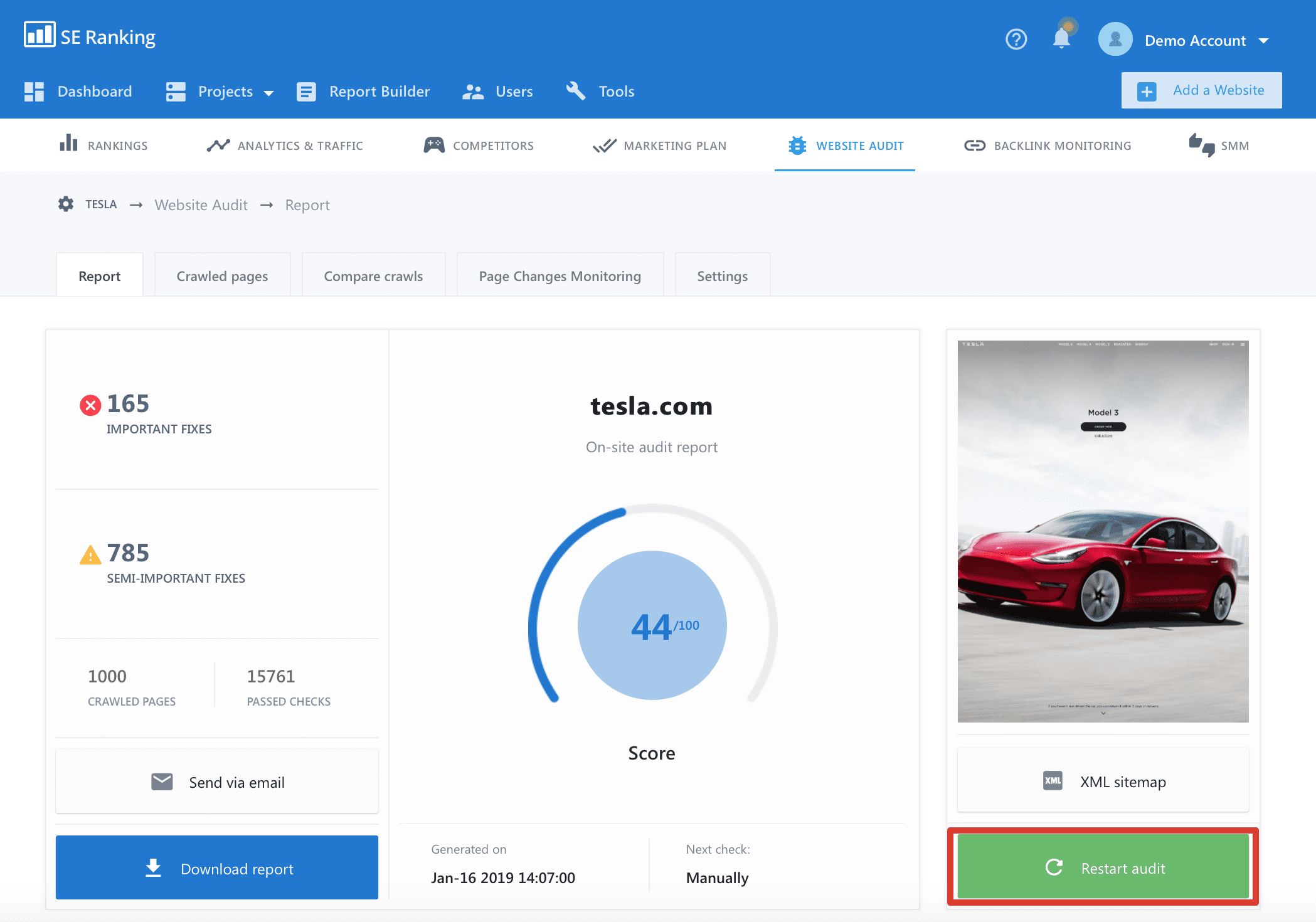 How much time does it take to generate a website audit report?
Since your website is checked against dozens of parameters, we can't predict exactly how long it will take the system to complete the audit. It depends on the number of pages and images on the website, whether there is a crawl delay in the robots.txt file, as well as the internal queue in the system. You will be able to monitor the crawling process in the Website Audit module. You will get a notification via email once the audit report has been generated.
What is the difference between Website Audit and On-Page SEO Checker?
The
Website Audit
scans all pages of a website and provides an analysis along with suggestions on how to fix identified problems. An example of the report can be found
here
. The
On-Page SEO Checker
audits a certain URL and evaluates how well it is optimized for a certain query. It detects mistakes that negatively affect the given page's search engine ranking. An example of the report can be found
here
.
Works great for any website built with any technology




SE Ranking helped our business increase efficiency and efficacy
We've used other tools in the past, but SE Ranking offers more up-to-date data and information, which benefits our agency and clients. SE Ranking allows us to access historical data with just a few clicks without ever having to leave the interface. From daily ranking updates to current search volume trends, there are numerous aspects that are essential when formulating client strategies, and with SE Ranking's continuously updated system we are able to use this data to help our clients succeed.
Perfect fit for our marketing agency
After trying a lot (10+ years of experience) SE ranking stands out on top of others because it combines everything we need for our clients. We do only provide the client with rankings, but also with the potential traffic (and revenue) of those ranking when they hit top 3 in Google. The tool let us provide the client with in depth analysis of the technical stuff ánd a marketing plan tool, so we can set goals and follow a checklist of monthly activities. And to top it all off it's fully whitelabel.
Most comprehensive SEO tool I've used
I like the competition analysis tools, it provides paid and organic data, which gives me an idea on how to catch up and outrank the immediate competition for my clients. It also provides data for the potential traffic, which helps show clients the potential gains of the campaign. And with the marketing plan, I know what needs to be improved in order to get results for my clients.
A very complete SEO Tool
The tool is very complete: keywords planning and tracking, backlinks analysis, competitions research… A very few SEO software provides all those features in this price range. Although, the customer experience is optimal: the UI is clear and intuitive and SE Ranking's people are very kind, empathic and helpful.
Good SEO Tool for small size business
I was used to work with Tools like Sistrix, Ahrefs or Searchmetrics and did not know about SE Ranking before. But those tools were too cost-intensive for a small and quick start into SEO so I tried it out and I am quite satisfied with it. I like the ability to pay for certain services with credits, as I am not using them on a very frequent level, so it actually gives me greater flexibility to only use them when needed and not paying for them even when not using them.
Excellent SEO tool for keeping track of customers
I like the automatic reports best. They are very much customisable until customer level and of course have the ability to style it to your own. This makes it easier for us, as we don't have to make them manually anymore. Apart from that the tools inside SE Ranking are great for a quick analyses or where you want, go in to the dept.
Best seo tool a company could have
SE Ranking is the best seo platform our company has used so far. The interface of the platform is great & user-friendly. The available options are many. From tracking rankings, monitoring backlinks, keyword research to competitor analysis and website audit, everything we need to optimize our sites is just one click away. Also, for any questions or anything else we needed, the live support team replied & helped me with straight away.
Real value for great price
Clear view of rankings and postions, site audit tool for quick scan and backlink checker are very usefull. I use it a lot and also use the lead generator to get a free scan for potential clients wich runs automated when they fill in te form. The dashboard gives you a good view of changes in traffic and positions. The marketing plan is i bit simple but it gives you some direction of what to do first on the website and you can also check the boxes when you finished a task wich works very well
Join over 300,000 users
You are in a good company