Simple yet Powerful Google Rank Tracker
Basic Settings – easy as
Add
Keywords
Select
Search Engines
Check Your
Rankings
Accurately track your website's Google ranking
Just add the keywords and select Google as the target Search Engine and we monitor rankings of your keywords for you. Check your SERP changes every day, semi-weekly or once a week. View the results with an iOS or Android powered device. There is a guest link available for any project you have created and sharing all the data is very simple.
Add the keywords to run the Google ranking checker for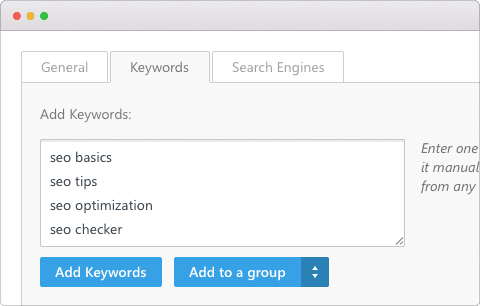 Select Google mobile as a separate Search engine if needed
Google position checker's run frequency is defined by your Subscription type. Google ranking data is accessible via your Android or iOS mobile device, while the desktop version allows to generate professional
SEO reports
on the fly.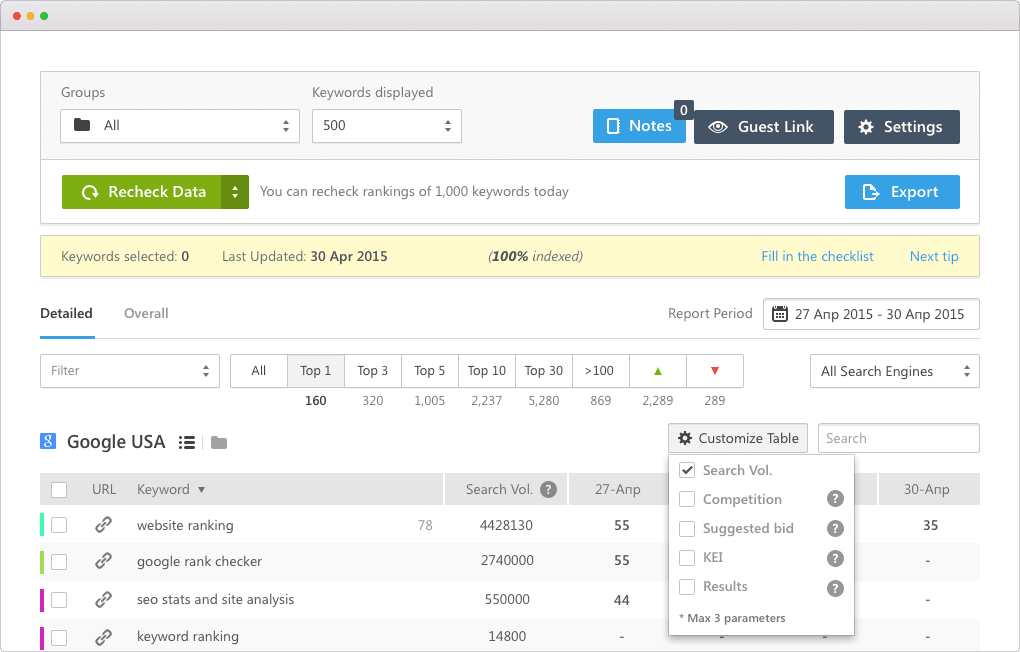 No Credit Card Required. Fully Functional Trial Version.
Google position checker developed by SE Ranking is the result of a far-reaching approach and professional work of a team of marketing and development experts. Now you can see your historical Google positions change since the day you added your first website into your SE Ranking account. Keep a close eye on your rankings and match your SEO efforts against the effect on the SEO progress.
Expert Settings
Check Google rank in Mobile SERPs (Google mobile may be selected as a separate Search Engine).
Check your Google places ranking (or Business page ranking).
Check Google position in a certain region (or city) as if searching locally.
All subdomains and inner pages of your website will be checked in Google SERPs automatically.
Relevant keywords data will be gathered automatically: Search Volume, Competition rate, AdWords bid cost, Results returned by Google, KEI parameter.
Multi-user management: create unlimited sub-users and set their access rights.
Create professional marketing reports: use your custom logo and agency name, choose between 18 blocks you want to use in the report (Cover Page, Ranking Overview Table, Traffic Goals, Detailed Competitors Rankings, Performance Based Invoicing etc.). Schedule sending the reports automatically or save them in popular .xml, .html or .pdf formats.
Select up to 5 competitors to spy on or let us do that automatically. Monitor your website position in Google as well as the positions of your competitors.
Check Our Competitive Plans and Prices Now
Advantages of checking Google ranking position with SE Ranking:
• Ranking are checked every day.
• A SERP snapshot is saved for every position.
• Mobile search results can be tracked separately.
• Business page listing may be tracked.
• No need to install extra software to your PC.
• Access over virtually any device connected to Internet.
SE Ranking is an SEO / SMM platform offering virtually any tool that currently exists in the market. Google ranking checker being part of it, is only a part of the all-inclusive functionality designed to manage an SEO / SMM campaign comfortably and in a professional manner.
Extra Opportunities
White Label Model

White Label facilities are available starting from the Plus plan subscription and above. The user can use his own domain to access the service: logging in through any selected URL, for example, rankings.company.com. The interface look can be personalized, the admin may upload a logo and a brand name of your company instead of the default SE Ranking logo.

Marketing Plan

There are multiple guidelines on promoting a website in Google and other search engines. Some of the tips are useful while some are flagrant deludes. In SE Ranking Marketing Plan section one may find the list of the proved SEO / SMM techniques and ideas that can be implemented relevantly easily. The section is revised and enriched on a quarterly basis.
SE Ranking helped our business increase efficiency and efficacy
We've used other tools in the past, but SE Ranking offers more up-to-date data and information, which benefits our agency and clients. SE Ranking allows us to access historical data with just a few clicks without ever having to leave the interface. From daily ranking updates to current search volume trends, there are numerous aspects that are essential when formulating client strategies, and with SE Ranking's continuously updated system we are able to use this data to help our clients succeed.
Perfect fit for our marketing agency
After trying a lot (10+ years of experience) SE ranking stands out on top of others because it combines everything we need for our clients. We do only provide the client with rankings, but also with the potential traffic (and revenue) of those ranking when they hit top 3 in Google. The tool let us provide the client with in depth analysis of the technical stuff ánd a marketing plan tool, so we can set goals and follow a checklist of monthly activities. And to top it all off it's fully whitelabel.
Most comprehensive SEO tool I've used
I like the competition analysis tools, it provides paid and organic data, which gives me an idea on how to catch up and outrank the immediate competition for my clients. It also provides data for the potential traffic, which helps show clients the potential gains of the campaign. And with the marketing plan, I know what needs to be improved in order to get results for my clients.
A very complete SEO Tool
The tool is very complete: keywords planning and tracking, backlinks analysis, competitions research… A very few SEO software provides all those features in this price range. Although, the customer experience is optimal: the UI is clear and intuitive and SE Ranking's people are very kind, empathic and helpful.
I also loved that, before ever reaching out to ask for a trial account or set up a sales call, they have a demo account where you can actually play with the tool and see what the features look like beyond just a screenshot.
Good SEO Tool for small size business
I was used to work with Tools like Sistrix, Ahrefs or Searchmetrics and did not know about SE Ranking before. But those tools were too cost-intensive for a small and quick start into SEO so I tried it out and I am quite satisfied with it. I like the ability to pay for certain services with credits, as I am not using them on a very frequent level, so it actually gives me greater flexibility to only use them when needed and not paying for them even when not using them.
Excellent SEO tool for keeping track of customers
I like the automatic reports best. They are very much customisable until customer level and of course have the ability to style it to your own. This makes it easier for us, as we don't have to make them manually anymore. Apart from that the tools inside SE Ranking are great for a quick analyses or where you want, go in to the dept.
Best seo tool a company could have
SE Ranking is the best seo platform our company has used so far. The interface of the platform is great & user-friendly. The available options are many. From tracking rankings, monitoring backlinks, keyword research to competitor analysis and website audit, everything we need to optimize our sites is just one click away. Also, for any questions or anything else we needed, the live support team replied & helped me with straight away.
Real value for great price
Clear view of rankings and positions, site audit tool for quick scan and backlink checker are very useful. I use it a lot and also use the lead generator to get a free scan for potential clients which runs automated when they fill in the form. The dashboard gives you a good view of changes in traffic and positions. The marketing plan is a bit simple but it gives you some direction of what to do first on the website and you can also check the boxes when you finished a task which works very well
The choice of SEO tools is huge and the range of services and prices is also wide. We were looking for a tool that supports us in our daily work in the best possible way, offers a high usability, extensive functionality and a fair price at the same time. SE Ranking meets these requirements perfectly and we do not want to miss this tool anymore in order to push the rankings of our customers.
Join over 400,000+ users
You are in good company