Sign up for our newsletters and digests to get news, expert articles, and tips on SEO
Thank you for subscribing!
Event marketing is definitely one of the most important pieces of marketing strategy, especially for large B2B organizations. But lately, even smaller companies are finding benefits in going and showcasing their products and services at tradeshows and conferences. In fact, there are conferences like WebSummit that successfully mingle together big, small and very small offering packages and exhibit opportunities for any kind of companies in IT.
This year was our second year at participating in WebSummit, and from the very beginning this conference became a turning point in incorporating events into our marketing roadmap. So let's review what's been working (and not working) for us so far at WebSummit which might help you to make a decision on whether this particular gathering is your cup of tea.
WebSummit, 2018
A couple words about the conference itself. WebSummit is the largest technology conference in Europe that takes place in Lisbon, Portugal and gathers around 80,000 people from around 150 countries every year. It is unique from all other events in the world – the scale and the scope are simply unbelievable. At this conference, you will be able to find potential clients from Europe and America, converse with colleagues from different places in the world, get inspired by digital trends, and receive colossal networking experience.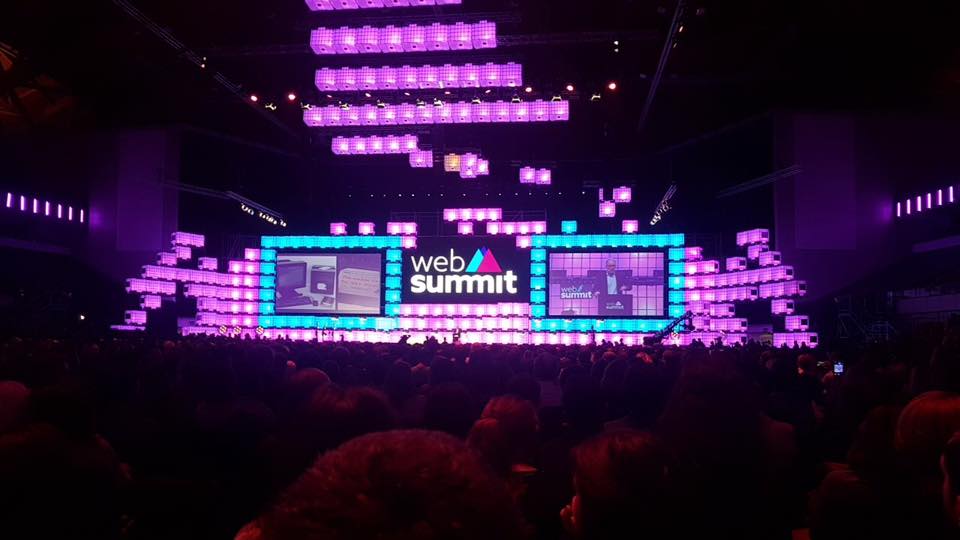 In 2018, we went to the WebSummit for the second time. The full encounter of our last year trip is spelled out here.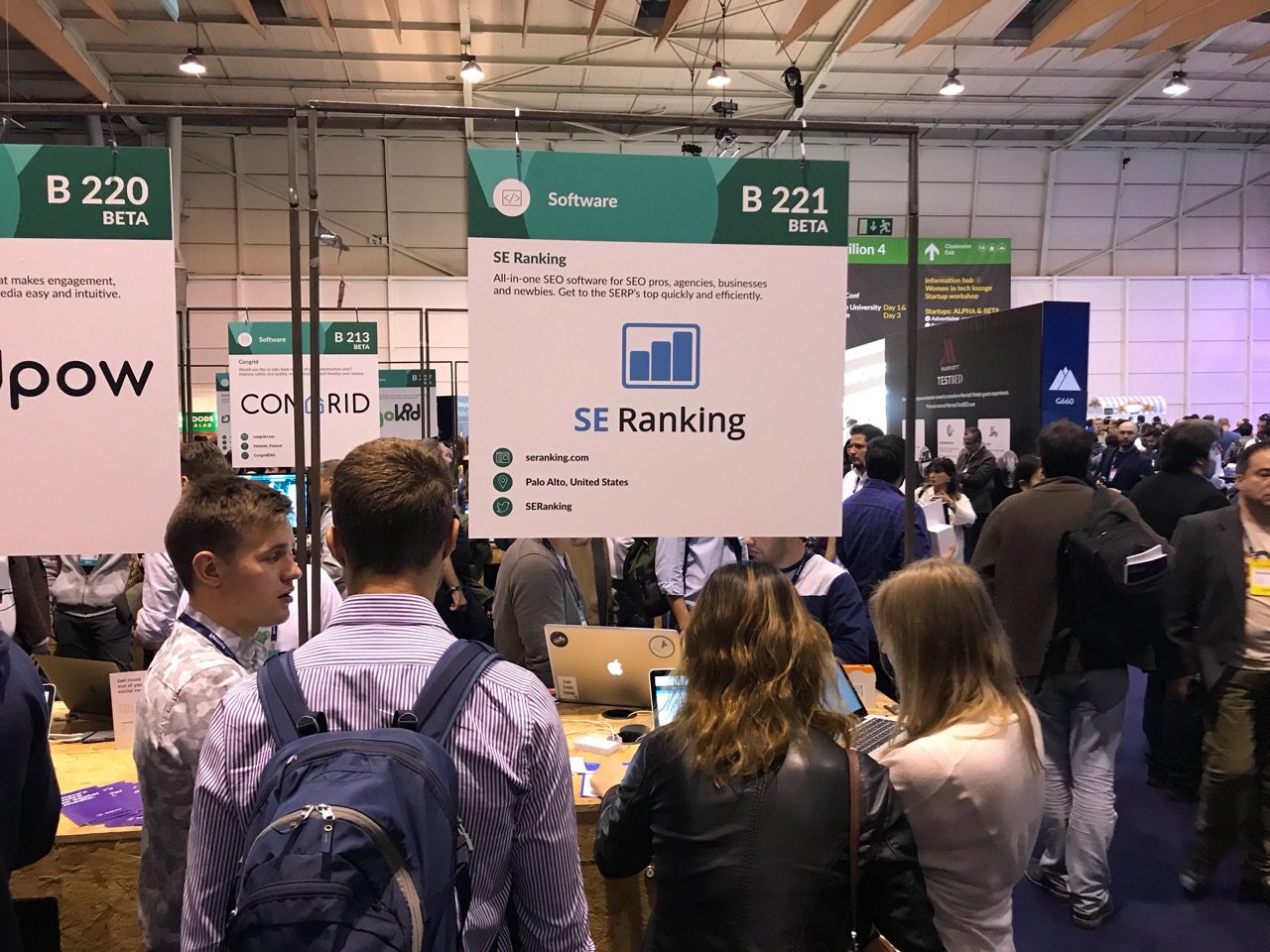 Our Beta-stand in 2017
There are different types of packages available for WebSummit exhibitors. For example, startups and small companies can use three types of packages – Alpha, Beta, and Growth. The main differences between them are – cost, size, and available options. Rental rates range around 800 Euros for Alpha, 1250 Euros for Beta and 4800 Euros for Growth. Prices are regulated by the organizers, therefore, final quotes may vary. By the way, be prepared for a brief phone interview with the organizers whom you would need to pitch your story and
hopefully secure your place at the desired category – if you are planning to exhibit at the event.
This year we've purchased a Growth package which came with many benefits including the Executive Pass – aka "fast pass" that let us see the top events in the array of presentation halls and roundtables. For example, we've thoroughly enjoyed participating in an exclusive lunch with the speakers and mastodons of the IT-industries that the fast pass allocated for.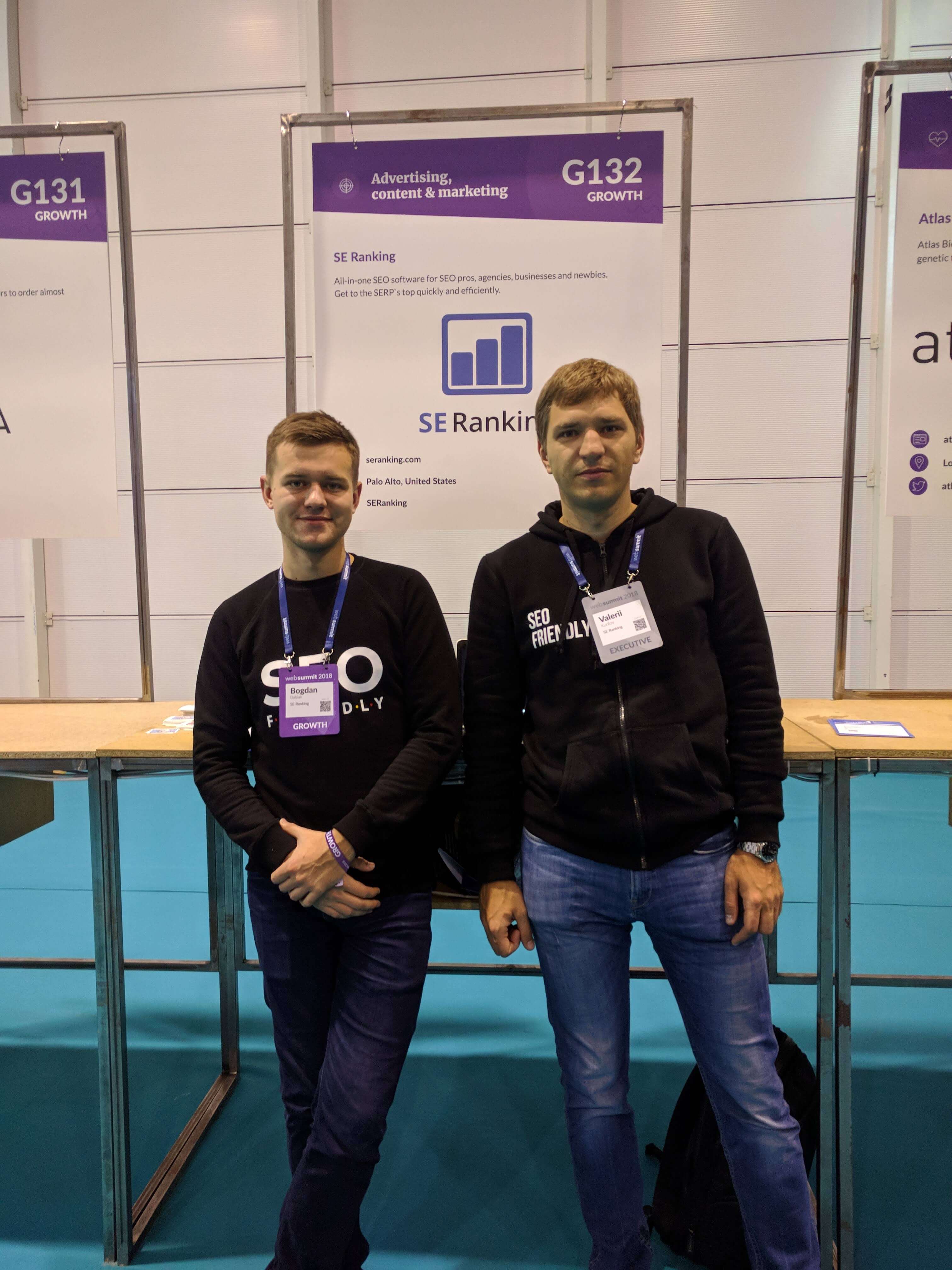 SE Ranking's stand in the Growth section in 2018
If you have a fairly new product and are not very widely known in western markets, Beta and Alpha sections will suit you perfectly. Here you can meet your potential investors, discover new opportunities to grow, and get valuable feedback from experts and prospects. If you already consider yourself an established brand with a dynamically evolving product, then consider a spot in Growth. If you are a huge enterprise with the world-known brand like Google – treat yourself and your fans to a full-scale exhibition suite – those are spectacular to run and to visit alike!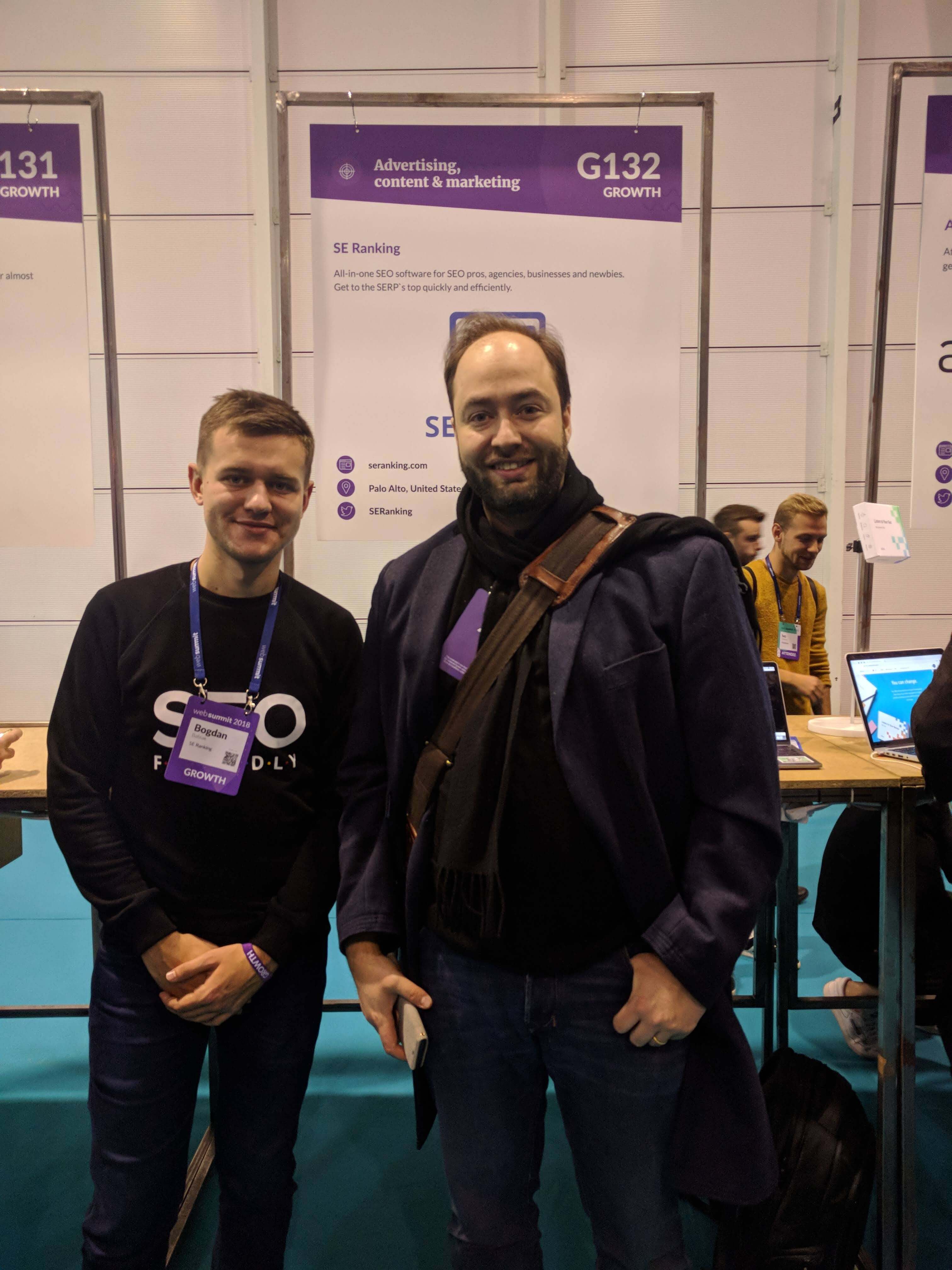 Meeting one of our clients
But the best benefits for us for participating in WebSummit – regardless of the package – is the ability to receive live feedback from our customers and experts in SEO and digital marketing. For example, this year people were just coming up to our stand shouting "you guys are great!", which really made our day! On top of that, a lot of the SEO pros were visiting our stand to share their views about good old SEO and how we can help them resolve their biggest challenges. Knowing that people recognize our brand, use our product or heard about it means that we are heading in the right direction and must be making lately some right moves.
What to do to get the best out of WebSummit
Whether you are planning to go to WebSummit as a team with the stand or simply as participant, it's important to make sure you are fully prepared for the upcoming experience. Time is of the essence and you'll have very little on hands at the venue so do your homework before you arrive at Lissabon.
Use WebSummit's app as much as you can, because this is your access to all the participants. Don't send the same message to everyone. Instead, think about which people will bring you the most out of your time beforehand and to whom it will be mutually beneficial to meet with you as well. We met with 20 people and all of them were of high interest for us. Why did they agree to meet us? Because we researched all the companies and wrote a personal message through the app.

Stand out from the crowd. Wear the same t-shirts or a memorable outfit that people can associate with your company. This way people will recognize you whenever you go – a great gorilla marketing tip that's easy to execute on.

Be the first to initiate conversations – approach and meet other participants. This is no place to be shy – a smile is enough. Ask people how they are doing, and the conversation will flow from there. There will be a lot of people, faces and names that you will most likely not remember, that's why it is important to take short notes on a business card or piece of paper, of who that person is and a brief summary of what you talked about. Ideally, you should scan their badge with the help of the app and integrate this data to your CRM.

Make sure to ask contact information of all people interested you are talking to that are of an interest to you.

Offer pins, magnets, souvenirs with the logo of your company – anything that can find a place on an office desk, backpack, fridge, etc. to be available for a business card exchange. After the conference, it is imperative to send a follow-up message to all the people you've met at your stand and get the communication going from there.

Memorize information about what time certain events are going on during WebSummit. Find theme groups that usually consist of about 200 people and represent your target audience. Those people will become another group to nurture besides the stand visitors. Go to NightSummit – this informal gathering is a gold-mine to find relevant contacts and make valuable connections.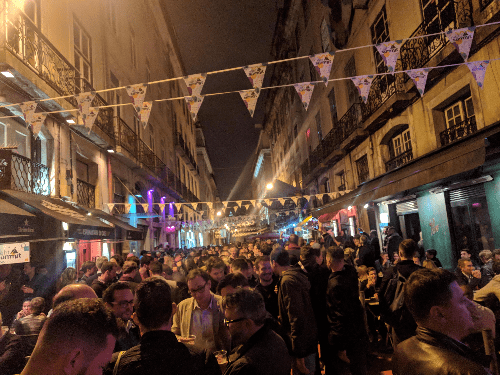 Night Summit – another place to meet new people.
Meet with potential partners and investors in person. If you want to talk about potential cooperation in detail, set up a further meeting – ideally not during an exhibition day, so you can focus on the details more in depth. Take them online and keep it going.

Share your experience of the trip once you get back home – this will for sure be interesting and useful information for your colleagues, and also will help you structure all the information you received at the event. Don't be afraid to talk about your mistakes, because if you don't correct them, then you will make the same mistakes again next year!
What NOT to do:
Don't rely solely on technology. Even the best technology tend to lag so use good old business cards – give them out and collect.

Don't save money on the team. Bring more than three persons to Lisbon. The stand package includes three free tickets (if you are exhibiting) but purchases a few more for additional team members – it's your path to bigger networking circle and better engagement.

Don't walk around as a team – separate. Again, sounds like strange advice, but the more things you cover during the event – the better. So break down to smaller groups or just go to different events and presentations separately from your colleagues. It's better to collect the info and share it with your team so you can get a better perspective of all the going-ons at WebSummit. The same applies to spreading the word about your company – the more touchpoints with potential clients and partners you'll have – the merrier.
Things to learn from the team behind WebSummit
Besides bringing together the brightest and biggest people and businesses in IT, WebSummit is notorious for really practicing what they preach. This event is huge and it's been successful for so many years thanks to the great organization and marketing of the team that runs it. Being in marketing ourselves we can appreciate the process that leads participants from the very second they register themselves or their team on the WebSummit website to the very last minute you are on the conference turf.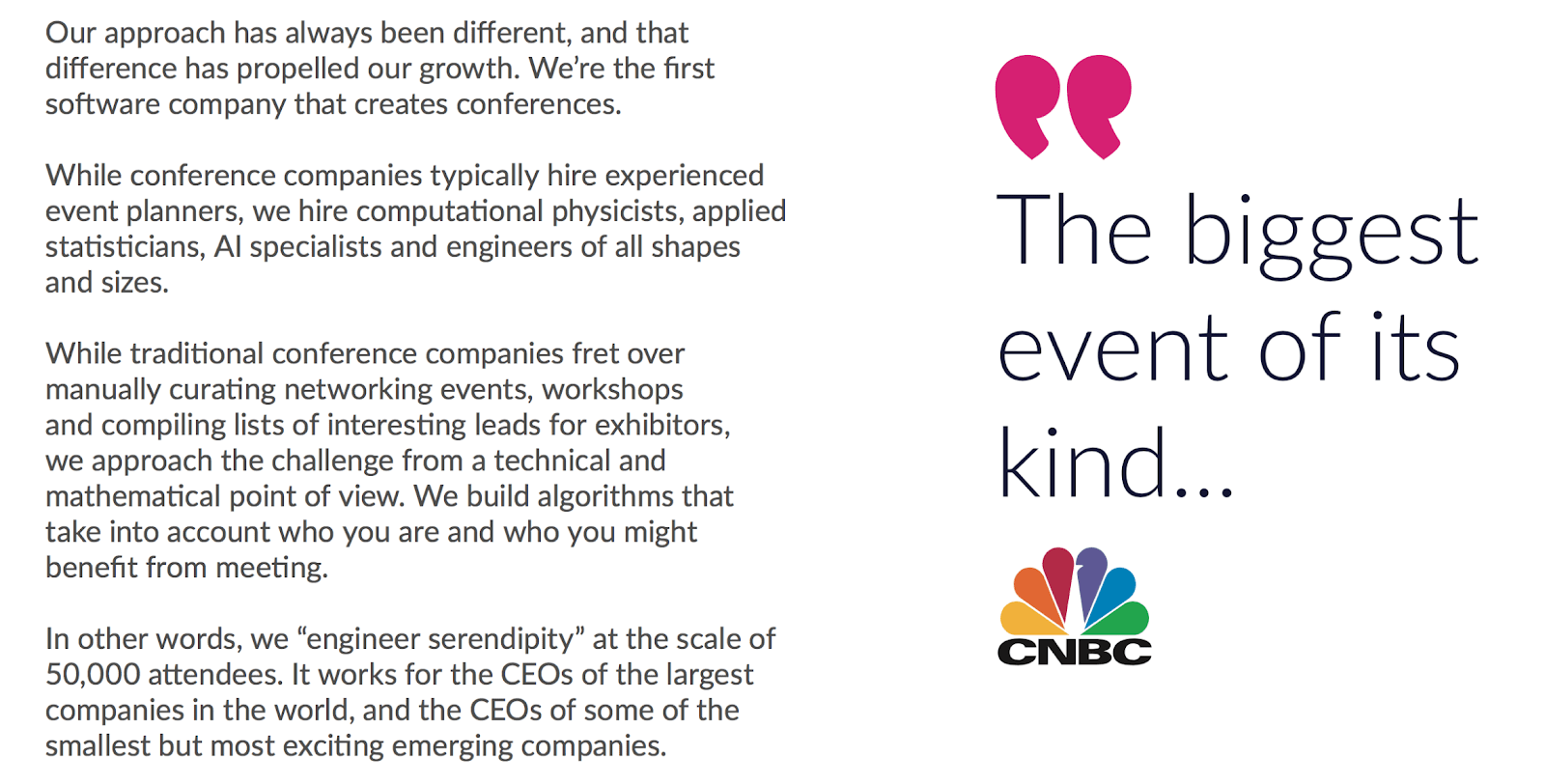 What to notice and appreciate:
Email marketing and support. Whether automated or personal – the emails from the WebSummit team are always informative, down to the point but with as many details as needed.

Comparing to other events you get to appreciate a few things that WebSummit is famous for like conference check in at the airport, guiding flyers and thousands of volunteers ready to answer any of your questions.

Kudos to WebSummit marketing – so many nice promos and ideas promoting the event. Starting with the fact that the ticket sale goes live almost right at the moment when the WebSummit wraps up for the current year. Ending with various promo packages, segmented offering, year-to-year nurturing and so forth.
Bottom line – there is a lot to learn from just monitoring and following all the things that WebSummit is doing in terms of marketing
Will we go to WebSummt next year? For sure! If nothing else then to meet and greet our customers and get live feedback that drives us further!
Besides WebSummit, the team runs Collision conference which they just recently moved from New Orleans to Toronto; RISE – the largest tech conference in APAC and MoneyConf – when finance world meets technology. By the way, we might check out Collision in 2019 as AI and tech innovation becomes more and more part of many SaaS DNA – including SEO platforms like us and it's more than interesting to see where it's heading and how to be abreast of it.