Sign up for our newsletters and digests to get news, expert articles, and tips on SEO
Thank you for subscribing!
With the holiday season practically over and with many of us getting back to work at our home offices, the team over at SE Ranking is also ready to start working on making your 2021 SEO wishes come true.
But while the dev team is preparing for a long year ahead, we want to share with you the changes we made to our platform at the end of last year. In a nutshell, we added more data, made the platform more visually appealing and easier to work with.
Competitive Research: New metrics, graphs, and databases
Let's start off with one of the biggest items on the list: Competitive Research tool updates.
Once you enter a website for analysis and all the data gets pulled up, you'll see several additional metrics that will help you better assess the website, namely Domain Trust, Page Trust, Referring Domains, and Backlinks: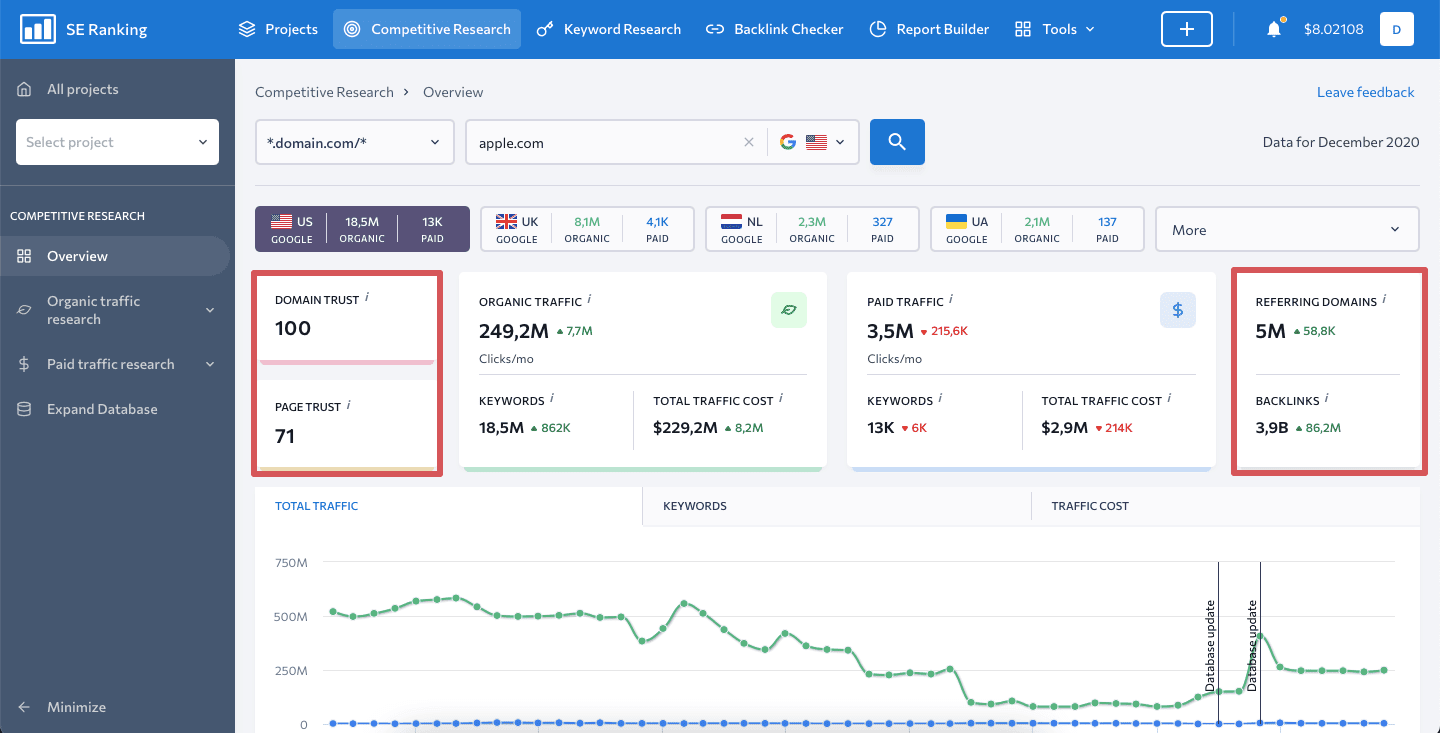 By the way, you can click on the number of Referring Domains and Backlinks in the table above, and you will be asked if you want to analyze the website's backlink profile. The best part is that you don't have to specifically go to the Backlink Checker tool to do this and can tell the system to start analyzing the backlink profile of the selected website right there on the spot.
Next, as you scroll down the Overview page, you may notice a change in the Organic competitors table. To make it more convenient for you to analyze the organic competition of your website or that of your digital rivals, we have added two additional columns: Overlap and Domain Trust (DT).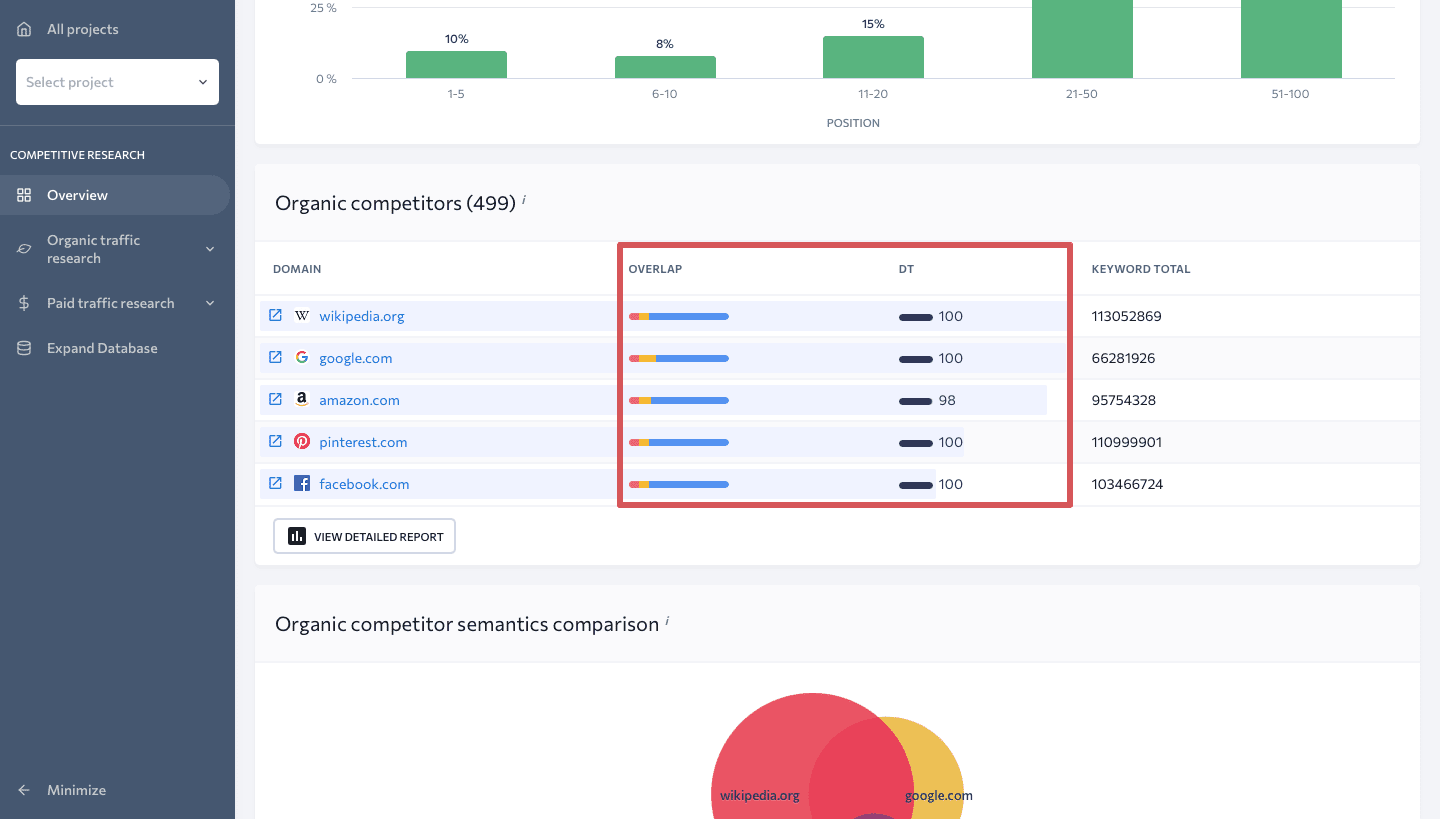 That way, you can straight away see how many keywords are unique to the analyzed website, its competitors, and how many keywords the two domains have in common with each other. Plus, you can also get a good idea of the competitor's authority by taking a look at our own Domain Trust metric.
The last change we made to the Competitive Research tool was to add more data to the Distribution of paid keyword rankings section.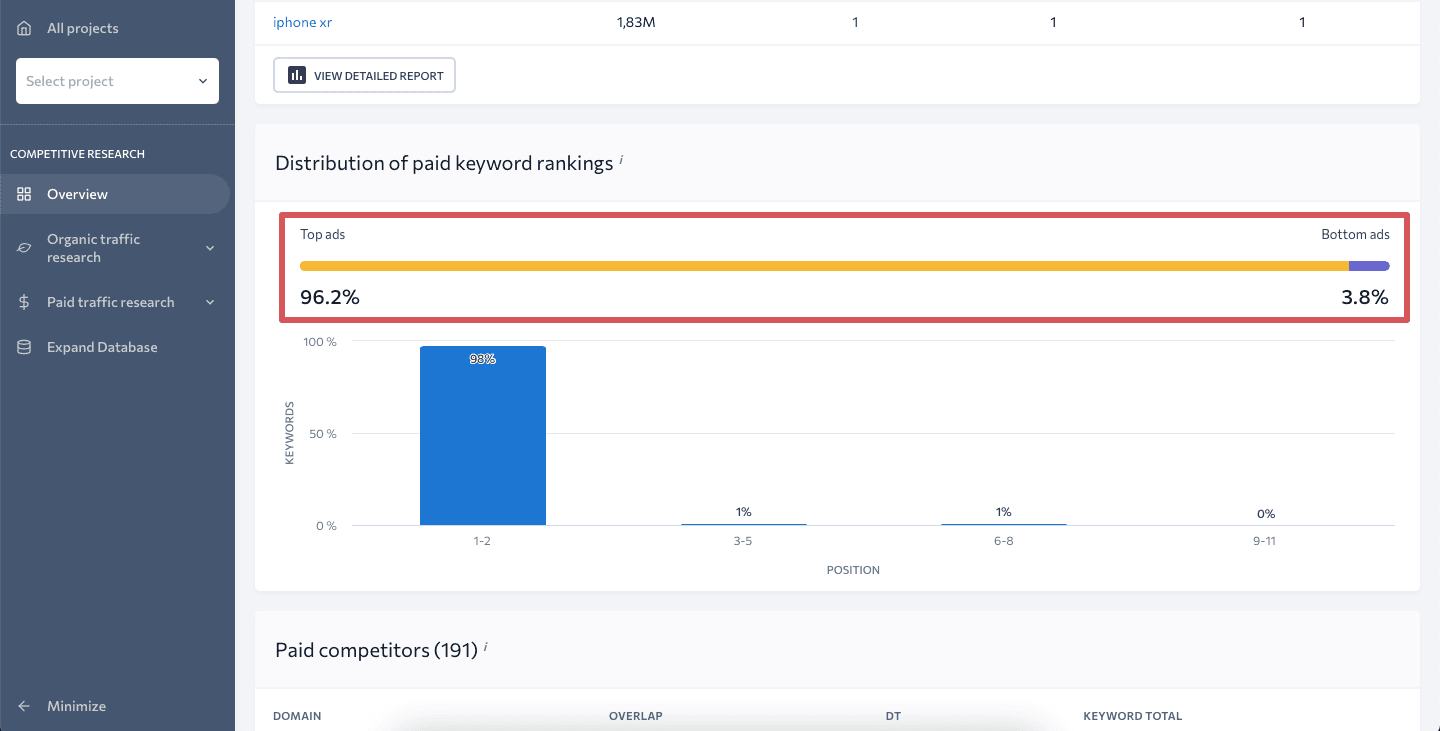 Besides being able to see how well the analyzed website's keywords are ranking in paid campaigns, you can now also see how many keywords are featured in the top ads and bottom ads sections of the SERPs.
Traditionally, we continued expanding our keyword databases used in Keyword Research and Competitive Research. This month, we have good news for everyone working with the Indonesian, Philippinean, Argentine, Saudi, and Egyptian markets.
Indonesia ??: 10 263 840 and 9 684 039
Philippines ??: 33 733 371 and 5 330 869
Argentina ??: 6 349 380 and 4 425 899
Saudi Arabia ??: 13 580 134 and 8 573 456
Egypt ??: 9 926 754 and 5 966 390
Don't forget that you can add your own keywords to these databases if you want, and we will check them for you.
Rankings module: New graphs, filters, tags, and revamped Notes section
Since most of our users check keyword rankings on a daily basis, we decided we need to further enhance our Rankings module to provide an even better user experience.
So, to achieve this, we added a keyword graph—similar to the one we have under the Detailed tab—to the Overall and Historical Data tabs: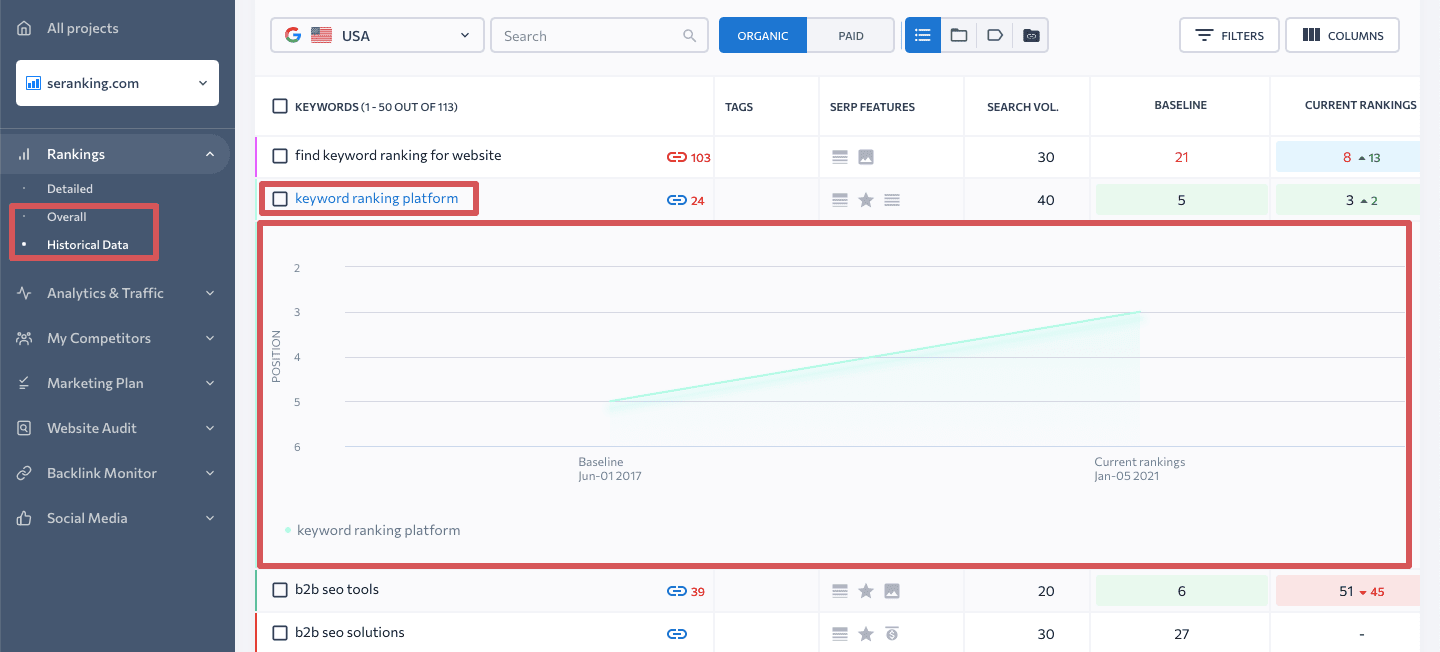 Now, you can click on any keyword under any of the three Rankings tabs and get a graph that will quickly give you a good understanding of how a keyword is performing in search—now, in the past, and across all tracked search engines.
Another update that made its way to the Rankings module is the new Target URL filter. You now have the option to either exclude or include all keywords that have been assigned a target URL. Thanks to this filter, you no longer have to manually scroll through hundreds or, most likely, thousands of search queries to find those with the target URL icon next to them.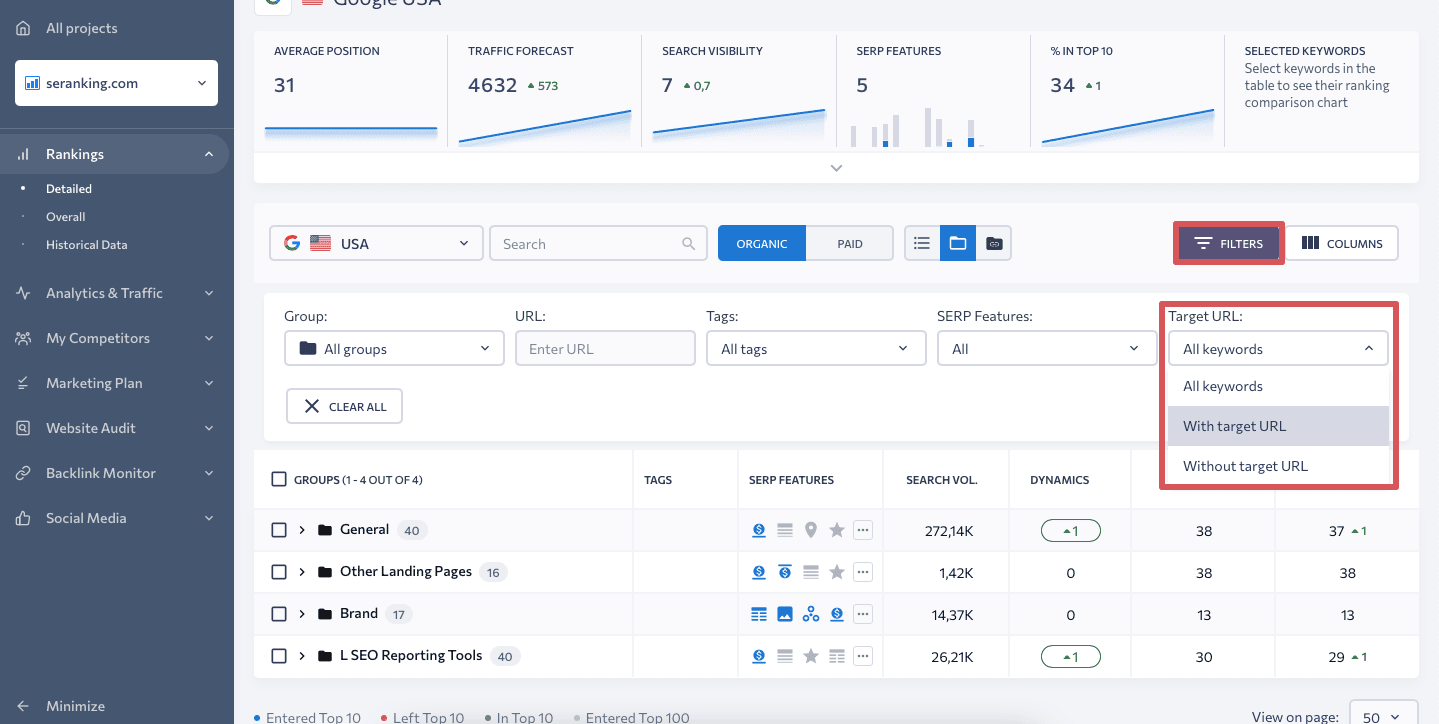 Additionally, when setting a target URL, you can now choose one of the options automatically suggested by the platform. The list of available target URL options depends on the URLs that either were found by the system or manually added by you. Moreover, you're welcome to use the search box to quickly find the target URL you need: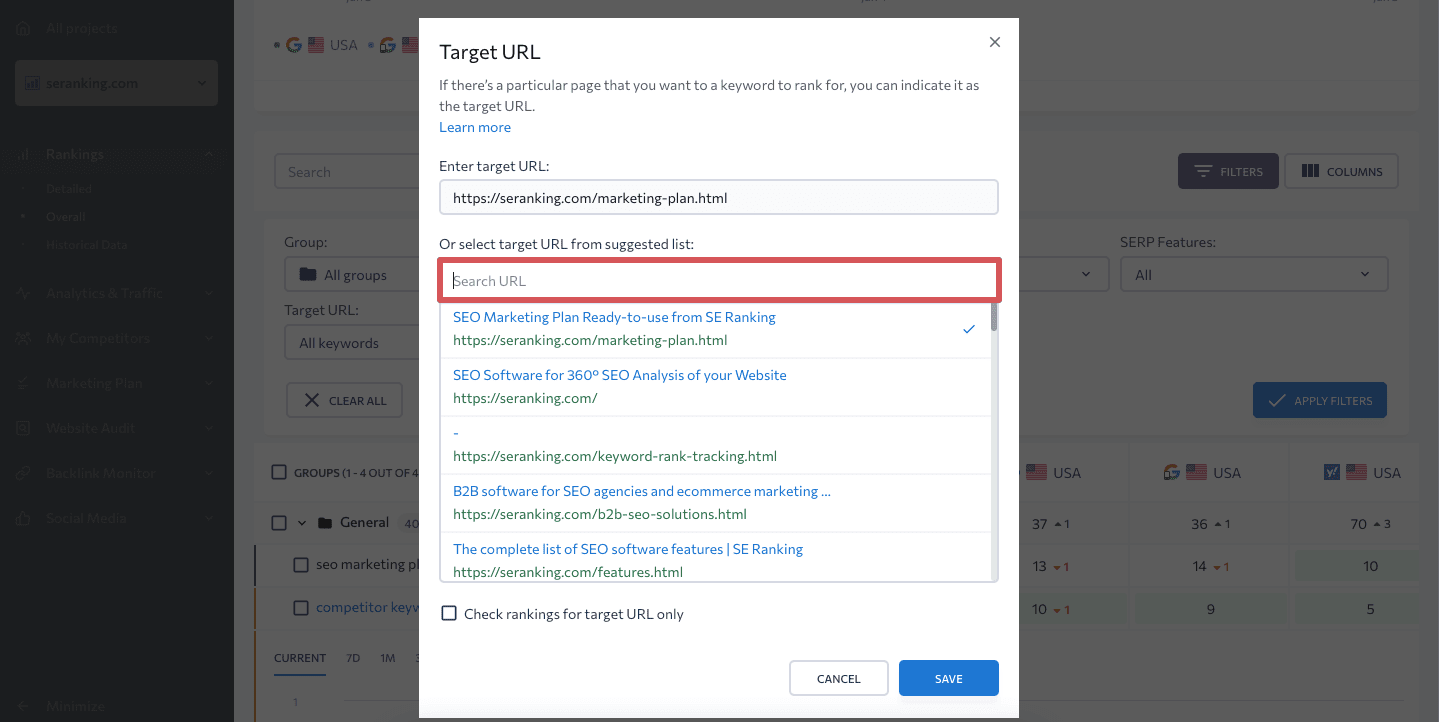 Instead of leaving a comment next to a keyword, you can now add a keyword note that will be displayed in keyword graphs as well as in the list of keywords in the Rankings module. Such notes can be either added to one or several keywords, plus you can assign several sequentially added notes to a single keyword.
Additionally, you can now create notes for keywords in two ways:
By clicking on the three-dotted vertical menu next to a keyword
Directly from the Notes page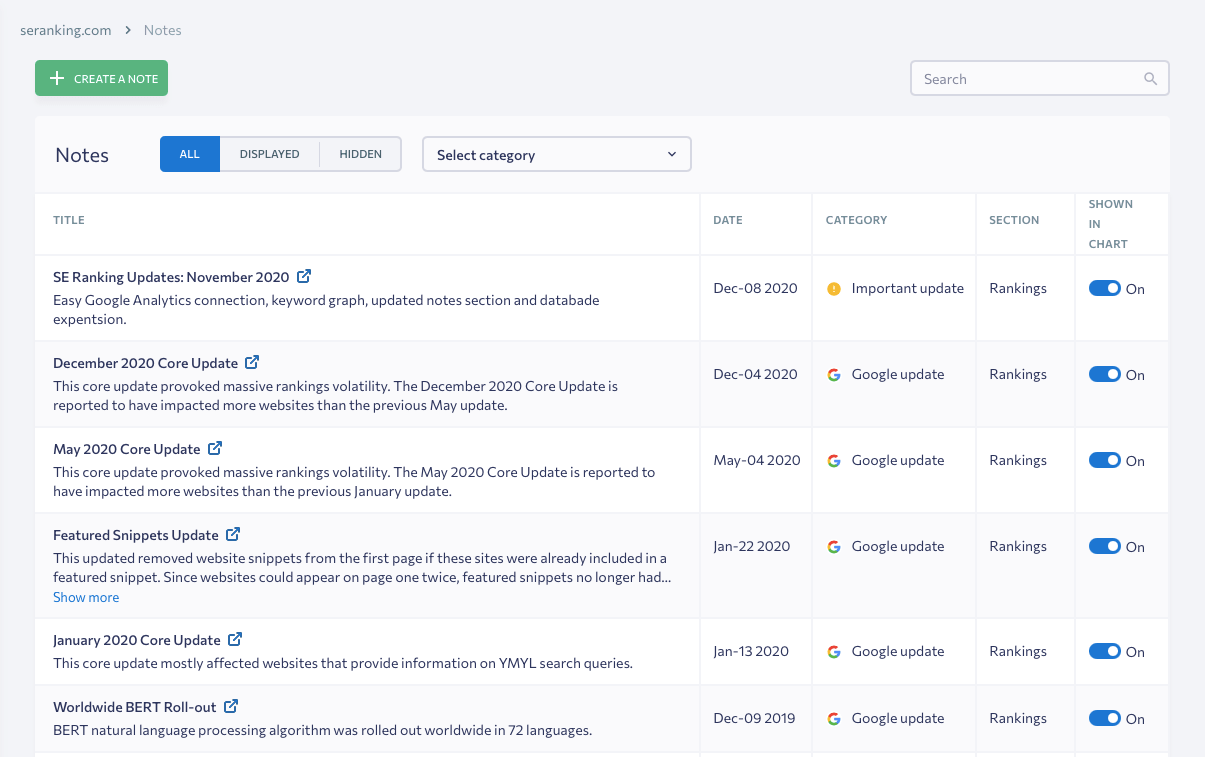 Furthermore, notes can now be filtered by the following categories:
Project note
Keyword note
Google update
Important update
Note that you can go to Rankings settings to toggle a category on and off so that it is not displayed on charts.
The Rankings and My Competitors modules now have tag filters that allow you to select a tag sorting order. Just drag-and-drop tags to sort them the way you want and the set order will then be displayed whenever you add a new tag. So, you can forget about having to create tags in the necessary order from the get-go because you can now switch their order at any time.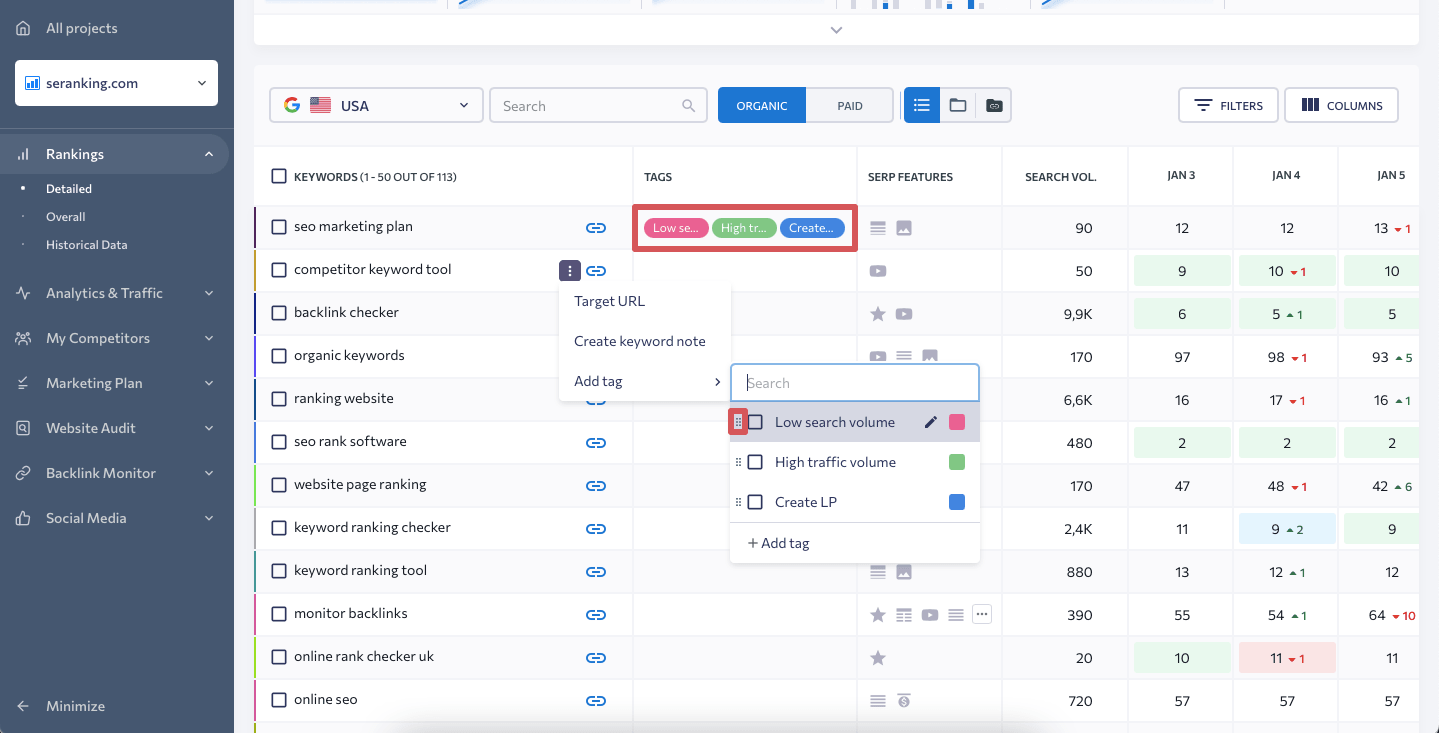 Moreover, we made it possible to tag keywords under Project Settings. When adding keywords to a project, you can right away add tags to keywords to organize them better.
Now that we've looked at the big tool and module updates we made at the end of 2020, let's check out what other improvements were made to SE Ranking.
More data on your SERP competitors in one click
If you've ever found yourself researching a target keyword SERPs using SERP Competitors and stumbling upon a website that you want to learn more about besides its Domain Trust and total number of referring domains, you now can click on the three-dot vertical menu and further analyze any website via the Competitive Research tool.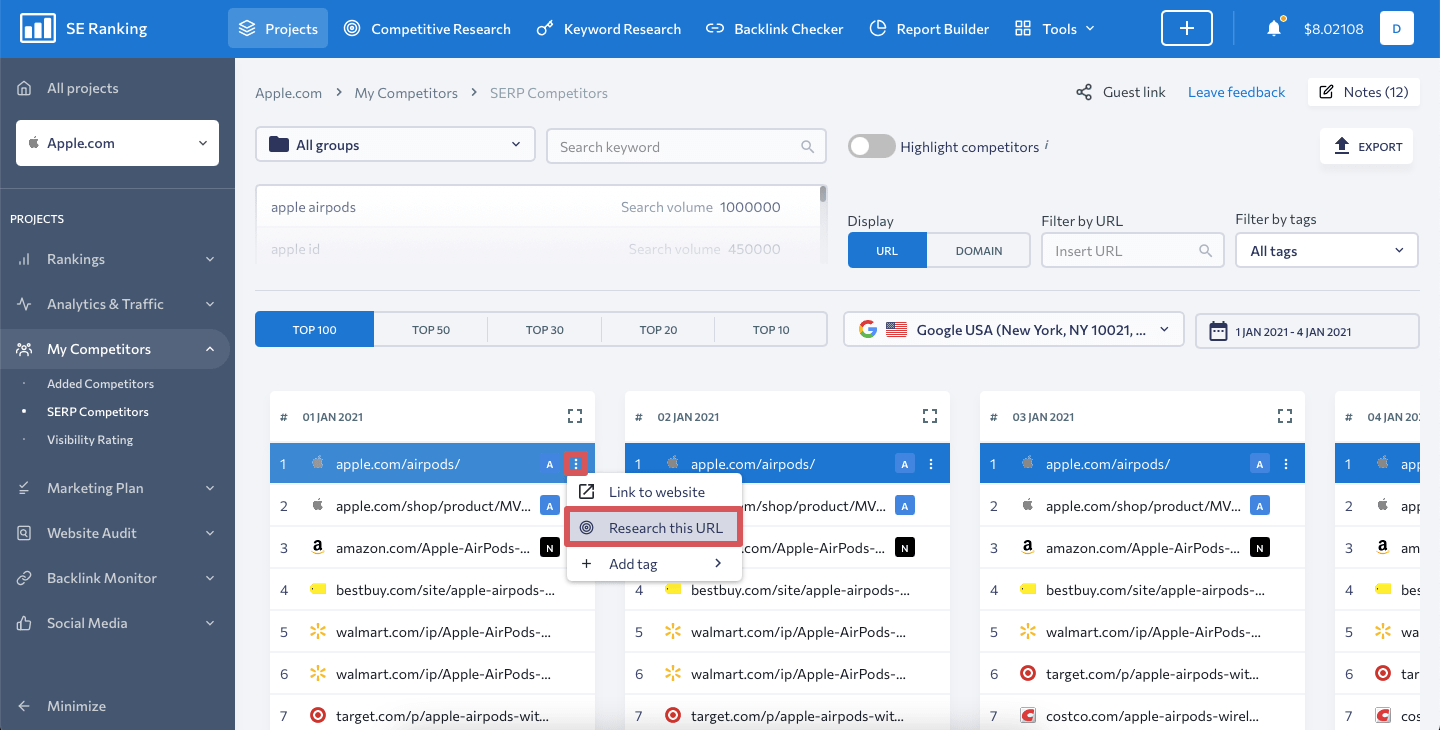 This option helps you stay focused on the selected target keyword SERP, but at the same time allows you to run an analysis of any domain in a new tab. Once you're ready, you can switch between tabs to get even more data without the extra hassle.
Improved Google Analytics connection and new opportunities for goals analysis
We have added a new Google Analytics connection identical to that of Google Search Console. To connect SE Ranking to your Google Analytics account, you don't need to share data and wait for confirmation anymore. A simple authorization is enough. Also, we have made it easier to connect new accounts and choose from a list of previously connected ones.
Another change that was made to the Analytics & Traffic module is related to the way conversion goals are displayed. You can now select a goal from the list and analyze it separately, or select several goals and compare them, as shown below: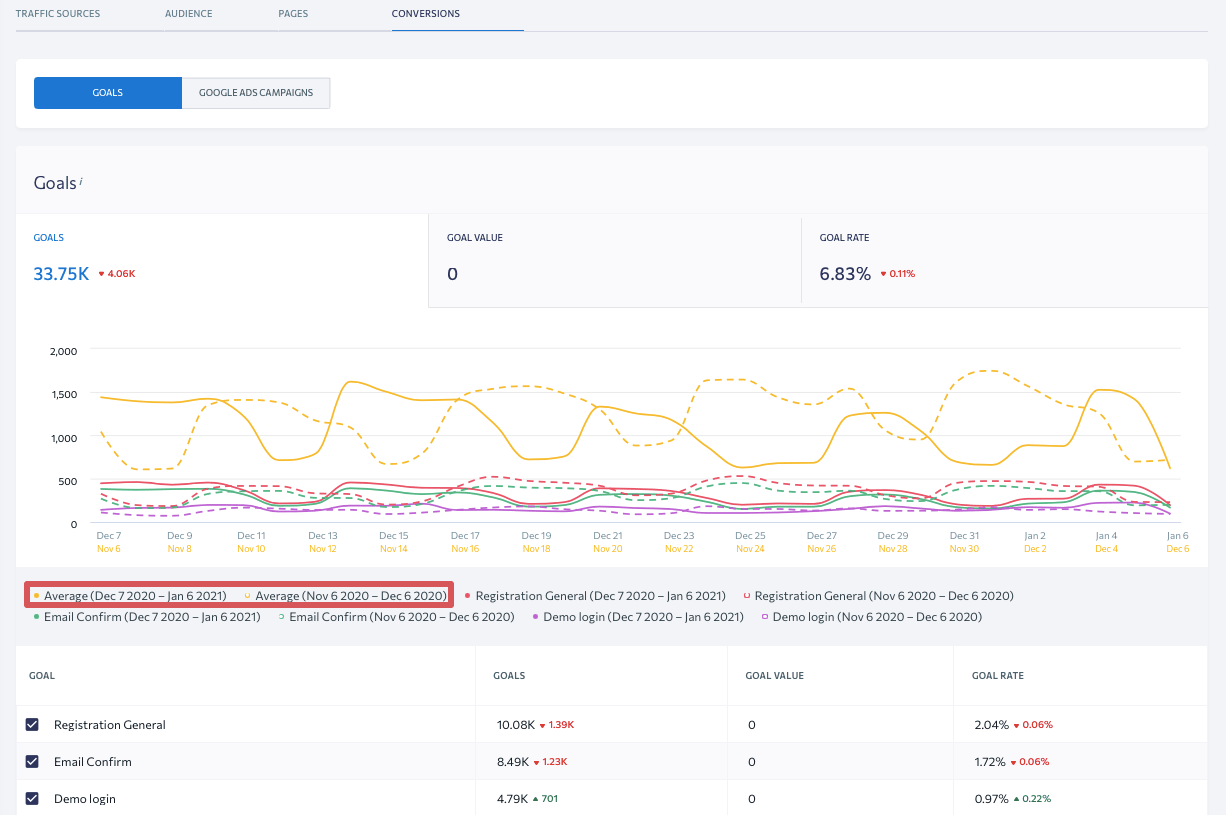 On top of that, you can see the average value for the selected goals, which can conveniently be toggled on and off via the graph legend.
Dashboard, calendar, and guest link updates
By checkmarking several projects on the main Dashboard, you can compare them to see which one is performing best in terms of rankings, traffic, search visibility, and more. And besides seeing data points for each project, you can also see the average value across all selected projects for the selected period.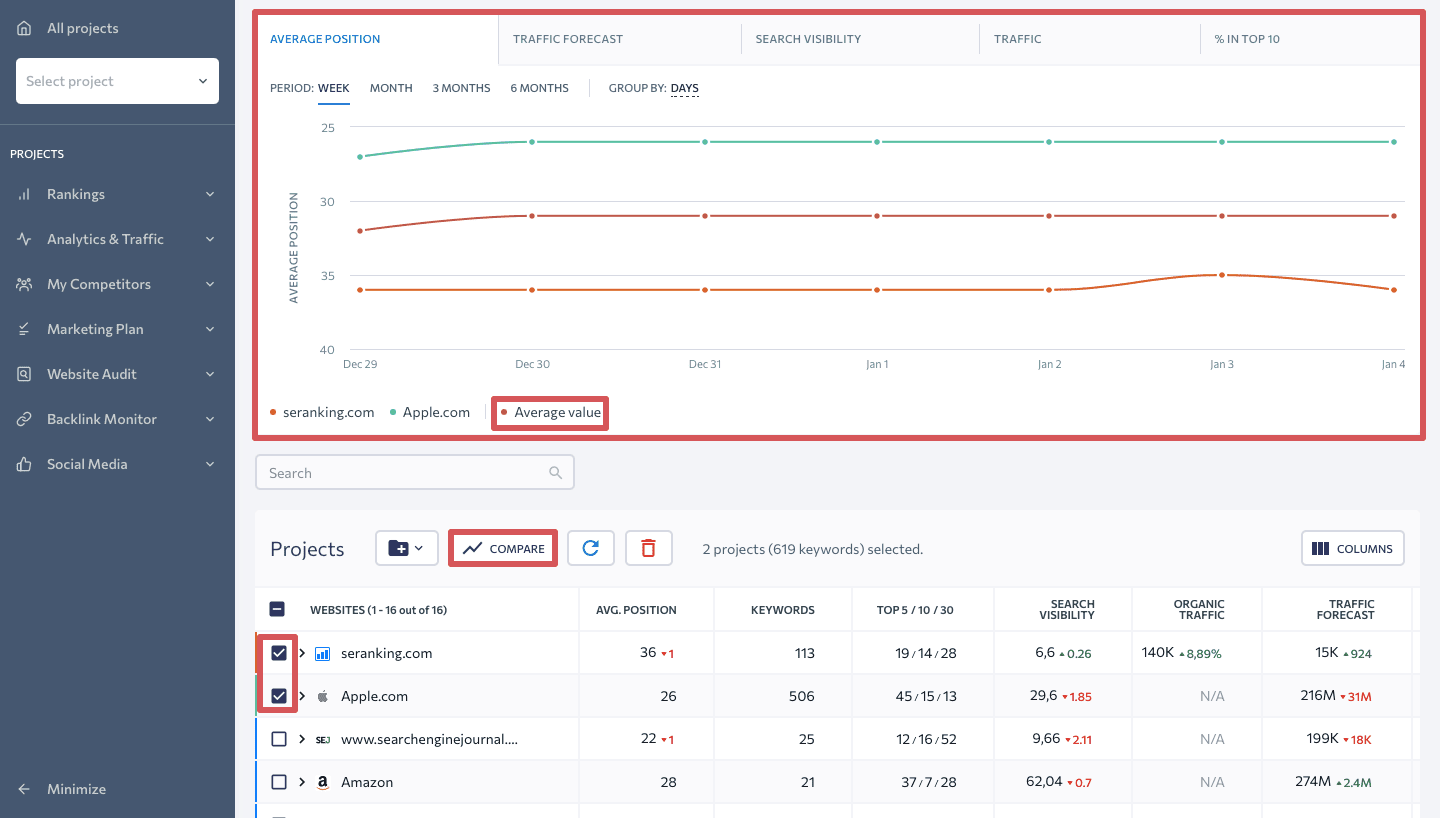 This comes in handy if you are managing several similar websites for yourself or for a client and need to get a quick understanding of their individual and overall performance.
Next, when sharing guest links with third parties, you can now select the module(s) that will be available to the person using this link: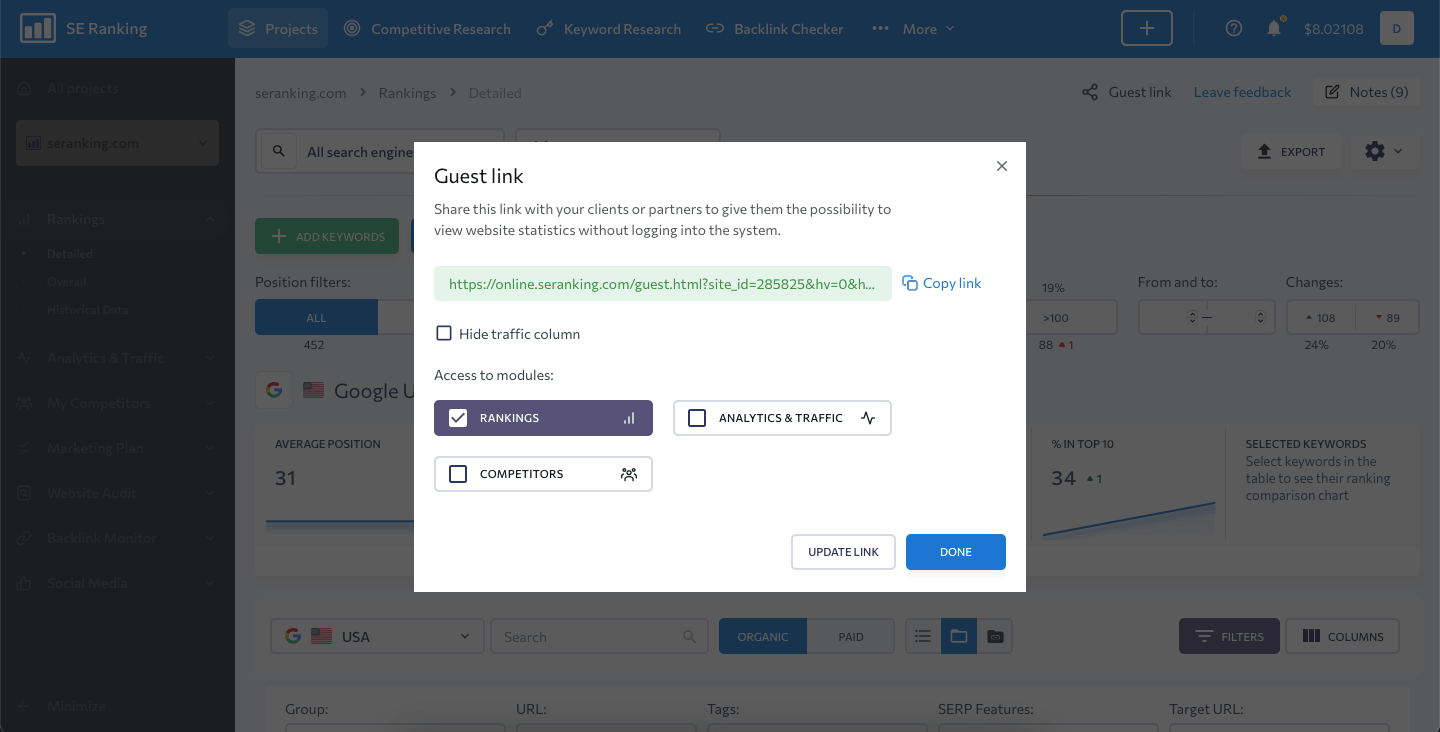 Basically, the update lets you toggle the Rankings, Analytics & Traffic, and My Competitors modules on and off when sharing guest links. We will gradually expand the number of modules that can be shared via guest links, ultimately allowing you to share any corner of the tool with a third-party representative.
Last but not least, you can now save time by making use of the quick date range select calendar option across the entire platform. With this update, you can forget about having to click on the drop-down menu to see the list of available date range options: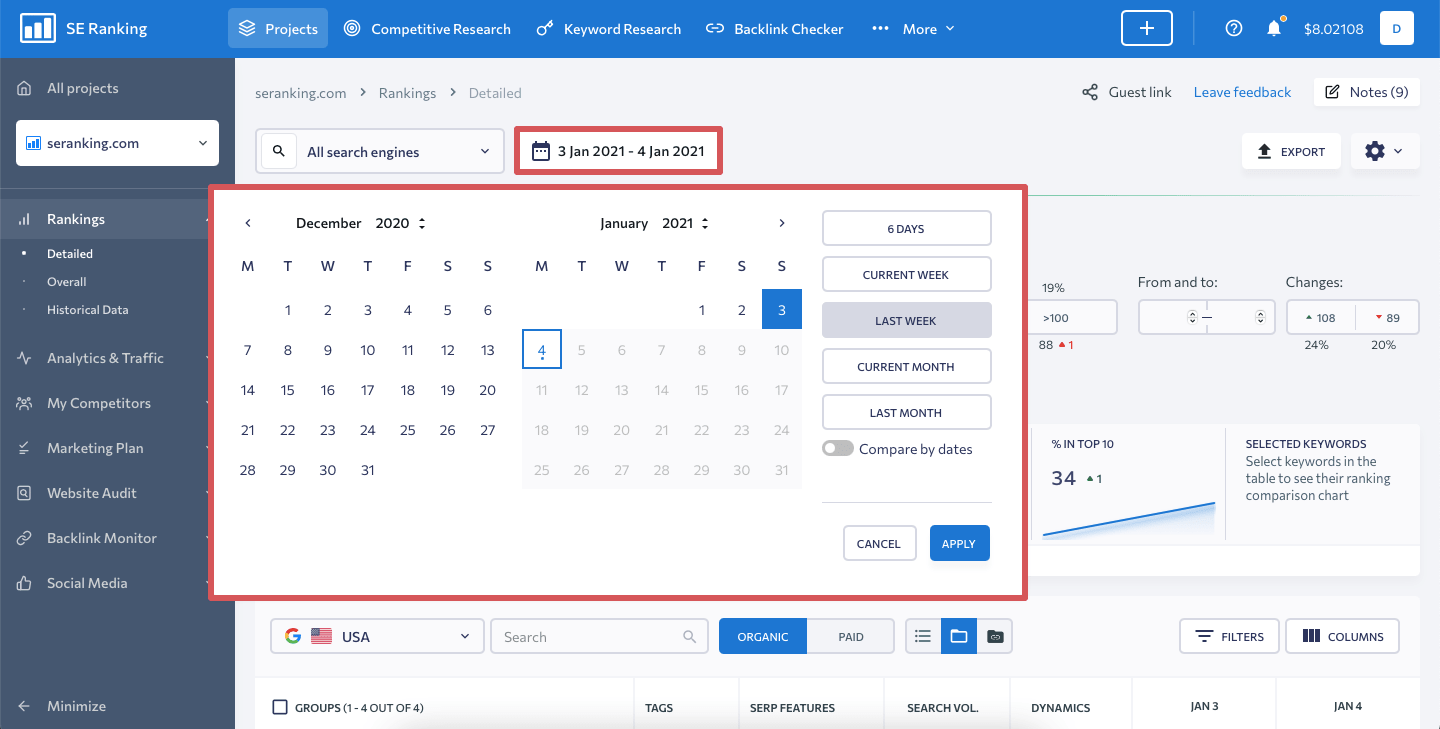 And that is it for SE Ranking's 2020 updates! By the way, if you don't have an SE Ranking account yet, you are welcome to take advantage of our free 14-day trial.
We hope 2021 will be more productive for all of us and that we'll all be able to go back to the way things once were or at least get a fresh start. In the meantime, stay safe and stay tuned for more updates!