With summer just around the corner, we wanted to let you know what we at SE Ranking have been up to these last few months. Allow us to take the time to present our March-April updates.

We have:
?completely revamped our main Dashboard for your convenience;
?added new charts and sections for analysis, updated databases to the SEO/PPC Competitor Research tool. Plus, it's out of BETA;
⚡️introduced new limits to the On-Page Checker, and;
☝️continued our work on further optimizing and improving the service.
4 upgrades to the main Dashboard
Our active users have probably noticed some of the changes we made to the main Dashboard over the past few months. Here's a small preview: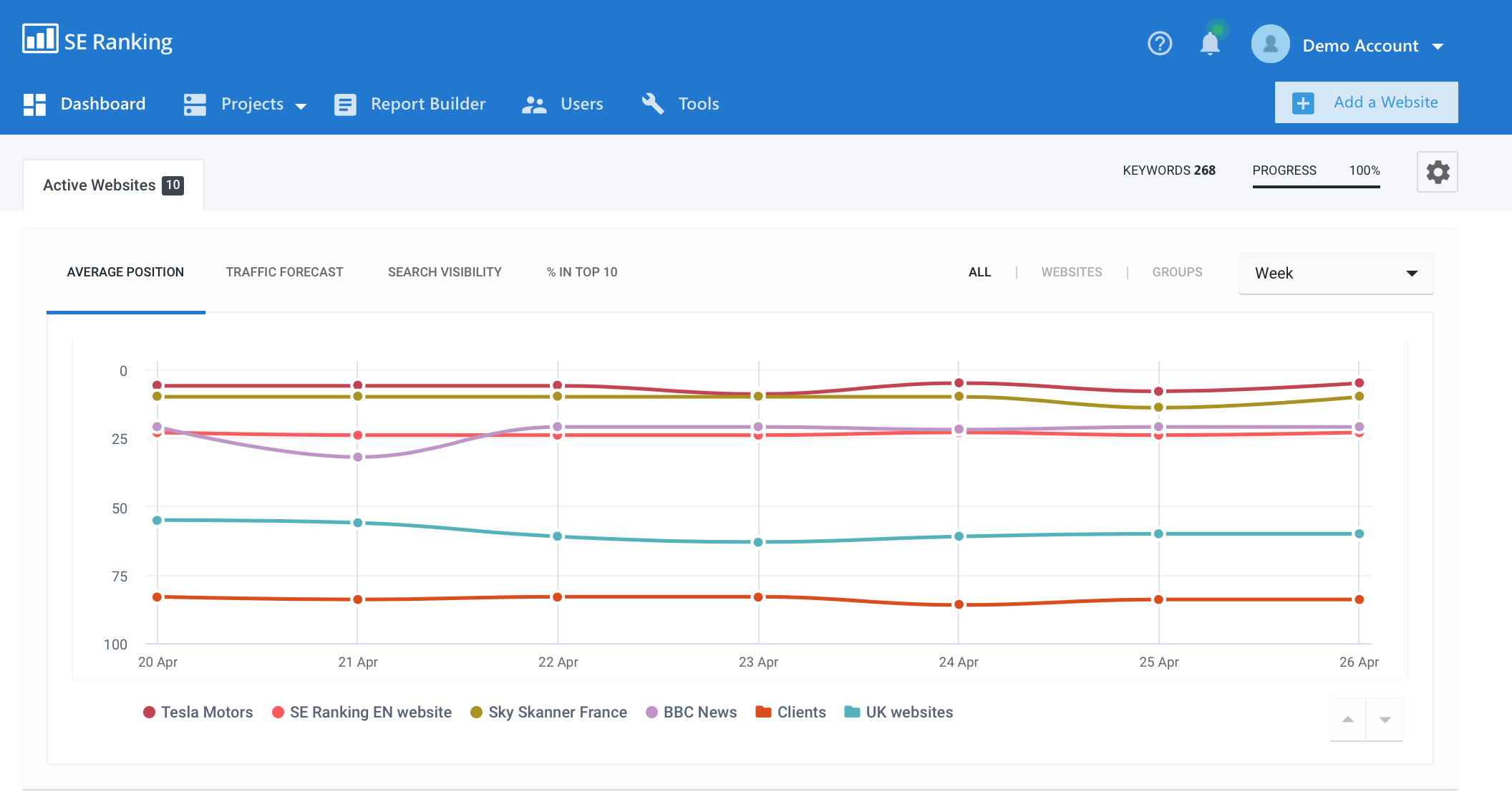 Our main goal was to solve the data handling problem. And, judging from your initial feedback, we managed to get the job done. The update is especially useful for users with a large number of projects and keywords to work with. On top of that, new data mapping makes it easier to work with the projects, and the processing speed has also significantly increased.

What's new:

1. Comprehensive customization
Now you can tweak almost anything:

define the sites to be displayed in charts;
choose the data to display by default;
swap columns, and show or hide selected parameters;
besides columns, you can also easily swap projects.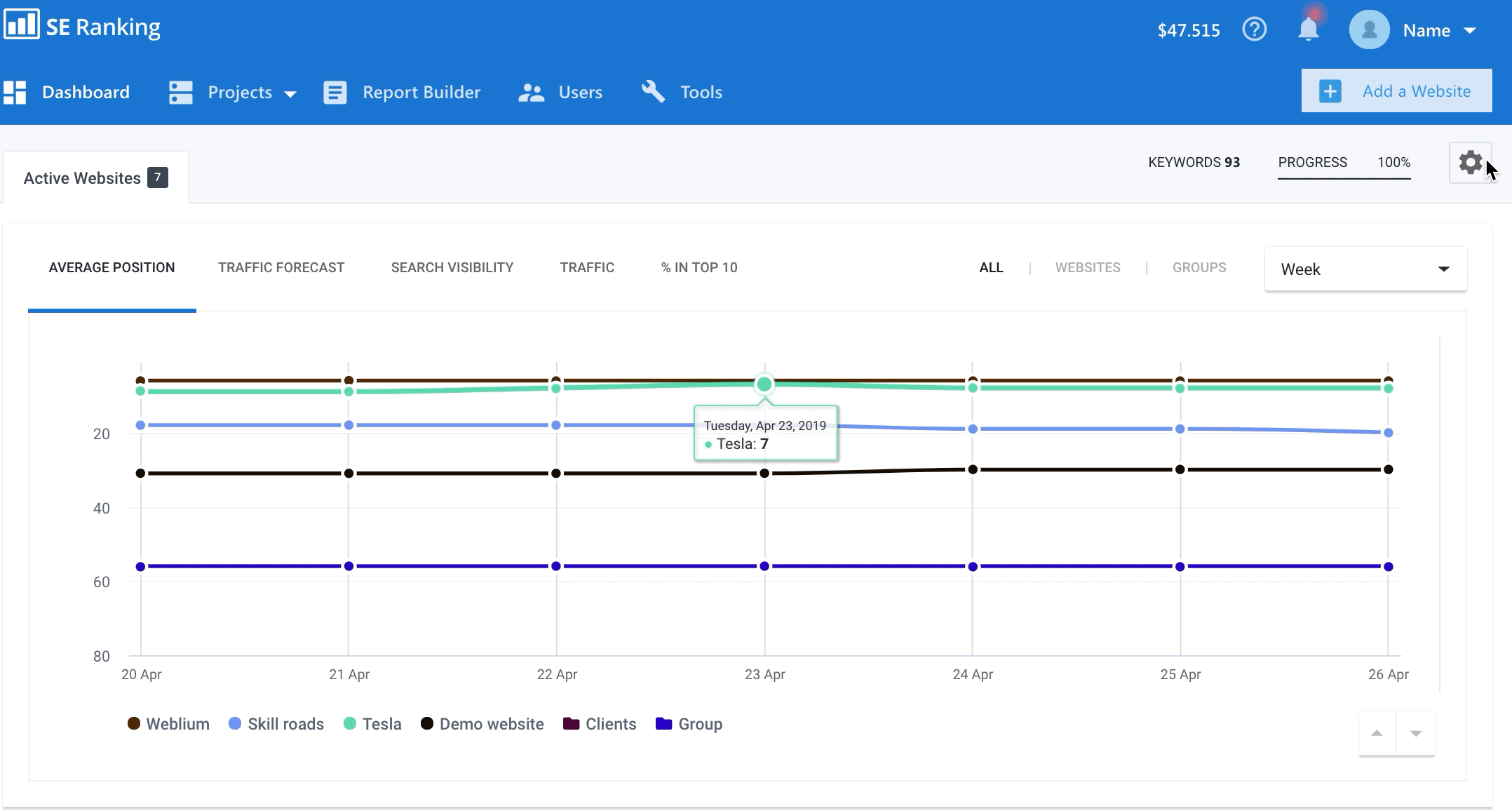 2. Design upgrades
Each website added to the project now has a favicon, plus the color of the "Rankings" button corresponds to the color scheme selected under the White Label settings.

The overall design of the Dashboard has completely changed: it looks more modern, concise, and, most importantly, it allows you to customize its appearance based on your business needs.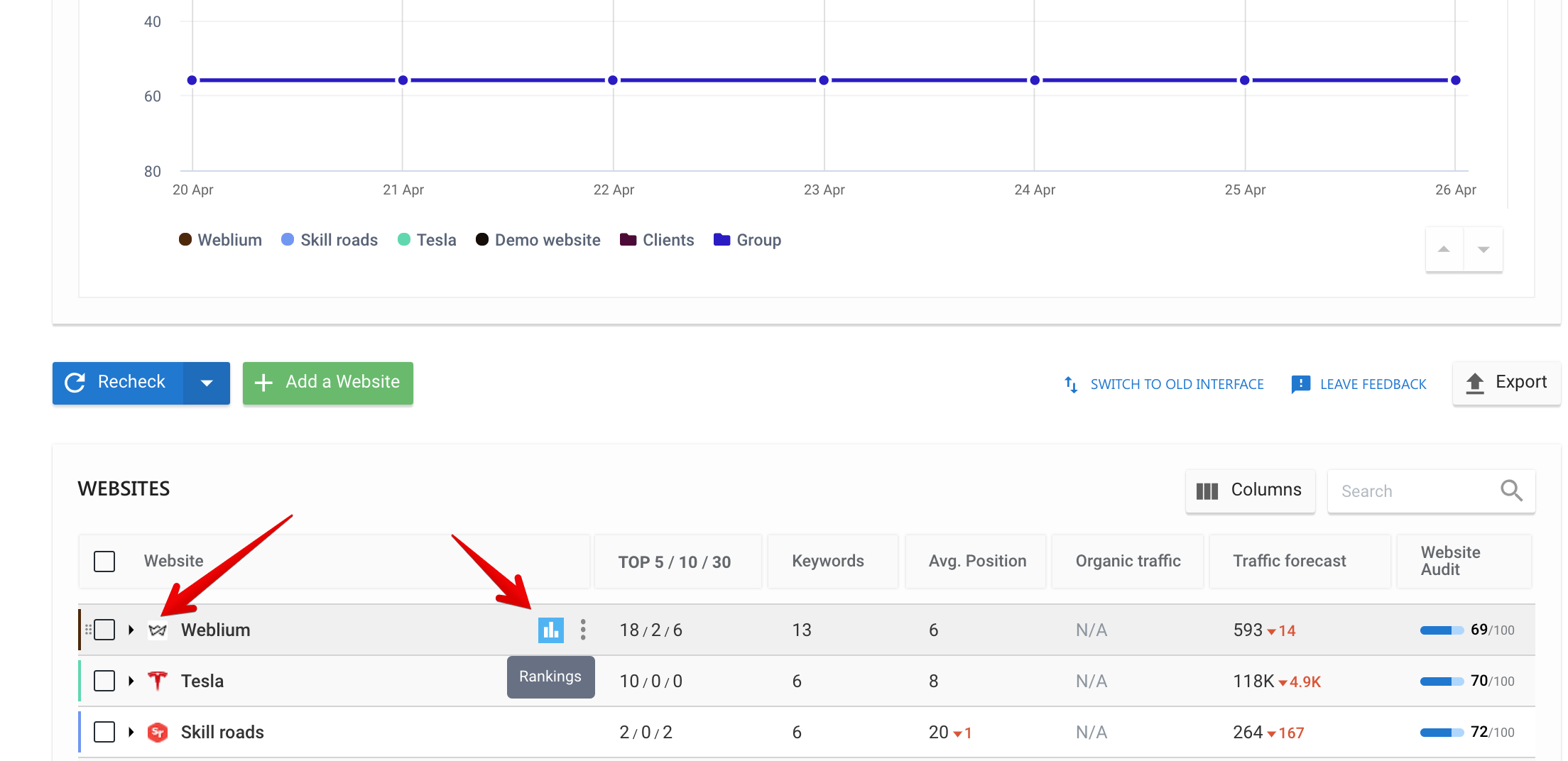 3. Enhanced usability

Pagination has been added to groups for projects with multiple websites. Previously it was possible to add only 10 projects to be displayed on one page in a group, now this number has increased to 30. We've also optimized the way sub-user projects are displayed on the Dashboard.

The checkboxes were added to every project, allowing you to select one or multiple websites and perform bulk actions, such as double-check ranking positions, delete or move them to a group, etc.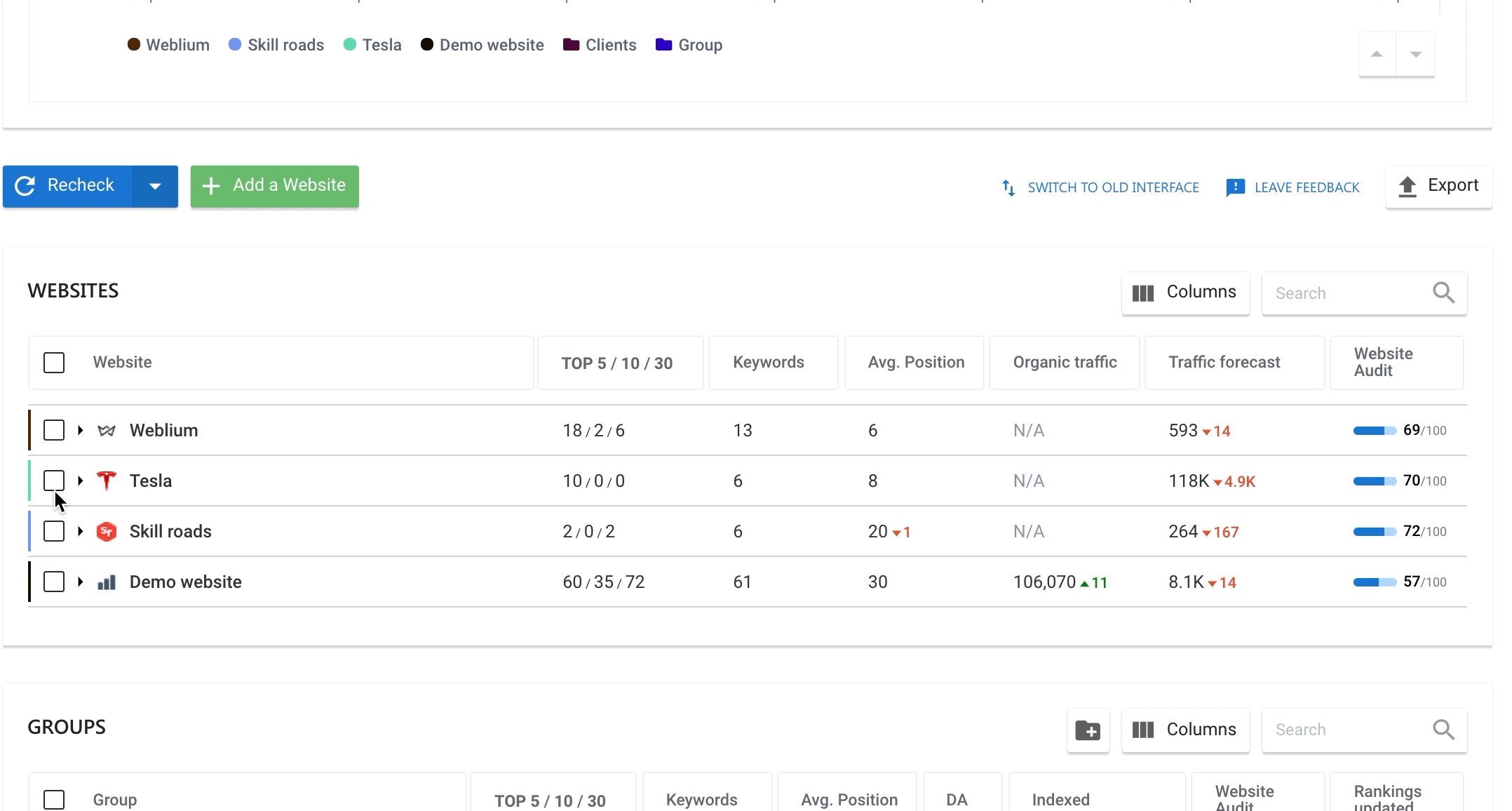 4. Technical improvements
We developed the Dashboard using a new framework that we employ in all platform updates. It wasn't just changed, but totally rebuilt from scratch. This enabled us to significantly improve the data loading speed.

We've already collected the first batch of feedback and made changes based on our users' preferences. For the time being, you still have the option to switch back to the old interface if you are not used to working with the new layout. We are always open to your feedback and are ready to add any appropriate parameters to the list of columns so that the updated Dashboard suits your needs the best. Please share your opinion and ideas in the comments below or via Live Chat.
Updates in the SEO/PPC Competitor Research tool

Charts for analyzing competitors

We've added 2 new charts to help you analyze your competitive environment:

"Organic competitors distribution"
"Paid competitors distribution".
The data they provide will help you quickly and visually analyze the main competitors.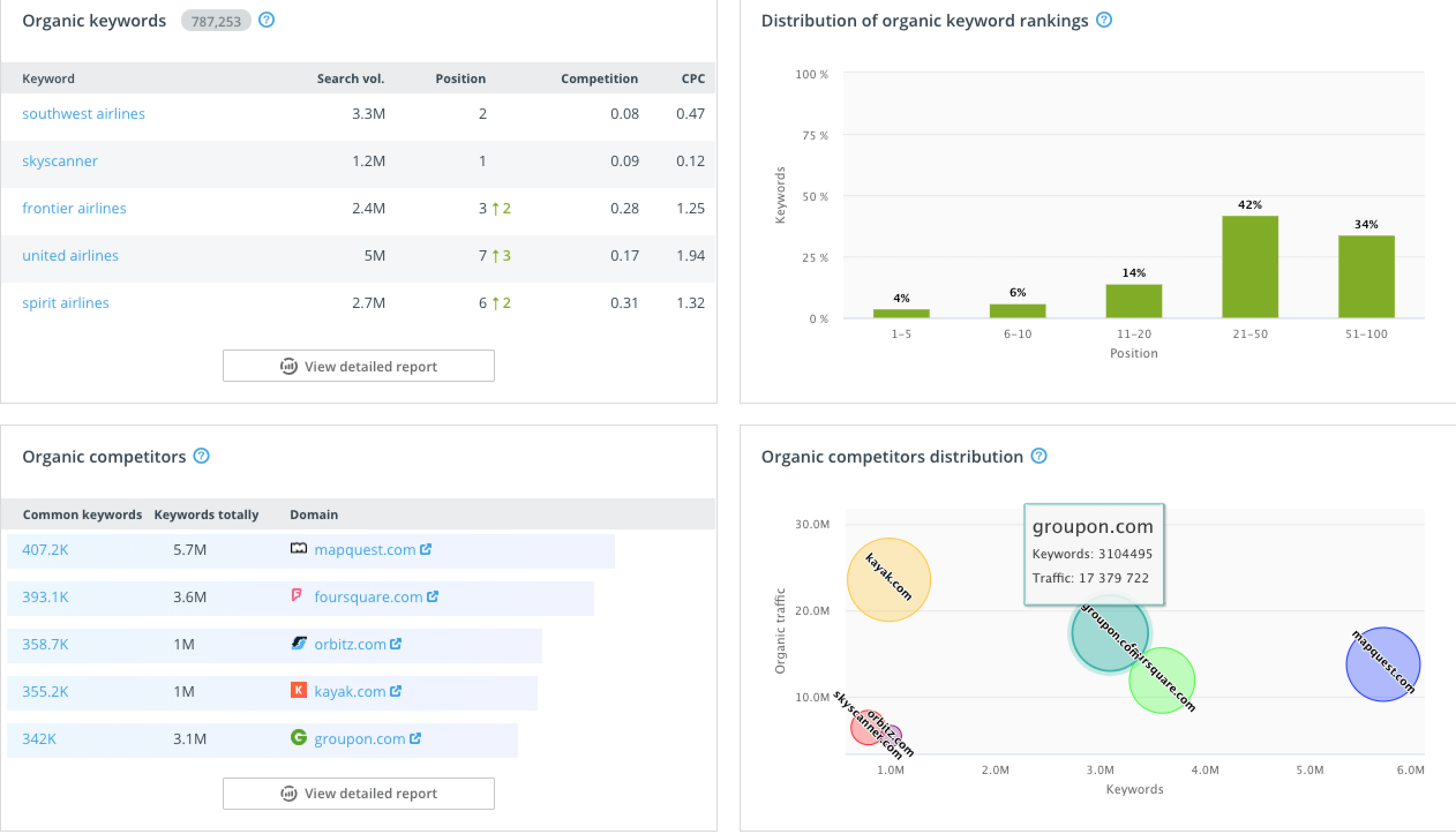 The charts show competing domains in the form of circles arranged according to their ratio of traffic and the number of keywords in search. The larger the circle, the more search queries and traffic the website receives. When you hover over a circle, the tool displays the number of keywords in the selected country as well as the volume of monthly traffic. The circles may also intersect, letting you know that the given domains have some keywords in common with you.

Added hints when entering a domain or keyword

We've added the auto-completion option when entering a domain or keyword into the search box.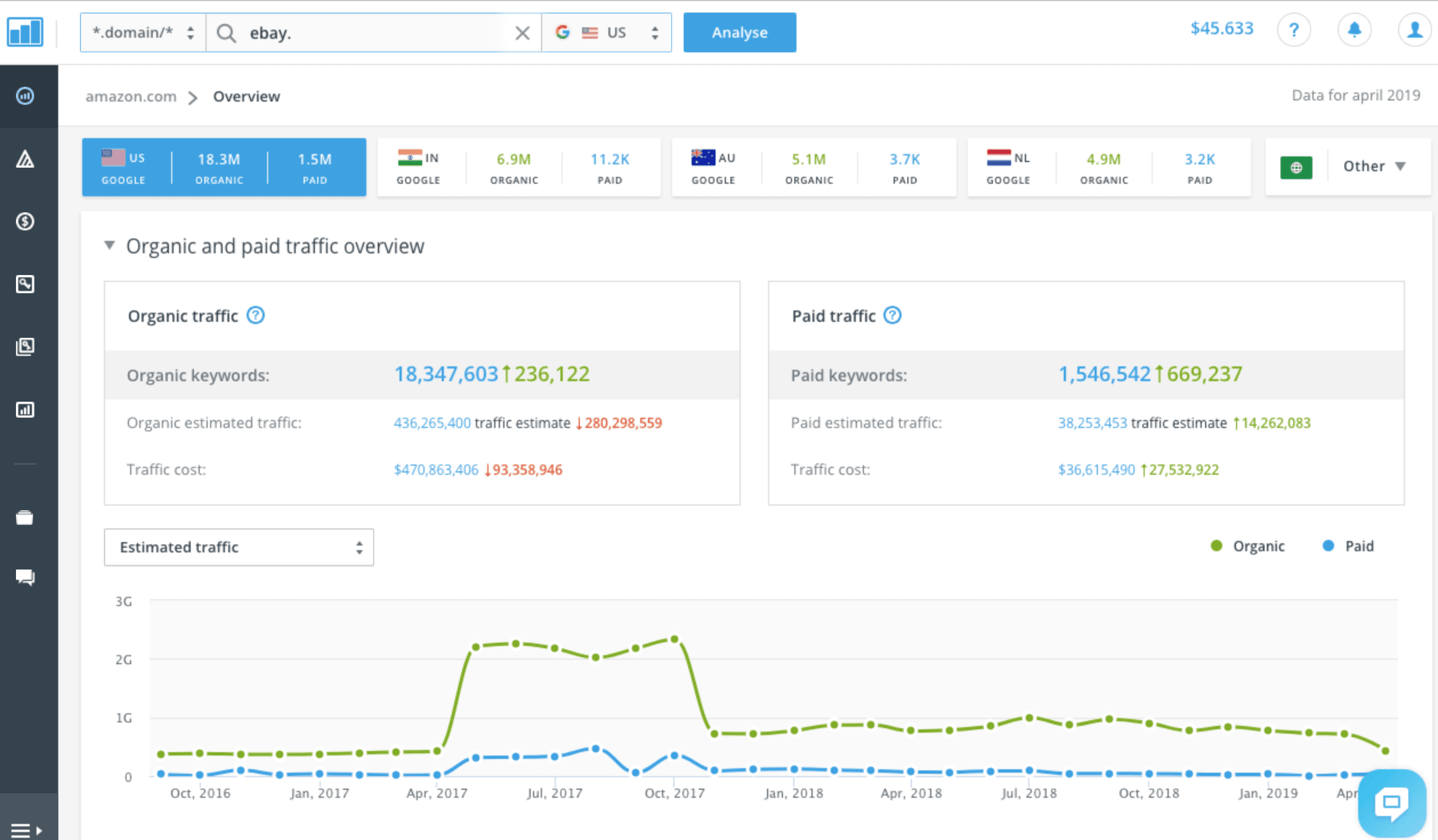 New sections in the SEO/PPC Competitor Research tool

We've added the "Traffic" and "Traffic share" columns to the Dashboard's "Most Popular Keywords Ads" section that provides general information on competitive domain/keyword analysis.
In addition, we've added new sections for paid search analytics – "Top pages in paid search" and "Top subdomains in paid search".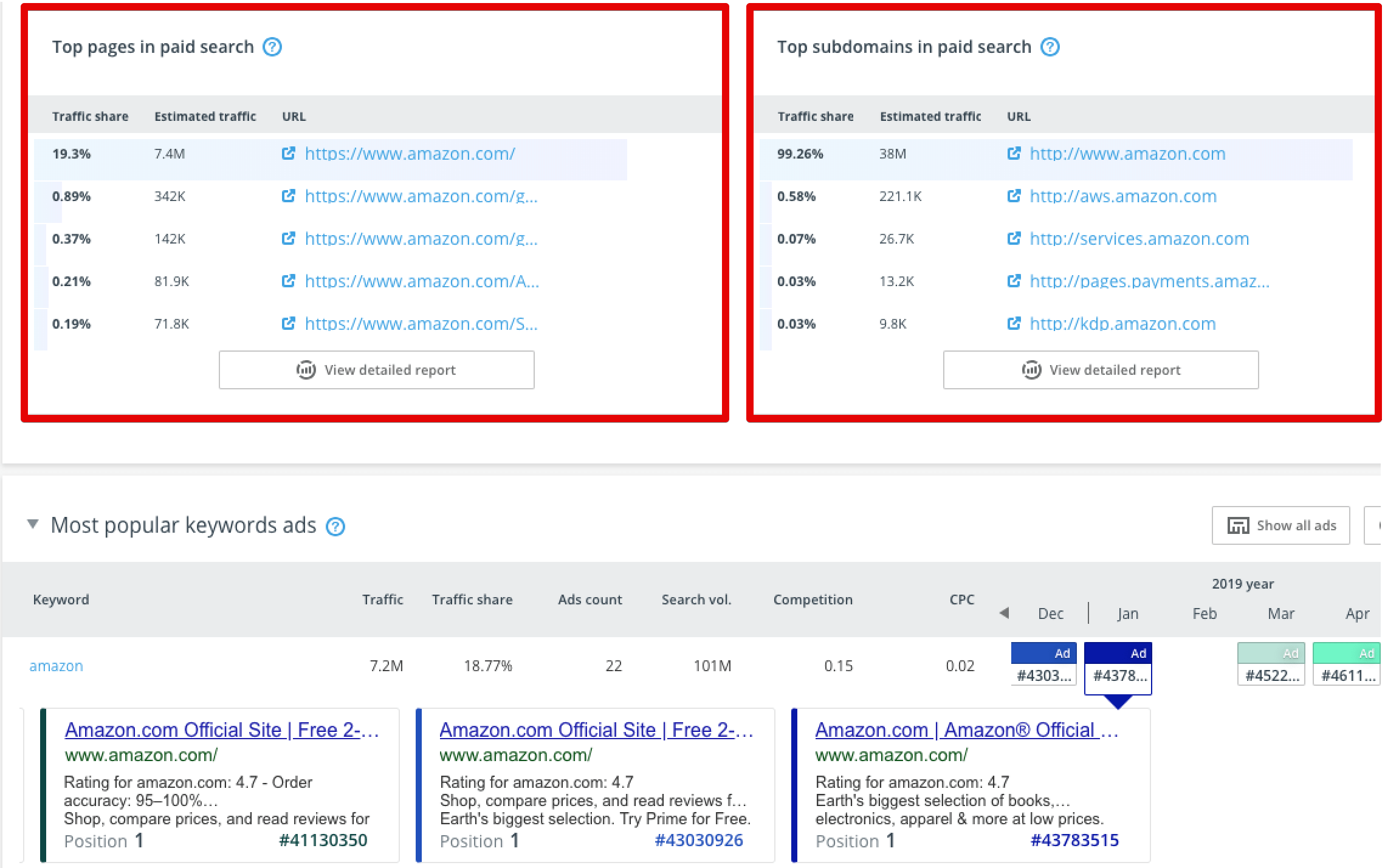 Updated databases in the SEO/PPC Competitor Research tool

It's no secret that we're constantly adding new countries to the SEO/PPC Competitor Research tool. But besides this, we are continuously improving existing databases. This time, we cleaned the database of all "trash queries", updated the search volume for all queries and added new keywords.
We'll tell you about several new databases that we're going to add to the tool in our next update announcement. Stay tuned!

But the most important thing is that we made all of these improvements to make the tool perfect, and, hopefully, we're well on our way. And….drum roll…the SEO/PPC Competitor Research tool is no longer in BETA, and we are very happy about this accomplishment!

New open options in On-Page Checker

This tool was designed to help you check how well a web page is optimized for a certain query. It provides you with a detailed report on a particular page's optimization status and provides a list of suggested fixes and recommendations.
The good news is that we've reviewed and revised the limits set in the tool. Starting from April, there are no longer any daily limits on using the tool – only for a month. Here you can find out more about the tool and how the limitations are calculated.

---
We are planning several cool updates for you in May, so be sure to check our emails, posted updates, and follow us on social media.