Our May predictions have so far come true! This June has been quite hot but SE Ranking has dropped several cool updates to combat the heat. Many of the new improvements focus on the Project Creation Wizard: the latest version now has five whole steps. We've also made several useful updates at the request of our amazing users, so be sure to check them out to see if yours made the list.
1. The Project Creation Wizard is ready for action
In line with our goal to provide SE Ranking users with all the info they could possibly need during project creation, we've added keyword and competitor suggestions, in addition to the default project settings. And we're proud to say it all worked out!
Get keyword suggestions
Our SEO platform now gives you suggest you a list of suggestions right as you're creating a project. This is very convenient if you haven't yet created a keyword list to promote your website or if you want to rank on SERPs for the same keywords your competitors use.
Click the "Suggest keywords" button at the top of the second step to get a list of queries that are relevant to your domain. If you want to expand this list, just choose a region, and enter a query or competitor domain into the search box. Then, simply check-mark the keywords you want to add to your project and add them by clicking the Backwards arrow button, as is shown below.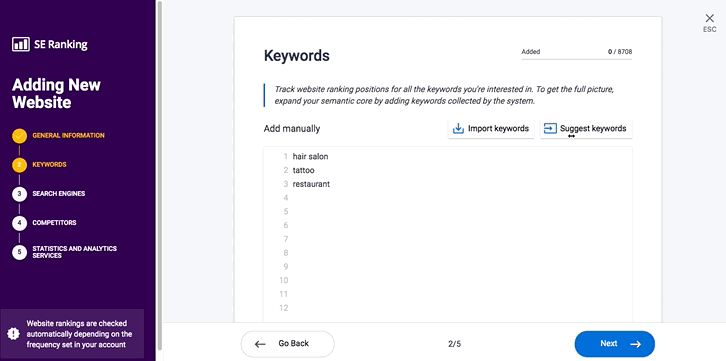 Add competitors
In the fourth project creation step, you can add up to five competitors and monitor their rankings for the same keywords that you added to your project. Just enter a list of competitors and click the "Add Competitors" button.
Additionally, you can enable the "Include subdomains" option to take competitor subdomains into account when pulling ranking data (for example, online.seranking.com is a subdomain of seranking.com). When this option is disabled, subdomain pages like online.seranking.com/page1 will not be checked.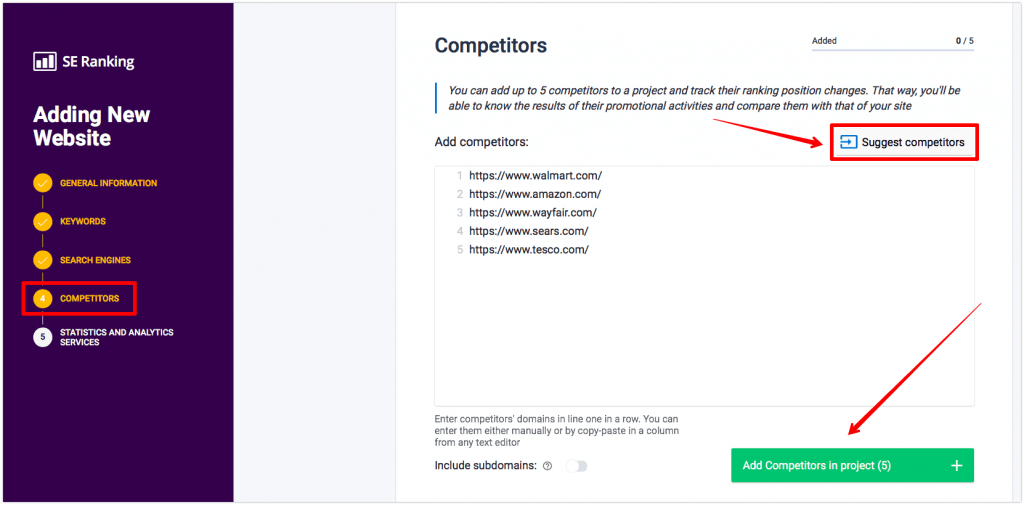 If you don't know who your competitors are or if you don't remember them, just like keywords, you can get a list of competitor suggestions that are automatically-generated for your domain.
To do this, just click the "Suggest competitors" button and get a list of online resources that are competing with you in the SERPs. Next to every competitor domain suggestion, you can find the number of keywords that it ranks for organically to get a better understanding of how much potential traffic each competitor gets. Select the competitor domains whose rankings you want to monitor and add them to your list of competitors.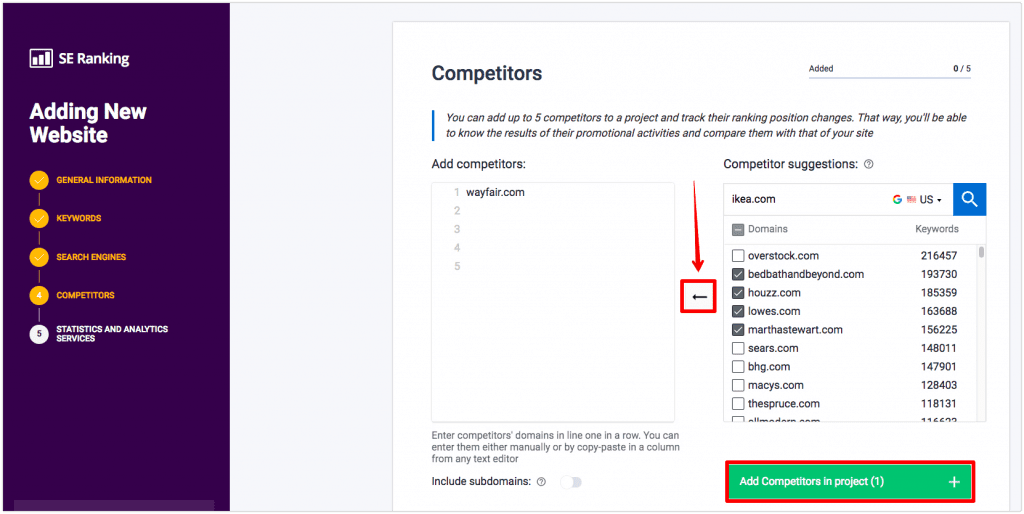 Connect Statistics & Analytics services
The last step in the Project Creation Wizard invites you to connect statistics and analytics services such as Google Analytics and Google Search Console.
Data from these services will automatically upload to your project once you connect them.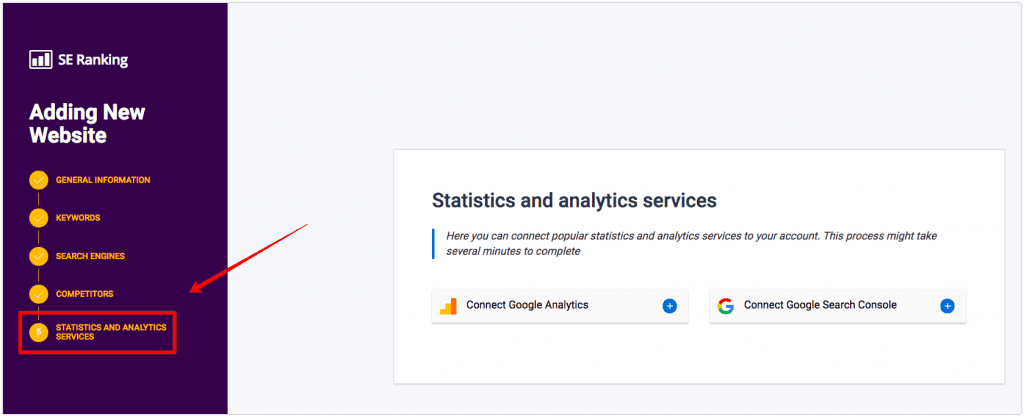 2. Updates to the platform's main sections
Everyone who monitors SERP rankings across multiple search engine languages can now see a tracked search engine's language by clicking on it.

Customer sub-accounts now have access to the Reports module and, as a result, they can view financial reports. Note that your customers will only be able to see reports on the projects they have access to. Plus, they can export reports, but without the right to change prices.
For your convenience, under the SERP competitors tab, you can now view the top organic search results not only for URLs, but for domains as well. As you can see below, all you have to do is switch the display mode from URL to Domain.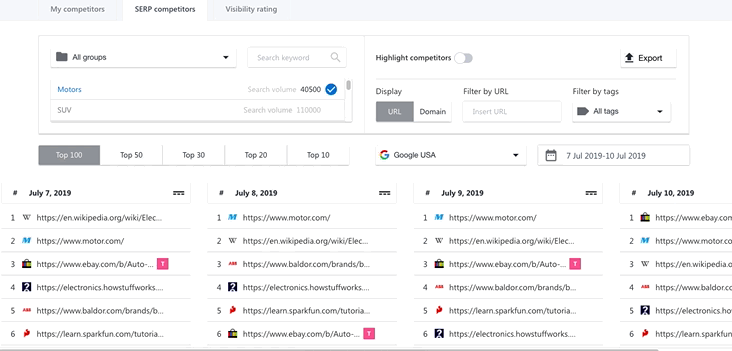 Since Google Search Console has launched a new type of property called Domain property (a feature that lets you see data from a whole domain in one view), you can connect it to the Analytics & traffic module under your account.
To make our platform more user-friendly, we've placed a feedback form at the bottom of each page. If you spot any bugs, errors, or if you want to make a suggestion, don't hesitate to let us know by clicking the button highlighted in the screenshot below.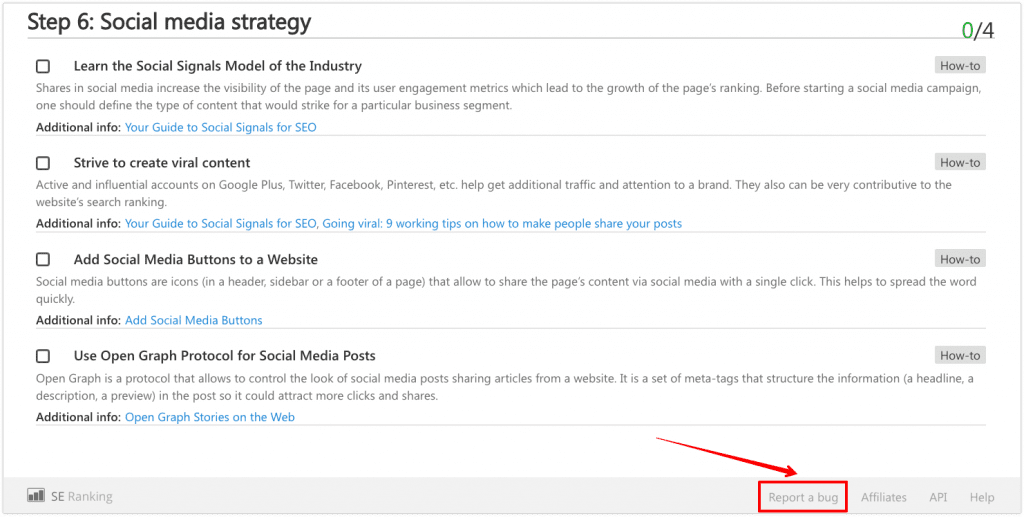 Changes to the Personal pricing plan
Starting from July 15, 2019, you will no longer be able to subscribe to the Personal plan.
Why did we make this decision?
Well, we're proud to say that our SEO service is growing at a rapid pace. Last year alone, we've completely updated the Keyword Rank Tracker, Website Audit and SEO/PPC Competitor Analysis tools. On top of that, we have welcomed several new faces to our development and support teams, plus we've crossed the 300,000-user mark.
Not only do we constantly strive to pack our software with popular SEO and marketing features, but to release brand new ones as well. This, in turn, has led to an increase in our expenses.
So, in order to reflect the value users get from SE Ranking more accurately, we are making changes to our pricing plan for the first time in 6 years.
We have more updates on the way and we'll tell you all about them soon. All we can say for the time being is that we will make large-scale changes to one of our most demanded modules. To make it interesting, the first person to leave a comment with the correct module will get access to the beta version.
Happy June updates, everyone!