As you must have heard, July 2019 was the hottest month in recorded history. Now, as it gave way to August, let's just hope the dog days of summer are gone, Greenland's ice sheet will stop melting, and we'll all have a productive month ahead. The SE Ranking team has got some big plans to put into action, but for now, let us share our July updates with you.
Comparing competitors' keywords
Last month, we released a new tool that you can find in the SEO/PPC Competitor Research module. You may have already seen the semantics comparison chart under the Overview tab. It was added earlier in May and gives you the opportunity to analyze a website against any two competitors. Since we've added the new Competitor comparison tab, you can now take whichever two domains and check to see if there's a keyword overlap between them. Here you can compare your website's semantics to those of all of your competitors to find keywords you haven't covered yet.
To start working with the tool, go to the Competitors comparison tab, enter up to three domains and hit the Compare button.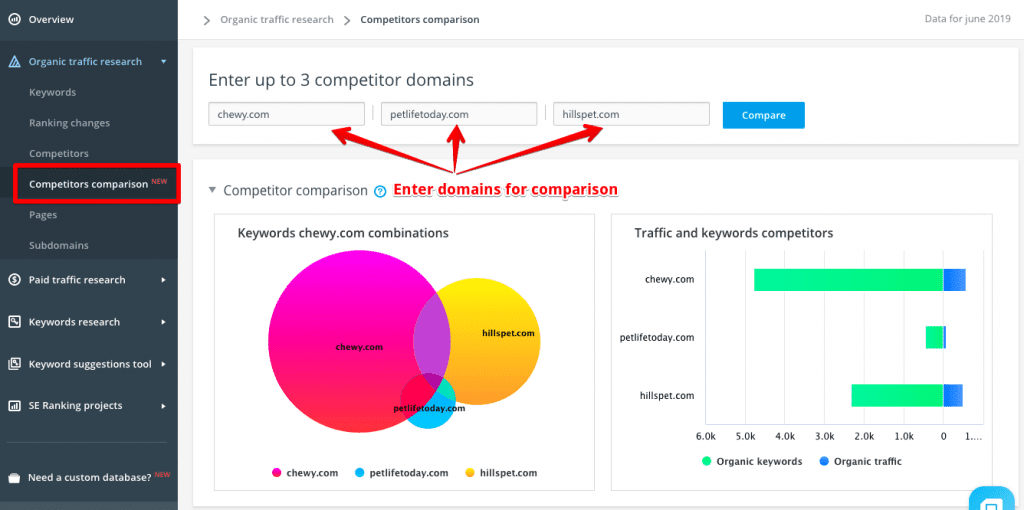 The tool will generate a comprehensive chart showing how many keywords the analyzed domains have in common. You can compare each of the three domains to one another i.e. domain 1 vs domain 2, domain 1 vs domain 3, domain 3 vs domain 2. You are at liberty to check which unique keywords each domain has. Besides, you will see if the analyzed domain does not rank for some keywords while both of its competitors do.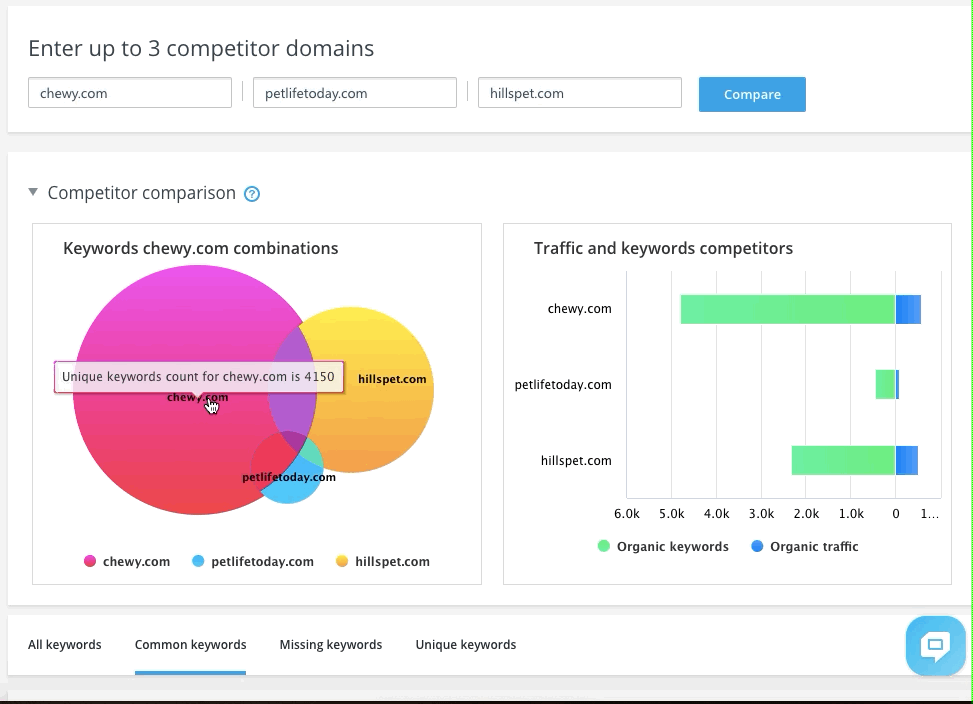 Below the charts, you'll find a list of all the keywords and their metrics (Search volume, Competition, KEI, etc.) You can sort and filter data using the parameters.
To get the exact kind of a list you need, choose which keywords to include in it:
all the keywords the three domains rank for;
keywords two selected domains have in common;
missing keywords of any of the selected domains;
unique keywords one of the domains has and others don't.

What you get thanks to the data is tons of ideas as to which keywords your competitors use, how they compete with each other on certain keywords, which keywords your domain is missing, etc. Such a tool is invaluable whenever you're working on new site semantics or want to extend the keyword cloud of an existing website.
Looks good? Great, but there's more. We have two big announcements to make. The Report Builder tool received a global update in July and SE Ranking is now available on Android. They are both in beta testing now but will go live by the end of the month.
Beta testing of the updated Report Builder
In addition to Competitors comparison, this month we've also been working on our fully updated Report Builder, which is one of this year's major releases. A limited number of users have already tried out the beta version — contact our customer support team to join the testing. And for now, here's a small teaser of how you'll soon be creating a template: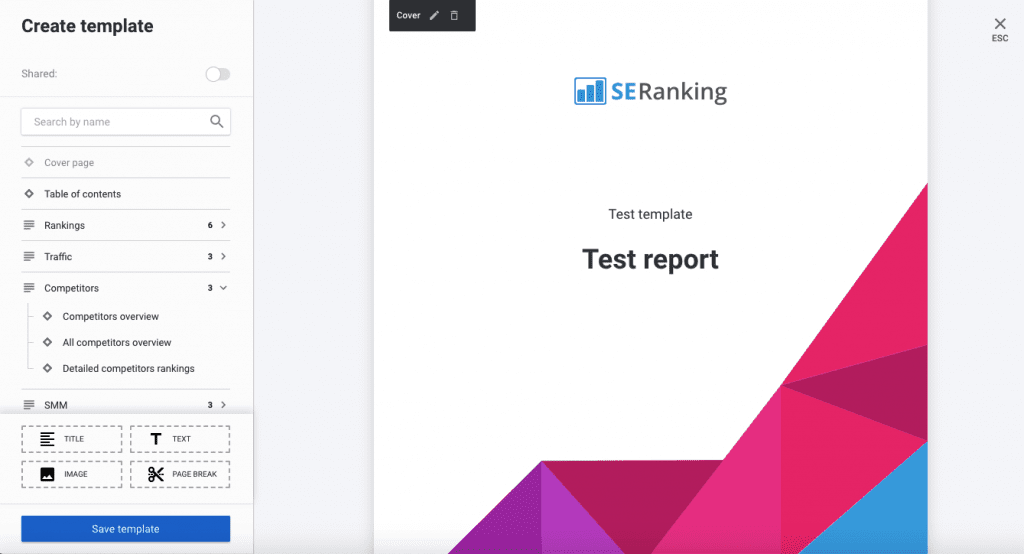 And now, let's get to the last bit.
Beta testing of SE Ranking Android app
As SE Ranking iOS app became popular among users, we've been receiving a lot of queries regarding the Android app. Finally, the app is almost there. We just need to fine-tune it a bit. While the app is in beta testing, you can get your hands on it by contacting our support team.
We hope you are eager to check out the updated Report Builder and the Android app. If so, get in touch with SE Ranking's support team, give it a try and don't forget to share your thoughts with us.
There are only a few weeks of summer left, so make sure to soak up some sun and get ready for an intense business season.