Sign up for our newsletters and digests to get news, expert articles, and tips on SEO
Thank you for subscribing!
Now that the holiday season is over, our development team is back to work bringing you new updates. And the first batch of our 2020 updates is already live!
Let's take a look at the changes our team made to the platform at the end of last year and at the start of this year. And yes, we've already started working on making your New Year's wishes come true, giving priority to those who wanted to see new databases in SEO/PPC Competitor Research.
All of Europe in SEO/PPC Competitor Research
Since the SEO/PPC Competitor Research tool is very popular among our users, we tend to take really good care of it and even smother it with attention.
In line with this, we've added more than 20 new Google databases to the tool over the past two months. So, now it's official: you can do competitive analysis in every European country!
Specifically, we've added 10 new Google databases in December including Czechia, Estonia, Iceland, Latvia, Liechtenstein, Lithuania, Luxemburg, Moldova, Romania, and Slovakia.
We've also expanded our European database with such countries as Albania, Andorra, Bosnia and Herzegovina, Croatia, Cyprus, Macedonia, Malta, Montenegro, Serbia, Slovenia, and San Marino.
And in January, we've added two additional databases: Kazakhstan and Mexico. These last two were actually requested by our users, making them the first wishes we made a reality in 2020!
In the table below, you can see how many keywords are included in each database. And if you want to try them out, you are welcome to explore the tool.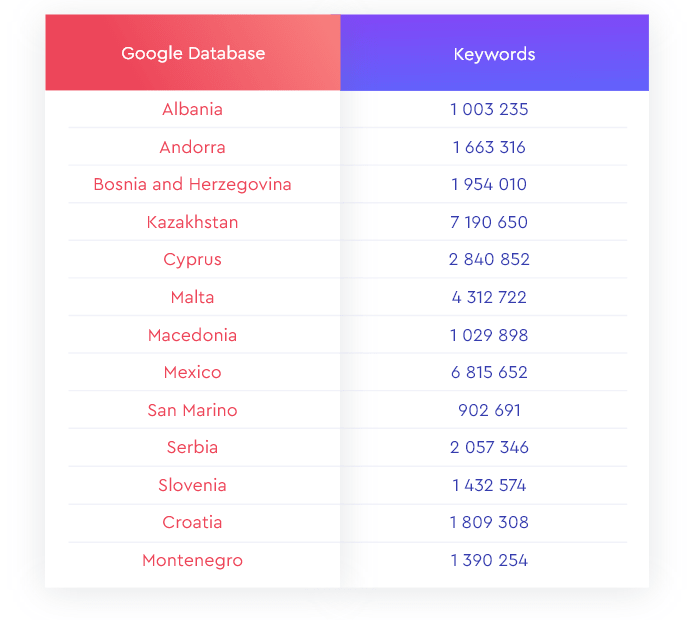 Faster and more personalized reports
Last year, we completely redesigned our Report Builder module, but our work isn't finished just yet. This year, we are focusing on making it even better.
Default templates
If you want to make quick changes to every report you subsequently send out, make use of default templates. Okay, but what exactly does this mean?
Should you choose to edit one of your templates (and it doesn't really matter if you're changing the logo, header or footer, section parameters, or something else), every change will be saved and included in your future reports.
Every account user, including subaccounts, can choose a template that will be selected by default. By the way, the first report you create will be automatically selected to be the default template, but you can choose another one from the list if you need to.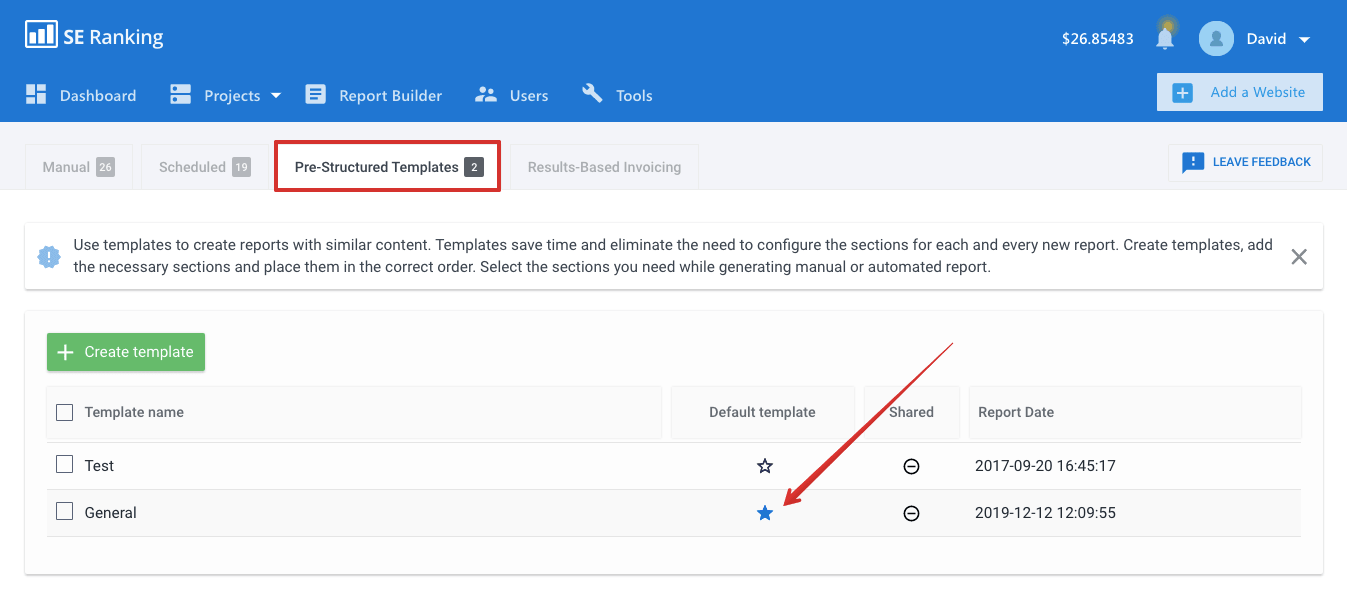 Note: If you change the logo in the default report template, the template will also change for every subaccount. However, if a subaccount user has already made changes to the default report, then the changes made by the main account won't be reflected in the subaccounts.
If you're white labeling, you can access the White Label section of the platform by going over to your personal account settings, and add your own logo along with the company name that will appear in your reports by default. Doing so will help you make changes to every report produced in the platform's tools like On-Page SEO Checker, and Lead Generator.

Optimized report creation and display in emails
Automated (or scheduled) reports are now generated 3 times faster. So, you can finally forget about waiting for 9 hours to get a project report.
On top of that, we did our best to give our reports a professional look. Now, the contents of your reports will occupy the full width of the email, making it easier to grasp data. Additionally, we decided to hide empty keyword groups from reports so that they don't distract you 🙂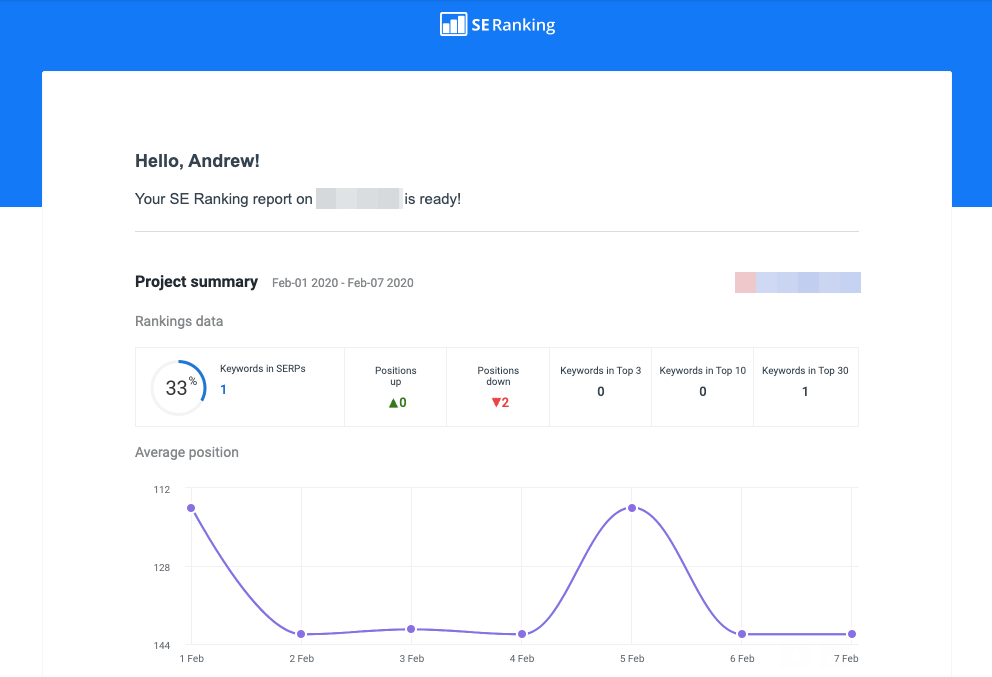 Improved PDF design
Our PDF reports now look better than ever! We removed the display of blank pages, configured the margins at the top of the reports, removed the incorrect transfer of data onto the next page, and made many more small changes. You can check out the new design now by going over to the Report Builder section. Just make sure to save your report in the PDF file format to see the new and improved design.
We have already reacted to Google's January update
You may have already heard that as of January 22, 2020, web pages with featured snippets won't appear twice on Google page 1. Now, instead of position 0, the Answer Box will be ranked in position 1.
The deduplication of URLs, as Google referred to the update, will help organize search results and make it easier for users to understand them. As soon as we saw the update, we realized that there's no time to wait around and so we reacted.
1. Now the Include Featured Snippets option is turned on by default for desktop search results. So, if your site gets into the Answer Box, it will be counted as position 1.
2. Made further improvements to mobile search result parsers, so that they also count the Answer Box as the top ranking position.
3. Changed the way the Answer Box is displayed in SEO/PPC Competitor Research. It is now also considered as position 1 by default.
Google employees claim that other SERP features will also be changed soon. But don't worry. We will immediately take into account any updates made by the search giant and will make respective changes to our tools. To stay on top of things, keep an eye out for our monthly platform updates.
Export data how you want
SERP competitors
You can now export data from the SERP competitors tool for a single keyword or for an entire keyword group. To do this, just click 'Export' and select the necessary option from the list.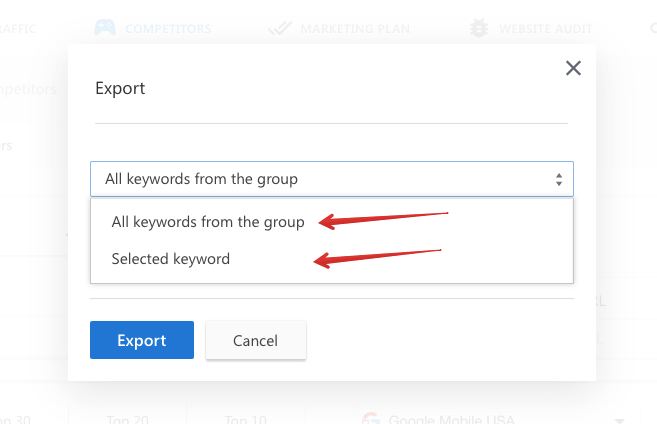 Note: The data exported for a single keyword and for a keyword group will differ. When exporting data for a single keyword, you'll get such info as the keyword, URL and ranking positions for the selected dates, Moz Domain Authority, and total number of backlinks. But if you're exporting data for a keyword group, you'll get the keyword, URL and ranking positions for the selected dates.
Rankings
To make it easier for you to understand data, we divided the SERP features information into two columns: "Found Google SERP Features" and "All Google SERP Features". In the first column, you will only see those SERP features that your site showed up in search for, while the second column includes every SERP feature that shows up for the target keyword.
A small change can go a long way
Every single change we make to the platform, even the smallest, seemingly insignificant one, is made with our awesome users in mind. Let's quickly cruise through everything else we changed in SE Ranking in January:
Added pagination to every table in the Analytics & traffic module. So, if you are working with a lot of data, the page will load up a lot faster and it will be easier for you to look through all the data.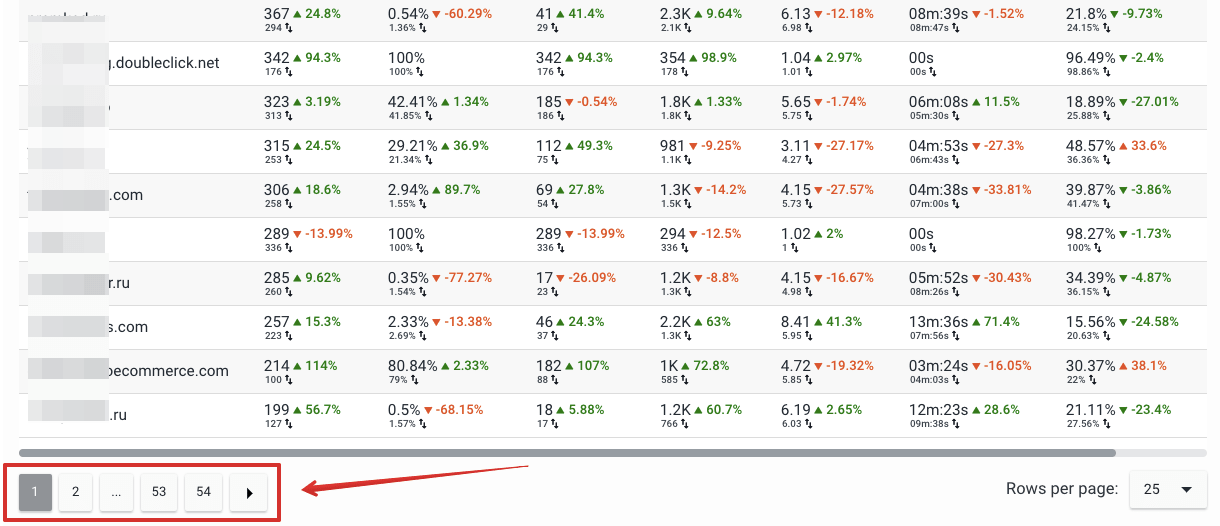 Configured the way notifications on backlink statuses, page changes, and website audit reports are sent out. Now, notifications are not only sent to account administrators, but to subaccount managers as well. This will help you quickly send out relevant information to everyone responsible for project promotion.
Implemented a new API method for keywords that have already been added to a project. This method allows you to add/edit any keyword's target URL. You can also change other keyword parameters in the project.
Educational video and webinars
Besides making changes to the platform itself, we are also hosting a couple of webinars and working on several educational videos that will help you understand our tools better.
In January, we hosted a webinar on how to do keyword research and competitive analysis in SE Ranking. During the webinar, we covered our tools that help you do keyword research, get keyword suggestions, analyze competitors, monitor pages for changes, and more.
We will also host two webinars this week. On February 12, we will do a webinar in Spanish on how to develop an SEO strategy for SMEs and e-commerce sites, and on February 13 we will be hosting our first webinar in Dutch with Patrick Heijmans on how to set up an online store that will drive traffic from search engines. Keep an eye on our blog to stay on top of everything!
And, saving the best for last, we have a new video segment called Smartest People in SEO where we sit down and have a chat with various SEO experts from around the world. Our first guest was expert on SERP features and branded search, Jason Barnard. You can catch the full interview here. 🙂
Sign up to our YouTube channel! We are constantly working on content that touches on the hottest SEO topics.