According to Koozai research 45% of businesses saw ranking changes from Google Mobile-Friendly update. And many of them lost their positions. But there is another side of the coin. Smart Insights analyzed that 48% of consumers use mobile search. Therefore, the search engines took mobility to the TOP of site ranking factors.

So, if you lost some positions you can either whine about Google Mobile-Friendly update or optimize your website in order and get those 48% of mobile clients.
Opportunities to look for
Opportunity №1: Organic Search + mobile-friendly website = loyal customer
In October 2016, StatCounter found that mobile traffic exceeded desktop visits. Overall mobile usage was 51.3% compared to 48.7% for desktop.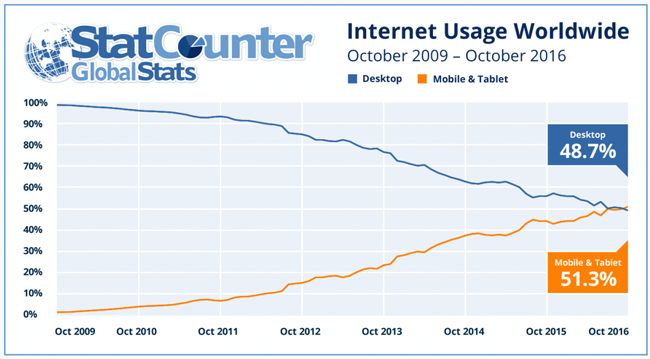 Therefore you can't ignore mobile users while creating or optimizing your website. Moreover, nowadays search engines rank sites on mobile and desktop devices in different ways, giving the advantage to websites with the mobile version or developed responsive.
Here is an example of Google SERPs for "pizza" from a mobile device and a PC:
See the difference? Websites uphold their rankings only when they have a mobile version.
Does your website meet the Google requirements? You can check it here.
Tip: Make your mobile visitors happy using one of these methods:
1) Responsive web design (RWD) – the server always sends the same HTML code to all devices and CSS.
2) Dynamic showing – the server responds with different HTML (and CSS) on the same URL depending on the user agent requesting the page.
3) Separate URLs – different URLs for displaying the site on the desktop and on mobile devices (i.e. example.com and m.example.com)
Opportunity №2: Text Ads + mobile-friendly website = loyal customer
Mobile and cross-device commerce has grown rapidly, and those retailers that can't master it will be left behind. That's the clear takeaway from Criteo's State of Mobile Commerce Report, which is based on a global analysis of 1.4 billion of online transactions.
The report found that 30 percent of all e-commerce conversions in the US now occur on mobile (with the smartphones transactions dominating the stats).
In addition, it's more difficult to ignore the ads in mobile organic search results.  PC user can easily scroll through the ads and continue to search for the right information. Mobile users don't have such opportunity – the ads displayed on the mobile devices tend to cover the entire screen.
Tip: Create semantic core based on simple queries, which consist of 1-2 words. It's not comfortable for mobile users to type long phrases. Also, use search suggestions from Google – mobile users often choose something from the drop-down list.
Opportunity №3: Email + mobile-friendly website = loyal customer
Over 36% of the smartphones and tablet owners are using iPhones or iPads to check their emails besides using their computers.  34% of them are not using the computers to go through their emails and are using their mobile devices for that solely.  According to more than 1 billion email opens each month tracked by Litmus' Email Analytics mobile opens have increased to 54% in June 2016 from 49% in June 2015 and 43% in June 2014.
Tip: Do not lose customers, test your communications that you are planning to send via e-mail to meet mobile-friendly criteria. Here are a few recommendations:
1) Keep your email width less than 600 pixels
When you have an image wider than 300 pixels at the top or near the beginning of your mail (usually your top banner), the emails that will land in your recipients' mailboxes most likely will have a huge empty space where the image supposed to be. Nothing screams "it's a spam" louder than an email built this way.
2) Fonts need to be larger, your content needs to be brief and precise
Your email needs to have a minimum 13 pixels font size with even larger sizes for headings and subheadings. This also means that the message has to be short and down to the point. With the wordy copy, you'll risk the email being deleted.
3) Call to action buttons and links should be clearly displayed and visible
Make it easy for users to head to where you want them to land your purchase page, signup form, etc. If the CTA is difficult to find and click on you risk losing your user's attention. Make these buttons at least 40 x 40 pixels.
4) Use single columns
While emails designed for traditional PC can make use of multi-column layouts, it's a no-no for the mobile viewers since you need at least 600pixels to make your email presentable.
5)  Short subject lines with 40 characters or less
This should be a no-brainer – smaller screen means less space. If you need to trim down your content, you should also apply this to your subject line. The rule is to grab your reader's attention in 40 characters or less (including spaces). In this aspect, be creative and compelling.
Opportunity №4: Branded traffic + mobile-friendly website = loyal customer
Branded traffic (queries, which include the company's name) bring more warm customers. These users already aware of the company and know what they are looking for, which means they are most ready to purchase.
33% of consumers start mobile research using branded query, according to Smart insights. Branded traffic depends on SEO, but not only. You should work on your brand popularity with great content on your website as well as published on the third party resources.
Tip: Publish quality and interesting content on your website and other authoritative resources and track the amount of branded traffic from mobile and desktop devices.
Opportunity №5: mobile application + (-) mobile-friendly website = loyal customer
26% of consumers start mobile research with a branded app (Smart Insights). Great example – the Facebook app popularity.
 Krista McLandress, the marketing manager of self-service app-building software company AppsBuilder, said that consumers nowadays are using mobile apps to research locations to shop, eat, play and relax – and it's up to businesses to be where their audience is. Most businesses understand that a mobile-friendly or responsive website is imperative to their business, but many still lag behind adopting a mobile app strategy.
Tip: If you are the owner of a service like SE Ranking or any other (taxi, food delivery, etc.), it makes sense to develop a mobile application. This move will show that you care about your clients.
Be mobile and see the results — and as always, use SE Ranking to check both mobile and desktop positions.