Sign up for our newsletters and digests to get news, expert articles, and tips on SEO
Thank you for subscribing!
Every day we receive dozens of reviews coming from happy clients. And most of them emphasize how helpful/prompt/patient/dedicated our support team is. It's true: our customer care team is a huge point of pride for us.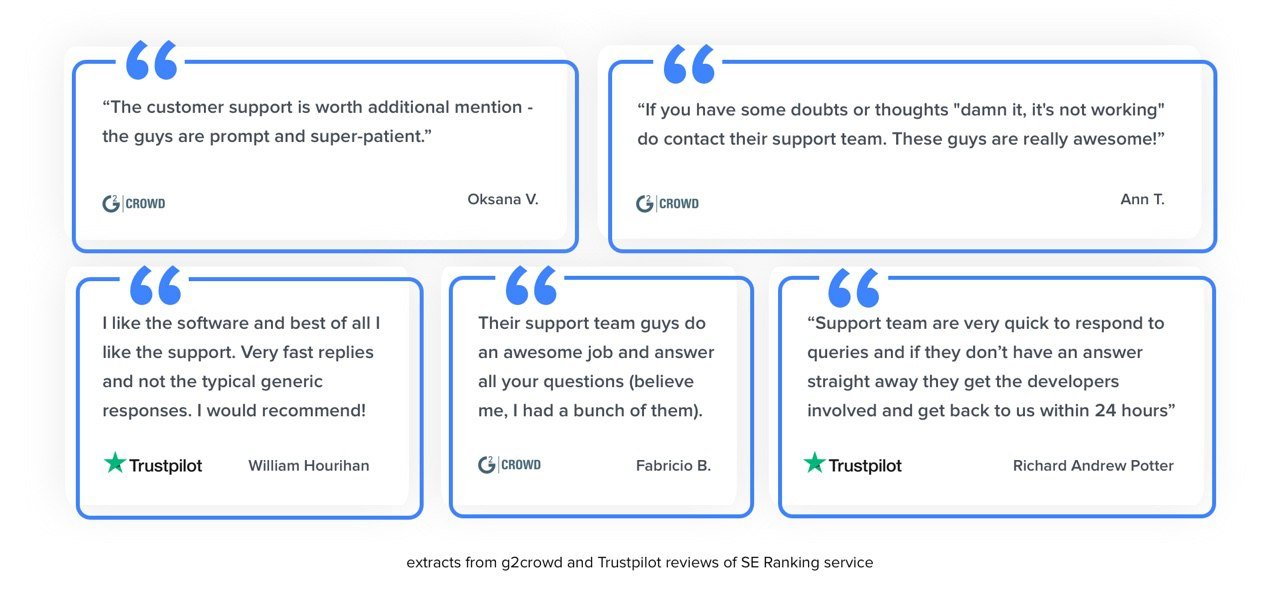 In this post, we want to share our experience and give practical tips on how to build excellent customer service at minimal cost, even for a complex SaaS product.
A special thanks goes to our Customer Support Team Lead, Ann Lebedeva, for the provided insights.
#1. Starting lineup: one basic tool and one support agent
We started out with just one agent, with whom users could get in touch through a ticketing system. The one we used was Kayako and it allowed us to store and see the history of user requests.
The following problem-solving cycle was employed: a user faces a problem → then sends a ticket to support → the ticket is processed → the user gets a solution.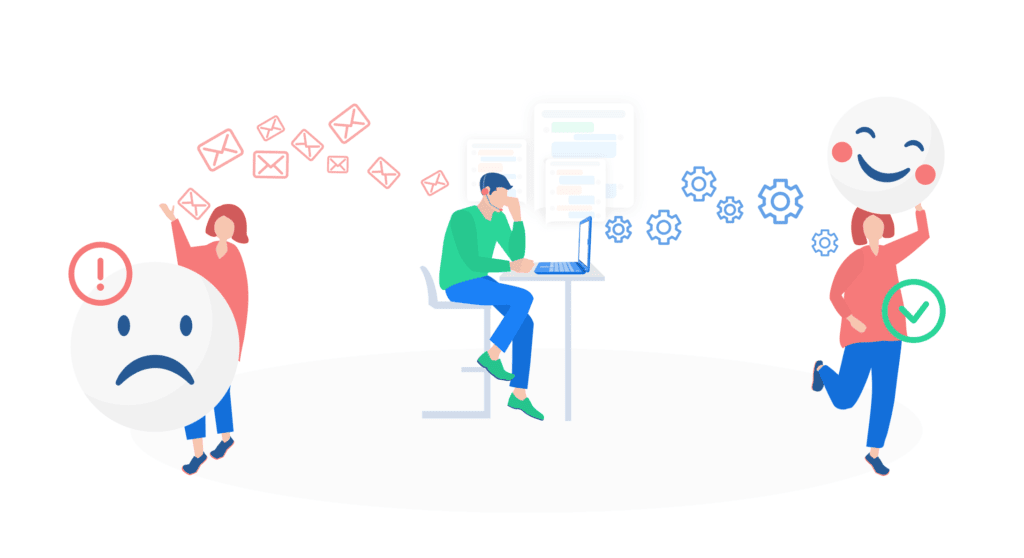 This was technically the simplest way to give users a hand when they needed it. Besides, it gave the agent time to consult with the tech team on complicated cases.
But such a system definitely had its limitations, which became especially apparent as the number of users and requests began to grow. But if you need to provide your users with basic support, having only one agent and using a ticketing system can be a way out.
#2. Real-time help as the next step in making your clients happy
Offline support is great but it cannot compete with instantly-provided solutions. If you want to keep users on a page, if you don't want them to get disappointed in the product, or, last but not least, if you simply don't want them to go away, you need a live chat.
But the chat itself doesn't solve the problem. The team behind the chat – your customer support agents – are the real heroes of the day.
As the product evolved and started to get more complicated, plus as the number of clients began to increase, it became apparent that we needed to expand our support team.
So, at the next stage, we had two support agents, and our basic toolset at that time included:
Kayako

ticketing system;

Zendesk

live chat;

SendPulse

email automation software;

custom-made internal system for automatic message triggering;

custom-made internal system for in-app notifications on product updates and changes.
Even though the combination of these tools could cover our needs, it was way too much to keep track of and worry about. First of all, the more tools you use, the more money you spend. The math here is simple. Moreover, you have more things to manage and new agents have more things to learn. And finally, if you regularly use several tools, be ready for one of them to crash every once in a while.
So, we started looking for a way out, seeking a tool that integrates the basic features we needed, including live chat, ticketing system, and email automation platform. The first option we went for was Intercom which met all of our feature requirements. However, the expenses turned out to be massive, so we started looking for more affordable Intercom alternatives.
We found our solution in HelpCrunch, a customer communication platform that was new to the market when we ran our first trial. But once we considered the features the platform had to offer and its price, we decided to take a risk and we were right to do so (you can find the full story of our cooperation and its outcomes here).
Now, it is not only an excellent tool for customer communication, but it's also a full-fledged marketing automation platform that gathers a 360-degree view of customer data.
For us, this meant that with this tool, our customer care team not only could support existing clients, but it also could start engaging new ones. How so?
#3. Providing full-circle customer care: from engagement to education
With the right tool in hand, customer support agents know that in addition to the user data they need for setting up an emailing (name, email, language, location), they also need information regarding the user's actions on the site. Such information includes user path data (where he/she came from, first visit, last visit, number of sessions, etc.) and the info on the pages the user has viewed.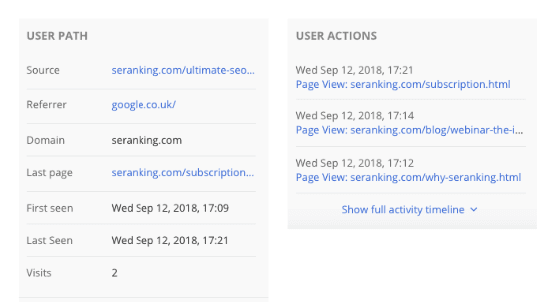 All of this data allows our agents to see how each particular user moves through a website, their needs and interests, which pages make them bounce. This information helps to develop an individual communication strategy with each particular visitor.
So at this stage, you can split your customer care team into two sub-teams: user engagement managers (responsible for converting visitors into customers) and client support managers (responsible for customer satisfaction).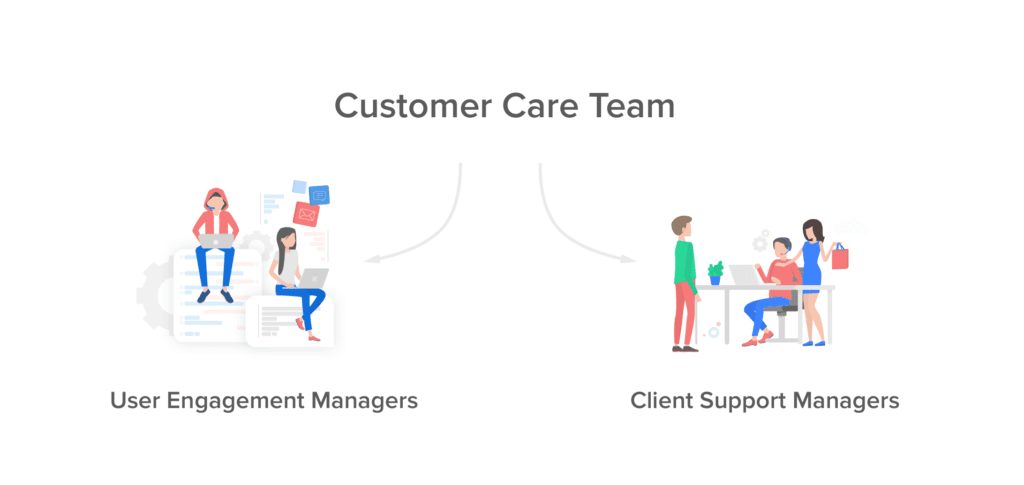 The user engagement team focuses on marketing tasks: telling users more about the product, answering questions regarding the platform, providing product updates, upcoming sales, webinars, etc.)
By using auto messaging via chat or email, you can set up a message trigger for visitors of a particular site section or page.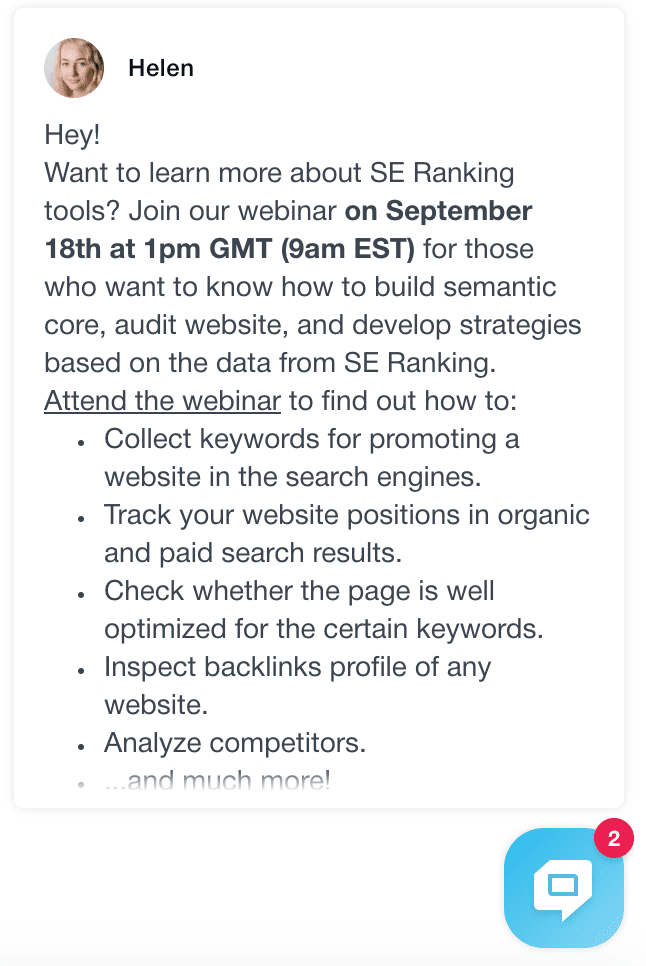 What's important here is to correctly target the audience of in-chat messages and emails. For signed-up users, you can choose different filters using all the information that's stored on them in the system. For example, you can send a follow-up message to users who (a) speak English, (b) have visited the site in the last seven days, (c) haven't made a purchase. It's possible to apply any variation of filters you can think of.
Another tool that proved to be useful is live demo sessions held by user engagement agents. During these sessions, users can get to know all the system's features and, if any questions come up, get a professional answer right away.
As soon as users become clients, they become a subject of care for the customer support team.
To make this work in the best possible way, both subteams (engagement and support) should closely communicate with each other, sharing information about users: who has worked with the client, what is already known about him/her, what problems have been solved, etc.
Another essential part of user care is the customer education program.
It includes preparing comprehensive help materials, well-thought-out FAQ sections, webinars, expert blog posts, and other measures that can help your users get better knowledge not only about your product but on the topic in general.
Creating educational materials builds customer trust and adds special value to your web portal.
#4. Secrets of successful support team management
When your customer care team has such a wide range of tasks on their shoulders, there is a clear need to create a team lead role to manage all the processes. When there's so much for each team member to know and to do, you need to develop a procedure for onboarding and educating new team members.
Here are some practical tips from our Customer Support Team Lead, Ann:
Prepare a detailed onboarding guide for newcomers
Apart from the comprehensive information about your product and your team policy, such a guide should include materials explaining the specifics of your business niche. For example, if you sell software for translators, your support agents need to know about the similar tools that are available on the market (your competitors, what are your advantages comparing to them, etc.).
Each tool of your software/service/platform should have detailed documentation explaining when people might need it, how it works, what its main and minor features are, etc.
Remember that the more time and effort you put into training new team members, the sooner and the better the results will be. So, hold personal educating sessions, run demos. Encourage other team members to support and help newcomers in their integration.
Set up a steady communication process between the client, the support team, and the tech department
In addition to the marketing goals defined for the customer care team, it is also tasked with assuring clients that their suggestions, requests, and problems are heard, processed, and fixed. So, the better communication is between the support and the developers, the faster user problems are solved.
The support team plays a major part in the process of releasing new product features: they analyze the initial feedback and transmit the list of needed fixes to the tech team. Each support agent should track the progress of the feature request he/she has created.
The support team knows the user needs best, so you can try testing your product ideas on them first.
Define KPIs for your support managers and track them
The work of support agents is quite challenging: your reaction needs to be immediate, the answers must be comprehensive and on point, and your tone should always be welcoming and friendly. But no matter how hard one tries, there are moments when something can go wrong. And the manager's task here is to spot the problem and figure out why it occurred.
For such matters, the integrated live chat feature is of great help. It allows users to assess the work of a support agent. For example, HelpCrunch offers a scale of three marks to indicate the quality of a user's experience with a support agent: great, average, and poor. The platform stores the history of all chats, saving their quality marks as well. So, the manager can ultimately choose the period for which it's necessary to check chat reports: how many of them an agent has handled, how many have been closed, how many of them were successful, etc.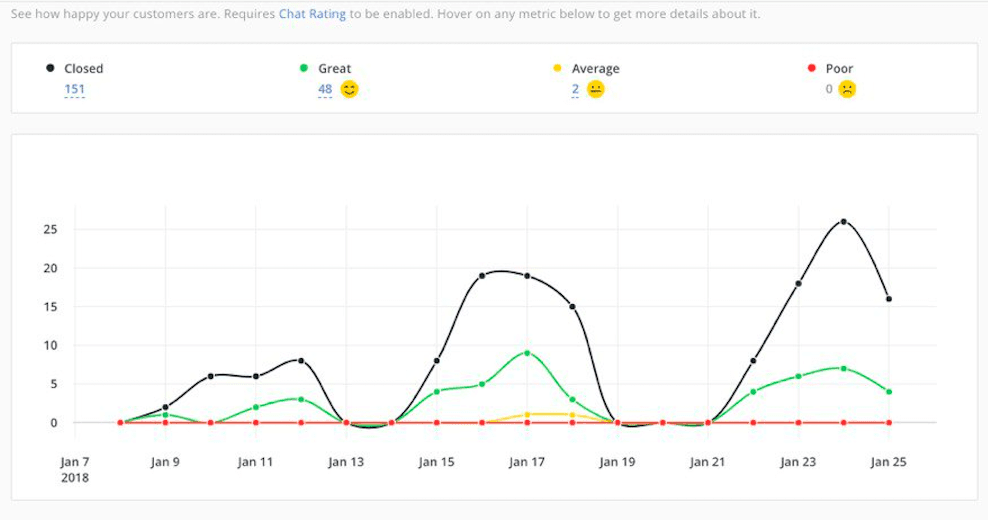 Such reports allow to spot chats with low rates, review them, define the problem and discuss it to prevent similar issues in the future. On top of that, the tool allows to track the performance statistics of each particular agent and the entire team as a whole.
When you have such clear stats on the number of chats (the good, the bad, and the ugly ones), you can easily set clear KPIs for your support superheroes: how many chats should they close per day/week/month; what average rate should they have, etc.
Bonus tip: the tools we use to make the customer support team efficient
Built-in admin control panel that helps to see the history of user actions and purchases.

HelpCrunch

as a live chat tool, an email and in-chat messaging automation platform, ticketing system, and customer support management tool.

HubSpot

helps to pursue marketing tasks by providing data on the customer's experience: did the user have a live demo, did he/she make a purchase, when did the user sign up, etc.

We use

Jira

to provide communication between the support and the tech teams. Sometimes user requests cannot be satisfied without technical updates or bug fixing. For the support team manager, it's crucial to know the progress on developer tasks created by customer care agents.

GoToMeeting

is used for live demos. The tool allows to share screens and give visual instructions to users.

Calendly

is a scheduling tool for arranging live demos.
Short summary
Customer support is not only about solving user problems or being reactive. After all, it's proactive work when you strive to prevent unpleasant experiences for the users, engage them in conversation and make communication as efficient and as comfortable for them as you can.
In addition to the support itself, your customer support can also include a user engagement strategy, and a client education program.
Building up a full-circle customer support service requires quite a lot of effort, but it can be done at a pocket-friendly price if you choose the right tools and devote the time to educate your team.