Sign up for our newsletters and digests to get an ebook on Backlink Monitoring
Thank you for subscribing!
Whenever SEO experts are asked what they do for a living, most of the time the answer you hear is: "I optimize websites so they rank higher in search engines like Google."
But what about optimizing the workflow to do more and do it better? The name of the game for SEO professionals today is to automate every possible thing, because time is money. And our all-in-one SEO platform called SE Ranking is perfect for this.
We did the math and it turns out that you can get over 30 key SEO tasks done using only SE Ranking's tools. But that's not even the limit. I'm sure you can find more ways of using our platform to maximize your SEO efforts.
Now, let's go through the main SEO tasks that can be done with the help of SE Ranking.
Semantics
1. Collect keywords
Creating a semantic core and then expanding it further requires you to find the right search terms. With SE Ranking's Keyword Research tool, all you have to do is enter a keyword or phrase, select the source (SE Ranking's internal database or search engine suggestions), and the country.
You can then sort the results by such parameters as search volume, competition, CPC, and keyword diffulty, and export the list in XLS or CSV file formats.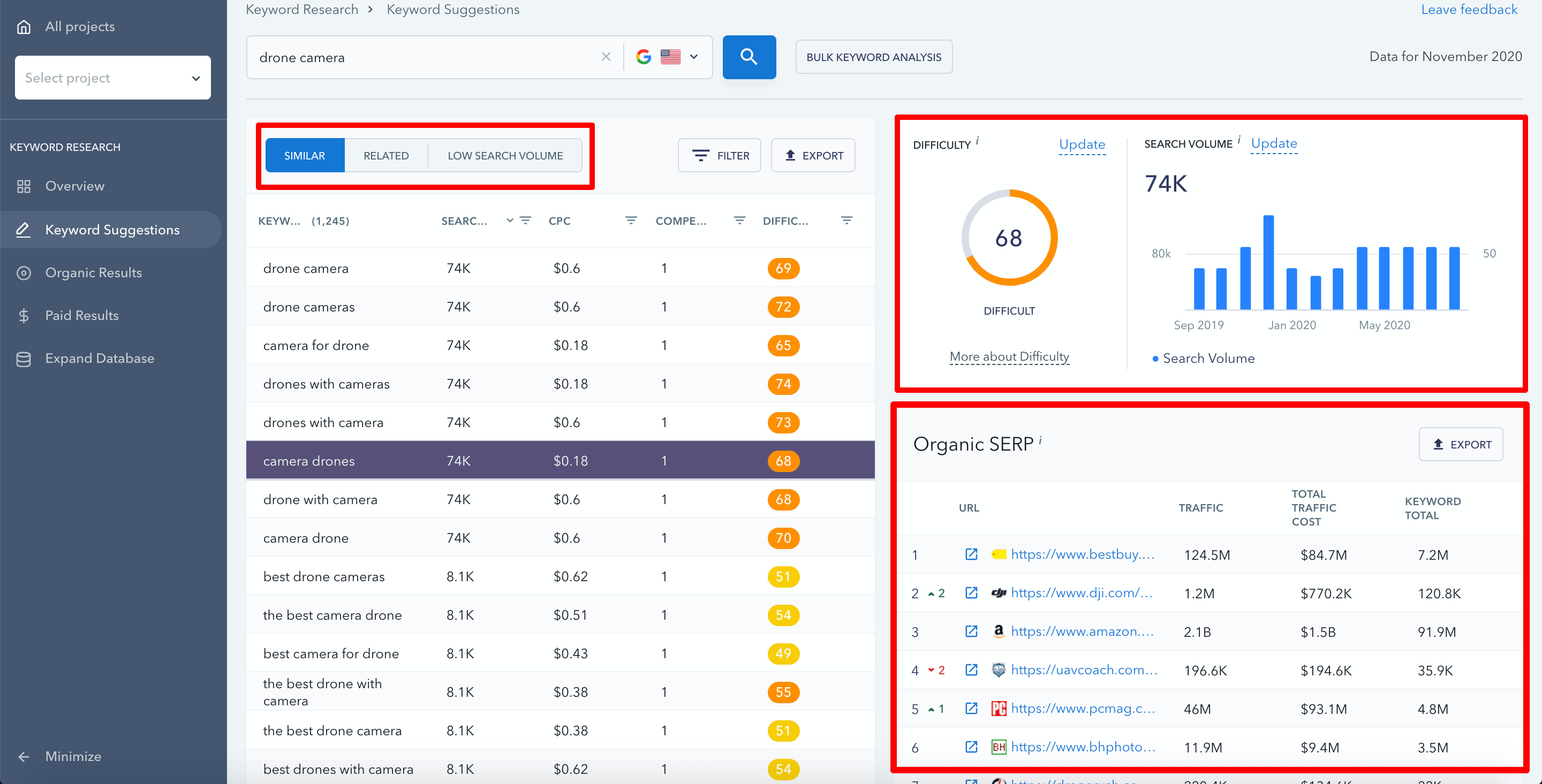 2. Expand semantics with search engine suggestions
Keep search engine suggestions in mind when collecting keywords. I'm referring to the popular search terms that start with the same letters as your query and appear in the expanded menu of the search box as you type in it.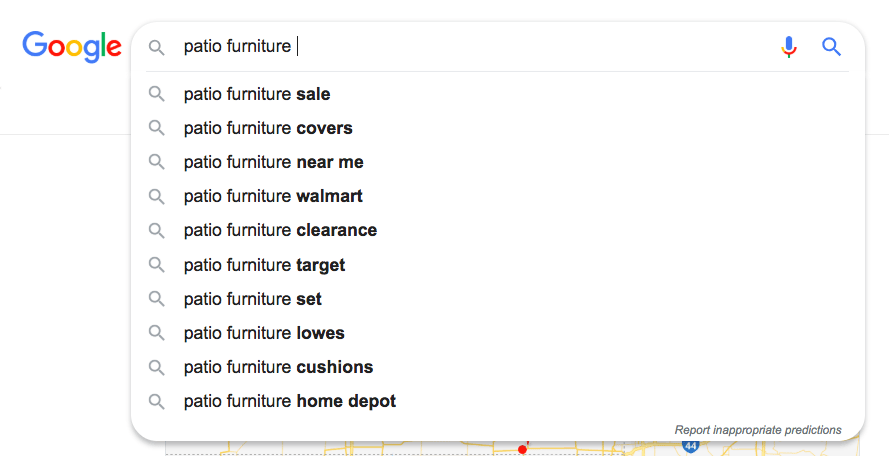 In SE Ranking, you can export a list of search suggestions for any keyword. Just go to the Keyword Research tool and there in the Low Search Volume tab of the Keyword Suggestions section, you'll find plenty of search queries.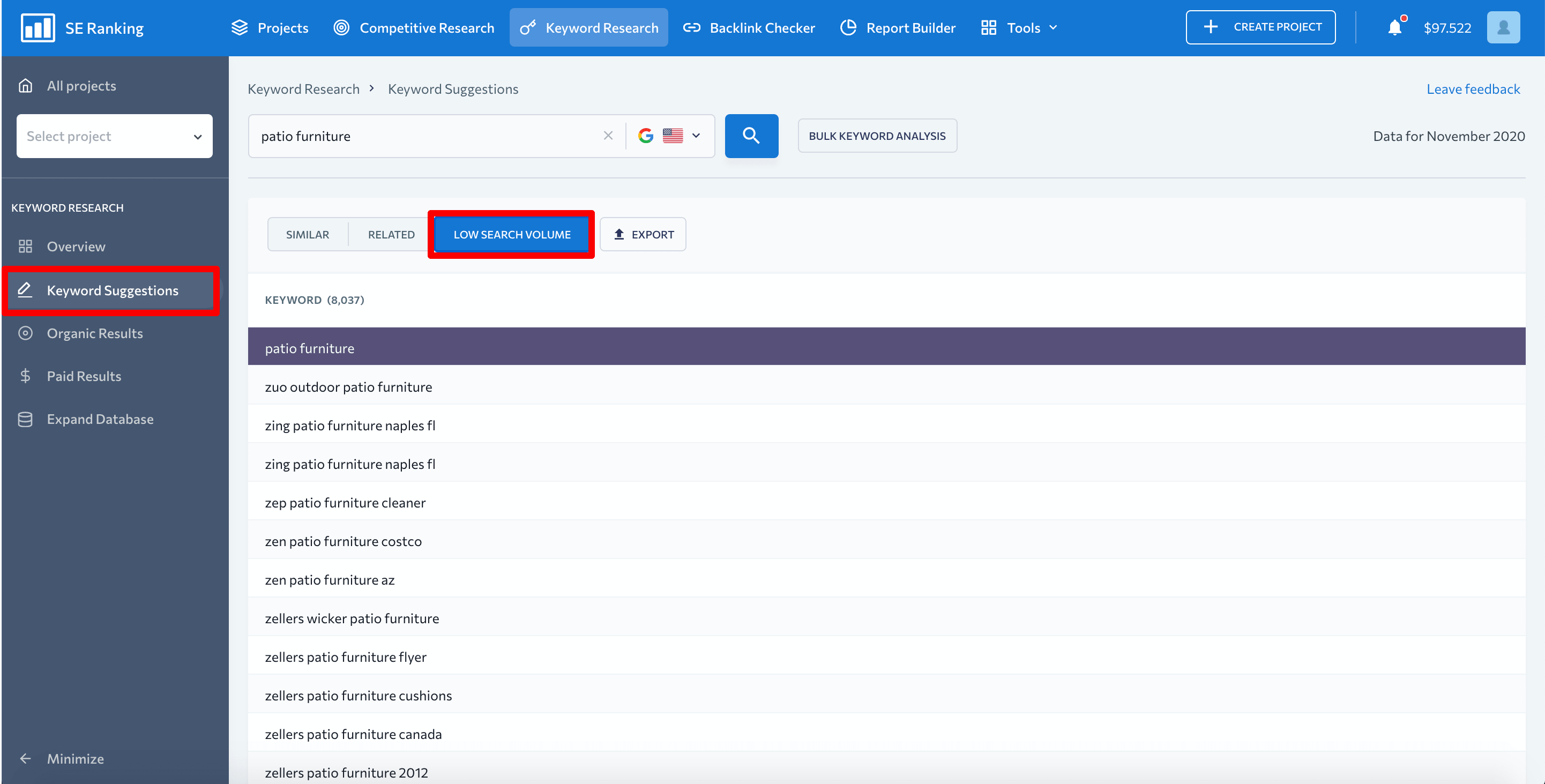 3. Find competitor keywords
As a rule of thumb, relevant keywords that are already popular and effective in your niche are used by your competition. Being a vital source of keywords, it is strongly advised that you research your competitors as you're putting your semantic core together.
Finding competitor keywords in SE Ranking is easy as entering a competitor's domain into the SEO/PPC Competitor Research tool's search box, and hitting 'Enter'. In the Organic Keywords section, you will then see a list of organic search queries that your competitors already rank for in the SERPs. In addition, you'll get a list of keywords they run on Google Ads. Hit the View detailed report button to see all the keywords your rivals use along with some handy graphs.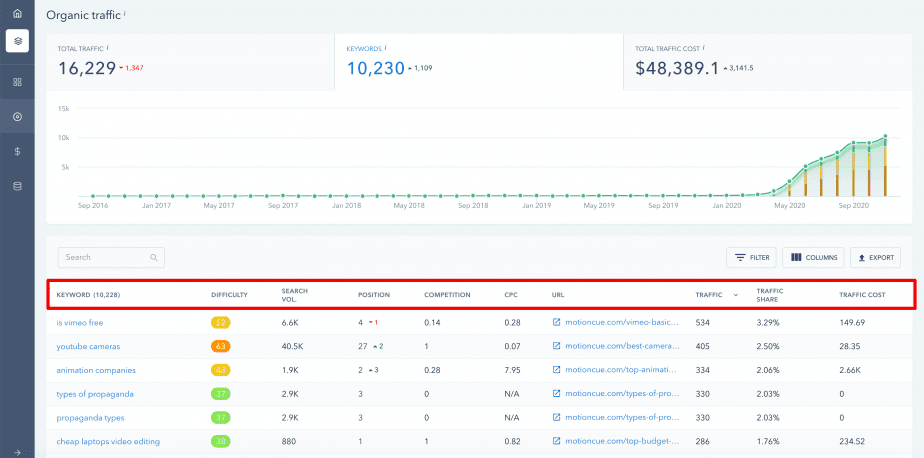 4. Group collected keywords
Now that you've created a list of keywords using our Keyword Suggestions tool and expanded it further with your competitor's keywords, you have a solid semantic core you can put to use. The next step is to bucket your keywords into groups. These keyword groups can then be spread out among different web pages and used in the website's SEO structure planning as well.
With the Keyword Grouper tool, this task can be completed in a matter of minutes. Select the country, region, Google interface language, plus define the keyword grouping accuracy (minimum number of matching URLs), and the automatic grouping method (Soft or Hard). The higher the grouping accuracy, the fewer keywords will be put into the same group. Ultimately, you get a grouped list of keywords along with their search volume data.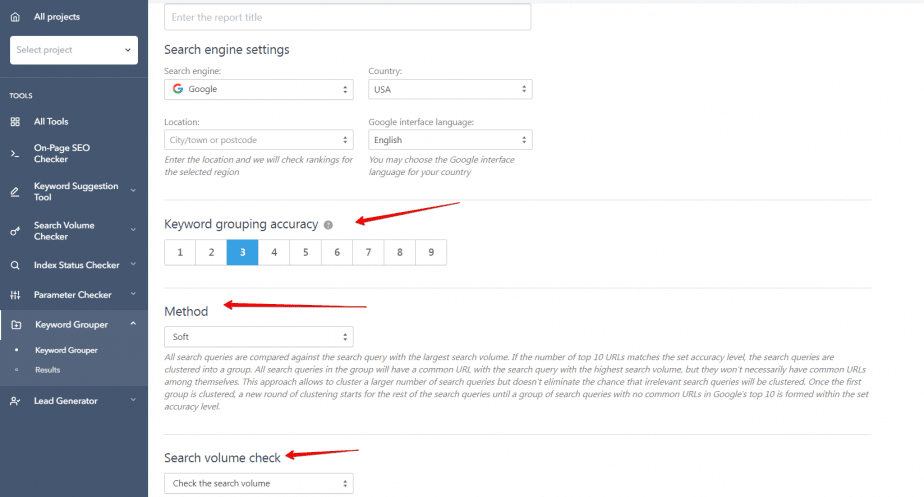 5. Check keyword search volume
The search volume is arguably one of the most, if not the most, valuable and useful keyword metrics. It lets you calculate the estimated traffic volume and focus on the most promising keywords.
At SE Ranking, we use Google Keyword Planner data to indicate the search volume. Just go to Search Volume Checker, choose a country and find out how popular a keyword is.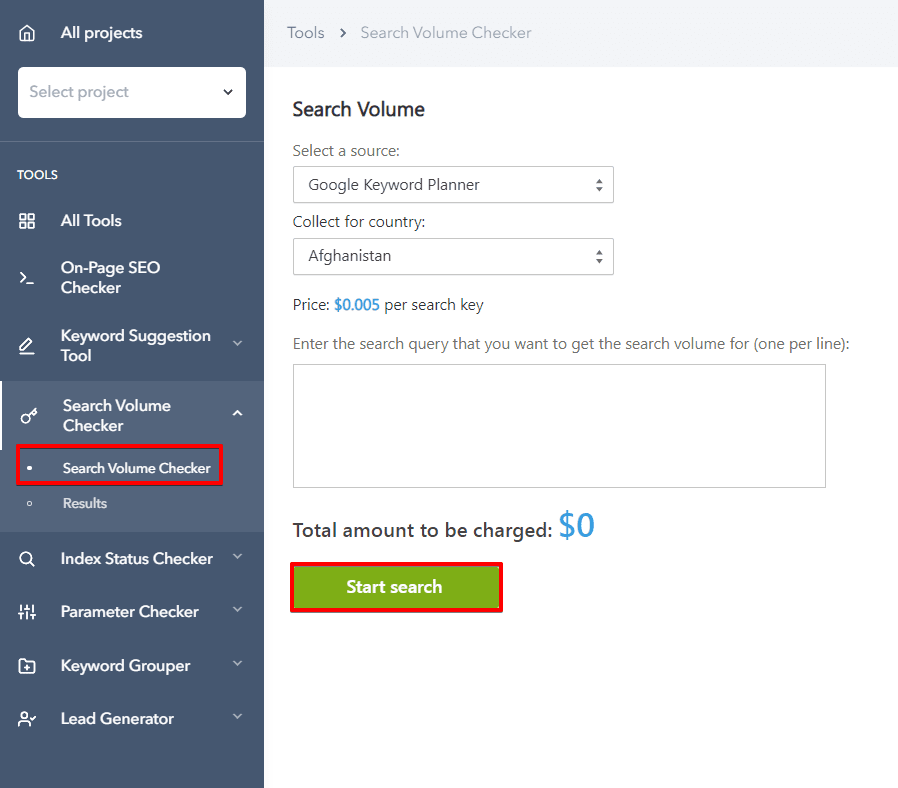 6. Analyze keyword competition
Another parameter that can help you assess keyword potential is the level of competition. In SE Ranking, this parameter is expressed in percentages and is based on Google Keyword Planner data.
To find out what a keyword's level of competition is on Google Ads, you must first add it to your project. Only then will you be able to see this parameter under the Rankings tab. The higher the number, the steeper the competition.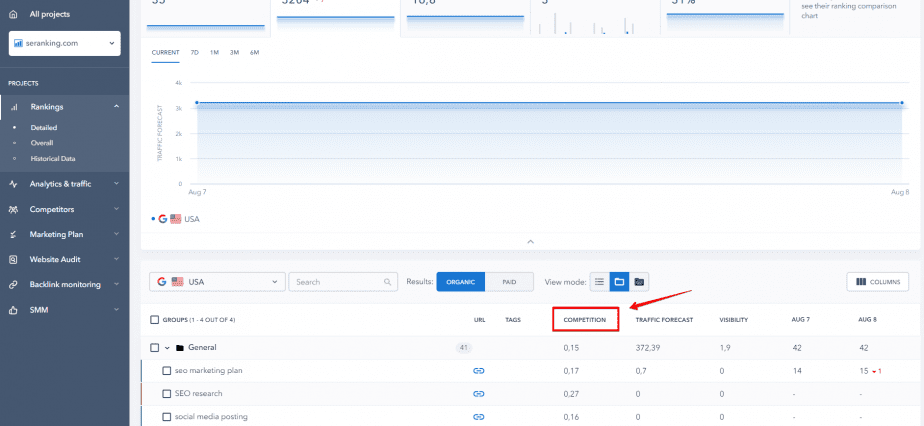 7. Delete keyword duplicates
Yet another step on the way to creating the perfect semantic core is cleaning up the keyword list. It's crucial to remove all duplicates to make sure that everything goes according to plan when tracking rankings and splitting keywords among pages.
The good news is that the platform itself will suggest you remove duplicates from your keyword list as soon as you add it to a project. Doesn't seem like a big deal, but you'll do your SEO a favor.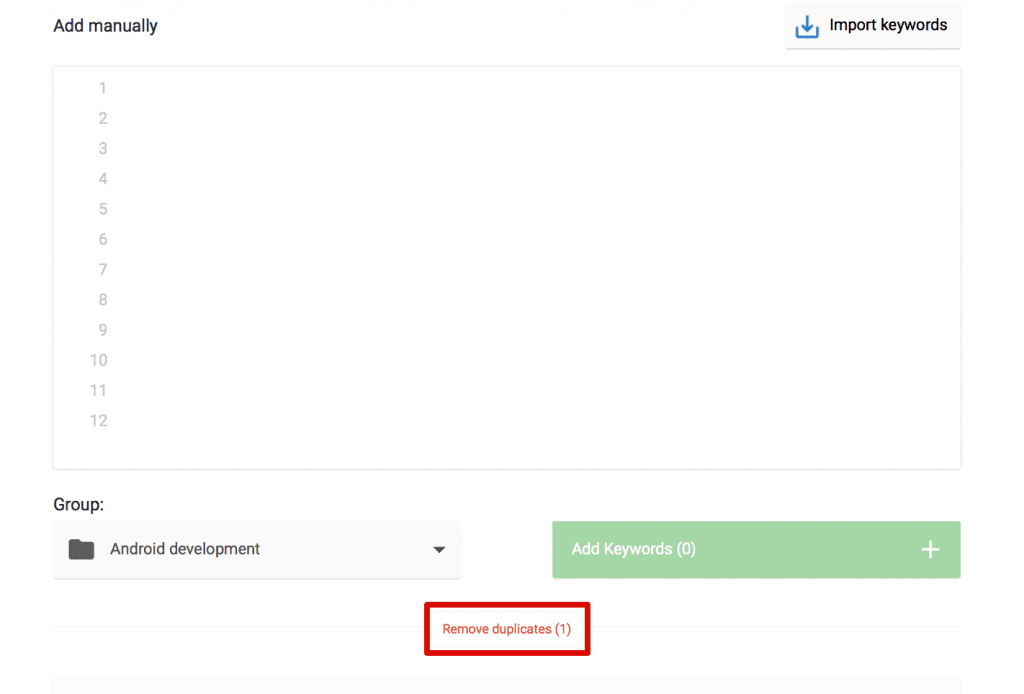 On-site optimization
8. Check how well a page is keyword optimized
Optimizing a web page for a specific keyword requires you to look at a number of things, such as meta tags, URL, content, keyword density, and more. But in order for everything to work, the content must foremost be unique.
With the On-Page SEO Checker tool, you can check all of the necessary parameters in one go. Several minutes after entering the web page URL address and the target keyword, a detailed error report along with fix suggestions will be provided.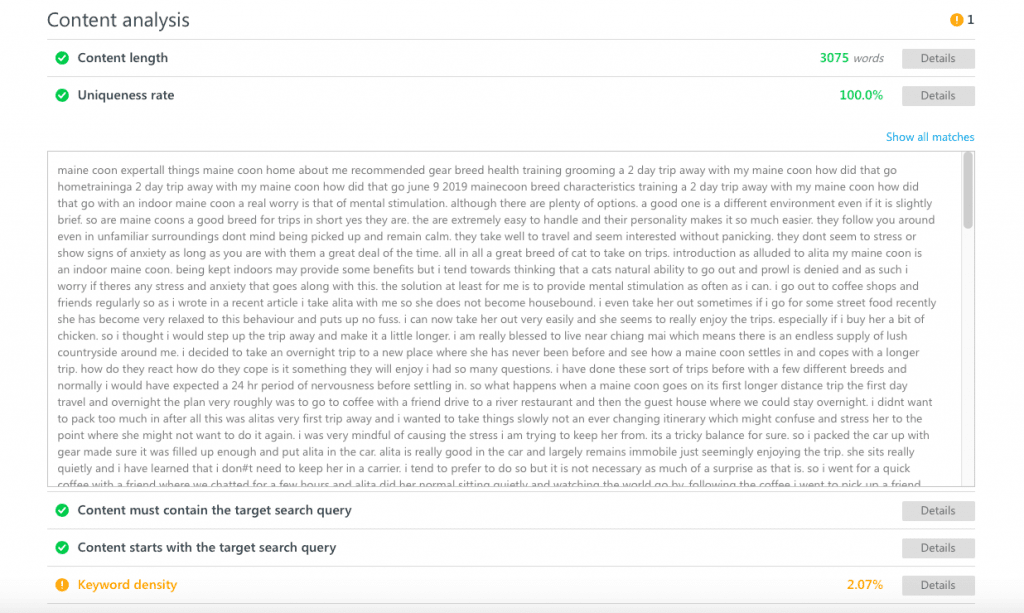 9. Remove page duplicates
If you have several duplicate pages, meaning those that only differ in the URL and appear due to technical issues, there's a good chance the strength of your web pages will be diluted and, as a result, they will have issues showing up organically in Google searches. Because of this fact, it's best that you remove every page duplicate.
In the Website Audit report, you can clearly see if there are any page duplicates on your website. Since a website's SEO health is of critical importance, SE Ranking automatically runs the Website Audit as soon as a website's added as a project, and emails you the report.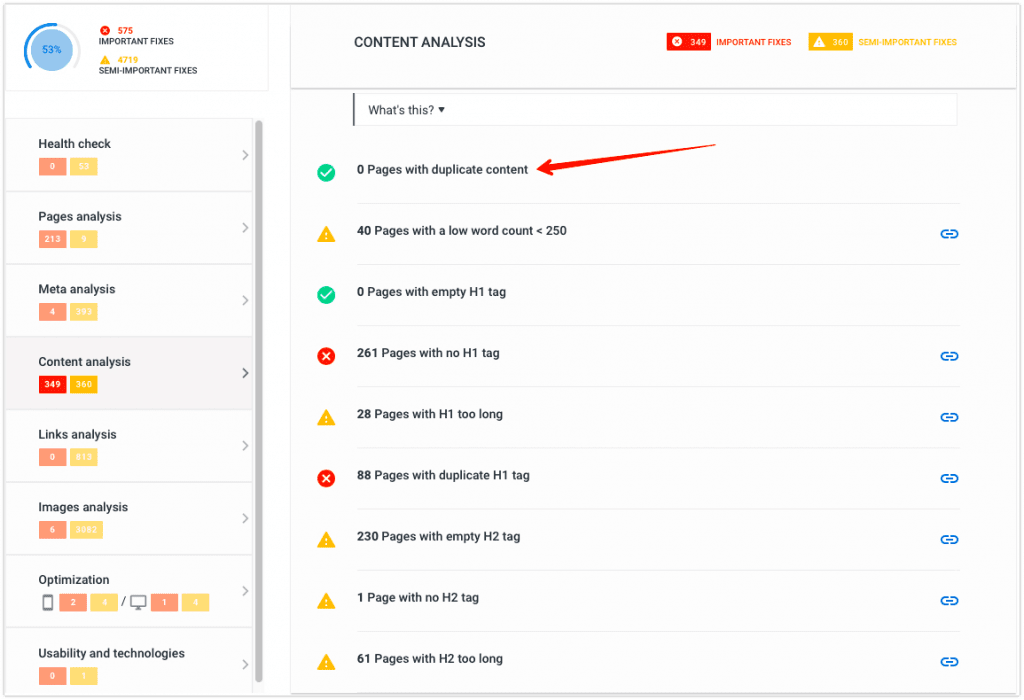 10. Make sure metadata is well-optimized
Website meta tags and titles must be unique, of adequate length, and contain target keywords. But most importantly, they must successfully tell search engines what each web page is about.
The Meta Analysis tab of the Website Audit report gives you an overview of your website's pages. Seeing the full picture presents you with the opportunity to spot and quickly react to new issues. By clicking on the Link icon, you can access the full list of problem pages and work from there.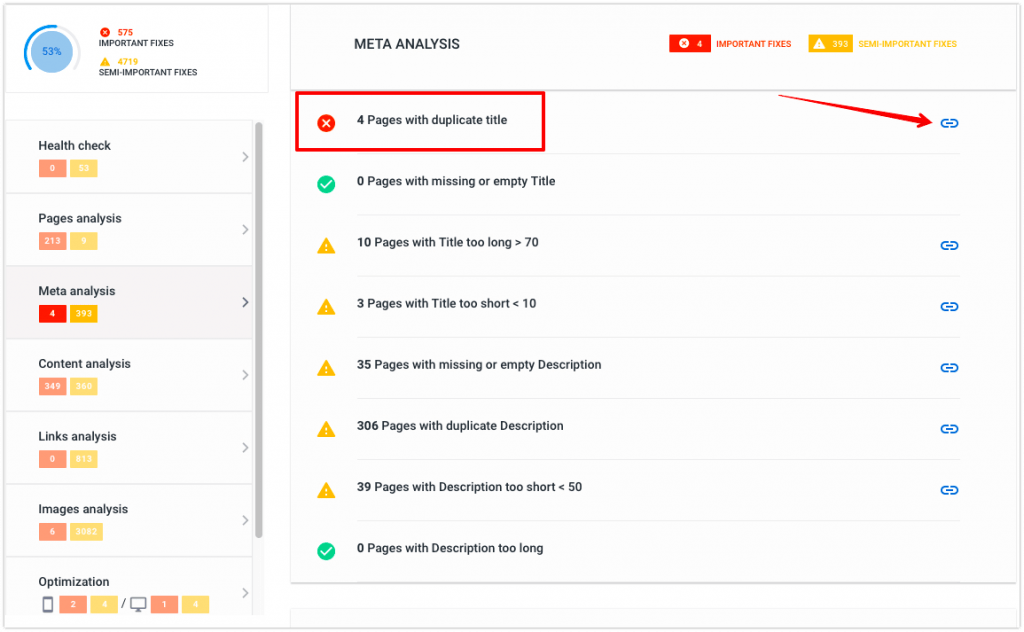 11. Fix broken links
The infamous 404 Not Found error code means that you're trying to reach a page that doesn't exist. Oftentimes, this happens because of a broken link. The bottom line is that these pages waste the valuable time of search robots and are usually an eyesore for visitors. This is exactly why they need to be found and fixed.
Under the Crawled pages tab of the Website Audit tool, you can sort pages by status code to see which ones are 404. That way, you see all 404 pages, if any, and are able to find all the pages that link out the page in review by going to the Referrer pages column.
Once you have the data, think about what to do with the pages and the links—fix or delete them for good.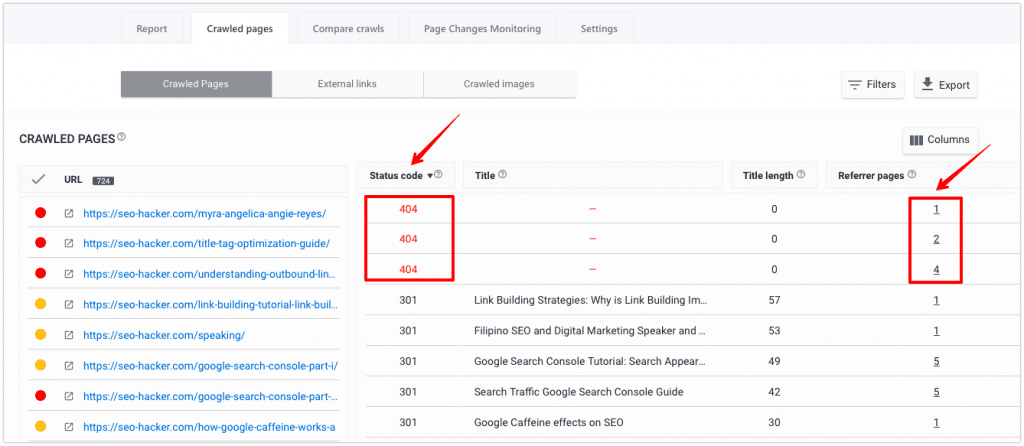 12. Optimize images for search
To boost your chances of getting your images found in search, you need to use the target keyword in image alt texts, text around the image, file name, and page title.
The Crawled images tab of the Website Audit tool provides a list of images found on your website along with their URL, alt text, and status.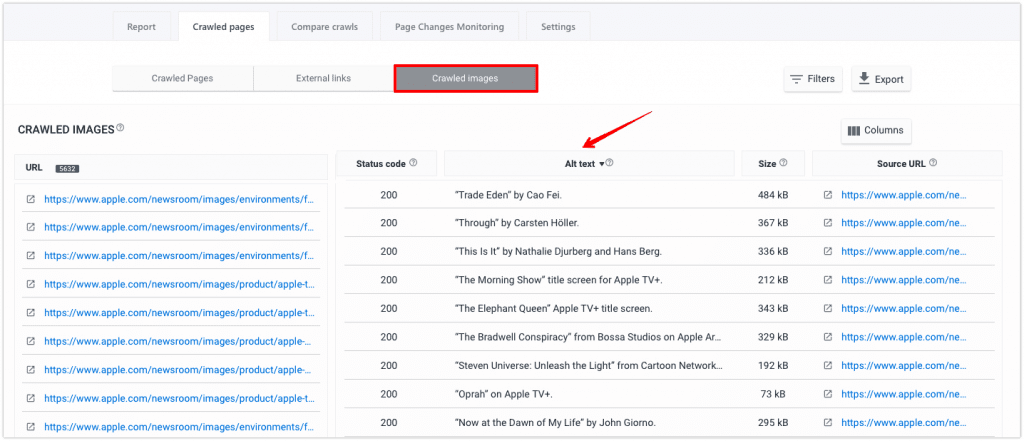 13. Check cross-device optimization
If your website isn't working properly on mobile devices, you're losing a lot of conversions, ranking spots and search engine trust. And there's no way around it. Google prefers responsive design pages when making ranking decisions.
Keep tabs on your website's cross-device optimization status with the help of the Website Audit tool. The Optimization tab has all the details on what's wrong and suggestions on how to fix it.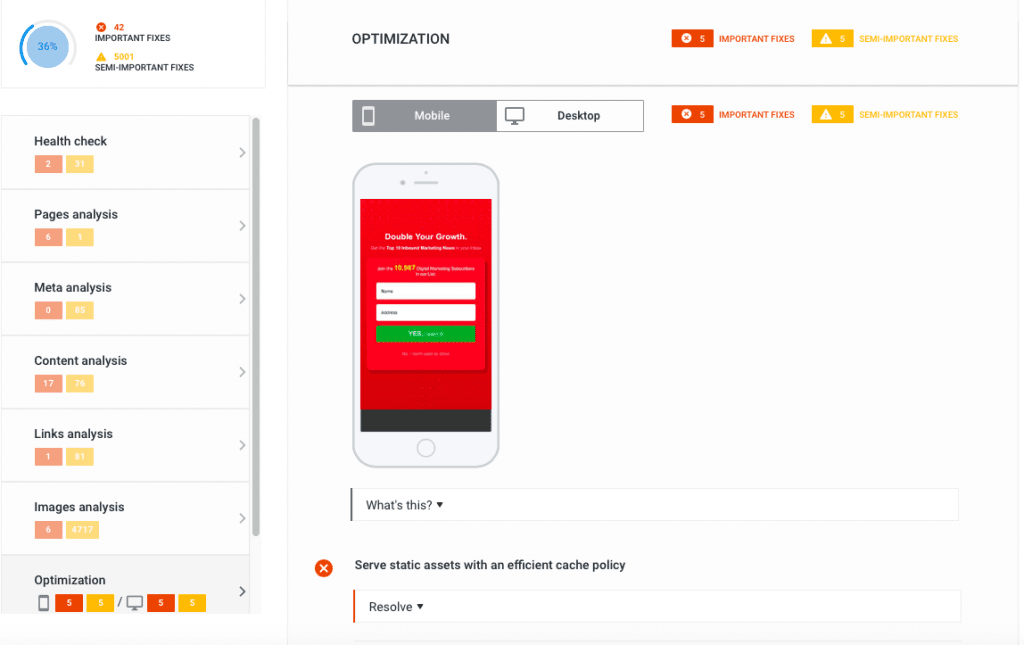 14. Resolve HTTP error status codes
In order to understand what information search robots get when crawling your website, you need to have the relevant HTTP status code stats on all of your pages. Ideally, all of your web pages should return the 200 OK status code.
Under the Page Analysis tab of the Website Audit tool, you can see all of your web pages grouped by their status code, and analyze each group by clicking the Link icon on the right-hand side.
Off-site optimization
15. Get a complete list of backlinks from any domain
The quantity and quality of backlinks significantly impacts website rankings. This is why you need to know how many backlinks your website has as well as the quality of each linking page.
With the Backlink Checker tool, you can get a list of every backlink and its data. Simply enter a domain or an exact URL, if you want to scan the backlink profile of a specific page, and hit 'Get Backlinks'.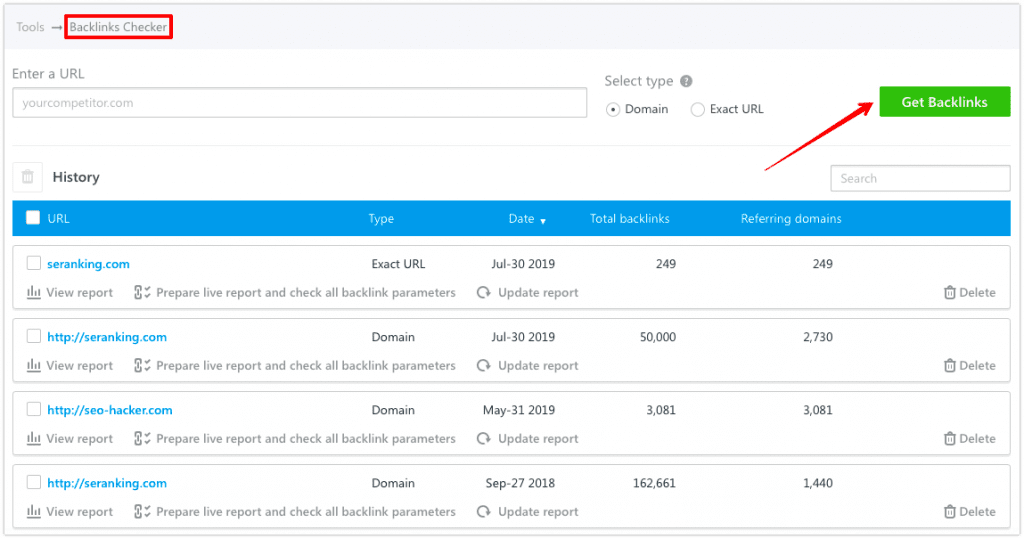 16. Monitor backlinks
Once you have the entire list of backlinks, add it to the Backlink Monitoring tool. Doing so will enable you to keep a finger on the pulse of the backlinks and take timely action if anything changes.
In turn, the Backlink Monitoring tool provides additional information on each added backlink, such as its overall and search engine index status, Domain Trust and Page Trust scores, Alexa rank, destination URL, and anchor text.
17. Set up a disavow file
Backlink analysis can reveal links of poor quality. If you can't negotiate their removal, Google recommends creating a list of links you don't want to be taken into account when ranking your web pages via Google's Disavow Tool.
With the Backlink Monitoring tool, you can mark the links you want gone from the SERPs and send them to the disavow list, signaling to Google that you want to ignore these specific backlinks for ranking purposes.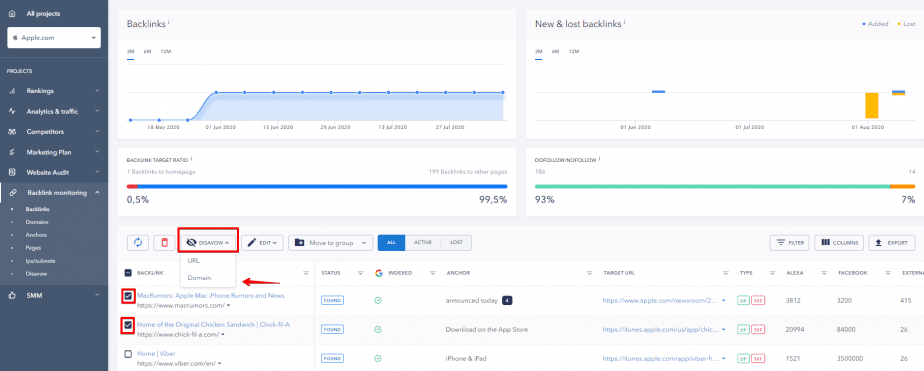 18. Verify backlink anchor texts
The list of anchor texts contains phrases within your content that hyperlinks are attached to. According to best practices, quality anchors must organically feature the target keyword, fit into the content, and give an understanding of the content that's on the other end of the link.
You can use the Backlink Monitoring tool to check backlink anchor texts. Plus, you can choose to ignore Nofollow and Disavow links. Moreover, you can also see how many websites linked out to you and what anchor text was used.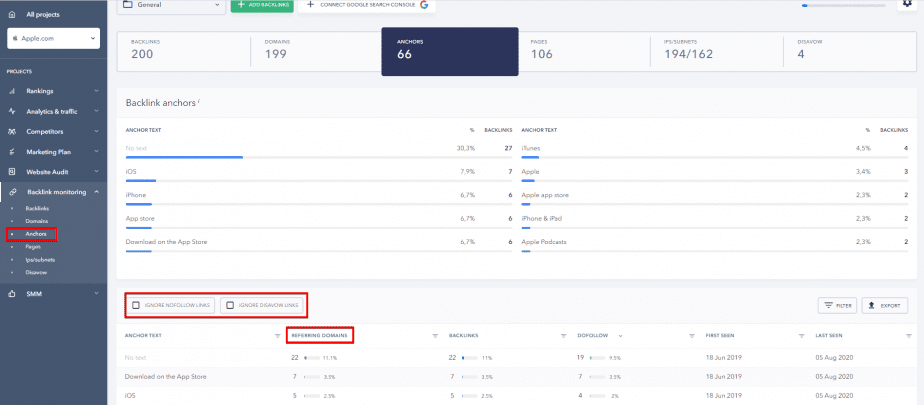 19. Explore link-building opportunities
Organically placing links on various platforms helps diversify your backlink profile and drive the target audience to your site. But where can you find new platforms to link out on? Spying on the competition is always an option. Perhaps, they've already found a good link-building opportunity that you can also try to take advantage of.
With our Backlink Checker tool, you can get a list of backlinks from any one of your competitors along with data on each backlink's type, Domain Trust, Page Trust, and Alexa rank. Analyzing all of the available data can ultimately help you understand who you can reach out to place backlinks.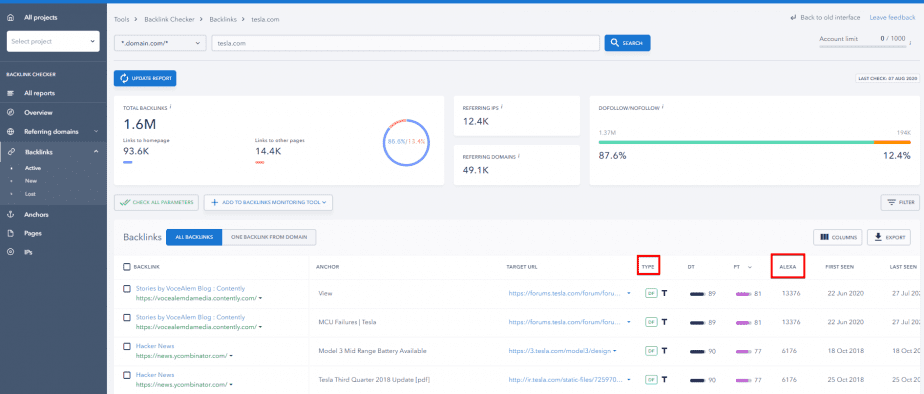 Reporting
20. Create a progress report
Clear, structured reports help understand and evaluate the work of SEO specialists. While some clients are only interested in seeing SERP rankings, others might demand you show them a detailed analysis of every single optimization aspect.
With SE Ranking's Report Builder, you are at liberty to create the exact kind of report you need. Add your own cover page, table of contents, edit the content, and leave notes. Plus, you can include such sections as Rankings, Traffic, Competitors, SMM, Website Audit, Financial Report, Marketing Plan, and full Account Report.
Moreover, each report section can be added or removed depending on what you need, and, of course, the report can then be downloaded in PDF, HTML, XLS file formats.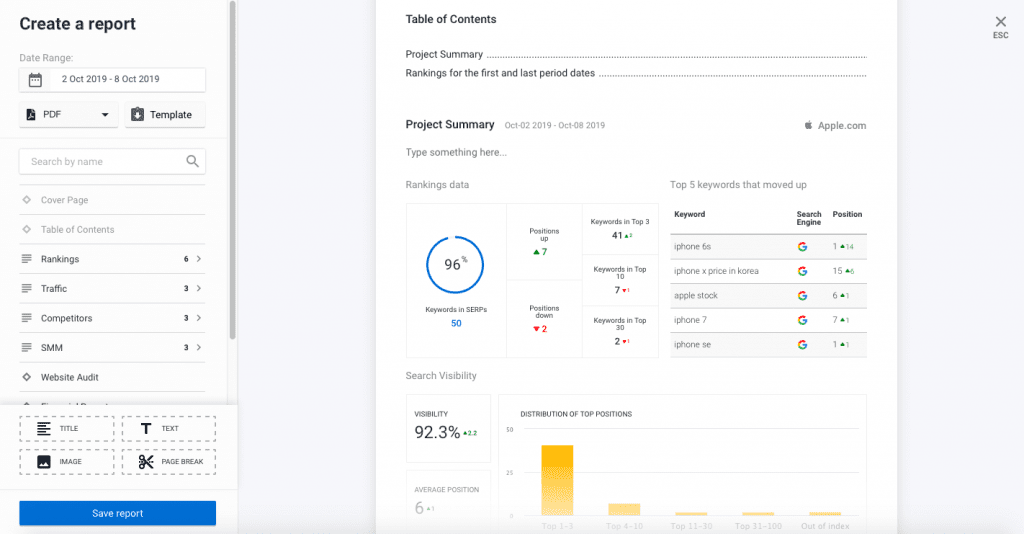 21. Automatically share reports via email
Website progress reports may be of interest not only to your clients, but to your marketing team, colleagues, and senior management as well. But creating and sending them out manually seems like an awful waste of time. For situations like this, every SEO expert needs to be able to send out reports automatically to help stakeholders stay on the same page.
Under the Scheduled tab of SE Ranking's Report Builder, you can automatically send out regular reports to 5 different emails.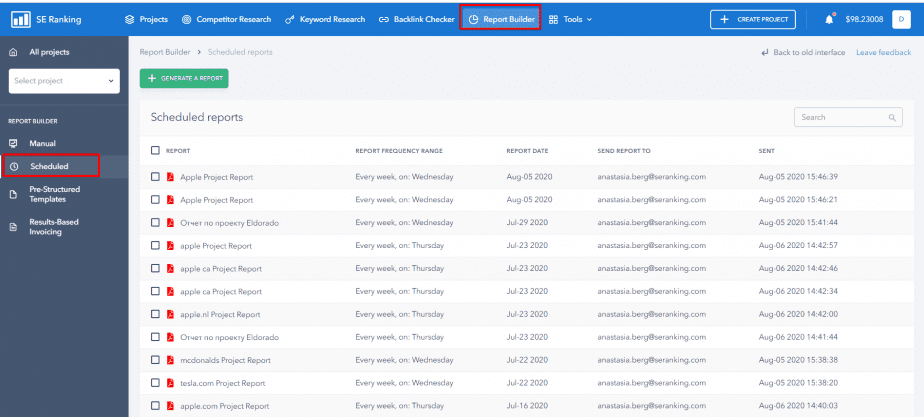 22. Share real-time data with multiple users
Some projects require the client to work side-by-side with the SEO expert to approve the keyword list, agree on the optimization work ahead, evaluate potential backlink partners, and so on. But downloading all the data, editing it, and uploading it back to SE Ranking is extremely inconvenient and is a total waste of valuable time.
Our platform helps out with this by enabling you to give other users access to your projects. Indicate which sections you want to hide, and decide if you want other users to make changes or create new projects. Simple as that.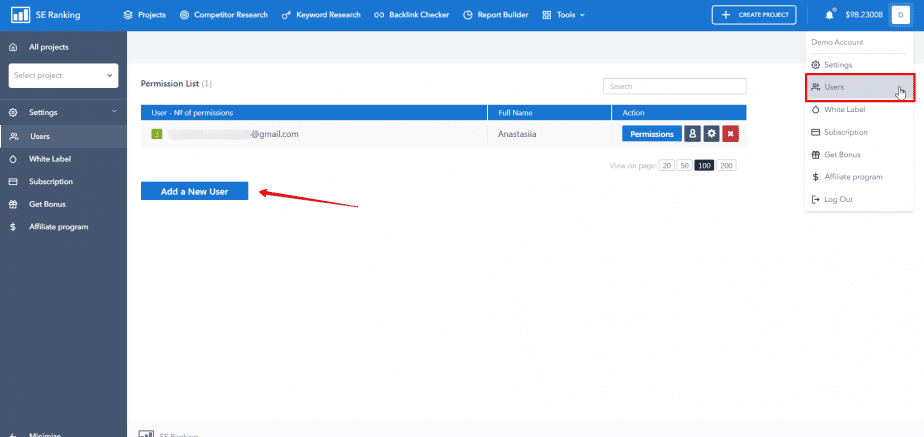 Competitor research and analysis
23. Find out competitor keyword rankings
Analyzing how your competitors are ranking for the same keywords that you're trying to rank for will help you stay up-to-date on their ranking dynamics and overall results.
When you create a project in SE Ranking and add keywords that you want to track, you can conveniently add up to 5 competitors for free and track their rankings for the same keywords you're using in your campaigns.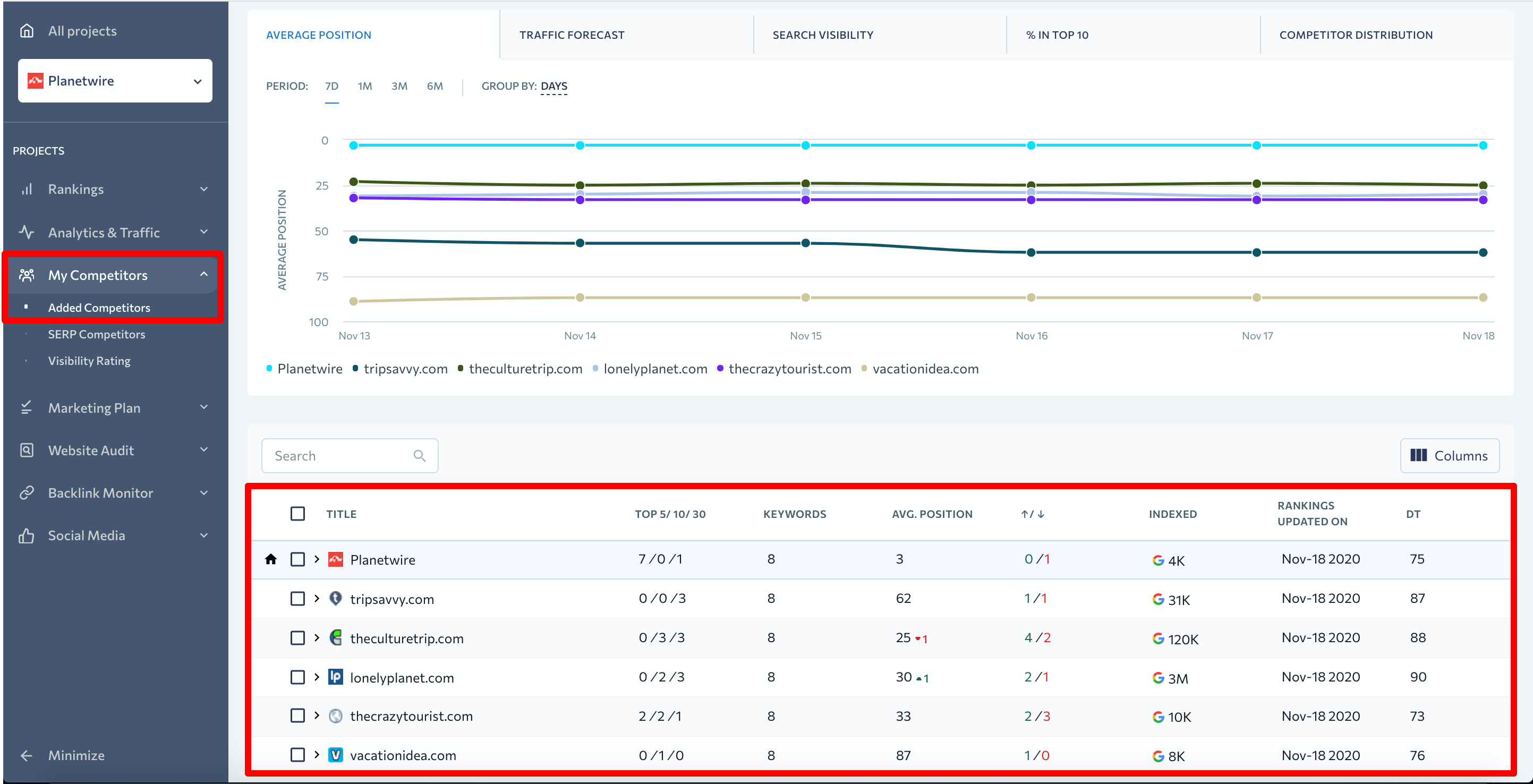 24. Analyze the top 100 search results for any keyword
Keyword search engine results pages are always changing, but you can get a good sense of their environment by analyzing the top 100 search results. This will allow you to find out how often the SERP leader changes, which websites are featured among the top 10 results more often than others, where the competition's ranking, who's new, etc.
With our SERP competitors tool, you're able to see the top 100 Google, Yahoo, Bing, and Yandex search results from practically anywhere in the world for every keyword tracked in your project. The tool can be accessed from the Competitors tab. Just select a keyword from the list and start analyzing the data.

25. Monitor how search results change over time
This SEO task goes hand in hand with the previously mentioned one. Looking at the SERP results for a specific day won't help you a lot. But if you take a look at the dynamics, then we've got a different story.
With the help of the SERP competitors tool, you can pick a time period or several random dates and look at how the SERP transformed over time. On top of that, you can tag the websites you're competing with to instantly see your direct rivals, partners, promo platforms—it's up to you to decide how to label them. Data on Domain Trust, Alexa rank and the total number of backlinks is available for each domain as well.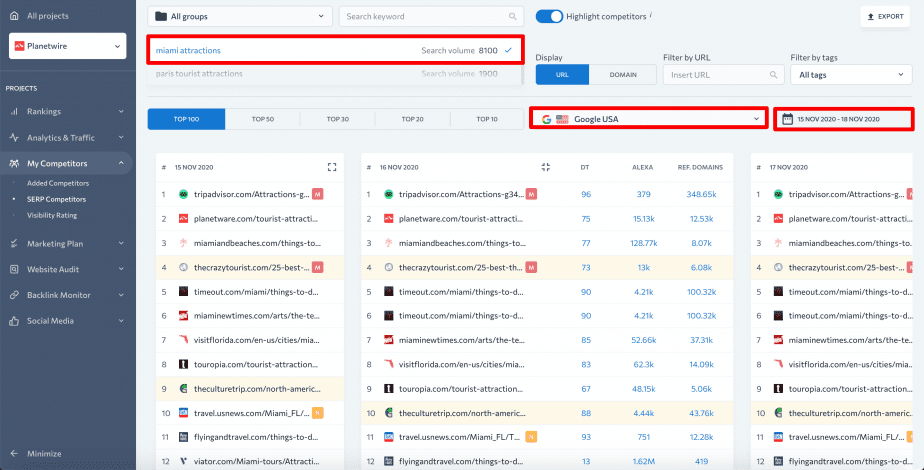 We have an entire blog post where you can learn more ways of using the SERP Competitors tool.
26. Identify pages with most links
Analyzing a competitor's backlink profile can help you learn what pages are seeing a lot of promo activities. And if a page has a lot of backlinks, it's most likely very popular.
Just sort the pages under the Pages tab in the Backlink Monitoring tool by total number of backlinks to get a clear picture.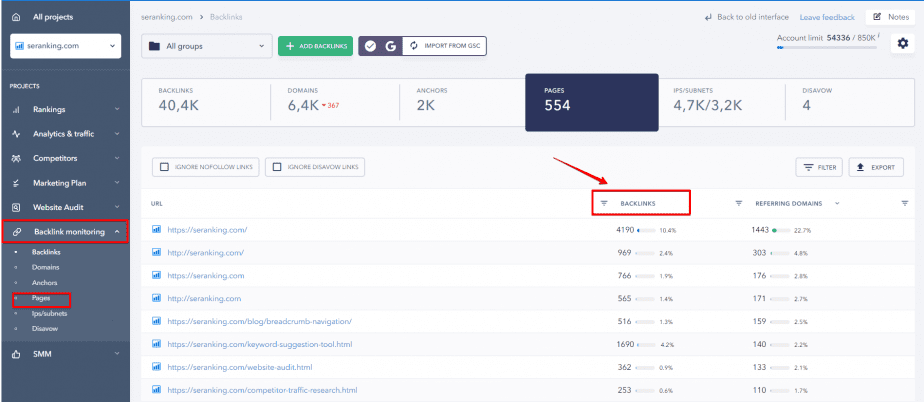 27. Assess competitor traffic
When you know the traffic data of a competitor, you can make adjustments to your own site to be in tune with the market. Get answers to questions like how much paid and organic traffic they're approximately getting, which countries and keywords is traffic coming from, what page are seeing most traffic, what marketing activities bring better results, and so on.
The SEO/PPC Competitor Research tool provides you with an overview of both paid and organic traffic along with the estimated monthly cost and number of clicks.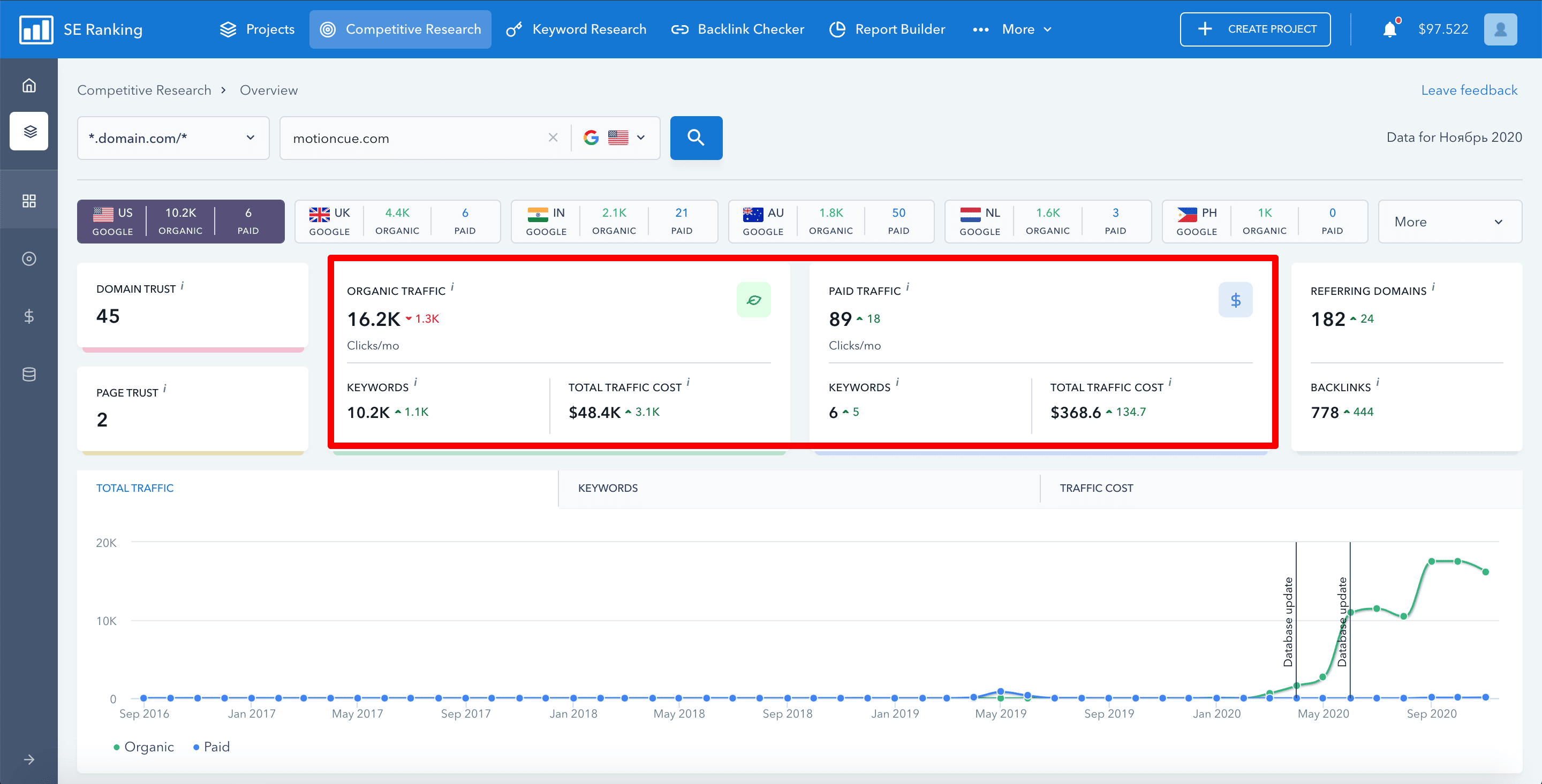 28. Get all the keyword data you need
If you work at a niche business that promotes pages using long-tail keywords with a low monthly search volume, you probably have a hard time getting data for your semantic core. And since there aren't any SEO analytics services that have every imaginable keyword in their database yet, you don't have that many options.
Because we want everyone to have the possibility to get the necessary keyword data, we've added a useful new feature called 'Expand database' in our Keyword Research tool. With this feature, you can upload your own keywords to our country databases and get a detailed SERP analysis on each one, organic and paid results included.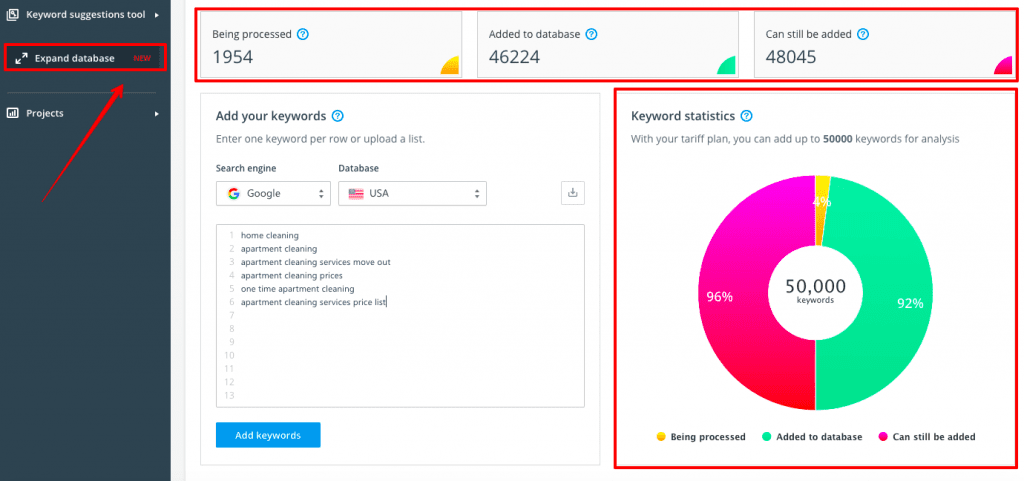 You can get more details on the new features in our Help Center.
Result monitoring
29. Set up keyword rank tracking
There are several things you need to take into account when tracking your website's keyword rankings: search engine, language, and location. Sure, you can track keyword rankings manually, but it's practically impossible to do, especially if you have thousands of keywords in your semantic core. So why not track keyword rankings automatically?
Our Rankings module takes every vital factor into account: location, search engine, device (mobile or desktop), SERP features, Google Maps, Google Ads, and even YouTube rankings. You'll be walked through the entire setup process as you're adding a website to SE Ranking.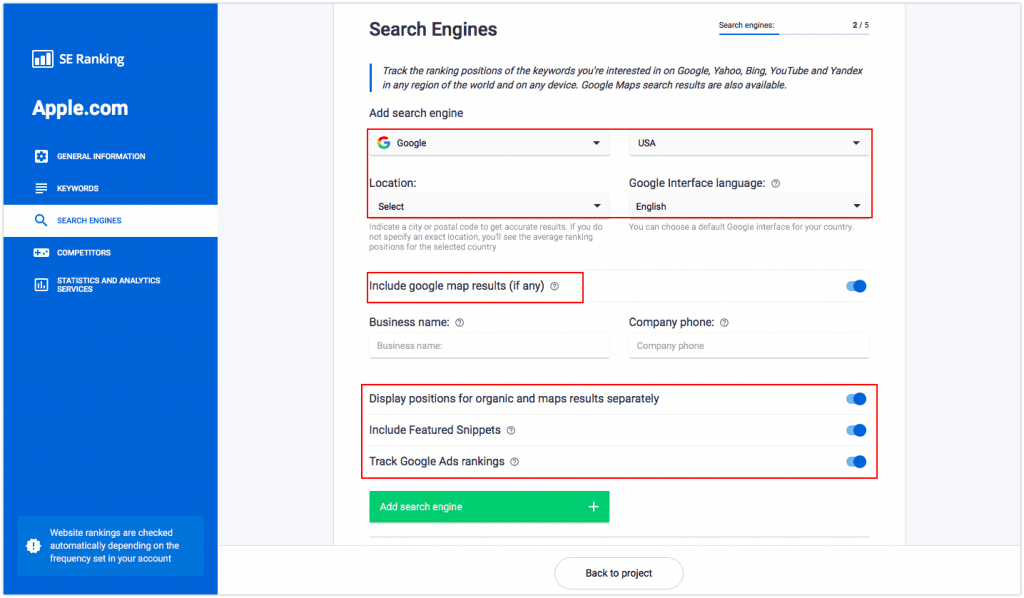 30. Monitor all website changes
When several people have access to a website and make changes to it without letting the other know, things can get out of control. For this reason, it's important to stay on top of every single change because you can't always know when a keyword is removed from a page title, a new headline appears or a new link is added. Ultimately, unwanted changes can negatively impact your website's SEO.
SE Ranking's Page Changes Monitoring tool lets you stay up-to-date on all changes made to a website from an intuitive interface that lets you configure notification options. The tool's main job is to keep an eye on all of the content (removals, edits), metadata, and links.
31. Quickly check SERP results in any region
There are over 200 ranking factors that impacts the search results. They play a huge role when it comes to showing personalized results to people from different locations.
If you need to check Google rankings in a specific region, just use our Google Location Changer. All you need to do is enter a keyword, select a language, a location (you can just write a postal code), and the device type.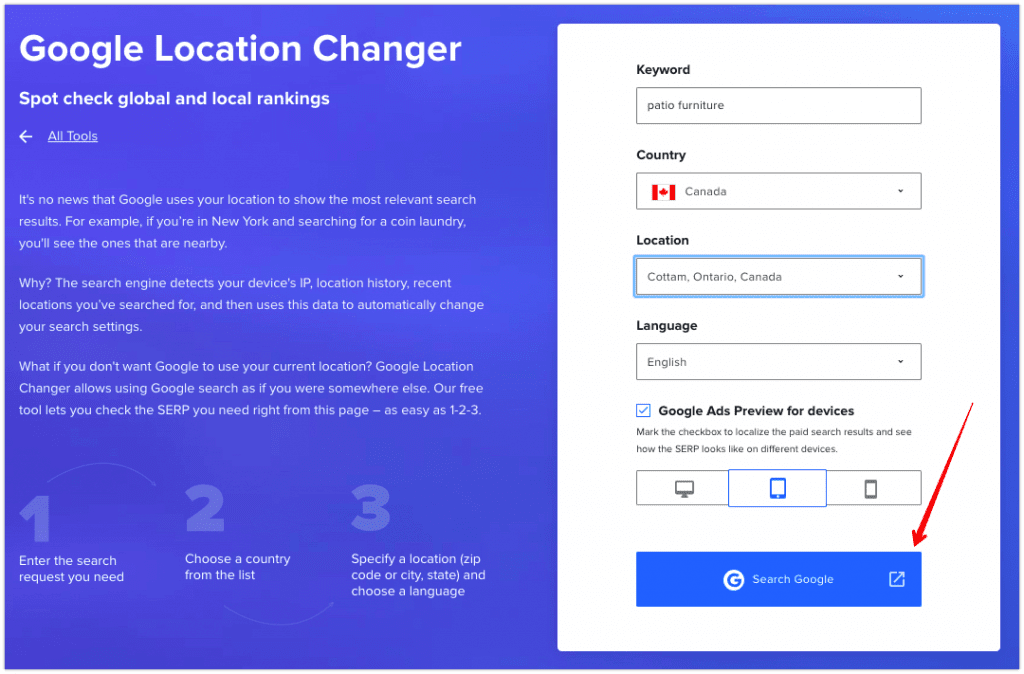 32. Check website indexation status
If a web page isn't indexed, it can't be found in search. But don't you want to make sure that all of the hard work put into your website doesn't go by unnoticed?
With the help of our Index Status Checker, you can quickly check if the search engine cache contains the necessary pages, and can thus be found in search. It's worth pointing out that you can run bulk checks to make sure that all of your web pages are indexed.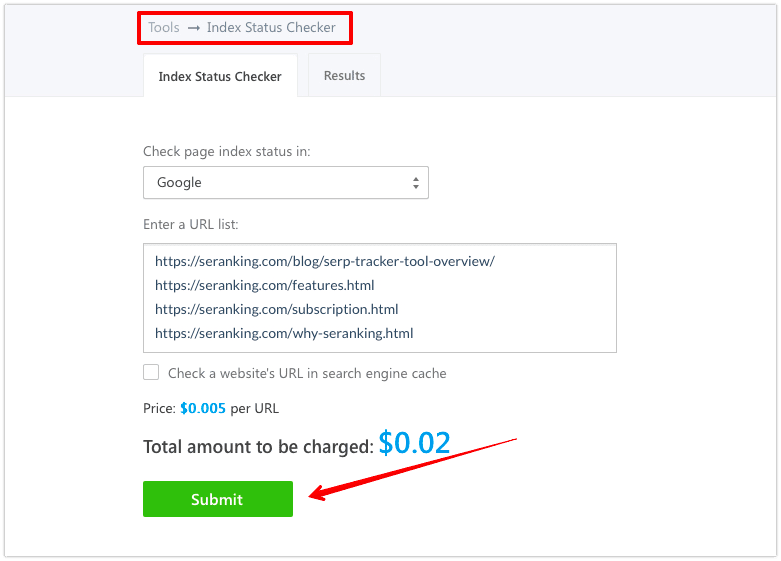 33. Check Alexa Rank
The Parameter Checker helps you quickly understand how popular a website is according to Alexa. This is useful when you're evaluating a potential backlink partner, for example.
Just add a list of web pages you're interested in—you can add as many as you need—and get the results in a matter of minutes, depending on how busy the system is.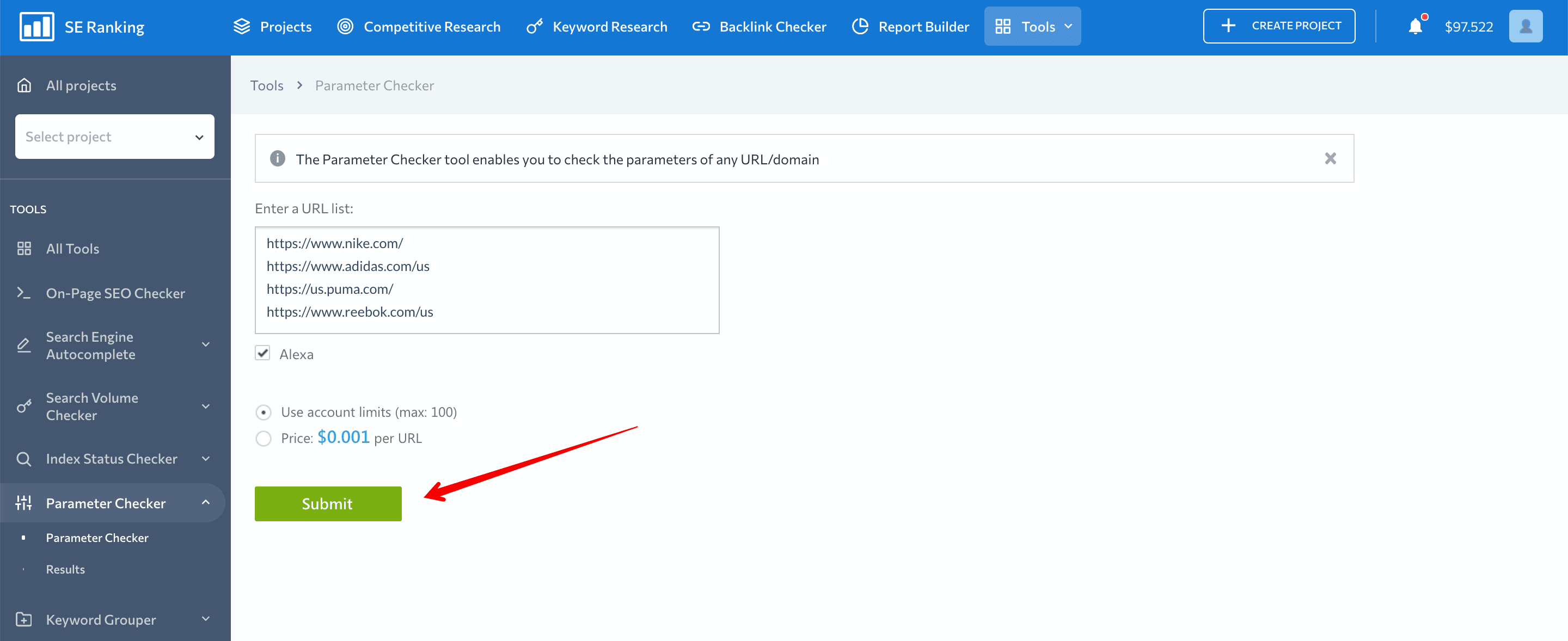 BONUS: Manage your website on the go with our mobile app
If you need to step away from your office desk, you always have SE Ranking's essential tools at hand. The SE Ranking mobile app for iOS and Android devices will keep you posted on your website's SEO success, current rankings and ranking history, on-site audit reports, marketing plan progress, and list of business directories.
The best part of it all—SE Ranking customers can access the mobile app for free. Once you download the app from the App Store or Google Play and sign in using your credentials, your projects will be just a tap away.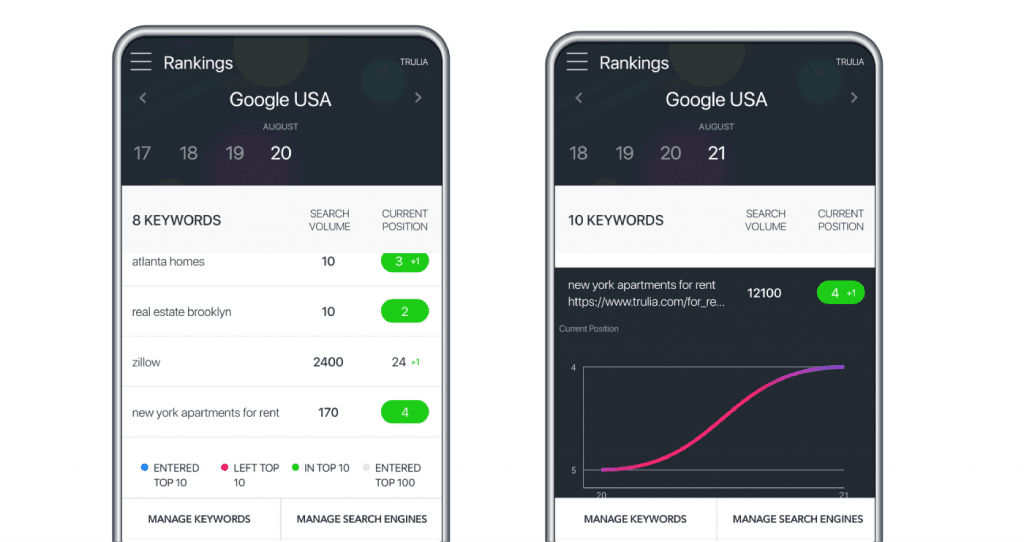 Seems like a long list, but completing these tasks from a single platform will remove all the extra hassle, freeing you up to focus on your business.
We are always busy working on improving our platform and providing our users with top SEO tools and features, which is why the list of tasks you can complete in SE Ranking is bound to continue expanding.
Keep an eye on our updates to be among the first to know when we release something new to facilitate your SEO. Here's to higher search rankings!