Today we will go on disclosing the on-site optimization factors that we have earlier mentioned in the last parts. We can discuss a lot about on-page seo but I don't want to lumber your mind with lots of useless stuff about seo. We would like to give you a clear and brief compendium about needful on-page factors you should take primarily notice while doing on-site optimization for your website.
Now it is time to bare the factors that I will cover in the conclusion part about on-page seo. Today you will get more about content of the website, URL slugs, sitemap and website speed.
…. Ready, steady, go!
7. Content of the website
It is no wonder for everyone that any website with a fabulous and unique content can have high rankings in search engines, get a good traffic on website and gain success and authority among fans and bloggers.  Due to quality and interesting content you can build up good relationships and gain many readers for your website.  Therefore if you are an amateur of poor and duplicate content I don't think you can get some success and reward from Google. The site with poor content can't survive in SEO, at least for a long-term activity.
A good content is a king in seo. Google puts much attention to quality and well-researched articles. Creativity and uniqueness are worthy points for success in search engines. If you write educational, informative, interesting and unique articles there is no doubt Google, Yahoo or Bing will definitely notice your authority on the topic and you will get a good reward for your efforts.
How to write a good content:
1.      Try to be original and unique
Don't try to use duplicate content, re-writes of exiting articles, write only original content. Google will define your best pages and will give you high rankings for that, otherwise any duplicate content will be noticed by it and you can get penalties for that. That wouldn't be the benefit for your site.
I don't think you want to look like a spam website as a duplicate content is the mark of spam websites. I will sure you Google doesn't like such kind of websites.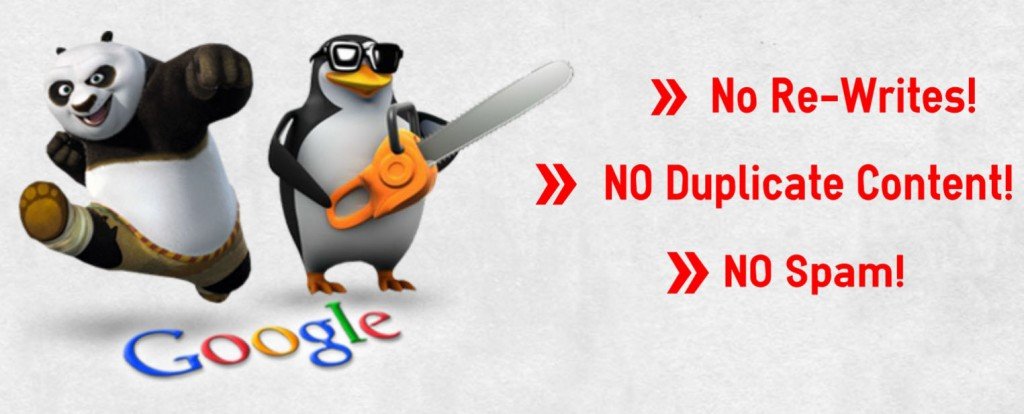 2.      Don't re-publish your content on your site
If you write your own content, but you publish it on another website, I don't think it will be a good option to publish on your site. Google will estimate it like you steal the content from the site where the content was published first, even if you wrote it by yourself.
3.      Accompany your content with non-text content
People don't like just a pure content, they like to view images, videos, graphics and etc.  It would be a good alternative to accompany your content with these non-text things. But make sure to add text description to images, videos as well. Make alt text unique and informative. Try to describe the image or video in order to simplify users to get what the image or video is all about. Again only licensed and unique non-text content will get more weight and benefit in SEO.
4.      Make your content useful and well-researched
Try to write useful, well-researched content if you want to attract as many as possible fans on the site. Don't publish the content for the sake of posting some content on the blog site. Make sure your article have any value for people. Try to write for people, not for search engines. The more you write for human beings for each page the more Google will like it.  Google doesn't like when you build up your website like automation. That's for sure.
When you write a good article and answer a question, make sure your facts or points are justified and disclose the whole idea of a story. As a result, long and well-researched articles will rank better than poorly short ones. Use only authorized and reputable resources for writing your content. If you don't have any clues about writing articles, the best source to find the ground for the article is to look through the forums, communities that discuss the things you cover. You will definitely find something new and fresh, and you don't need to take some ideas from other blog sites.
5.      Perform fresh content
Try to cover fresh content and publish it two times per week. I usually stick to this publishing strategy.
Content was, is and will be the king of website development and high rankings in search engines. Therefore, my advice is to take much attention to writing quality and good content. Good content will guarantee a real success in SEO.
8.  URLs
Making clean and search engine friendly URLs are important for any website.  Thanks to clean URLs in the site structure, it is easy to read for people and search engines. The URL site architecture is really important for on-page SEO.
You should know that all the URLs of the websites appear in search engine results. That's why it should be visible to all users that are surfing in the web. The URLs must be created both for people and search engines.
Here are some tips how to make a good URL structure:
1.      Make good and permanent URLs
It is of high value to have a good permanent URL for each page. URLs must be less than 250 characters with using hyphens for each word.
Here is the example of good URLs:


Don't make the URLs like these:


2.       Group each page into a category
Create groups for each page into categories. That will help people and search engines to find quickly what they are searching for.  You can create categories and subcategories in order to dispose well all the URLs.
Here is the example:
Seranking>Blog>Tutorial>On-page seo
3.      Try to make URLs as simple as possible
I get used to simple and search engine friendly URLs. Sometimes I skip some stop-words from the URLs and use only important keywords for the page. I should mention even if you include the keyword into your URL Google won't take a look at it. As there is some difference the keyword in the URL and the site rankings.
4.      User Sitemap
It is a good idea to use breadcrumb for the website in order to navigate the website structurally and to get where you are and how deep you are on the website.
One more good point is to create User sitemap that helps search engines crawl the links for each web page in order not to miss anything important.
So, making clean and simple URLs on the site will help to get highly rankings in search engine results, help people to get the idea for each web page and give search engines a basic understanding about the page.
9. Effective Sitemap
Sitemap is an html file that shows the structure of the website. It is like a full overview about each web page on the site. It is firstly created for search engines to easily crawl in the website. There are some web pages that we hide from users and search engines. And we can still leave them uncrawlable from users just including them into XML Sitemap.
You should include there all the pages you want search engines to see. The more pages of the website Google indexes the more trust you can get from Google. That means your website gives much useful information for people that can be beneficial for you.
Those who use WordPress, you can just download Google XML Sitemaps plugin and it helps to generate your Sitemap. You just need to activate it. After generating the sitemap, you can check it:
http://www.yoursite.com/sitemap.xml
If you don't use WordPress, you can create your XML Sitemap here. It is simple to create a sitemap on your website with a step-by-step direction.
You should know that Sitemaps are not for internal linking, not for a good navigation, are, foremost, done for search engine crawlers. Maybe it won't increase your on-page seo a lot, it can help you, for sure. As for me, I don't use Sitemap for my website. As you have a good navigation system, there is no need to create. Sitemap can be useful for large websites. I used to create manually all the important pages I want search engines to view. I know all the websites are different that's why I will recommend you to create Sitemap for the website. It is easy to create and necessary for search engine spiders.
10. Website Speed
After the update of Google Penguin 2.0 and the recent Google's Hummingbird, speed is really important for SEO. It should mention that website speed is of high value for SEO and website ranking.

Webmasters should lay emphasis on how fast the pages of the website are loading. It is no wonder if the web page is loading too slow, people will leave the page and go to another site.
If you want to index your pages quickly, fast loaded pages play an important role for that. Google puts much money to make the web work fast. Therefore if Google really cares about that, you should do the same thing.
Coming to conclusion, I would like to say on-page optimization is quite significant for SEO. A good on-site optimization can create a good foundation for getting high rankings in search engines.